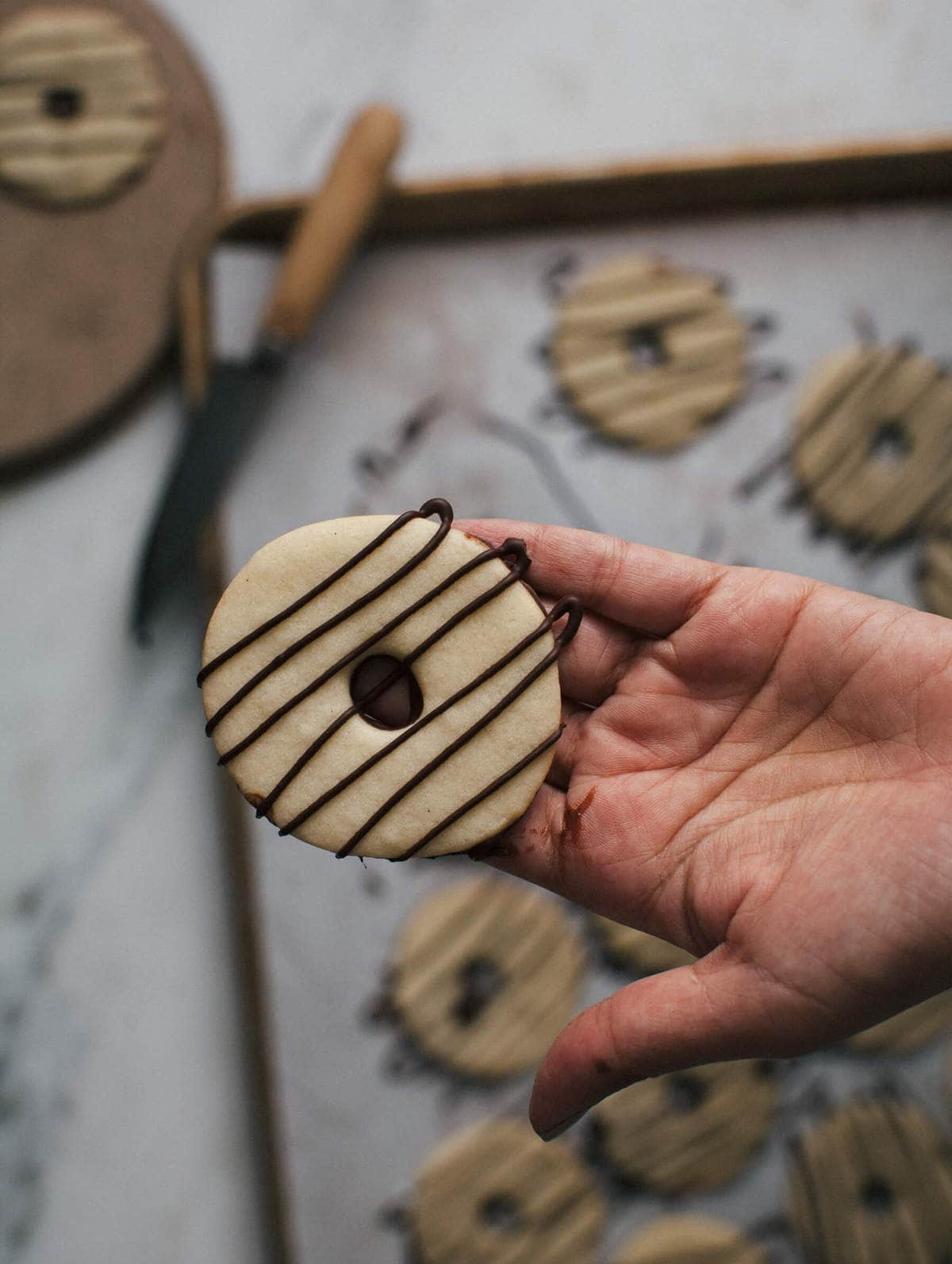 Apparently Kylie Jenner is having a pop-up shop this weekend in the valley and a large, morbid, embarrassing part of me sort of wants to go. I won't go because shrieking teenagers might drive me to take a vallium, but I want to, you know?
Instead I'm putting on my coziest sweater and going to my friend Teri's holiday party. I also might watch A LOT of Fixer Upper because I love watching it and seeing people buy houses for 100k. It feels like another world, seeing as I live in LA and all.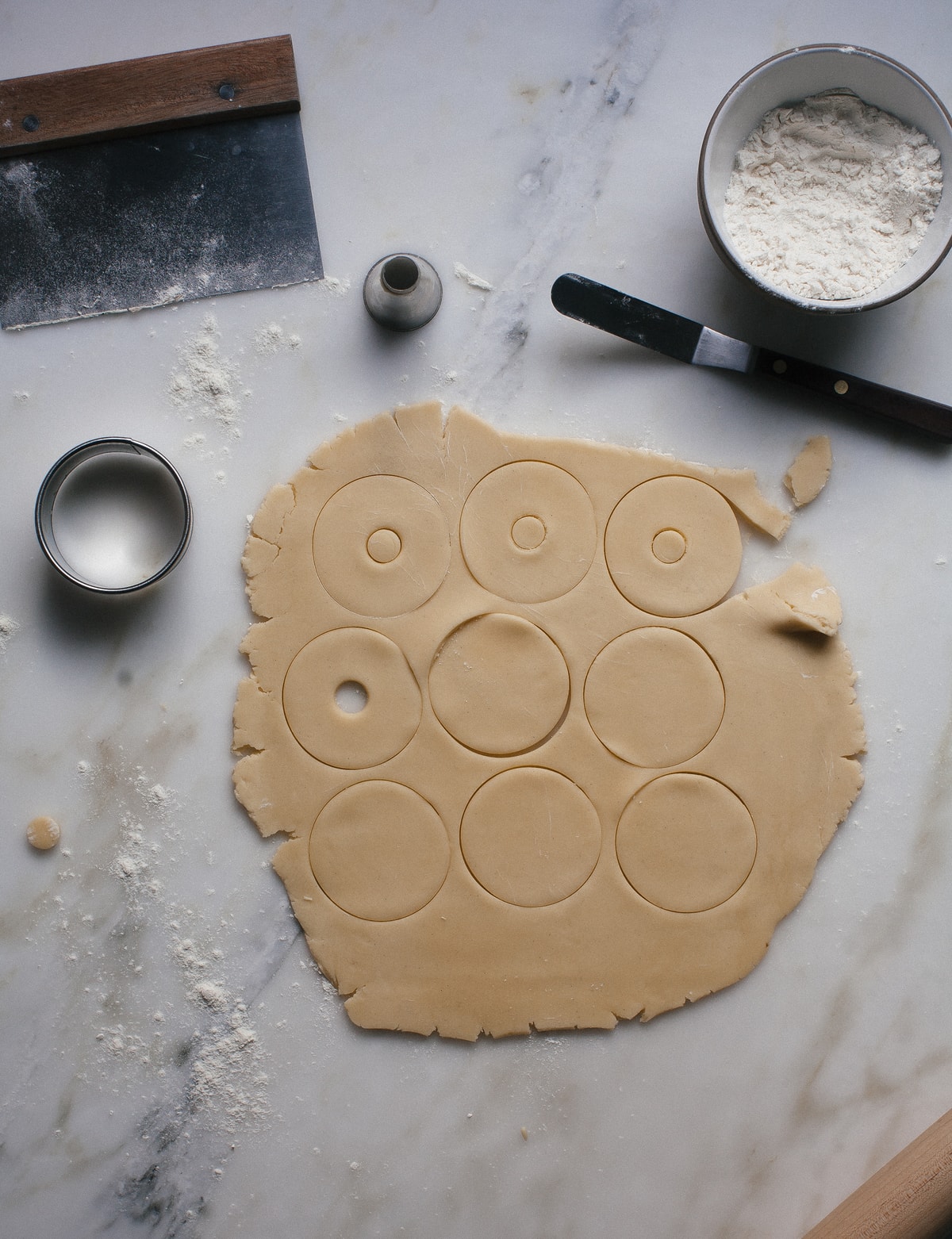 When I was little, I didn't need fancy holiday cookies. All I needed were Keebler Fudge-Striped Cookies. I'd put on my fingers like rings and bite 'em off.
My mom would go grocery shopping every Friday and it always made my brother and I SO excited because that meant the pantry was filled with cookies and Capri-Suns and Sun Chips (omg remember those?
She always had to regulate our eating because if it was up to us, we would eat all the best food all in one day.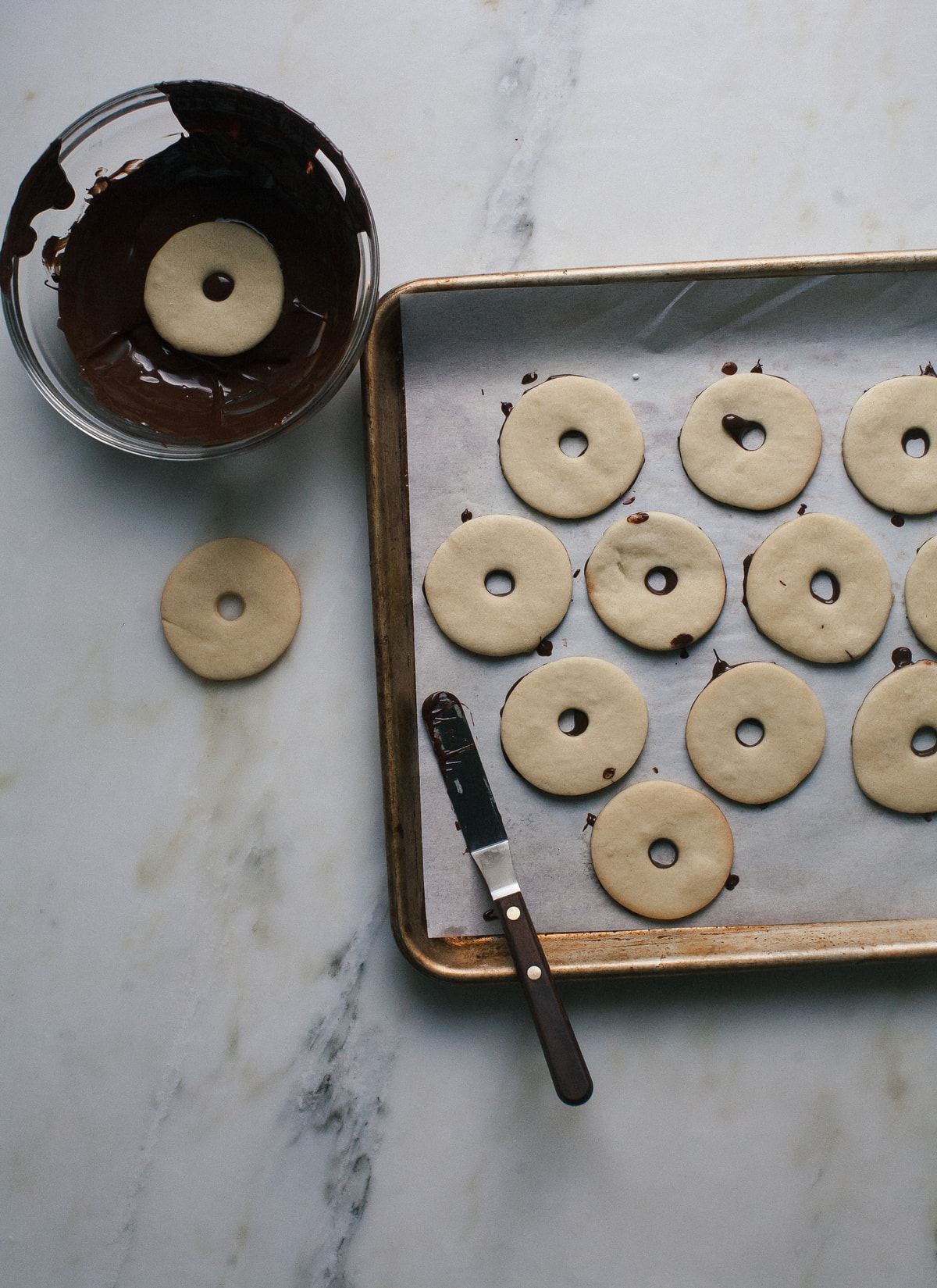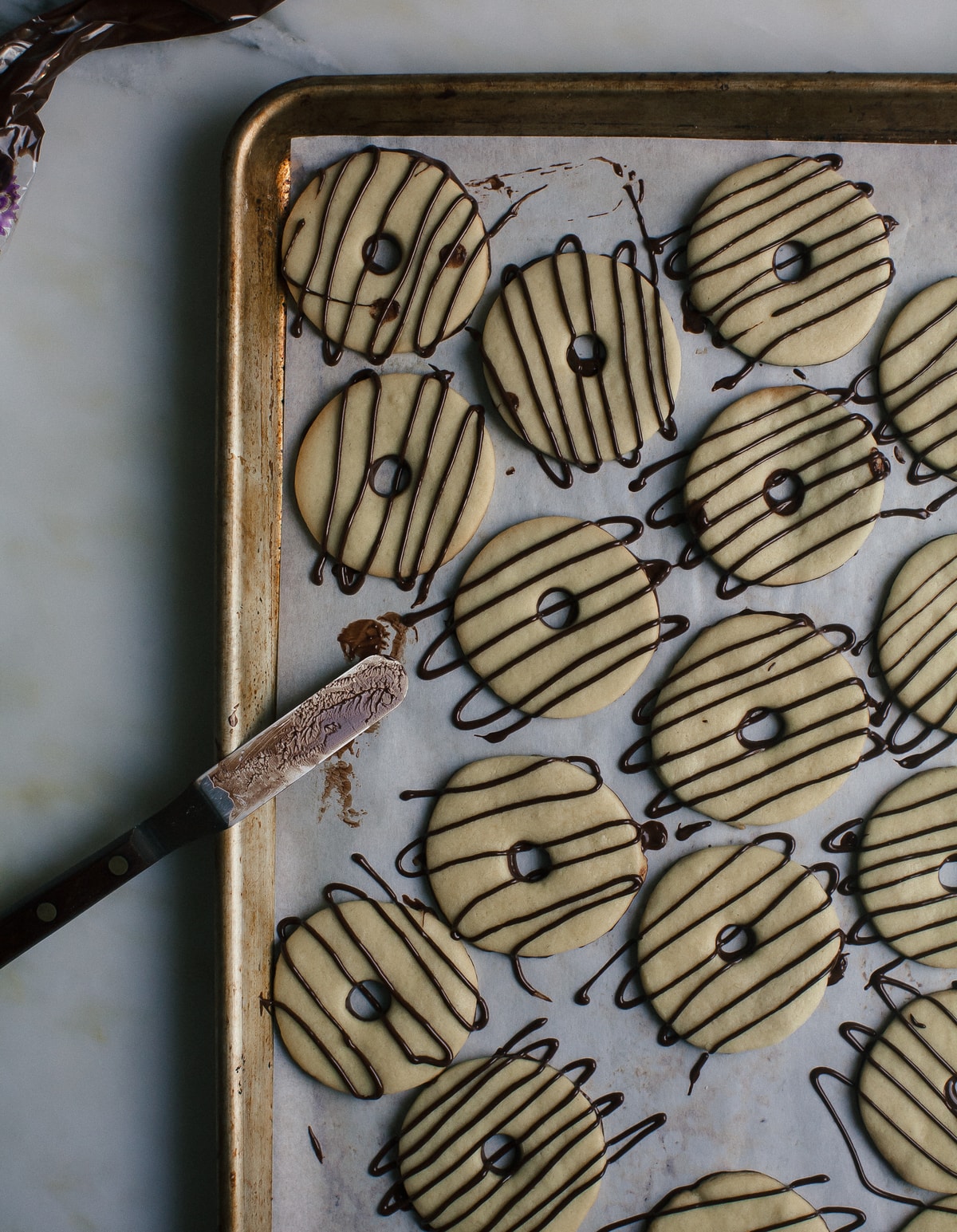 I've always wanted to make homemade versions and finally got around to do it.
FOR RESEARCH ONLY, Josh convinced me to go to Ralph's and buy some Keebler Fudge-Striped Cookies and they were as good as they were when I remember. Of course, the ingredient list is a little scary.
Homemade is always better.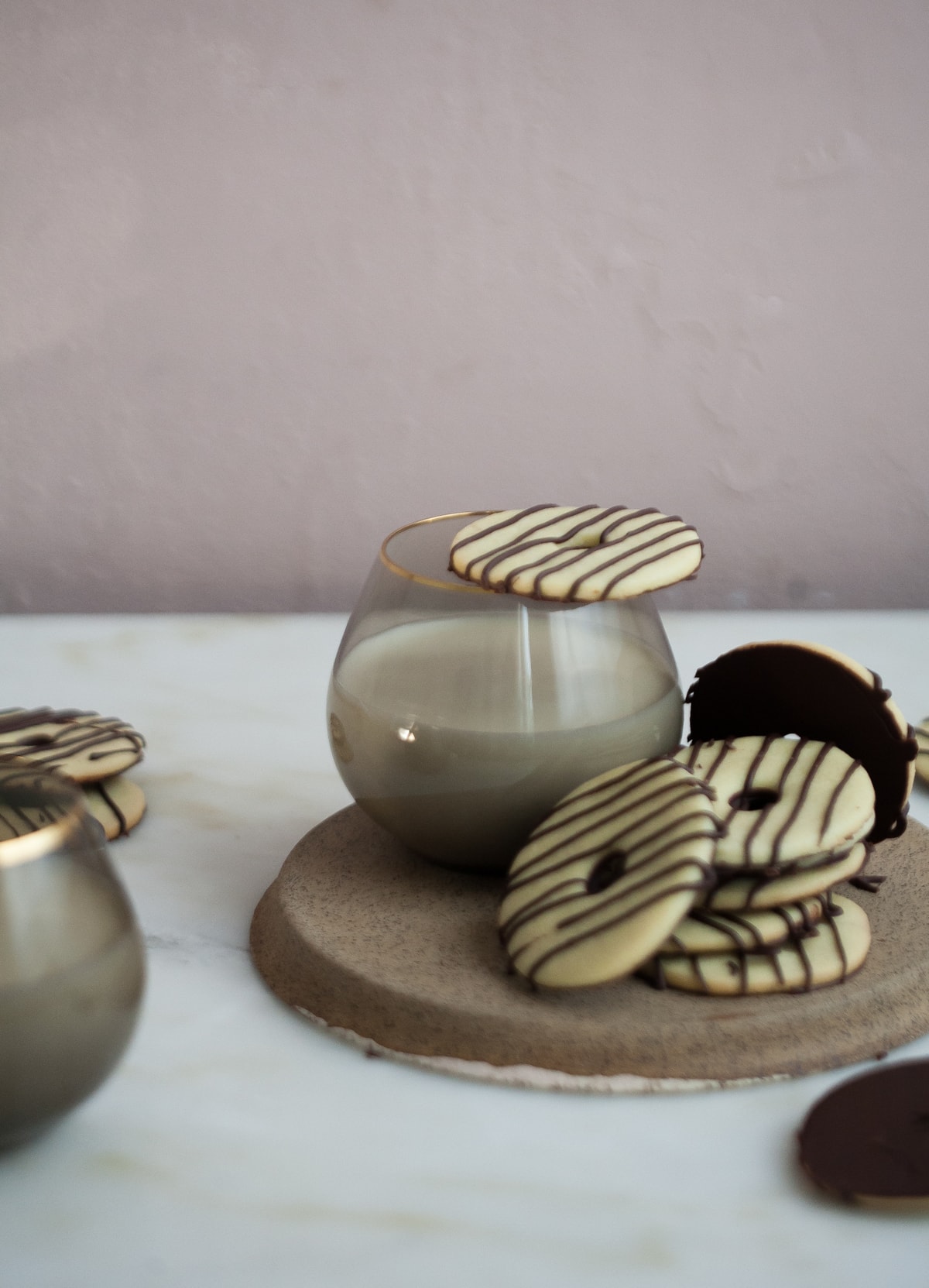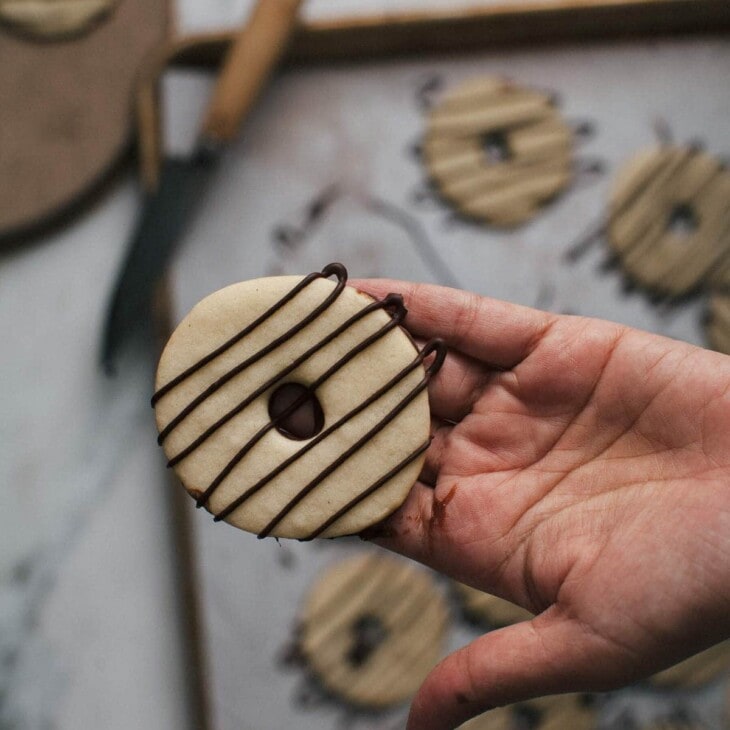 Print Recipe
Fudge-Striped Cookies
Ingredients
1

cup

unsalted butter

at room temperature

1/2

cup

white granulated sugar

1/2

cup

powdered sugar

sifted

1/4

teaspoon

salt

1

large egg

1

large egg yolk

1/2

teaspoon

vanilla bean paste or 2 teaspoons vanilla extract

2 1/2

cups

all-purpose flour

6

ounces

milk chocolate chips

melted
Instructions
To make the cookies: To the bowl of a stand-up mixer, add the butter, granulated sugar, powdered sugar and salt. Beat until light and fluffy, about 3 minutes. Add the egg, egg yolk, vanilla paste or extract and beat once more until combined. In two batches, add the flour, being sure each addition is combined before adding the next one. Divide the dough in half, transfer it to two sheets of plastic wrap (it'll be quite soft!), shape into a disc and transfer to the fridge. Allow to chill for about 1 hour.

Turn the oven up to 375 degrees F. Line two baking sheets with parchment paper and set aside.

Remove the first disc of dough from the fridge. Allow to come to room temperature for about 5 to 10 minutes. Liberally flour a rolling pin and work surface. Roll out the cookie dough to a 1/8-inch thickness. Stamp out the cookies using a 3-inch circuclar cookie cutter and cut out holes in the center using a 1/2-inch cutter (I found a piping tip to be the best for this). Transfer the cookies to the baking sheet, spacing them about 1-inch apart (these spread slightly). Re-roll the scraps to get a few more cookies, if you like. Repeat with the second disc of dough.

Bake the cookies, one baking sheet at a time, for about 8 to 10 minutes, until lightly golden brown around the edges. Cool on the baking sheet before transferring to a cooling rack. Repeat with the remaining cookies.

For the record, my favorite way to melt chocolate is to put it in a glass bowl and microwave it for a minute and stir until smooth. You can also nestle a glass bowl atop a saucepan that's filled with a few inches of simmering water. Add the chocolate to the bowl and allow to melt. Stir until smooth.

When the cookies are cool, drop the bottom side into the chocolate, allowing any excess to run off (I found a bench scraper to help in getting the excess off). Transfer to a baking sheet with parchment. Repeat with the remaining cookies.

Pour the remaining chocolate into a piping bag. Snip off the tip and create chocolate stripes. Do the best you can—mine weren't perfect! Transfer to the fridge to set for 10 minutes. Serve with milk.