Enfrijoladas w/Zucchini and Corn
19
Jan 26, 2015, Updated Dec 22, 2018
Disclosure: This post may contain affiliate links, which means I may earn a commission if you click on the link and make a purchase.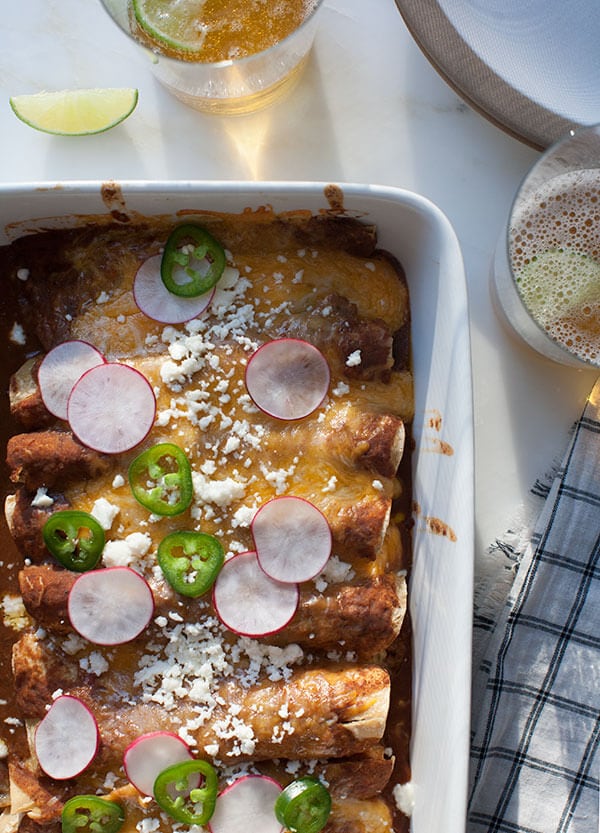 I'm on an enchilada kick lately and today I'd like to introduce to you my latest obsession: enfrijoladas. It's like a bean and enchilada sauce got married and no I didn't make it up, it's actually a thing. It's basically enchilada sauce but with mixed black beans it it and cheese because CHEESE! It feels glorious and filling (duh) and super cheesy but surprisingly not like a gut-buster. That's probably because there's no meat in these—they're veggie all the way.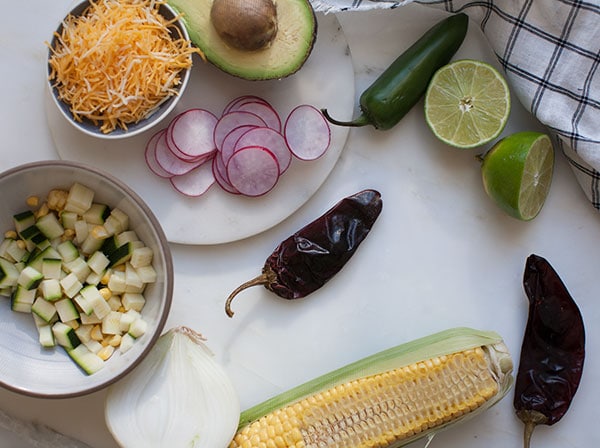 This weekend is this football game everyone loves called The Super Bowl. Have you heard of it? I don't know who is playing BUT I will by Friday and when I do, I'll proceed to do lots of research so I can root for someone. It's funny, I don't really watch or pay attention to sports but I love all of the ESPN's 30 for 30s and have watched the majority of them. Perhaps because they're story-driven and they highlight some of the most beautiful stories.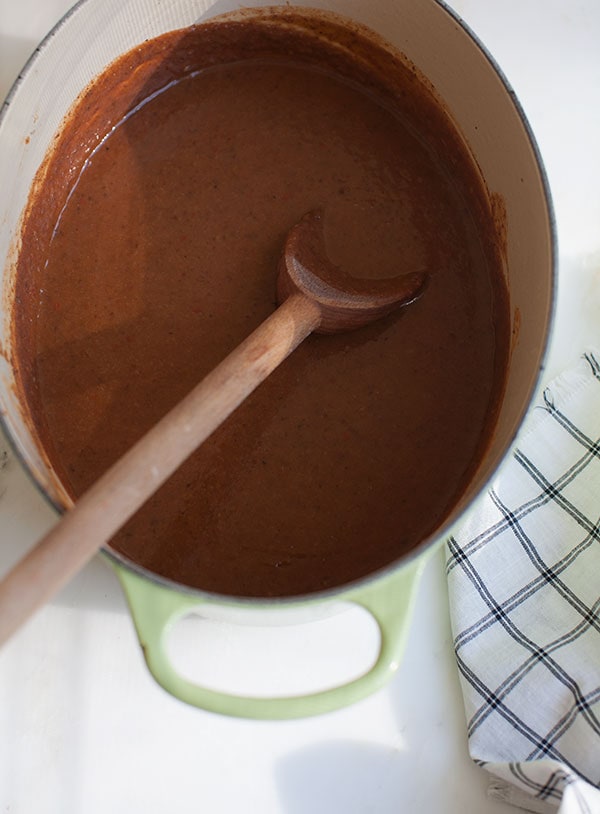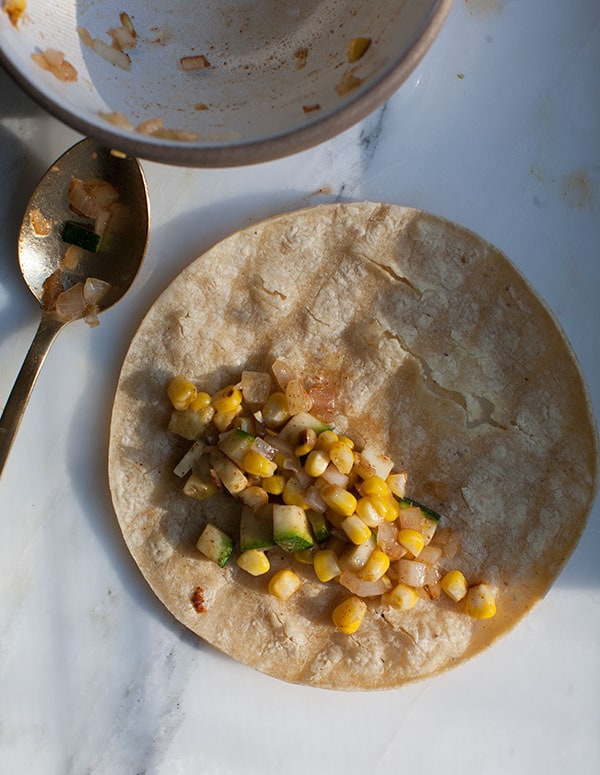 This is a good one to make for game day because it's a big format situation, I mean, you could even double it, stick it in the oven, keep it in the oven so they stay warm and pull it out when everyone is starving and ready to eat all the things.
This should be one of the things.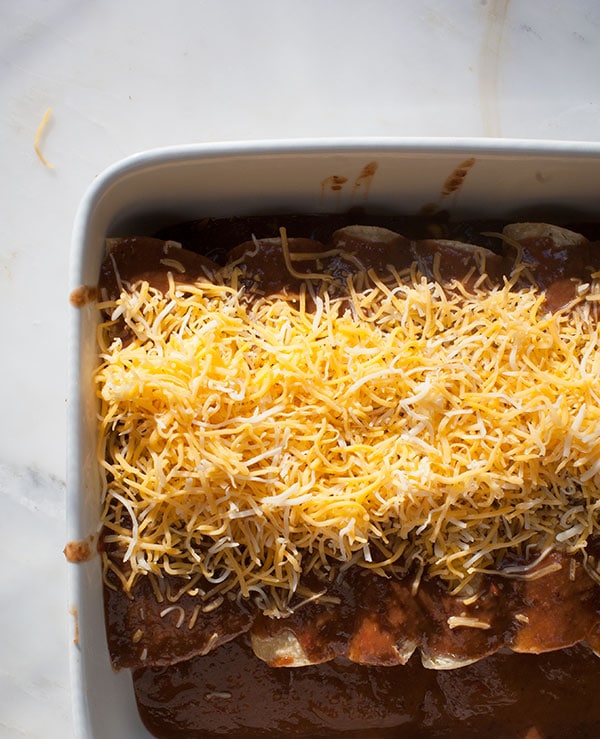 Enfrijoladas w/Zucchini and Corn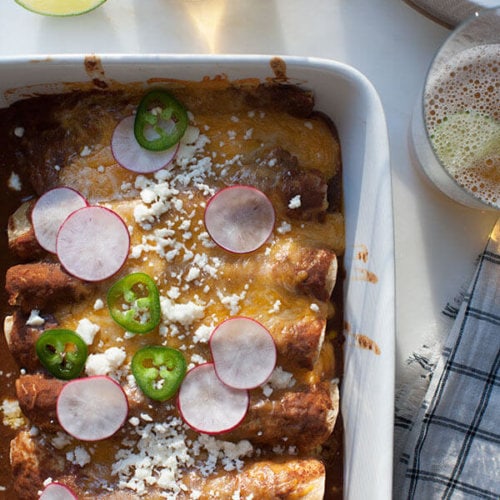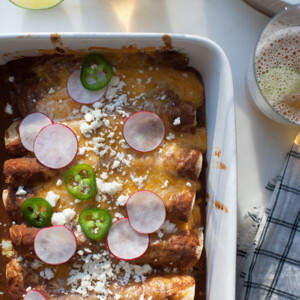 Ingredients
1

teaspoon

olive oil

1

white onion

,

ends trimmed, peeled and halved, and divided

1 1/2

teaspoons

ground ancho chile pepper

,

divided

1 3/4

teaspoons

ground cumin

,

divided

1/2

teaspoon

ground coriander

1

teaspoon

salt

3

dried guajillo or ancho chile pepper

,

stemmed and seeds removed

2

cups

water

3

garlic cloves

,

peeled

6

ounces

queso fresco or cotija

,

divided

1

16-ounce can refried black beans

8

6-inch corn or flour tortillas

1

ear of corn

,

kernels removed

1

zucchini

,

trimmed and diced

1

cup

Mexican shredded cheese*

1

radish

,

thinly sliced and then cut into matchsticks, for garnish

Hand of cilantro

,

for garnish

1/2

avocado

,

diced, for garnish

1

ounce

queso fresco or cotija cheese

,

crumbled, for garnish
Instructions
In a large dutch oven or medium pot, set over medium heat, pour in a teaspoon of olive oil. When the oil is hot, place half of the white onion, cut side down, and cook until lightly browned, about 2 to 3 minutes. Next, throw in 1 teaspoon ground ancho chile pepper, 1 1/2 teaspoons ground cumin, coriander, salt and dried peppers. Mix and cook for until fragrant and toasted, about 1 to 2 minutes. Turn off the heat, pour in the water and cover the pot for 20 to 30 minutes. This will soften the dried peppers and turn the water a beautiful burnt-orange hue.

Transfer the whole pot, peppers, onions and garlic and all to a blender. Pulse until completely smooth. Next, add the queso fresco and can of refried black beans. Pulse once more until smooth. Pour the sauce back into the pot (no need to wash it out) and bring it to a simmer for 5 to 10 minutes. Give it a taste once warm and adjust the seasonings. I added a bit more salt and threw in a dash more ancho chile pepper—you want this business flavorful!

Wrap the tortillas in a damp, clean kitchen towel and place in a warm (200 F) oven so they can steam and become pliable. You can also do this in a microwave but you know, have you ever microwaved bread? It tastes weird.

While the tortillas are steaming, let's make the filling. Start by dicing up the second half of the white onion. In a small saucepan, set over medium heat, add a few teaspoons of olive oil. When hot, add the diced onion, zucchini and corn. Throw in a few pinches of salt, a 1/2 teaspoon of ancho chile pepper and a 1/4 teaspoon of cumin. Sauté until the zucchini has softened yet is still bright green, about 3 minutes. Turn off the heat.

Preheat the oven to 300 degrees F. To a baking dish (mine was 16 x 13), add about 1/4 cup (eyeball this measurement) enfrijolada sauce to the bottom of it and spread it around. Add a few tablespoons of zucchini and corn filling to a tortilla, roll it up tightly and place it seam-side down in the baking dish. Repeat until you've worked your way through all of the tortillas and filling. Pour the remainder of the sauce over the enchiladas. Top with a heavy hand of cheese.

Transfer to the oven and bake for 15 to 20 minutes, until the cheese is melty. Garnish the enchiladas with thinly sliced radish, cilantro leaves, avocado and a sprinkling of crumbled queso fresco or cotija cheese.
Notes
*The Mexican cheese blend I bought at Trader Joe's because it was super easy and I was feeling lazy. Shredded Monterey Jack or Pepper Jack or cheddar would also suffice!
Nutrition
Nutrition information is automatically calculated, so should only be used as an approximation.