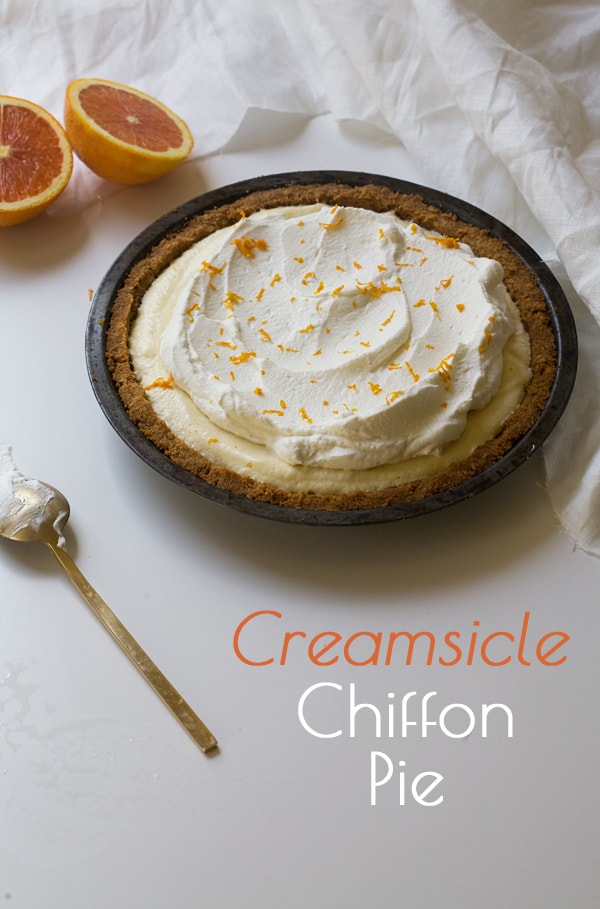 My year is broken into two pie seasons (ehhh…maybe three, actually): spring, summer and Thanksgiving. (T-Day is just one big ol' pie season unto itself!) Summer is usually when my fruit pie game is strong. If I'm not doing pies than cobblers are usually my move. And during Spring I usually start getting into pies by way of a crumble or something. I like to ease into it and I did, just last week with this Rye Rhubarb Walnut thingy. Today, I'm going all in. PIE!
This pie comes from my newest cookbook crush, First Prize Pies by Allison Kave.
It's full of pies for every month of year. The pictures are really pretty, the flavor combinations are interesting and delicious-sounding and the book is beautifully formatted. I know we're in April but I ended up settling on a pie from October chapter and swapping out regular oranges for cara cards, but feel free to use what you can find at the grocery store.
I sometimes imagine what it'd be like to run a pie shop. In my dreams I'd own one. It'd also be in a dreamy land in which I could run a pie shop, bake a bunch of pies, be blind to spreadsheets and magically sleep 8 hours a night. I know this land doesn't exist and running a pie shop would require me to worry about a gamut of unromantic, un-pie-related things.
Have I told you how much I hate spreadsheets?
If I'm lucky I'd have a partner who would be in charge of all things business. I'm sure he'd be constantly nagging me about my addiction to using fancy chocolates, butter and fruit in pies, in which my reply would be with a gigantic, attitude-filled shrug that'd look a bit like this:
¯_(ツ)_/¯
(If you know me, you know how much I love that dang shrug emoticon.)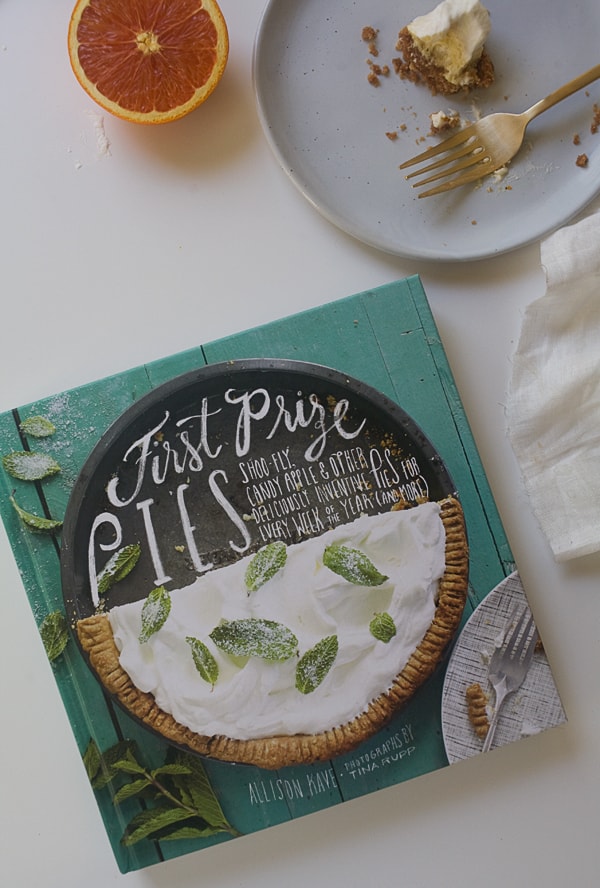 Anyway, maybe one day it'll happen. I'd love to feed people in real life, in real time. It's a dreamy dream.
Speaking of dreams…this right here is a dreamsicle…I mean, creamsicle! It's a pie that tastes exactly like a creamsicle. It's perfect tart and creamy. The crust, made from vanilla wafers (you can make your own but I used store-bought because I didn't prepare correctly), is so tasty and about a million times easier than traditional pie crust.
This pie is perfect to get you amped up for summer pies. We're not quite there yet.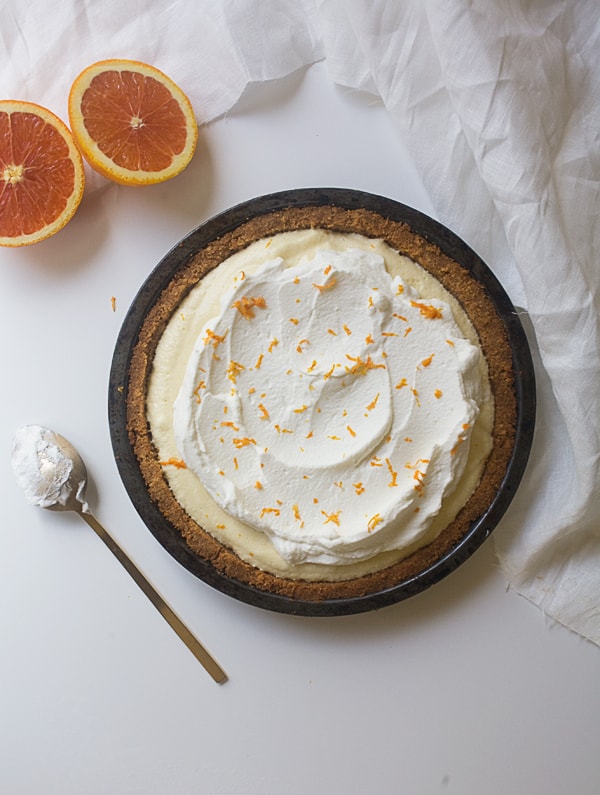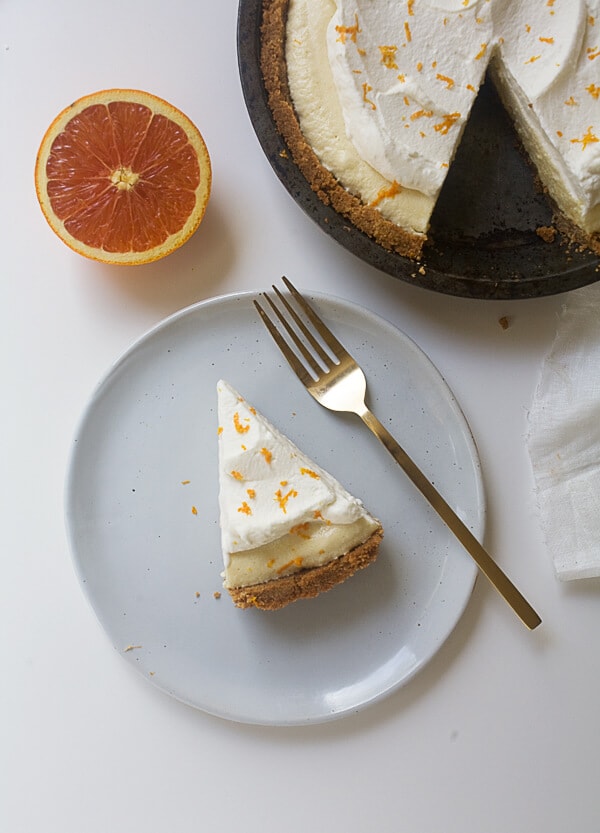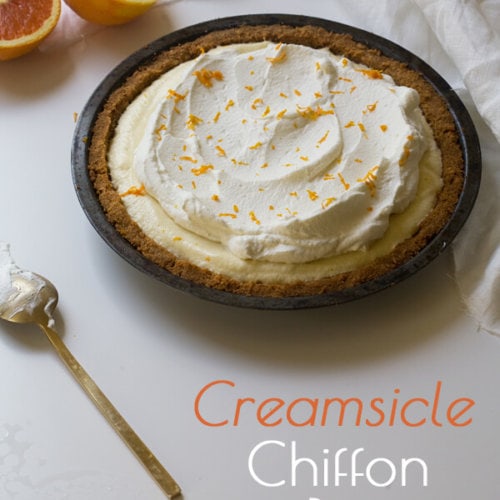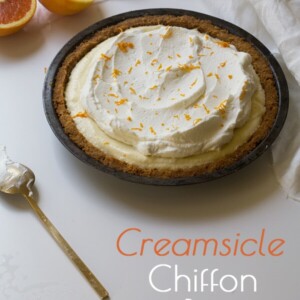 Ingredients
Vanilla Wafer Crust:
1 1/2

cups

175 g finely ground vanilla wafer crumbs (I used nearly a whole box of Nila Wafers)

1

stick unsalted butter

,

melted
Filling:
4

large eggs

,

separated

2/3

cup

130 g sugar, divided

1/2

cup

120 ml freshly squeezed orange juice

2

tablespoons

orange liqueur

,

such as Cointreau or Grand Marnier

1

teaspoon

pure vanilla extract

1/2

teaspoon

salt

1 1/2

teaspoons

unflavored gelatin
Topping:
1

cup

240 ml heavy cream

2

tablespoons

sugar

1/4

cup

60 ml orange liqueur (such as Cointreau or Grand Marnier)

1

teaspoon

pure vanilla extract

Orange zest

,

for garnish
Directions
To make the crust, preheat the oven to 350 degrees F. Crumble the cookies in the work bowl of a food processor and process until finely ground. Alternatively, you can put them in a bag and whack them with a rolling pin until finely crushed. Pour the butter into the crumbs and mix (hands are the best for this) until the butter is fully incorporated and the texture is that of wet sand. Firmly press the crumbs against the sides of a 9-inch (23-cm) pie pan, then against the bottom of the pan (the underside of a measuring cup works well for smother the bottom crust). Chill the crust for at least 15 minutes to help prevent it from crumbling when serving.

Bake the crust for 10 minutes, and then let it cool completely.

Make the filling: Put the egg whites in the fridge to keep cold. Beat the egg yolks with 1/3 cup (65g) of the sugar until light and frothy. Beat in the orange juice, liqueur, vanilla, and salt. In a separate small bowl, sprinkle the gelatin over 1/3 cup (75ml) cold water to allow it to bloom.

In a double boiler or in a metal bowl set over a pot of simmering water, whisk the yolk mixture constantly until it's slightly thickened and just coats the back of a spoon (a digital-read thermometer will read 175 degrees F when it's done). Remove it from the heat and slightly whisk in the gelatin mixture until it is completely dissolved.

Put the mixture over an ice bath or in the refrigerator, stirring occasionally with a spatula, until it reaches room temperature.

Once the yolk mixture is at room temperature, make a meringue. In a clean, cold metal bowl. beat the whites until soft peaks form. Slowly add the remaining 1/3 cup (65g) sugar and beat until stiff peaks form.

Gently fold the meringue into the yolk mixture in 3 to 4 batches, until it is fully incorporated. Be careful not to over do it, so the chiffon doesn't deflate. Pour the chiffon into the pie shell and refrigerate it for at least 2 hours.

Make the topping: Using a hand mixer, or by hand with a whisk, whip the cream, sugar, liqueur and vanilla together until stiff peaks form. Dollop the whipped cream onto the pie surface. Sprinkle with orange zest and serve. This pie can be made ahead without the topping and refrigerated for up to 1 week, covered in plastic wrap. Make the topping just before serving.