Hi hello hi.
I'm currently flying in the air, bouncing above the clouds headed to Nashville from New York. I was in New York for like a minute for some book meetings!! (The release is only 2 weeks away!!).
Flying while being on the internet has alway felt like magic to me. I can't be the only one. When I think about it really hard I'm like, WHO MAKES THE INTERNET WORK?! What does it look like in physical form. How does it even work. Maybe this sounds dumb (probably does) but as a non-engineer it all feels like it just exists in the ether and happens on its own. (I'm not stoned, I swear.)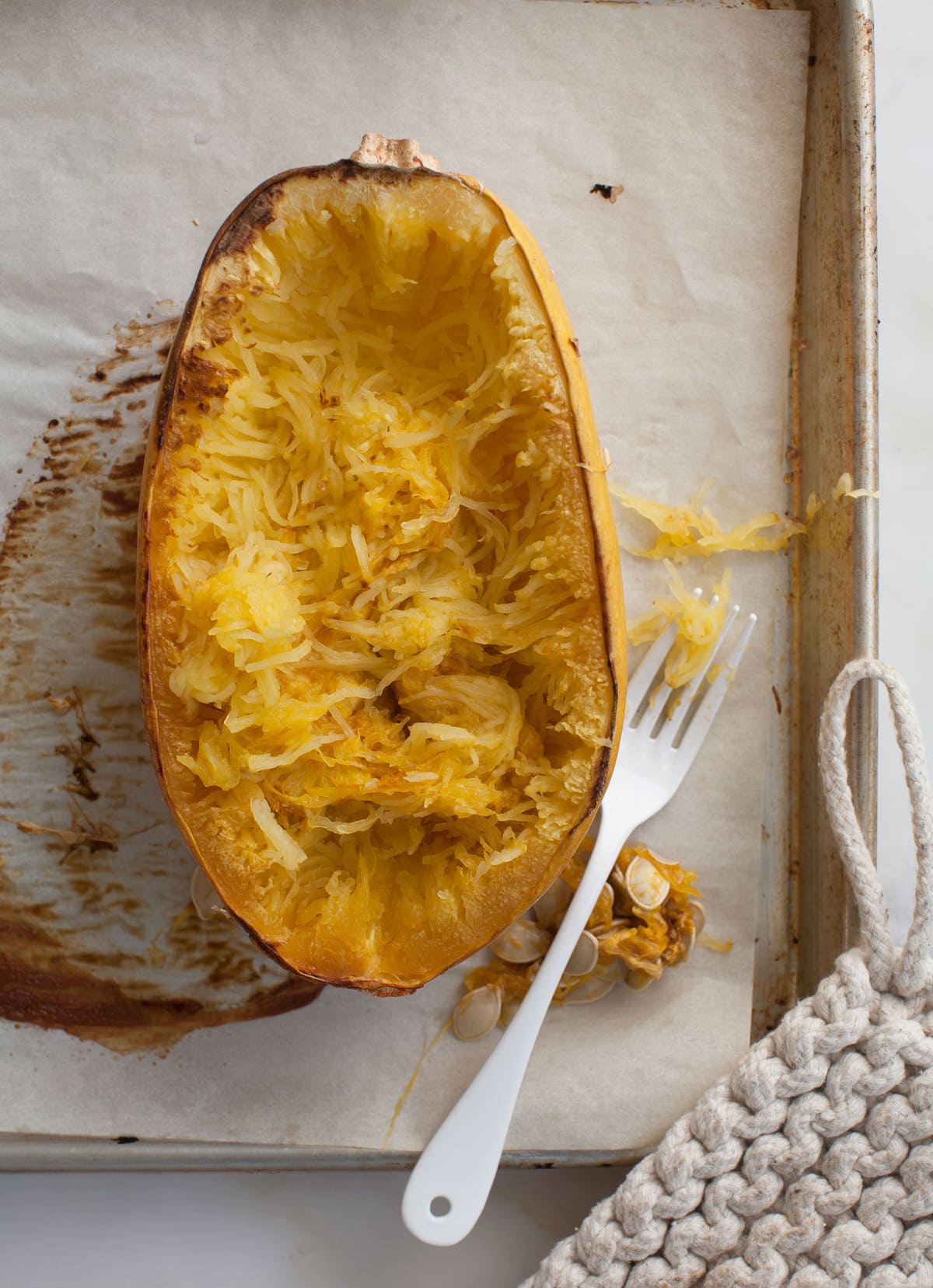 Now, about this bowl of corn. This is proof that seasons can play wonderfully together to create something warm and cozy. Corn is still around, it's at the stores and at the farmer's markets, but not for long. And squash seems to be popping up (!!!) and out of all the squash varieties, spaghetti squash is one of the first to appear.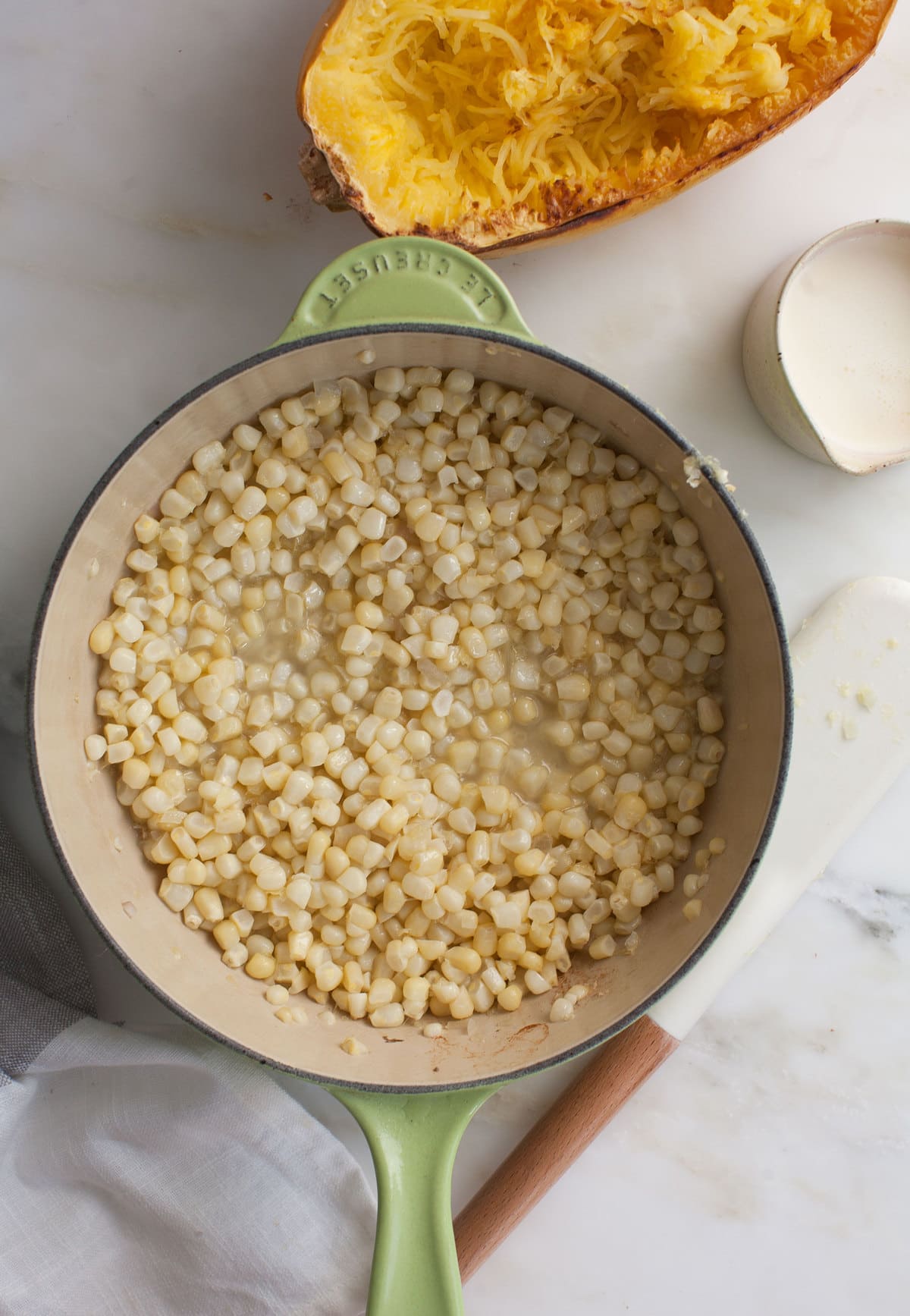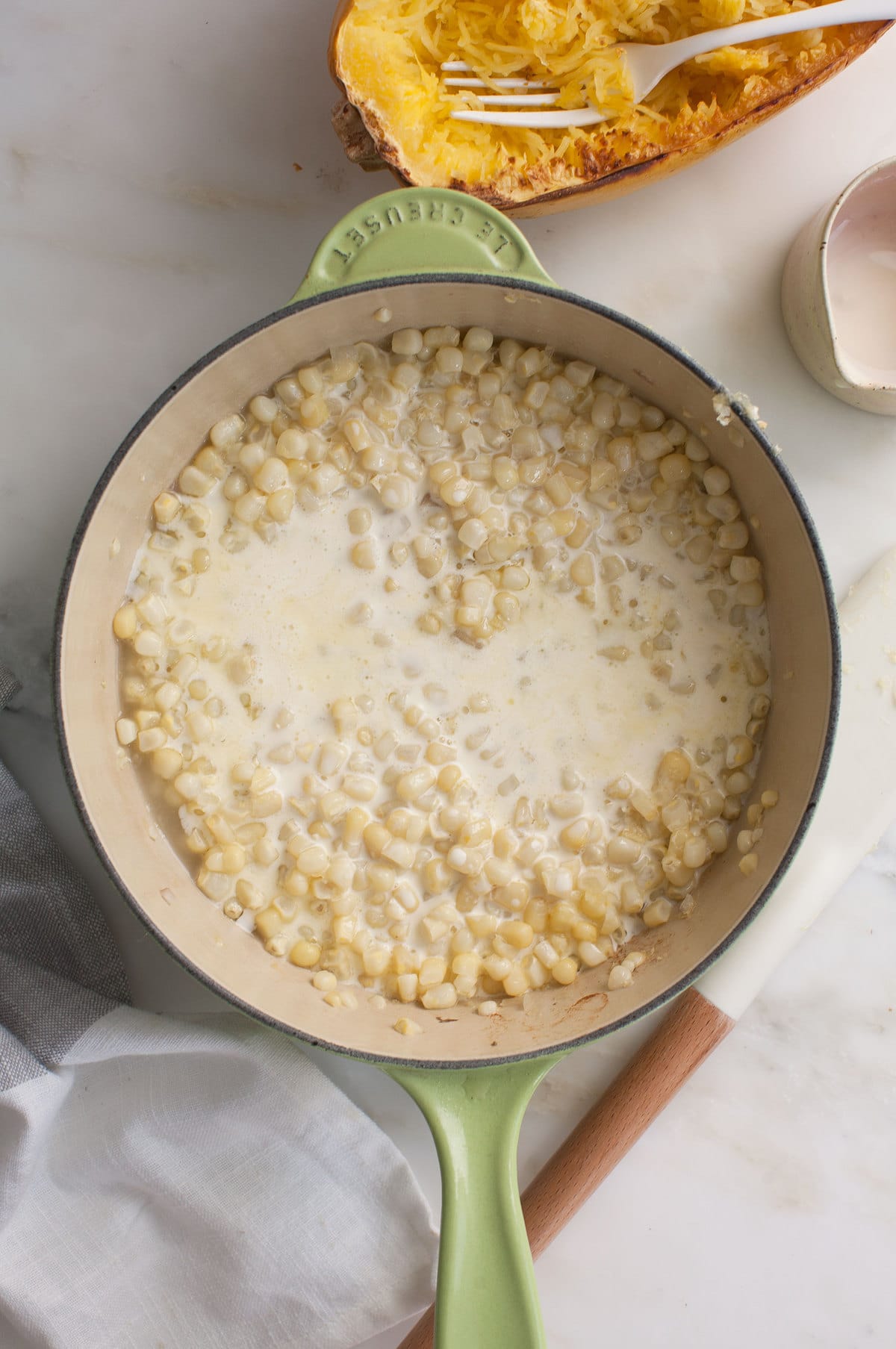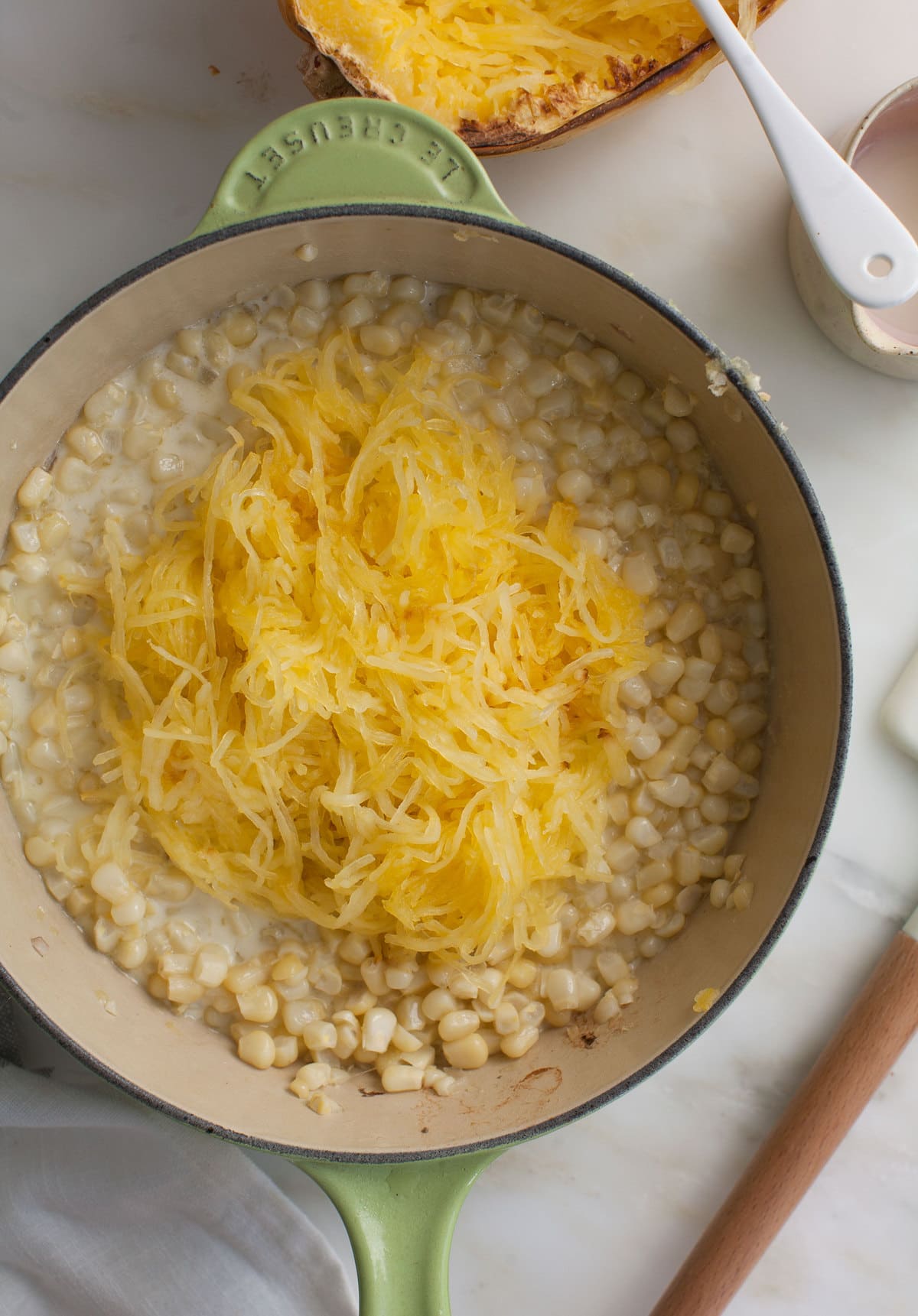 This recipe was inspired by something I had years ago at Baco Mercat. It was a bowl of creamed corn and summer squash (I think). I put the Mexican street corn twist on it because that's maybe my favorite way to enjoy corn out of all the preparations in this entire world.
This dish is pretty easy to throw together and I think it's something I would definitely serve with like a roast chicken and a salad or a piece of fish. Or maybe even this and just a salad could work?
It's simple and easy and the perfect thing to make while we take a big deep breath until the next couple of months begin. They're gonna be busy.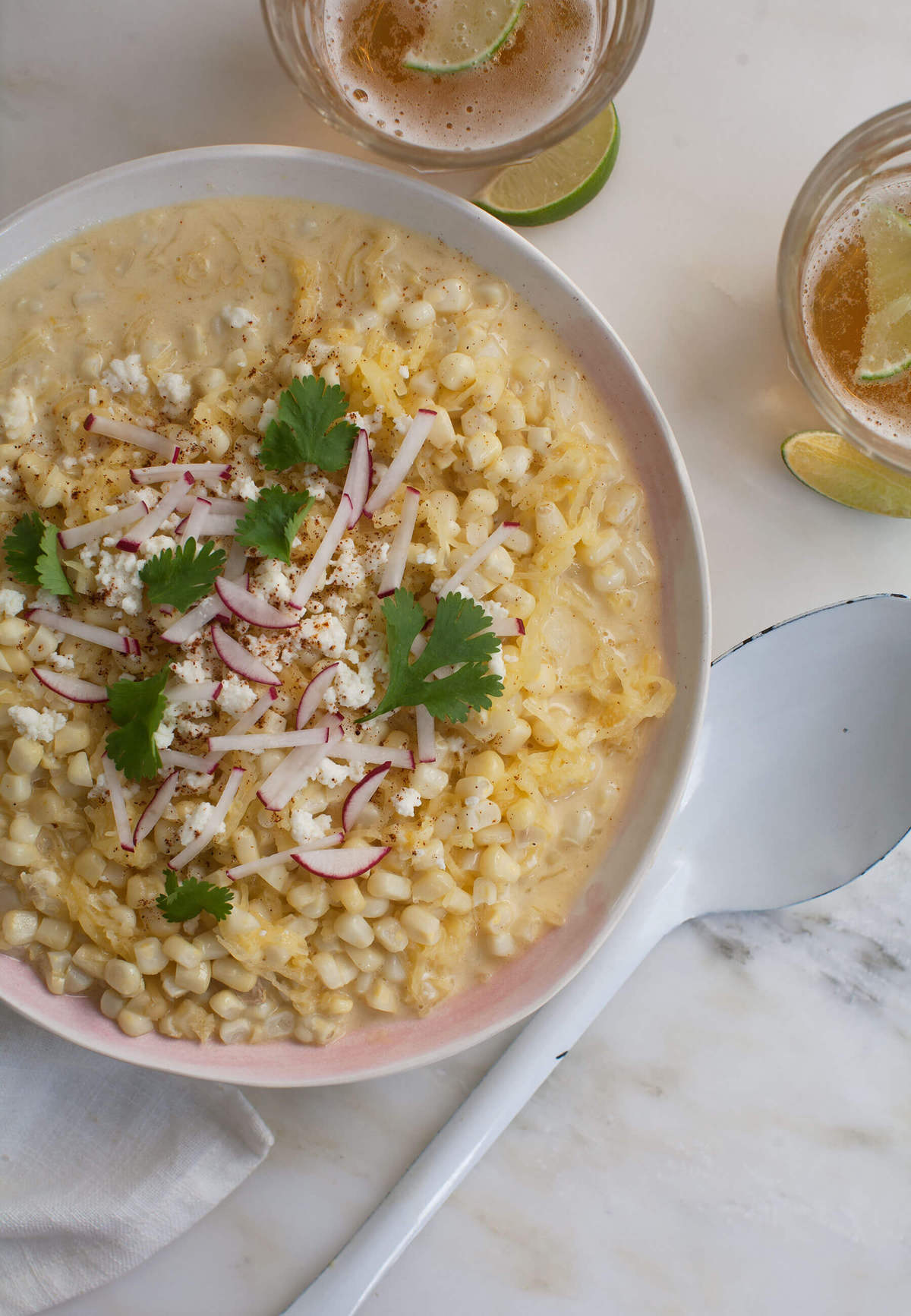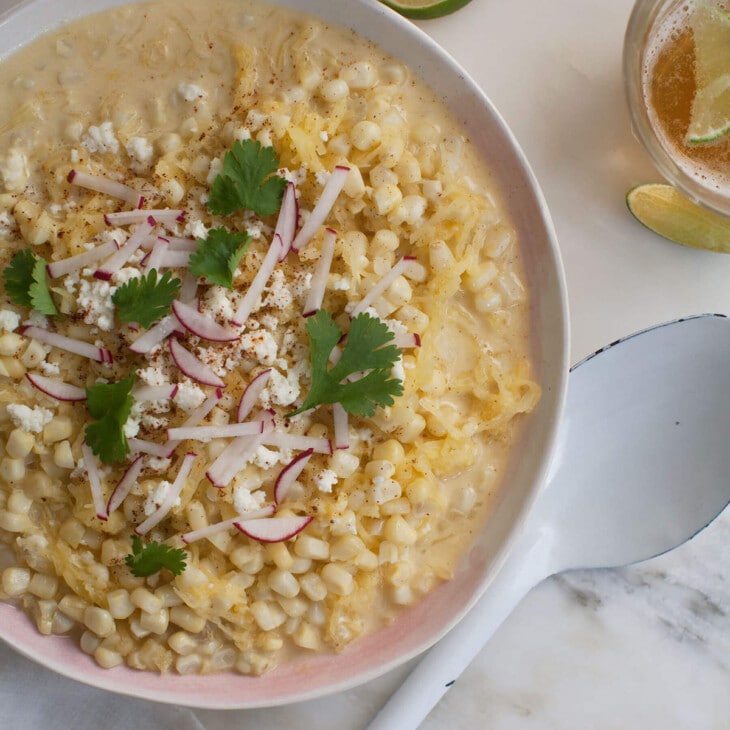 Print Recipe
Creamed Eloté with Spaghetti Squash
Ingredients
1/2

spaghetti squash

3

ears of corn

husks and silk removed

2

tablespoons

butter

1

shallot

minced

1/2

cup

heavy cream

Salt

Ancho chile pepper

divided

1

ounce

crumbled cotija cheese or queso fresco

divided

Handful of cilantro

for garnish

1

radish

thinly sliced, for garnish
Instructions
Preheat oven to 350 degrees F. On a parchment-lined baking sheet, place the spaghetti squash half flesh side down. Transfer to the oven to bake until tender, about 35 minutes. Set aside until it's cool enough to handle. Using a spoon, scoop out and discard the seeds and pulp. Using a fork, scrape the squash--it'll resemble spaghetti! Set aside.

To remove the kernels off the cob, I like to flip over a small bowl and set it inside a medium sized bowl. I rest the kernels on the small bowl and slice downward to remove the kernels. They usually fall right into the medium bowl, making it a less messy situation than using a cutting board.

In a medium saucepan, set over medium heat, add the olive oil. Add the shallot and 1/4 teaspoon of salt; cook for about 2 to 3 minutes, until softened. Mix in the minced garlic, corn kernels, 1/2 cup of water. Bring to a simmer and then reduce the heat to medium low. Cover the pan and cook until the corn is tender, about 10 minutes.

Pour in the cream and simmer, uncovered, for about 5 minutes. It should thicken up. Give it a taste and add a bit of salt to taste. (I ended up adding about 1/4 teaspoon more.) Fold in the reserved spaghetti squash, small handful of cotija or queso fresco and pinch of ground ancho chile pepper. Transfer to a serving bowl. Garnish with a sprinkling of ancho chile pepper, a handful of crumbled cotija or queso fresco, a few cilantro leaves and sliced radishes.
Notes
Note: A lot of people love adding a liberal pinch of sugar to their creamed corn. The corn I get is usually pretty sweet and I never think it's necessary, but by all means, give it a taste at the end and decide for yourself! Just keep in mind you can always add more, but can never take away!