Blue Cornbread Muffins with Salty Honey Butter
51
Mar 18, 2013, Updated Nov 05, 2019
Disclosure: This post may contain affiliate links, which means I may earn a commission if you click on the link and make a purchase.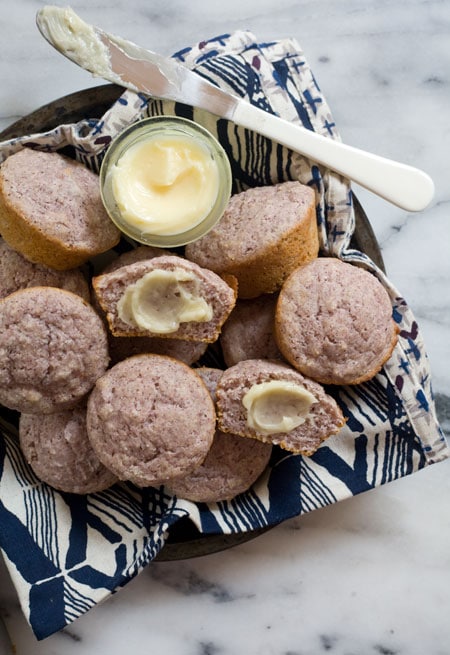 I've decided a few things over the last few days. The first thing is that these Blue Cornbread Muffins with Salty Honey Butter are a must-make!
I also decided that I'll never get sick of putting on warm sweats straight from the dryer. Best feeling EVER!
Spring cleaning feels amazing. I feel lighter, cuter and quicker. I have no idea why it took me so long to get on the Spring-cleaning-bandwagon, but I did it (a little) on Saturday and loved it. I mean, I didn't love it, but I love the results.
I put things in cute mason jars and wrote the contents' names on the front. I must've spent a solid fifteen minutes just staring at them in organizational amazement. And not so surprisingly, organizing made me want to make things with the contents I forgot I had.
Hello muffins made from blue cornmeal!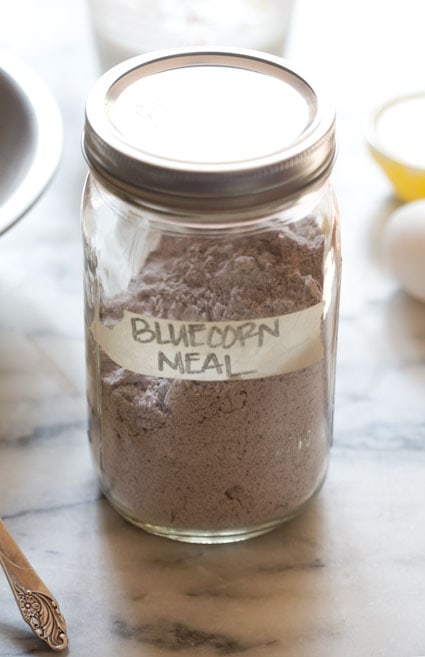 What is Blue Cornmeal?
Blue corn tends to be sweeter and contains more protein than yellow cornmeal. So, in this recipe, I offset the higher protein situation with cake flour, instead of all-purpose. The result is a fluffy, light muffin with a crumb that's a bit smaller and more delicate than, say, a bran muffin, but still pretty hearty.
And this recipe is easy, easy. It comes together in one bowl and one measuring cup.
Dry stuff mixed; wet stuff mixed; and then both stuff mixed together.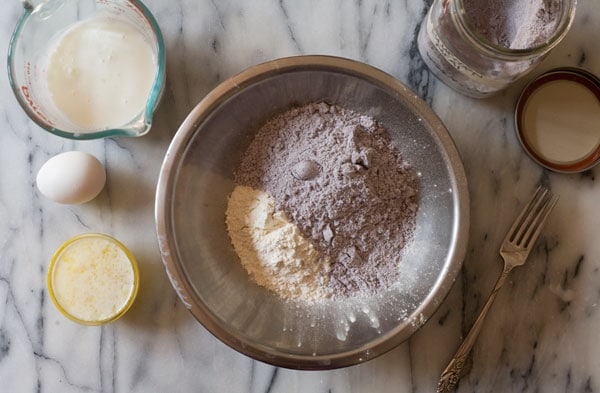 While the muffins are baking, the honey butter is made. Salty (!!) honey butter.
And yes, it's as simple as it sounds: big sea salt flakes, honey of your choice and unsalted butter. Salty, sweet and buttery.
I love.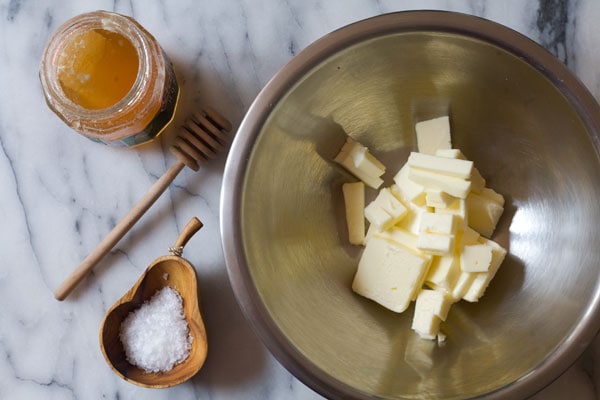 When the muffins come out of the oven, they'll be a lavender color. Baby purple! The prettiest muffins I ever did see. They're slightly sweet (in a corn way), taste VERY much like corn and have a lightness and softness I just loved. If you ever kind of dislike the denseness of cornbread, then you'll love these because they're the exact opposite.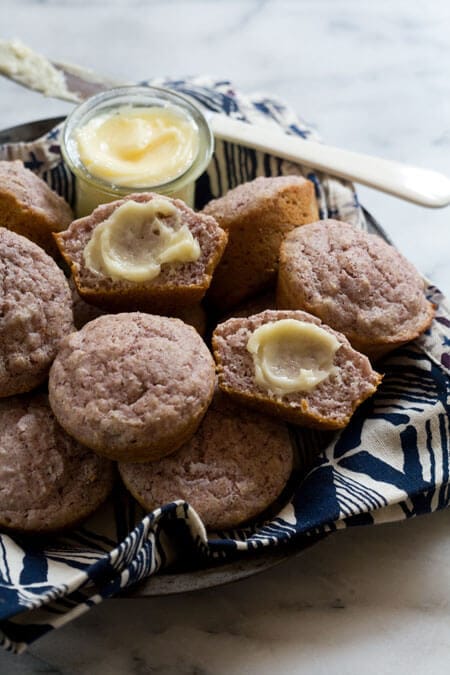 Blue Cornbread Muffins with Salty Honey Butter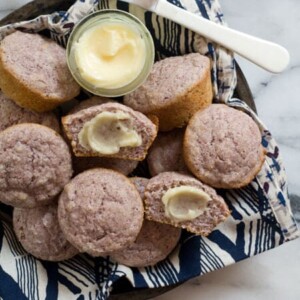 Blue Cornbread Muffins with Salty Honey Butter are a treat for your autumnal table. These muffins are tender and fluffy. The blue cornmeal adds a lovely sweetness to these muffins.
Ingredients
Breakfast just got a little bit cuter.
Muffins:
1

cup

blue cornmeal

,

plus 2 tablespoons

1

cup

cake flour

1/4

cup

white granulated sugar

1

tablespoon

baking powder

1/2

teaspoon

kosher salt

1

cup

buttermilk

,

plus 2 tablespoons

1

large

egg

6

tablespoons

unsalted melted butter

,

cooled to room temperature
Salty Honey Butter:
1/2

cup

unsalted butter

,

1 stick, room temperature

2

tablespoons

honey

1/2

teaspoon

coarse sea salt
Instructions
To Make the Muffins:
Preheat the oven to 350 degrees F. Butter and flour a muffin tin and set aside. Or you could use muffin liners, just be sure to spray them with a bit of cooking spray.

To a medium bowl, whisk together the blue cornmeal, cake flour, sugar, baking powder and salt.

Using a measuring cup or bowl, measure out the buttermilk, add the egg and the melted butter; beat until thoroughly combined. In one batch, add the wet ingredients to the dry and mix until just combined. Fill the wells of the muffin tin about 3/4 of the way full and transfer to the oven to bake for 10-12 minutes, or until a skewer inserted into the center comes out clean.
To Make the Honey Butter:
Meanwhile, make the honey butter. Using a hand-mixer, beat all of the ingredients together until light and fluffy. Give the butter a taste and adjust the salt accordingly.

Allow the muffins to cool, slightly, and then serve them warm with the honey butter.
Nutrition
Nutrition information is automatically calculated, so should only be used as an approximation.
If you make these Blue Cornbread Muffins with Salty Honey Butter, let me know on Instagram!