These chili cheese dogs are the best of all worlds, high quality hot dogs in toasted buns topped with cheese and a hearty homemade chili.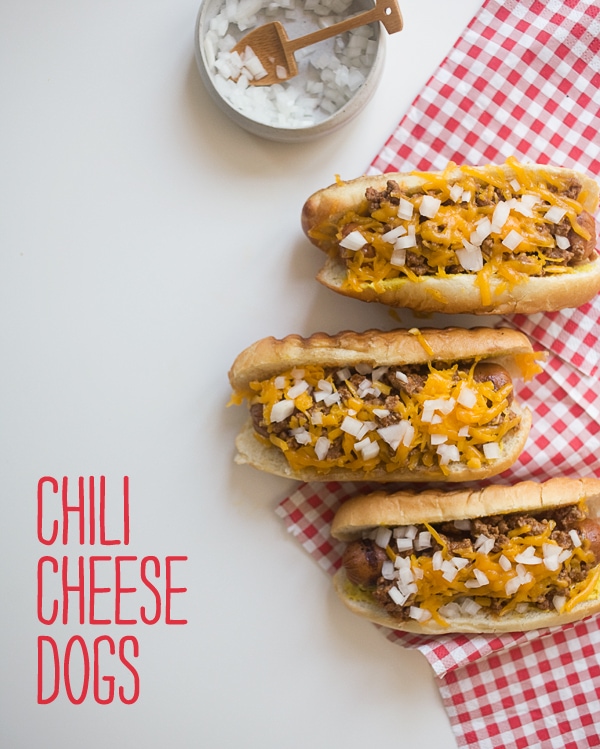 I've had chili cheese dogs on my mind recently so I decided to make a version that didn't scare me. Sometimes hot dogs can scare me a little.
This is why making hot dogs at home is the best case scenario for me. I can ensure that I'm eating hot dogs that are nitrate-free and are made with ingredients I can pronounce.
The chili might be my favorite thing ever. It's SO fast. No need to sit here and make real chili—that's too much work. This one cooks up in minutes and is way thicker than the normal soupier version. I think the thicker version works way better when we're using it as a topping for a hot dog.
What to pair with chili cheese dogs: 
Onions. Onions are a crucial topping for chili cheese hot dog. They add a bite in both flavor and texture.
Mustard. Also crucial topping. It adds a nice brightness that cuts through the richness of the chili.
For sides: I love potato or macaroni salad and potato chips. If you're having a party serve some fries so people have the option of chili cheese fries!
For drinking: ice cold beer or a margarita come to mind for summer refreshing.
How to make Chili Cheese Dogs:
Start by making the chili. In a saucepan, cook down the onions until they've softened then add the beef along with the spices and cook until the beef has browned. Add the rest of the ingredients and simmer for a few minutes to let the flavors come together.
Heat up the hot dogs. You have options, whatever your preference is. I like to grill them for the additional flavor and the way the grill marks look.
Toast the buns. This is important! You want the buns to not just be squishy soft all the way through, toasting them with not only add flavor but also help them stand up to the chili.
Assemble! To assemble the chili dogs, place a hot dog in a bun, top with mustard, then finish with the chili, cheese, and onion.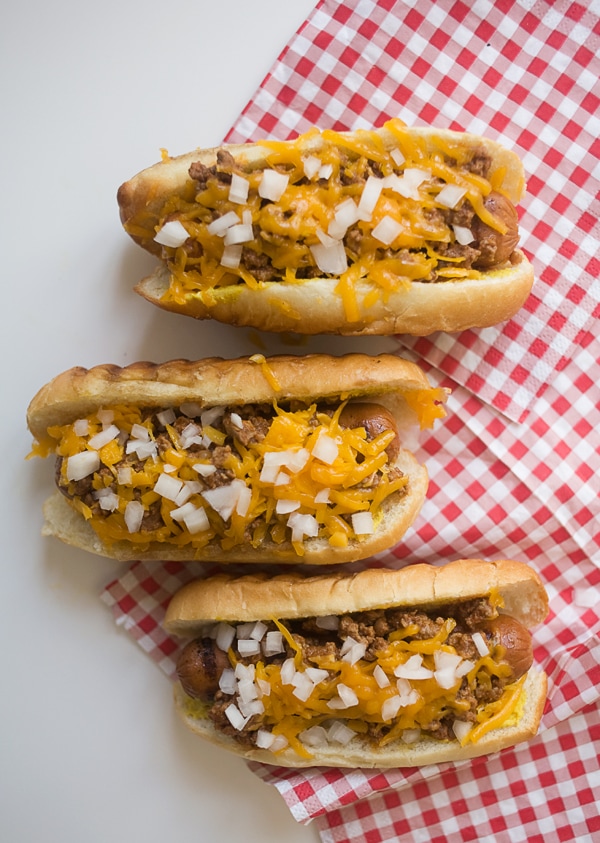 Tips and Tricks:
If you're having an issue with the cheese melting, place it under the broiler or carefully on a grill not over direct heat and close the lid for a minute or so.
Serve the hot dogs with fries or corn chips so people can make frito pies or chili cheese fries!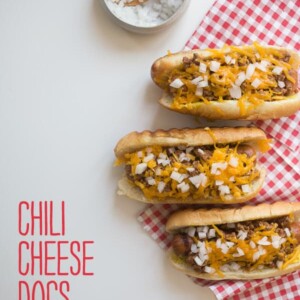 These chili cheese dogs are the best of all worlds, high quality hot dogs in toasted buns topped with cheese and a hearty homemade chili.
Ingredients
1/2

onion

,

diced and divided

1

pound

ground beef

,

85% lean/15%fat

1/2

teaspoon

salt

1

garlic clove

,

minced

1/4

cup

tomato paste

1/4

cup

beef broth

1/2

teaspoon

ground cumin

1/8

teaspoon

ground cayenne

6-8

hot dogs

6-8

hot dog buns

Yellow mustard

1/2

cup

cheddar cheese

,

or any other melty cheese you love
Directions
In a medium saucepan, set over medium heat, pour in 2 tablespoons of olive oil. When the oil is hot, drop in half of the onions and cook until they're translucent, about 5 minutes. Add the ground beef, salt, garlic clove and mix until the meat has browned, about 5 minutes. If you're using leaner ground beef than what's noted above, you may need to add a teaspoon or two of olive oil so it doesn't stick to the pan.

Add the tomato paste, beef broth, cumin and cayenne. Mix and cook for an additional minute or so. Turn the heat to low and cover the pot to keep warm while you prepare the rest of the ingredients.

You have a couple options with the hot dogs: you can cook them on a grill (my personal favorite) or in a grill pan. Heat up whatever you're using to high. Cook the dogs on both sides until grill marks appear and the hot dogs are thoroughly cooked. Place them a 200 degree F oven so they stay warm. Next, toast the hot dog buns. To get nice grill marks, add a teaspoon of butter to your grill pan. When the pan is really hot, add the buns, pressing them down for about 1 minute; toast on the opposite side for an additional 30 seconds. Repeat with the remaining buns.

To assemble, place the hot dogs in the buns. Add some mustard to eat hot dog, top with a generous spoonful of chili and then cheese. If the cheese isn't melty, place the hot dogs under a broiler for about a minute---that'll do the trick! Top with the remaining diced white onion.
Calories:
474
kcal
|
Carbohydrates:
33
g
|
Protein:
25
g
|
Fat:
27
g
|
Saturated Fat:
11
g
|
Cholesterol:
84
mg
|
Sodium:
947
mg
|
Potassium:
457
mg
|
Fiber:
1
g
|
Sugar:
4
g
|
Vitamin A:
278
IU
|
Vitamin C:
4
mg
|
Calcium:
172
mg
|
Iron:
4
mg
Did you make this recipe? Let me know on Instagram!
Looking for more summer recipes? Here are some of my favorites: