S'mores Pavlova
36
Jun 15, 2015, Updated Dec 22, 2018
Disclosure: This post may contain affiliate links, which means I may earn a commission if you click on the link and make a purchase.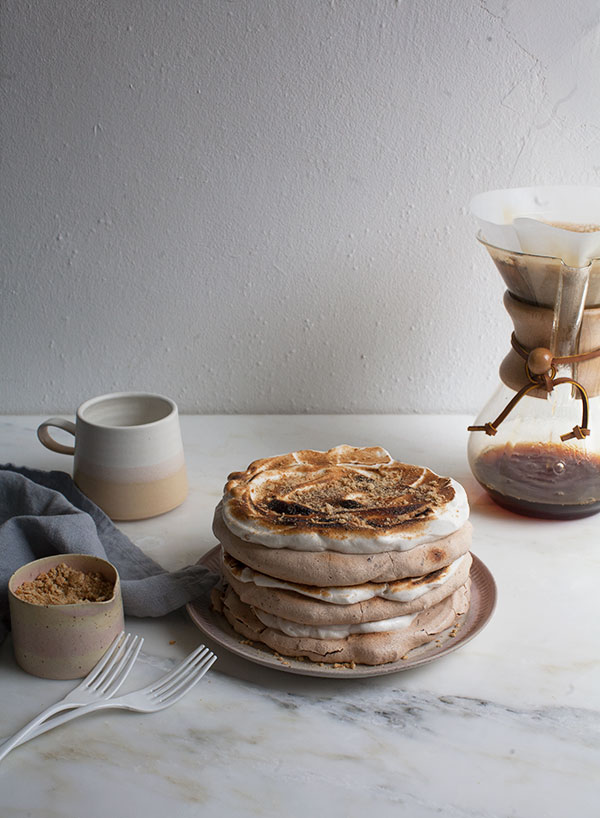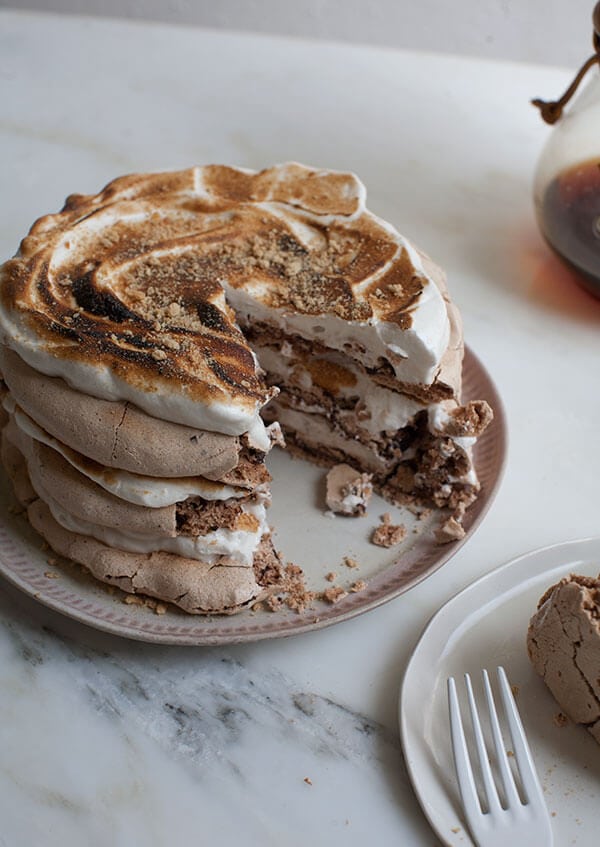 You know that part in Clueless when Cher turns to Ty and says, "Elton said you gave him a toothache." And Ty was like, "What's dat?!" And Cher was like, "It means he thinks you're sweet, stupid."
This S'mores Pavlova will give you a toothache, in a good way. It oozes summer fun. It shines bright just like a diamond. And it's screaming to be made and taken and bragged about at a BBQ.
I feel like this recipe is a lil' ratchet. It's definitely not the most classy recipe I've posted in my life, but it sure is fun.
The pavlova is chocolate-y by way of sifted cocoa powder and folded in bits of dark chocolate. The 7-minute frosting acts like a marshmallow and gets all toasty when a flame kisses it. (You can also do this in the broiler.)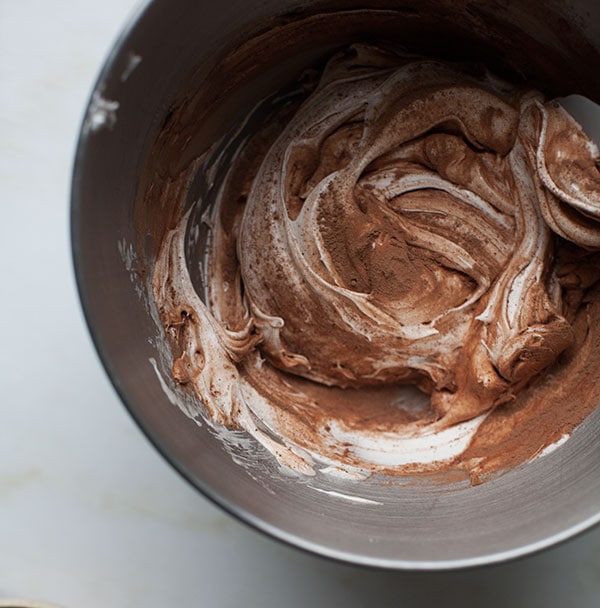 The crushed graham cracker is sprinkled on every. single. layer. My favorite part about this recipe is the chocolate-y pavlova. It's not crisp and dry throughout, which sometimes I want; this one is gooey and fudge-y in the center.
The idea is that it's supposed to mimic how a piece of Hershey's chocolate gets when a warm, toasty, burnt marshmallow is placed on top. It's like that!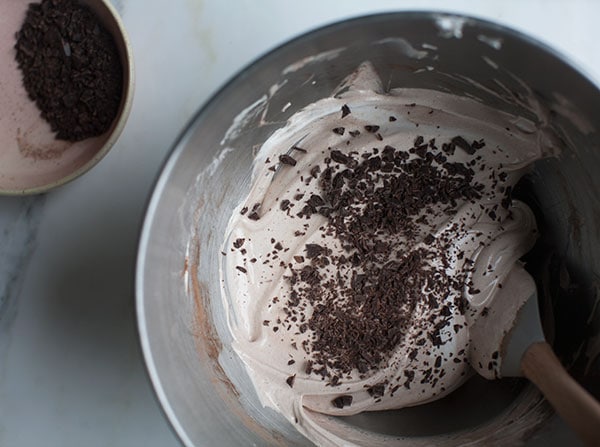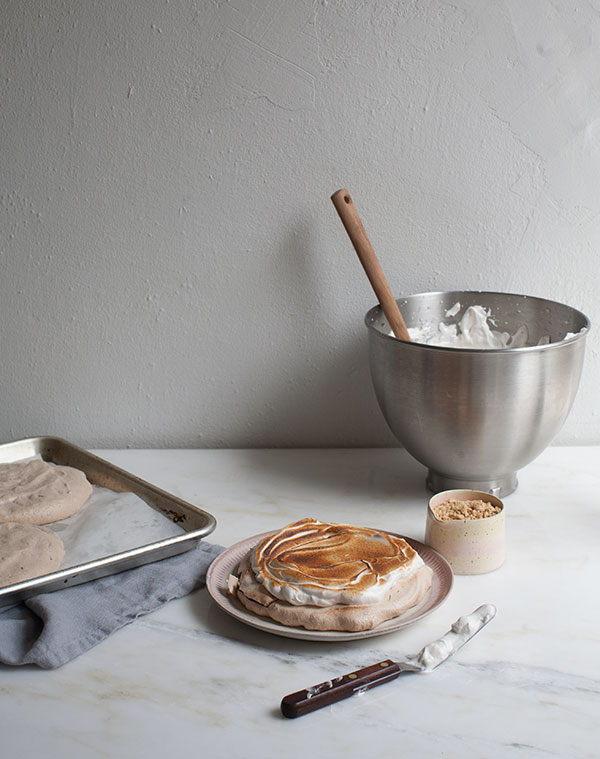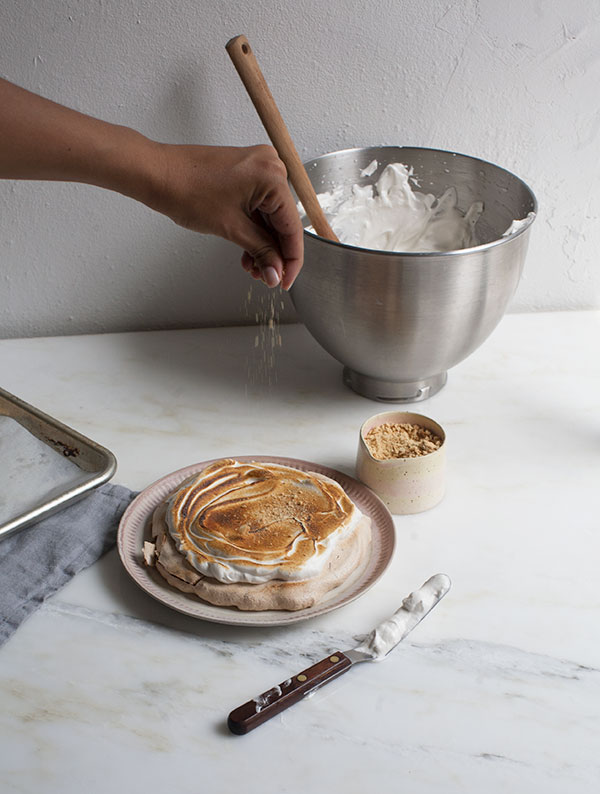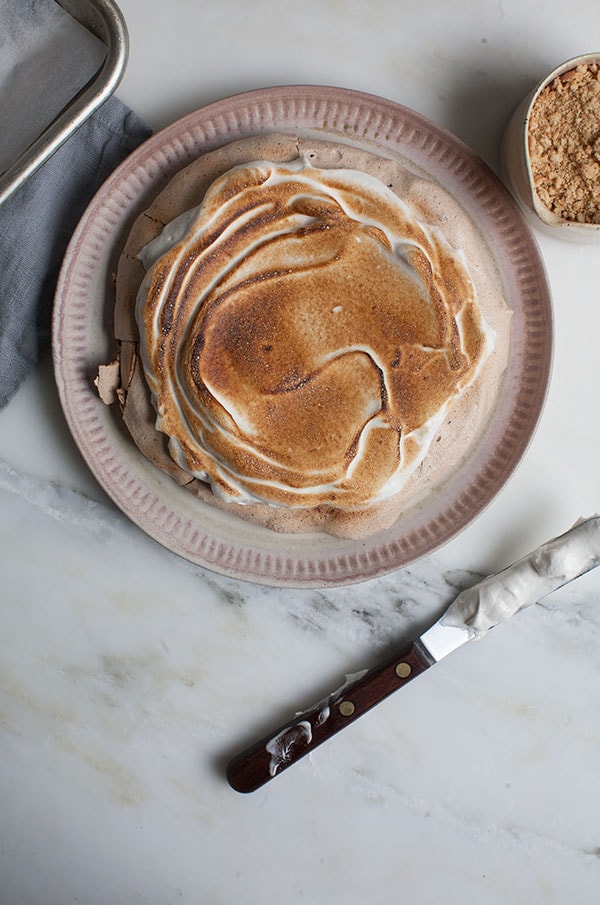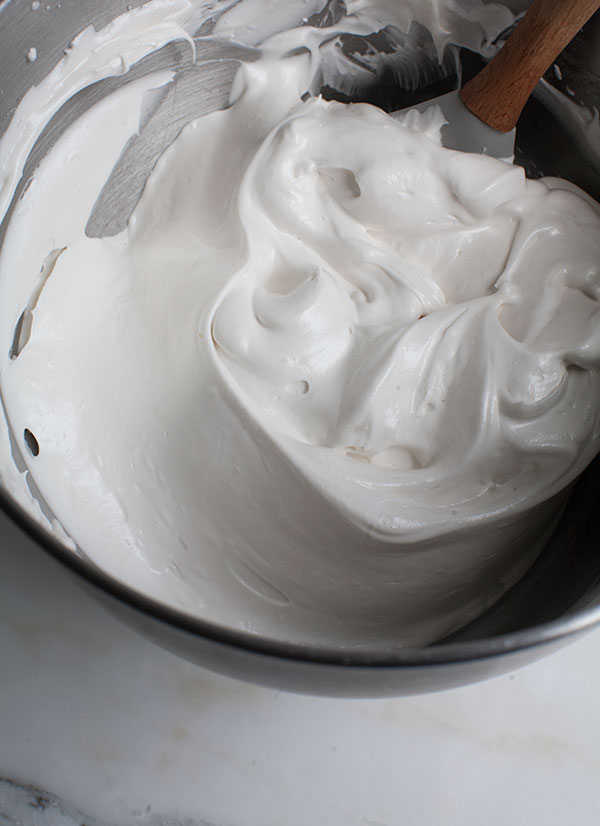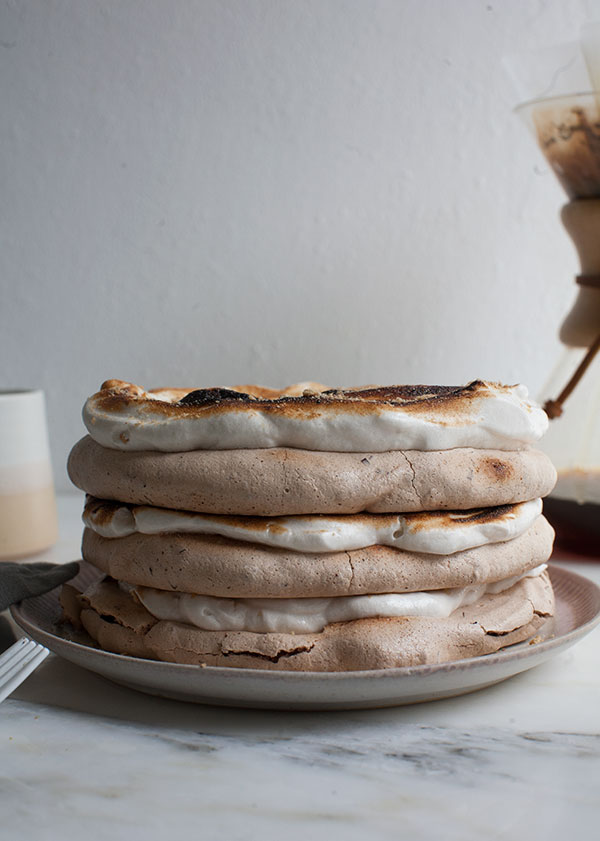 The best news about this whole dang thing is that it can be made ahead.
I left it on the kitchen counter overnight to test it out and it looked and tasted amazing the next day. I advise to put in the fridge just to you know keep it as fresh as possible but I swear it almost tastes better after it's had time to sit with itself for a bit.
Another bit of good news: this is really simple. The pavlova maybe takes 10 minutes to throw together. The frosting isn't too much of a pain either.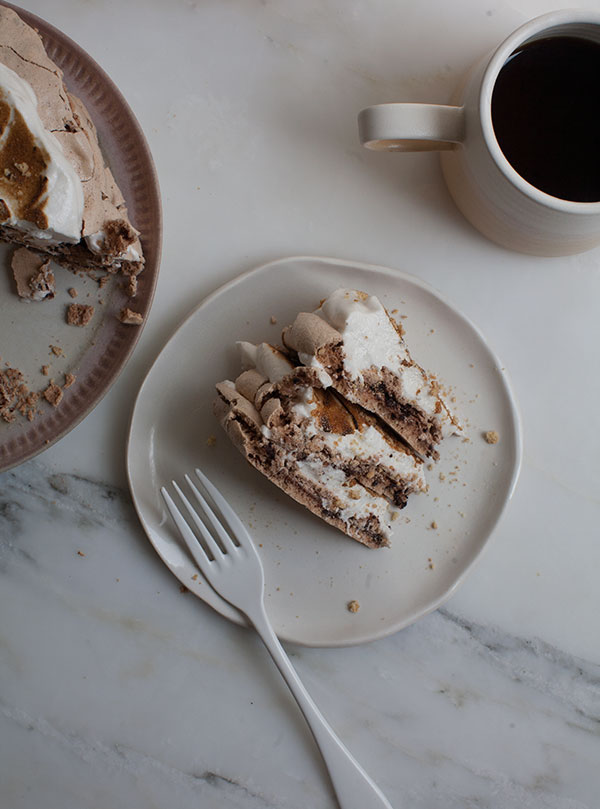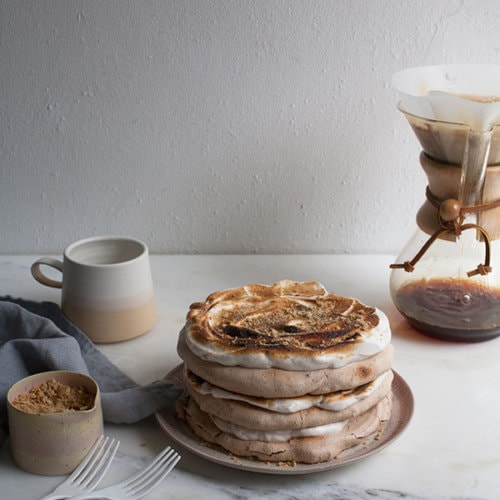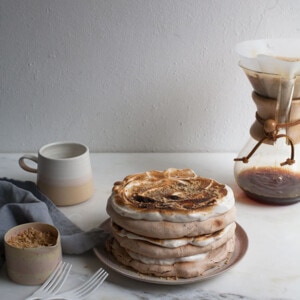 Ingredients
Pavlova:
3

large egg whites

1/4

teaspoon

balsamic vinegar

3/4

cups

granulated sugar

1/2

teaspoon

pure vanilla extract

2

tablespoons

cocoa powder

,

sifted

1

ounce

dark chocolate

,

finely chopped
7-Minute Frosting:
2

tablespoons

water

2/3

cup

sugar

2

large egg whites

Pinch

cream of tartar

Pinch

of salt

1/4

teaspoon

pure vanilla extract
Graham Cracker Topping:
3

graham crackers

,

pulsed in a food processor
Instructions
To make the Pavlova: Preheat the oven to 250 degrees F. Line a baking sheet with parchment.

To the bowl of a stand-up mixer, with the whisk attachment, add the egg whites and vinegar; beat until frothy, about 2 minutes. With the mixer running, slowly incorporate the sugar; beat until stiff peaks form, about 5 additional minutes. Mix in the vanilla extract. Next, sift the cocoa powder atop the meringue; fold in the powder using a spatula. When the cocoa powder is thoroughly incorporated, fold in the dark chocolate.

Take a 5 or 6-inch plate, flip it over onto the parchment, and use it trace 3 circles. Divide the meringue evenly amongst circles, smoothing them out until they're about 1-inch thick. Transfer to the oven to bake for 1 hour until hard and crisp on the outside. Turn the oven off, prop open the oven door, and allow to cool completely on the baking sheet.

To make the 7-Minute Frosting: In large metal bowl, whisk together the water, sugar, egg whites, cream of tartar, and salt. Set bowl over pan of barely simmering water and mix with handheld electric mixer at low speed. Gradually increase speed to high, beating until mixture holds stiff peaks, about 5 minutes.

Transfer bowl from pan to folded kitchen towel on counter and continue beating until mixture is cool and billowy, about 2 minutes more. Beat in vanilla. (Frosting can be made 4 hours ahead and chilled, covered.)

To assemble: Place one chocolate meringue on a plate. Top with 1/3 of the 7-minute frosting and smooth it out. Using a torch, toast the frosting until golden brown. Sprinkle with about a tablespoon of graham cracker crumbs. Repeat with the remaining meringue, frosting and graham crackers. Pavlova stays good in the fridge for up to 1 day. If you like, you can make the meringue up to 3 days ahead and assemble the day of.
Nutrition
Nutrition information is automatically calculated, so should only be used as an approximation.