Dinner for One: Poke Avocado Bowl
27
May 27, 2014, Updated Dec 22, 2018
Disclosure: This post may contain affiliate links, which means I may earn a commission if you click on the link and make a purchase.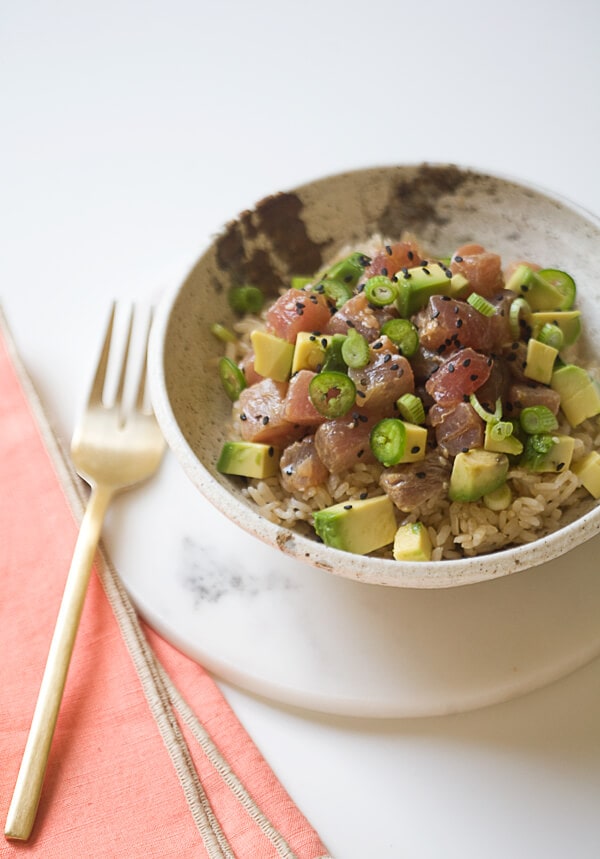 Say hello to the dinner I plan on having at least once a week for the entire summer. This is all I want to eat right now and it's all thanks to summer quickly approaching, my love for tuna and my new obsession with fancy brown rice.
I've never been to Hawaii (sad!), but in my dreams I'm sitting by a roadside-hut in my bathing suit and flip flops, eating a big bowl of poke. And then after poke, I'll go scuba diving with Amelia and she'll befriend a gigantic tortoise, ride on his/her back and they'll end up becoming besties. Of course, I'll Instagram the whole thing and collectively we'll want to throw our phones across the room because the cuteness will just be too much to take.
Until my dream becomes a reality…we'll have to just make the poke bowls in our own homes…homes that are sadly VERY far from Hawaii.
But don't worry, because dreams do come true and this will happen.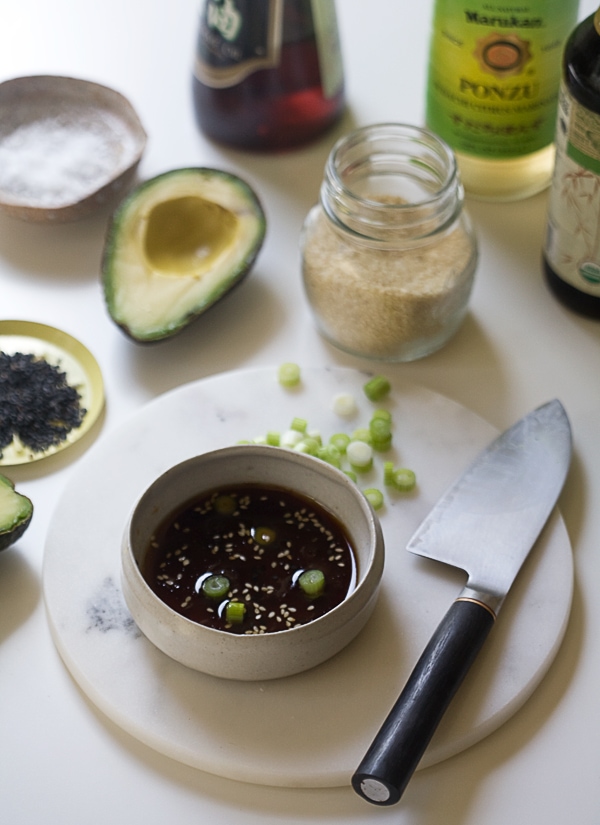 This poke bowl is super healthy, but feel free to make it unhealthy but stuffing the poke into crispy taco shells. Hello! I think that'd be delicious.
For this bowl you'll need sushi-grade ahi tuna. You can find it at most Asian markets, Whole Foods carries it and other specialty grocery stores should have it. To avoid oxidation (the tuna turning brown), cut it up right before you end up serving it. I mixed together the sauce, made my rice, got everything ready and then cut up the tuna. It was the very last step. Oxidation won't change the flavor, it just won't look very pleasant.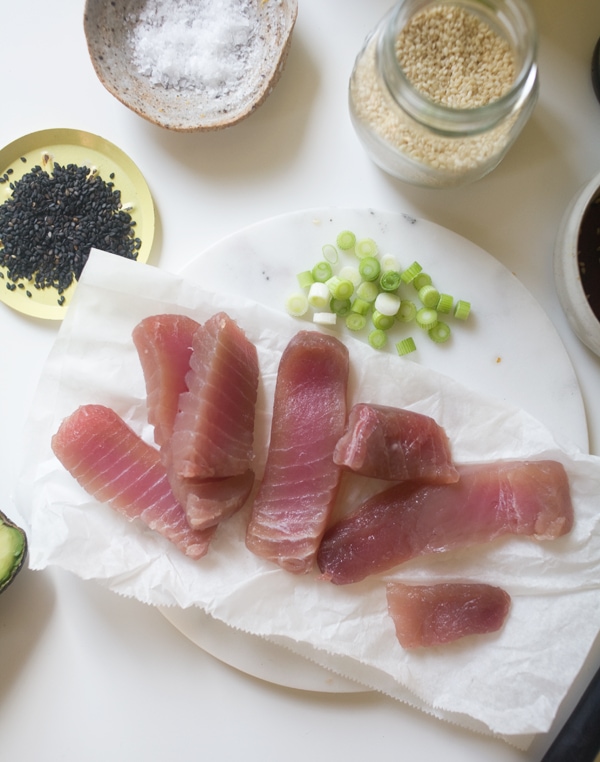 If you're going to follow suit, I recommend this fancy brown rice: Heirloom Kokuho Rose. It's pretty special stuff. The texture is firm and slightly crunchy and the flavor is nutty and full.
I used to be a white rice only kinda person, but now I'll take brown rice any day. Of course, you don't need that fancy rice, any Japanese-style brown rice will do just fine.
Here's to Tuesday…which this week is sorta like Monday…which means Saturday is super close, so go us!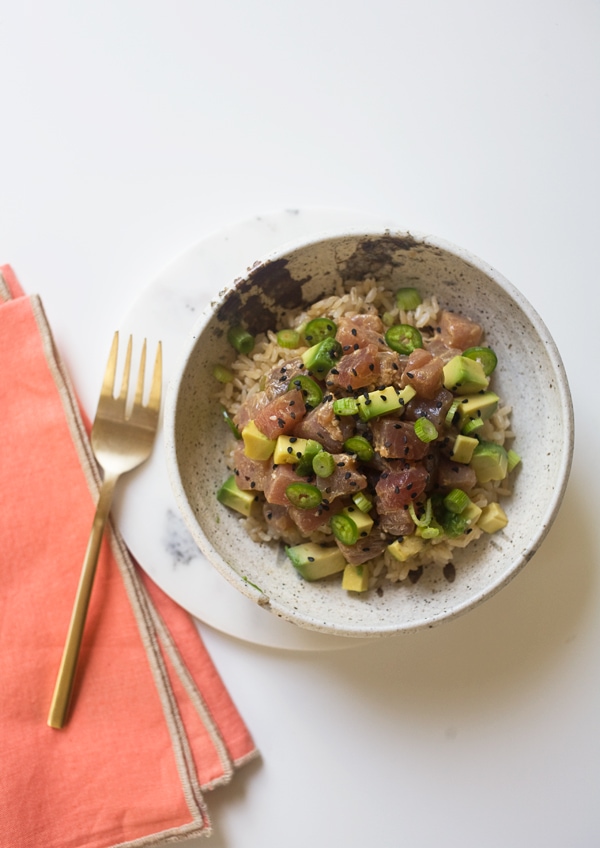 Dinner for One: Poke Avocado Bowl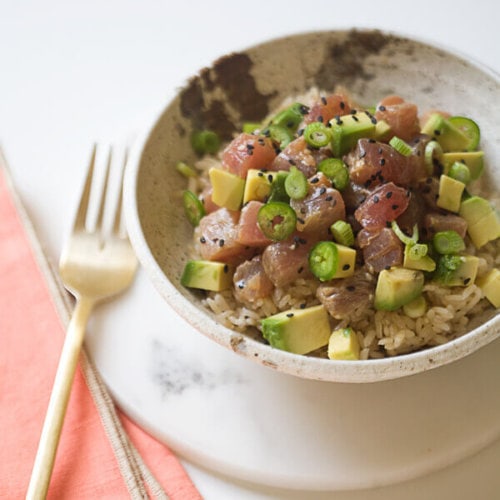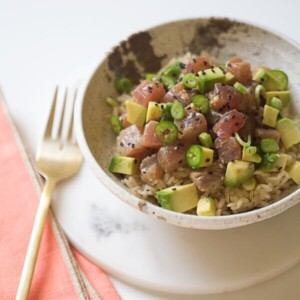 Ingredients
Dinner for One: Poke Avocado Bowl

1/2

cup

brown rice

Splash of rice wine vinegar

,

optional

3

tablespoons

low-sodium soy sauce

3

tablespoons

ponzu sauce

1

tablespoon

sesame oil

1

teaspoon

black sesame seeds or toasted sesame seeds

,

or a mix, plus more for garnish

1

green onion

,

sliced

1/2

round sushi-grade ahi tuna

1/2

avocado

,

cubed

1/2

serrano pepper

,

thinly sliced
Instructions
Cook the brown rice, according to your rice maker's instructions. If you don't have a rice cooker, you can make it over the stovetop using the ratio of 1:1. I like to add a splash of rice wine vinegar and a pinch of salt to my rice.

In a medium bowl, whisk together the soy sauce, ponzu sauce, sesame oil, sesame seeds and green onion. Give it a taste and adjust the seasoning, if you like. For instance, since I was using low-sodium soy sauce, surprisingly my sauce needed a pinch of salt. If you like it tarter, don't be shy to add a splash more of ponzu sauce.

Dice up the tuna into bite-sized pieces and add them to the medium bowl with the sauce. Toss until thoroughly coated. Allow to marinate for 5 minutes. To assemble, add the cubed avocado to the tuna and lightly toss. Add the warm rice to a bowl and top with the marinated tuna and avocado mixture. Garnish with the slivers of habanero and a few more pinches of sesame seeds. Serve immediately.
Nutrition
Nutrition information is automatically calculated, so should only be used as an approximation.