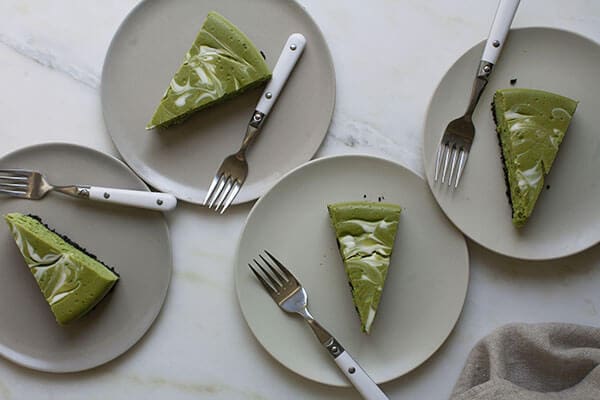 Matcha everything, please! Especially Matcha Swirl Cheesecake.
I feel like matcha is having a moment. Spotlight is on matcha. Like every week on the Instagram I see a new-to-me dessert using beautiful, green matcha and am like WHOA! SIQ! Well, here's another I'm throwing in the mix, though when I went to Google "matcha cheesecake," thinking I would be the sole inventor, I quickly realized a genius I am not.
That's usually how my day goes: 1. Think of genius idea. 2. Google genius idea. 3. Discover a million people have already done it and watch as my genius idea turns into a "genius idea." It's sad.
So, to make mine different, I did a lil' swirl action, which made me super excited. This cheesecake actually sort of matches this green gazpacho. If you wanted to do a green and white swirl themed dinner party, these two guys would be great for that!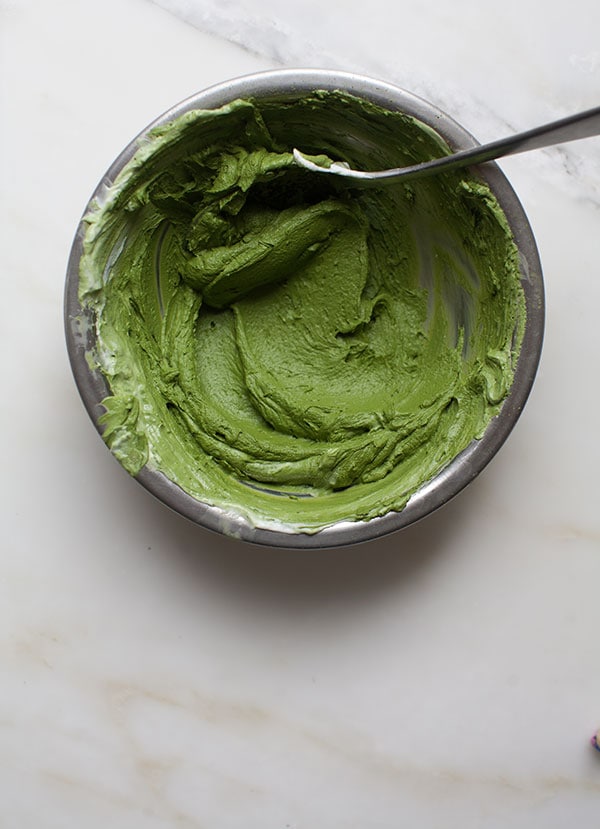 Cheesecake is the best thing to serve in the colder months, even though right now I'm currently sitting in bed, enjoying the June-gloom breeze blow through my window and I'm just grateful it's not hot yet. Please hot weather, stay far away from me.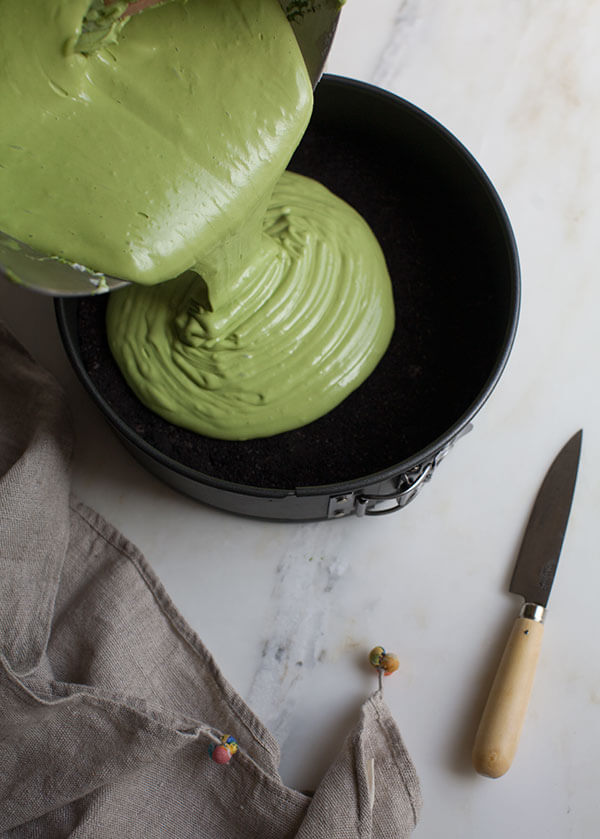 I've been thinking of throwing a summer to-do list together. Here's what I have so far:
1. Go water tubing
2. Buy a new swimsuit (FUN!)
3. Get a tan (even though I don't need one)
4. Grill all the vegetables
5. Grill all the fruit
6. Eat outside as much as possible
7. Have a few beach days (why do I never go to the beach?)
8. Go snorkeling
9. Finally convince Amelia that waves aren't scary
10. Post a video of Amelia on Instagram jumping in the pool
What's on your summer to-do list? C'mon, we all need one! Obviously this Matcha Swirl Cheesecake should be on your to-do list.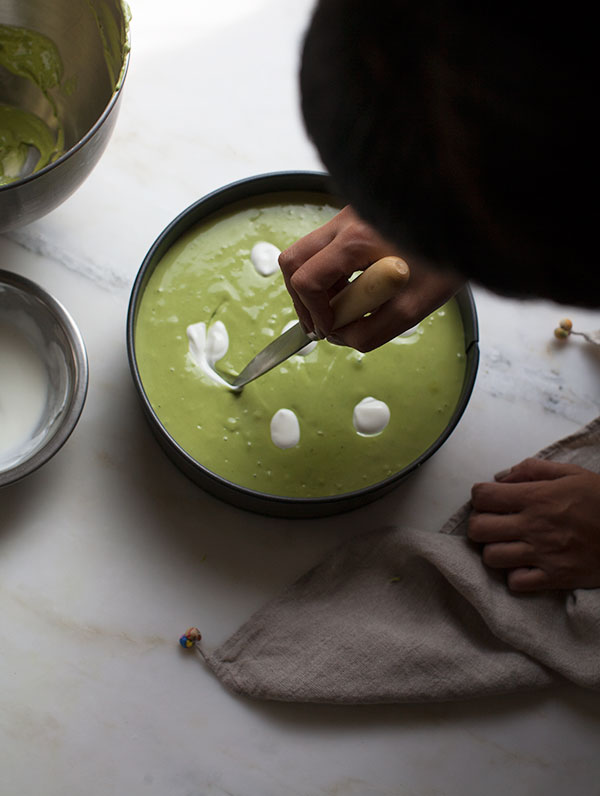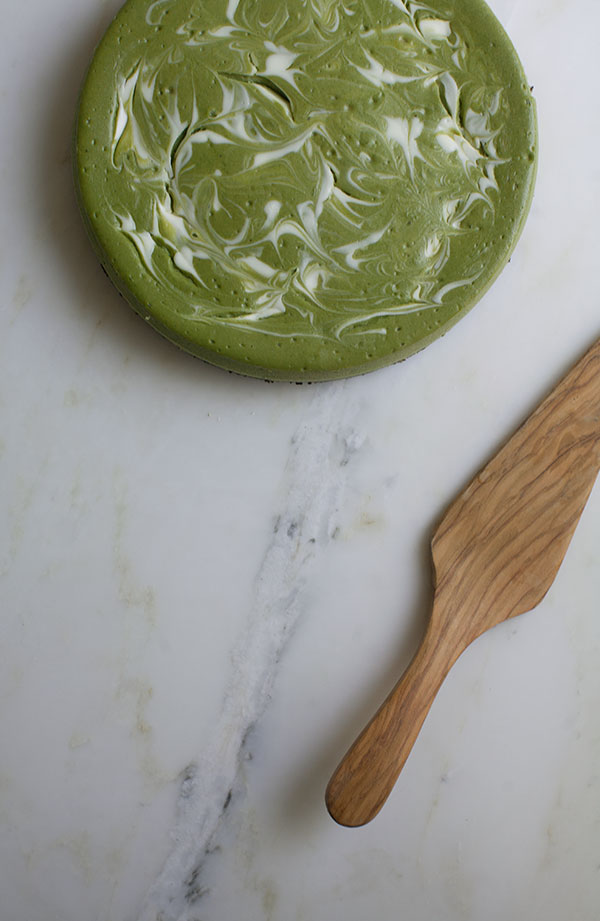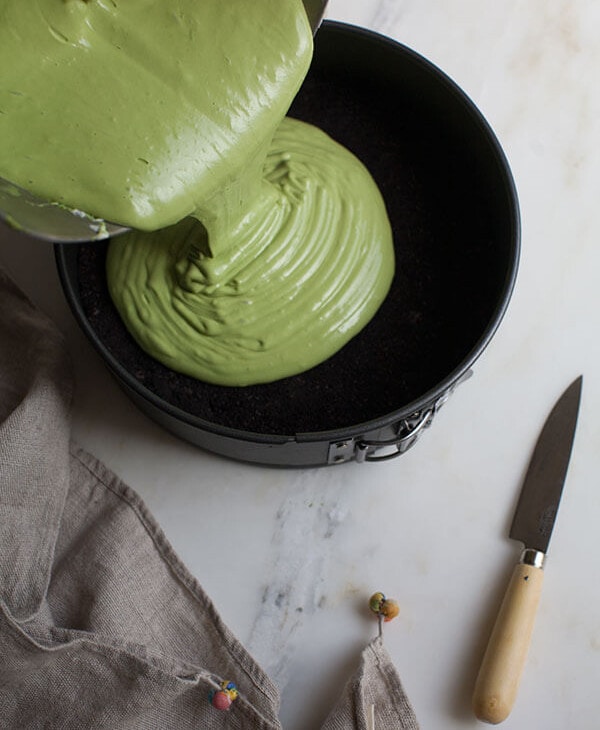 Print Recipe
Matcha Swirl Cheesecake
Matcha Swirl Cheesecake is light, fluffy and delicious. Matcha (green tea) is added to the cheesecake to add a delicious bitter, sweet note.
Serving Size:
(nine-inch) cheesecake
Ingredients
Crust:
1 1/4

cups

chocolate cookie crumbs

from about 16 cookies chocolate

2

tablespoons

white granulated sugar

1/4

teaspoon

kosher salt

4

tablespoons

unsalted butter

melted and cooled slightly
Cheesecake:
24

ounces

cream cheese

at room temperature

4

ounces

European-style, not Greek yogurt, room temperature, divided

2

tablespoons

green Matcha powder

1 1/2

cups

white granulated sugar

4

large

eggs

1/4

teaspoon

pure vanilla extract

Pinch

of kosher salt
Swirl
1

ounce

European-Style (not Greek yogurt)

1

tablespoon

powdered sugar
Instructions
To Make the Crust:
Preheat the oven to 350 degrees F. In a small bowl, mix together the cookie crumbs, sugar, salt and melted butter. Add the crust mixture into a nine-inch (10-cup) springform pan and press evenly onto the bottom of the pan until packed tightly.

Transfer to the oven to bake for 8-10 minutes (unfortunately since the crumbs are so dark you can't really tell when they've toasted so it's important to pay attention to the clock). Remove from the oven and cool completely before adding the filling. Wrap the bottom of the spring form pan in a few sheets of foil and set aside. (I hate springform pans and they always leak so this is why we're wrapping it in foil.)
To Make the Cheesecake:
In a small bowl, whisk together the matcha with 1 ounce of yogurt until very smooth—be sure to really get in there to whisk out the lumps of matcha. To the bowl of a stand-up mixer, using a paddle attachment, add the cream cheese and beat until smooth and fluffy, about 2 minutes. Next, add in the matcha yogurt mixture, reserved 3 ounces yogurt and sugar; beat until combined. With the machine one, add the eggs, one at a time, waiting until each egg is incorporated before adding the next one. Lastly, mix in the pure vanilla extract and salt.

To Make the Swirl:

To a small bowl, whisk together the yogurt and powdered sugar until smooth. If it's thick at all (this will depend on the yogurt you're using), you may need to add a splash of water. It should be the texture of heavy cream.
To Assemble:
Pour the matcha and cream cheese filling into the springform pan and smooth out the top with a spatula. Make sure it reaches the edge of the pan. Make little dollops of sweetened yogurt all over the surface of the cream cheese. Take a skewer or popsicle stick and run it through the dollops creating a marbling effect. Make it as messy or neat as you like. Place the springform pan in a roasting pan, or another pan that's as big. Transfer to the rack of the oven and fill up the roasting pan with about 2 inches of water. Bake for 45 to 50 minutes, until it looks set, yet it's still a bit wobbly in the center. Place on a cooling rack for 30 minutes and then place it in the fridge to set for at least 3 hours. (I let it set overnight.) Slice it up and serve.
Equipment
1 (9-inch) spring form pan
Nutrition
Serving:
8
g
|
Calories:
289
kcal
(14%)