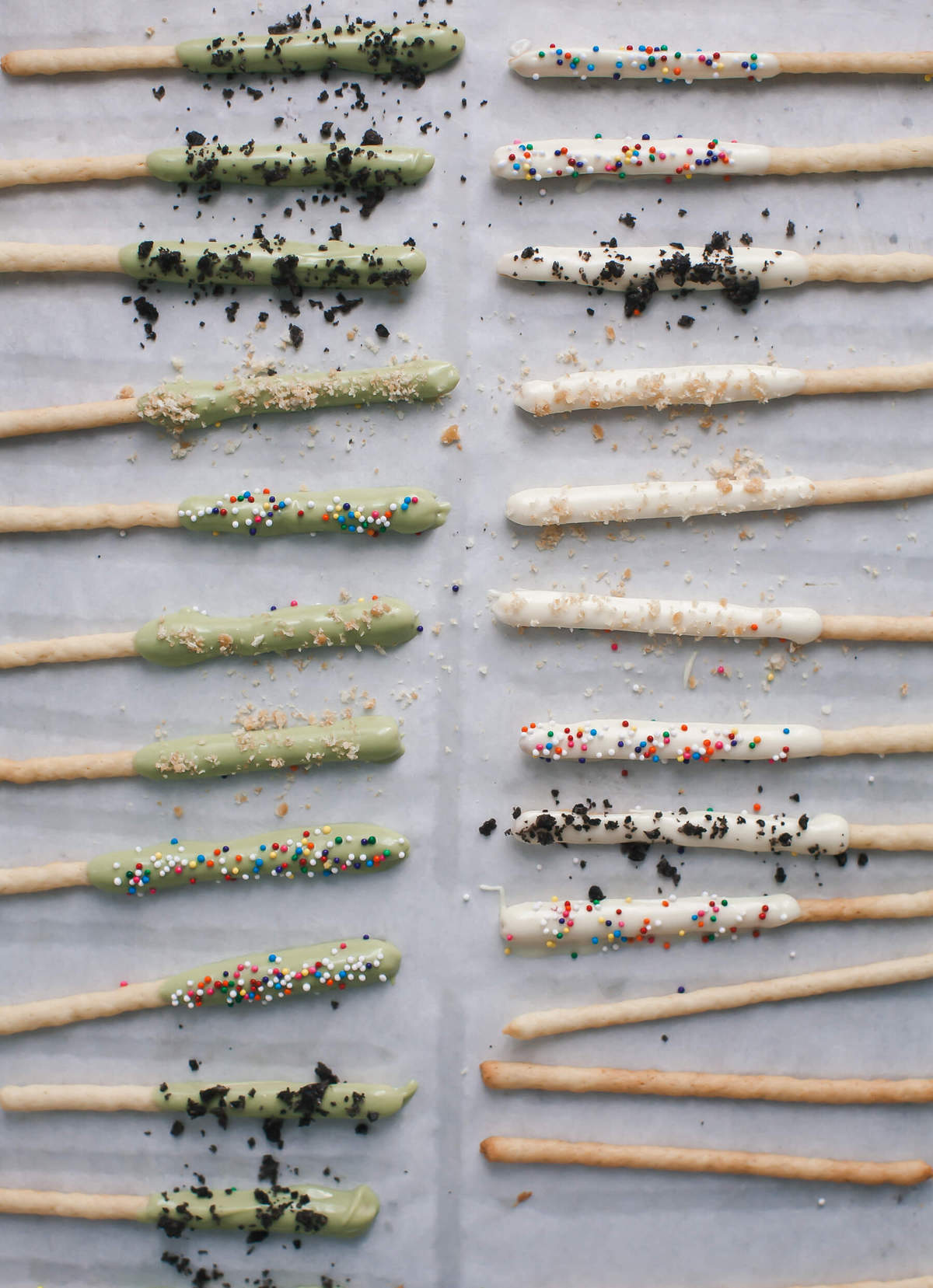 One of the greatest things about living in LA is my v v close proximity to Little Tokyo. Josh and I go to dinner there all the time and our favorite after-dinner-activity is heading to the Japanese grocery stores so we can raid them for all their candy.
We often times get new-to-us-candy but we always make sure we get all the pocky in all the crazy flavors. I thought about making simple homemade pocky but that'd be boring! Unless you live in a major city (and near a Japanese neighborhood), I'm guessing it's kinda hard to find all of the crazy pocky flavors. They're the best ones.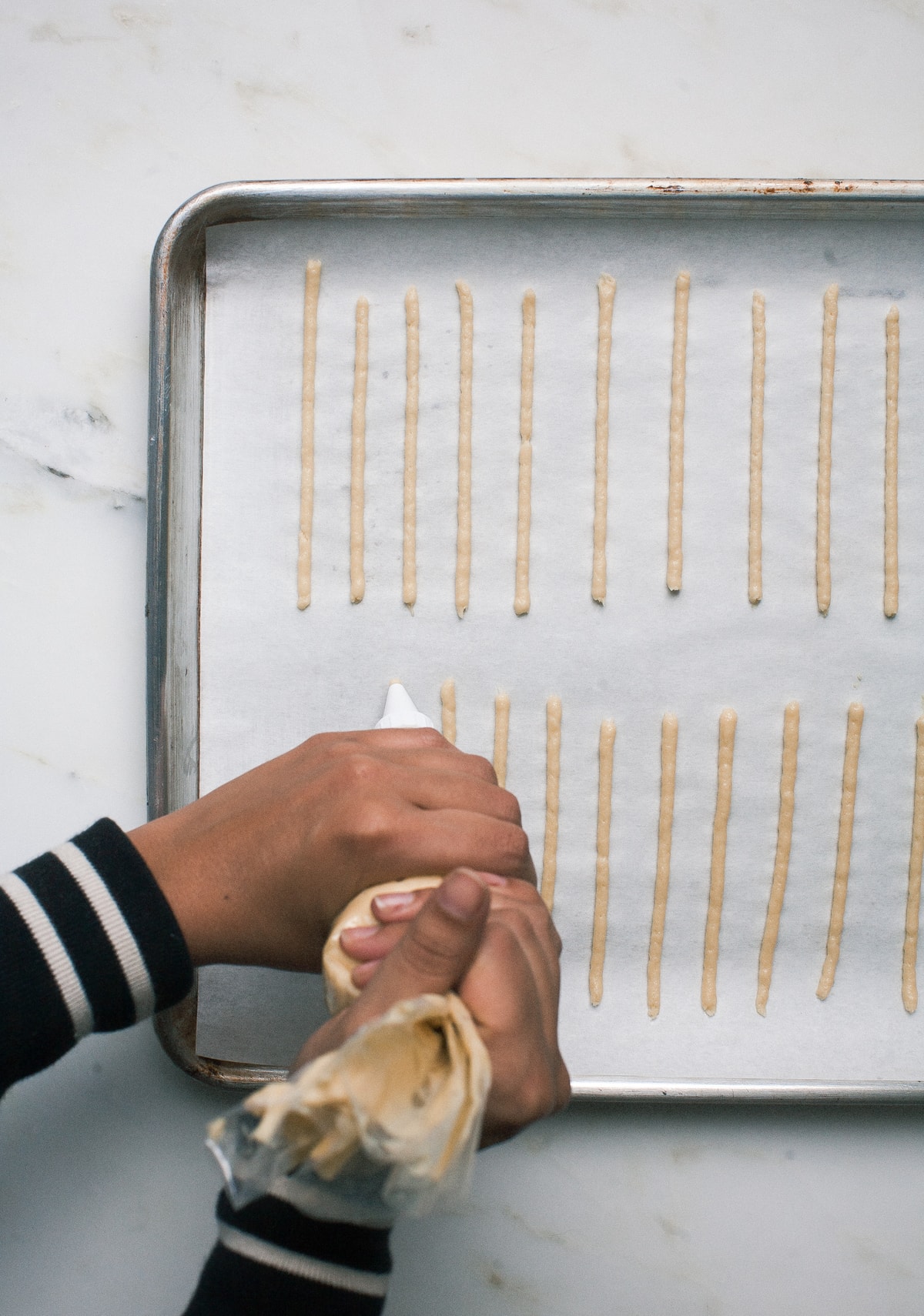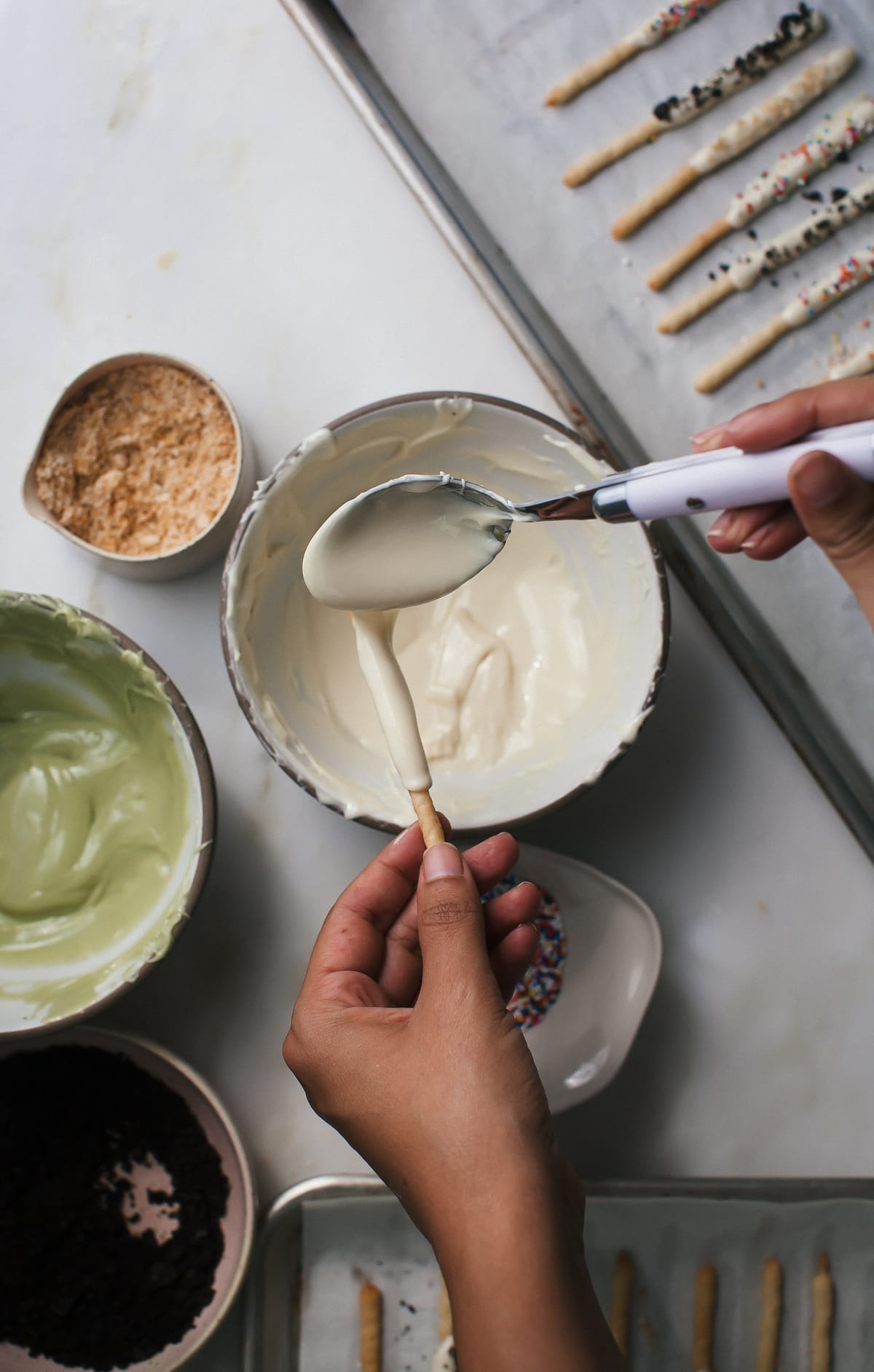 This pocky recipe is adapted from Samantha on Food52. This one is different because it uses all-purpose flour vs. bread flour and since I was after more of a softer texture pocky (not crispy), I used powdered sugar vs. regular sugar.
As for dipping, white chocolate is your friend. Here are the flavors I went with:
1. White chocolate + Ritz crackers
2. Matcha white chocolate + birthday sprinkles
3. White chocolate + crushed Oreos
4. White chocolate + birthday sprinkles
5. Matcha white chocolate + Ritz crackers
I say get weird. I say be fun. Raid your pantry and use up all the leftover cookies, leftover crackers, leftover sprinkles.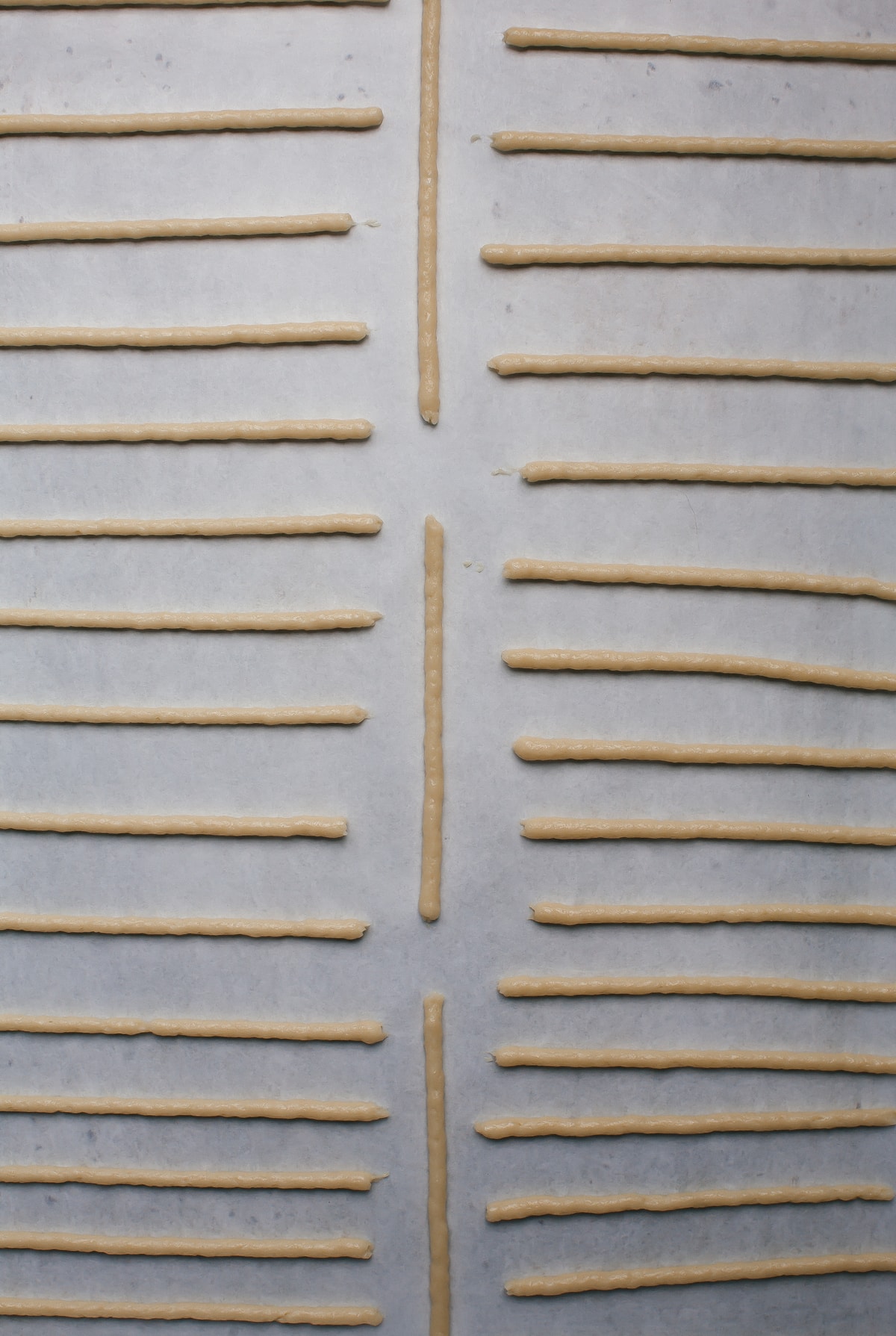 These are so fun to make. They make you feel like a lil' kid again yet. And you kinda can't just eat one. You'll want one after the other; that's not a bad thing.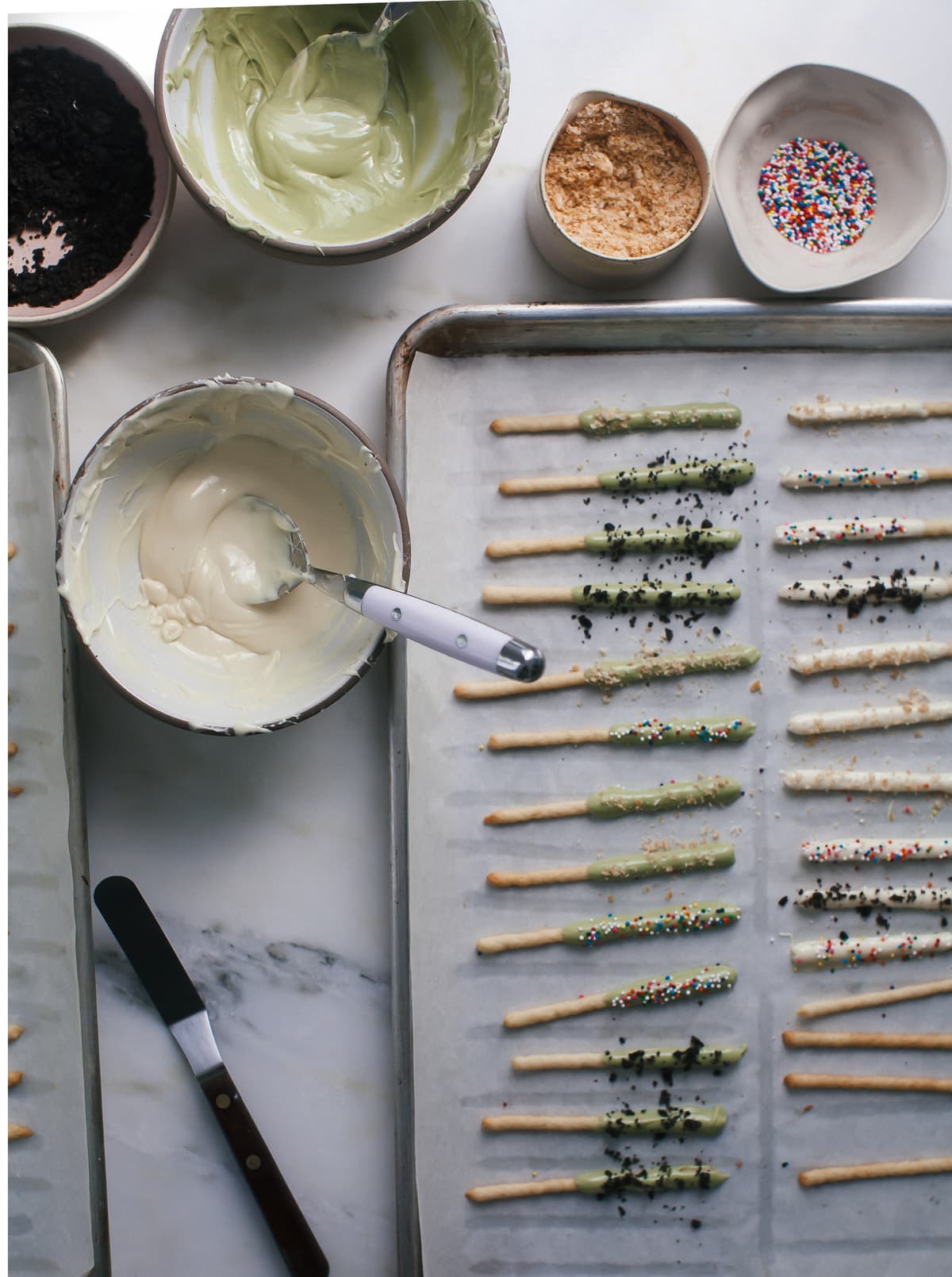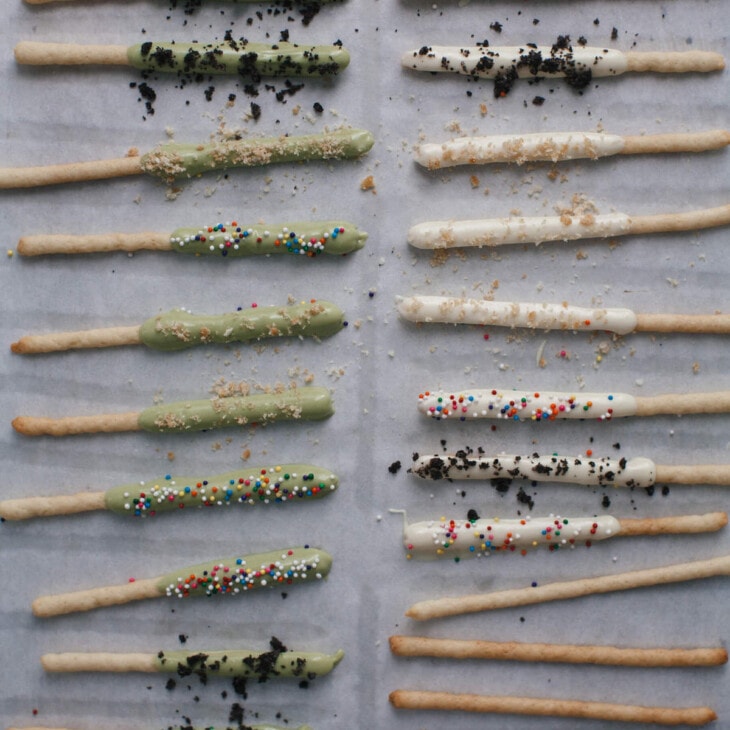 Print Recipe
Homemade Pocky
Ingredients
Pocky Cookies:
4

tablespoons

unsalted butter

at room temperature

1/3

cup

powdered sugar

sifted

1

large egg

1/4

teaspoon

vanilla extract

1

cup

all-purpose flour

1/2

teaspoon

baking powder

1/2

teaspoon

salt

4

teaspoons

lukewarm water
For Dipping:
12

ounces

white chocolate

2

teaspoons

matcha

sifted

2

Oreos

crushed (just the outside cookies)

2

Ritz crackers

crushed

1

tablespoon

birthday sprinkles

Or any other toppings your heart desires
Instructions
Preheat your oven to 350 degrees. Line three baking sheets with parchment and set aside.

In the bowl of a stand-up mixer with the paddle attachment, add the butter and sifted powdered sugar. Beat until light and fluffy, about 2 minutes. Add the egg and vanilla extract. Beat once more until combined, scraping down the sides as needed.

Pour in the flour, baking powder, salt and water and mix one last time until smooth. Transfer the batter to a piping bag fitted with a small-ish round tip. (Mine was in between a number 8 and a number 10.)

Pipe 5 to 6 inch lines of the batter onto the baking sheet. (I just eyeballed this measurement but if you like you can draw lines with a pencil and then flip the parchment over and trace the lines with the batter.) Repeat until you've done about 30 lines per baking sheet. Bake the pocky, one baking sheet at a time, for 10 to 12 minutes, until lightly golden brown around the edges. Leave on the baking sheets to cool completely.

Meanwhile, divide the white chocolate amongst two bowls. Melt the white chocolate in the microwave for 1 minute, stirring at the 30 second mark. Sift the matcha into one of the bowls with the white chocolate and stir until combined.

Ok, so the pocky is not the sturdiest. It's somewhat fragile. So to decorate them, I simply spooned a bit of white chocolate over about half of the pocky (see photo) and then scraped the sides, gently, with a small offset spatula or butter knife, to remove any excess chocolate. I transferred it to a baking sheet and then sprinkled on any of the toppings above. Repeat until you've worked your way through all of the pocky.