Dog Birthday Cake
54
Oct 18, 2013, Updated Mar 05, 2020
Disclosure: This post may contain affiliate links, which means I may earn a commission if you click on the link and make a purchase.
Dogs need birthday cakes too! This Dog Birthday Cake is the perfect thing for any dog looking to celebrate. It's grain free and full of good things like garbanzo flour, carrots, and almond butter.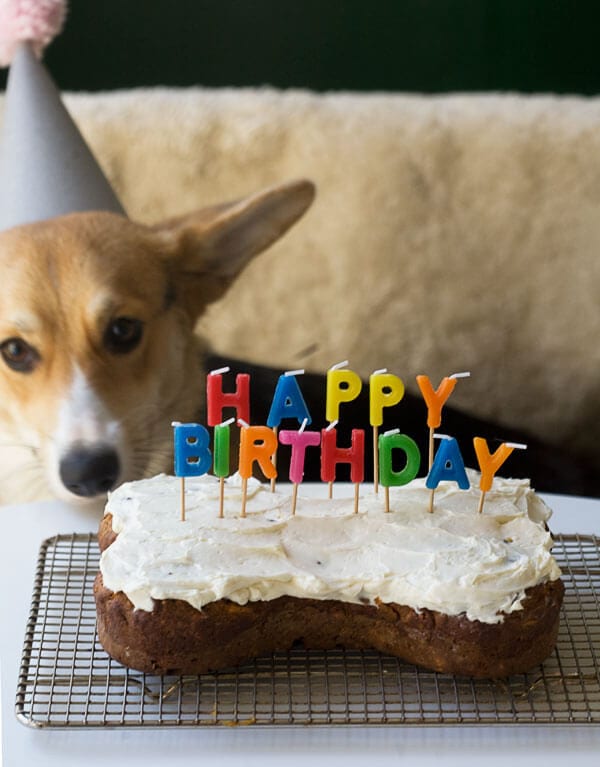 Amelia is officially a year old. And in human years that translates to seven big ones. She's basically a second grader. I've learned quite a bit from raising a three-month old corgi until now…
I'm no dog mama pro (just a dog birthday cake pro;) but here are a few things I've learned:
Corgis bark A LOT.
Amelia grumbles at me when I tell her "no." She talks back. She has attitude. She can be a jerk sometimes. We get in a lot of mother/daughter arguments. I honestly had no idea that you could argue with a dog until she came into my life.
There's nothing worse for a dog than being left alone.
This is their worst nightmare. This is torture. They're the clingiest, neediest friends you could ever have. Their desperation is borderline embarrassing. And yet their neediness is what I love the most. Does this make me a sad person?
Dogs are kind of expensive.
They don't tell you this but between chew toys and dog beds and blankets and food…dogs are pricey. You also have to factor in the cast of the brand new shoes they'll ruin. Their destruction is heartless.
Dogs can sense when you're upset.
This might be a lil' hippie of me, but I when I'm upset or crying, Amelia can sense it. She usually comes and sniffs my face and then sits next to me. She knows me.
And it makes me feel all fuzzy inside to know that she cares. She's kind of like one of my best friendz.
Dogs hate wearing costumes/hats/t-shirts/cones.
I'm not the type to torture Amelia on a daily basis and put sneakers on her (yes, people do this in LA), have her wear dresses, etc. (plus she's a tomboy, guys!), but the few times I've put clothes on her SHE HATES IT. This is torture!
Please don't do this to your dog. I know you need to for like 15 minutes every now and then. And Halloween is a big exception because it's funny, but don't make it a regular thing. Dogs hate this. Let them have their dignitity! And plus, they get hot easily.
Girl dogs aren't lady-like.
I thought having a girl dog would be a walk in the park. No marking, no humping, etc., but Amelia is very far from being lady-like. When she eats she gets all excited and frisky, runs around the house like a lunatic and then comes up to my face to say hi and then…BURPS! I own a dog that burps.
How to make a Dog Birthday Cake
It's actually really easy! There aren't a bunch of weird ingredients and if you buy a bone shaped cake pan half the work is done for you.
Prep the pan. You shouldn't have to worry about it if you're using a silicone pan but any other pan you should grease with non-stick spray.
Mix. In a large bowl you just mix together the flour and baking soda then add the rest of the ingredients and mix until they just come together.
Bake! Bake just until a tester comes out clean. Dogs don't like dry cake!
Make the frosting and decorate. Just mix together the frosting ingredients and spread it on the cake!
Celebrate! Sing happy birthday but maybe don't light the candles 🙂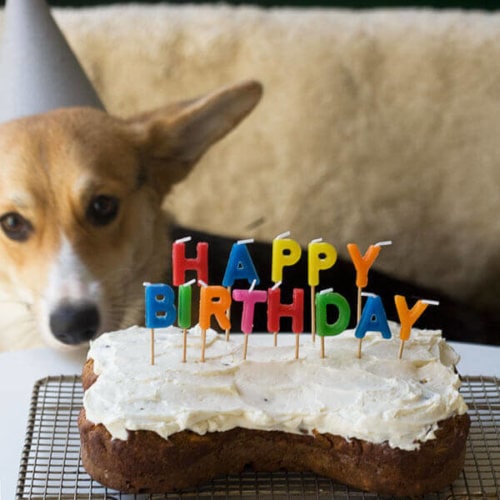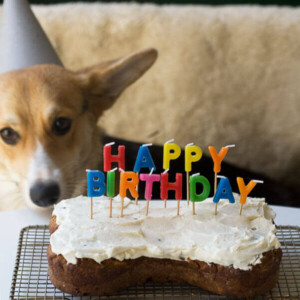 Dogs need birthday cakes too! This Dog Birthday Cake is the perfect thing for any dog looking to celebrate. It's grain free and full of good things like garbanzo flour, carrots, and almond butter.
Ingredients
Cake:
2

cups

garbanzo flour

1

teaspoon

baking soda

1

cup

shredded carrots

1/2

cup

almond butter

2

tablespoons

honey

3

tablespoons

olive oil

2

large eggs

1/2

cup

water
Frosting:
8

ounces

cream cheese

,

room temperature

2

tablespoon

honey
Instructions
Preheat the oven to 350 degrees F. I used this silicone bone mold from Amazon and didn't bother greasing it. Alternatively, you can use a 7-inch round cake pan; but it'd advise buttering it and then coating it in flour.

In a large bowl, mix together the garbanzo flour and baking soda. Add the shredded carrots, almond butter, honey, olive oil, eggs and water.

Spoon the batter into the cake pan and smooth out the top with the back of a spoon. Transfer to the oven to bake for 25-30 minutes, and until a skewer inserted into the center comes out clean. Turn the cake out onto a wire rack to cool completely.

To make the frosting, add the cream cheese and honey to a medium bowl. Using a hand-mixer, whisk the two together until light and fluffy, about 2 minutes.

Spoon the frosting onto the cake's top and smooth it out using a butter knife or offset spatula. Happy Birthday!
Nutrition
Calories:
3099
kcal
|
Carbohydrates:
241
g
|
Protein:
94
g
|
Fat:
205
g
|
Saturated Fat:
56
g
|
Cholesterol:
249
mg
|
Sodium:
1995
mg
|
Potassium:
3278
mg
|
Fiber:
39
g
|
Sugar:
108
g
|
Vitamin A:
3144
IU
|
Calcium:
764
mg
|
Iron:
17
mg
Nutrition information is automatically calculated, so should only be used as an approximation.
Did you make this Dog Birthday Cake? Let me know on Instagram!
Looking for more Amelia Content? Here are some of my favorite posts: