These Everything Soft Pretzels are delicious, baked soft pretzels sprinkled with the famous bagel seasoning: "everything." Perfect for game day or otherwise!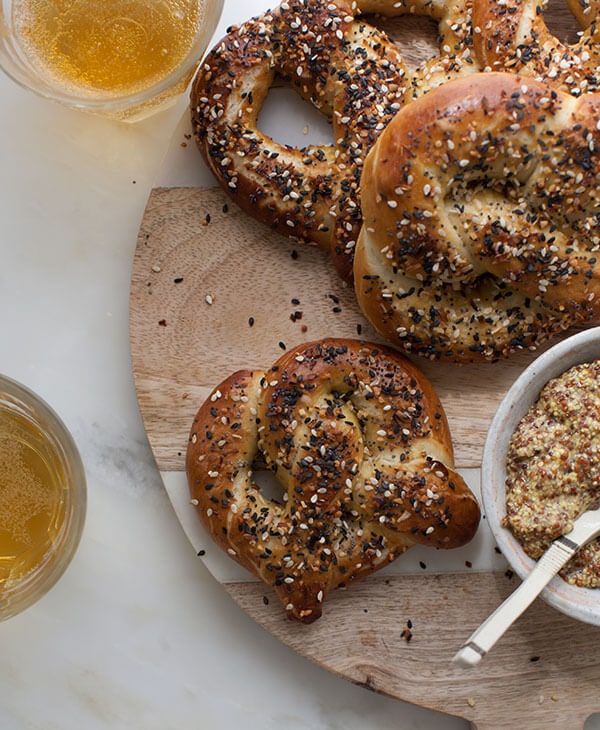 Everything bagels are my everything; hence the reason why I figured it'd be a slam dunk of an idea to put that everything topping on soft pretzels. It's like one of those duh-this-will-taste-good-moments. I'm not sure I can properly express my excitement for this recipe because if you can't sense it then I'm doing a v v bad job articulating how freaking excited I am!
Some people are sesame bagel people. Some people are asiago bagel people. But then…there are everything bagel people and that is where I fit in. My home belongs in between the poppy seeds and the onion flakes and the sesame. It's a glorious place to be that makes your mouth smell terribly and there's a good chance you'll have dark seeds stuck in your teeth but whatever! Basically, everything bagels aren't first date material. But they're good life material.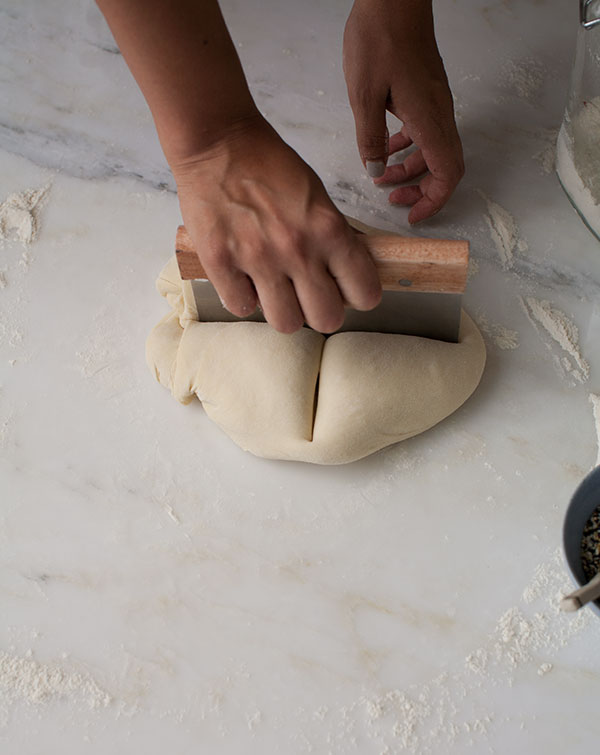 How to Shape Everything Soft Pretzels
Roll a piece of dough into a rope; you really want it to be about 18-inches long.
Next, take the ends of the rope, one in one hand and the second in your other hand and create a circle.
Twist the ends together one or twice.
Next, bring the twist toward you, to the opposite end of the circle, making sure the ends of the rope go over the circle of dough.
And that's it!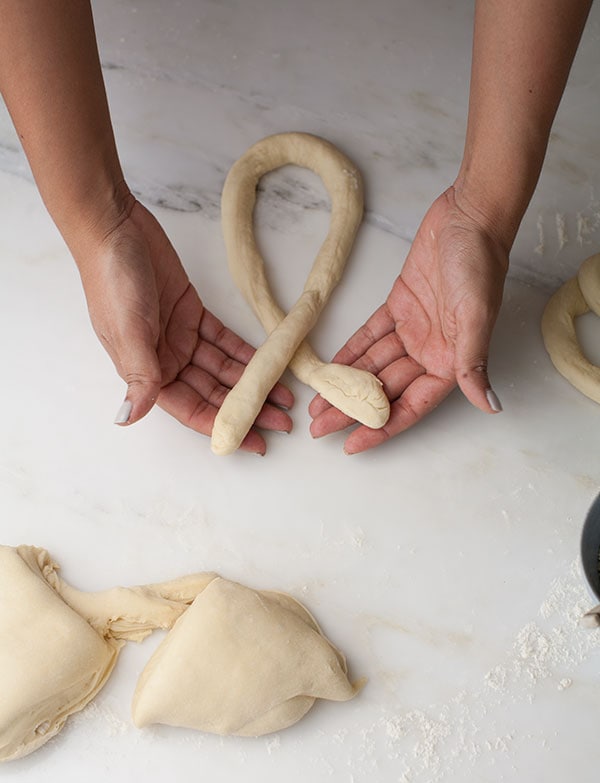 How to Make Everything Soft Pretzels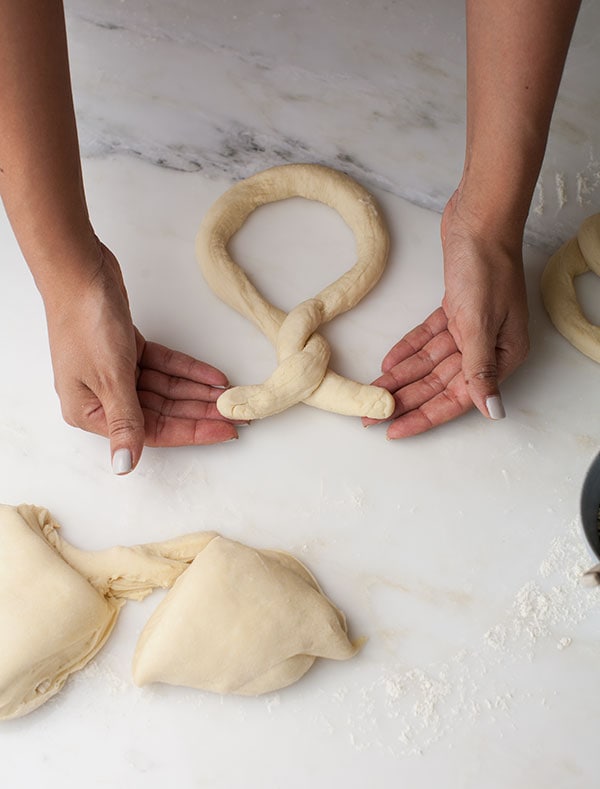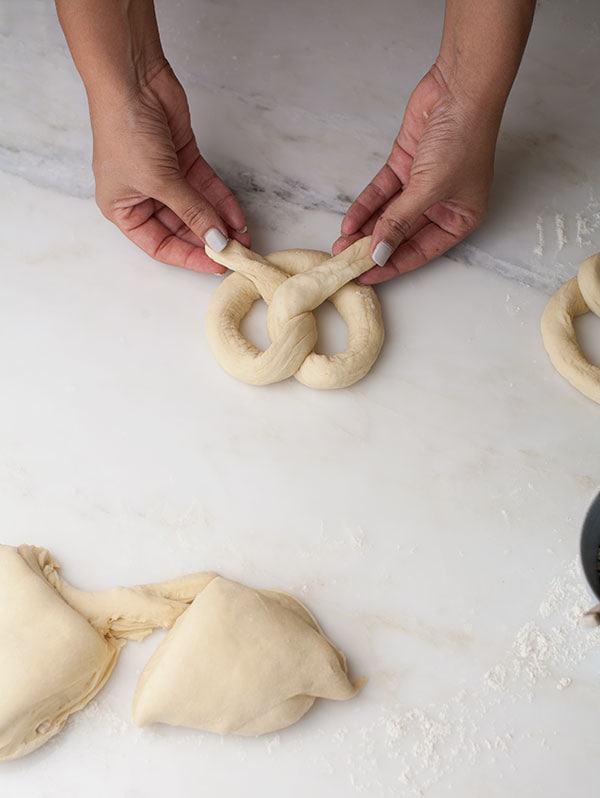 I like to stick this recipe in the weekend category of recipe-making. They take a bit of time, patience but luckily for all of us, very little skill.
You just have to read the directions a bit and make sure the yeast has proofed; it helps that temperatures are getting warmer.
Forming pretzels aren't too tough either (I used this video from like the 1970s as a good guide since I wasn't completely sure).
Now, what to eat these with…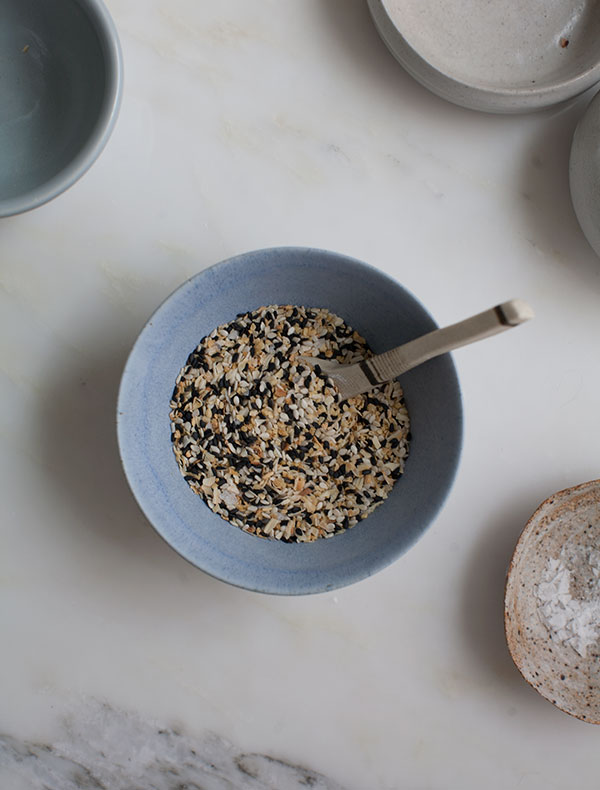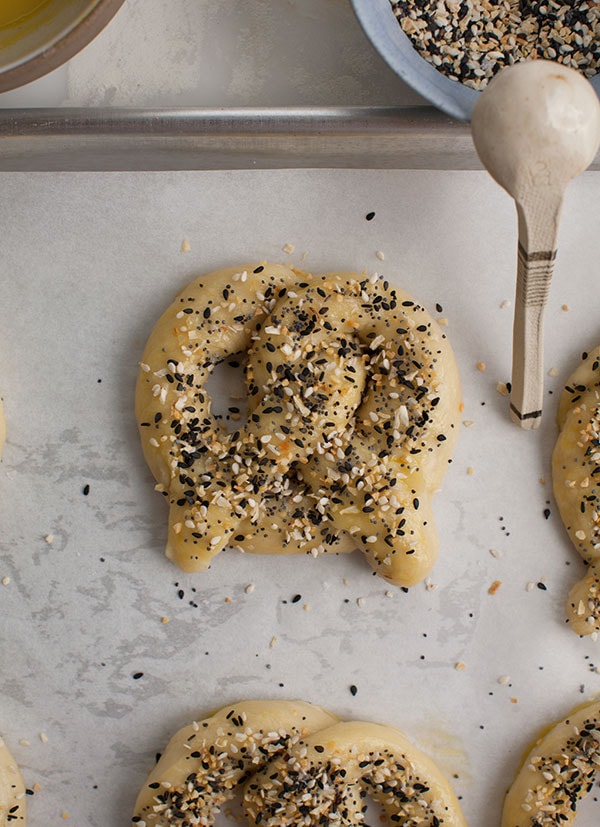 I'm not gonna lie, I thought it'd be an awesome idea to beat together softened whipped cream and mustard to make a spicy cream cheese. I showed it to Josh and he thought it was the most repulsive-looking thing in the entire world and nixed the idea, but friends, it was SO good. It did look a little unappetizing but who cares. Whatever!
I also ate one with normal cream cheese. Also awesome. But when it comes to pretzels, especially soft warm ones, whole-grain mustard always wins. Always.
Enjoy them how you like, but please promise that you'll make them. They're important!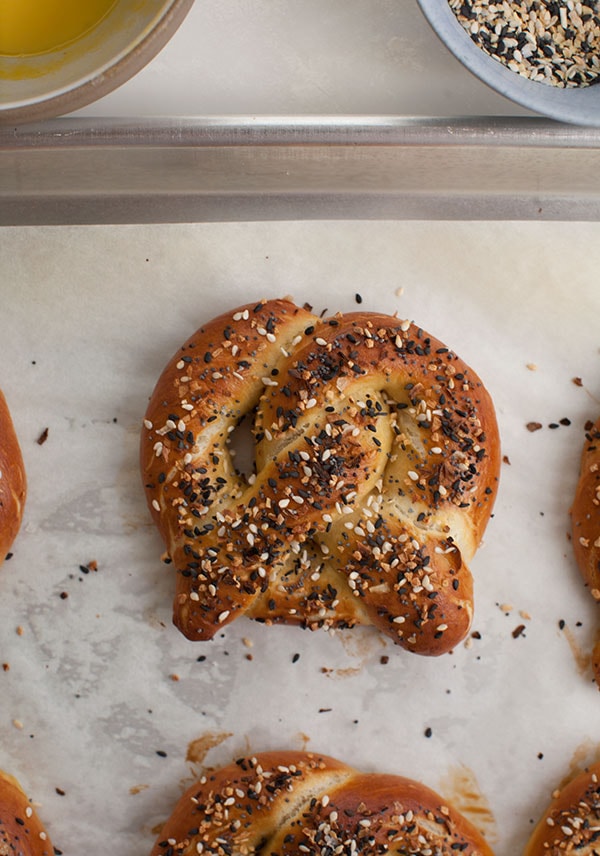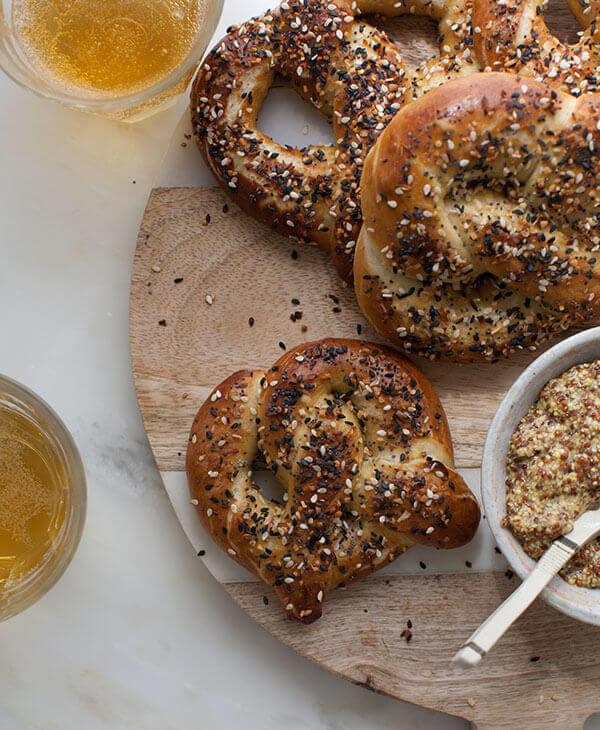 Print Recipe
Everything Soft Pretzels
Ingredients
Everything topping:
2

teaspoons

white sesame seeds

2

teaspoons

black sesame seeds

2

teaspoons

poppy seeds

2

teaspoons

garlic flakes

2

teaspoons

onion flakes

1

teaspoon

large flaked sea salt

such as Maldon
Soft Pretzels:
1 1/2

cups

water

2

tablespoons

honey

2

teaspoons

fine sea salt

1

scant tablespoon active dry yeast

from one packet or 7g or 1/4 ounce

4 1/2

cups

all-purpose flour

2

teaspoons

vegetable or olive oil

4

tablespoons

unsalted butter

8

cups

water

1/2

cup

baking soda
Egg Wash:
1

large egg yolk beaten with 1 tablespoon milk

in a small bowl
Instructions
To make the everything mixture, add all of the everything ingredients to a small bowl and mix. Set aside.

In a medium saucepan, set over medium high heat, combine the water, honey and salt; stir until the honey has dissolved and the water reads a temperature of 110 degrees F (if you don't have a thermometer, the water should be warm to the touch—not hot!). Turn off the heat and sprinkle the active dry yeast atop the water mixture and allow to stand until foamy, about 5 to 7 minutes.

Pour the yeast mixture into the bowl of a stand-up mixer with the dough hook attached. With the mixer running, pour in the melted butter and slowly add the flour, about 1 cup at a time (you can eye ball this), until combined. Turn the mixer to medium speed and knead the dough until it's smooth and pulls away from the side of the bowl, about 3 to 5 minutes. Rub the inside of a clean bowl with a teaspoon of oil. Transfer the dough to the oiled bowl and cover with a damp clean kitchen towel. Allow the dough to rise for about 1 hour, until it's doubled in size.

In a dutch oven or large pot, pour in the 8 cups of water and baking soda; bring the water to a rolling boil and then immediately turn it down to medium low heat.

Meanwhile, let's shape the dough. Turn the dough out onto a lightly floured work surface and divide it into 8 equal pieces. Roll out each piece of dough into a 22-inch rope. Make a U-shape with the rope, holding the ends of the rope, cross them over each other and press onto the bottom of the U in order to form the shape of a pretzel. Reference the photos in the post for some additional help. Place onto a parchment-lined baking sheet.

Preheat the oven to 350 degrees F. Drop the pretzels into the boiling water, 1 by 1, for about 30 seconds each. Remove from the water using a spider strainer or a large flat spatula. Return the pretzels to the baking sheet. Brush the top of each pretzel with the egg wash and sprinkle with the everything mixture. Bake until dark golden brown in color, approximately 12 to 14 minutes. Transfer to a cooling rack to cool slightly and serve. I love a warm pretzel!
Notes
If you're LA-based, you can find onion flakes and garlic flakes at The Spice Station. If you're having trouble finding them, you can always add garlic powder and onion powder.
Pretzel dough recipe adapted from Alton Brown's.
Looking for more appetizer recipes? Here are some favorites: