Cozy Night In with Fluffy Cornbread Topped Chili and Apple Cider Churros
7
Nov 24, 2017, Updated Feb 22, 2019
Disclosure: This post may contain affiliate links, which means I may earn a commission if you click on the link and make a purchase.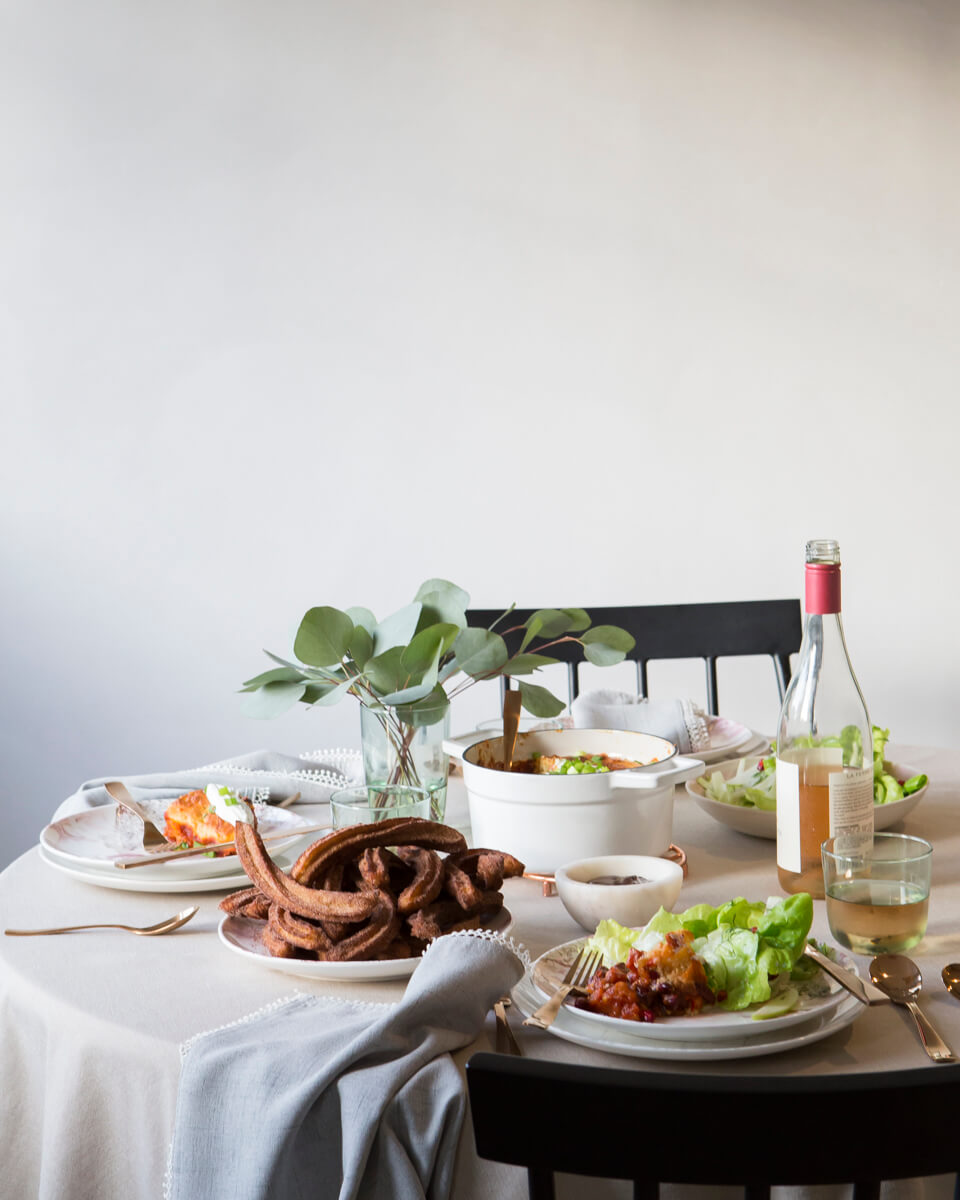 (This post is sponsored by the Martha Stewart Collection, created for Macy's. Thank you for supporting the sponsors that keep A Cozy Kitchen cozy!)
I know I've been writing autumn love letters since like mid-September, but if I'm being completely honest with you, Los Angeles doesn't even really begin to hint at fall until November. But now it's November and I'm freezing! And I love it. My fluffy socks are on at all times, my favorite soft sweaters are out of storage and all I've wanted to do is break in the new kitchen with some cozy foods. The kitchen is almost completed and I was finally able to cook our first meal in it!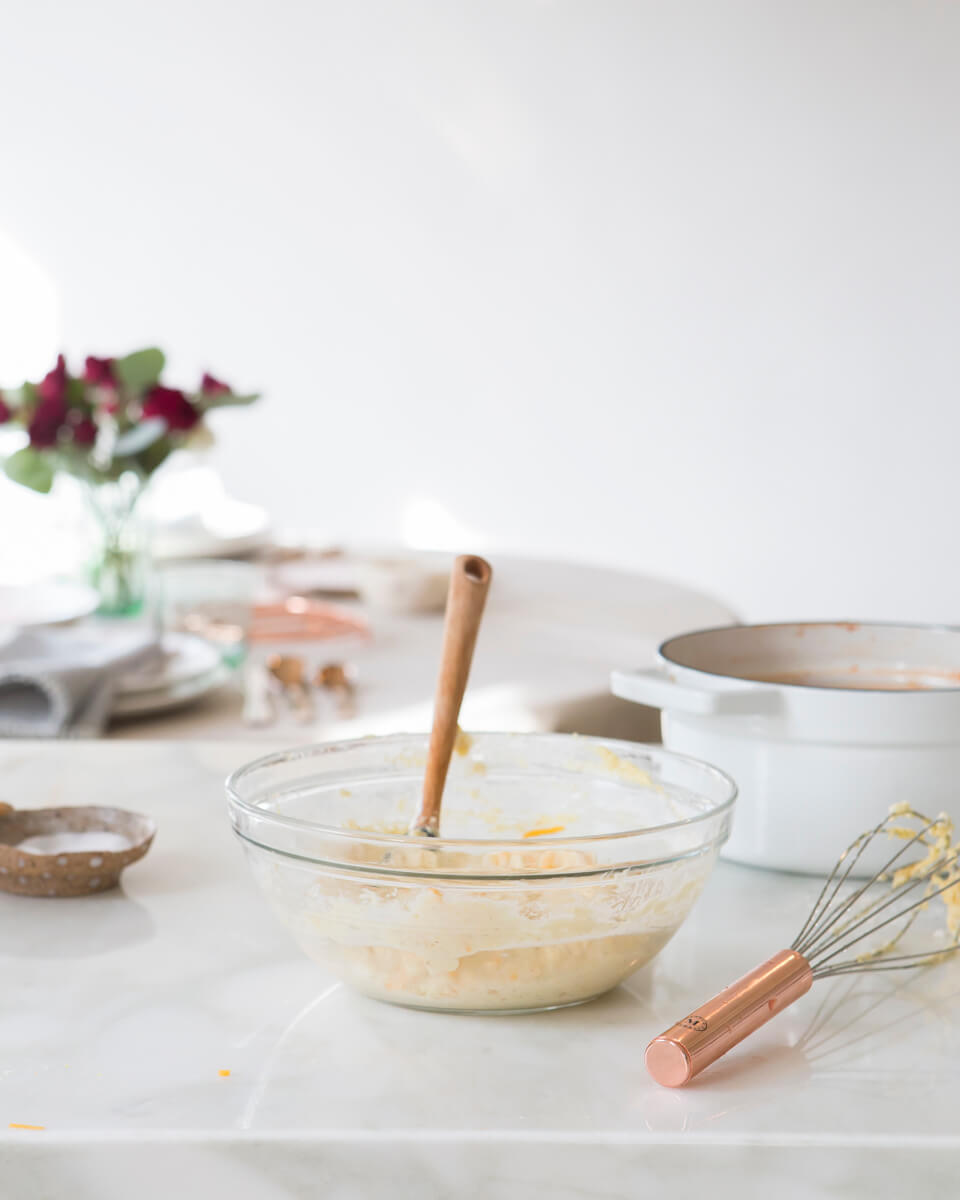 Since there are some things that need to happen (like trim, a coupe light, etc), I figured I'd start light with a little dinner party for four. I wanted to serve cozy food that wasn't fussy.
For this post, I teamed up with Macy's and Martha Stewart. The Martha Stewart Collection's harvest dinnerware is SO pretty. I absolutely love these hatchcross, grey plates, along with the marbled pink plates. They are gorgeous. And I love the shape of Martha's Enameled Cast Iron cookware . The handle shapes are sleek and simple and the colors are lovely! Check out the whole Martha Stewart Collection.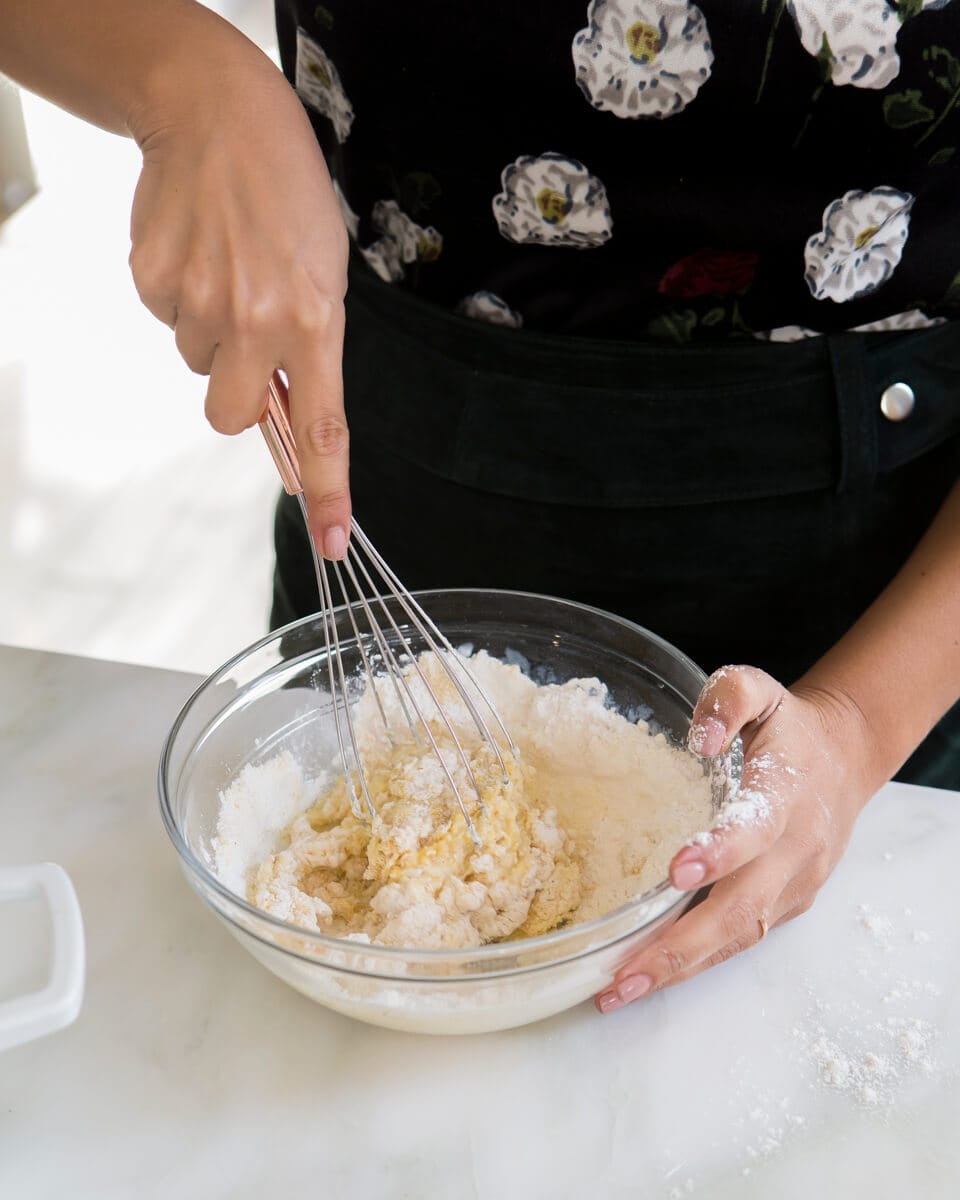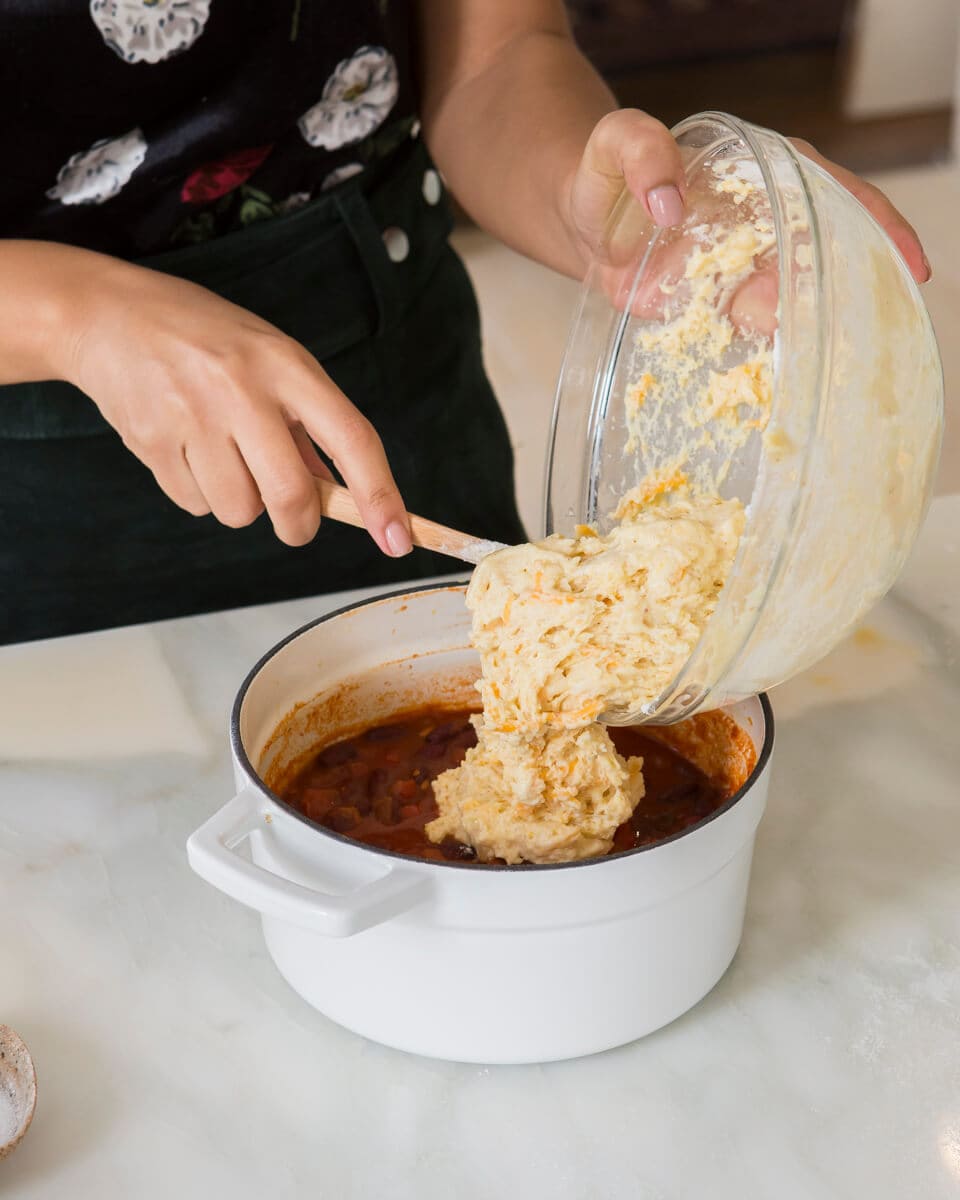 I used the small 2-quart white Enameled Cast Iron pot to make the best cozy dish ever.
This was the perfect size for four people. At the bottom is a vegan chili with a fluffy cheddar cornbread on top. I like to think of it like cornbread and chili all in one!
The vegan chili is spicy, made with kidney beans, and loaded with delicious things like diced onion, mushrooms, red bell pepper and lots of spices.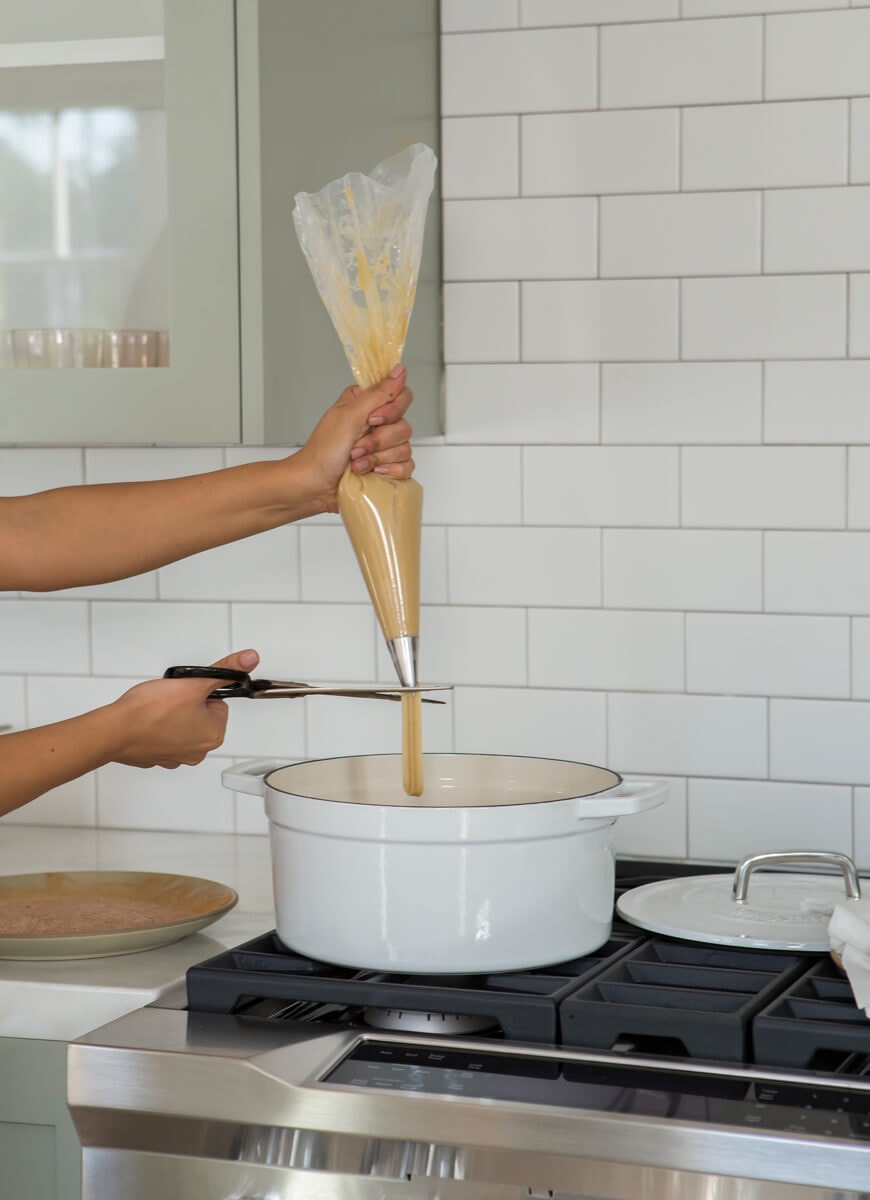 The cornbread on top is inspired by fluffier cornbread cake. It isn't dry at all and it's so soft and delicious.
It may seem like a small portion for four people but it's so filling that it's actually perfect. Especially when paired with a snappy, refreshing salad AND with dessert.
For dessert, I used the 6-quart Enameled Cast Iron pot (in beautiful white) to fry up apple cider churros and they were SO good.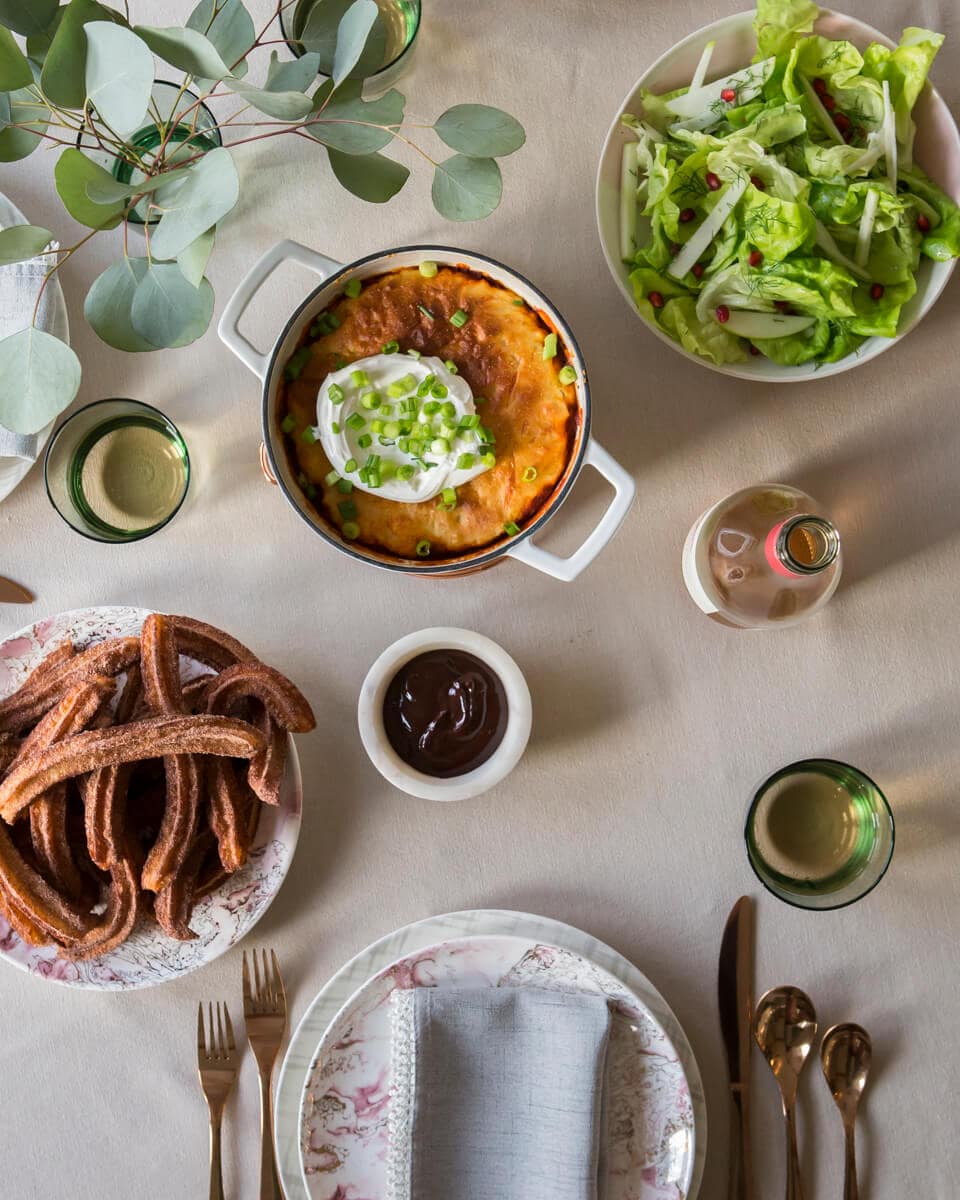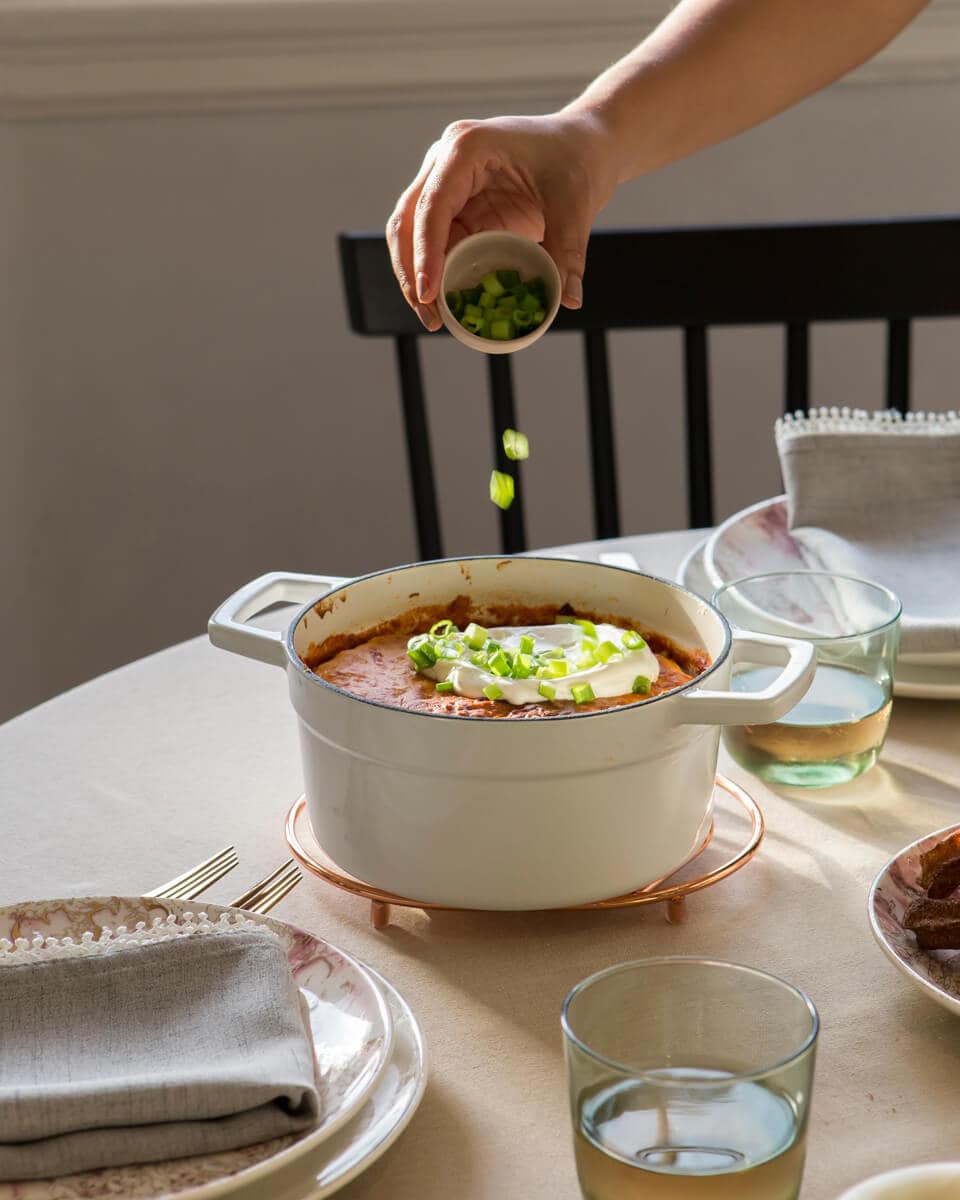 They took us a bit to get right but it starts with apple cider used instead of water. The all-spice in the sugar mixture make it taste even more like apple cider and they are so fluffy inside. Basically in fall, I want fall everything.
Of course, they gotta be dipped in melted ganache.
Fluffy Cornbread Topped Vegetarian Chili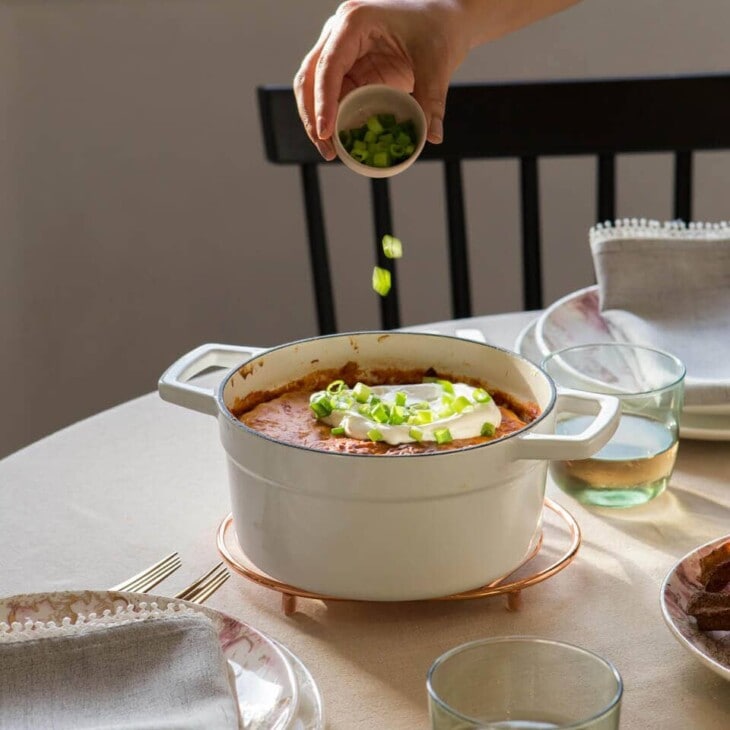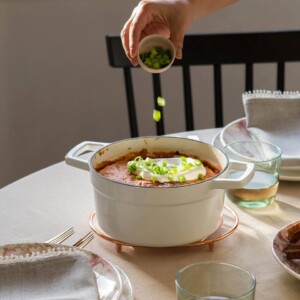 Ingredients
Vegetarian Chili:

2

teaspoons

oil

1/2

yellow onion

,

diced

1

red bell pepper

,

diced

3

mushrooms

,

diced

3

cloves

of garlic

,

minced

1

teaspoon

ground paprika

1

teaspoon

ground cumin

1/2

teaspoon

red pepper flakes

1/2

teaspoon

ground chile powder

1/2

teaspoon

salt

,

plus more to taste

15-

ounce

can crushed tomatoes

15-

ounce

can of kidney beans

Fluffy Cornbread Topping:

1/3

cup

buttermilk

,

shaken

1

large egg

2

tablespoons

oil

1/3

cup

cornmeal

1/2

cup

all-purpose flour

2

tablespoon

sugar

1 1/2

teaspoons

baking powder

1/4

teaspoon

salt

1/2

cup

shredded cheddar cheese
Instructions
Preheat oven to 350 degrees F. In a 2-quart Enameled Cast Iron pot, placed over medium heat, add the oil. When warm, add the onion, red bell pepper, mushrooms and garlic; cook until softened, about 2 to 3 minutes. Mix in the spices: paprika, cumin, red pepper flakes, chile powder and salt.

Pour in the crushed tomatoes, kidney beans and a 1/4 cup of water. Simmer for about 5 minutes, until all of the flavors are married. Give it a taste and add salt to your liking. I added about an additional 1/4 teaspoon of salt.

Meanwhile, in a medium bowl, add the buttermilk, egg and oil. Whisk until combined. Next add the cornmeal, flour, sugar, baking powder and salt. Mix until combined. Lastly, fold in the cheese. Pour the cornbread batter onto the top of the chili and smooth out the top. Some chili may peek through on the sides—that's ok! Transfer to the oven to bake for 20 to 25 minutes, until the top is golden brown and a skewer when inserted to the center comes out clean.
Nutrition
Nutrition information is automatically calculated, so should only be used as an approximation.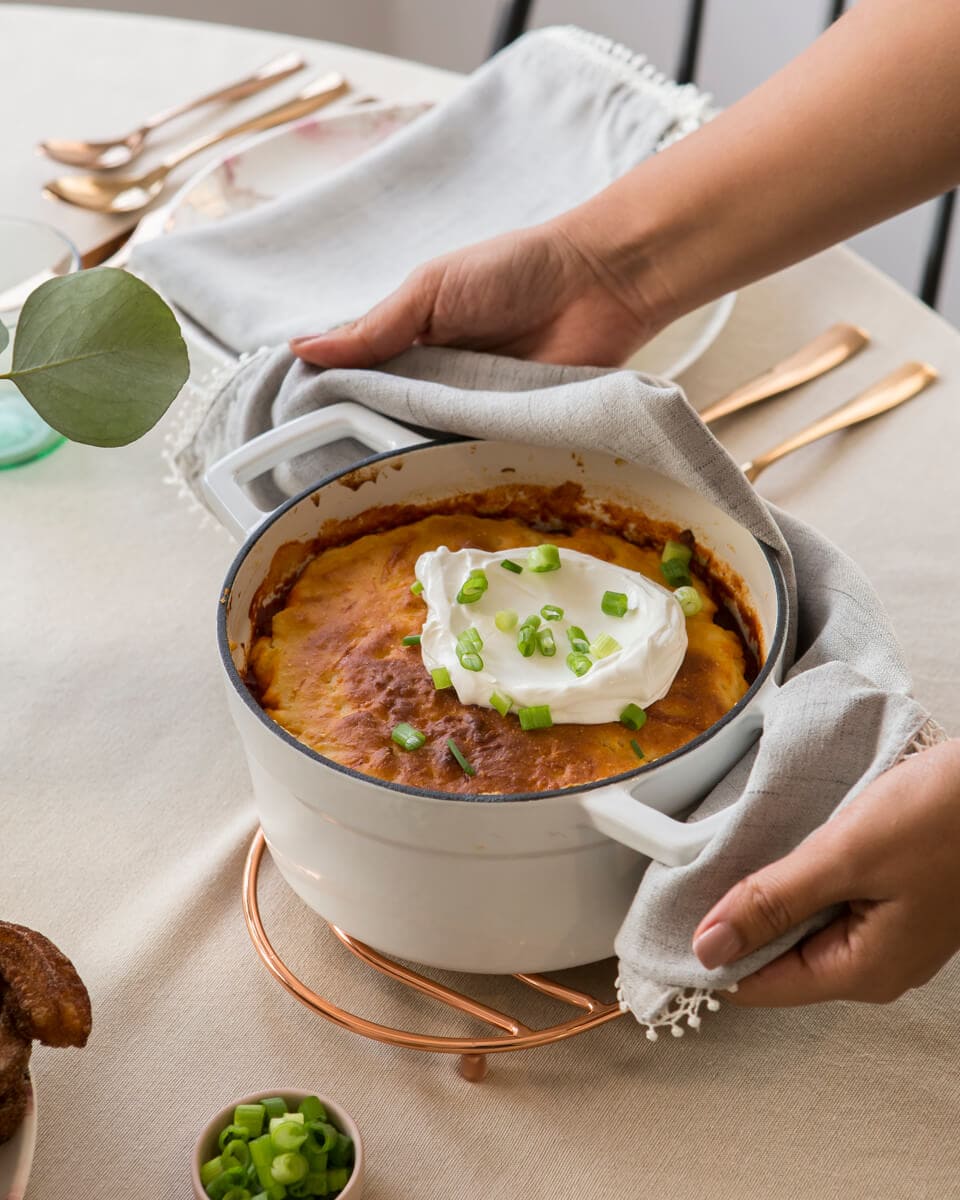 Ingredients
Chocolate ganache:
3

ounces

semi-sweet chocolate

,

melted

2

tablespoons

heavy cream

Pinch

ground cayenne

Pinch

ground cinnamon
Churros:
1

cup

of apple cider

1/2

cup

unsalted butter

1/2

tsp

salt

1 1/2

cup

all-purpose flour

4

large eggs
Sugar Mixture:
1/4

cup

white granulated sugar

2

teaspoons

ground cinnamon

1

teaspoon

all-spice
For Frying:
1

quart

vegetable oil

,

or other frying oil of choice
Instructions
To make the chocolate ganache: combine the chocolate chips and heavy cream in a small bowl. Microwave for 30 seconds to a minute and stir until melted.

In a medium saucepan, bring the apple cider, butter, and salt to a roiling boil. Stir in the flour all at once. Reduce the heat to low and stir, using a wooden spoon, vigorously until the mixture forms a ball and begins to pull away from the pan, about 1 minute. Remove the pan from the heat.

Let the batter sit for 2 to 3 minutes to cool. When it's warm (not hot) to the touch, add one egg at a time. Keep stirring until the mixture comes together and is smooth. It might seem squishy for a while, keep going! Note: You can also do this in an electric stand-up mixer with a paddle attachment–it'll go faster.

On a shallow plate, mix together the sugar, cinnamon and all-spice.

To a pot, add 3 inches of oil and place over medium-high heat. When the oil reaches 350 degrees F, it's ready. You may need to bring the heat down to medium-low to keep it around 350 degrees F.

Spoon the churro dough into a piping bag fitted with a large star-tip. Have sterilized scissors on hand. Hold the bag over the hot oil, squeeze a strip of dough that's about 1 to 2 inches long and then snip it with the scissors and let it drop into the oil. Fry on each side for about 1 to 2 minutes. Drain on paper towels and toss in cinnamon/sugar/allspice combo. Repeat until you've worked your way through all of the churro dough. Serve with melty ganache.
Nutrition
Nutrition information is automatically calculated, so should only be used as an approximation.