Cheddar Cheeseball Rolled in Dukkah
4
Sep 05, 2016, Updated Feb 23, 2019
Disclosure: This post may contain affiliate links, which means I may earn a commission if you click on the link and make a purchase.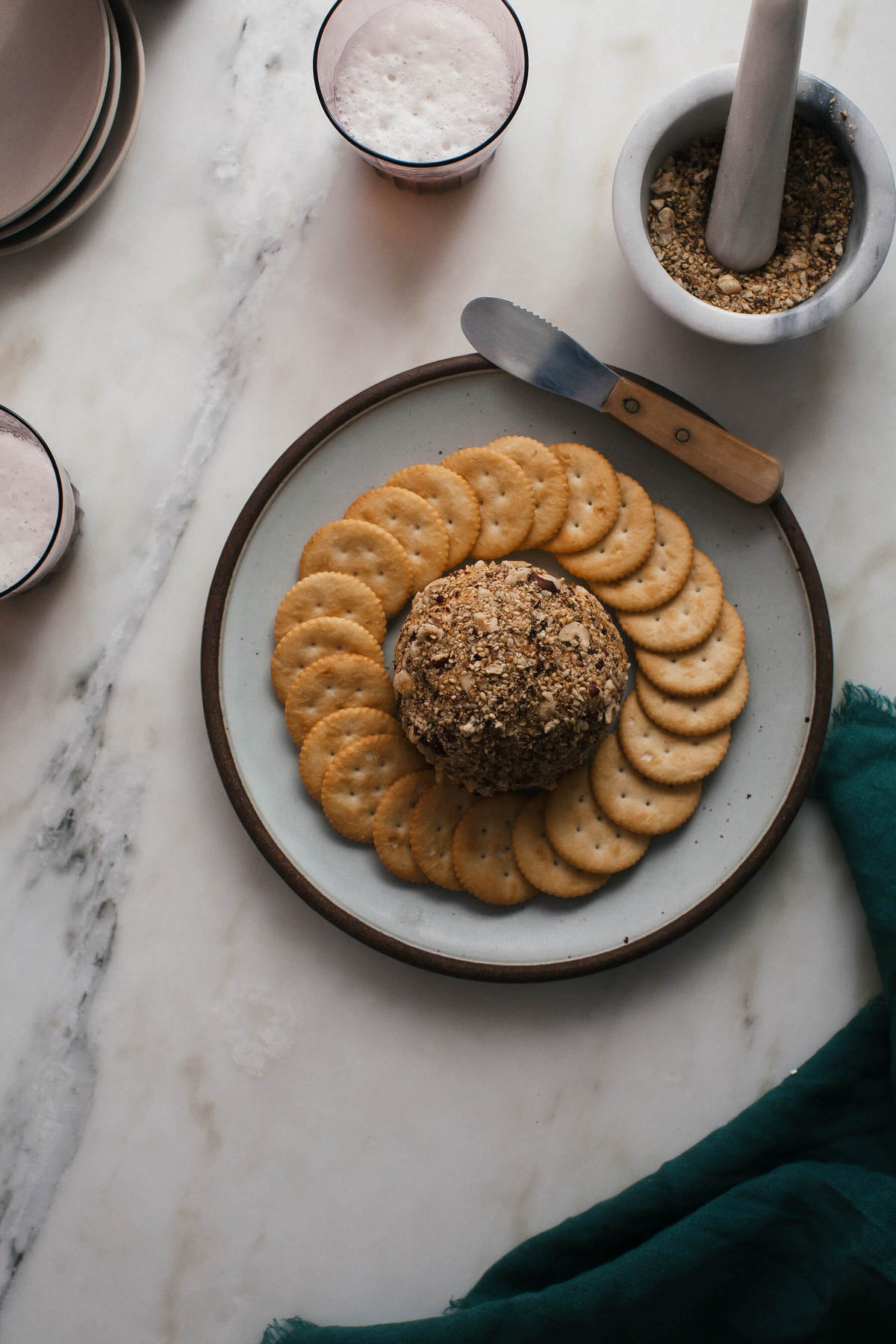 This summer has been the summer of binge-watching for me. A lot of times I'll watch a few episodes of a show and then forget about it and just look at meme's on the internetz all night long but lately I've enjoyed getting so enthralled into storylines that it then leads to me on Reddit reading WHAT COULD HAPPEN NEXT SEASON.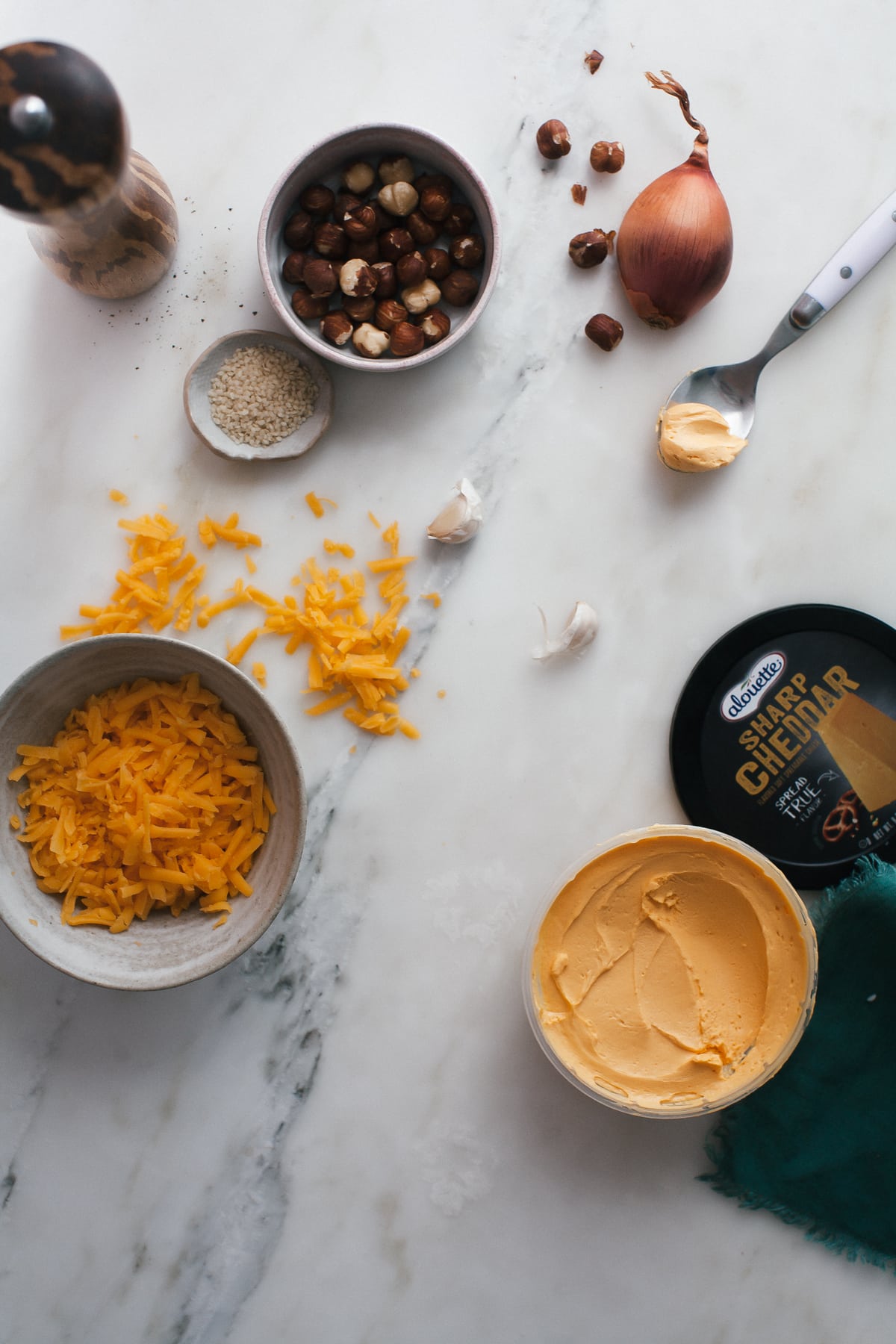 I watched Stranger Things in like two days and right now, this very second I'm very obsessed with The Night Of. If you haven't watched it, you must!
But before you sit down and waste your life away, make it taste really good by making this cheeseball! Or better yet, invite your friends over so you don't feel so lame. Cheeseball and good tv-watching might be the best combo ever.
For this post, I used the new Alouette Sharp Cheddar Cheese Spread. The flavor is classically cheddar-y; it's a nostalgic flavor that makes me pretty happy.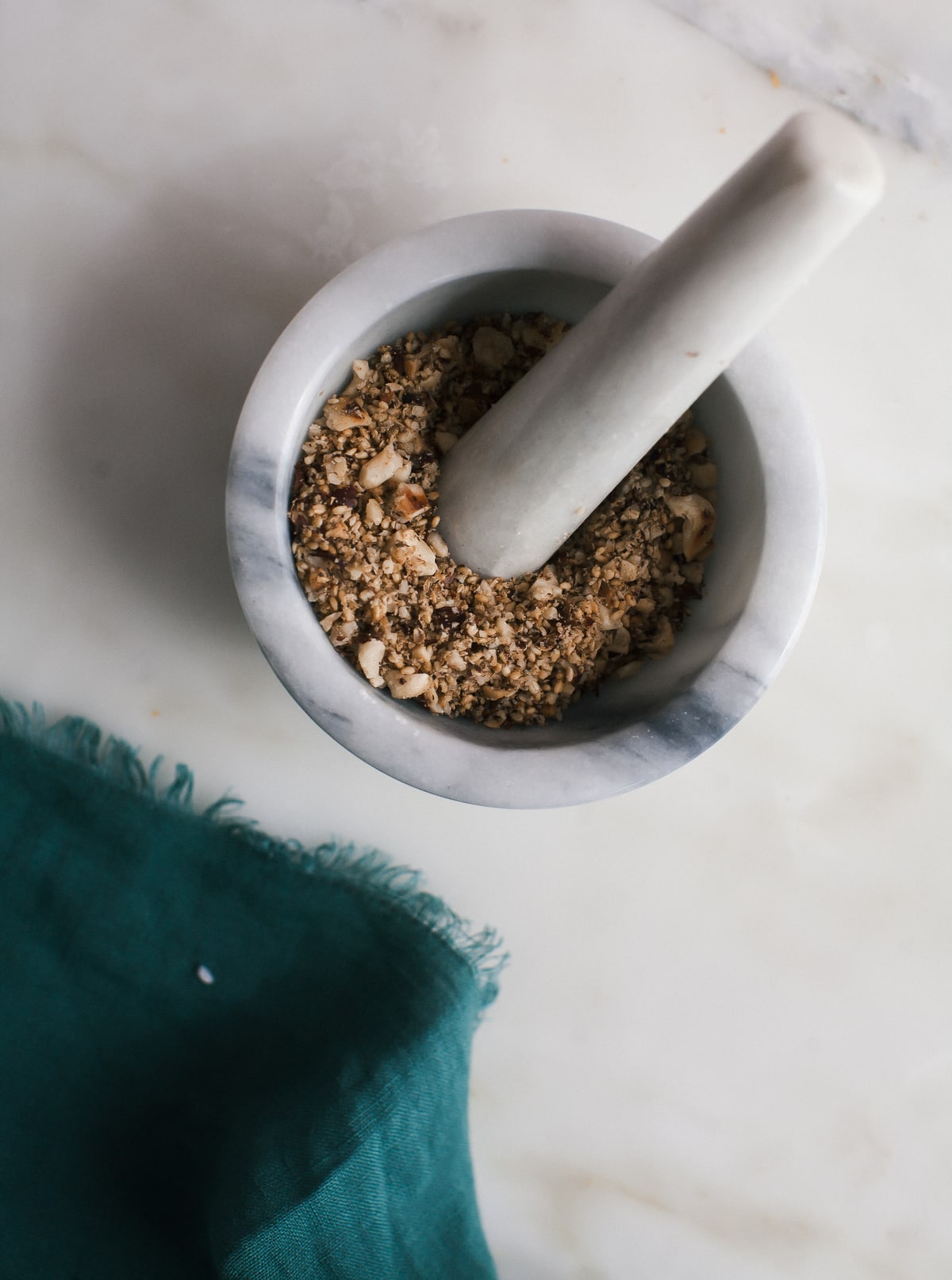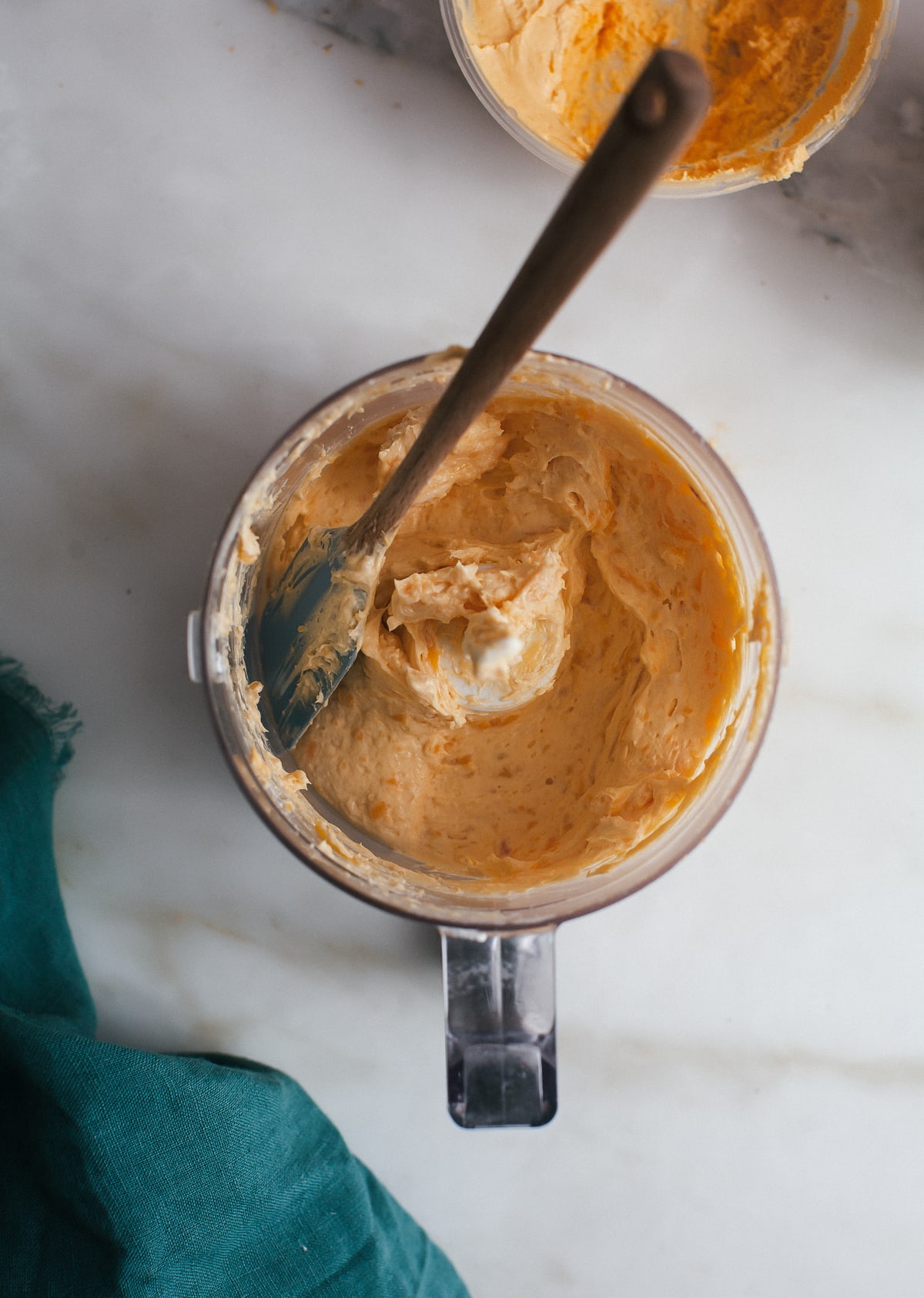 I wanted to make it feel a bit more grown-up so I rolled the entire cheeseball in hazelnut dukkah. If you think dukkah and cheddar come from different worlds, you are not wrong, but that doesn't mean they don't work well together. It's an unexpected tasty combo that I'm so glad I tried because now I know! CHEDDAR + DUKKAH = A+++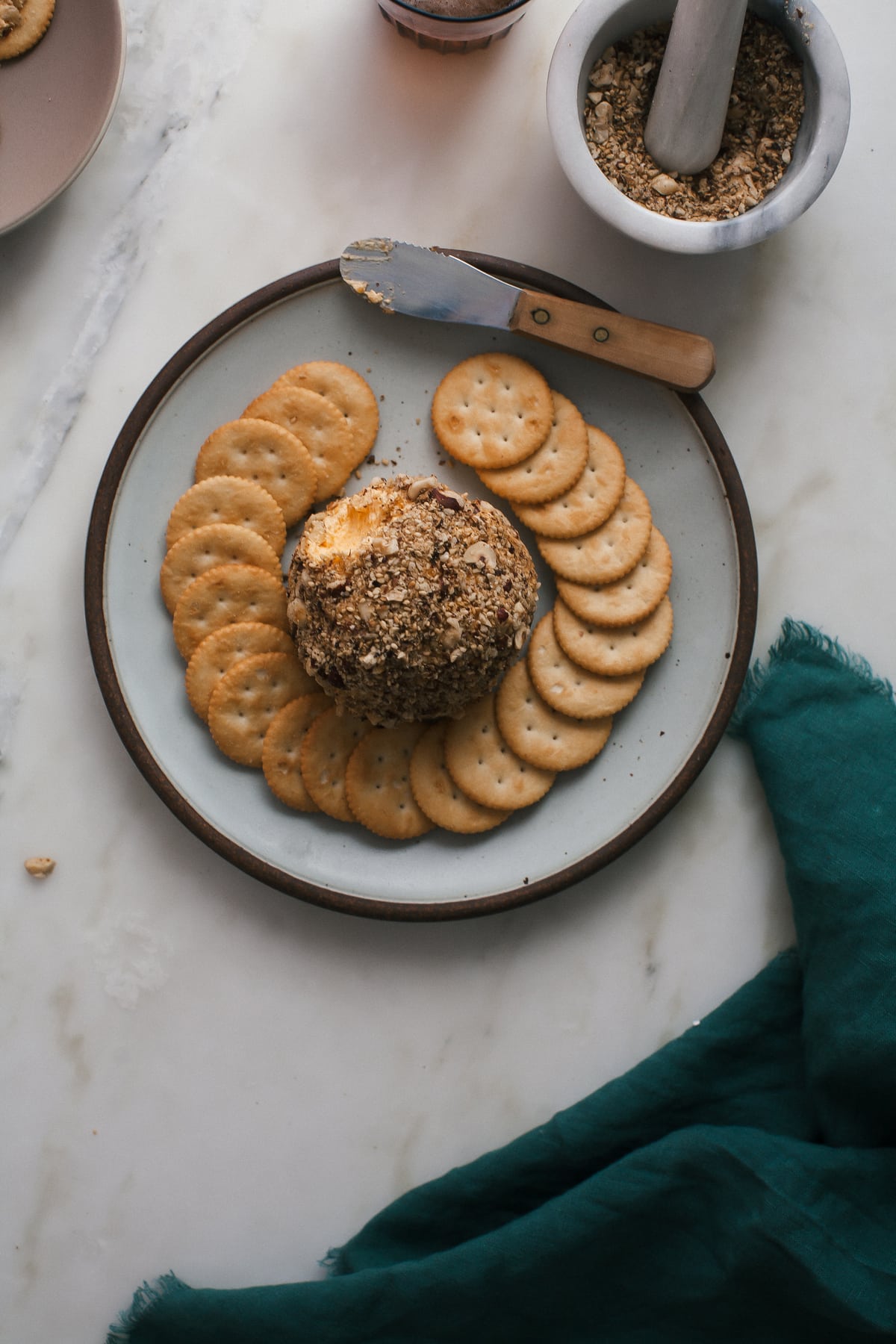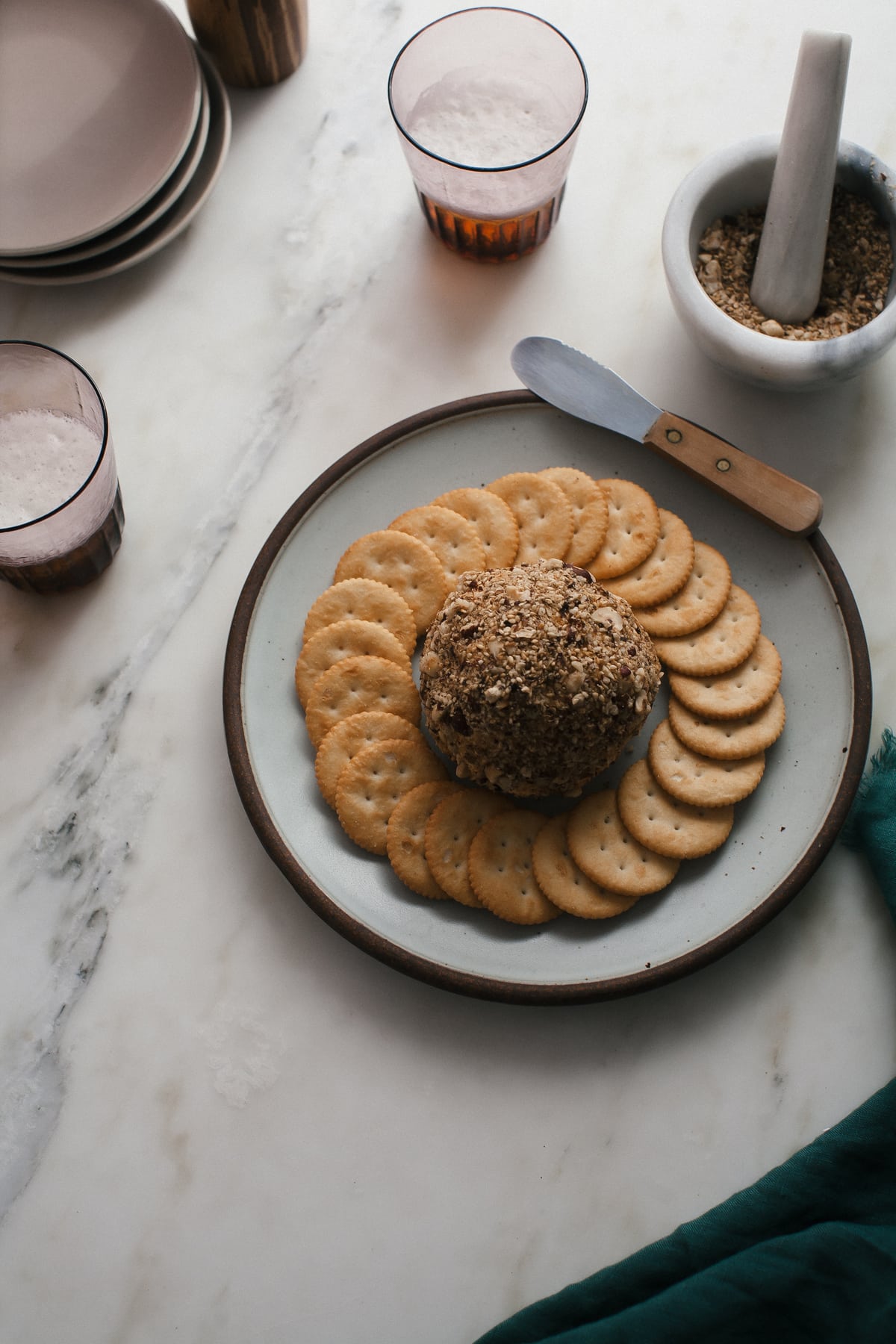 Cheddar Cheeseball Rolled in Dukkah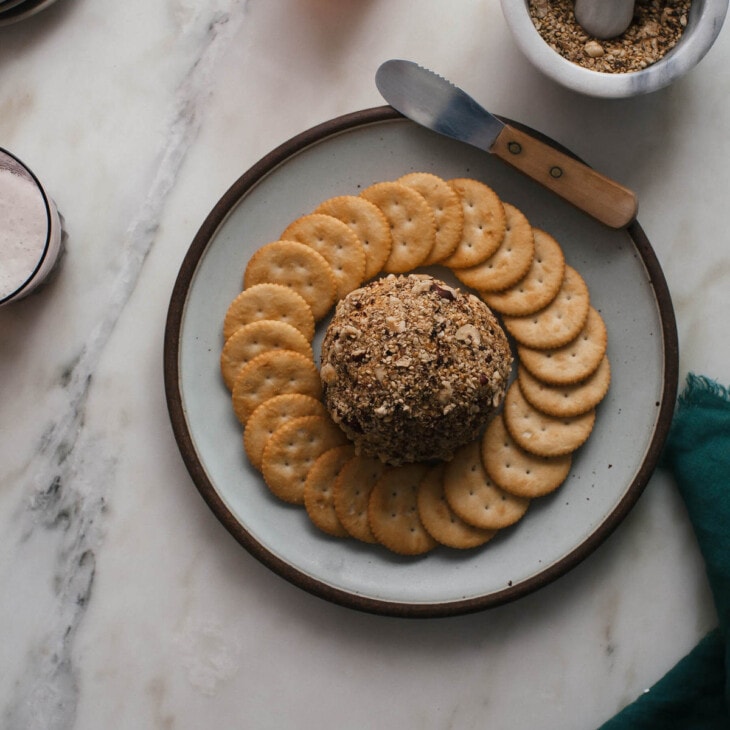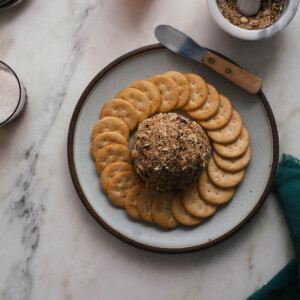 Ingredients
Cheeseball: 
1

garlic clove

1/2

shallot 

4

ounces

cream cheese

,

at room temperature

4

ounces

Alouette Sharp Cheddar Cheese Spread

,

at room temperature

1 1/3

cup

shredded cheddar cheese

Fresh ground black pepper

,

to taste
Hazelnut Dukkah: 
1/3

cup

hazelnuts 

1/3

cup

sesame seeds 

1/2

teaspoon

black peppercorns

1

teaspoon

coriander seeds

1/2

teaspoon

cumin seeds

1/2

teaspoon

fennel seeds

Pinch

of salt 
Instructions
To make the cheeseball mixture: To a food processor, add the garlic clove and shallot. Pulse until minced. Next, add the cream cheese, Alouette Sharp Cheddar Cheese Spread, shredded cheddar cheese and a few turns of freshly ground black pepper. Pulse until evenly combined; you may need to take the top off of the food processor, scrape down the mixture and pulse again to get all evenly mixed up. Transfer to a bowl and transfer to the fridge to chill for 1 to 2 hours. (See below for my time-saving trick.) 

To make the dukkah: While the cheeseball mixture is chilling, let's make the dukkah. To a small skillet, set over medium heat, add the hazelnuts. Move the pan regularly, until they're toasted. Transfer the hazelnuts to the center of a clean kitchen towel. Cover them and rub them vigorously, until most of the skins come off. Transfer the hazelnuts to a mortar and pestle (alternatively, you can use a food processor). Next, add the sesame seeds and moving the pan continuously, toast until lightly golden brown, about 30 seconds. Transfer them to a mortar and pestle and repeat the toasting process with the black peppercorns, coriander seeds, cumin seeds and fennel seeds. Mash and twist and mash and twist again until the spice mixture is all ground up. If you're using a food processor, give it a few pulses until it's evenly ground up (but not too finely ground!) 

Take a closer look throughout the spice mixture and be sure to mash up any peppercorns or seeds that are still whole (there will most likely be a few). Line a baking sheet with parchment and pour the dukkah onto it. 

To assemble: Remove the cheeseball mixture from the bowl and form it into a ball by hand, smoothing out the sides as best as you can. Place the ball onto the dukkah mixture and roll it gently until it's completely coated. I like to do a little sprinkling and pushing the dukkah into the cheeseball, too. Serve with an array of crackers or veggies. 
Nutrition
Nutrition information is automatically calculated, so should only be used as an approximation.
(This post is sponsored by Alouette Cheese. Thanks for supporting the sponsors that keep A Cozy Kitchen cozy.)