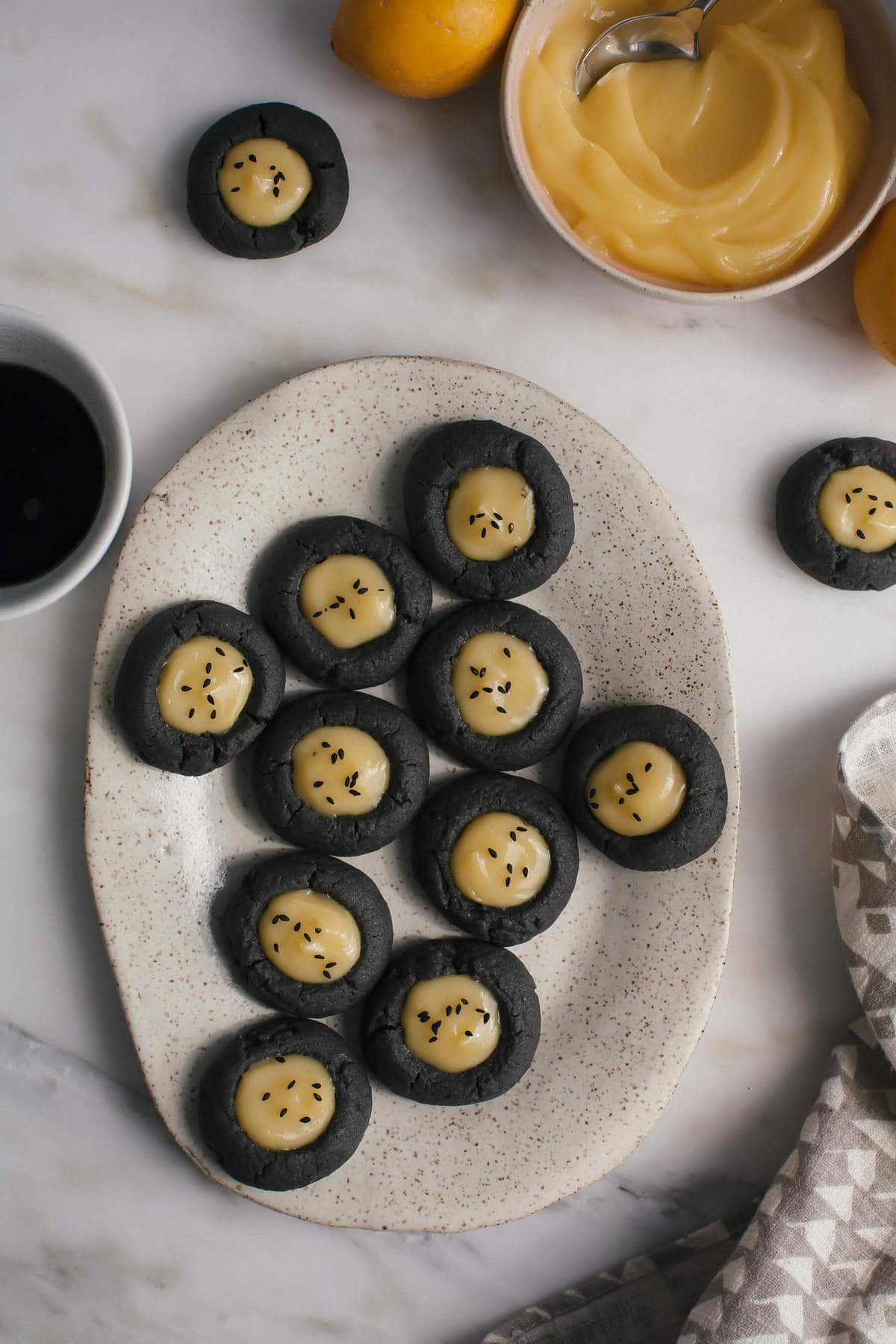 This legit is maybe the strangest looking cookie I've ever made. I hesitated about sharing this one because I was like, "Are they gonna think I'm weird?!" but then I was like, they already know I'm weird so it's ok.
We're friends like that!
These cookies are sort of halloween looking. When I finished them I gave them a little side-eye not gonna lie, but then I tried them and they are so good! SO GOOD.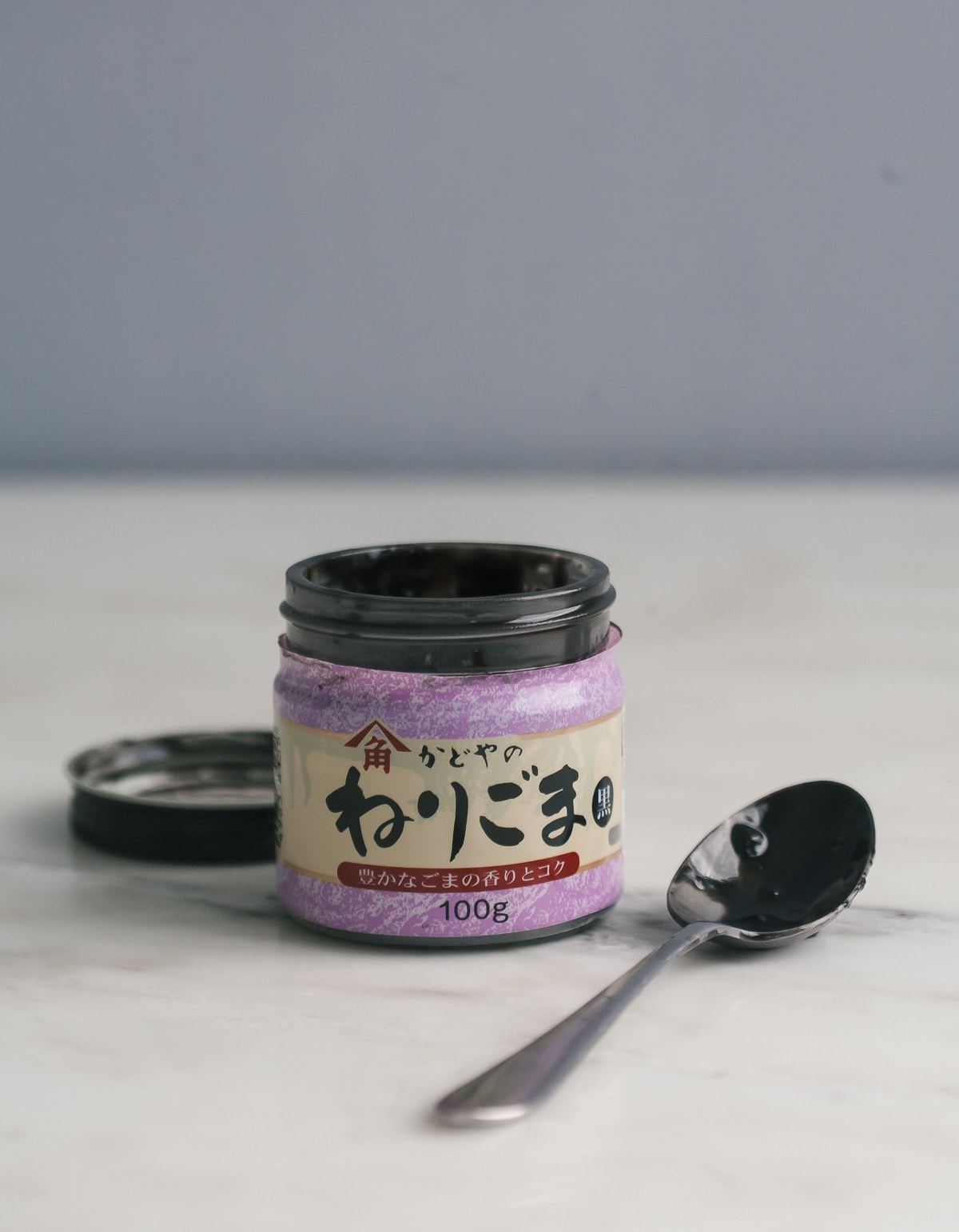 I had black sesame paste in my pantry (not an obvious pantry staple, I know) and was in the mood to incorporate it into a cookie. I googled "tahini thumbprint cookie" to see if it had been done before and the first thing to pop up was my recipe! DUH MOMENT! I made tahini thumbprint cookies with concord jam a few years ago. Forgot about 'em.
I tweaked this recipe and paired it with lemon curd after I saw these beautiful cookies from Hummingbird High (her blog is so pretty!).
It was the best combination evrrr. Thanks, Michelle for da inspo!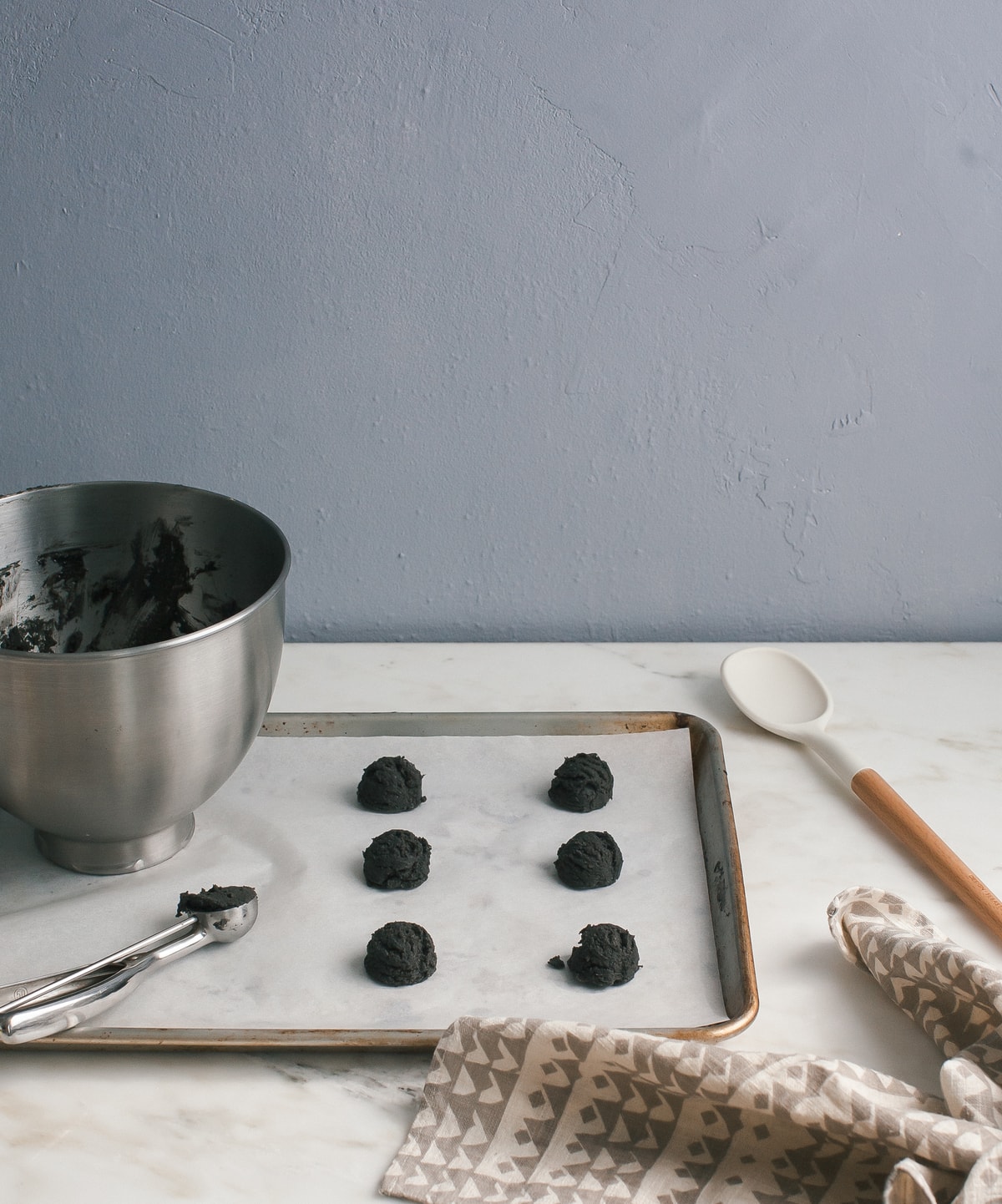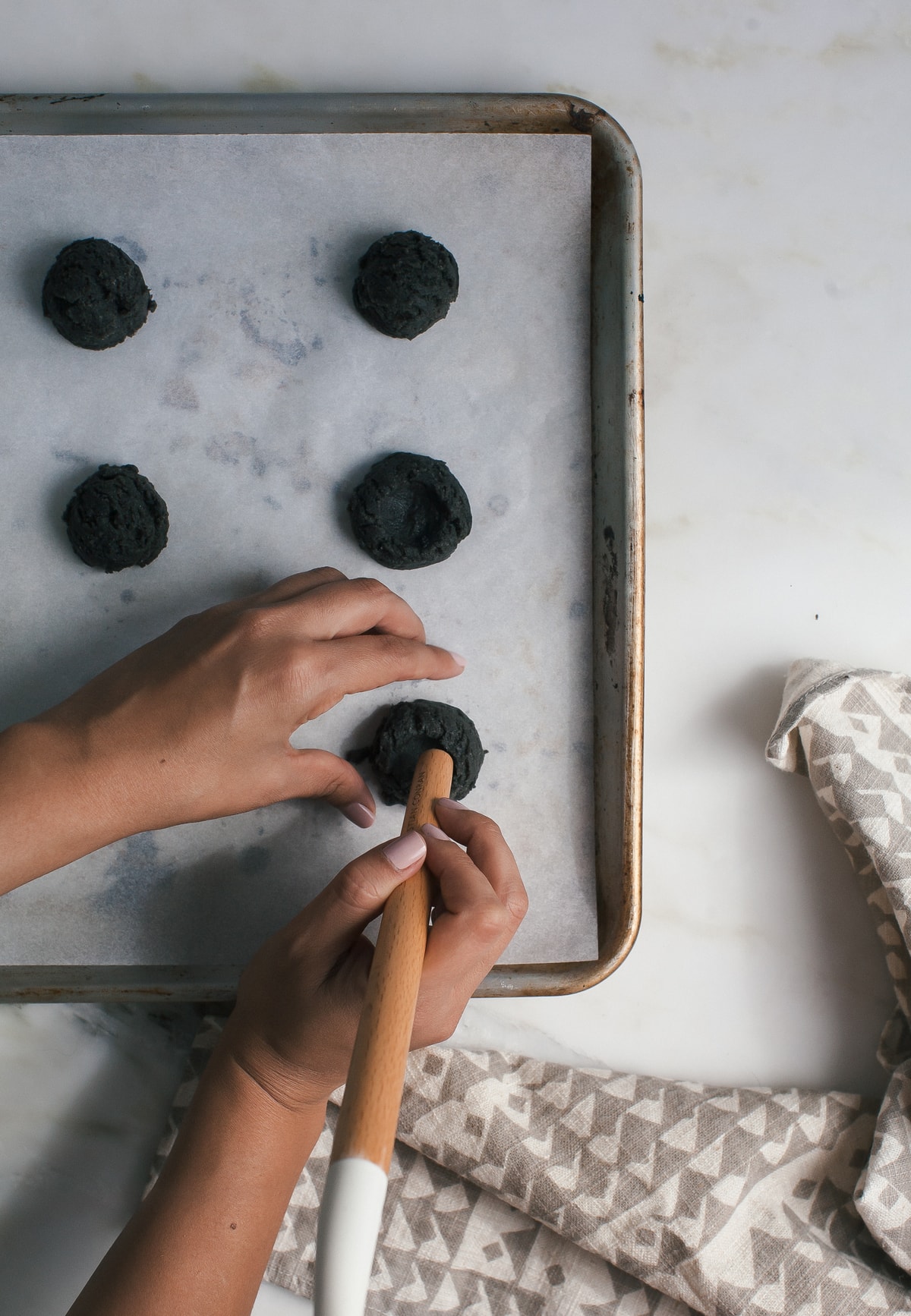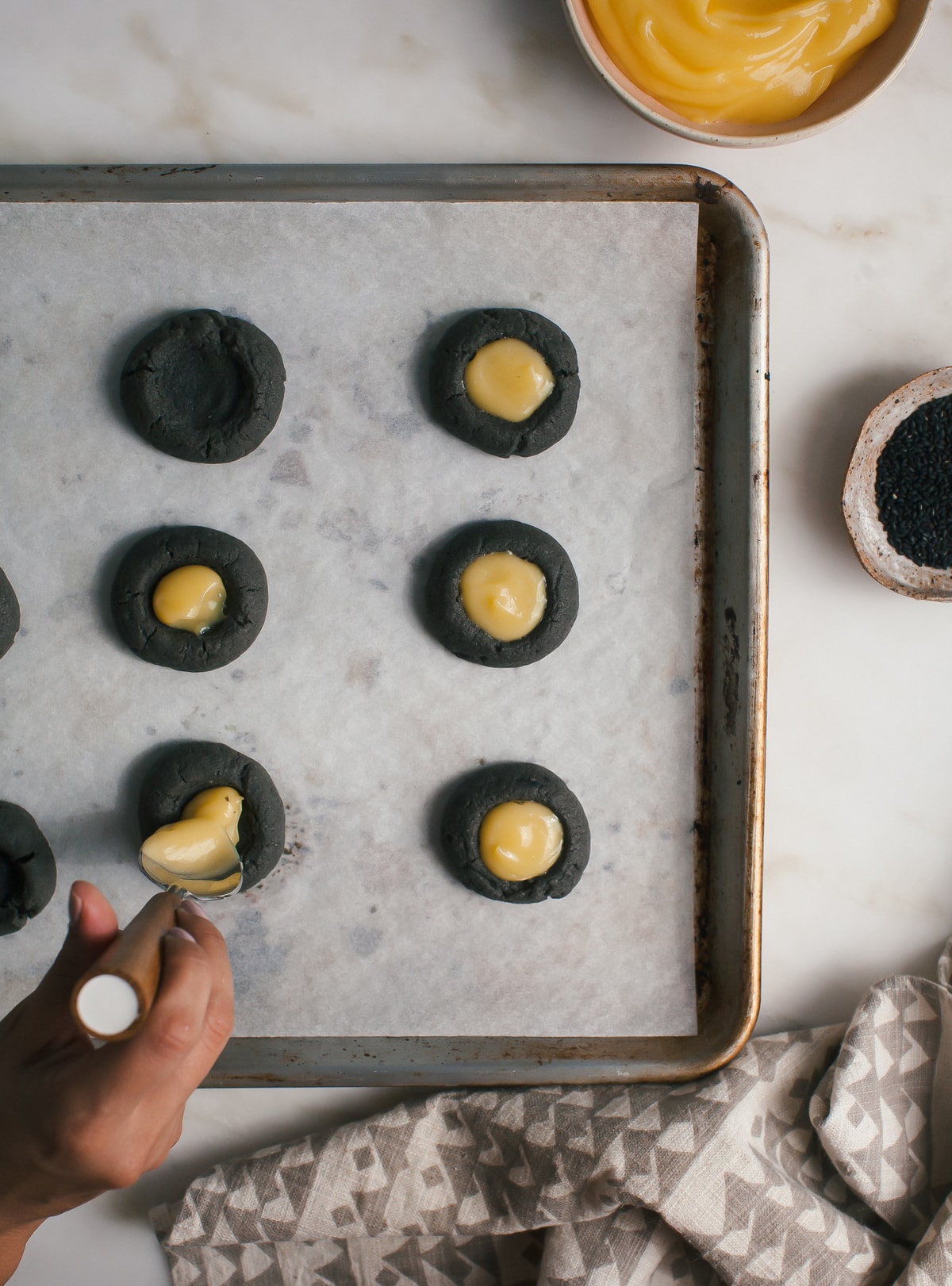 You can usually find black sesame paste at any Asian super market. Think of it like black tahini paste because that's exactly what it is.
If you can't find it, then feel free to use tahini instead. Will they taste the same?! Pretty much. They'll just look drastically different but you know this.
The meyer lemon curd is so delicious and if for some reason you can't find meyers, regular ol' lemons will work too. And if you're being super lazy, you can store buy the lemon curd.
And lastly,
Don't these cookies look like a bumble bee?! It was not my intention because nothing scares me more than a yellow jacket/bumble bee/swarm of bees.
I then think of the end of My Girl.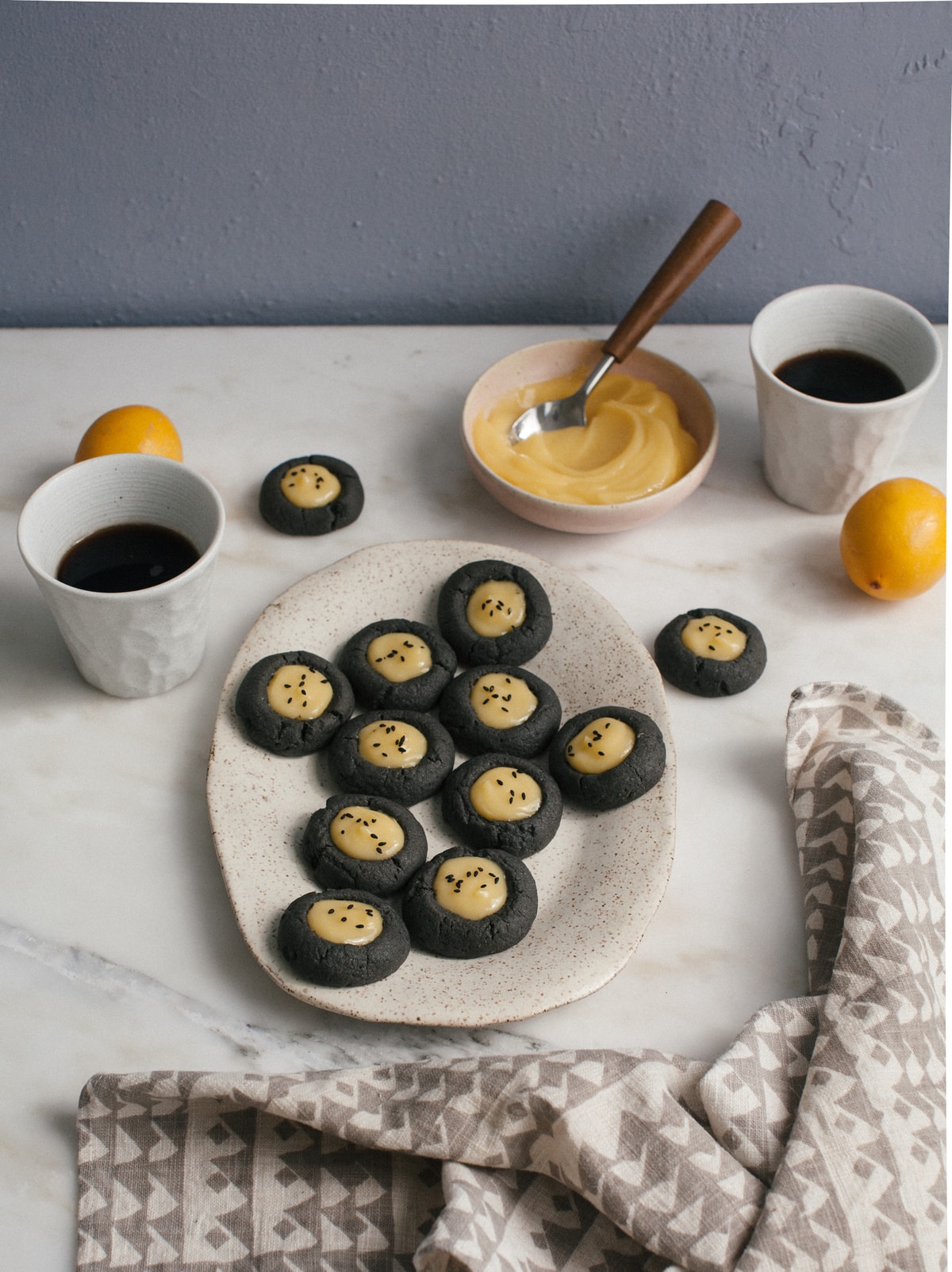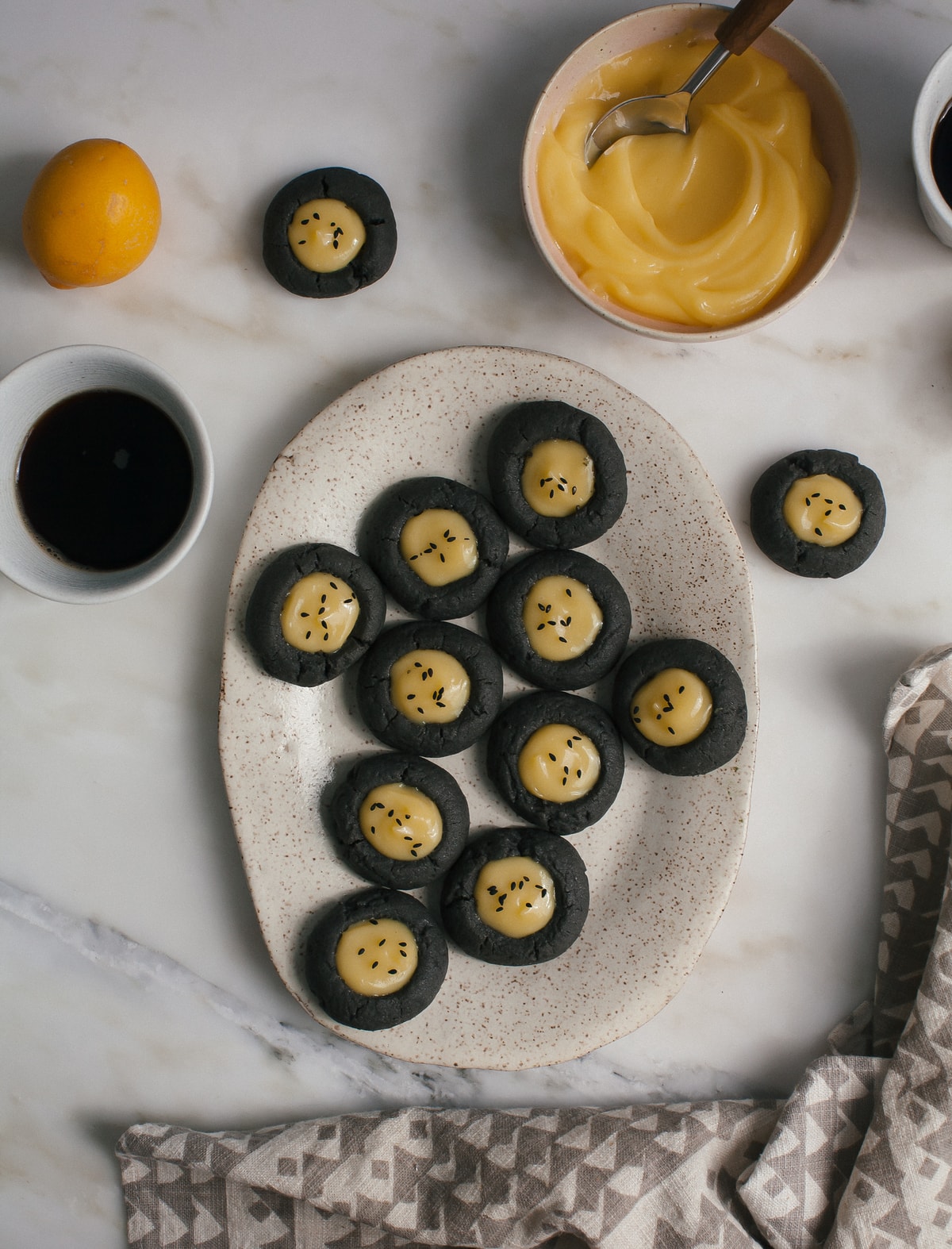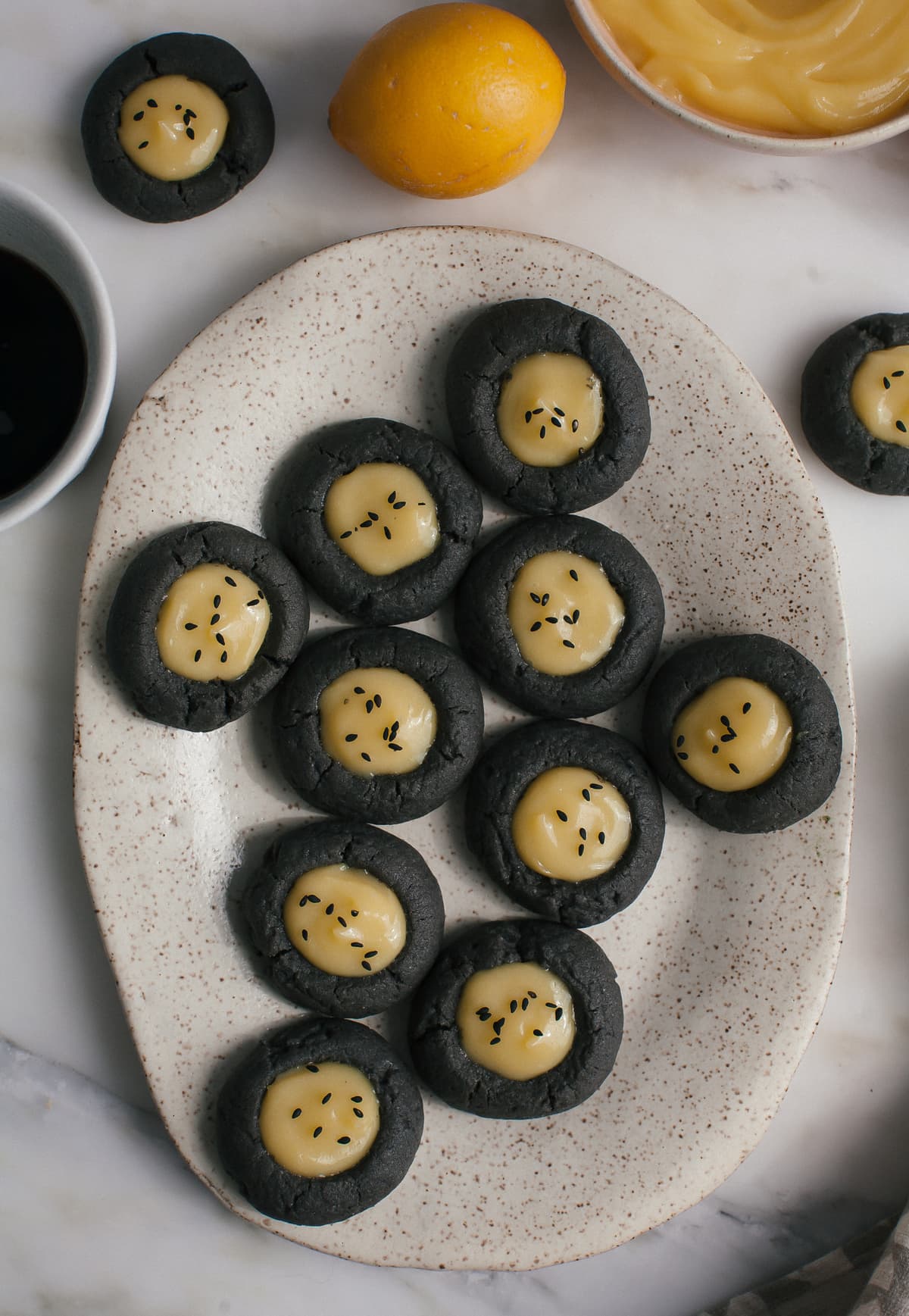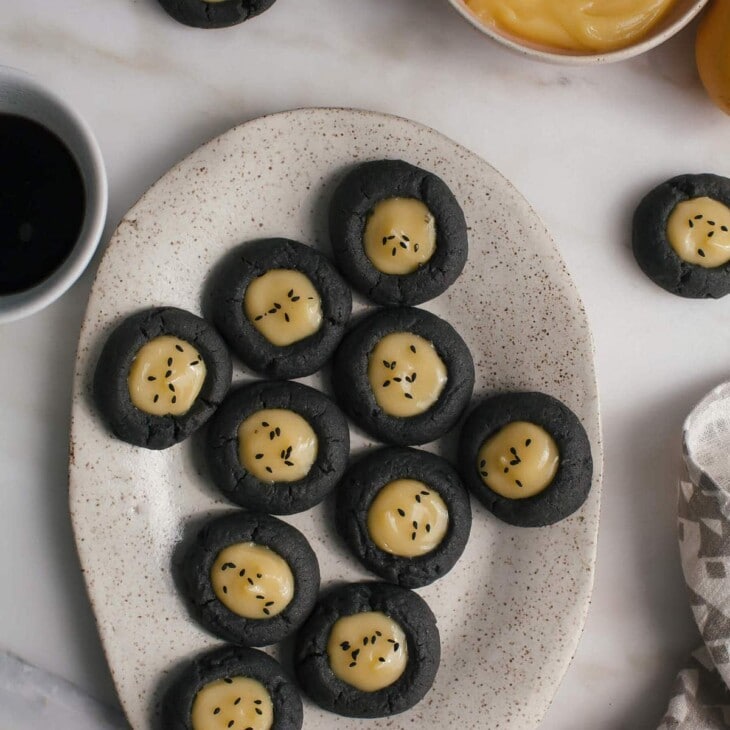 Print Recipe
Black Sesame Thumbprint Cookies with Meyer Lemon Curd
Ingredients
Meyer Lemon Curd:
3/4

cup

freshly squeezed meyer lemon juice or regular lemon juice

from about 5 blood oranges, strained and pulp discarded

4

tablespoons

unsalted butter

room temperature

1/2

cup

white granulated sugar

2

large egg yolks

2

large eggs

1/4

teaspoon

salt
Black Sesame Thumbprint Cookies:
1 1/4

cup

all-purpose flour

1/2

teaspoon

baking powder

1/2

teaspoon

baking soda

1/3

cup

smooth black sesame paste

*see below for tip

1/2

cup

unsalted butter

at room temperature

1/3

cup

light or dark brown sugar

1

large egg

1

teaspoon

vanilla extract
Instructions
To make the lemon curd: To a small saucepan, placed over medium heat, simmer the lemon juice until it reduces by half (to about 1/3 cup), about 3-5 minutes. Set aside to cool slightly.

*In the stainless steel bowl (note: you'll use this bowl as a makeshift double-boiler later) of your stand-up mixer, add the softened butter and sugar and beat until light and fluffy, about 2 minutes.

Add the egg yolks, beat the mixture together, and then add the eggs, beating again until they're well incorporated. Stir in the salt, and then in a few batches, add lemon juice. The mixture will look curdled and you might scratch your head and wonder if it's right, it will be!

Rinse out the small saucepan you used earlier, and fill it with a few inches of water. Bring the water to a simmer and place your stainless steel bowl of curd mixture on top. Stir constantly, and heat the curd slowly enough that the sugar has time to dissolve and the whole mess becomes cohesive; this step usually takes about 5 to 10 minutes. Pull the curd from the head when it is just thick enough to coat your spoon and until a thermometer reads 166 F. The curd will thicken as it cools.

I ran the curd through a sieve into a chilled bowl a few times just to ensure it was silky smooth. I highly recommend this step! Transfer the curd to a container a keep in the fridge, in an airtight container, for up to a week.

To make the cookies: In a medium mixing bowl, combine the all-purpose flour, baking powder, baking soda and salt. Set aside.

In the bowl of a stand-up mixer (with the paddle attachment) or in a large bowl (using a hand-mixer), beat together the black sesame paste and softened butter until very smooth, about 30 seconds. Add the brown sugar and beat once more until smooth, about 30 seconds. Next, beat in the egg and vanilla extract. In two batches, add the dry ingredients until no speckles of flour are visible. The dough should be soft and supple. Transfer to the fridge to chill for about 10 minutes.

Meanwhile, preheat the oven to 350 degrees. Line a baking sheet with parchment and set aside.

Using a 2-ounce cookie dough scooper (or a tablespoon), scoop out a ball of dough. Roll the dough into a circle using the palm of your hands. Transfer to the cookie sheet. Using the opposite end of a spatula, make an indentation in the center of the cookie. Repeat the scooping, rolling and "thumbprinting" process until you've worked through about half the dough (you'll need to bake these cookies in two batches), being sure to space the cookies about 3-inches apart (they'll spread a bit).

Transfer to the oven and bake for 15 minutes, until the cookies have spread slightly. Carefully remove the baking sheet from the oven and using the opposite end of a spatula, re-make the indentation in the center of the cookie. Allow to cool for 5 minutes on the baking sheet (they'll be very fragile right when they come out of the oven) and then transfer them to a cooling rack until they're room temperature. When cooled, add a teaspoon of the meyer lemon curd to the center of the cookies. These cookies will keep in an airtight container for up to 5 days.
Notes
*When I opened up my jar of black sesame paste, it was oily on top and all clumpy on the bottom. To solve this issue, I added the entire thing to the blender and pulsed until it was very smooth (about 30 seconds). I recommend this if yours is similar.
*If you don't have or can't find black sesame paste, you can use tahini paste. It will taste very similar, though will look a completely different color.