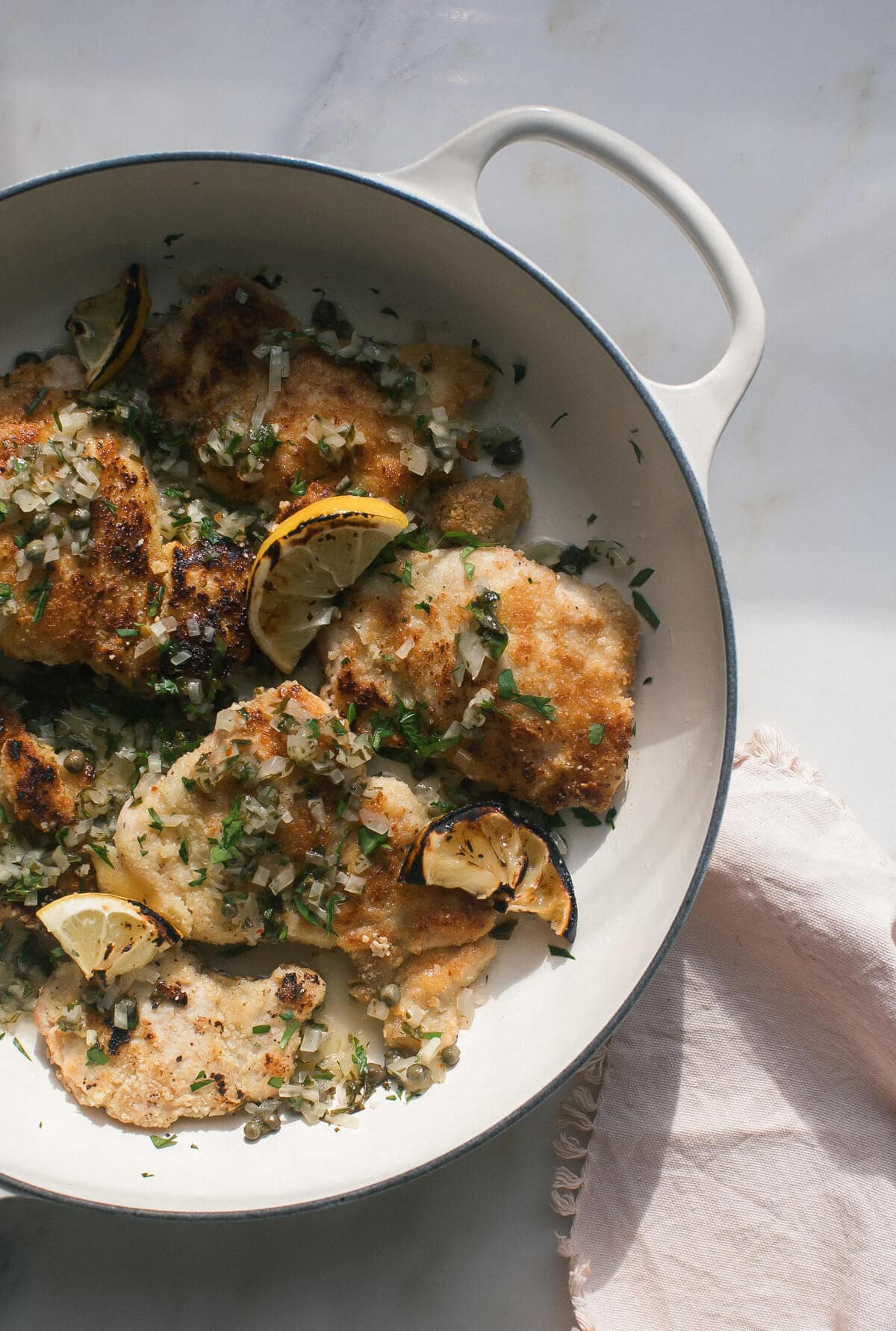 Hi from Big Bear Lake! I'm here for a few days and I'm currently very snowed in at a very hipster cabin full of things like vintage kitchen items, lots of Pendleton blankets, an old fire place and a record player that spins lots of Bob Dylan and Iron + Wine.
I'm not mad at all. It's funny and fun all at the same time. I'm spending my day in the kitchen baking things, shooting things and I'm really hoping I can get Amelia to jump in a big pile of snow so she can do one of these .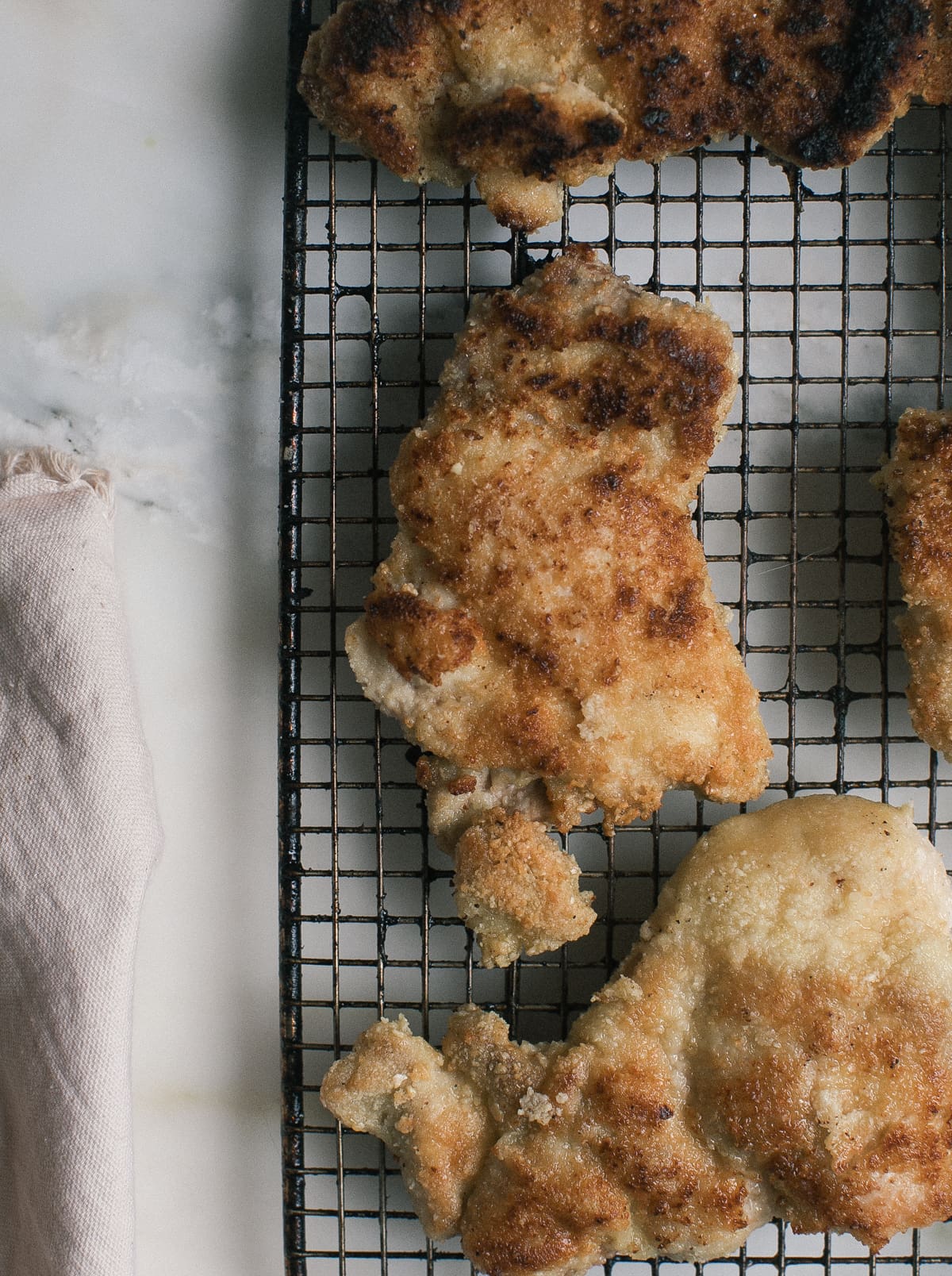 This is something I made before I left that was A: on the lighter side; B: was crispy. C: was FRESH. I've been in the mood for not fatty foods, if that makes sense.
I'm currently on Day 19 and feeling like I can't eat super fatty meats or bacon or any of that. I've never been a huge meat-eater so it's not the easiest for me to eat meat everyday. Yesterday and the day before I just ate vegetables all day and drank a smoothie because sometimes I get sick of eating (if it's not like pound cake).
I love the artichokes and lots of lemon in this recipe. I found the almond-coated chicken to be a bit annoying to pan-fry because you really have to clean out the pan between batches or else the almond bits get all burnt. I included that in the instructions below but I wanted to give a special heads up about it.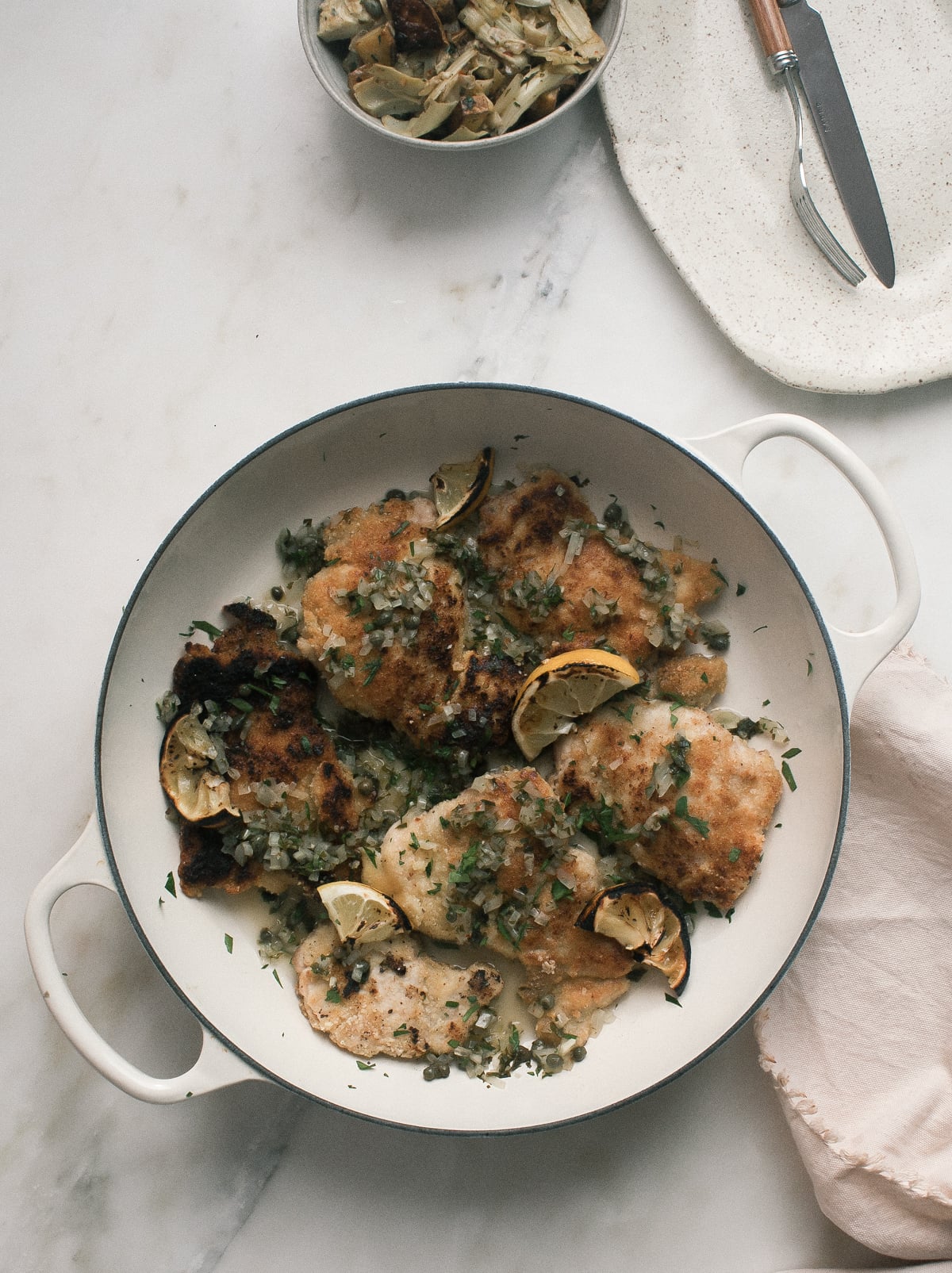 This recipe is super healthy and light and fresh. I love minced parsley, garlic, onion and lemon together. They're flavors that just go so well. It's old school, really. Nothing new but still so good.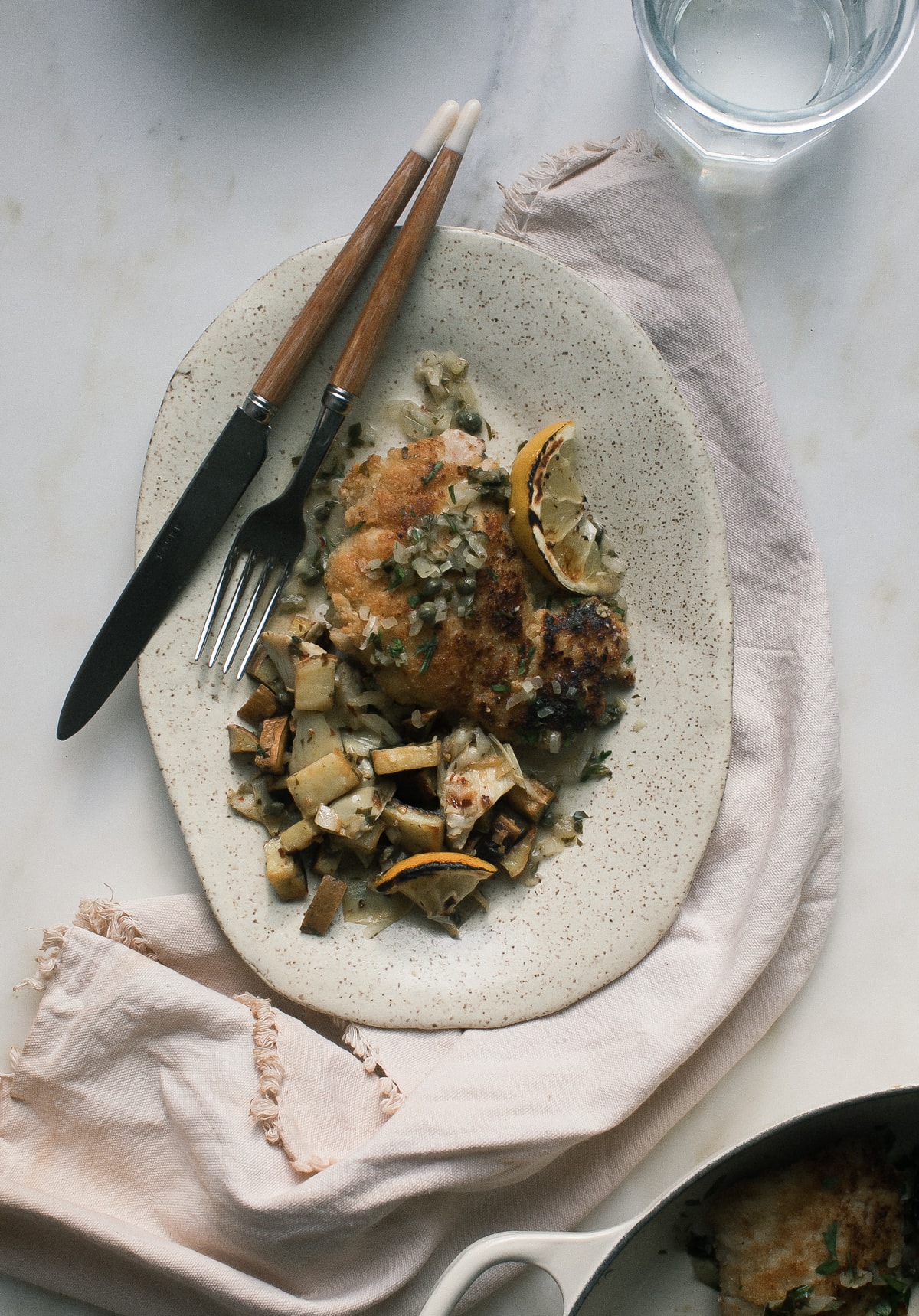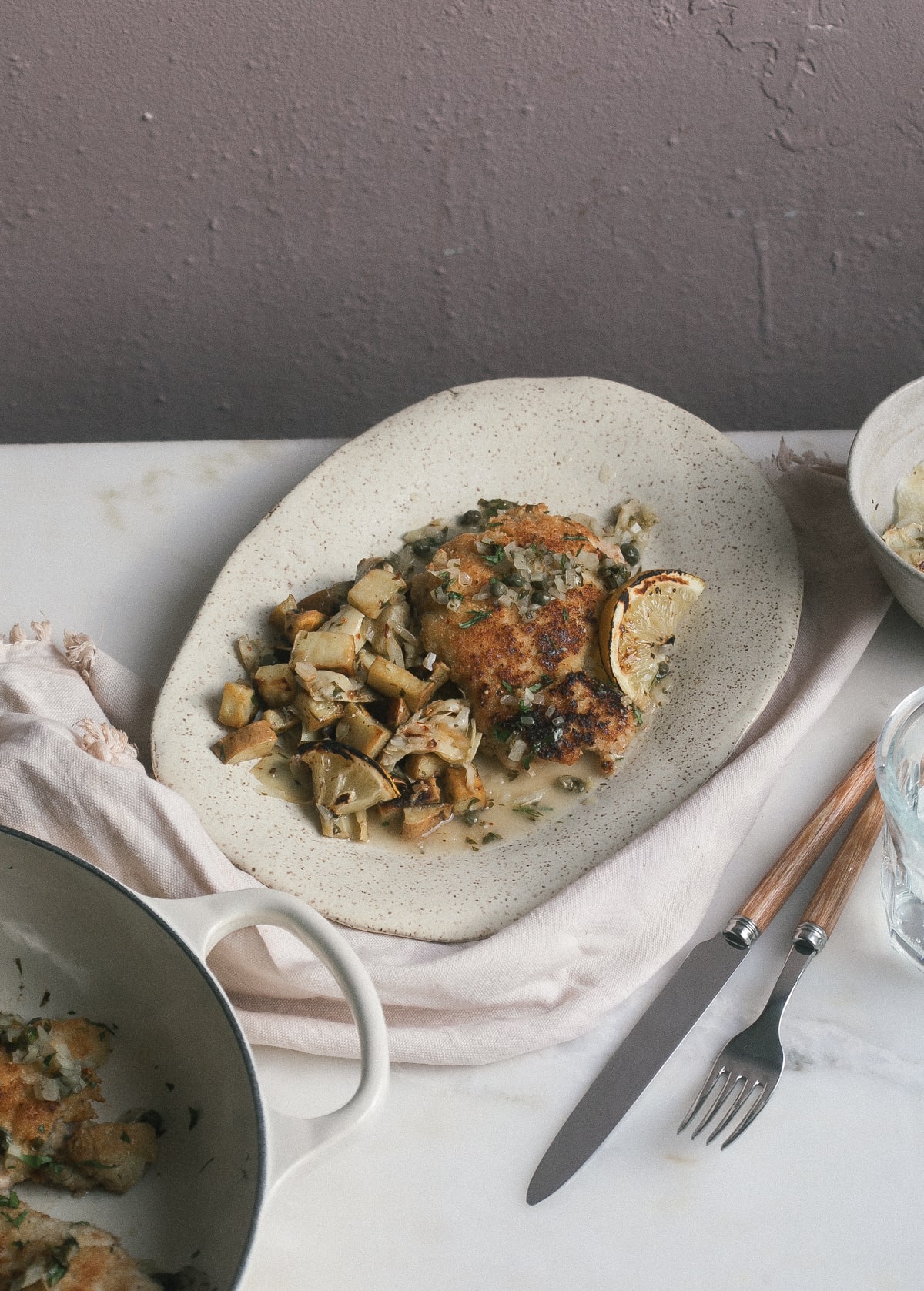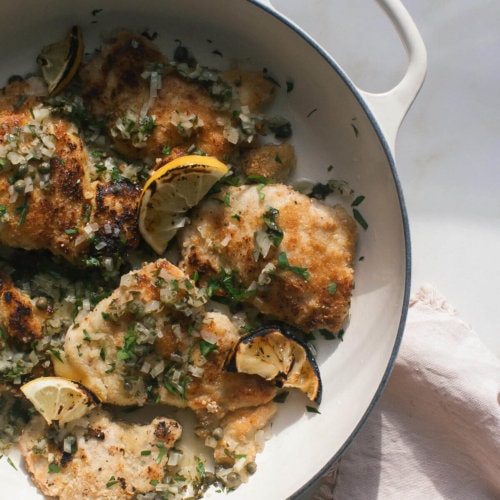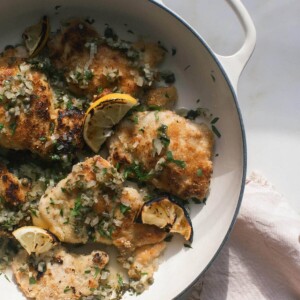 Almond-Crusted Chicken Piccata
Ingredients
1

pound

boneless chicken breasts or chicken thighs

Salt

Pepper

1

large egg

1 1/2

cup

almond flour or almond meal

Olive oil

1

tablespoon

ghee

1/4

cup

chicken stock

1/4

yellow onion

,

minced

Pinch

of crushed red pepper

3

tablespoons

minced Italian parsley + more as garnish

2

tablespoons

capers

Juice from 1 lemon + 1 lemon for serving
Directions
Place the boneless chicken breasts in between two sheets of plastic wrap. Using a mallet or a something heavy (I used a cast iron skillet), pound the chicken until it's about 1/4-inch thick. This will release some stress. It's good for you. Remove the top layer of plastic wrap and sprinkle both sides of the chicken breasts with a few pinches of salt and pepper.

In a medium bowl, crack in the egg and whisk. In another plate or shallow bowl, place the almond meal and add 1/4 teaspoon salt; mix together. Dip the chicken in the egg, allowing any excess to run off, and then proceed by coating it in the almond meal. Repeat with the remaining chicken breasts or thighs.

In a medium skillet or saute pan, set over medium heat, add the olive oil. When the oil is hot, add the chicken (you may need to cook this in batches depending on the size of your pan). Cook the chicken on its first side for 3 to 4 minutes, flip and then cook on the opposite side for an additional 3 to 4 minutes. Repeat with the remaining chicken. Set aside. (You may need to take a paper towel and clean the pan in between batches.)

In the same clean-ish pan (I used a paper towel to clean any bits of almond flour out), add a tablespoon of ghee. When melted, pour in the chicken stock, yellow onion, a few pinches of salt and crushed red pepper; cook until the onion has softened, about 5 minutes. Stir in the Italian parsley, capers and lemon juice. Ladle over the chicken and serve alongside some warm potatoes. Garnish with lemon wedges (I placed mine over my stove-top range to get a bit of color!).