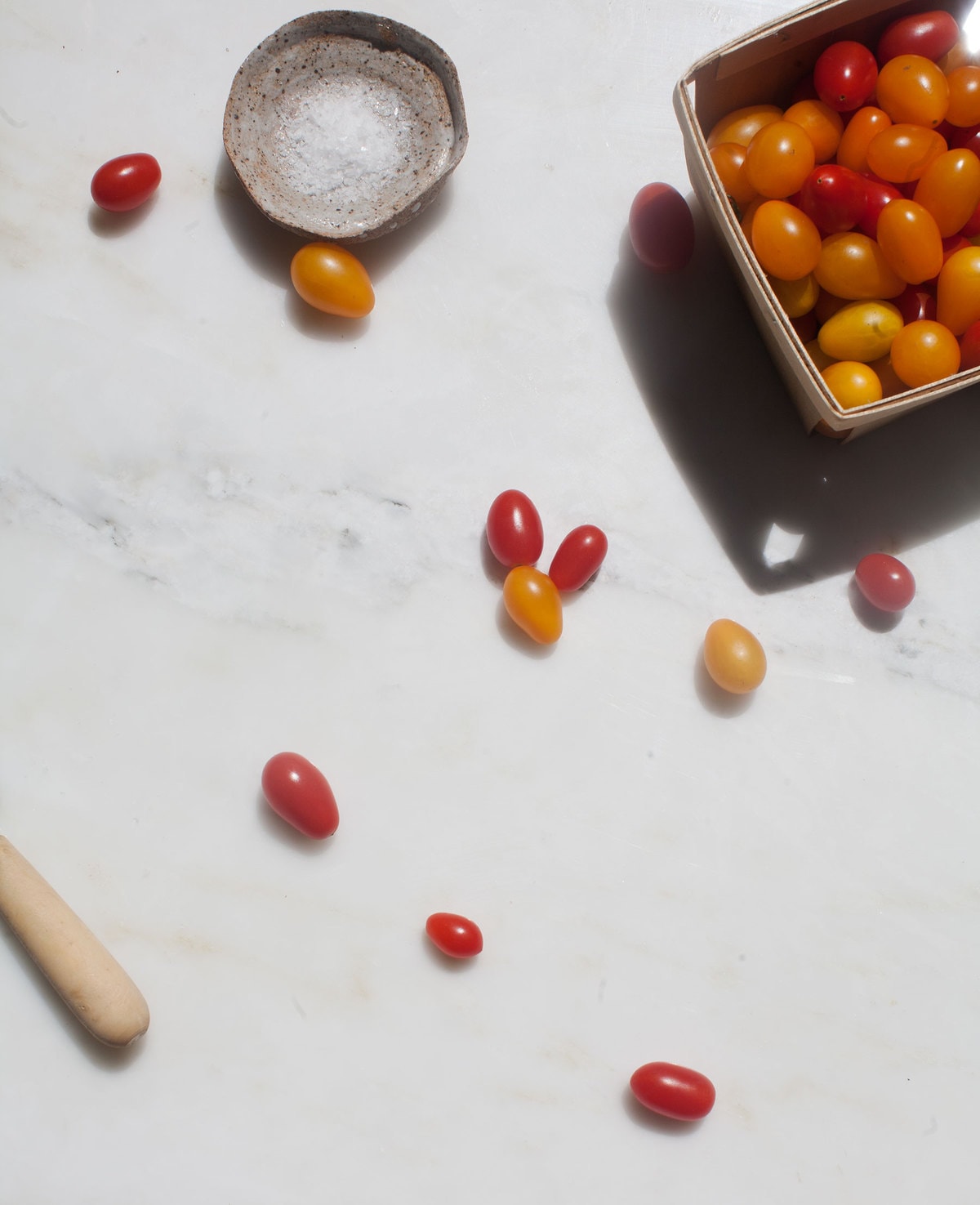 I've beens slightly obsessed with sun-drying things. I usually make kale chips in my oven about once a week because it's super simple and I love crunchy things. But right now, since it's summer and hot AF, I'm trying to avoid turning on my oven.
Of course there are exceptions: Hatch Chile Cornbread (coming soon), pie (always) and other delicious things. But these foods HAVE to be made in an oven, veggie chips and other things can be made in the hot summer sun.
These aren't really recipes I suppose; instead it's just a post to share what I've been up to. Maybe inspiration?
To start, I'll say that I used these mosquito nets because I don't like the idea of flies on my food. Do any of us?!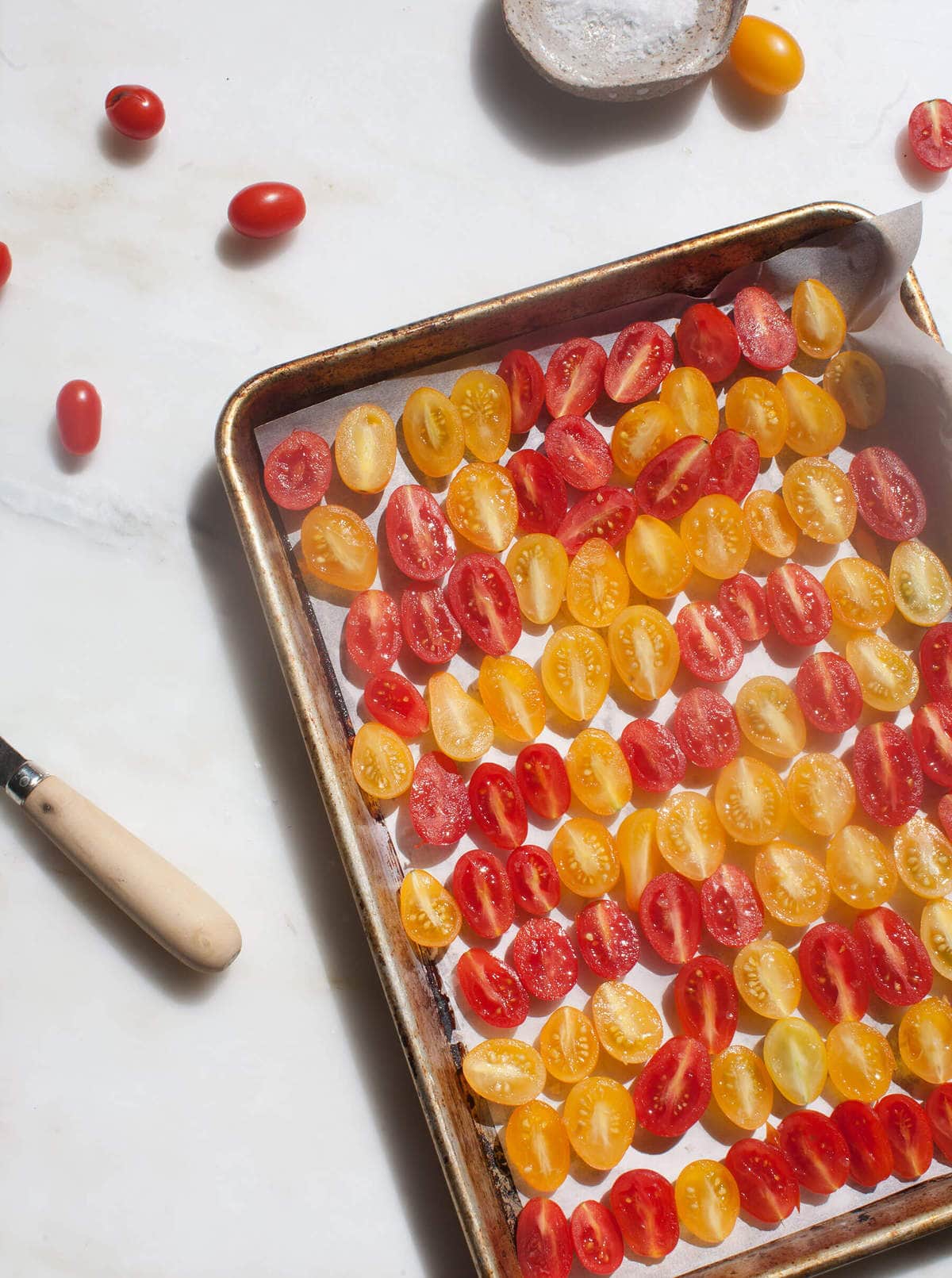 I took these cherry tomatoes, halved them and then placed them on a parchment-lined baking sheet. I placed them in the sun for about 2 days and boom! Sun-dried cherry tomatoes. They're so sweet and tart.
I'm excited to bust these out in November and put them in all sorts of pasta. Of course, I'm just gonna eat the chips with like a glass of iced tea.
As I stated above, I cannot live without kale chips. I eat them constantly. I loooove 'em. Have you ever eaten a bunch of kale chips and then tried to talk to someone?! There will be shards of green all up in your teeth–it's not a good look!
I rubbed the kale leaves with a bit of olive oil and salt and set them outside for about 2 days. They were crispy as could be.
The same with the zucchini chips, except I didn't use any olive oil and just salted them.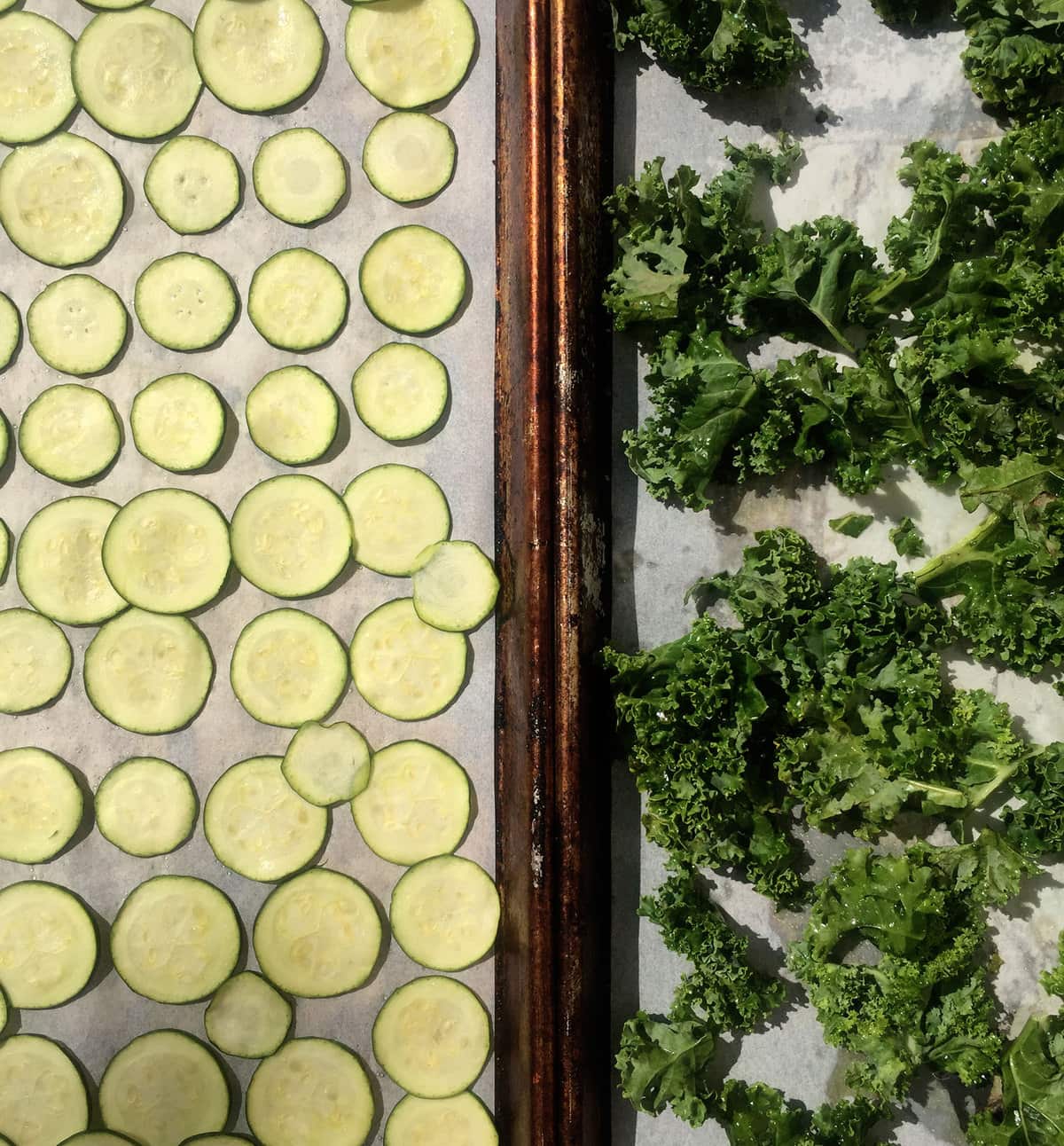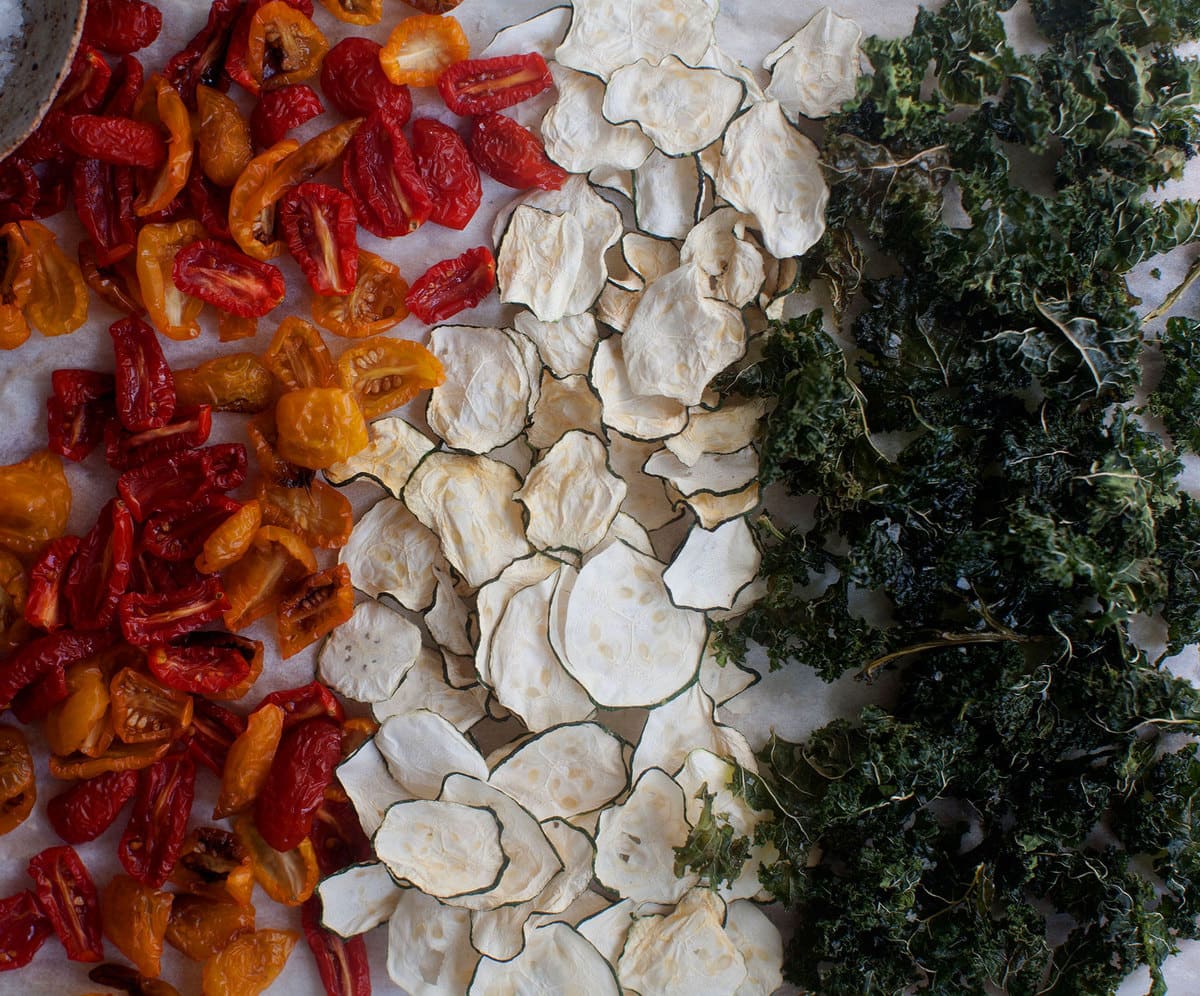 I will say as a bit of a disclaimer: I live in very dry climate. California doesn't have much humidity. Maybe on an average summer's day we're at about 20% humidity so not very much at all. I have no idea how this would work in more wet climates. If you try it, please let us know in the comments!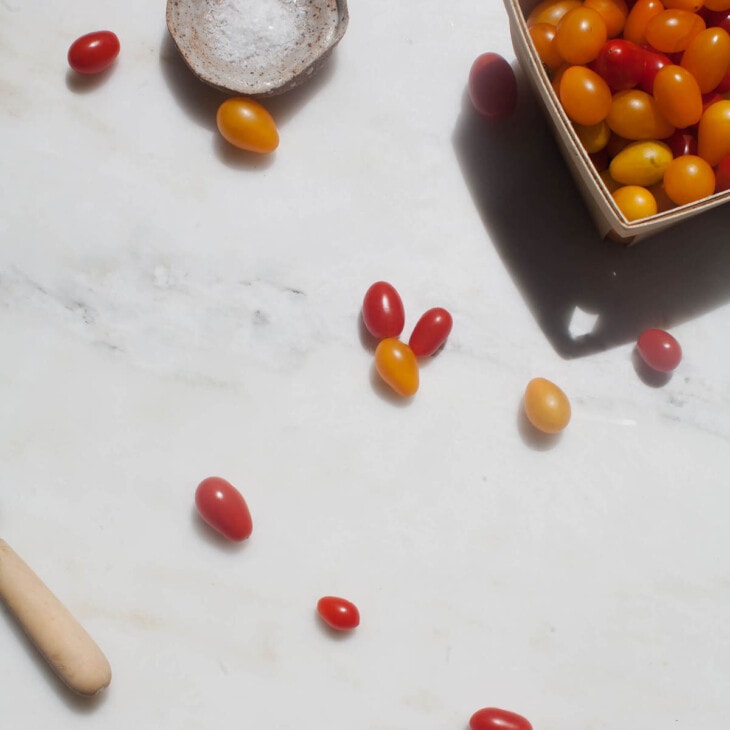 Print Recipe
Sun-Dried Cherry Tomatoes, Sun-Dried Kale Chips and Sun-Dried Zucchini Chips
Ingredients
Sun-Dried Tomatoes:
1

pint

cherry tomatoes

halved

Sea salt
Sun-Dried Kale Chips
1

bunch of kale

leaves torn into bite-size pieces (I discarded the stem)

1 to 2

teaspoons

olive oil

Sea salt
Zucchini Chips
1

zucchini

thinly sliced with a mandolin

Sea salt
Instructions
To make the sun-dried cherry tomatoes: Place the halved cherry tomatoes cut side up on a parchment-lined baking sheet. Sprinkle the cherry tomatoes with a few pinches of salt. Allow to stand in the direct sunlight for at least 2 to 3 days, until fully dried and shrivel-y. Depending on the temperatures, this may take less or more time. At night I brought the baking sheets and lightly covered them with a towel.

To make the sun-dried kale chips: On a parchment-lined baking sheet, spread out the kale leaves and drizzle with about 1 to 2 teaspoons of olive oil. Rub the kale for about 2 minutes, making sure the olive oil is incorporated into the kale. Sprinkle with a few pinches of salt. Set the baking sheet in the direct sun for at least 1 to 2 days. This will vary depending on the temperatures.

To make the zucchini chips: Set the zucchini slices on a parchment-lined baking sheet so they are not overlapping. Set them in the direct sunlight for about 2 to 3 days, until crispy. This may take more or less time depending on the weather. Zucchini chips are tough to get totally crispy if there's a high humidity so just beware of that before you start!
Notes
I also think other vegetables would work. Like sweet potato chips, beet chips, brussels sprouts chips. I love vegetable chips!