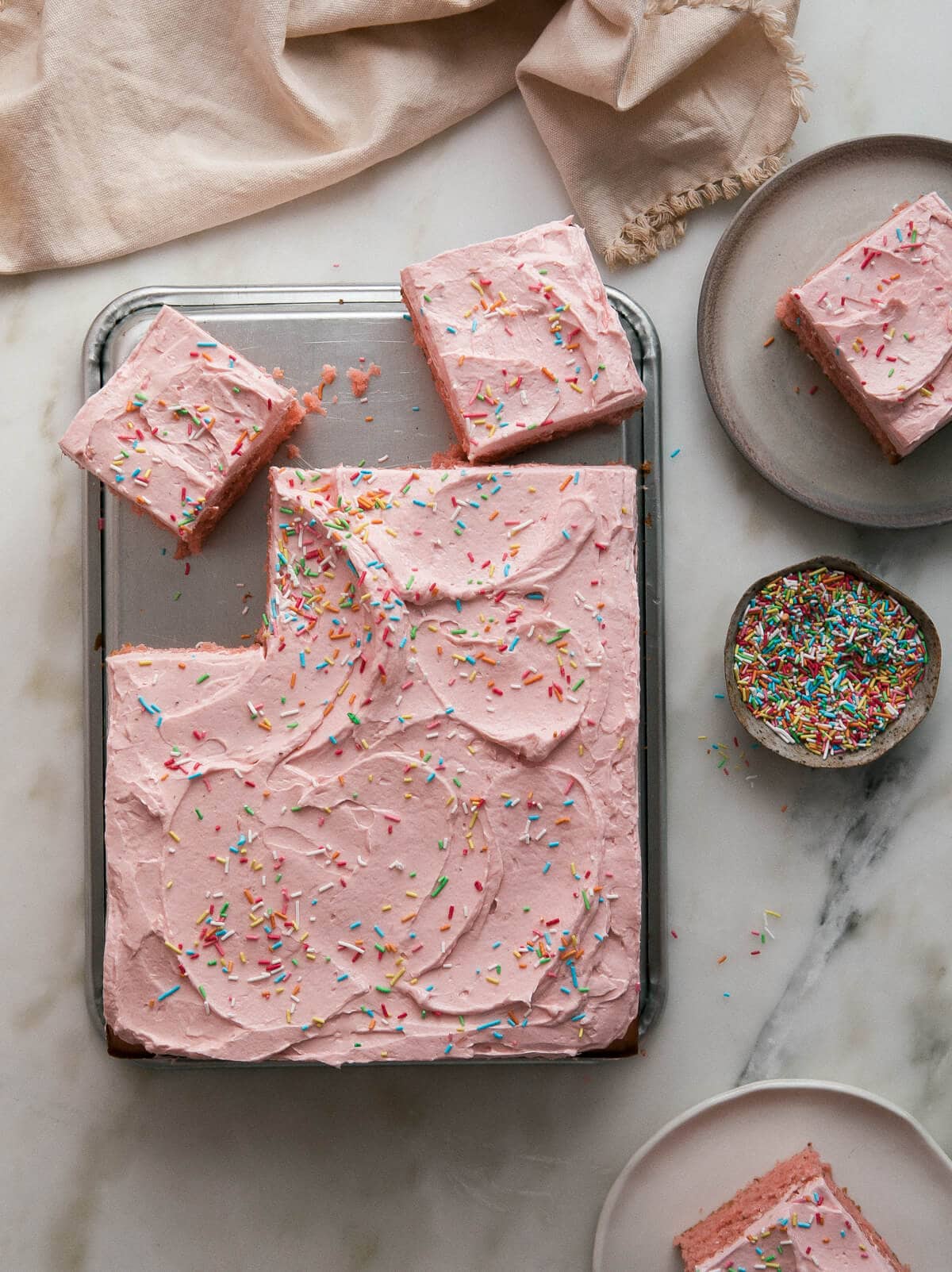 I had a full-blown, real, non-working weekend. There was a good dose of working out, dinner at a newly-opened neighborhood restaurant (highly recommend it)! I helped my friend Hourie with her charity bakesale that was sold out in an hour (!!!). There was also loads of salsa and smoothies and working out.
Moving onto cakes, specifically this one. Easter is this weekend, which really is the kickoff to spring brunches. There's Mother's Day and spring weather, which makes for ideal brunching-weather.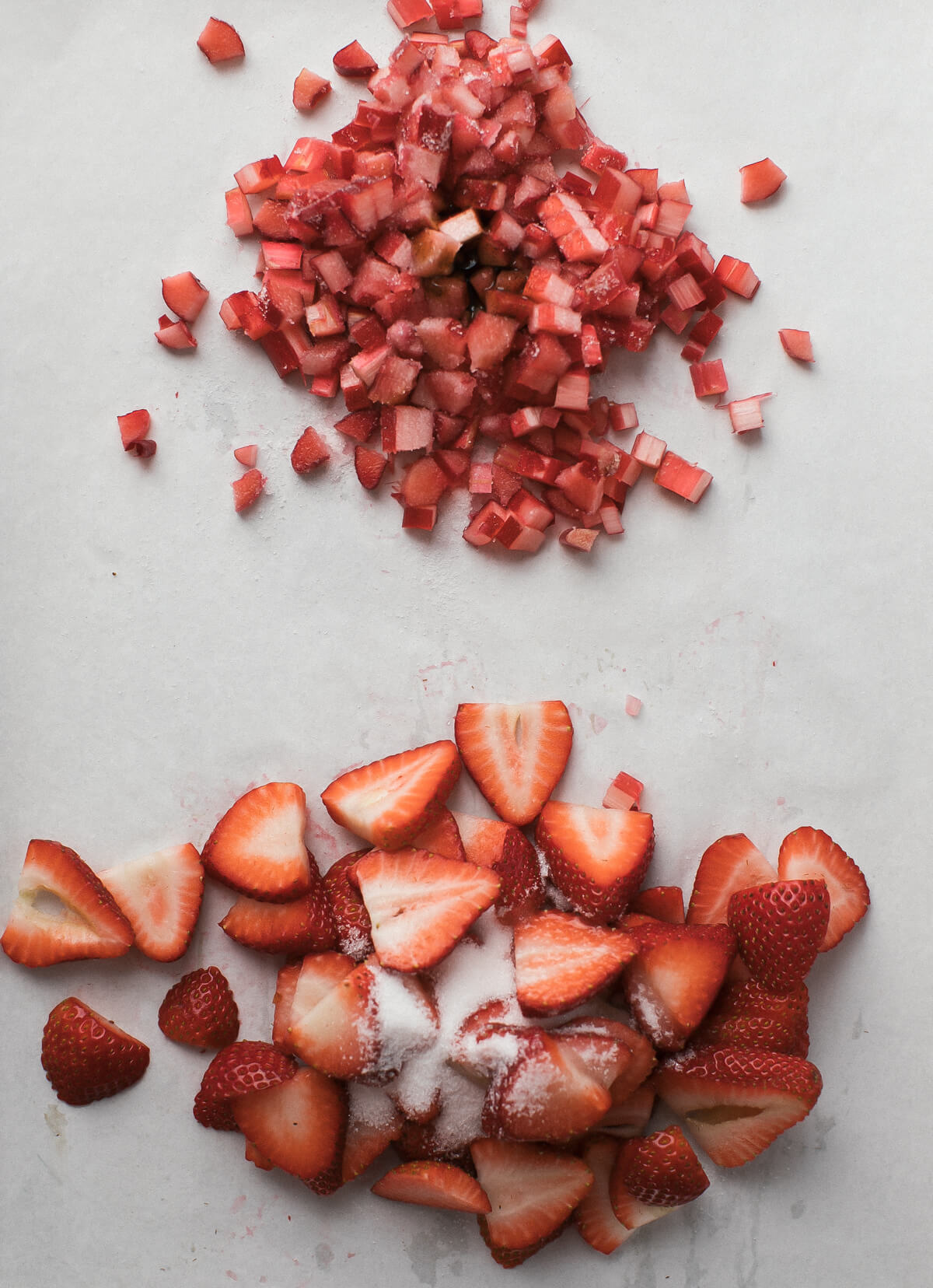 If you love cakes but can't find the energy/skillz to decorate them, then the whole 'sheet cake category' is for you. They are ridiculously easy. All you'll need is a proper spatula and a handful of sprinkles.
This strawberry + rhubarb sheet cake is the complete opposite of this Neapolitan number. That cake requires a few cups of coffee and some concentration (or at least the decorating part does).
This cake is made up of the most delicious white/strawberry cake combo ever. I could eat it over and over. And the rhubarb frosting is delicious tart and smooth.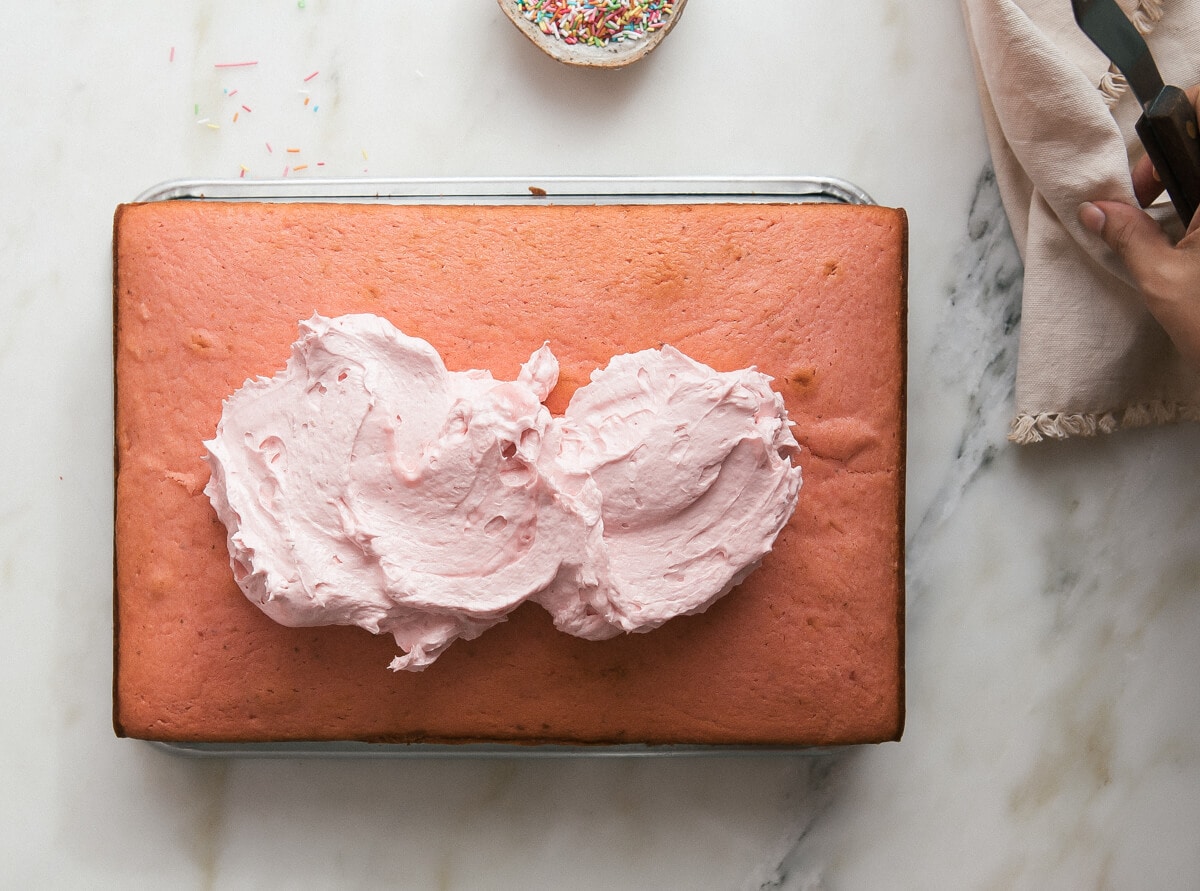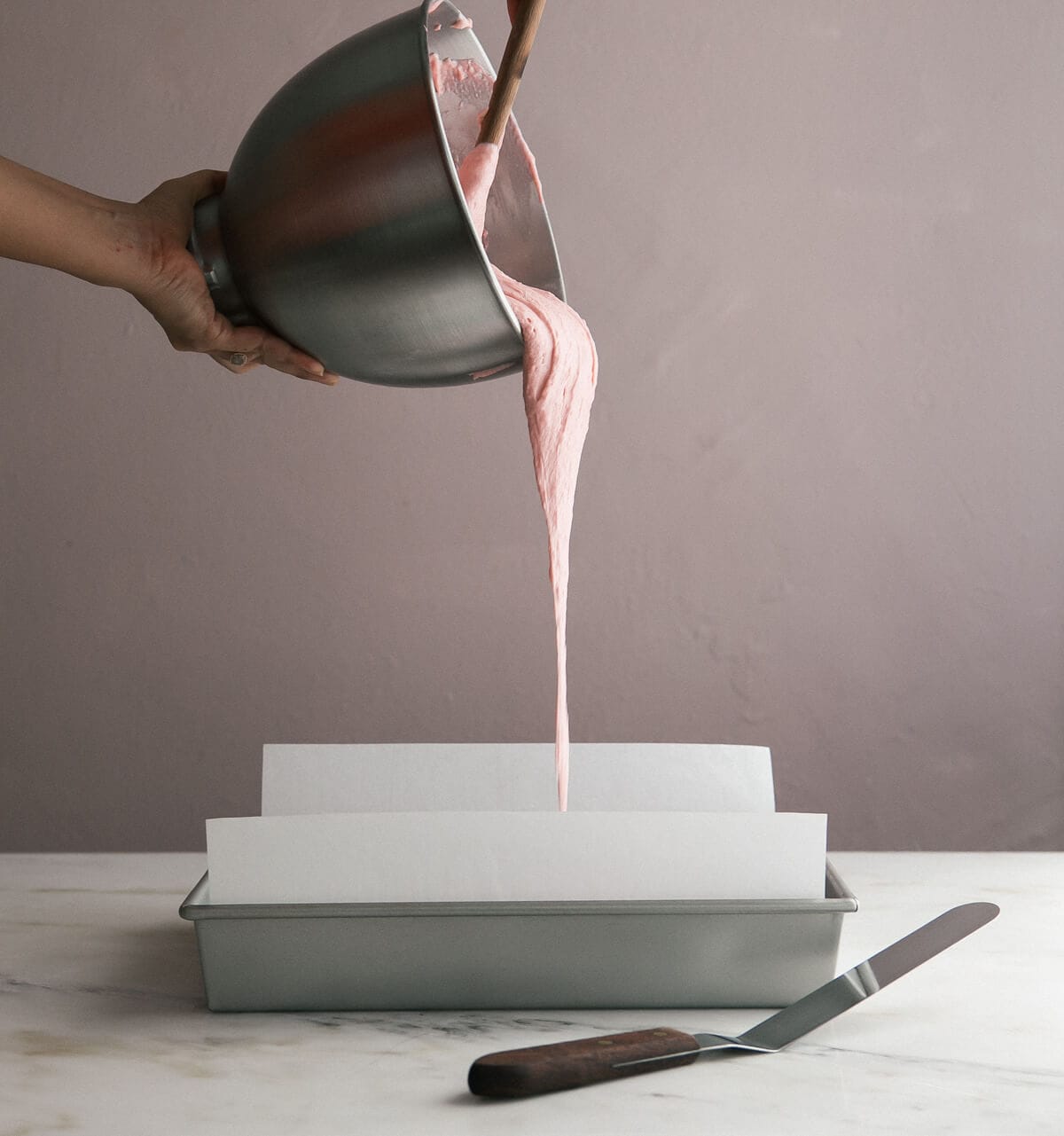 The whole recipe begins with the strawberries and rhubarb sharing a baking sheet and roasting together but separately.
Then they're blended up, separately, but I didn't bother to rinse the blender because I was being lazy.
This is a lazy-friendly cake.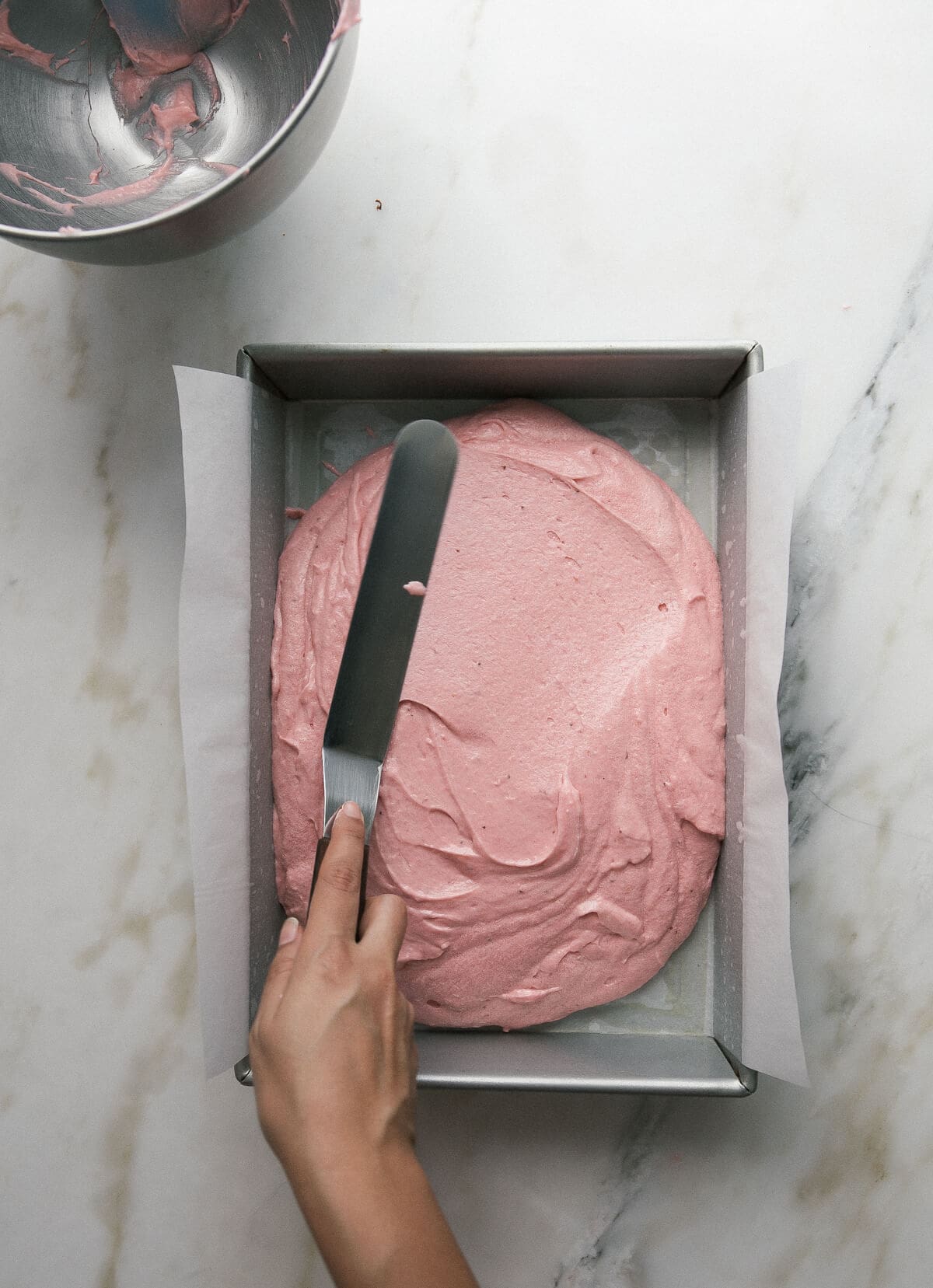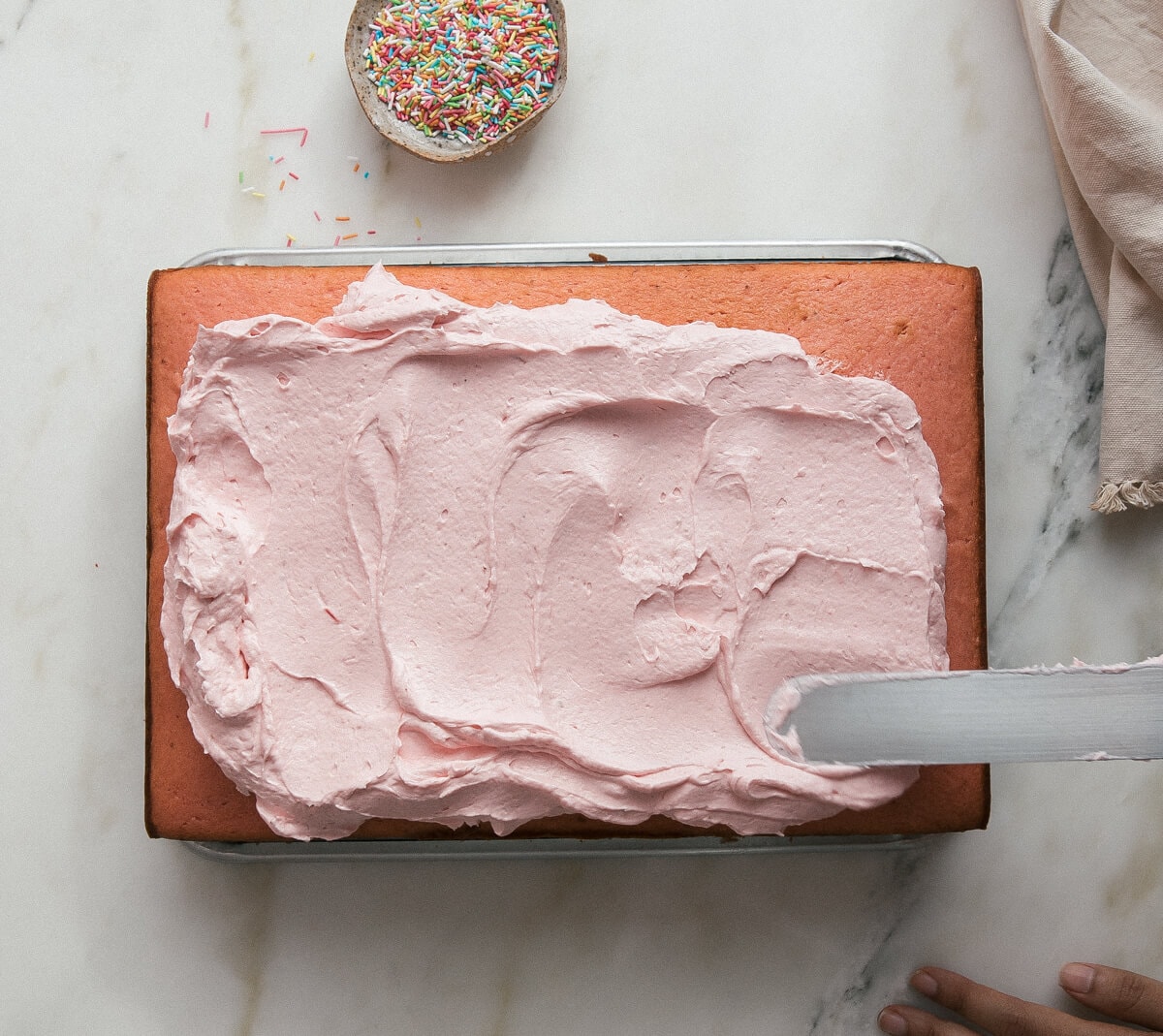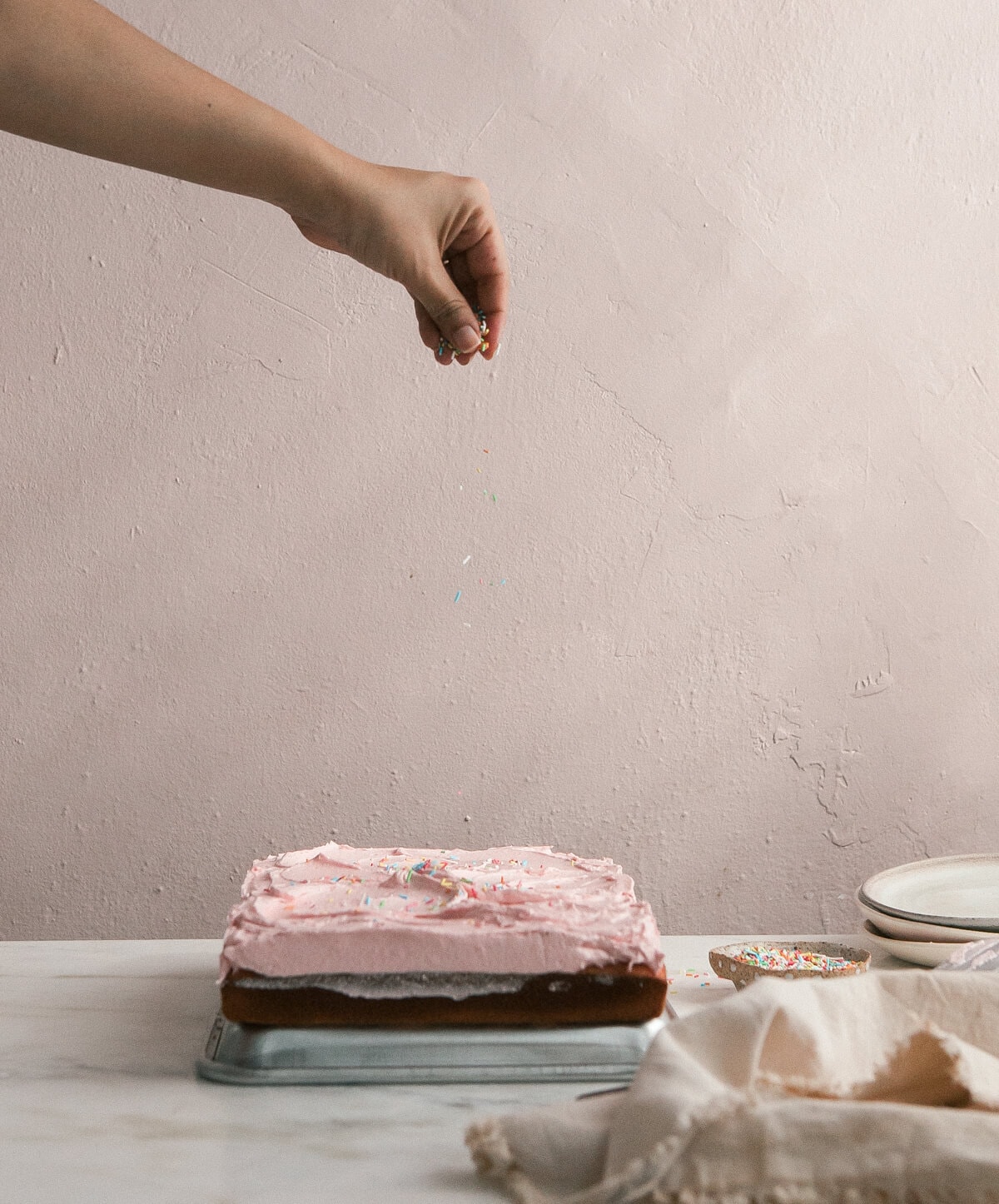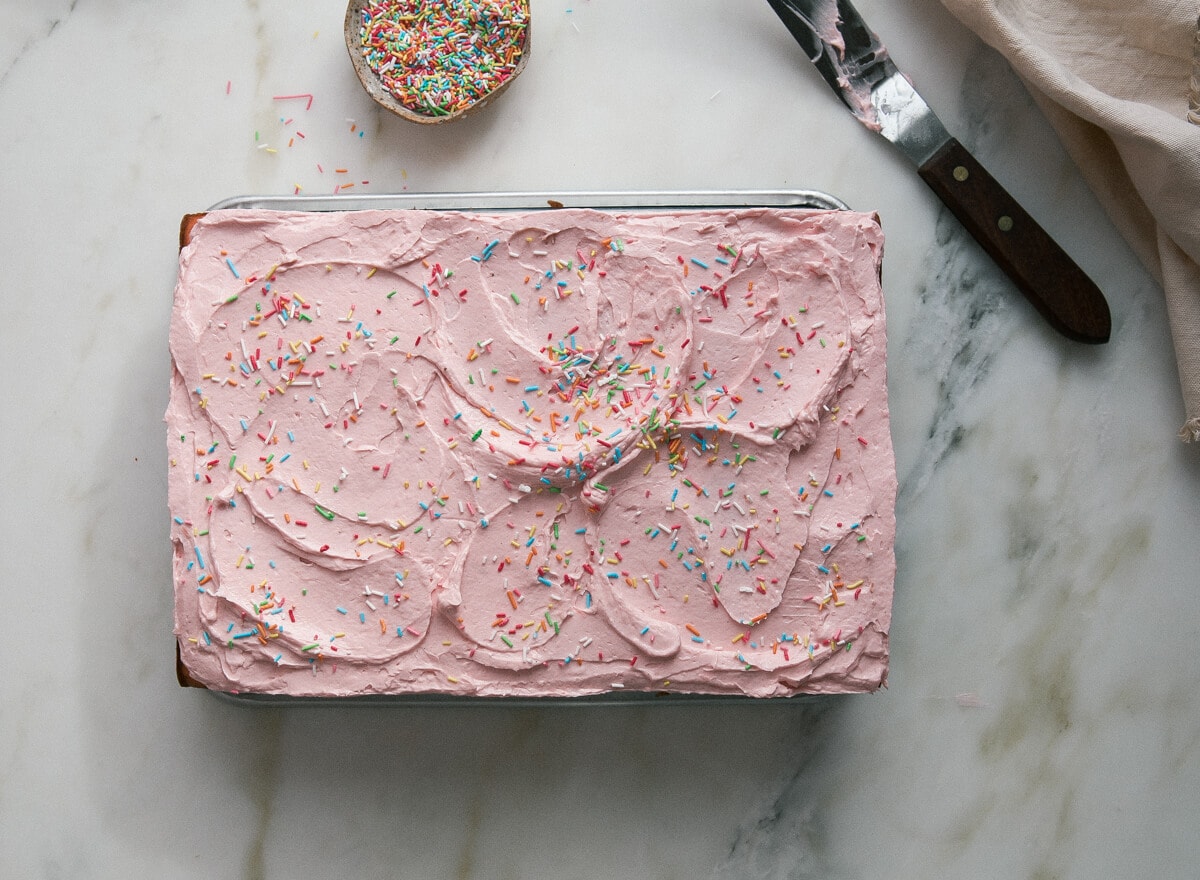 After it was done cooling, I added all of the frosting to the top, smoothed that shit out and threw some sprinkles on and called it a day!
It was glorious and I hope it finds a place on your spring-table soon.
xo
Adrianna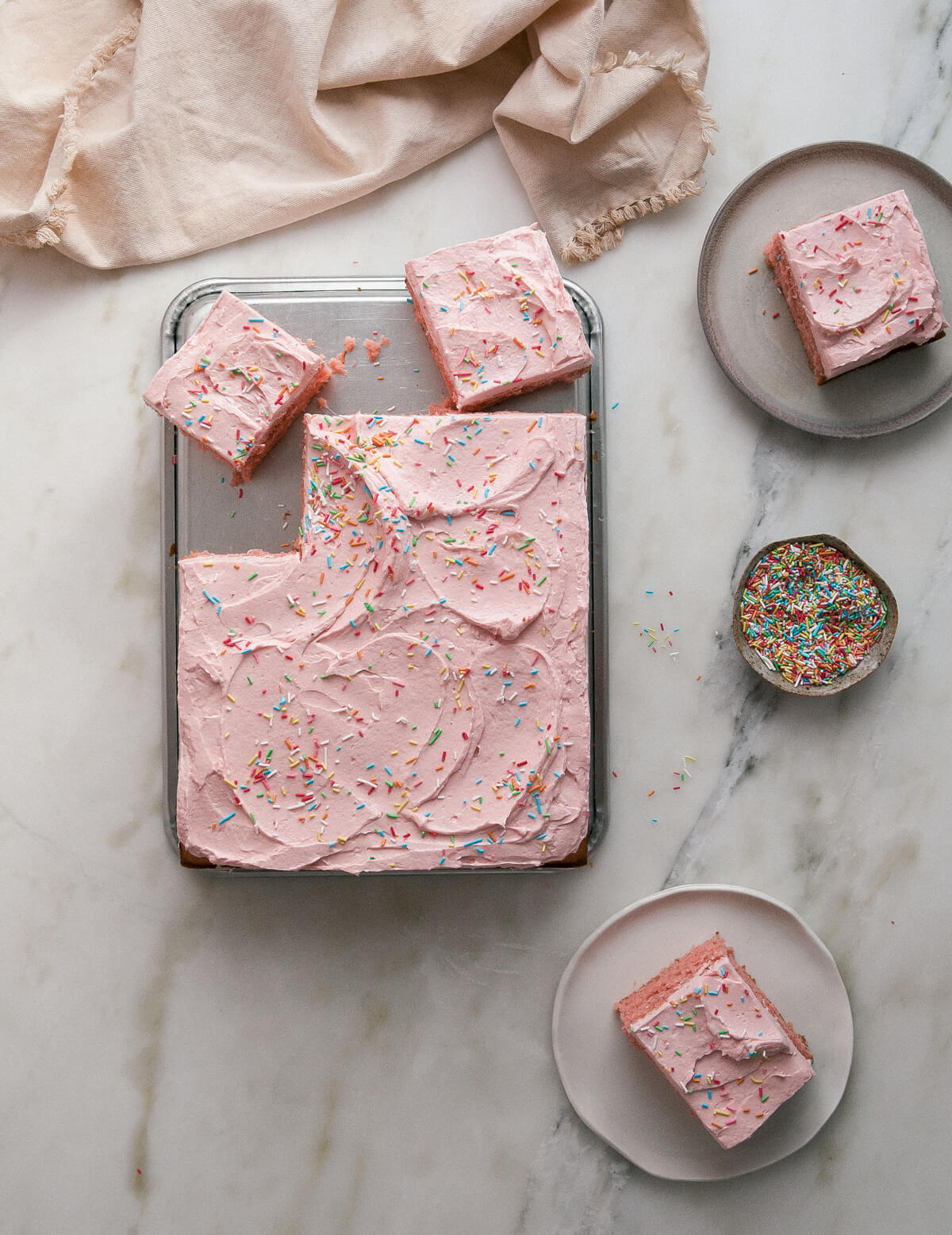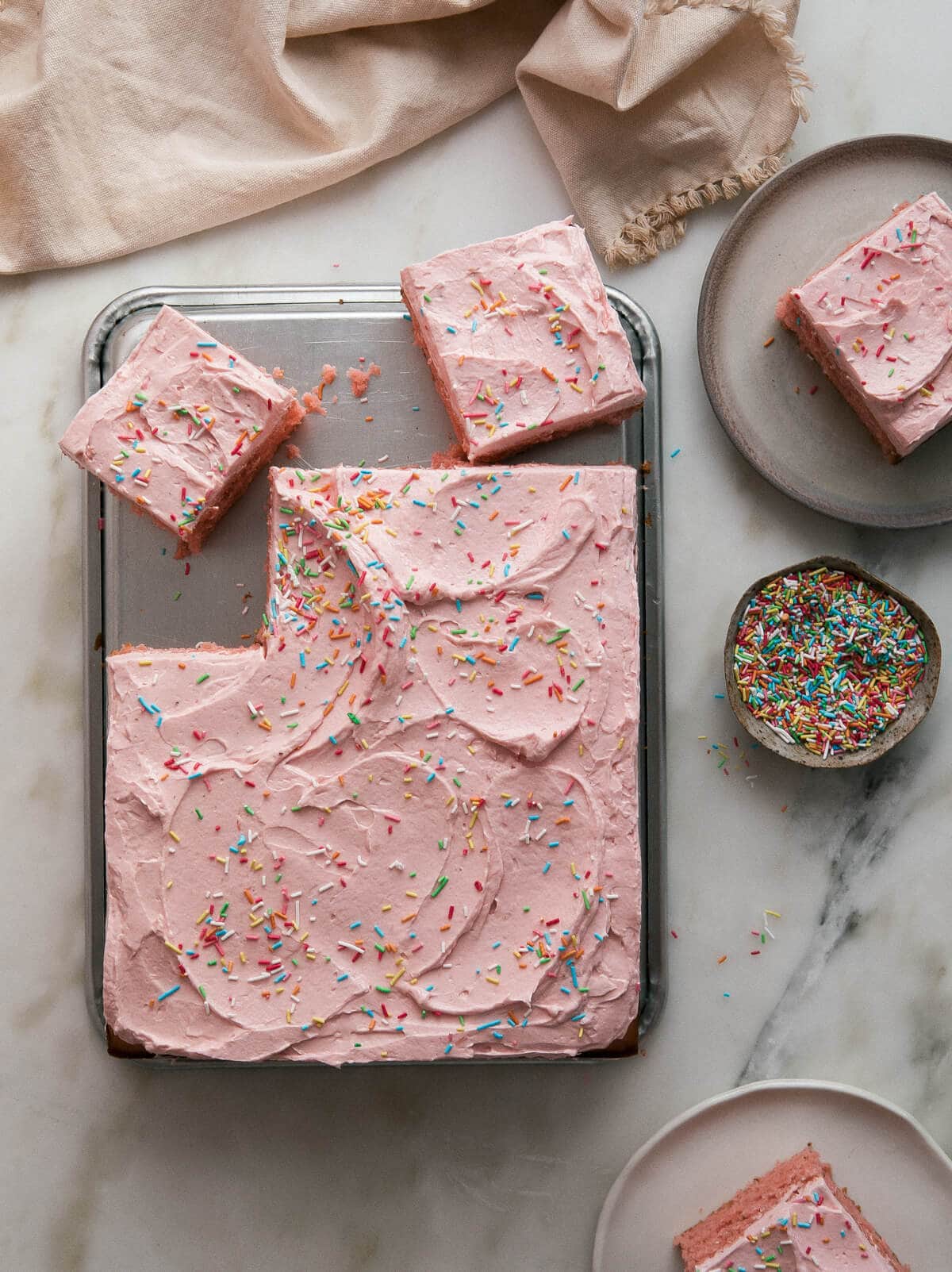 Strawberry Sheet Cake with Rhubarb Swiss Meringue Frosting
Print
Total Time:
1
hour
5
minutes
Serving Size:
1
sheet cake
Ingredients
Roasted Strawberries + Rhubarb:
2

cups

from 1/2 pound sliced strawberries

1/4

cup

white granulated sugar

,

divided

1

cup

diced rhubarb

,

from 4 to 5 shortish stalks

Pinch

of salt

3

drops of red food coloring

,

optional
Strawberry Sheet Cake:
2 3/4

cup

cake flour

,

plus more for dusting pans

2 1/2

teaspoons

baking powder

1

teaspoon

salt

1

cups

unsalted butter

1 3/4

cups

white granulated sugar

3/4

cup

milk

6

large egg whites

2

teaspoons

pure vanilla extract or 1/4 teaspoon vanilla paste
Rhubarb Swiss Meringue Frosting:
3

large egg whites

3/4

cup

white granulated sugar

1

cup

unsalted butter

,

at room temperature

1/4

cup

rhubarb puree

2 to 3

drops of red food coloring

,

optional
Directions
To Make the Roasted Strawberries + Rhubarb:
Preheat the oven to 350 degrees F. Add the sliced strawberries to one side of a parchment-lined baking sheet and the diced rhubarb to the other side. Sprinkle about 2 tablespoons of sugar onto the strawberries and sprinkle the remaining 2 tablespoons of sugar onto the rhubarb. Toss them gently and keeping them separate, transfer them to the oven to roast for 10 minutes.

Remove and allow them to cool for about 5 to 10 minutes. Add the strawberries to a blender and pulse until smooth. (You should end up with about 1/2 cup puree. Mix in 3 drops of food coloring, if you like.) Next, add the rhubarb to the blender and pulse until smooth.
To Make the Sheet Cake:
Keep the oven at 350 degrees F (as it was for roasting the strawberries). And grease a 13x9-inch baking pan. Set aside.

In a medium bowl, add the cake flour, baking powder and salt. Whisk until combined. Set aside.

To the bowl of a stand-up mixer with the paddle attachment, add the butter and sugar. Beat until light and fluffy, about 2 to 3 minutes. In a measuring cup, pour in the milk, egg whites, vanilla extract or paste and reserved 1/2 cup strawberry puree (discard any extra) and whisk until combined.

Turn the mixer to low speed and, alternating between the dry ingredients and the liquid ingredients (the strawberry/egg white mixture), add the them butter/sugar mixture until the batter is relatively smooth.

Pour the batter into the prepared baking pan and transfer to the oven to bake for 25 minutes, until a skewer inserted into the center comes out clean.

Allow the cake to cool in the pan for about 5 minutes and then invert onto a cooling rack and cool to room temperature. It'll probably take a good hour.
To make the frosting:
Bring a saucepan filled with a few inches of water. Place the clean bowl of a stand-up mixer atop the saucepan. Add the sugar and egg whites to the bowl and mix.

Heat the mixture until it reaches 140 degrees F or until the sugar has dissolved completely. Carefully (it'll be hot!) transfer the bowl to the stand-up mixer and with the whisk attachment, beat for 5 to 7 minutes, until very fluffy. Remove the whisk attachment and replace with the paddle attachment. With the mixer running on low speed, add the butter, one cube at a time until smooth and glossy. Lastly, pour in the rhubarb puree and red food coloring and mix until combined.
To Decorate the Cake:
When the cake is completely cool, pour the frosting on top of the cake. Using an offset spatula or any spatula you own, smooth it out until it reaches the edges. Make a few swoops in the frosting so it looks cute. And then top it with a bunch of sprinkles!
Notes
Some Swiss Meringue Assistance:
When you add the puree, the frosting may curdle a bit. Here's how to fix it:
Remove 1/4 cup (you can eyeball this measurement) of the frosting and microwave it for about 30 seconds OR set it over a double-boiler until it's very smooth and melted.
With the mixer running, slowly pour in the melted frosting. Beat for an additional two minutes. The frosting will magically come together and become fluffy and cohesive!
If you're frosting is soupy, stick it in the fridge for about 5 to 10 minutes and then beat it for 1 to 2 minutes. It should stiffen up a bit.
If rhubarb is out of season, you can replace it with strawberry puree. I would double the amount of strawberries and then use the exact same measurement of puree for the frosting (1/4 cup of strawberry puree).