Olive Oil Cake Cookies with Blackberry Frosting
9
Sep 14, 2016, Updated Jan 26, 2019
Disclosure: This post may contain affiliate links, which means I may earn a commission if you click on the link and make a purchase.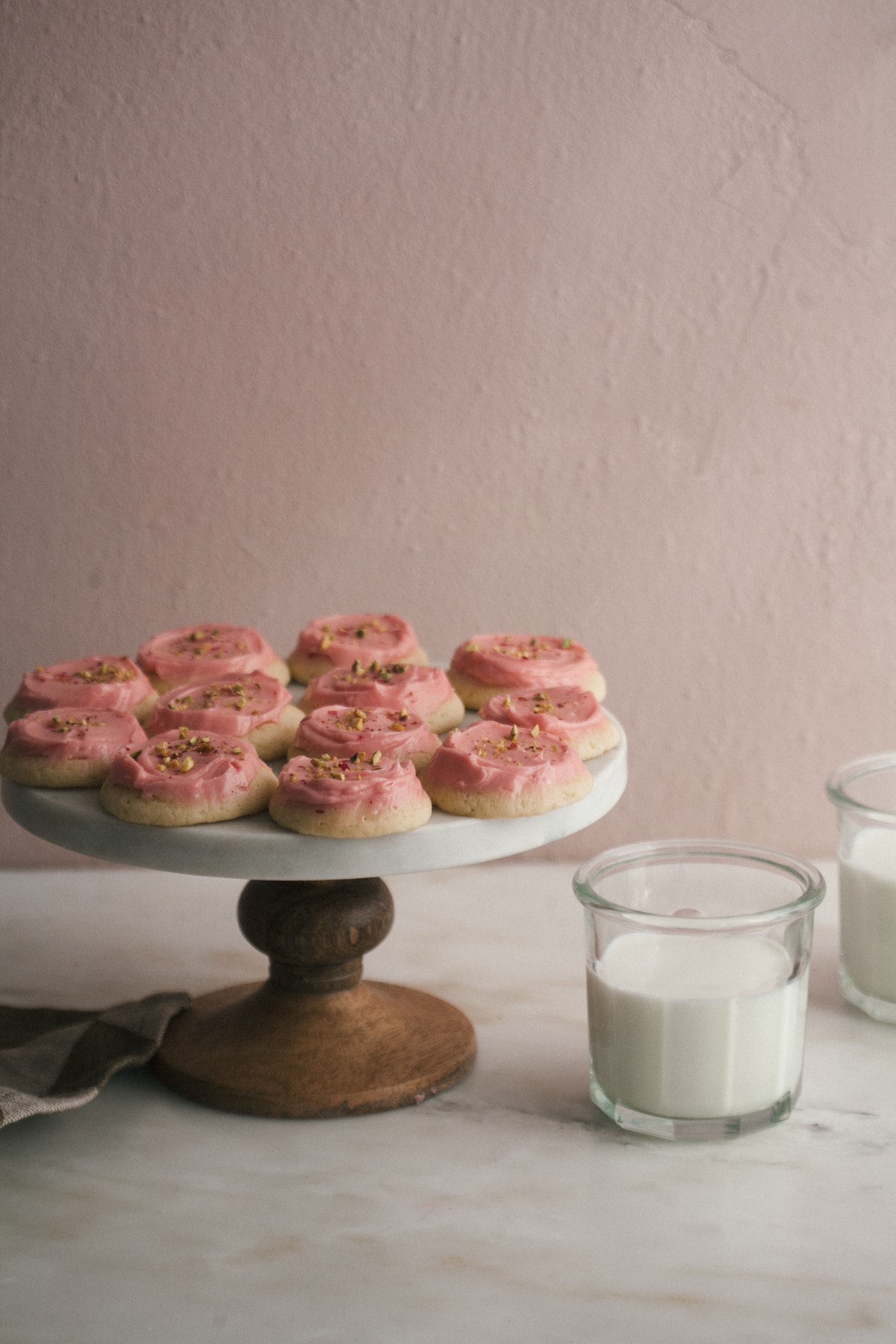 CAKIES! I learned this term from Izy's book. I'm not sure if she invented it or if it was around before then. It's hard to pin-point the origin of very sophisticated terms like that…but if you're unfamiliar, it's when a cake meets a cookie.
These are delicious spongey-cake-like cookies that are super floral thanks to olive oil. I used average-ly fancy olive oil. It's hard for me to buy a bottle of $30 of olive oil AND THEN USE IT, you know?
When I bake with olive oil I still use stuff that's not THAT expensive. Josh tries to talk me into using nicer stuff but it's so so hard. I leave the fancy stuff for drizzling on salads or veggies.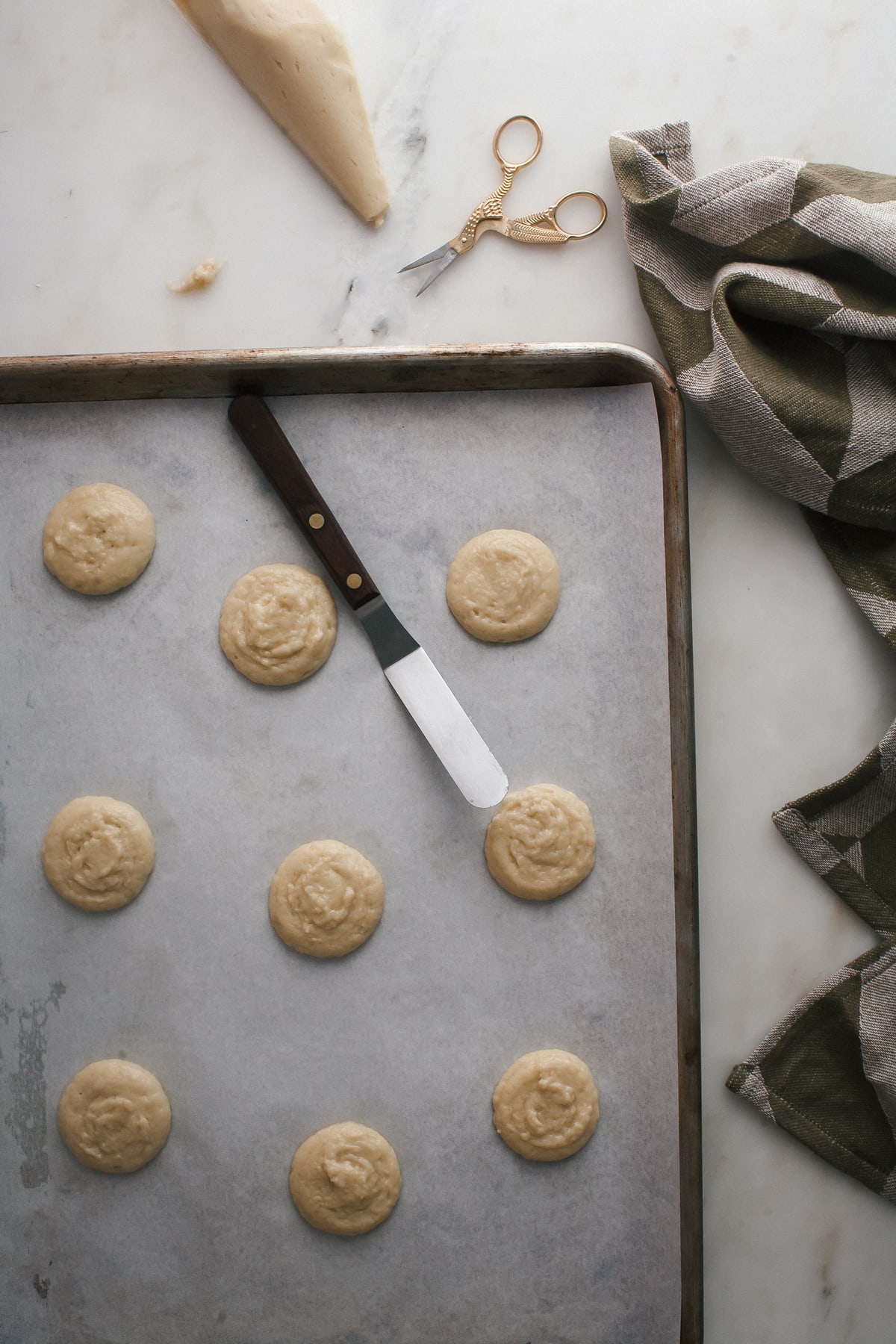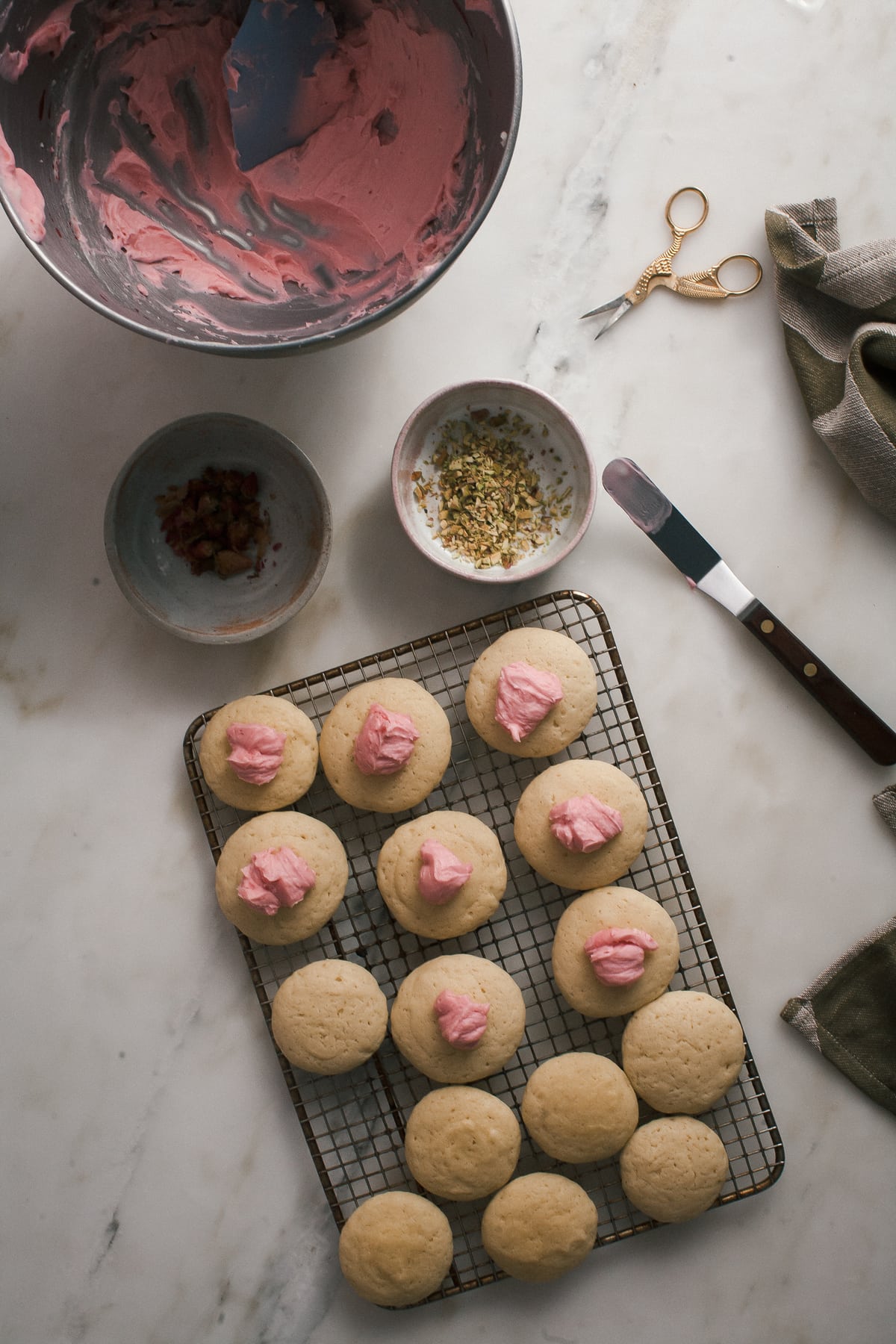 I'm currently (trying) to stock pile recipes for fall. I have a feeling the season is going to swallow me whole so this was one of the last summer-ish recipes that I wanted to make.
I'm obsessed with adding fruit to glazes and frostings. You may think that some sort of artificial coloring was added to this frosting but think again, my friends.
ALL BLACKBERRIES.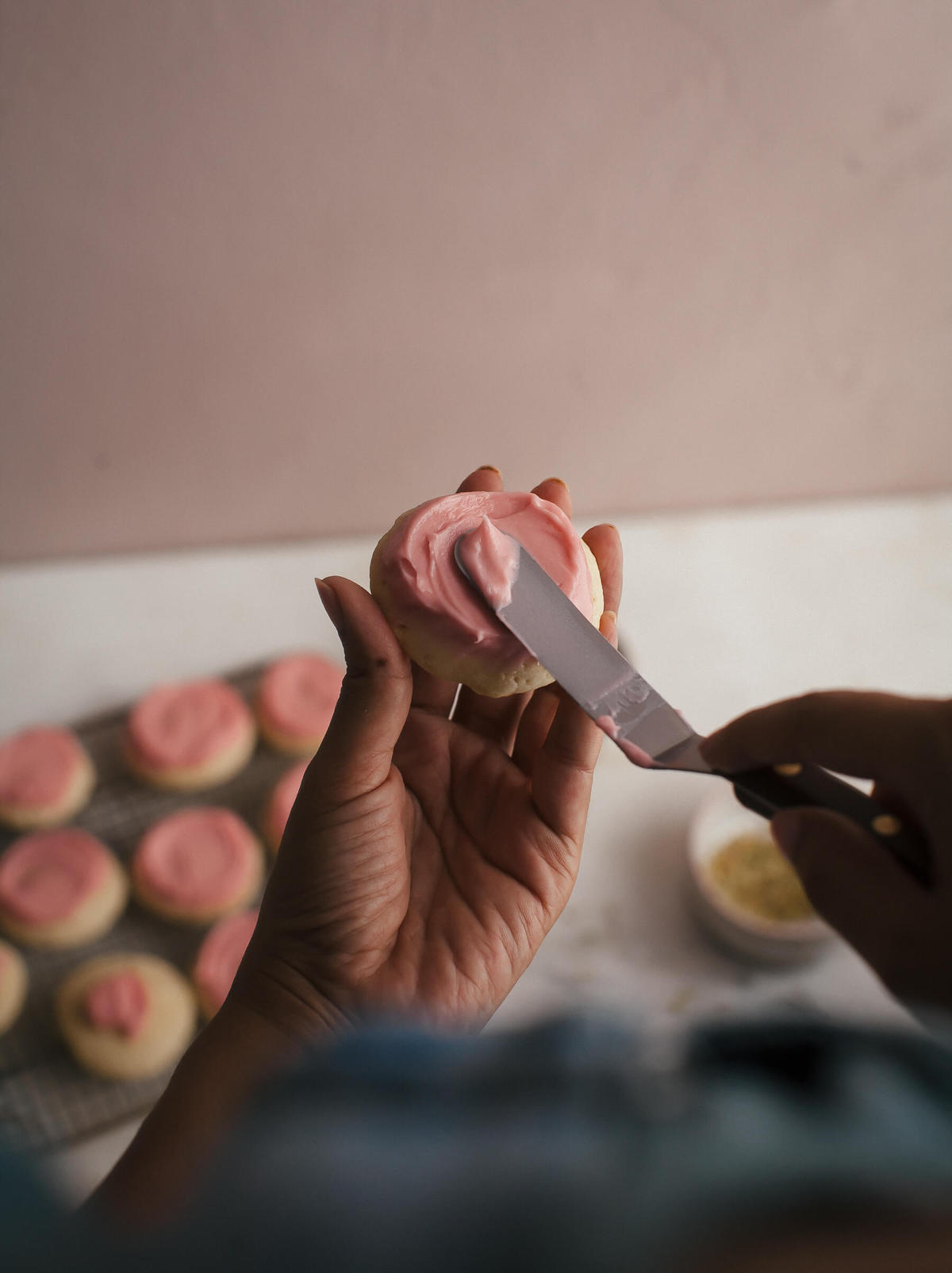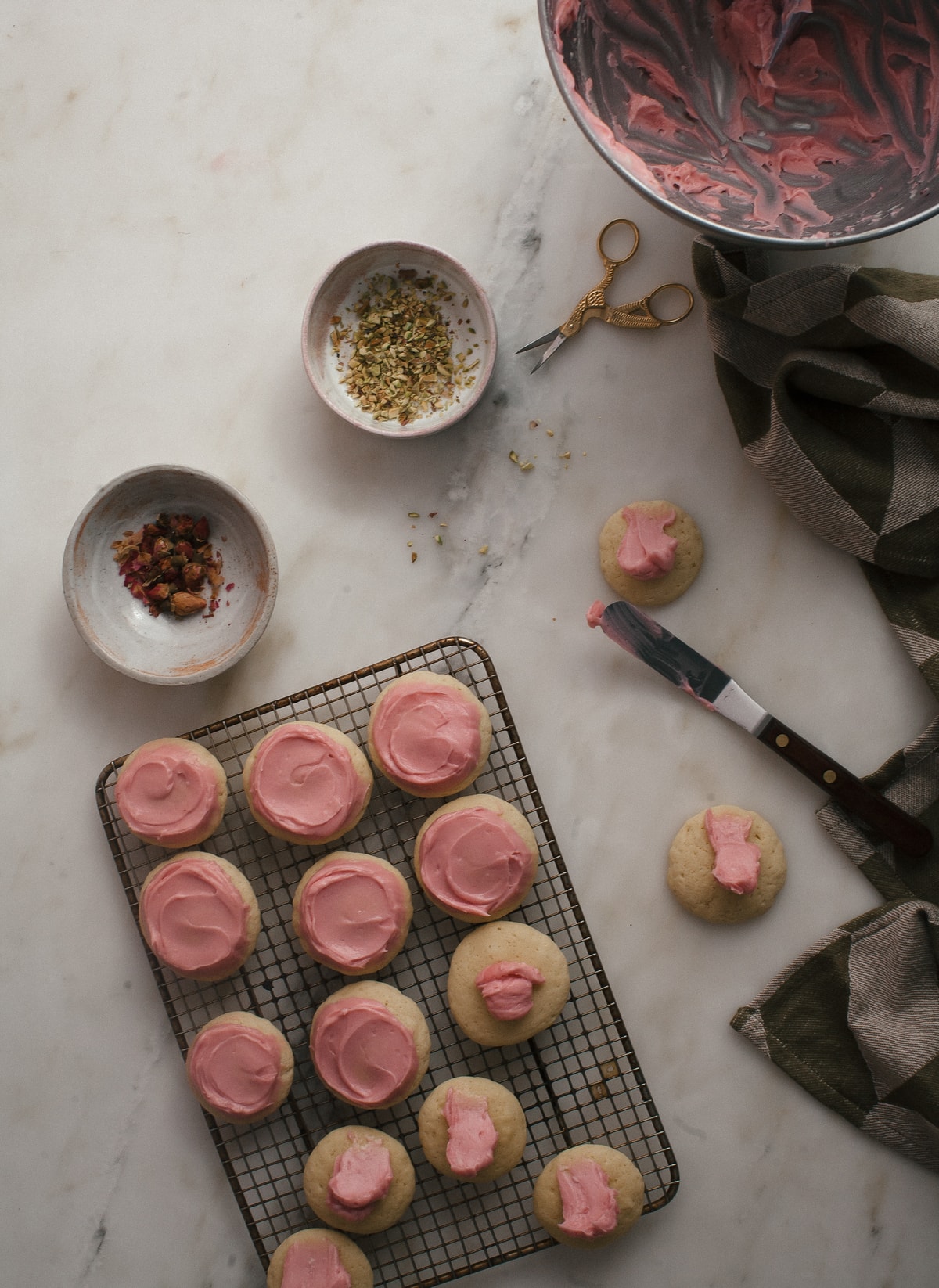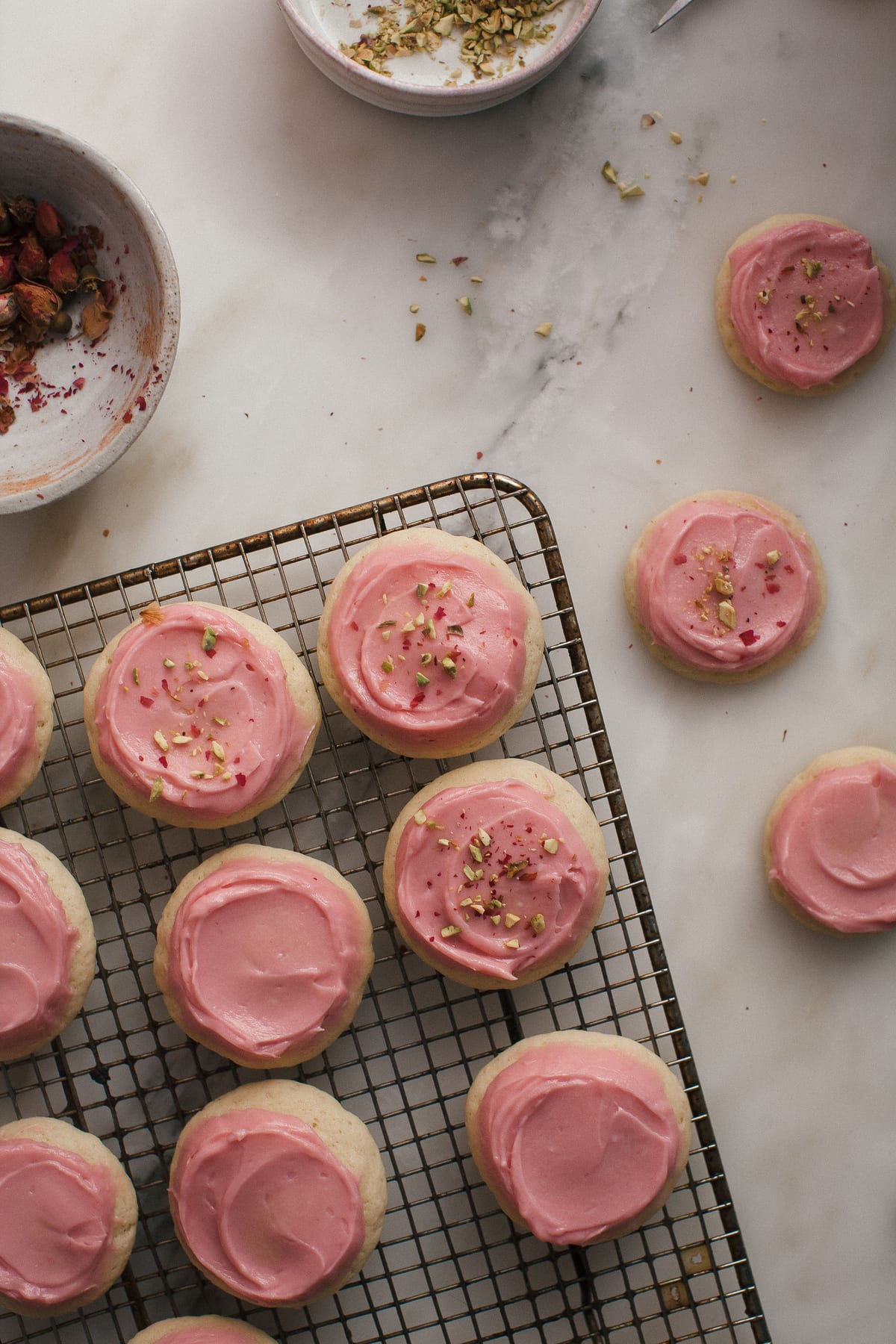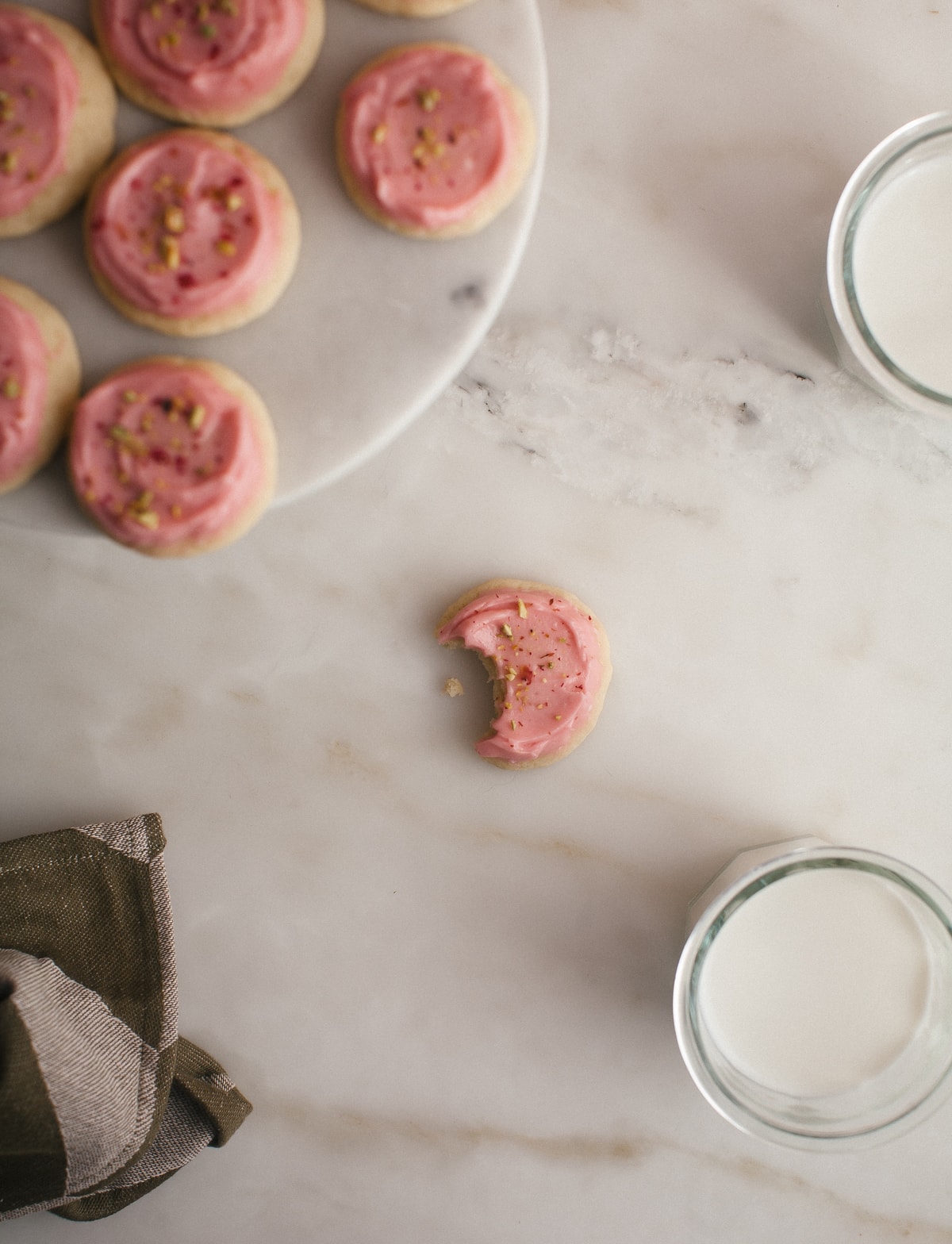 Not gonna lie, I though the blackberry sauce was going to be more purple-y. That's what I was hoping but whatever, I'll take pink.
The crushed pistachios and dried rose petals are a nice addition but not totally necessary.
I took to Insta-Stories to ask what you guys how I should decorate them and the majority of peeps voted for this way. I figured I'd listen to the people.
The other options included white sprinkles, white pearl ball sprinkles and I think just crushed dried rose petals.
Get creative, add what you like. This is your life.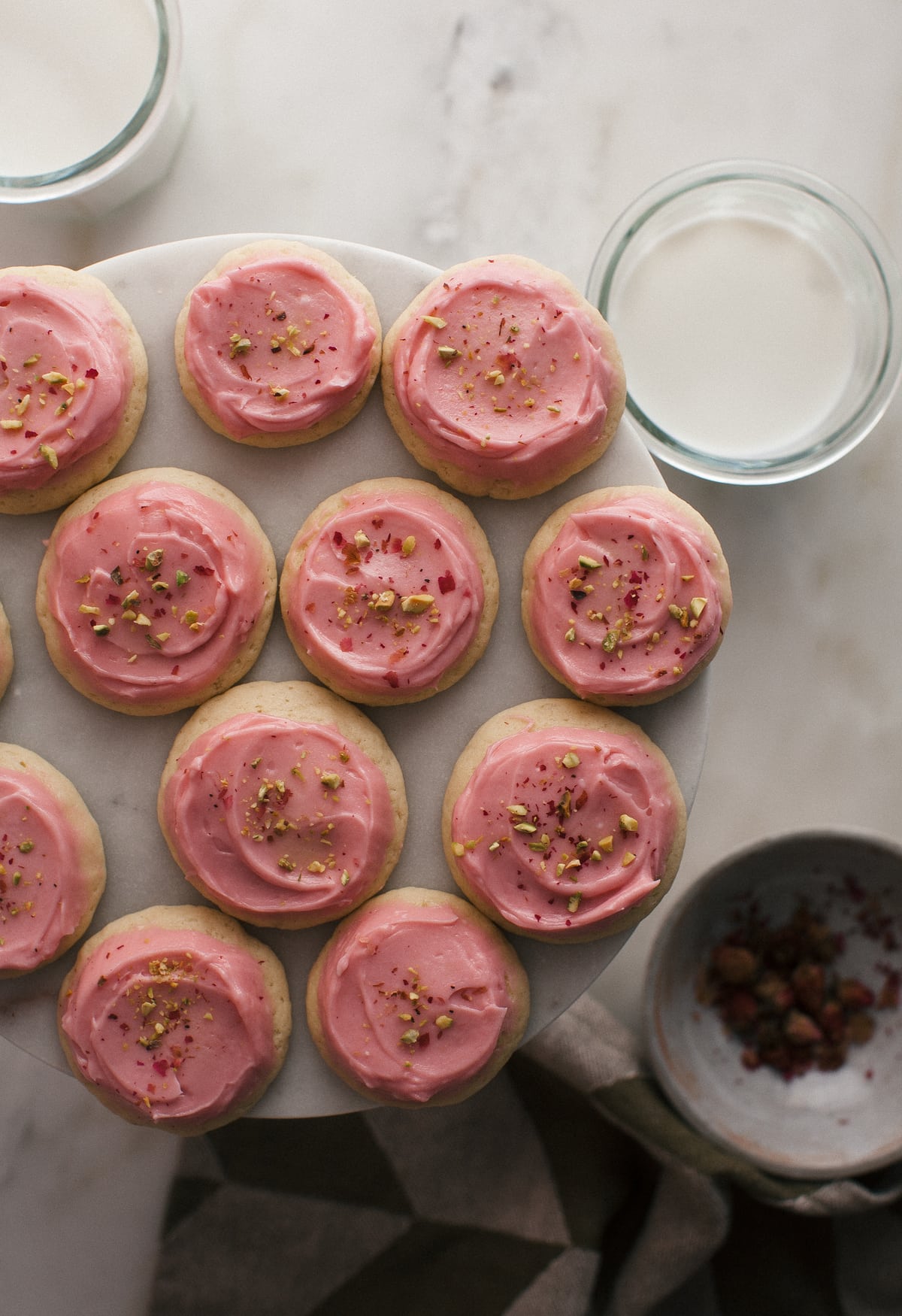 Olive Oil Cake Cookies with Blackberry Frosting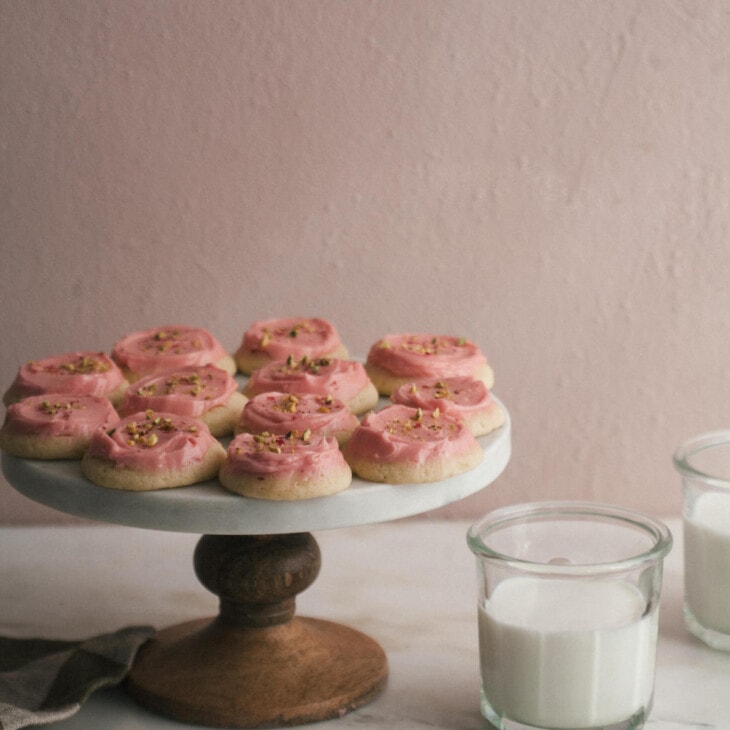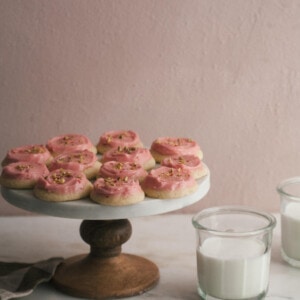 Ingredients
Olive Oil Cake Cookies:
2

tablespoons

unsalted butter

,

at room temperature

1/4

cup

,

plus 2 tablespoons, olive oil

1/2

cup

sugar

1

teaspoon

baking powder

1/2

teaspoon

salt

1

large egg

1 1/2

cups

all-purpose flour

1/3

cup

milk
Blackberry Frosting + Toppings:
1/2

pint

blackberries

Pinch

of salt

1

teaspoon

lemon juice

1

teaspoon

white granulated sugar

1/2

+ 1/4 cup unsalted butter

1 1/4

cup

powdered sugar

1 1/2

tablespoons

blackberry sauce
Instructions
To make the cookies: Preheat oven to 350 degrees F. Line a baking sheet with parchment. In the bowl of a stand-up mixer, with the paddle attachment, add the butter, olive oil and sugar. Beat until light and fluffy, about 2 minutes.

Next, add the baking powder, salt and egg. Beat once more until combined. With the mixer on low and alternating between the flour and milk, add them both to the mixture, until no flour speckles are visible. Transfer to a piping bag (no tip needed!) or you can also use a Ziplock freezer bag. Pipe rounds of batter onto the baking sheet, spacing them about 3 inches apart.

Transfer to the oven to bake for 7 to 9 minutes, until they spring back when touched. Repeat with the remaining batter. Allow to cool completely before frosting.

To make the frosting: To a small saucepan, set over medium heat, add the blackberries, salt, lemon juice and sugar. Cook for 4 to 5 minutes, until softened. Smash them with a spoon and run through a sieve, discarding the pulp. Transfer the blackberry puree to the fridge to cool (or else it'll melt the frosting!).

To a medium bowl, add the unsalted butter, powdered sugar and the cooled blackberry sauce. Beat until combined.

To decorate the cookies: Add a teaspoon of frosting to each cookie. Make a pretty smear situation and top with a sprinkling of dried rose petals and pistachios. Or if you don't have dried rose petals, use sprinkles!