These Mint Chocolate Chip Macarons are made from silky smooth meringue that is flavored with mint extract and flecks of chocolate. It's piped out and baked to make fluffy, chewy macarons.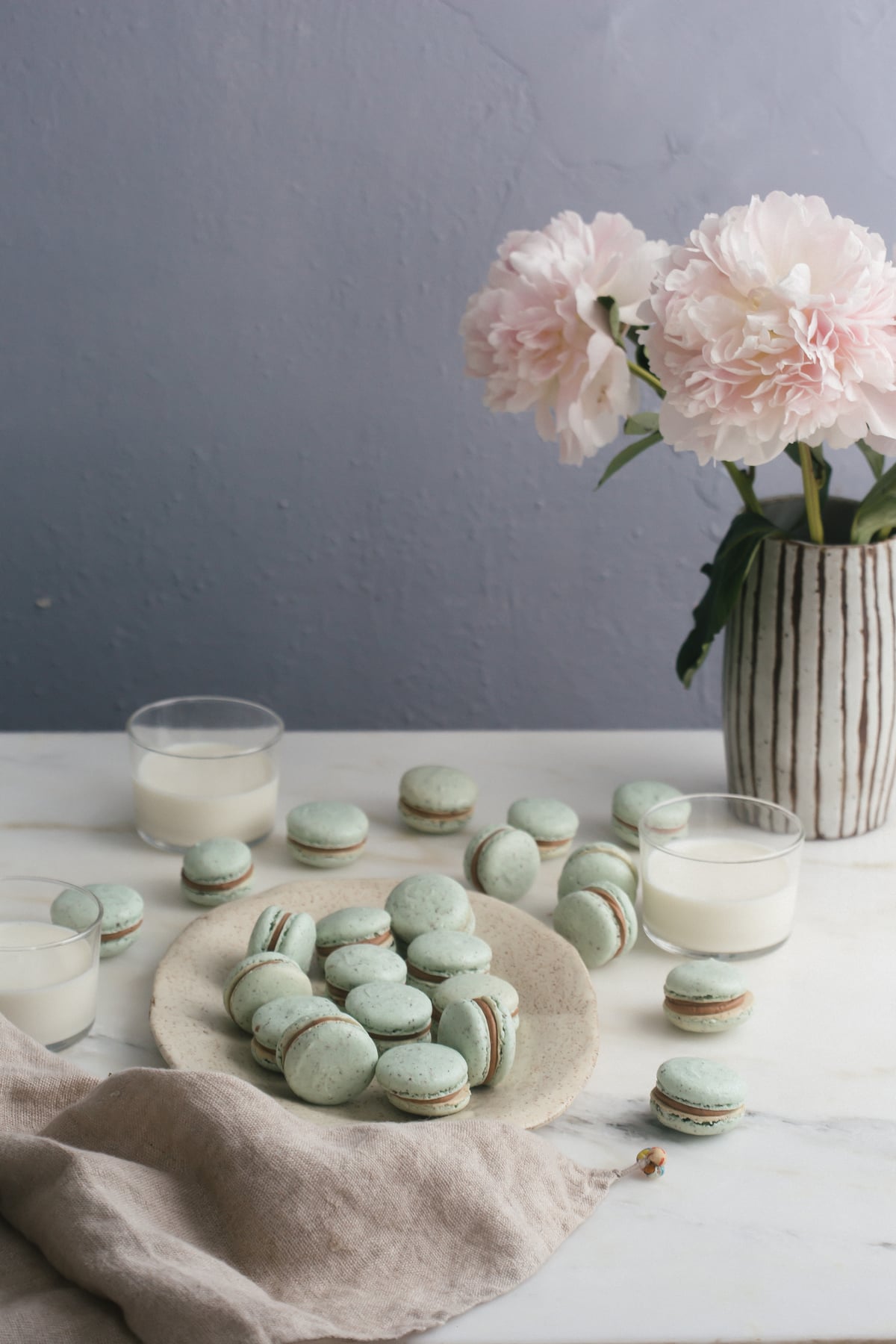 Have you ever had the stressful but delicious pleasure of making macarons?
Not to be confused with their American, less diva-like cousin, the macaroon.
A few weeks ago I was naively was like, I want to make a macaron that tastes like mint chocolate chip ice cream. I didn't think they'd be that stressful. OMG was I wrong.
I knew they were gonna be fickle, I just didn't know how fickle they'd actually be.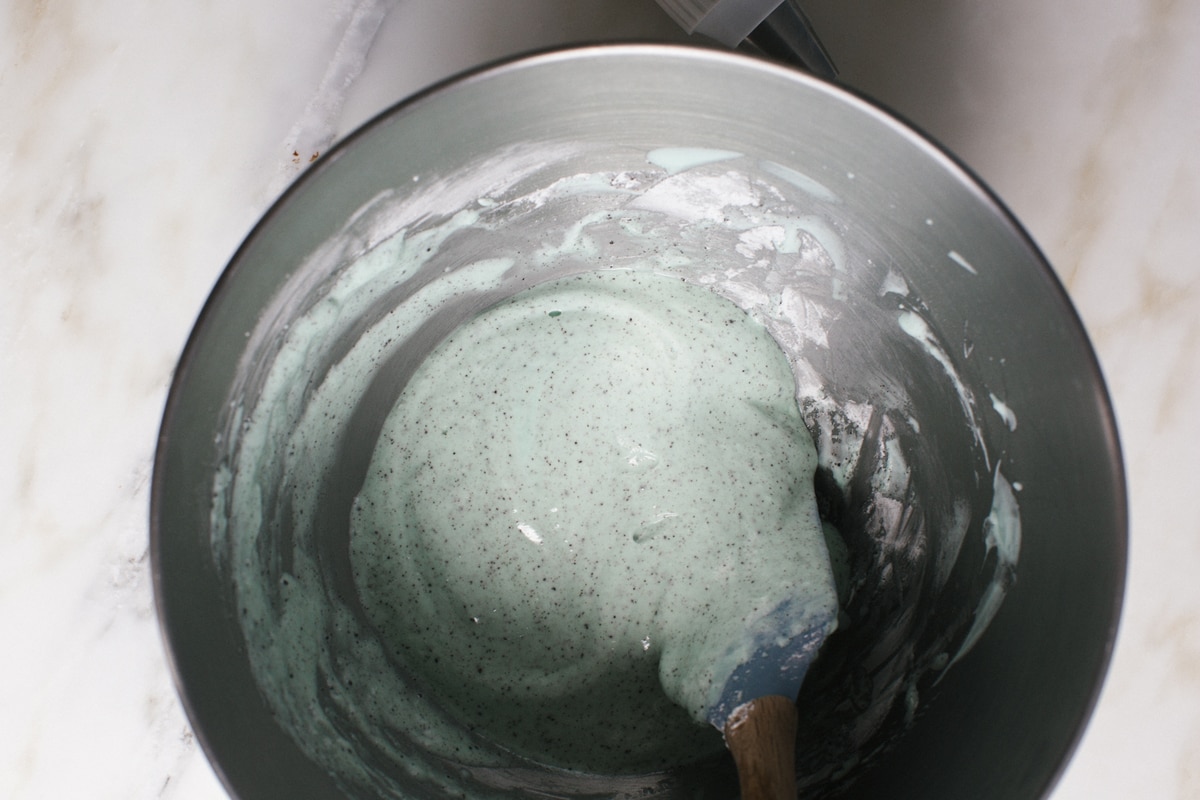 How to Make Mint Chocolate Macarons
Sift together the cookie crumbs, almond meal and powdered sugar. We really don't want any big bits in there and the sieve will catch all of it.
Whip together the egg whites, sugar, peppermint extract and salt, until stiff peaks form.
In two batches, you add the almond meal mixture. It'll look like lava. It will definitely NOT be stiff peaks.
Transfer to a piping bag.
Pipe out dollops of the macaron batter onto the baking sheet. These won't spread so you can put them fairly close to one another.
Smack the baking sheet onto the kitchen counter. This will get rid of any air bubbles.
Transfer to the oven.
They should make those perfect little macaron feet.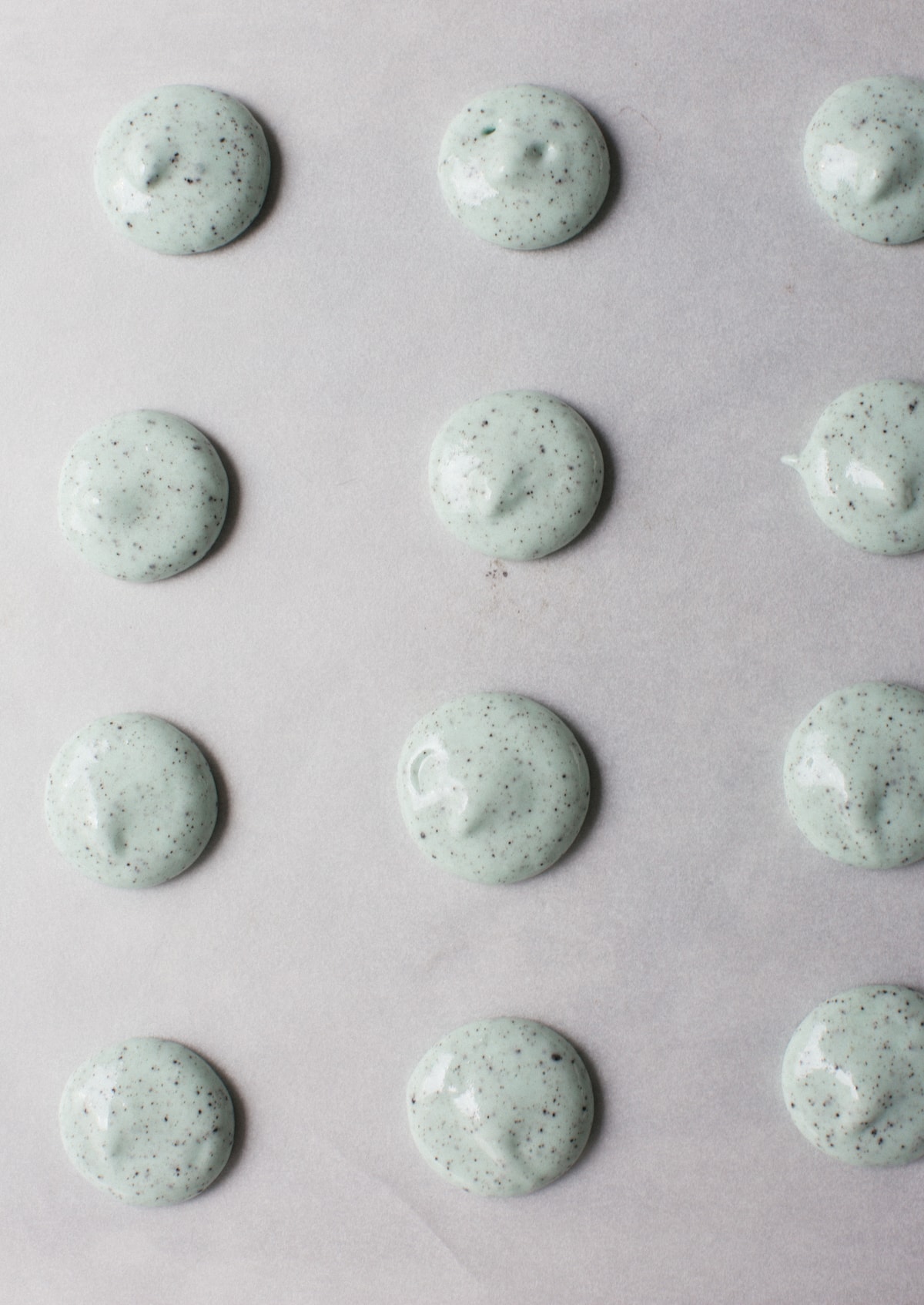 Tips and Tricks
Buy almond meal. It saves a big step and just makes the whole process go so much faster and easier by being able to skip the step of making almond flour.
Collect all of the ingredients beforehand. I always say this but with these, I actually really mean it.
If you're oven is fickle, i.e, an old oven or an electric oven, these might be more stressful than usual. You should still make them! But they'll make you realize that your oven might have more hot spots that you thought you had.
Weigh everything. This recipe is in grams because precision matters A LOT with these.
If you fail. Like, they crack or don't develop a foot for whatever reason, they'll still taste like mint chocolate chip ice cream. Still eat them. Just don't instagram them. :/
P.S. I realize that my dollops of frosting look a bit like this. :/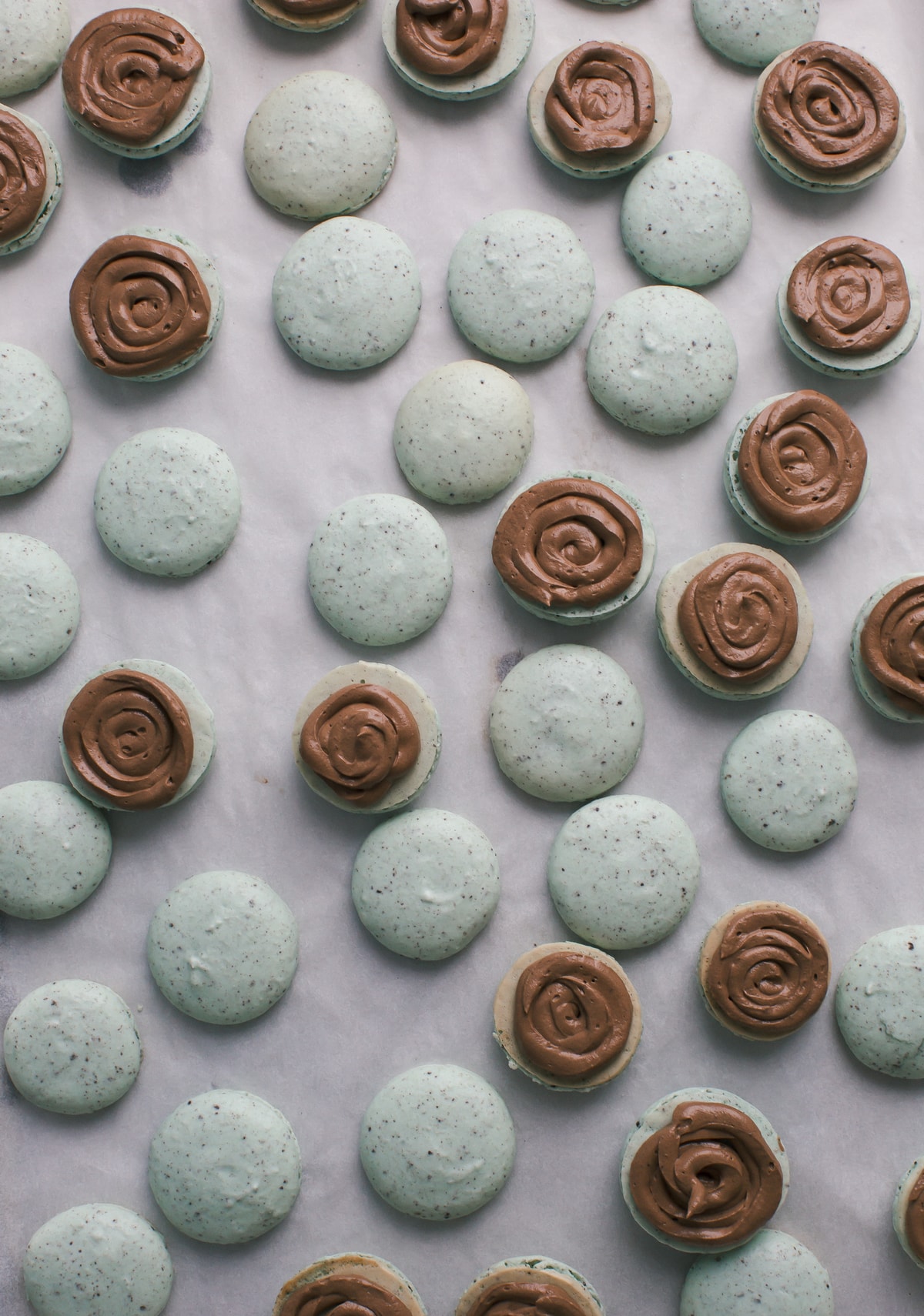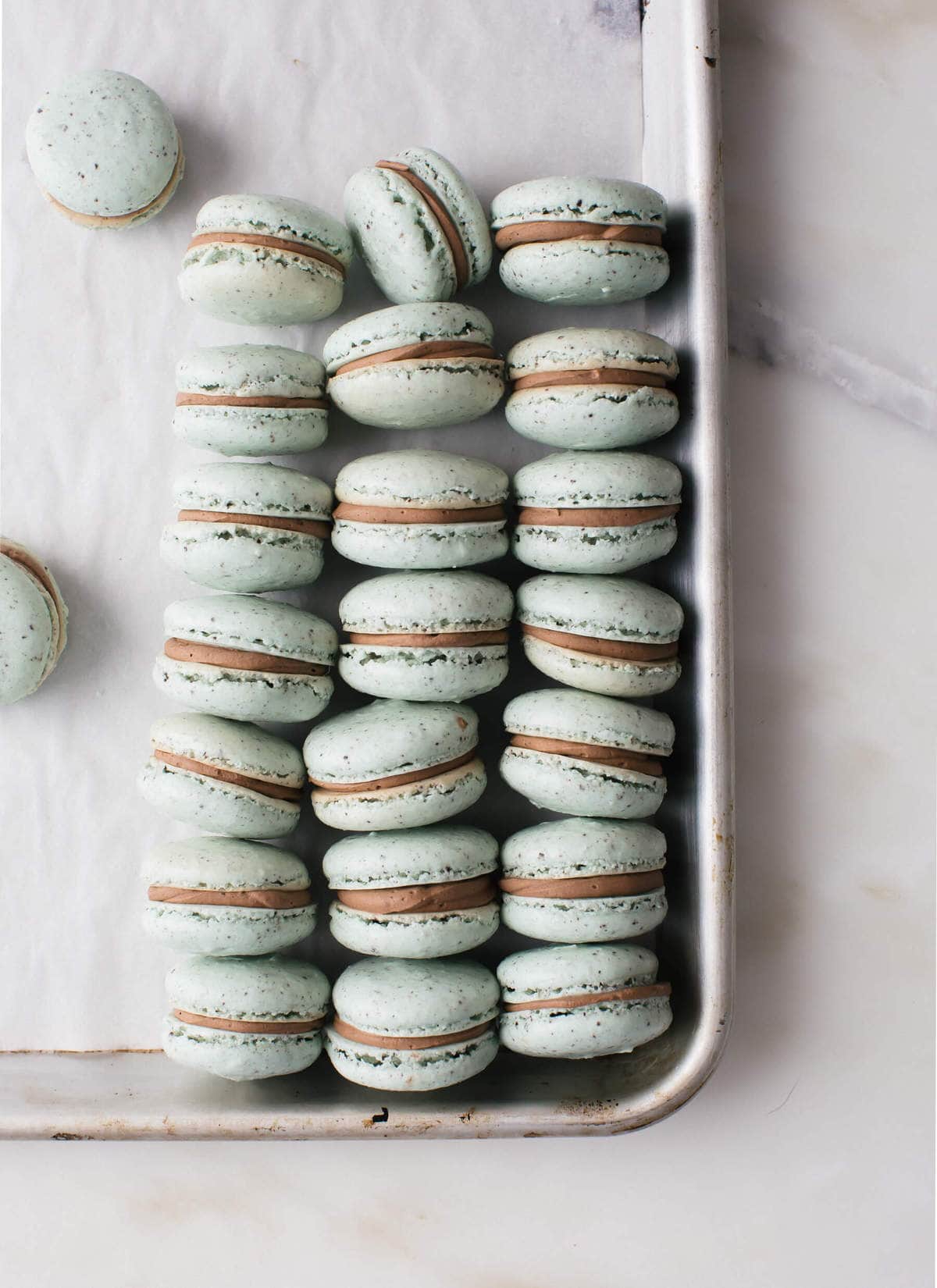 How to Make Macaron Filling
Most days, I prefer to a Swiss Buttercream. It has a great mouthfeel, is better tasting than American buttercream and is less sweet. It is a tad bit more complicated than American buttercream. Here's how I like to make it.
Dissolve the sugar into the egg whites over a double-broiler. I put it all in my metal bowl that belongs to my stand-up mixer. This makes it super easy to transfer it to the machine afterward.
You'll know it's dissolved when you no longer feel the sugar granules between your fingers. 
Transfer it back to your stand-up mixer machine. 
Beat until a medium peak forms.
Then add the softened butter. In cubes, add the butter.
If at any time, it curdles OR is too liquid-y, here is what went wrong. When you have "curdles," your butter was too cold. If it's too liquid-y, the butter was too warm.
To fix curdled Swiss buttercream, add about 1/4-cup to a small bowl. Microwave until it's warm and smooth. With the machine running, pour in the melted part of buttercream and this should fix the problem. It should bring the rest of it back up to room temperature. As a result, it should be shiny and smooth.
To fix runny Swiss buttercream, transfer to the fridge to chill for 15 minutes. And then beat on high for about 1 minute.
Next, add in the melted chocolate and mix. And then, add the cocoa powder.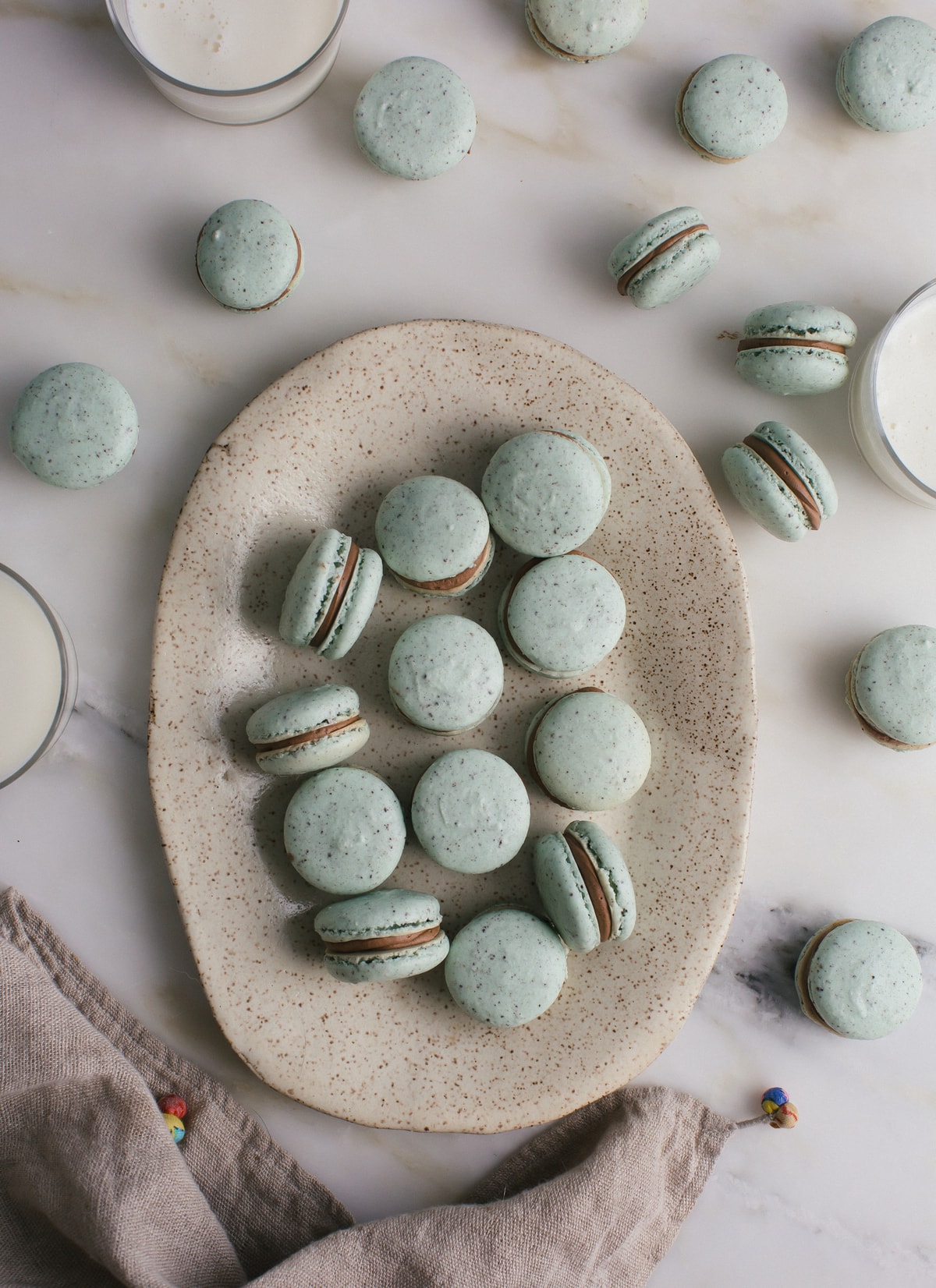 If you make these Mint Chocolate Chip Macarons, let me know on Instagram!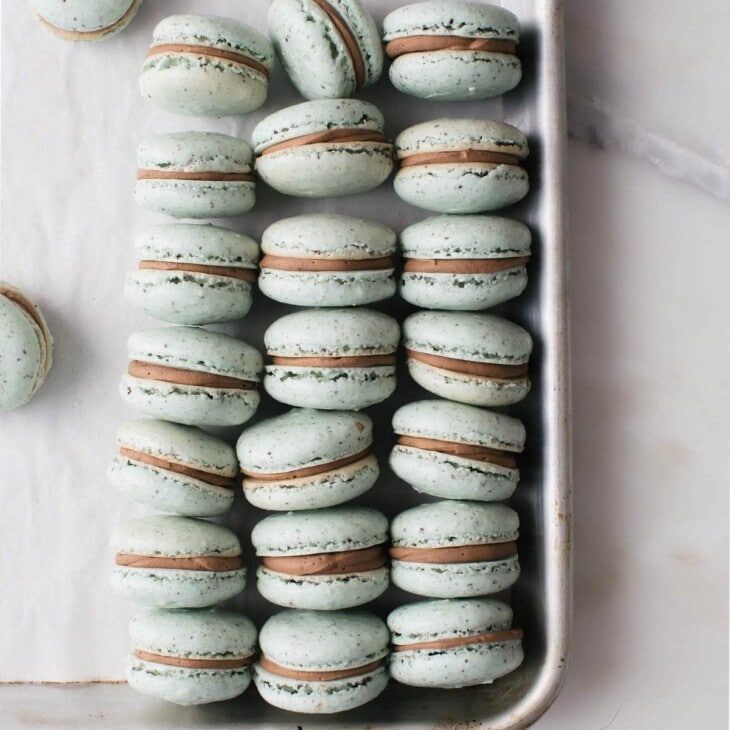 Print Recipe
Mint Chocolate Chip Macarons
These Mint Chocolate Chip Macarons are made from silky smooth meringue that is flavored with mint extract and flecks of chocolate. It's piped out and baked to make fluffy, chewy macarons.
Ingredients
Macarons:
130

grams

almond flour

(I used Bob's Red Mill)

234

grams

powdered sugar

*10 grams chocolate cookie crumbs

see note below

4

large

egg whites

106

grams

white granulated sugar

Pinch

kosher salt

1/2

teaspoon

peppermint extract

6

drops of green food coloring

4

drops of blue food coloring
Swiss Meringue Buttercream:
2

large egg whites

133

grams

sugar

Pinch

of salt

150

grams

unsalted butter

at room temperature

1/4

teaspoon

vanilla extract

2.5

ounces

semi-sweet or dark chocolate

melted

3

tablespoons

cocoa powder
Instructions
To Make the Macarons:

Preheat your oven to 350 degrees F. Line two baking sheets with parchment paper. Place a 1/2-inch round tip into a piping bag and set it inside a pint glass.

Place a sieve atop a medium bowl. Sift in the almond flour, powdered sugar and cookie crumbs. Work all of them through the sieve. You'll end up with little bits in the sieve; discard those! Set the bowl aside.

In the bowl of a stand-up mixer with a whisk attachment, add the egg whites, sugar, pinch of salt and peppermint extract. Beat until stiff peaks form, about 4 minutes. Add the food coloring and beat once more until combined. The mixture will be glossy and shiny.

Remove from the bowl from the stand-up mixer and in one batch, add the almond flour/powdered sugar mixture. Fold the mixture with a spatula. Repeat just until the batter resembles the texture of lava. It took me about 30 folds to reach this consistency.

Transfer the macaron batter to the piping bag. Pipe the batter into 3/4-inch rounds, swirling the tip off to one side. You have to do this with a bit of flick of the wrist. Repeat until you've formed about 15 to 18 macarons per baking sheet. Smack the baking sheets onto your kitchen counter a few times. This will help even out the batter and eliminate any air bubbles in the macarons.

Transfer to the oven to bake for about 6 minutes. Immediately turn the oven down to 300 degrees F and bake for an additional 6 minutes. Repeat with the remaining batter.

To Make the Swiss Buttercream:

In the bowl of a stand-up mixer set atop a medium saucepan filled with a few inches of water, add the egg white, sugar and salt. Turn the heat to medium and whisk until the sugar dissolves, about 5 minutes. Dip your finger in and if it's still gritty, continue mixing until it completely dissolves.

Transfer the bowl to the stand-up mixer with the whisk attachment and beat until stiff peaks form and the meringue appears very glossy, about 5 minutes. While the mixer is running, add cubes of butter, one at a time. Next, pour in the melted chocolate and vanilla extract and beat until completely combined. Sift in the cocoa powder and mix until combined. Transfer the buttercream to a piping bag (no need to add a tip). Snip off the edge of the piping tip with a pair of scissors.

To Assemble the Macarons:

Flip over half of the macarons. Pipe the buttercream onto the macarons and then add the top. Repeat with the remaining macarons.
Notes
*I made these several times using different types of chocolate cookies. I made them with Famous Amos chocolate wafer cookies and the chocolate part of an Oreo.
I suggest buying the small packet of Oreos and using the chocolate cookie part.
Nutrition
Serving:
24
g
|
Calories:
157
kcal
(8%)
|
Carbohydrates:
21
g
(7%)
|
Protein:
2
g
(4%)
|
Fat:
8
g
(12%)
|
Saturated Fat:
3
g
(19%)
|
Cholesterol:
13
mg
(4%)
|
Sodium:
10
mg
|
Potassium:
20
mg
(1%)
|
Fiber:
1
g
(4%)
|
Sugar:
20
g
(22%)
|
Vitamin A:
156
IU
(3%)
|
Calcium:
14
mg
(1%)
|
Iron:
1
mg
(6%)
Looking for more dessert recipes? Here are some favorites: