Matcha Strawberry Battenberg Cake
19
Mar 13, 2017, Updated Jan 04, 2019
Disclosure: This post may contain affiliate links, which means I may earn a commission if you click on the link and make a purchase.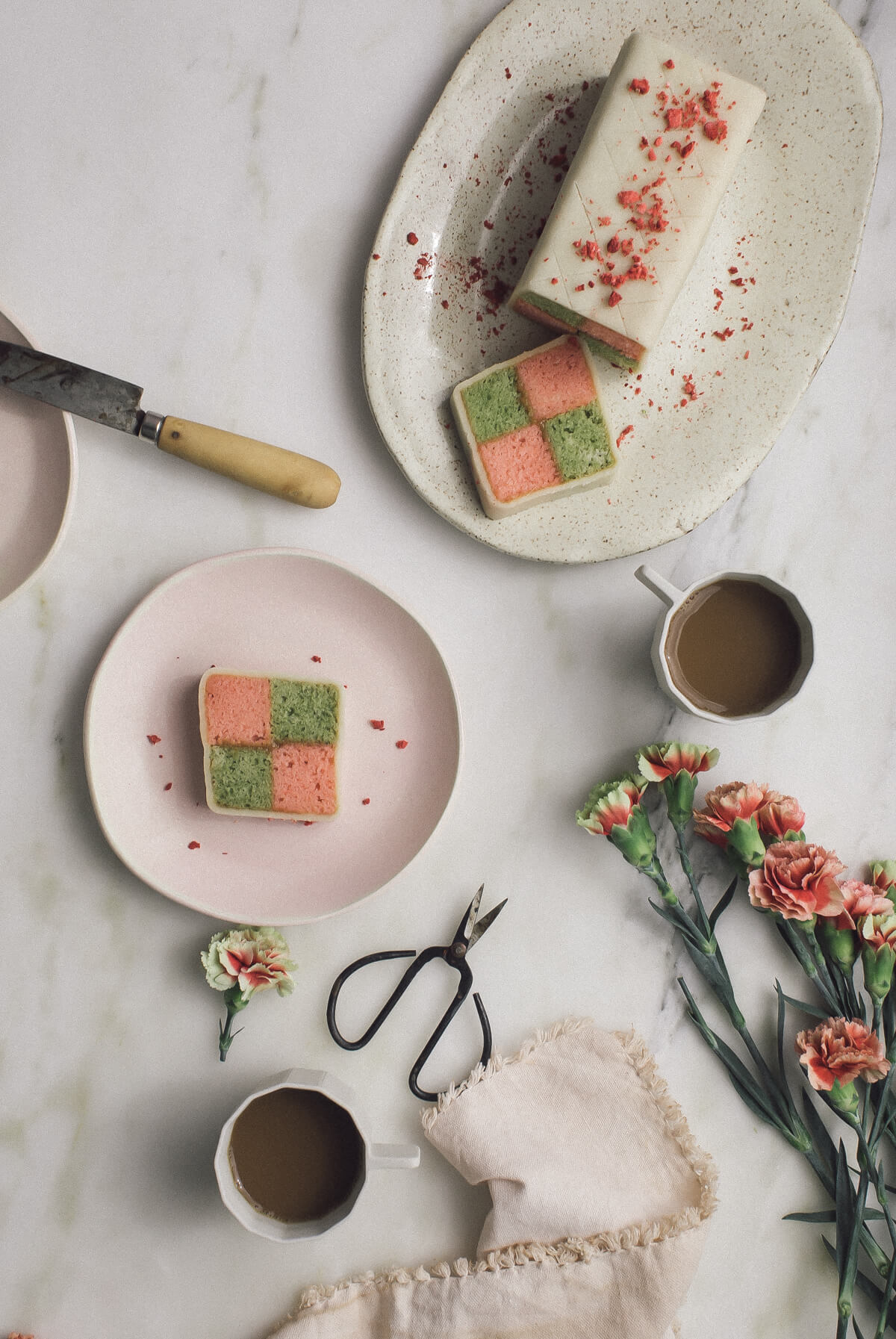 Ok so for like three weeks I thought Pi Day and St. Patrick's Day fell on the same exact day, which made me incredibly conflicted! Which one am I supposed to celebrate on da blog?! Am I supposed to combine the two holidays? Grasshopper Pie, anyone?
It wouldn't be bad and honestly it sounds really, really good and part of me wishes I made that instead of…well, too late now, so please welcome Ms. Matcha Strawberry Battenberg Cake!
If you've never heard of a Battenberg Cake, don't worry, I honestly had never heard of it until I was watching an episode of Great American Bake-Off and in the season finale they had to make one and it seems SO hard so naturally I was like "oooooo."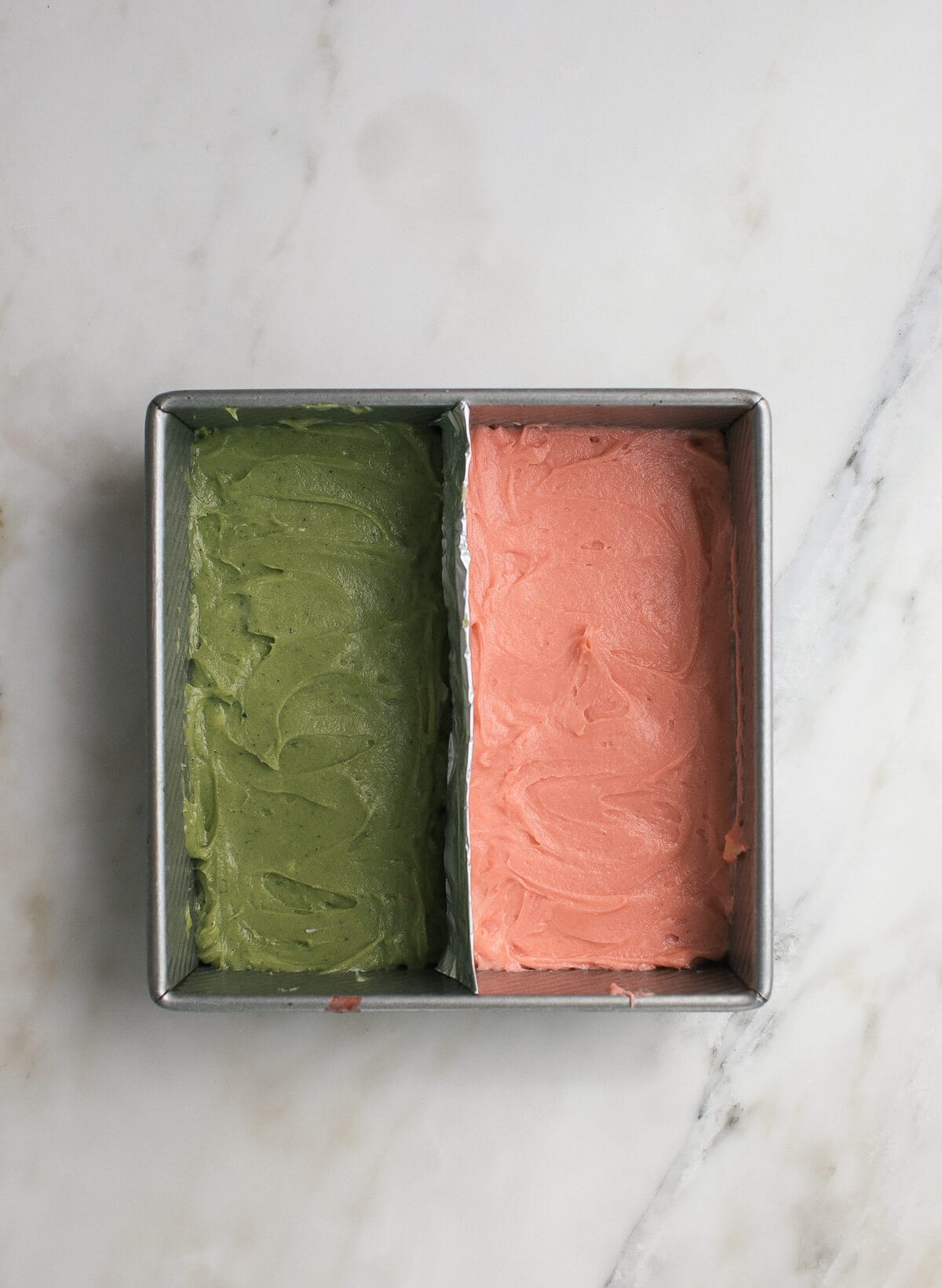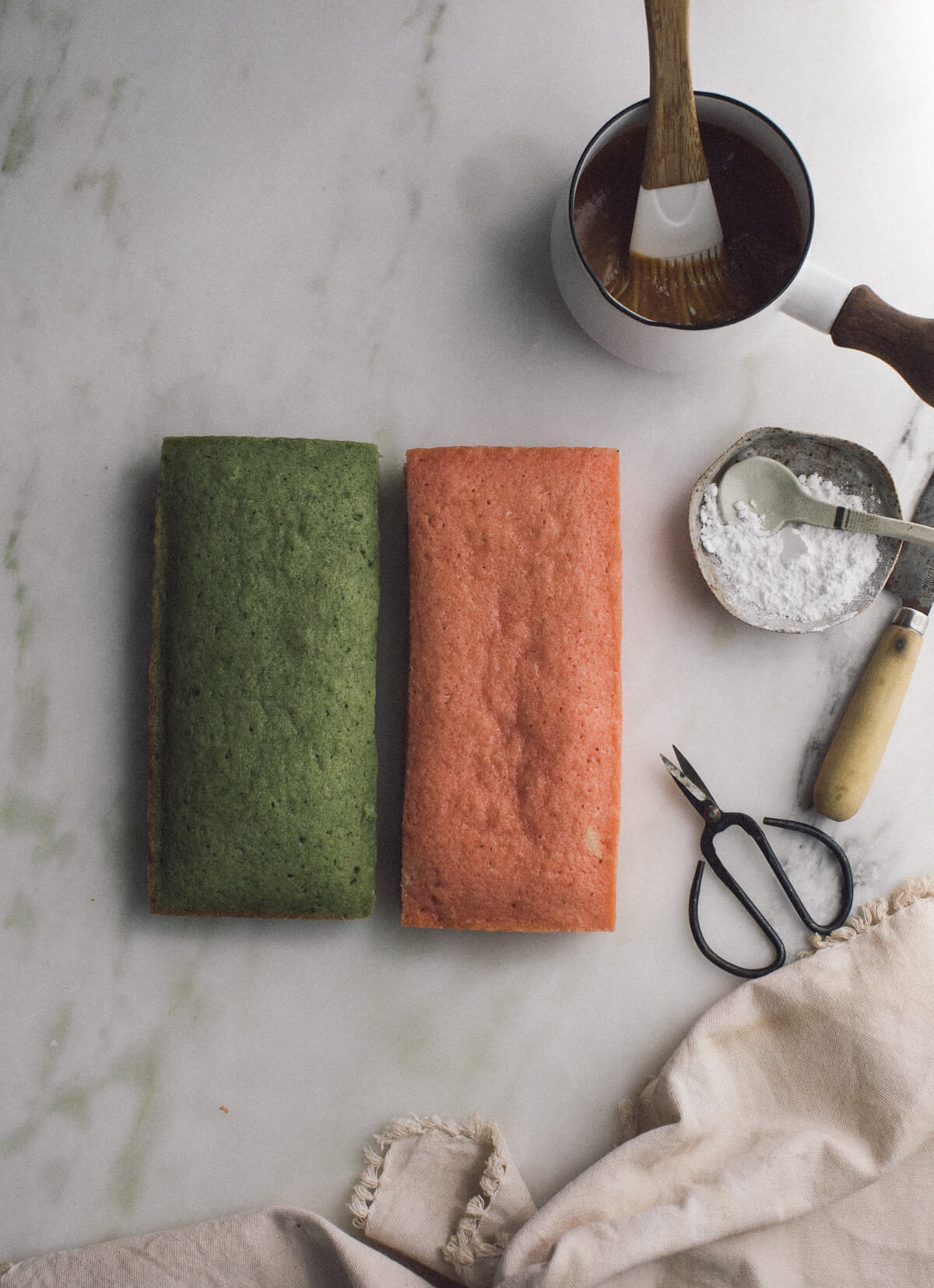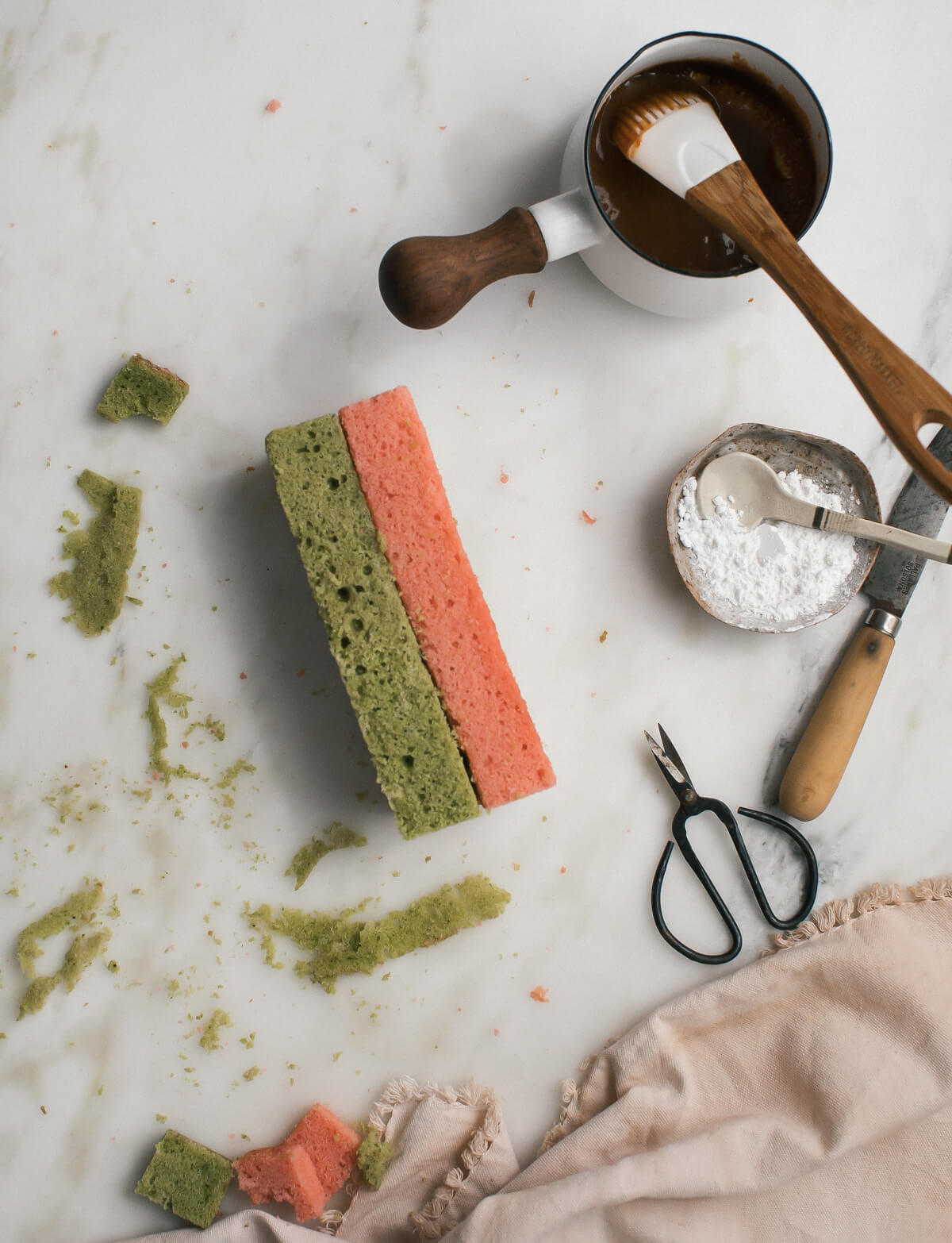 But it turns out it's not all that hard. It's just hard when you're on a reality competition show and you've never baked it before and the camera is in your face and the clock is ticking. In those circumstance, making a sandwich would be hard.
It's a British cake that's made specifically for tea time. AKA the best time.
So get out your real corgi (or stuffed animal corgis), point your pinkies in the air and let's get busy.
The cake is two flavors. Typically it's pink and yellow but that's a bit too girly for me so I went with flavors and let the colors follow.
We have matcha and strawberry cake.
In Los Estados Unidos we don't really use 7-inch square pans (most recipes call for this OR battenberg pans). Most households will have 8-inch square pans or 9-inch.
I personally like an 8-inch so this recipe will be ok for either. We have to create a bit of a dam in the middle of the pan so that we can bake two different cake flavors. I just folded over some foil like two or three times so it was sturdy enough to stop the batters.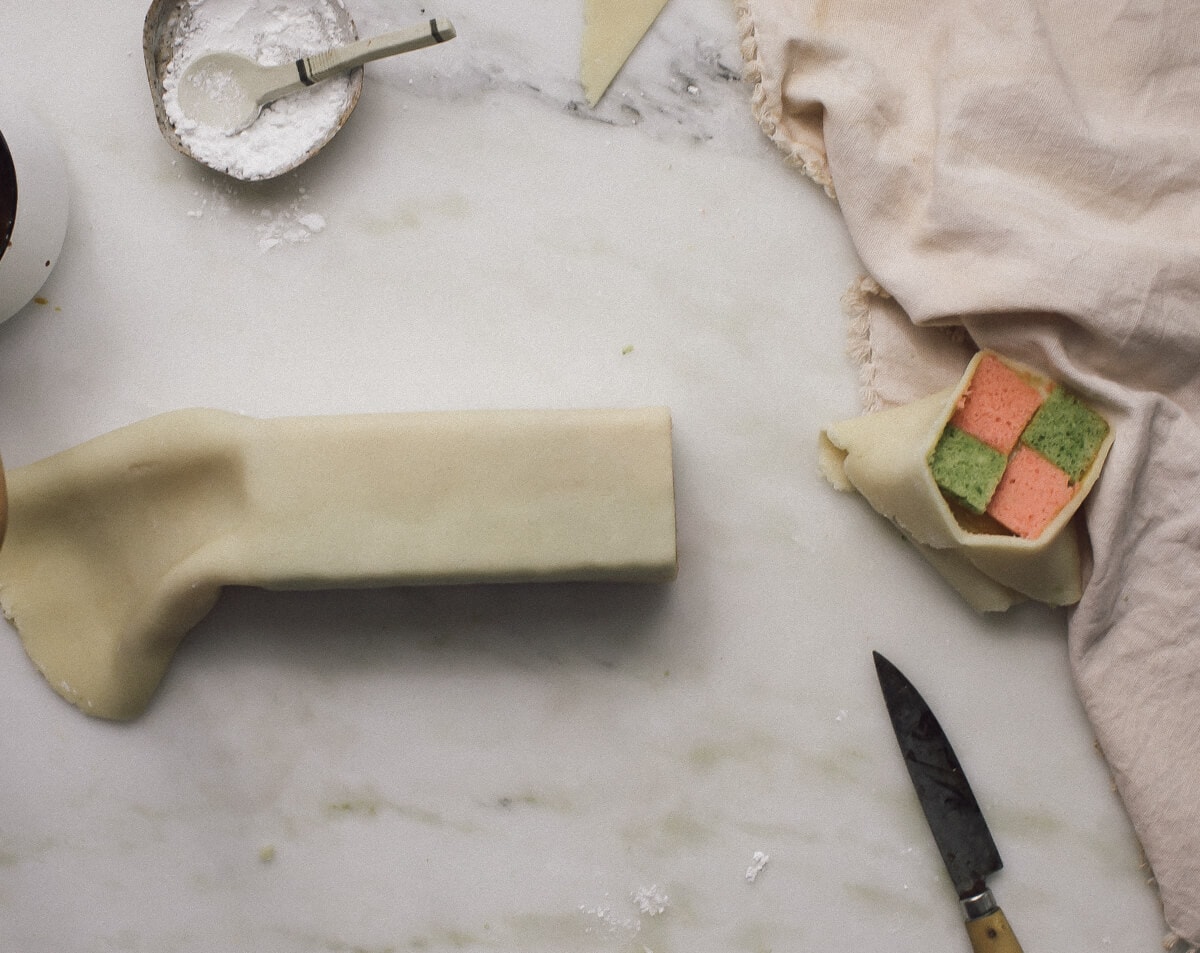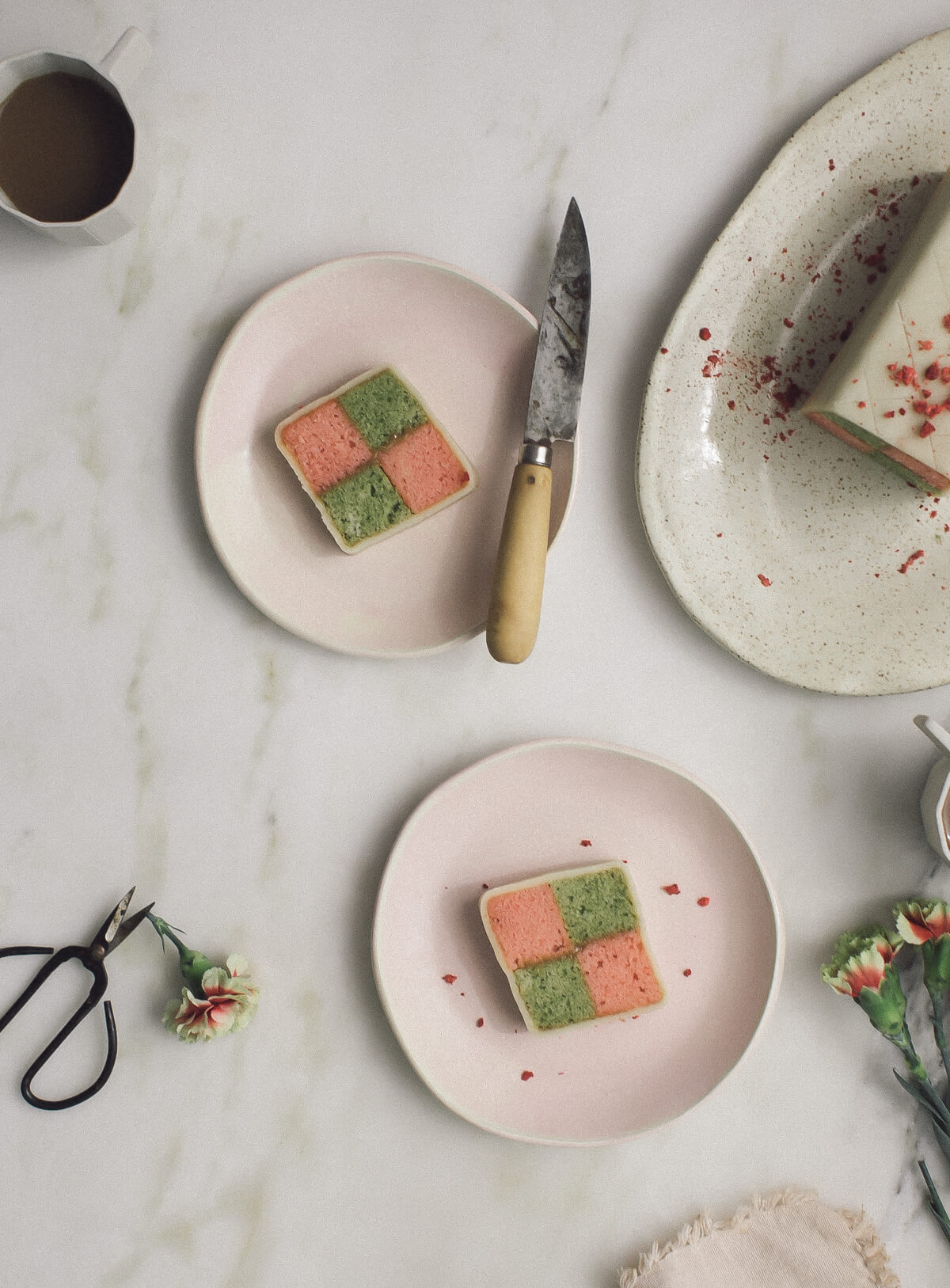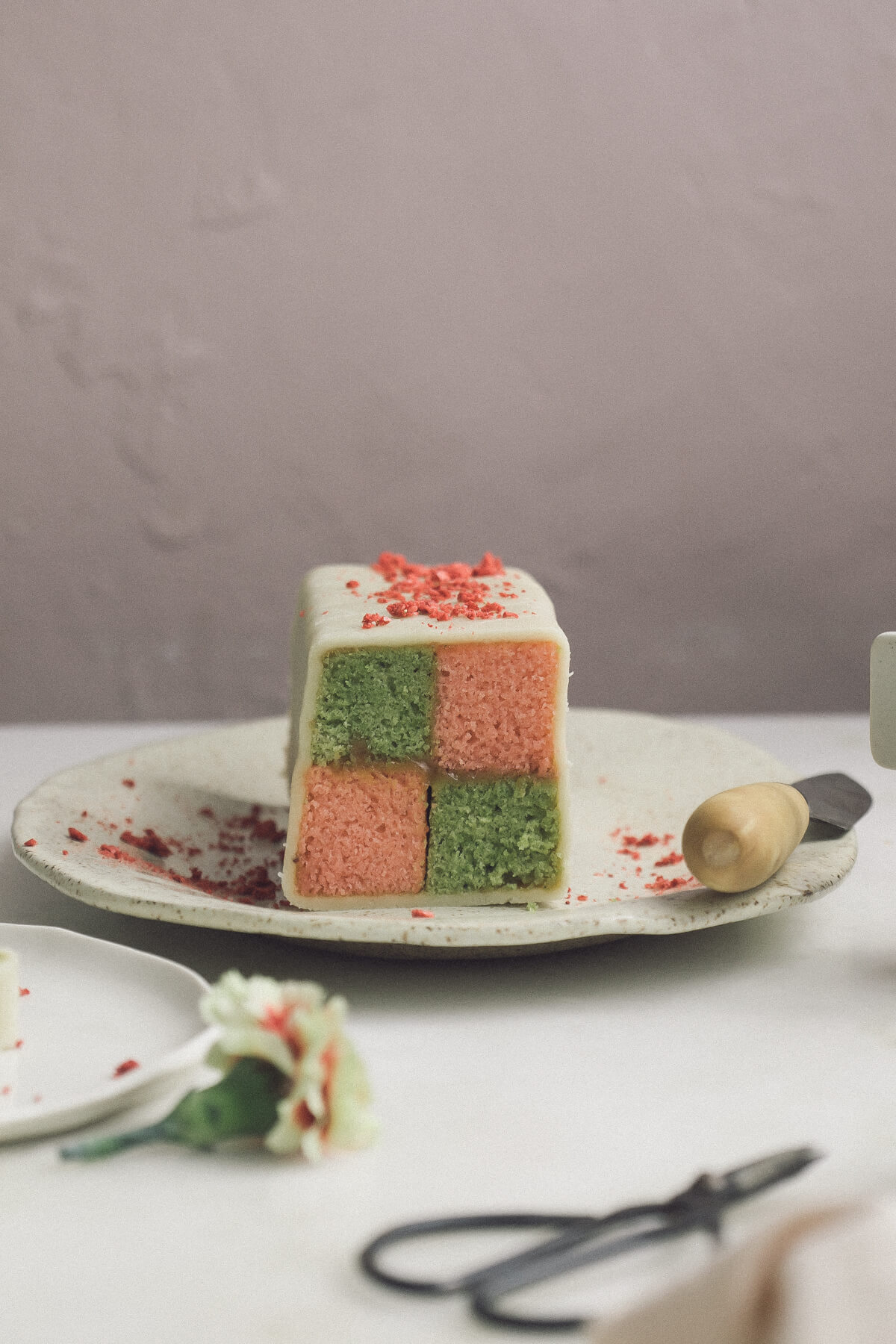 I poured the strawberry in the right side and the matcha in the left side.
It wasn't perfect when it came out but that's ok because after I gave it a trim, it was a-ok.
As of yesterday, I started Big Little Lies and it is DARK and funny and totally messed up. So naturally I'm V into it.
Am I late to the game with this show?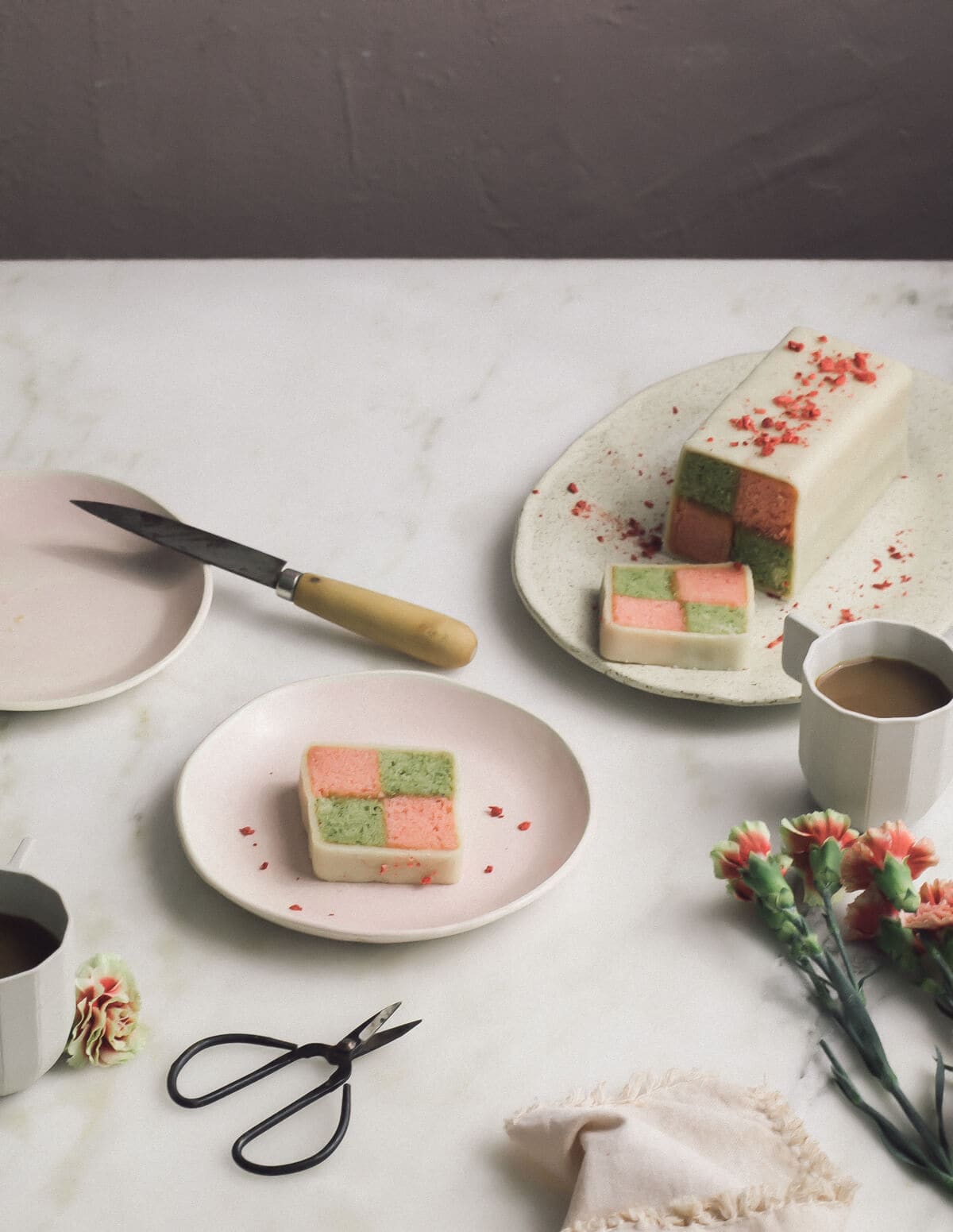 Matcha Strawberry Battenberg Cake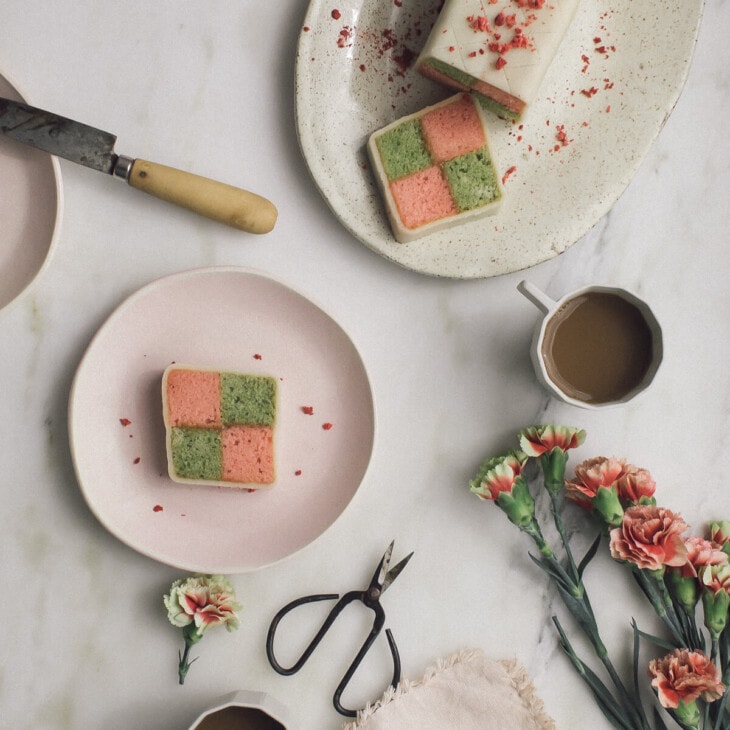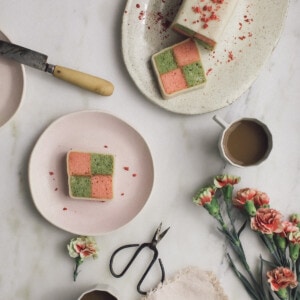 Ingredients
Strawberry Puree:
1/2

cup

fresh strawberries

,

chopped

1/4

cup

white granulated sugar

1

tablespoon

water

Pinch

of salt
Cake:
1

cup

unsalted butter

,

at room temperature

1

cup

white granulated sugar

3

large eggs

1

teaspoon

of vanilla extract of 1/4 teaspoon vanilla paste

2

teaspoons

baking powder

1/4

teaspoon

salt

1 3/4

cup

all-purpose flour

1 1/2

teaspoons

matcha powder

,

sifted

1

tablespoon

milk

1

drop of red food coloring
For Assembly:
250

grams

ready-made marzipan

1

tablespoon

powdered sugar

,

for rolling the marzipan out

3

tablespoons

dulce de leche

,

warmed (I found it easier to brush on when it was warmed)

1

tablespoon

crushed freeze-dried strawberries

,

as garnish
Instructions
To Make the Strawberry Puree:
To a small saucepan, set over low heat, add the strawberries, sugar, water and salt. Cook for about 5 to 7 minutes, until softened and the juices release. Transfer to a blender and pulse until smooth. Push the puree through a sieve and you should end up with about 2 to 3 tablespoons of puree. Set it aside.
To Make the Cake Batters:
Grease and line the bottom of a 8x8-inch baking pan with parchment paper. Make a strip of foil by folding over a piece of foil two or three times (so it's sturdy) and make a divide in the center of the pan (see the photo for more of a visual representation). This will make it so we can bake up two different colors of batter without them bleeding into one another.

In the bowl of a stand-up mixer, add the butter and salt. Beat until light and fluffy, about 3 minutes. With the mixer on low speed, add each egg, one at a time and mix until completely combined. Next add the vanilla, baking powder and salt and mix. Add the flour all at once and mix until just combined, being sure to not over mix because we're going to mix some more in a lil' bit.

Add half of the batter to another bowl (if you want to weigh it out to be exact, it'll weigh about 375 grams). Sift the matcha powder over the batter and pour in the milk; fold until combined.

To the second bowl of batter, mix in 2 tablespoons of strawberry puree and a drop of food coloring. Add the first batter to one half of the prepared loaf pan and smooth out the top until it reaches the edges. Repeat with the second batter.

Transfer to the oven to bake for 20 to 25 minutes or until a skewer inserted into the center comes out clean. Allow to cool in the pans for about 10 minutes and then invert onto a cooling rack and cool.

This step is entirely optional but I find it easier to cut and trim cakes when they're cold from the fridge. Wrap the cakes in plastic wrap and place them in the fridge to chill, about 3 hours. OR, you can even make them the night before and assemble it the day you're serving it.
To Assemble the Battenberg Cake:
When you're ready to get the decorating done, remove the cakes from the fridge. Trim the sides and tops so they're even with one another. Slice each cake in half so you end up with 4 square pieces of cake. Mine each measured about 1 1/2 inches x 1 1/2 inches.

Roll out the marzipan, using the powdered sugar, to about a 1/4-inch thickness to a large enough size that you can wrap the entire cake in it. Brush the marzipan with the warm dulce de leche.

Add the first green cake to the center of the marzipan and brush the sides of the cake. Add the first pink cake and place it right next to the green; press it until the edges meet. Brush the tops of two cakes with dulce de leche and then place the second pink cake on top of the green cake; then place the second green cake on top of the pink cake. Fold the marzipan over and trim it until there is a seam. Pinch the seams together. Flip over the cake and then trim the edges, cutting through the cake on both sides. Top with the crushed freeze-dried strawberries. Serve with tea.