Hot Buttered Baba Au Rhum
10
Dec 11, 2015, Updated Jan 04, 2019
Disclosure: This post may contain affiliate links, which means I may earn a commission if you click on the link and make a purchase.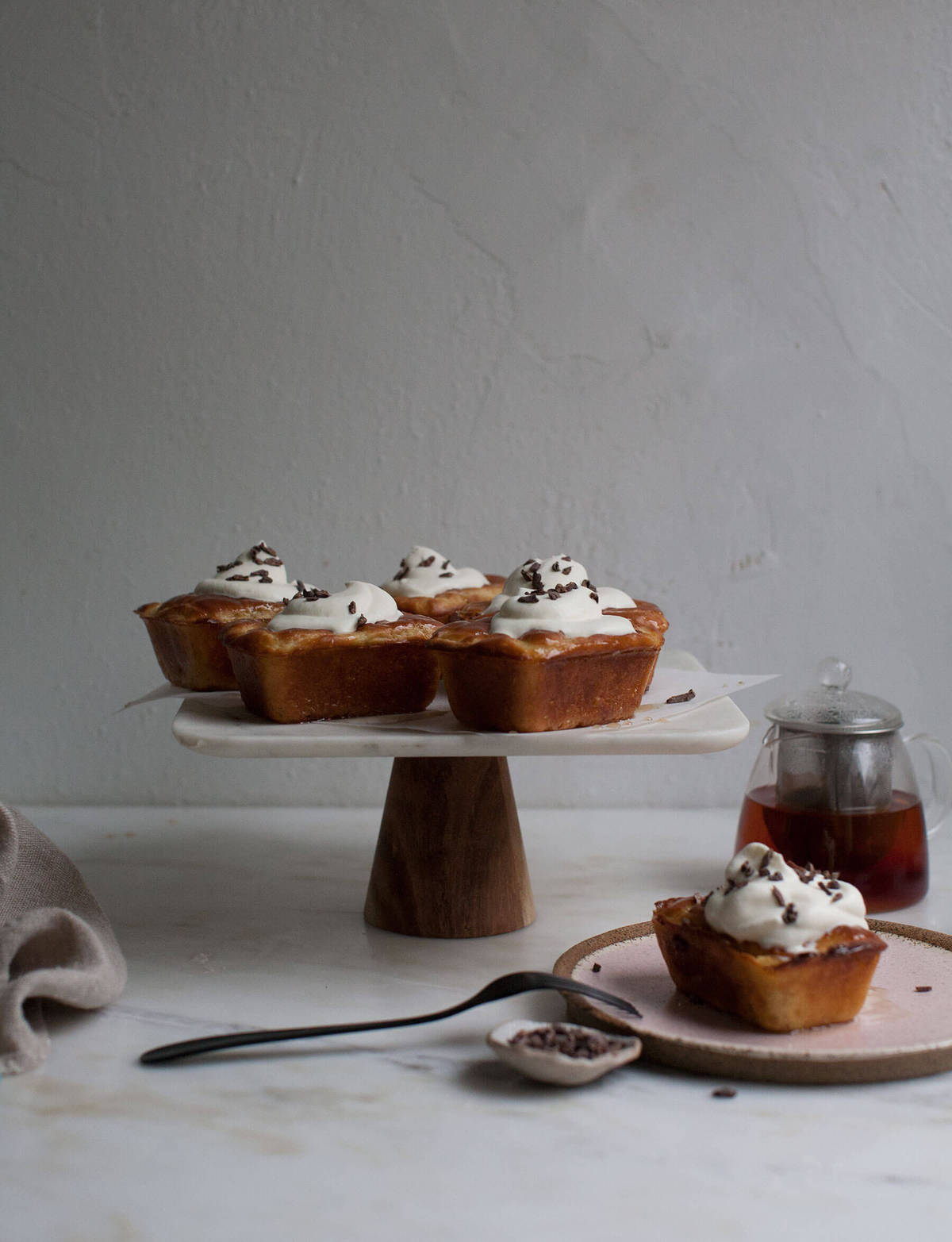 I'm back from Portland and currently flying my body to Boston for a book signing and wreath-making workshop. I actually really love traveling during the holidays. I love the shitty Christmas lights and decorations in stores and in airports. I think it's because it reminds me of Home Alone.
If you haven't heard, SERIAL just dropped season 2. I kinda wish they just posted all of the episodes like Netflix does. I mean, part of me doesn't because I wouldn't get anything else done but you know what I mean!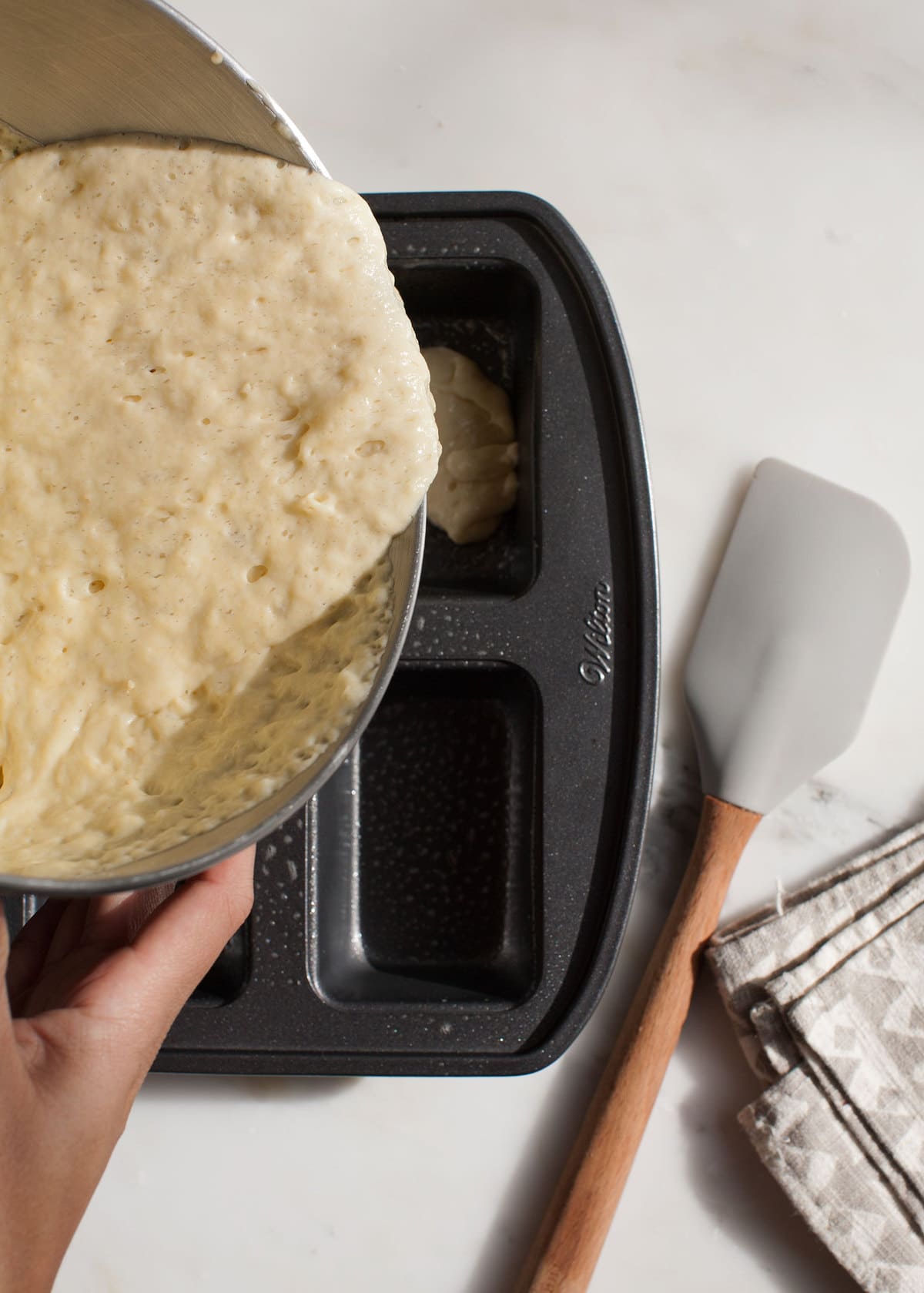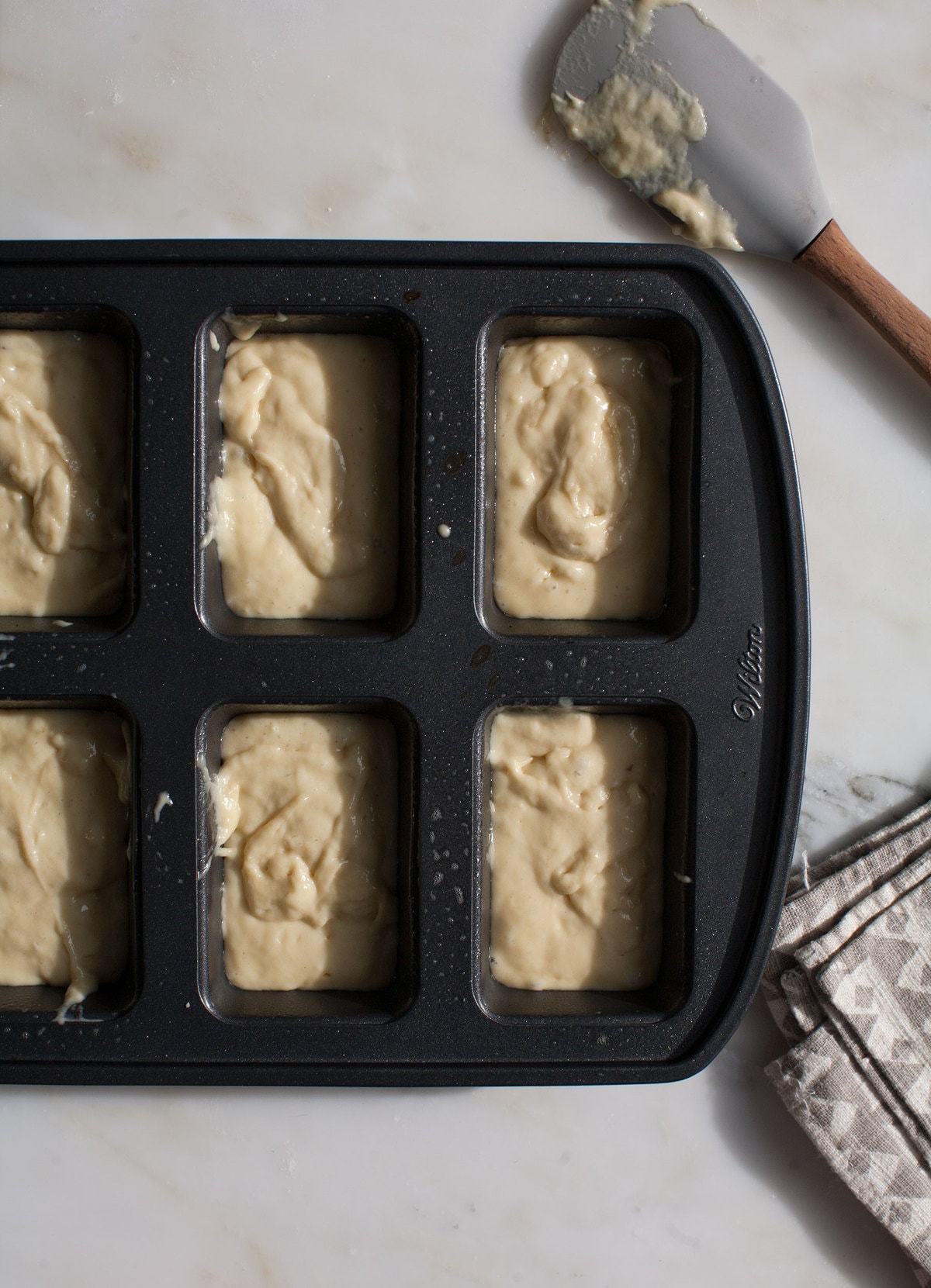 Let's talk about hot buttered baba au rhums! When Billy came to my house the other day so we could test these, he was like what the hell is that. I explained that they're kinda like a French version of a tres leches cake and it all made sense to him. (Billy was also Mexican in his past life because he knows more about Thalia and Mexican pop culture than anyone I know.)
If you've never made this cake there are a few things to keep in mind:
1. This batter is very wet. Like, you might think I'm playing a joke on you or you made a huge mistake but you didn't!
2. This cake is yeasted. But it's a million times simpler than making any form of dough because there's no forming of any kind. The first rise doesn't even have to be transferred to a clean bowl. It's very hands off.
3. This cake is very dry…that is until you but all that hot buttered rum business on top. That's the good stuff.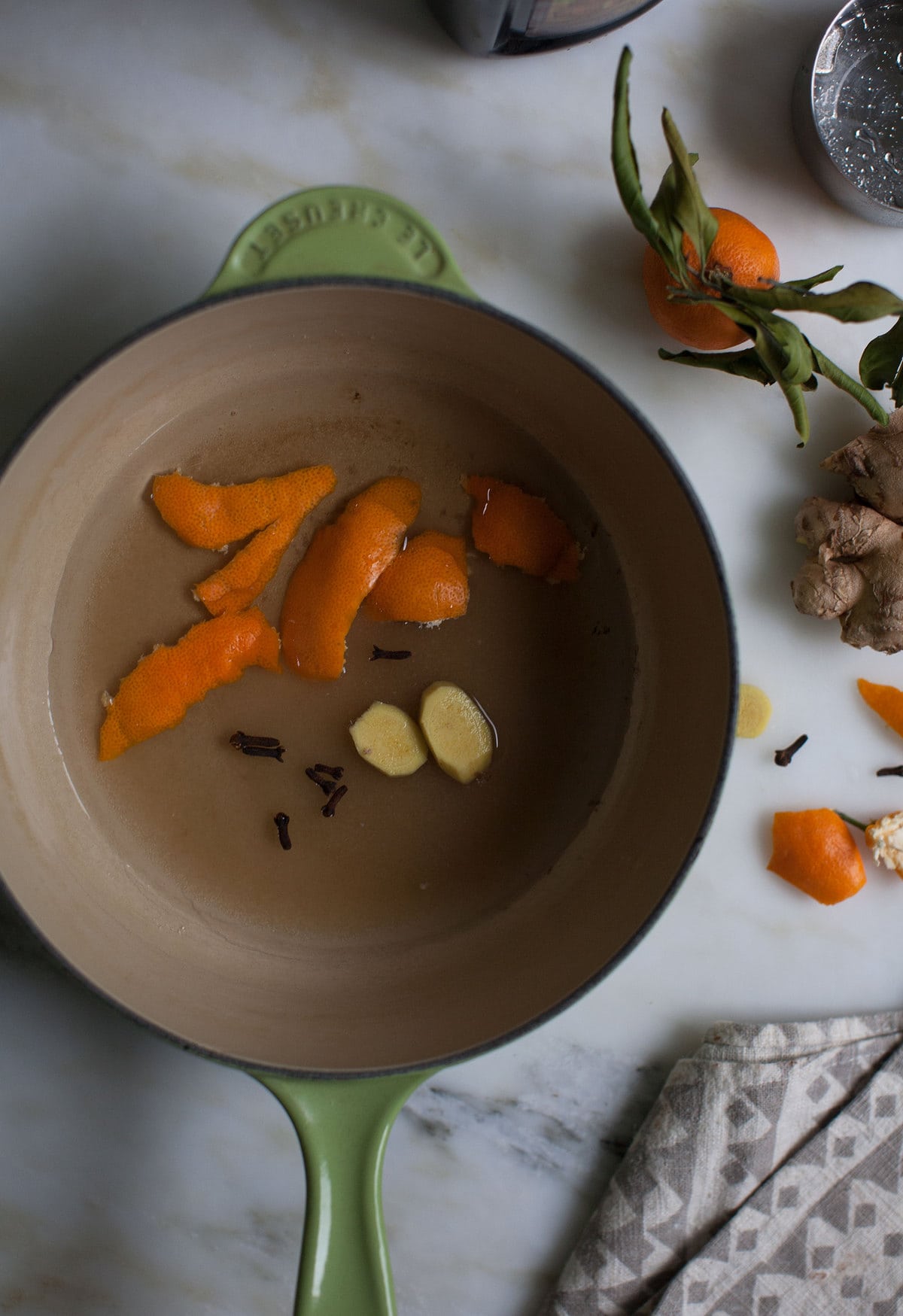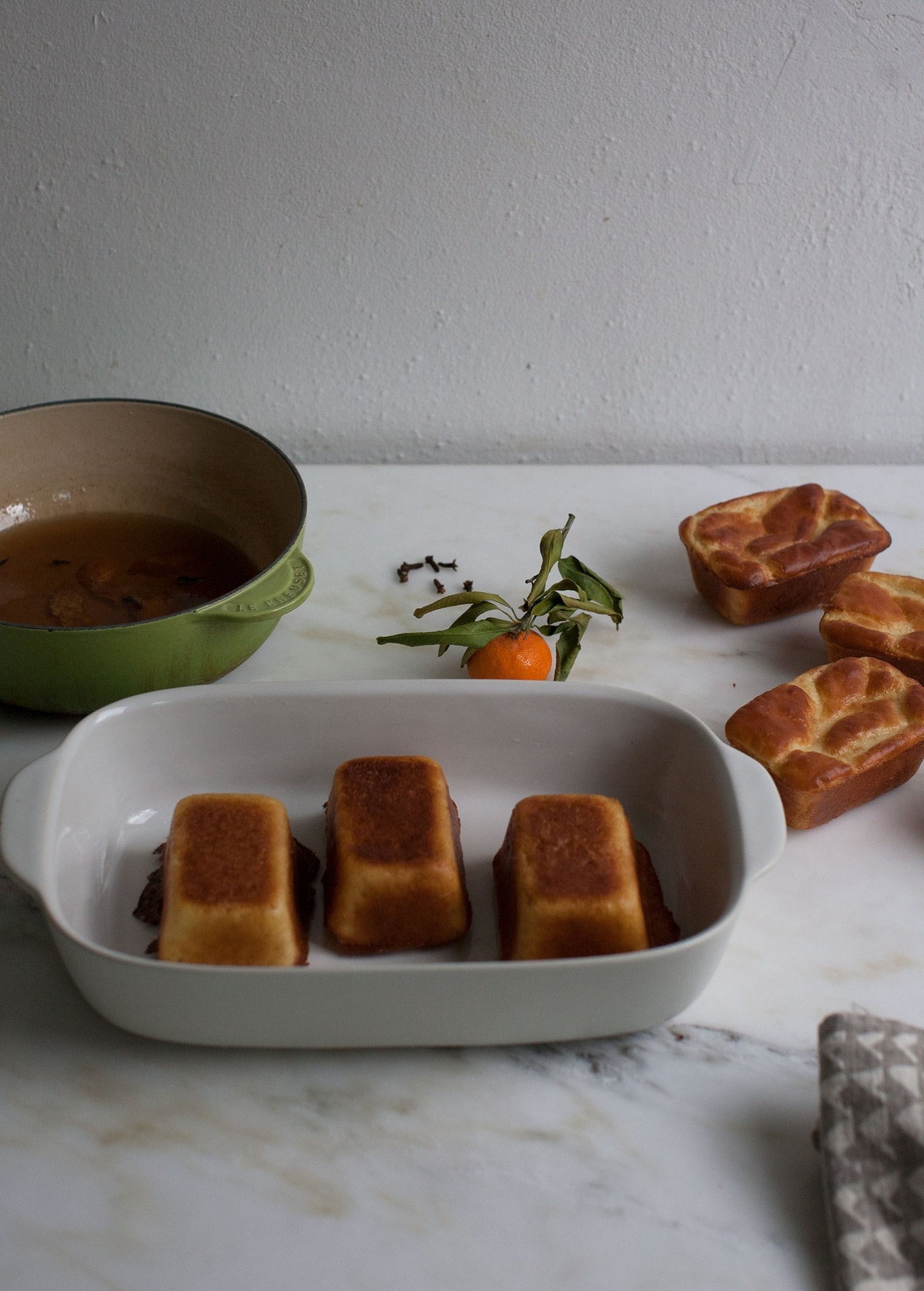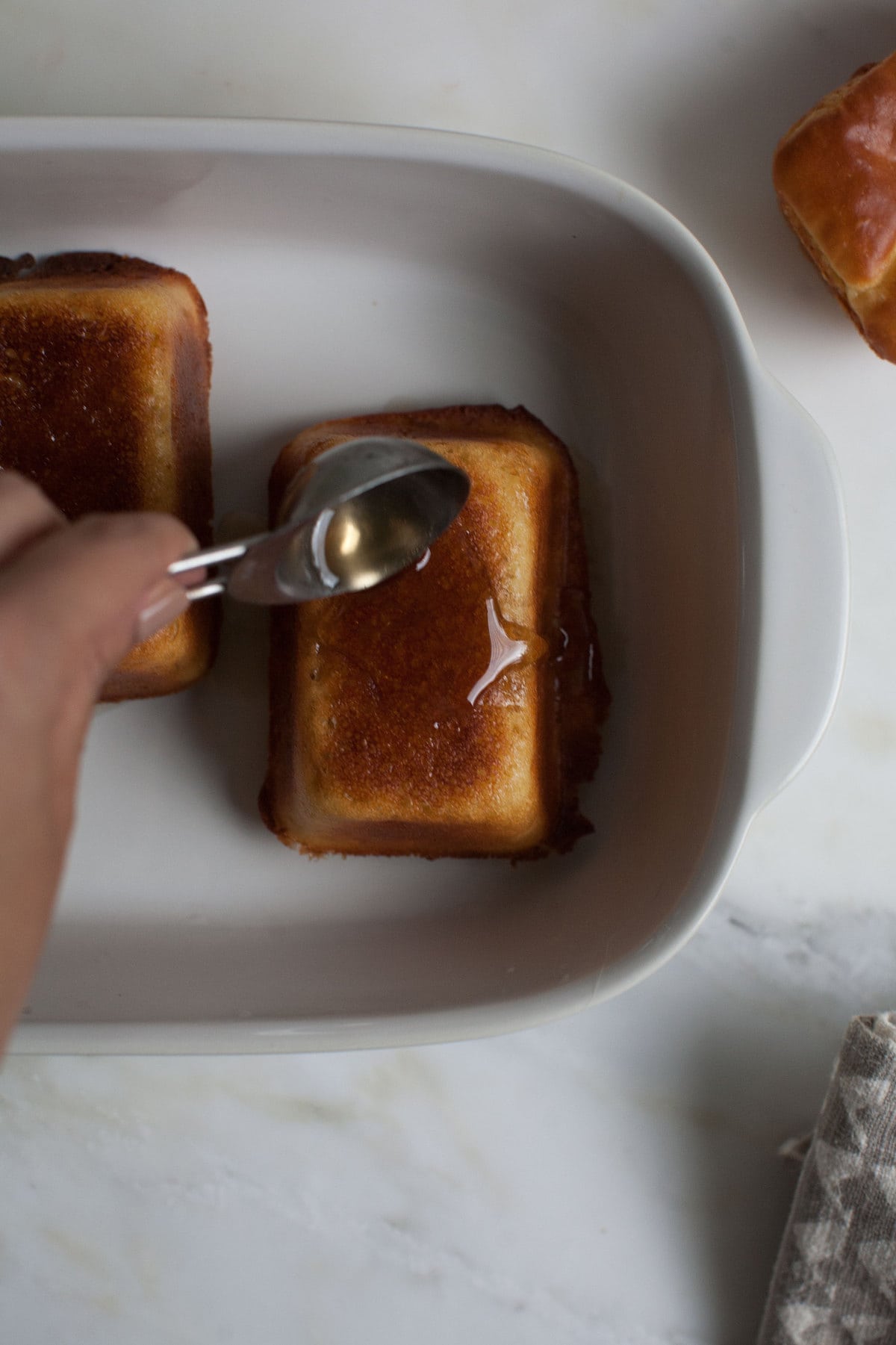 The syrup is spiked with orange peel, cloves, fresh ginger, salt and dark rum. I added the butter because Josh thought it might be cute to add the whole hot butter rum idea to a baba rhum and I kinda think it's genius, especially since the baba rum doesn't have very much butter in it.
I flipped the baby loaves upside down and poured the rum onto each one. You may think it's too much syrup but keep going! All of that flavorful syrup will get soaked up by the baba rums and it will be so SO good.
I topped the baby baba rum's with a dollop of whipped cream and a sprinkling of cocoa nibs but you could top it with a bit of sliced pear or pomegranate seeds.
Oh and the best thing about these is that you can make them in the morning, warm them slightly, and then pour the syrup on top just before serving.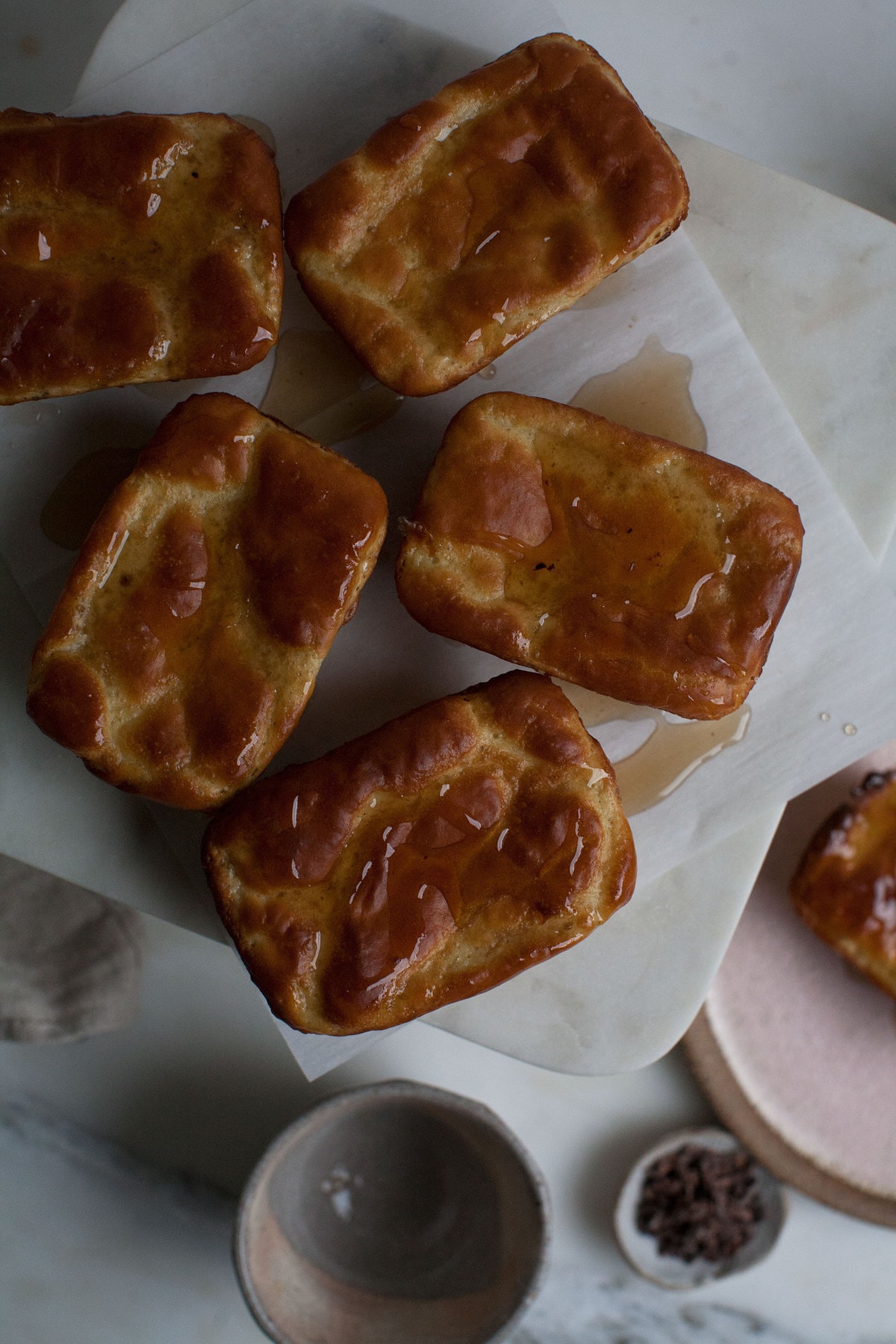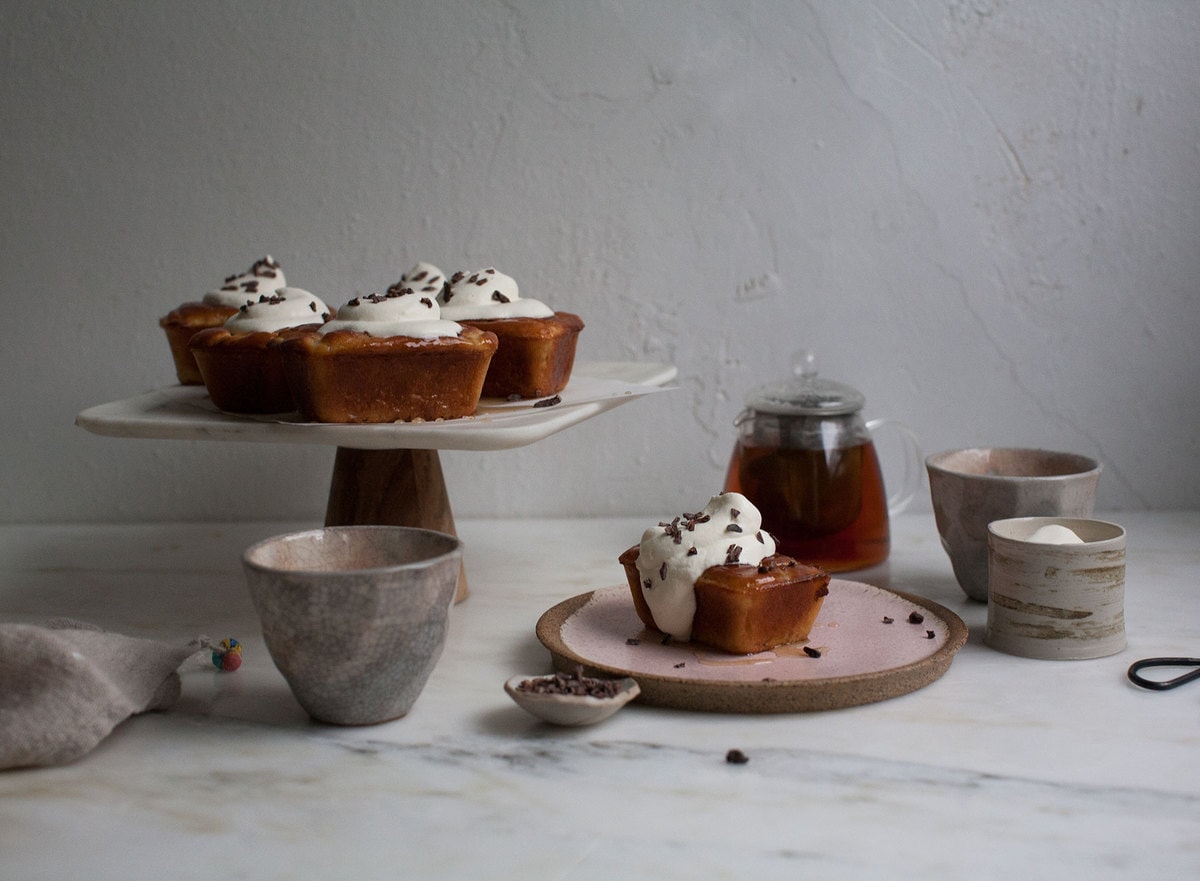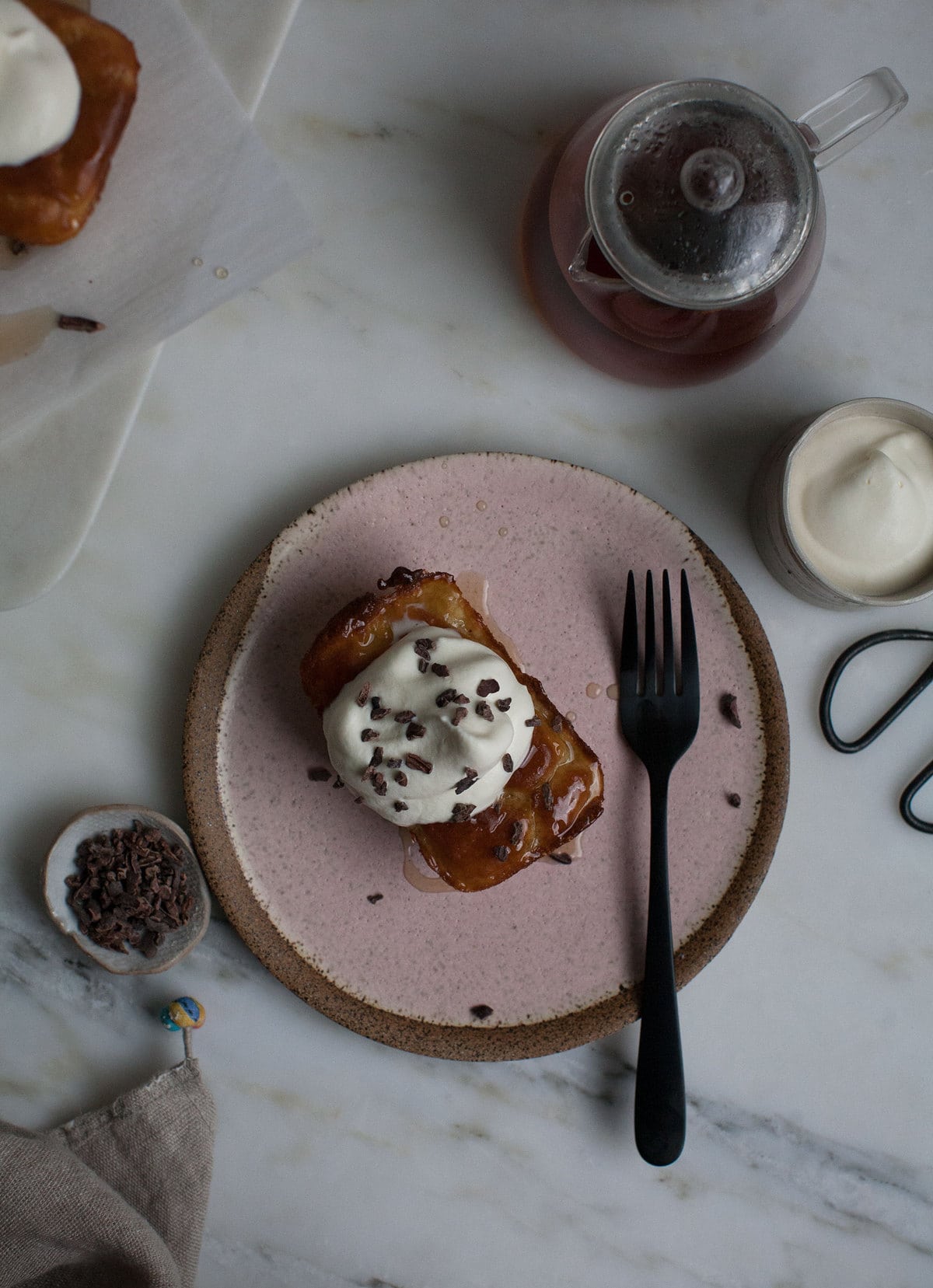 Hot Buttered Baba Au Rhum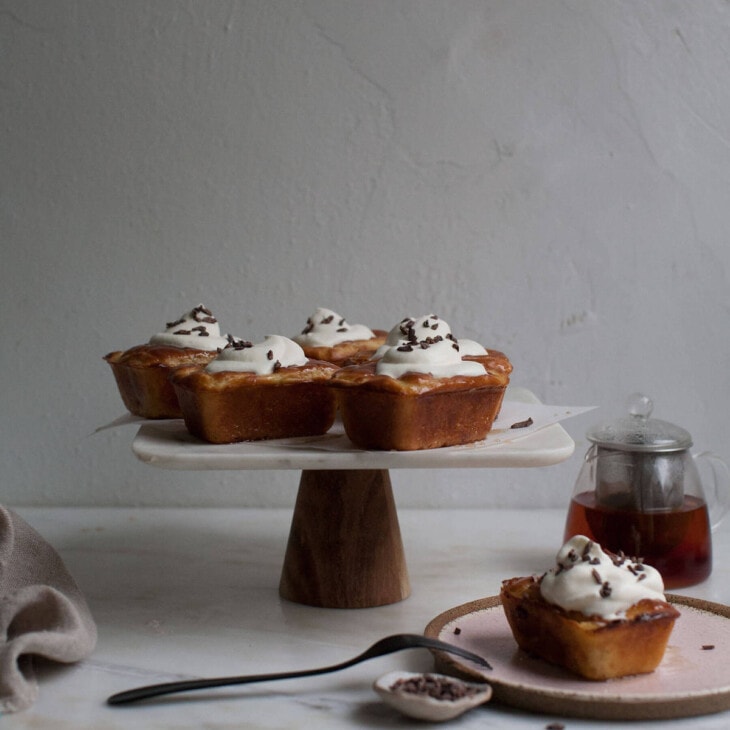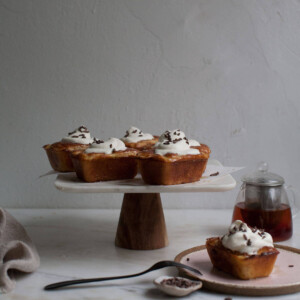 Ingredients
Baba Au Rum:
1/2

cup

whole milk

2 1/4

teaspoons

dry active yeast

2

tablespoons

white granulated sugar

3

large eggs

1 2/3

cups

all-purpose flour

1/2

teaspoon

salt

4

tablespoons

unsalted butter

,

cubed and at room temperature
Hot Buttered Rum Syrup:
3/4

cup

water

3/4

cup

white granulated sugar or cane sugar

Peel from 1 orange or 2 small satsumas

3 to 4

cloves

2 to 3

coins of fresh ginger

,

peeled

Pinch

of salt

2

tablespoons

dark rum

3

tablespoons

unsalted butter
Instructions
Pour the warm milk, yeast and sugar into the bowl of an electric mixer with the paddle attachment, and allow to stand for 5 to 7 minutes, until very foamy.

With the mixer on low, add the eggs and mix until combined. Next, add the flour, salt and butter. Scrape down the sides of the bowl and beat once more for about 2 minutes. The dough will be very wet—that's ok! Cover the bowl with a clean kitchen towel and allow to rise until doubled in size, about 1 hour. Be sure it's not in a drafty part of your kitchen/house.

You have lots of options in regards to pans. I used a mini loaf pan but you could use a muffin tin, a popover tin or even a loaf pan. Regardless of what you use, spray it liberally with cooking spray.

Divide the dough amongst the cavities in the loaf pan or whichever contraption you're using, filling everything about half full. Allow to rise again, until it reaches the top of the pan, about 1 hour.

Preheat the oven to 375 degrees F. Transfer to the oven to bake for 12 to 14 minutes, until puffed and golden brown. Remove from the oven and allow to cool in the pan for about 5 minutes. Remove and set aside.

Meanwhile, make the rum syrup. In a small saucepan, combine the water, sugar, orange peel, cloves, ginger, salt and rum. Bring to a simmer, stirring until the sugar has dissolved. Turn off the heat and add the butter, stirring until melted. Skim off the top, if you like (this will make it a bit clearer but it's optional if you're feeling lazy).

To a big casserole dish or a baking sheet, add the baba au rums and flip them over. Pour the rums syrup all over them until they've soaked it all up! Flip them over and transfer them to a serving plate or cake stand. Garnish them with whipped cream and a sprinkling of cocoa nibs.
Notes
I used a mini loaf pan, but a 8x4-inch loaf pan, 9x5-inch loaf pan, cupcake tins or a bundt pan will all work. Keep in mind that each needs to be sprayed with cooking spray or rubbed with butter.
Nutrition
Nutrition information is automatically calculated, so should only be used as an approximation.