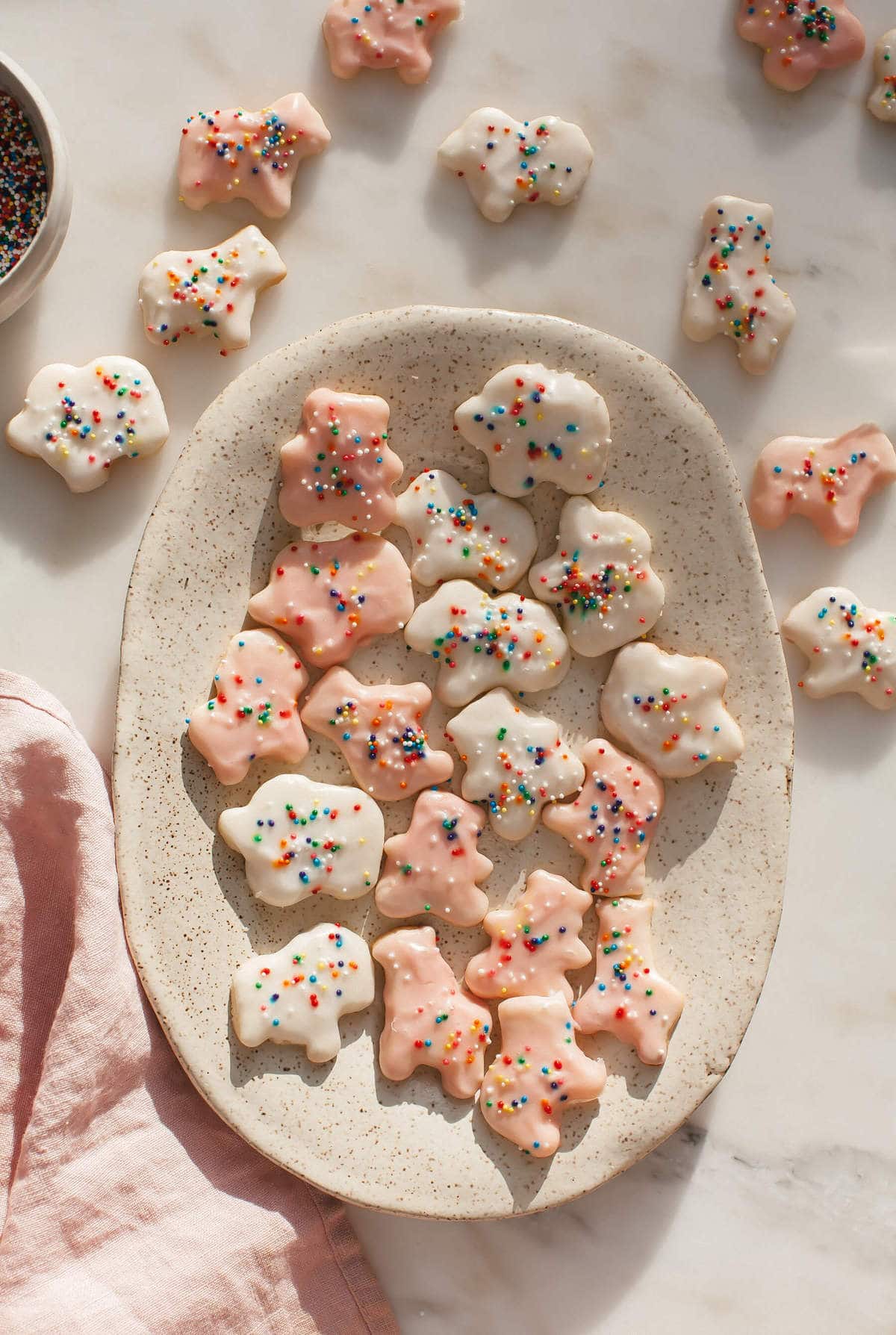 "Hey Daniel, you wanna see me eat a giraffe's head?!"
"You can't reach a giraffe's head."
I'd pull out an giraffe animal cracker and bite its head off like a predator.
My brother would laugh so hard O.J. would come out of his nose. (The juice not the criminal.)
I loved animal crackers as a kid. I loved them so much because they were part toy, part snack.
I'd give the giraffe an old man's voice and his wife, the bear, an old lady voice. Together their baby was the lion.
They were a family like The Lion King that miraculously got along in the box in my backpack.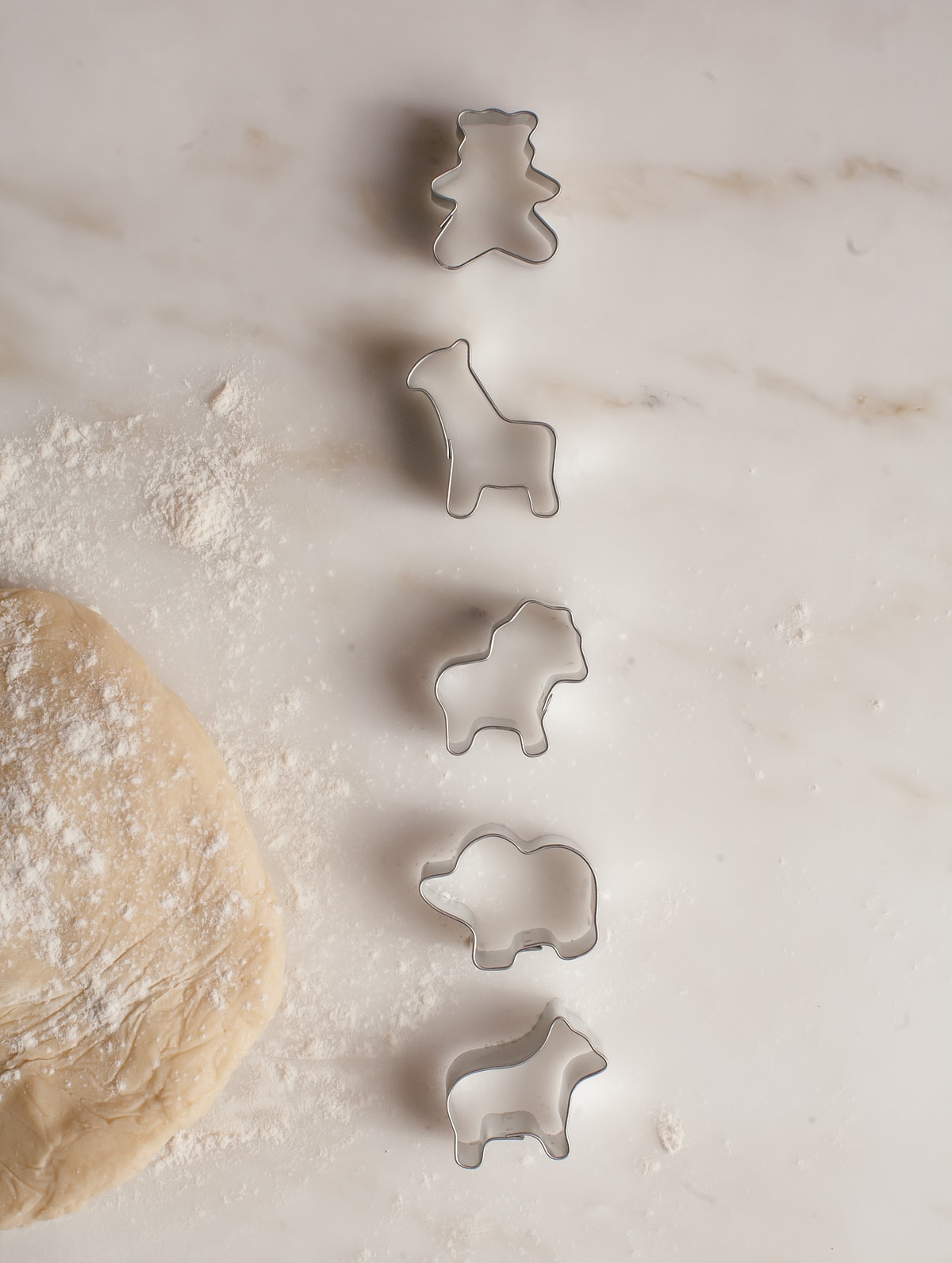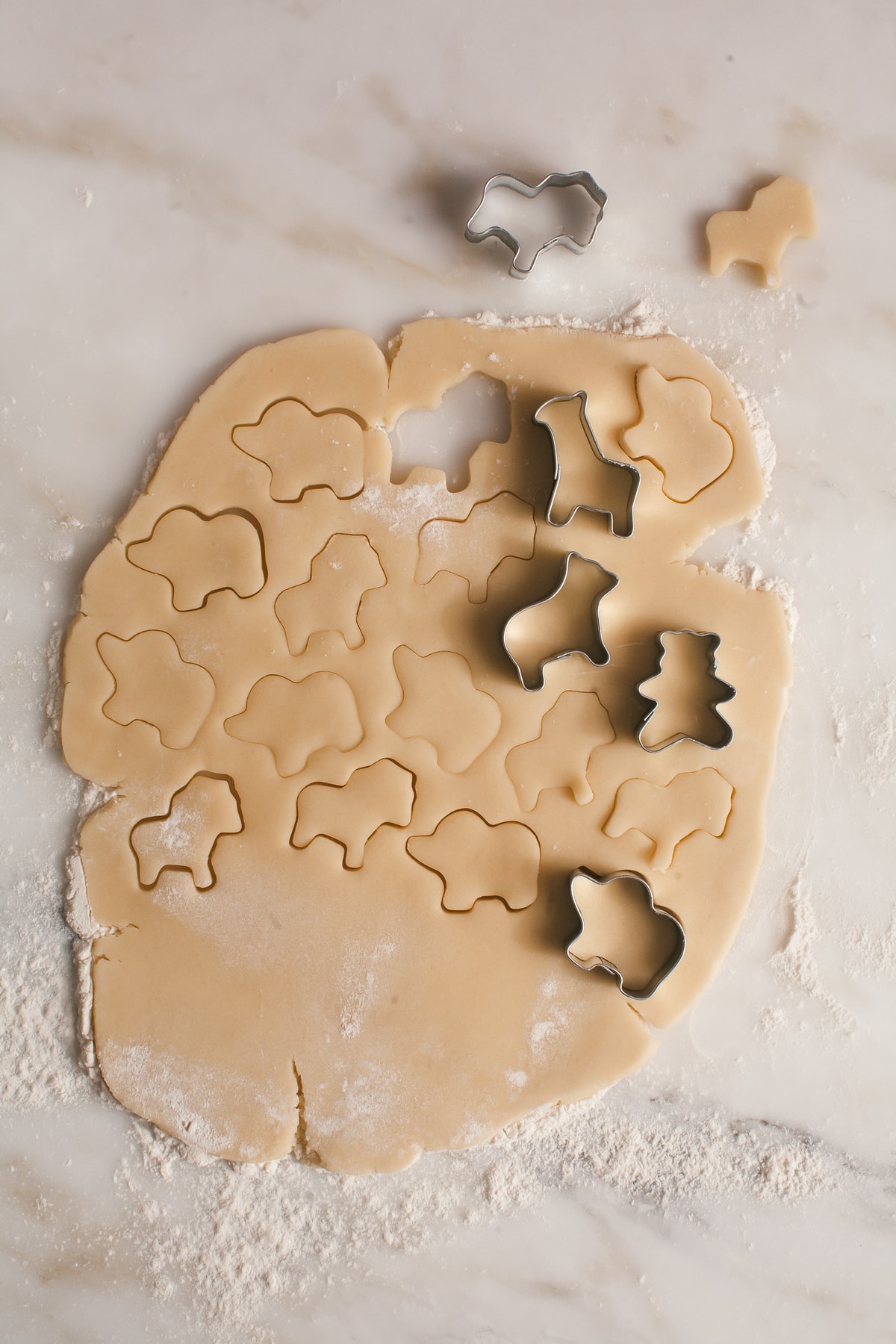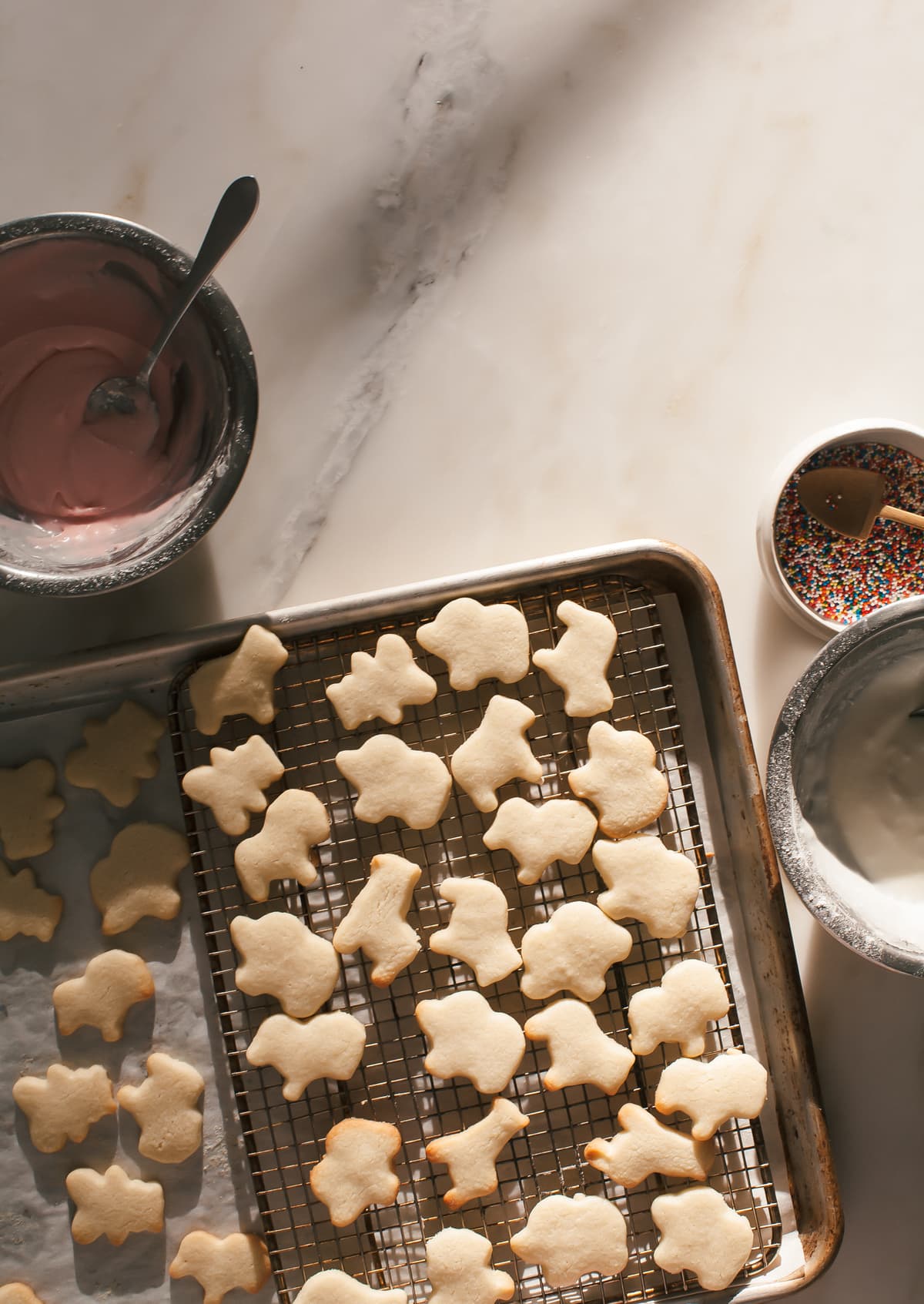 I loved them so very much, especially the hot pink ones with a shit ton of sprinkles. What more could I want?!
Of course my mom never really bought them for us and they were considered treat-only-snacks.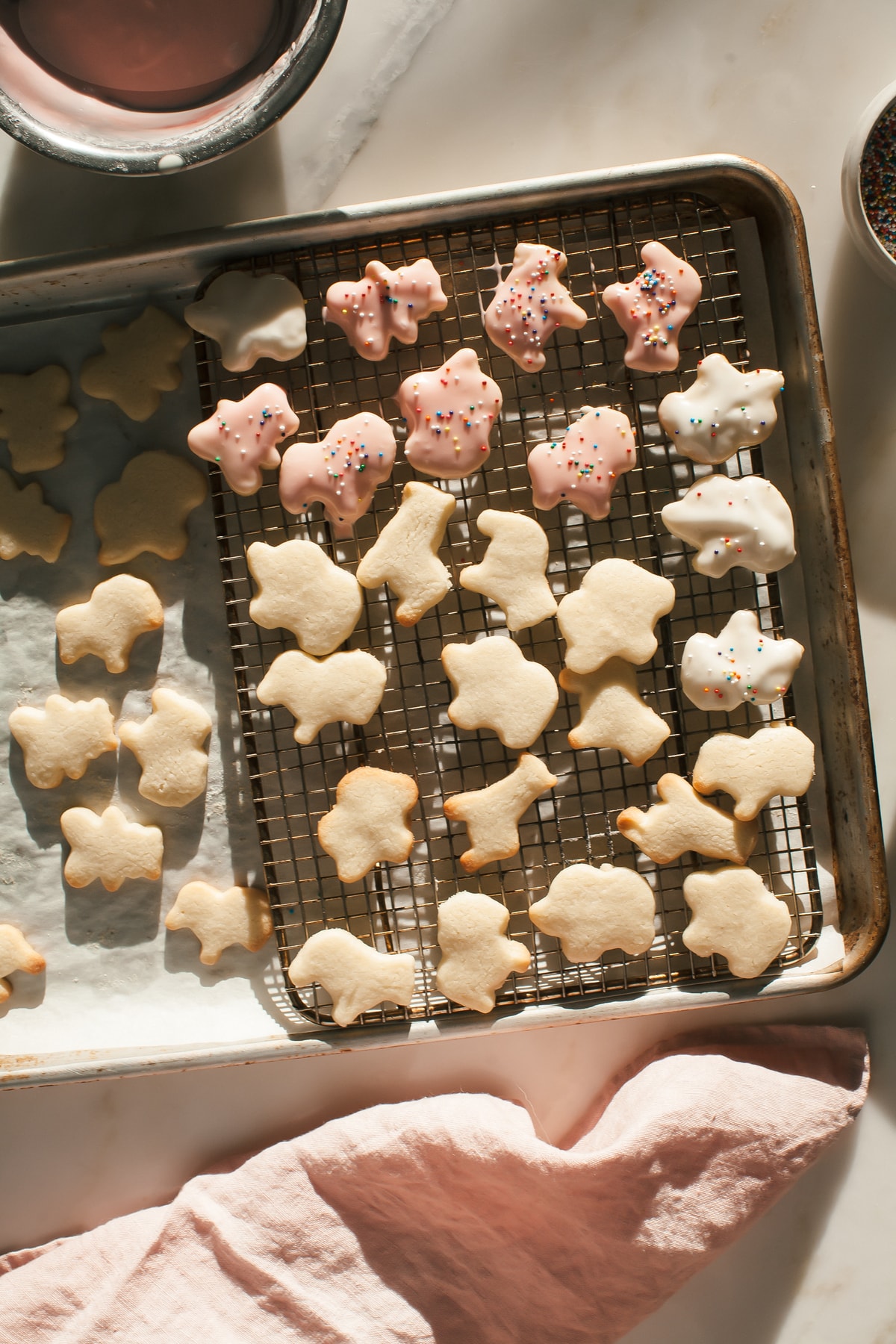 I never even really considered making them at home until compartes sent me a box of his chocolate and they had what else, animal crackers, all up in their chocolate bars.
I searched around the internets and came across this Noah's Ark mini cookie cutter set. I sort of chuckled because who knew a Noah's Ark cookie cutter set even existed! First testament licensing deal!
Anyway, it was perfect because at only $6, I could completely justify the cost. I left out the ark but you can include if you want!
The glazes are tasty and pretty and if you want hot pink, then look for neon food coloring (not red).
I went for baby pink with a ton of sprinkles.
I'd say these are good for everything from party time snacks to a baby shower (yes, Spring is coming) to just normal, personal snacking time.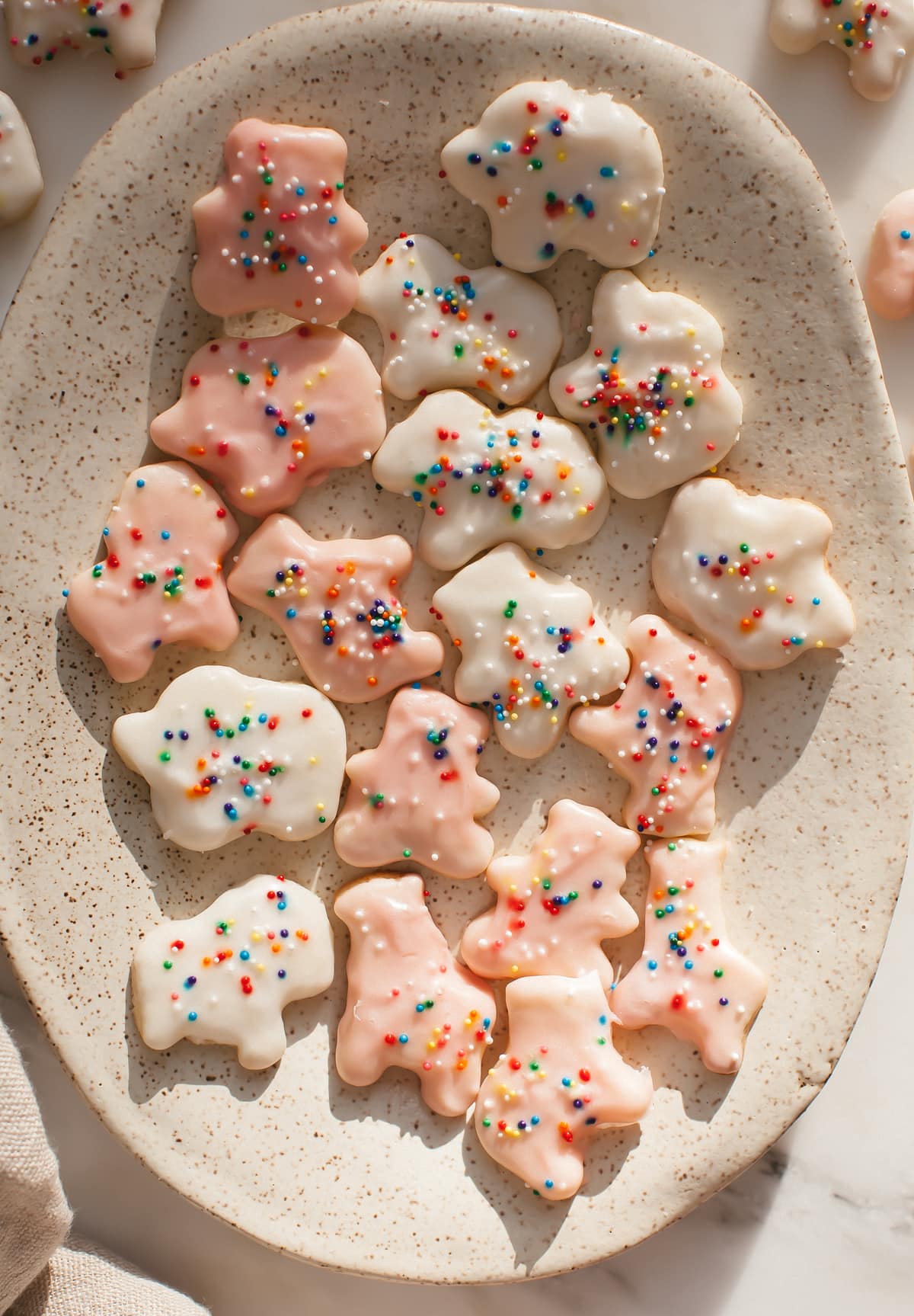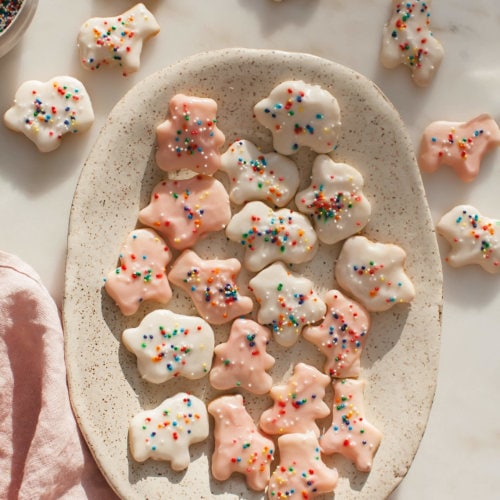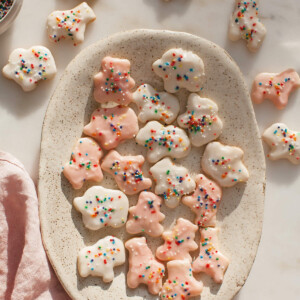 Ingredients
Cookies:
1

cup

unsalted butter,

,

room temperature

1

cup

white granulated sugar

1/4

teaspoon

salt

1

large egg

1

large egg yolk

1

teaspoon

vanilla extract

2 1/2

cups

all-purpose flour
Frosting #1:
1/2

cup

powdered sugar,

,

sifted

2

tablespoons

heavy cream
Frosting #2:
1/2

cup

powdered sugar,

,

sifted

2

tablespoons

heavy cream,

,

plus 1 to teaspoons if it sits

1

drop red food coloring
Directions
To make the cookies: To the bowl of a stand-up mixer, add the butter, sugar and salt. Beat until light and fluffy, about 3 minutes. Add the egg, egg yolk, vanilla extract and beat once more until combined. In two batches, add the flour, being sure each addition is combined before adding the next one. Divide the dough in half, transfer it to two sheets of plastic wrap (it'll be quite soft!), shape into a disc and transfer to the fridge. Allow to chill for about 1 hour. Ideally it should be at least 3 hours.

Line two baking sheets with parchment paper and set aside. Remove the first disc of dough from the fridge. Allow to come to room temperature for about 10 minutes. Liberally flour a rolling pin and work surface. Roll out the cookie dough to a 1/8-inch thickness. Stamp out the cookies with a cookie cutters. Transfer the cookies to the baking sheet, spacing them about 1-inch apart (these spread slightly). Transfer to the freezer for 10 minutes. Preheat the oven to 375 degrees F. Repeat with the second disc of dough.

Bake the cookies, one baking sheet at a time, for about 8 to 10 minutes, until lightly golden brown around the edges. Cool on the baking sheet before transferring to a cooling rack. Repeat with the remaining cookies.

To make frosting #1: whisk the powdered sugar and heavy cream together. It should be thick but pourable.

To make frosting #2: whisk the powdered sugar, heavy cream and food coloring together. Adjust the food coloring according to your liking. I was comfortable at one drop!

Dip the cookies, face side down into the frosting, turn them over and place them on a cooling rack or piece of parchment. I like to work in batches of three or four and then add sprinkles. Repeat until you've worked your way through all of the cookies. Allow to sit at room temperature for about 1 hour to set.