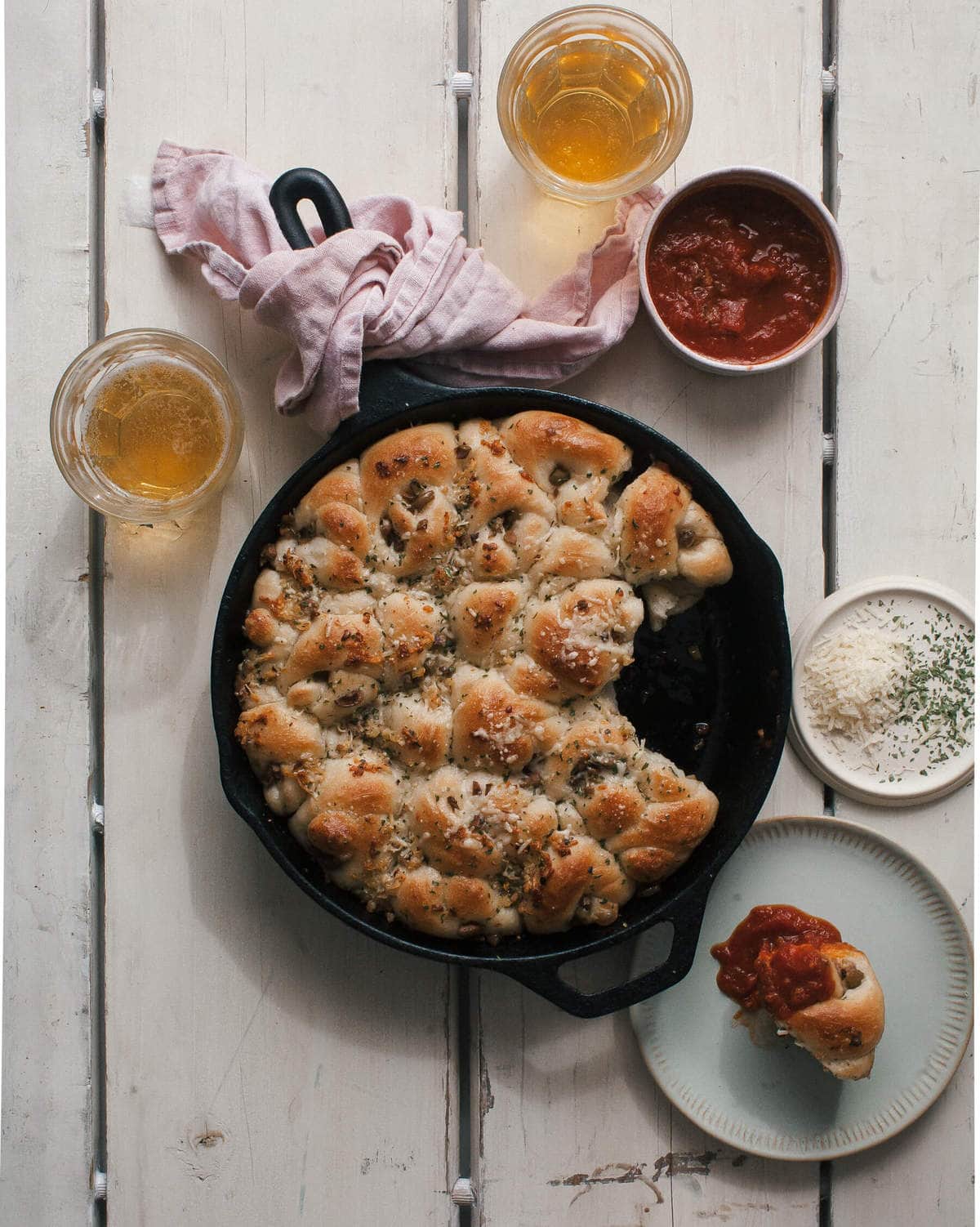 This is a cozy carb-fest in a cast iron skillet. Just how I like it!
This weekend I'm headed to HOTLANTA where I'll be speaking at Create + Cultivate about digital media and food. I'm also so stoked to be going back to the south where I can order half sweet tea/half unsweetened tea like the almost-southerner I am and eat all the biscuits I want.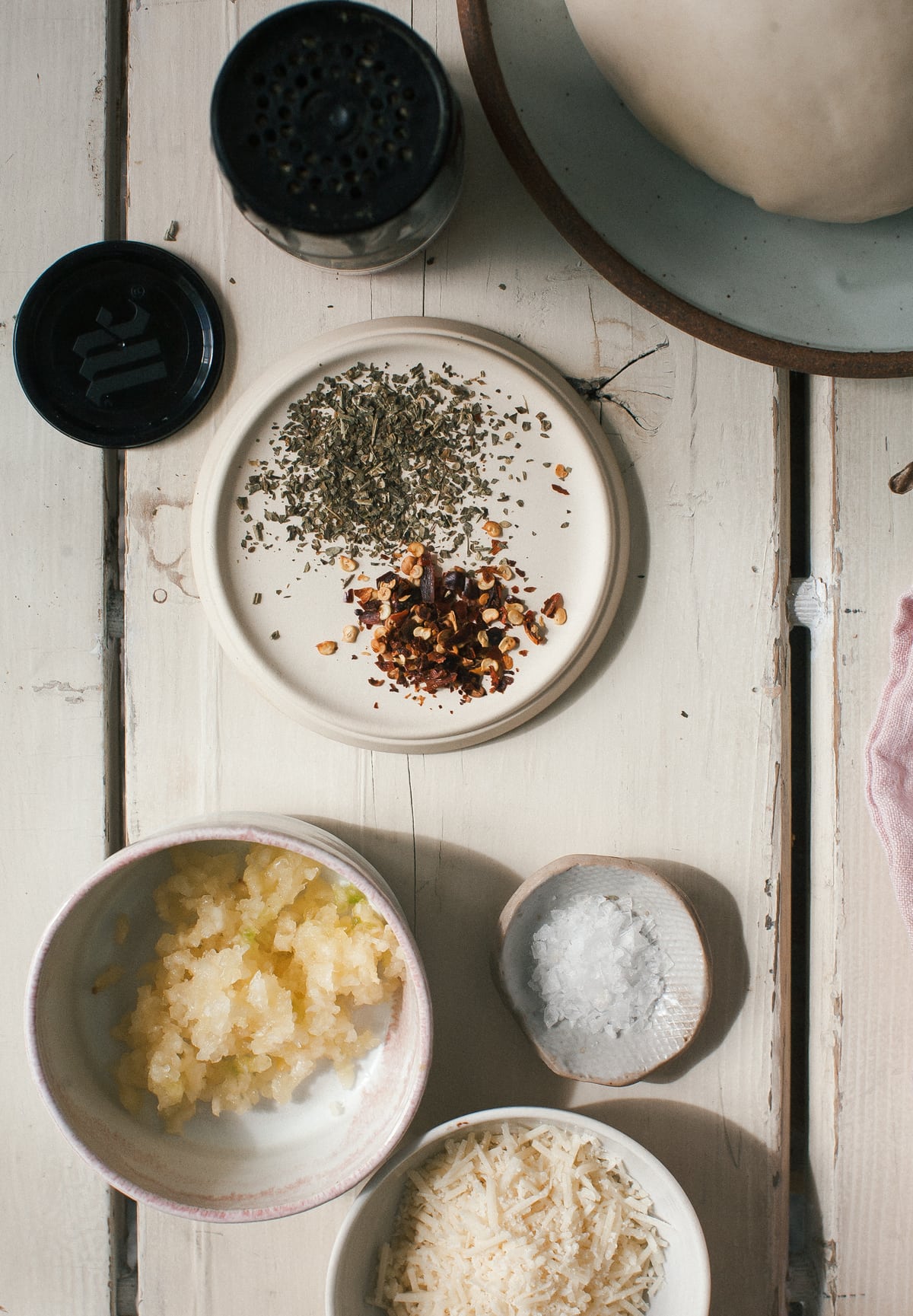 I was born in Atlanta and lived the first three years of my lil' life at The Georgia Tech family dorms while my dad finished up college. I'm excited to pass by and look at the playground I used to play in. (I'm pretty sure it's another math lab now, but whatever.)
In preparation for this trip, I wanted to pull together another fun, appetizer-like carb fest for you all. The best part about this entire thing is that you can totally use store-bought pizza dough (s/o to Kenji Lopez for the inspiration).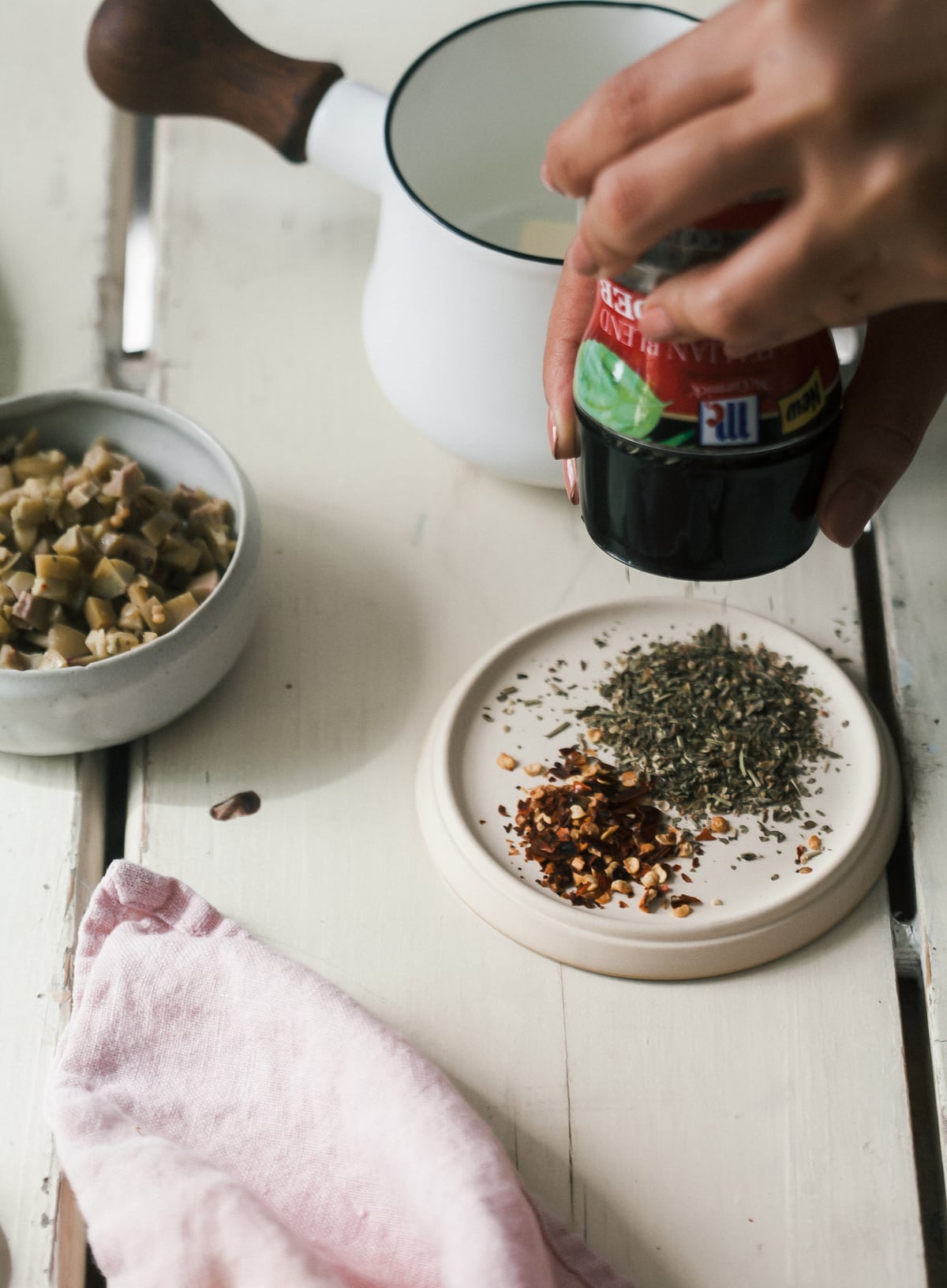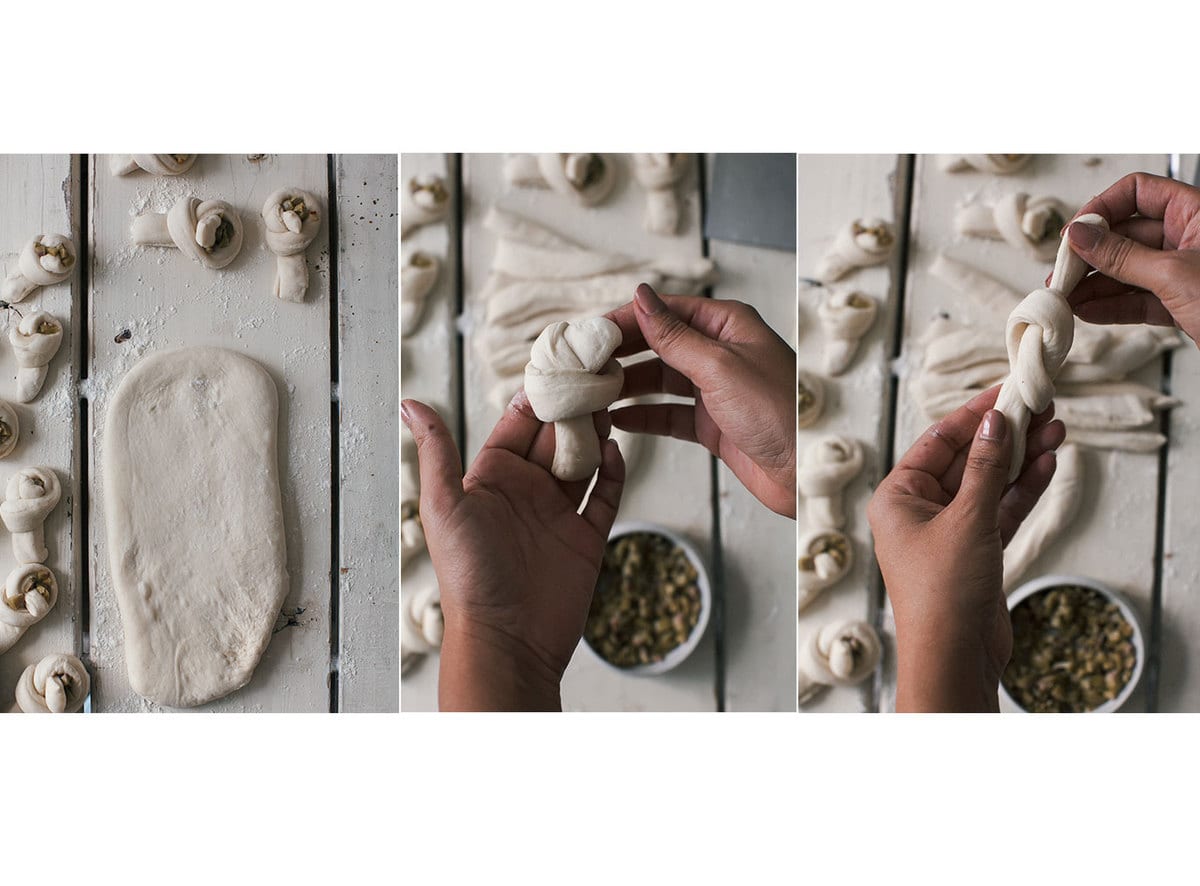 I teamed up with McCormick and their new herb grinders. They're super simple to use and for this recipe I used two, actually: the Italian blend (it went inside the butter mixture) and the basil (for the top).
The recipe starts with all sorts of stuff being mixed with butter. There's salt, the McCormick Italian blend, crushed red pepper, Parmesan, lots of fresh garlic and olive oil. The knots are knotted, stuffed with chopped Spanish green olives and then dunked in butter.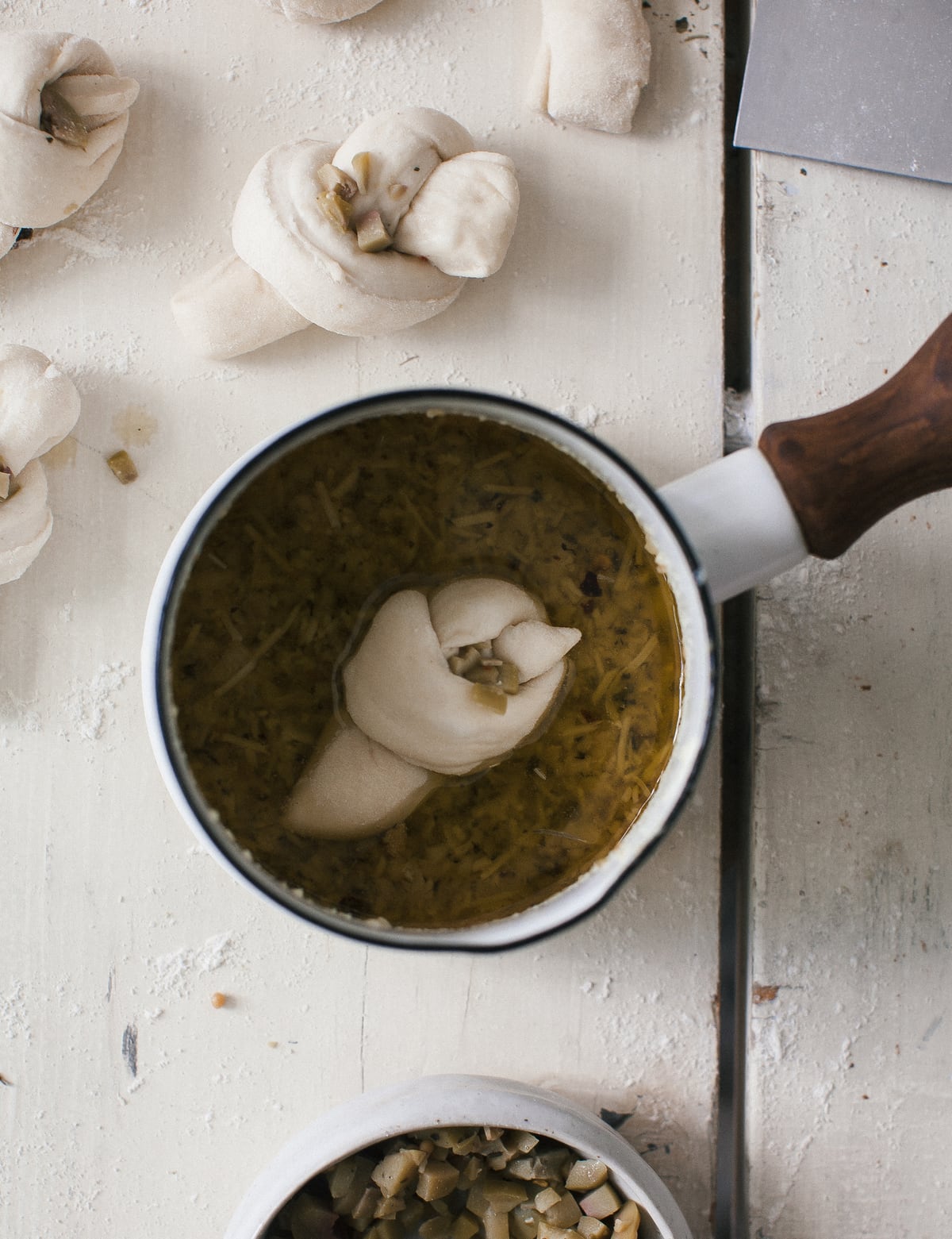 It all can be added to a cast iron skillet (or another baking dish) and then it rises for an hour or so until they're all puffy.
A trip to the oven and that's it! They're flavorful and easy to put together.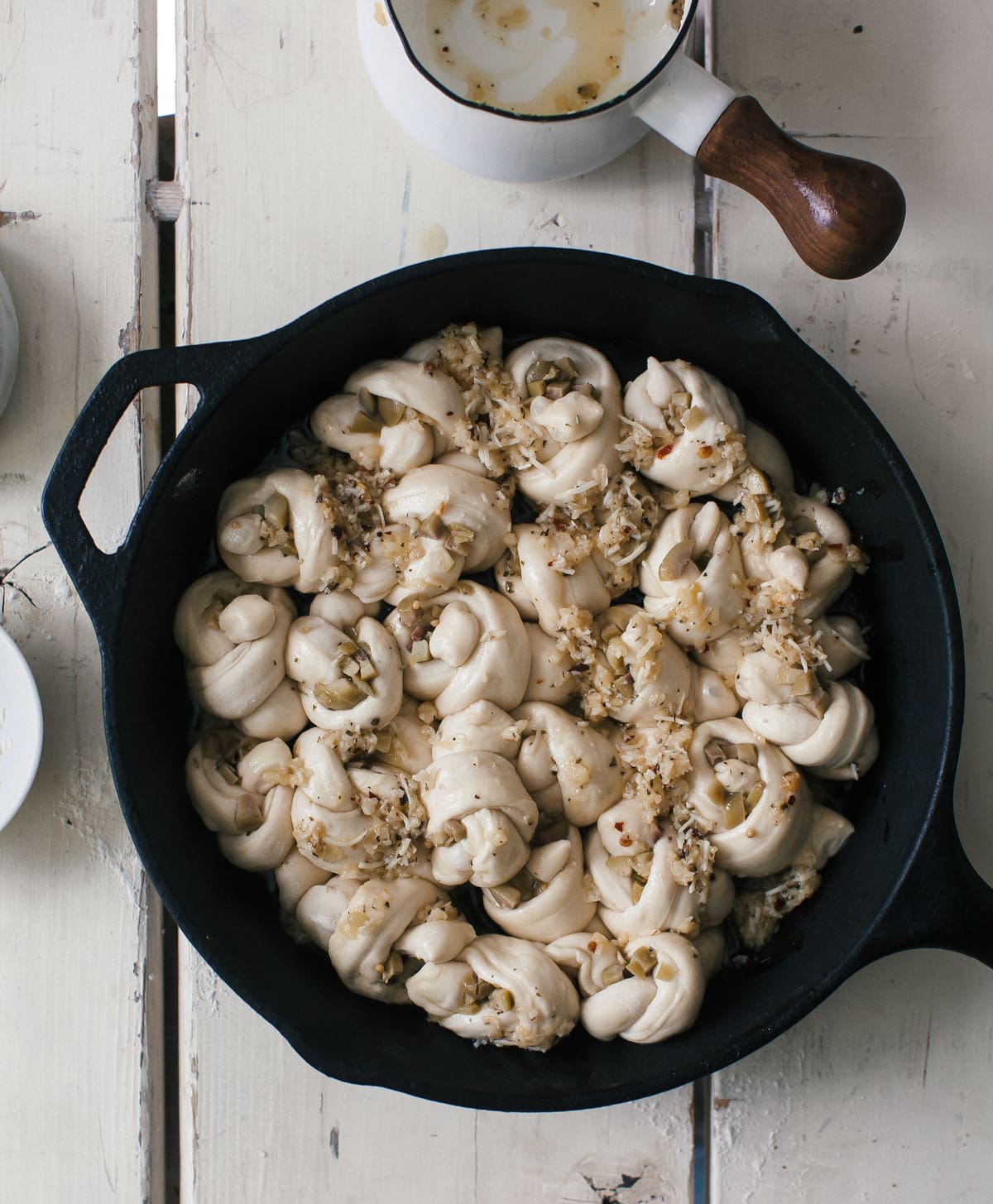 Of course, you can make your own pizza dough and if you do, make sure you decrease the salt a bit in the butter mixture. I find that store-bought pizza dough isn't seasoned nearly enough as it should be.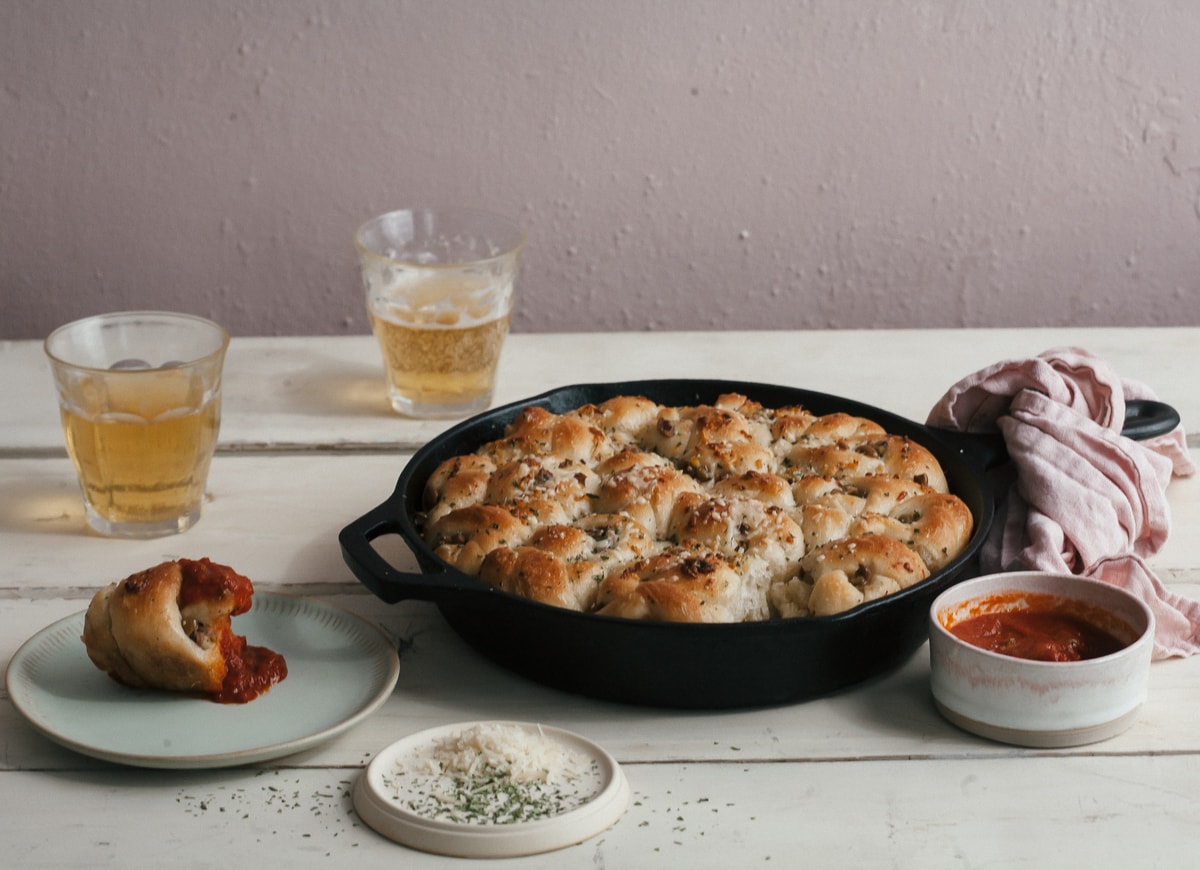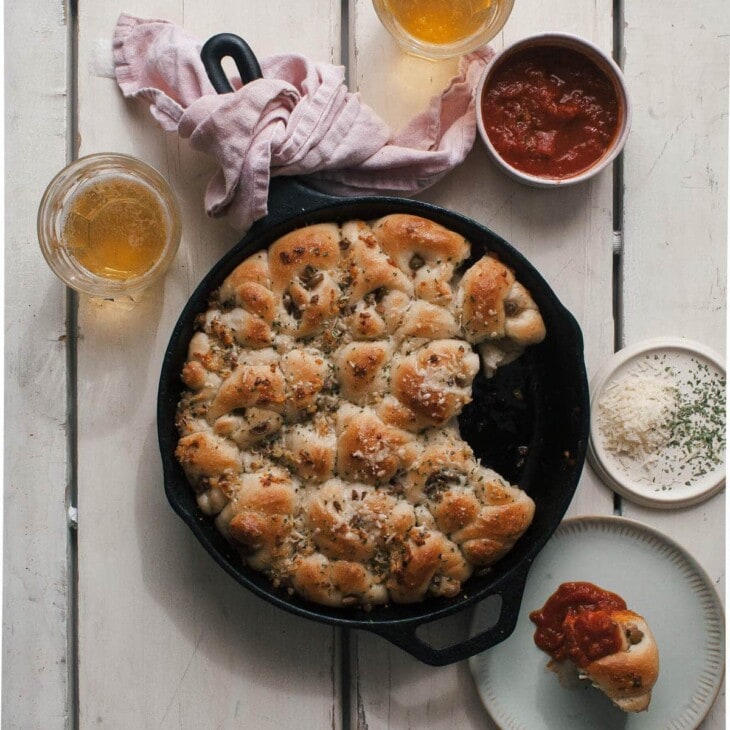 Print Recipe
Garlic-y Olive-y Pull Apart Knots
Serving Size:
TO 8, (As An Appetizer)
Ingredients
1

one pound store-bought pizza dough or homemade 

3

tablespoons

unsalted butter

3

tablespoons

olive oil 

1

teaspoon

McCormick Italian Blend Herb Grinder

3/4

teaspoon

sea salt 

1/2

teaspoon

crushed red pepper

6

cloves

of garlic

peeled and minced 

1/2

cup

shredded Parmesan-Reggiano

divided 

6 to 8

green pitted olives

such as Castrevelanos, minced (it equaled to about 1/3 of a cup) 
Instructions
Place your pizza dough on the counter to shake off its chill for about 10 to 15 minutes. 

Meanwhile, add the butter to a small saucepan and place over medium heat until it's melted. Turn the heat to low and then stir in the olive oil, Italian blend, sea salt, crushed red pepper and minced garlic. Cook for about 5 minutes, until the butter mixture is super fragrant; really we're just cooking the garlic so it takes the bite off. 

Lightly flour your work surface and divide the dough into two pieces. Stretch and roll the pieces into an 8x4-inch oval shape (you can eyeball this measurement, if you like). Using a knife or bench scraper, horizontally cut 10 strips. Repeat with the second piece of dough. 

Tie each strip of dough into a knot and then stuff a small handful of the minced olives into the middle of the knot. Dunk the knot into the butter mixture and then transfer to a 9-inch or 10-inch cast iron skillet (or other baking dish of equal size). Repeat until you've worked your way through all of the dough.

Reserve about a tablespoon of the butter mixture and set it aside. Any leftover butter mixture, pour on top of the knots. Cover with plastic wrap and set in warm place in your home (away from your devilish animal, if you have one) so it can rise, about 2 to 3 hours. 

When the knots have doubled in size, preheat the oven to 425 degrees F. Unwrap the cast iron skillet and transfer to the oven to bake for 20 minutes. At the 20-minute mark, sprinkle the top with the remaining Parmesan cheese and bake for an additional 5 to 10 minutes, or until the tops of the knots are golden brown. Top with fresh or dried basil and serve alongside warm marinara sauce for dipping!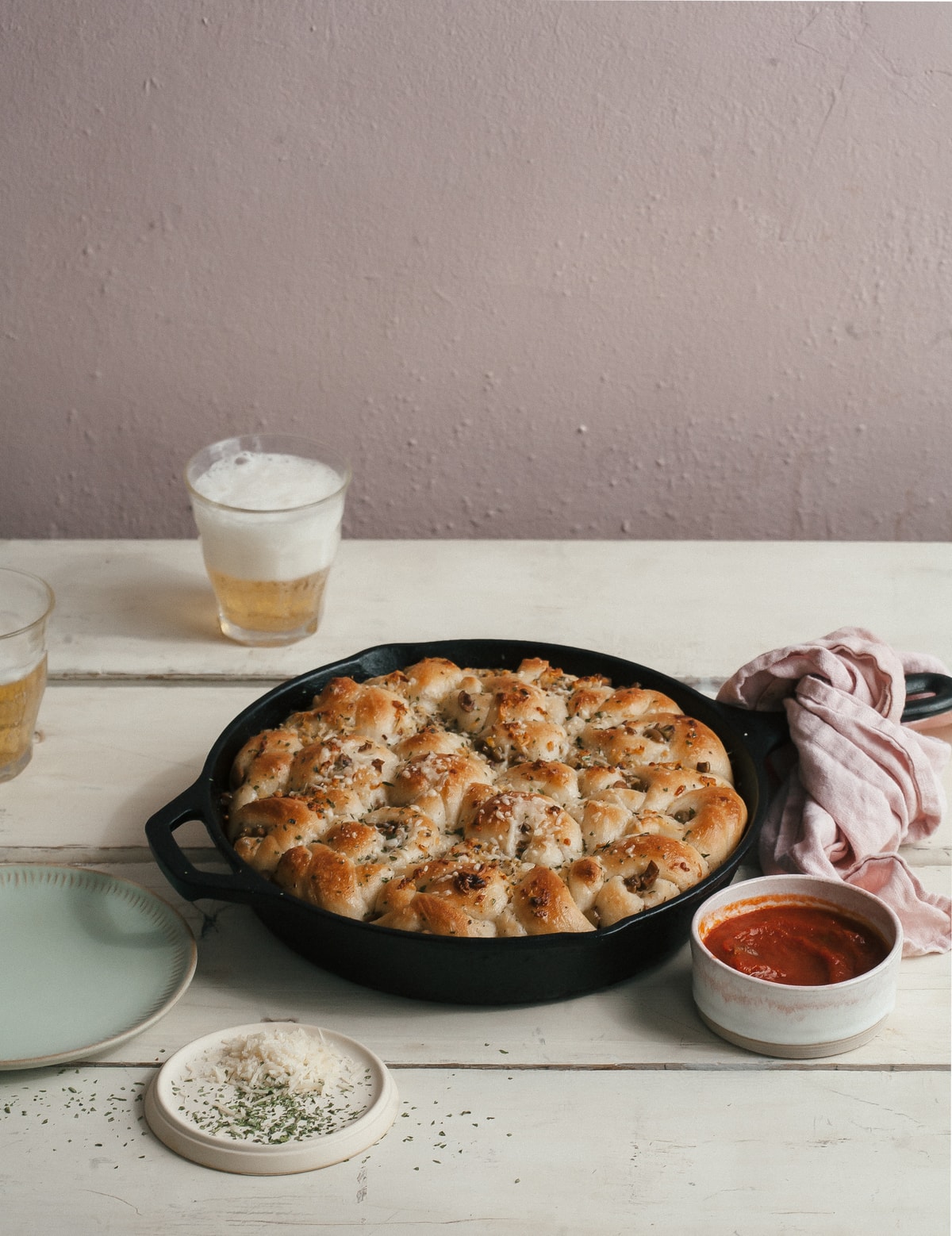 This post was in partnership with McCormick. To learn more about the new McCormick Herb Grinders and some simple recipes to put them to use, click here!