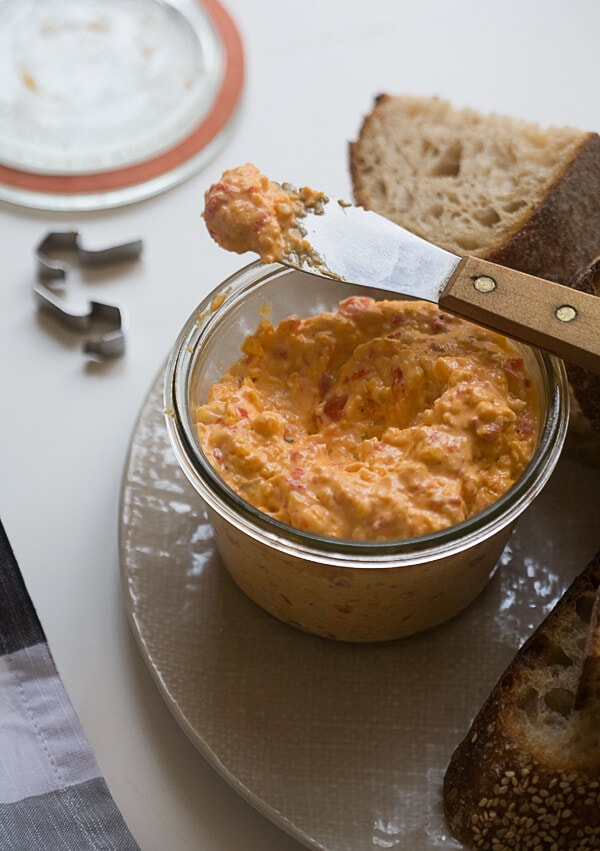 I was born in the south and my family has lived there their whole lives but I don't really consider myself southern, though I'm definitely southern-ish. I have a strong attraction to southern states, people and food. It was really no surprise that I went back to the south for college, North Carolina to be exact.
My first friend (and best friend 'til this day) at college was a svelte costume design major named Tre. We went everywhere together, including the cafeteria. Rumor had it that our school was just one grade above prison food, which as you know re: Orange is The New black is BAD. Naturally since we were in the south, they had pimento cheese at the salad bar. And everyday Tre would eat pimento cheese on white bread. EVERY SINGLE DAY. (I opted for cereal.) I honestly never touched the pimento cheese because if you think it looks a little scary now in my pictures, imagine how it looked at the 'one grade above prison salad bar'. Rough.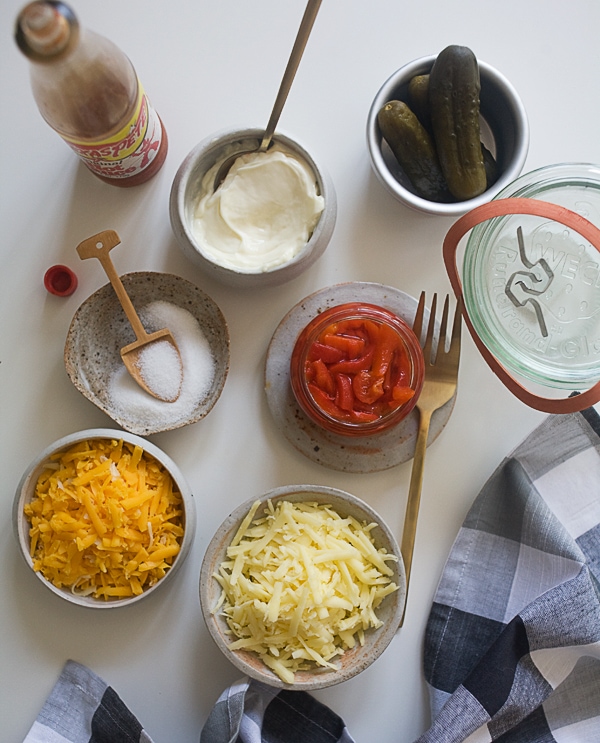 Anywayz, through him is where I learned to appreciate this spread. It took years for me to turn around but when I had a good version of it I was like OMG this is what I've been missing!
It's the laziest most delicious thing you could ever make to take to a friend's house. Friend is having a bad day? Pimento cheese. Going to a promptu dinner party and need a quick and easy appetizer? Pimento cheese.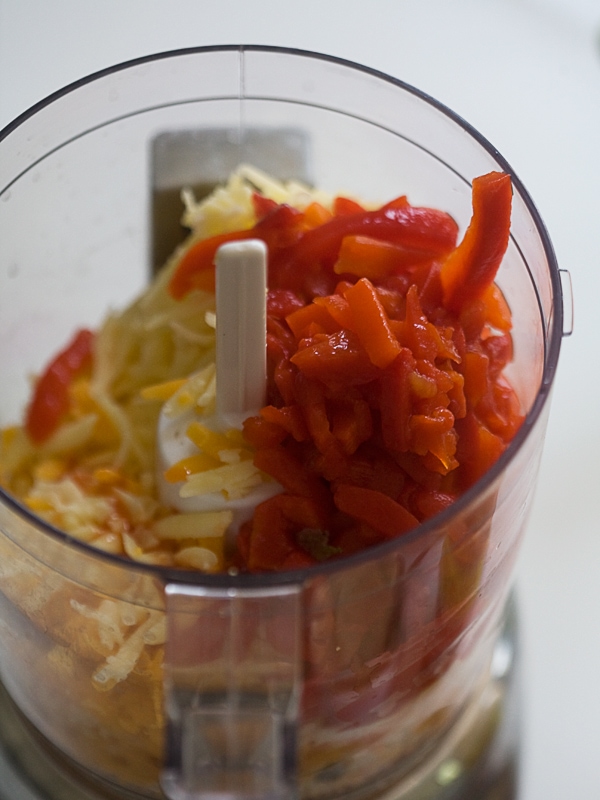 It's classic yet interesting enough where people ask you what's in it.
I served this with bread because the bread was amazing, but really it can just as easily be eaten with crackers or chips.
Sometimes I like recipes that are more assembly-based, especially when I'm feeling lazy and sweating a lil' bit. Perfect for summah.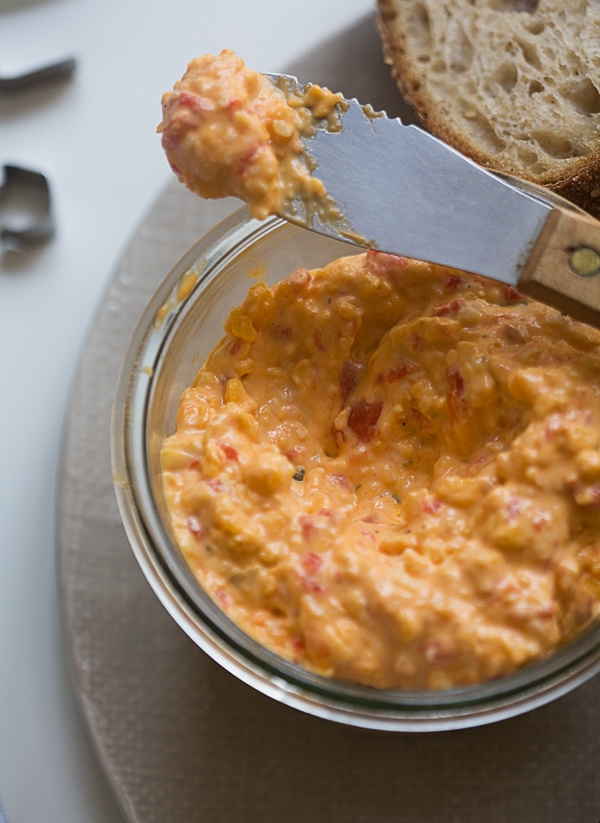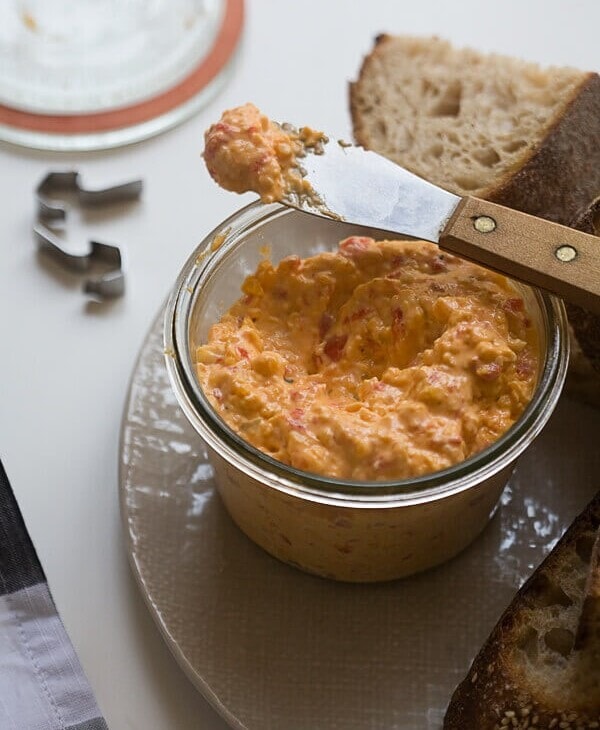 Print Recipe
Classic Pimento Cheese
Ingredients
1

garlic clove

minced

1

small dill pickles

minced

1

cup

shredded cheddar cheese

1/2

cup

shredded Monterey jack

1 4-

ounce

jar pimentos

drained (not rinsed)

Few turns of black pepper

1

teaspoon

hot sauce

I used Texas Pete, which is very mild so do this to taste

3

tablespoons

mayonnaise
Instructions
In a food processor add garlic clove, dill pickle, shredded cheddar cheese, shredded Monterey jack, pimentos, black pepper and hot sauce. Pulse until just combined, stopped and scraping down the sides as needed. Note: This is a personal preference but I like mine with texture. If you like it more smooth, simply pulse some more until you're at the desired texture.

Give it a taste and add more hot sauce if you like. Next, fold in the mayonnaise and mix until it's completely incorporated. Adjust any seasoning or flavoring if you like.

To serve: some like to serve this cold. I like it room temperature. It's definitely your call. Serve with chips, crackers or slices of bread.
Notes
Like every classic dish, it seems like everyone has their own idea what should go in to Pimento Cheese. In the comments below, tell me how your family makes it, what they add, etc.! I wanna hear it all!