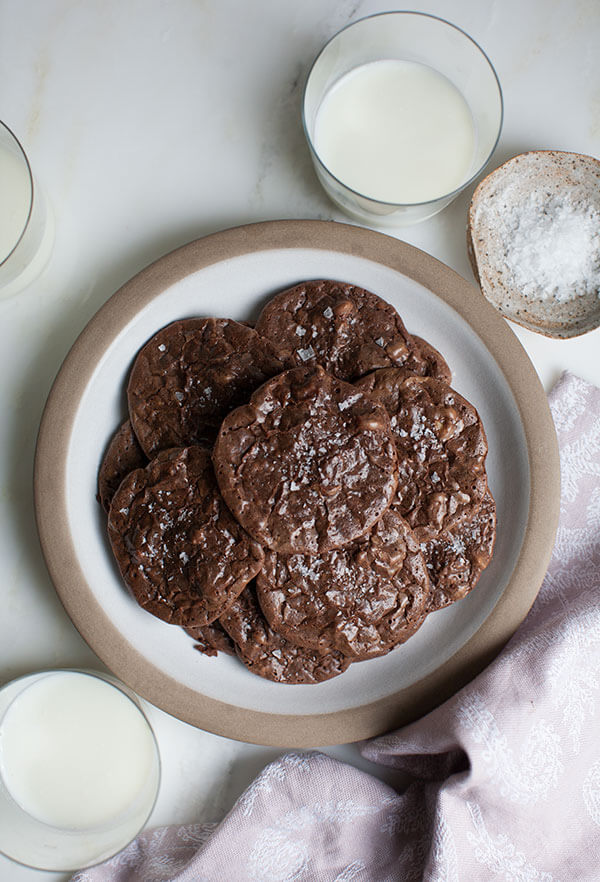 It's that season when time moves at lightening speed, when all I want to do is sit around wrapping presents and listening to George Bailey monologues...all while eating cookies.
If any cookie will become your main bish this season, let it be the brookie, please.
It's a cookie that tastes like a brownie! It's chocolatey yet thin and light, there are walnuts and you can eat like 15 and still feel great. (Probably not.)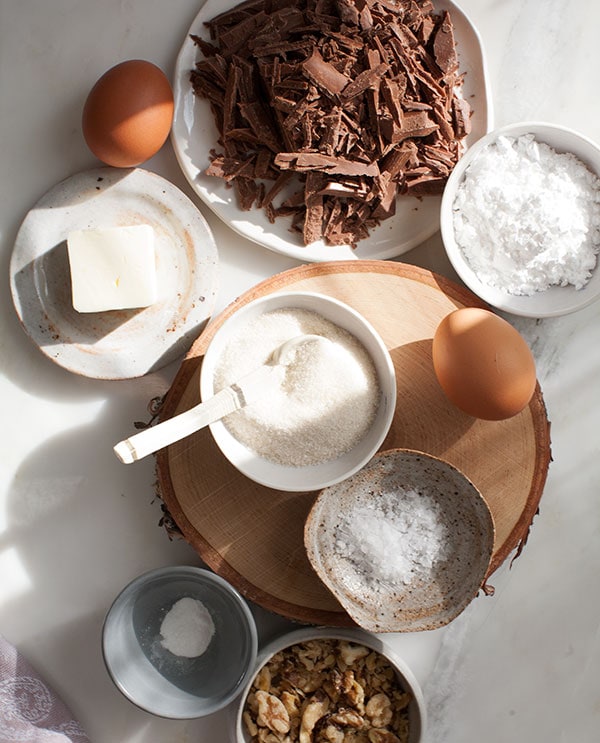 I didn't come up with the clever lil' name of brookies all by myself, Whitney did and she actually got it from some British beauty YouTuber she was watching so basically it just goes back to that old adage that no idea is original and it's all just recycled stuff.
I'm not really sure what's up with me but for the past four months I've been on a brownie kick. I've tried sooo many mixes at the store and all of them are kind of a bummer. They have way too much leavening, the cocoa powder doesn't add enough chocolate in there and the texture always seems to be a bit off. But I want to like a mix. I do. I can understand why people love them. I can literally have mediocre brownies in the oven in like 5 minutes. Pretty remarkable.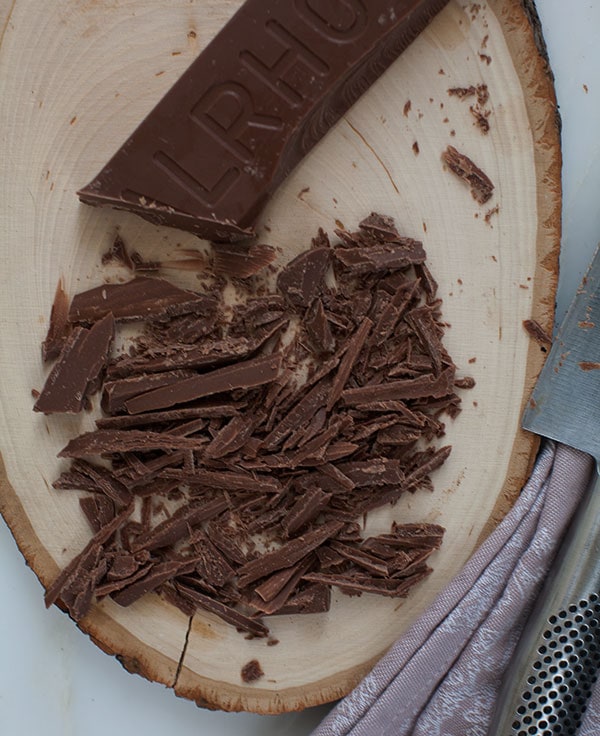 Luckily these don't take too much longer than 5 minutes, maybe 10 minutes?
I used fancy chocolate but honestly you don't have to. Chips are totally fine. Just not Trader Joe's chips because they seize and they're the absolute worst quality chocolate. But Ghiradelli, Nestle, Whole Foods brand, all ok.
These cookies took me a good minute to get right. I'm not going to bore you with what went wrong every single time, but let's just say I kept putting the batter in the freezer to chill, only to find that less wait time (no freezer time!) yielded the best cookie.
It's a win-win situation.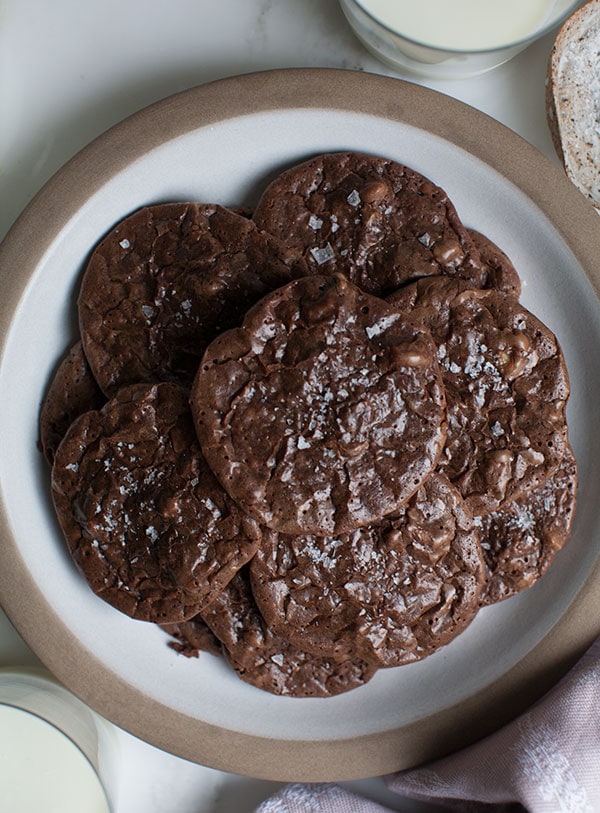 I'm not a big milk drinker. Never had the stuff at dinner like all my friends growing up, but these cookies NEED milk. At the very least a glass of water. They need something to quench the thirst because they're rich and chocolaty and salty and sweet. AHH! And there are walnuts.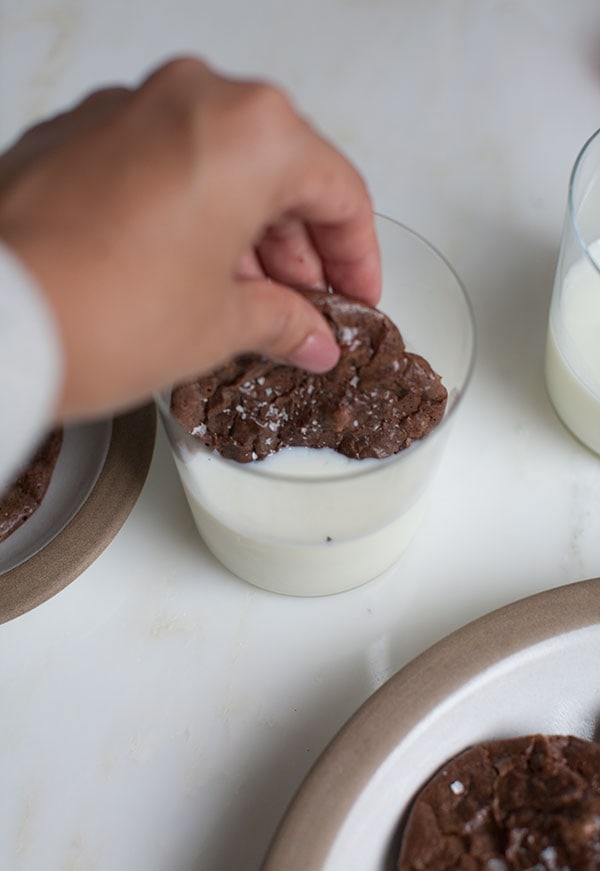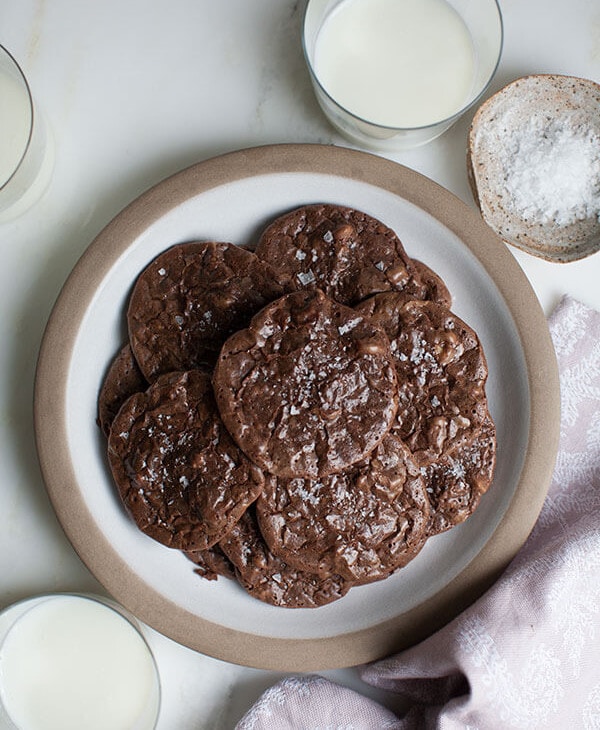 Print Recipe
Walnut Chocolate Brookies (Brownies + Cookies)
Ingredients
2

tablespoons

unsalted butter

8

ounces

semi-sweet chocolate

chopped (if chips, no need to chop)

2

large eggs

room temperature

½

cup

white granulated sugar

½

cup

powdered sugar

1

teaspoon

pure vanilla extract

Pinch

of salt

¼

cup

all-purpose flour

¼

teaspoon

baking powder

½

cup

walnuts

chopped

Maldon sea salt flakes

for garnish
Instructions
Preheat the oven to 300 degrees F and line 2 baking sheets with parchment paper. To a medium bowl, set over a saucepan of simmering water, add the chocolate and butter; allow to melt and then stir until smooth, about 5 to 7 minutes. Set aside to cool slightly.

In the bowl of a stand-up mixer, using the paddle attachment, add the eggs and sugars. Beat until the powdered sugar is completely incorporated and the color of the mixture turns a light yellow. Add the vanilla and salt. Next, with the mixer on low, add the reserved melted chocolate and mix until completely incorporated. Scrape down the sides of the bowl and then add the flour and baking powder. Scrape down the sides once more and give it one last mix. Lastly, fold in the walnuts. The mixture will resemble more of a batter than a dough. It should be shiny and wet.

Using a #20 ice cream scoop (essential two heaping teaspoons worth of batter or 2 ounces), drop mounds of dough, spacing them about 2 inches a part. If the mound doesn't seem like it will spread into a perfect circle, don't be afraid to shape it with your finger. I did this and was glad I did. Transfer the baking sheet to the oven for 5-7 minutes, until the cookies appear crackly and wet in the center and slightly puffed.

Leave the cookies on the baking sheet to cool, about 10 minutes, and then using a very thin spatula, such as a fish spatula, move the cookies to a cooling rack. Repeat with the remaining dough/batter until all the cookies are baked. Sprinkle the cookies with sea salt for garnish. If you're transporting the, be sure to put a sheet of parchment between stacks since these cookies do like to stick together a bit when you piled them.
Notes
This recipe works best with a silicon baking sheet. If you're using parchment, be sure to get under the cookies with a thin metal spatula, such as a fish spatula.