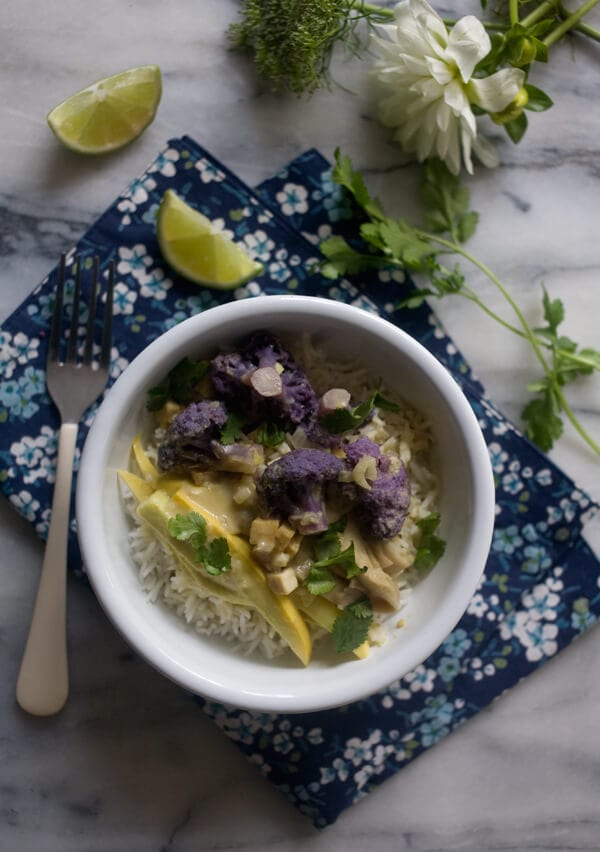 All I want in my life right now is dinner. I want full meals. Food that tastes good, makes me feel warm and that's healthy(ish). Not to worry, I'm pretty sure we'll be back eating desserts for dinner and popcorn for breakfast in no time. For now, let's enjoy some balance!
I've noticed people are already talking lots about Game Day and I had to remind myself (as in Google) what "game" they're actually referring to. And then of course I was like, ohhh right, football, The Super Bowl/commercials. I'm down with football because chicken wings are usually involved; take that out of the equation and I'm gone, man. Long gone. Also, Valentine's Day. Everyone's already talking about Valentine's Day. I just can't. Can everyone just chill. Like, I can't deal. I need to talk about right now. You're stressing me out with your heart-shaped brownies.
So, here is what dinner has looked like lately: winter vegetables, mushrooms, green curry broth and rice. As a girl who grew up with Latin parents, rice was consumed at EVERY meal. We could be having the most American of meals (read: broccoli cheese casserole) and rice would always be served on the side. It's been a life long love affair, I guess you could say.
I have this Zojirushi rice cooker, which eloquently plays Twinkle, Twinkle Little Star when the rice is done. I wish all alarms were so beautiful.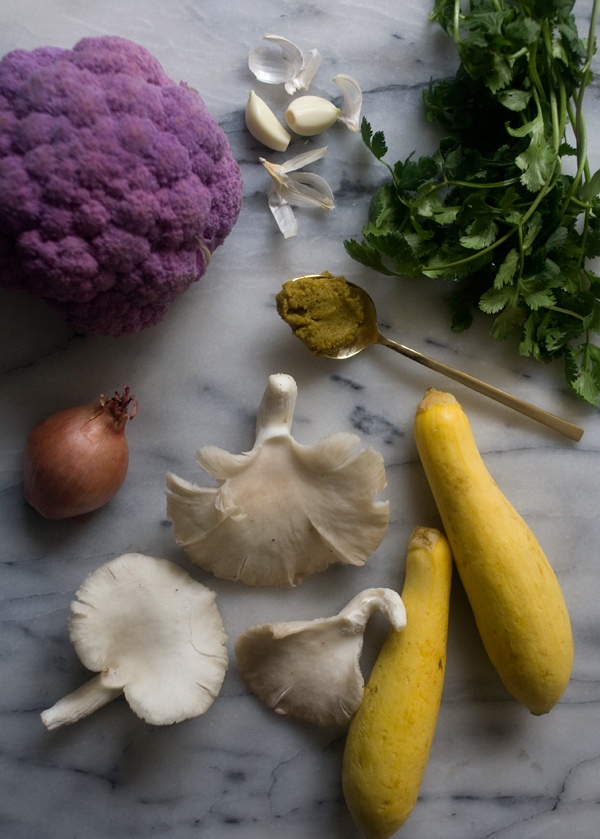 This recipe was inspired by Heidi's Summer Vegetable Curry. I changed a few things; mainly the vegetables used, the addition of garlic, fish sauce and chicken stock. If you're looking for something vegetarian-friendly, I'd say veggie stock could do and you can always skip the fish sauce.
The past few days I've been recounting the little kitchen-tricks my mother taught me growing up. She didn't teach me a lot but sometimes I find myself cooking the way she does.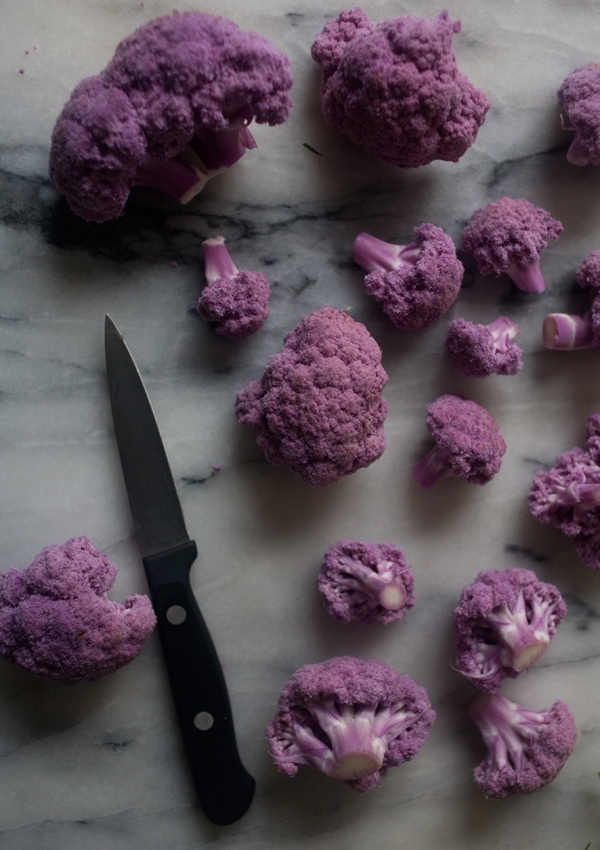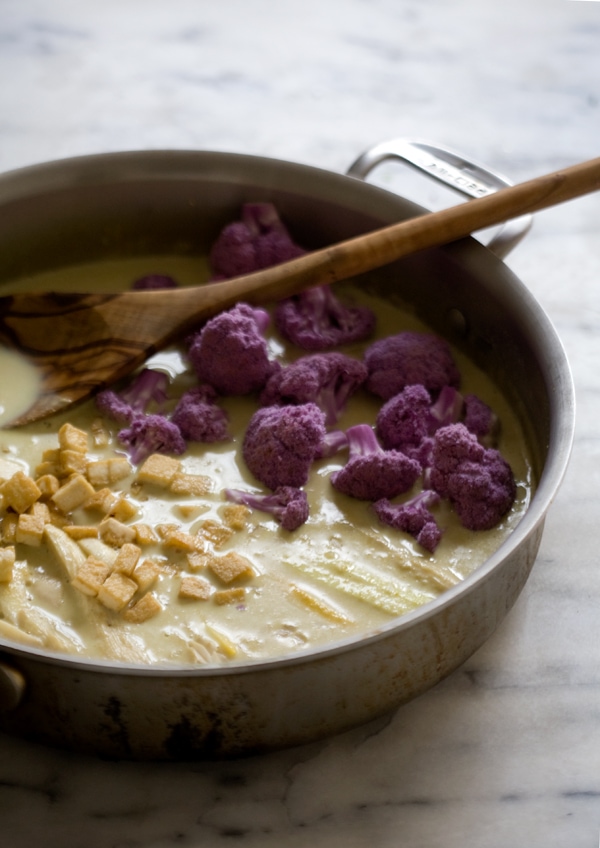 For instance, when my mother would make bolognese, she'd always save the can of tomatoes and use it if she needed to add more water to the sauce later on. She'd add water to the can, swish it around, making almost like a tomato water and then would add that to the sauce. I repeated this trick here with this curry. It's partly about not being wasteful and partly about always adding as much flavor to your food as possible.
I love when I cook like my mama.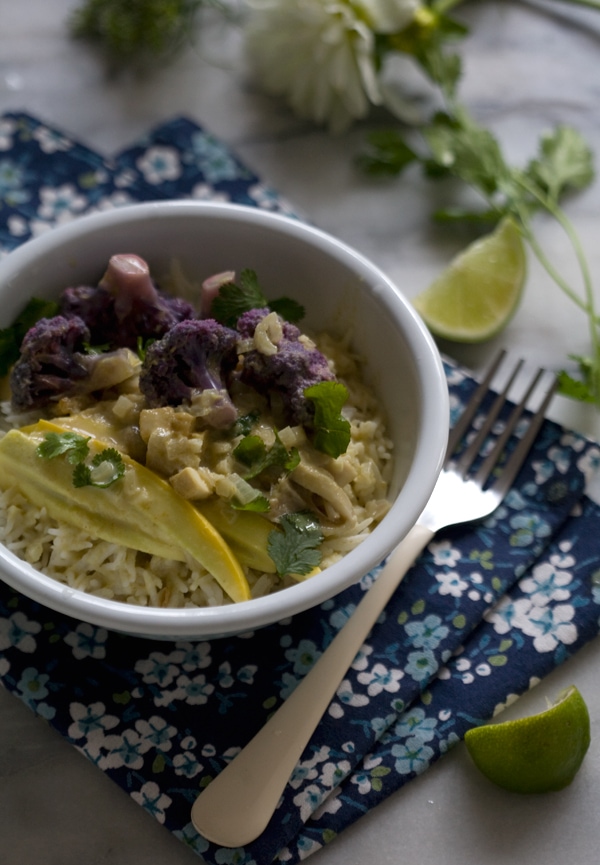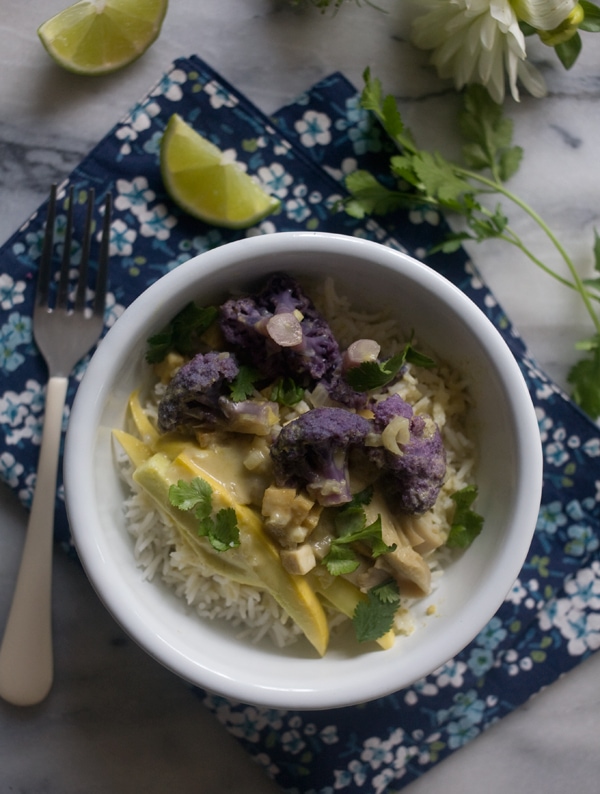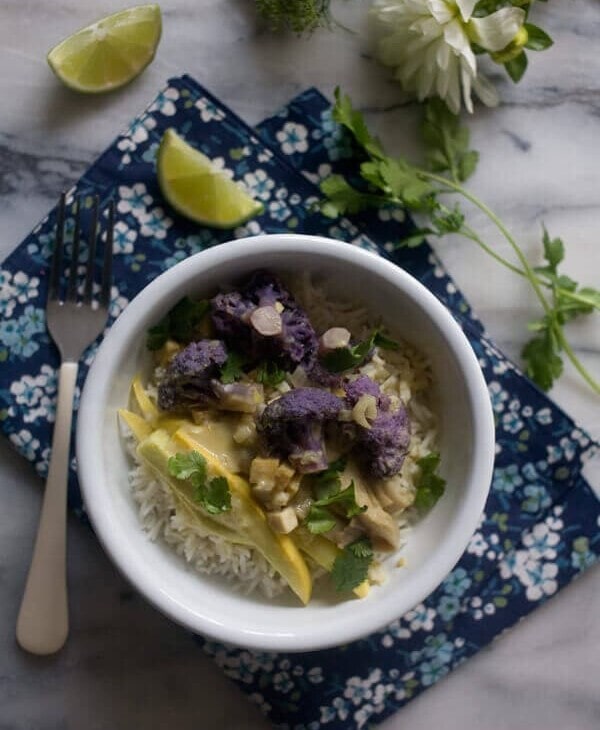 Print Recipe
Winter Vegetable Green Curry
Ingredients
2

ounces

firm tofu

1

14 ounce can coconut milk

2

shallots

peeled and minced

2

garlic cloves

minced

1/2

cup

chicken stock

or veggie stock

3-4

tablespoons

green curry paste

depending on spice level

2

tablespoons

fish sauce

optional--skip if you'd like to make this vegetarian

1/2

small head of cauliflower

about 4 ounces

3-4

oyster mushrooms

sliced into 1/4-inch strips

1

yellow squash

sliced
Garnish:
Wedges of lime

Small handful of cilantro

loosely chopped
Instructions
Lay the block of tofu on a few paper towels; top the tofu with a few more, and set something moderately heavy on top. This will help the tofu expel its extra water. Allow to drain for 15 minutes; when done, slice the tofu into a small to medium dice. Set aside.

To a medium saucepan, set over medium heat, add the coconut milk (reserving the can for future use), shallots and garlic. Cook for 2-3 minutes, until the shallots and garlic are softened. Add the chicken stock (or veggie stock) to the reserved can and swish it around (we want as much coconut as possible) until all of the remaining coconut milk has been combined with the stock; pour in the pot and proceed to add the fish sauce (if using) and green curry paste, according to your spice tolerance. Stir until the curry paste has completely dissolved. Bring the heat down to a a medium low, so the mixture is lightly simmering.

Meanwhile, in a small sauté pan, set over medium heat, pour in a tablespoon of olive oil. When the oil is hot, add the the tofu and allow to cook and get crispy on its first side, about 2 minutes. Flip the tofu and cook for an additional minute or so. Remove with a slotted spoon and set aside.

To the coconut milk mixture, add the cauliflower and yellow squash. Cover the pot and cook for 5-7 minutes, until both are tender. Add the oyster mushrooms and reserved fried tofu and cook for an additional minute. Serve over rice and garnish with a few squeezes of lime (a must, in my opinion!) and a sprinkling of cilantro.