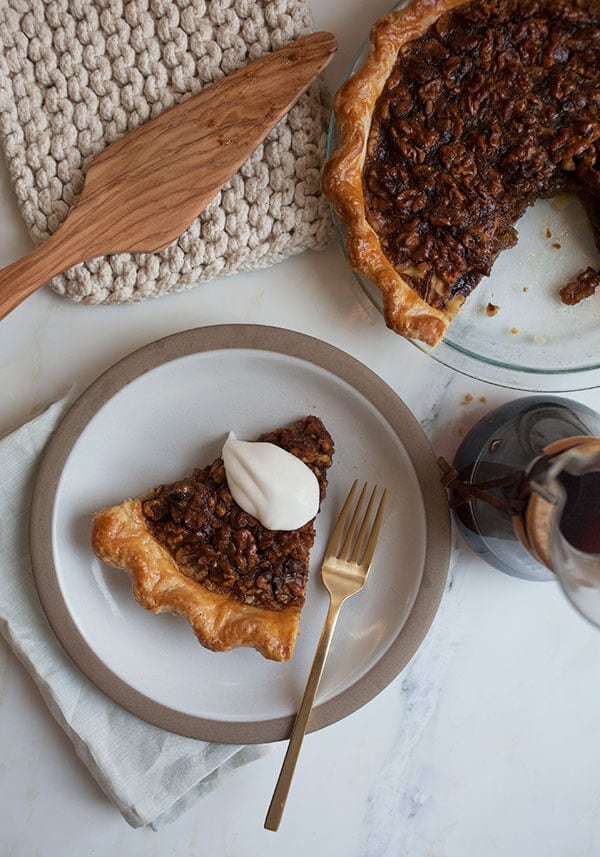 Are you a corn syrup hater? You probably are. Everyone is and I get it. I do.
Since I use it so sparingly, I'm not that weird about it. There are some instances when it offers results that are pitch perfect. Examples: Fudge sauce (the sheen that corn syrup provides is dreamy) and marshmallows (man, oh man, it's just a must).
I do hate corn syrup in ice cream. Oh good gracious. I can actually taste the acid in the corn syrup in the back of my throat. It's awful. A lot of ice cream makers have started to include corn syrup because it provides such a glorious and smooth texture to ice cream. I get it. I do.
But there are other instances where corn syrup can easily be swapped out and I take those opportunities any chance I get. Namely, pecan pie. And in this case, walnut pie…with bitters because YAAASSSS!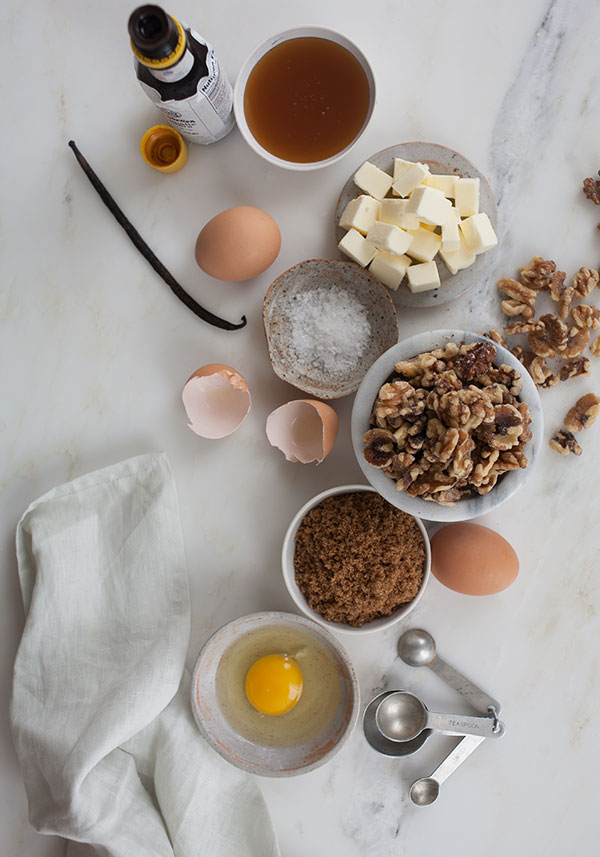 I'm having a current obsession with brown rice syrup. I feel a little late to the game on this one, but this was my first go with the stuff. I'm no expert, but I will say that it's smooth as silk, beautifully hued and in a not-bad-way tastes a bit like rice.
This walnut pie that's pictured has no corn syrup, and instead uses my new brown rice syrup discovery. There is a healthy dose of angostura bitters but not too much so that it tastes, well, bitter. It's just a hint.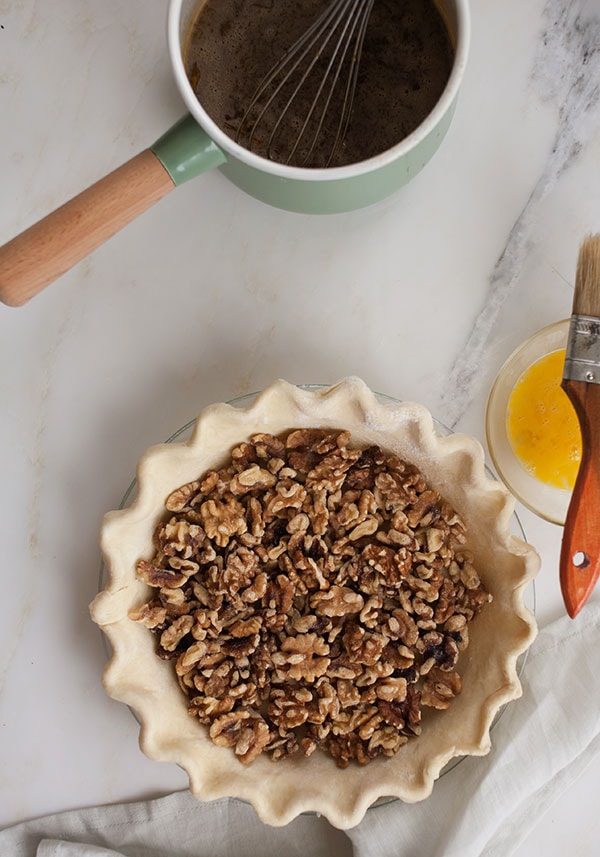 I suggest you give brown rice syrup a try. The flavor is rice-like for sure, but also really caramel-y and rich. Lots of depth going on. It's about half as sweet as corn syrup, which means this pie, while sweet, won't make you run to the kitchen for a glass of water.
In case you're curious, I used this brand and found it at my local Whole Foods.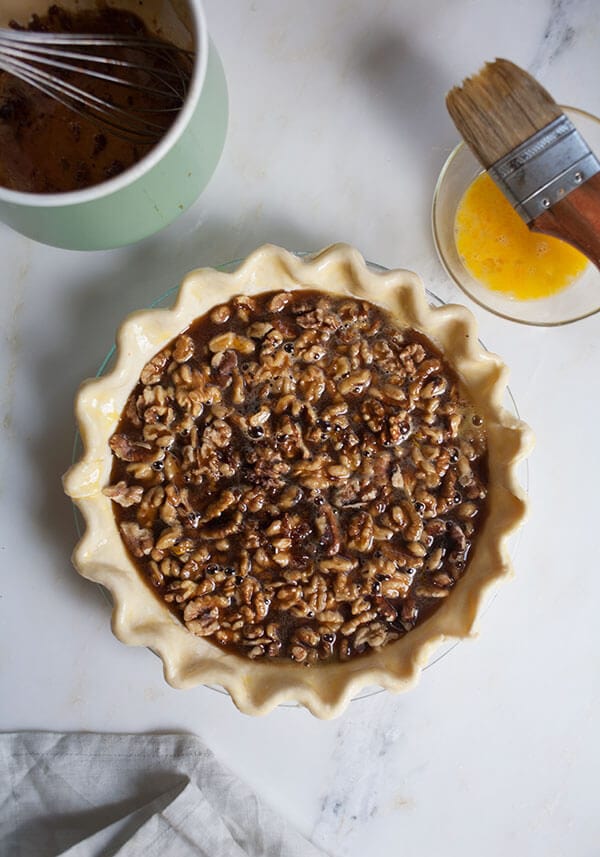 I probably will never go back to using corn syrup for pecan pie or walnut pie.
There's simply no need given how great the texture and flavor brown rice syrup gave this pie.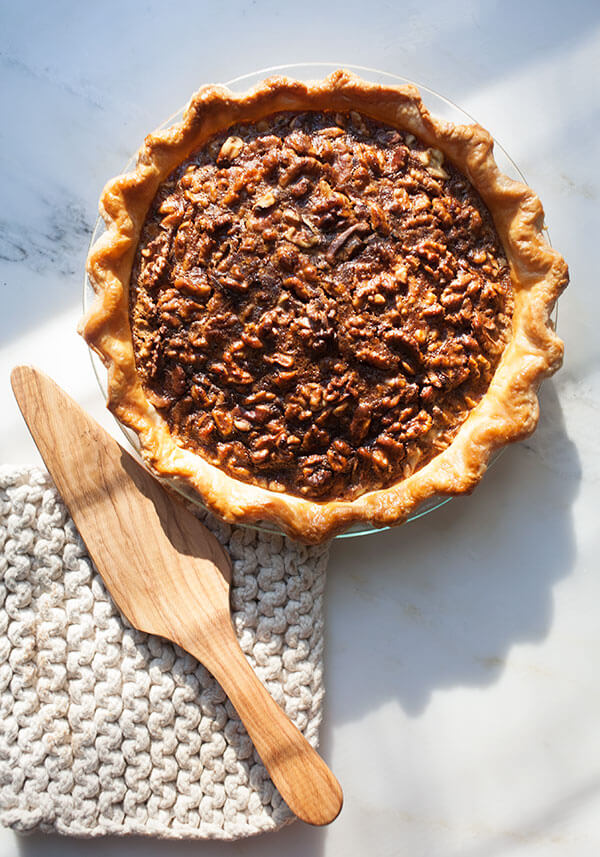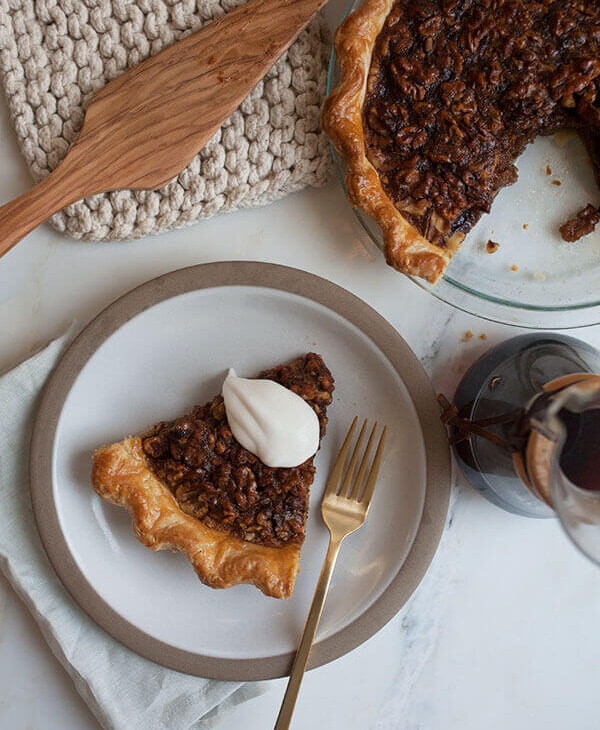 Print Recipe
Single Pie Crust
Serving Size:
(9-inch pie crust)
Ingredients
1 1/2

cups

187g all-purpose flour

1 1/2

teaspoons

8g white granulated sugar

1

teaspoon

5g fine-grain sea salt

1

stick

113g unsalted butter, frozen

4-8

tablespoons

very cold water

divided

1

large egg

beaten (for egg wash)
Instructions
In a large bowl, mix together the flour, sugar and salt. Using a box grater, grate the cold butter atop the flour mixture. Working quickly, and using your hands, break the butter bits into the flour until they're evenly distributed and resemble the size of small peas.

Add 4 tablespoons of water and mix. The mixture will be shaggy at this point. From here, add 1 tablespoon of water at a time until the dough comes together (I usually need to about 3 more tablespoons). Flour your counter and dump the dough onto it. Knead a few times more until it comes together. Form into a disc. Wrap the disc in plastic wrap and transfer to the refrigerator to chill for at least 1 hour, ideally overnight.

Remove the disc of dough from the refrigerator and allow to come to room temperature for 10 minutes. Liberally flour your work surface and rolling pin. Begin to roll the dough, being sure to rotate it every so often to avoid sticking, to a 13-inch round. Wrap the dough around the rolling pin and unroll it over a 9-inch pie dish. Gently fit the dough into the bottom and up the sides of the pie dish. Trim the dough around the pie tin, leaving a 1-inch overhang.
Print Recipe
Walnut and Angostura Pie
Ingredients
1 1/4

cups

light brown sugar

1/2

vanilla bean

3/4

stick unsalted butter

cut into cubes

3/4

cup

brown rice syrup

1

tablespoon

angosturas bitters

1

teaspoon

salt

3

large eggs

2

cups

walnuts

wholes and halves

To serve

whipped cream and/or vanilla ice cream
Instructions
In a medium saucepan (don't turn on the heat yet), add the brown sugar and vanilla bean. Mix the vanilla bean caviar throughout the sugar until it's evenly dispersed. Add the cubes of butter and place over medium heat. Heat until the butter is melted. Give it a good stir and then turn the heat off. Mix in the brown rice syrup, angostura's bitters, salt and eggs. Mix until smooth.

Roll out your pie dough and set in the your crust (see above for full instructions). Preheat the oven to 350 degrees F. Add the walnuts to the pie shell. Pour the filling into the pie crust and transfer to the freezer for 15 minutes. Brush the edges of the pie crust with egg wash and transfer to a baking sheet. Place the baking sheet/and pie in the oven to bake for 45 to 50 minutes, until the center has set (it may rise slightly) and the crust is golden brown. Be sure to check on it periodically throughout the baking process—if at any time the crust gets too brown, you can place a piece of foil over it to protect it from browning more.

Now, here's the deal with this pie: it needs to cool completely to be able to cut it into perfect slices, but I didn't wait (you'll see the top picture isn't perfect) enough and it was AMAZING. So, if you can't wait, then it's ok. Serve with whipped cream and/or ice cream.