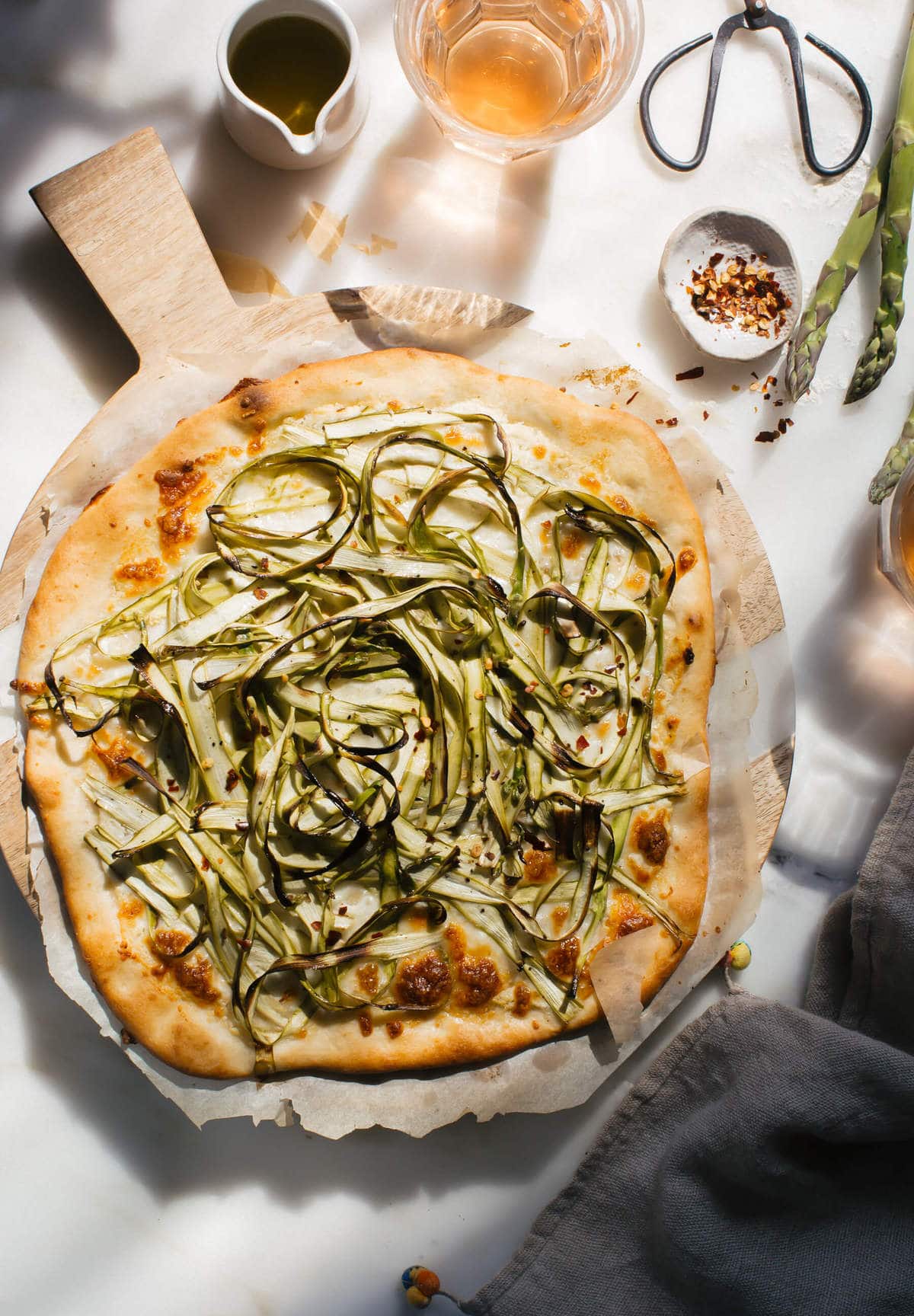 Last week in the kitchen was full of humble pie. So many fails! First, there was a no-churn semifreddo with tahini that never whipped up properly. Apparently tahini is too heavy for whipped cream. Lesson learned. Luckily, I switched things around and I think it finally worked (currently in the freezer!). Fingers crossed. And then there was a sesame tuile. Have you ever made one? I wanted to make one so I could feel like the fancy pastry chef that I'm not. They're insanely strange (or at least the start is). I burned, like, the first two or three batches but the last one worked and was really good! Definitely needs some work. I'm thinking more salt and more sesame but mostly, kewl!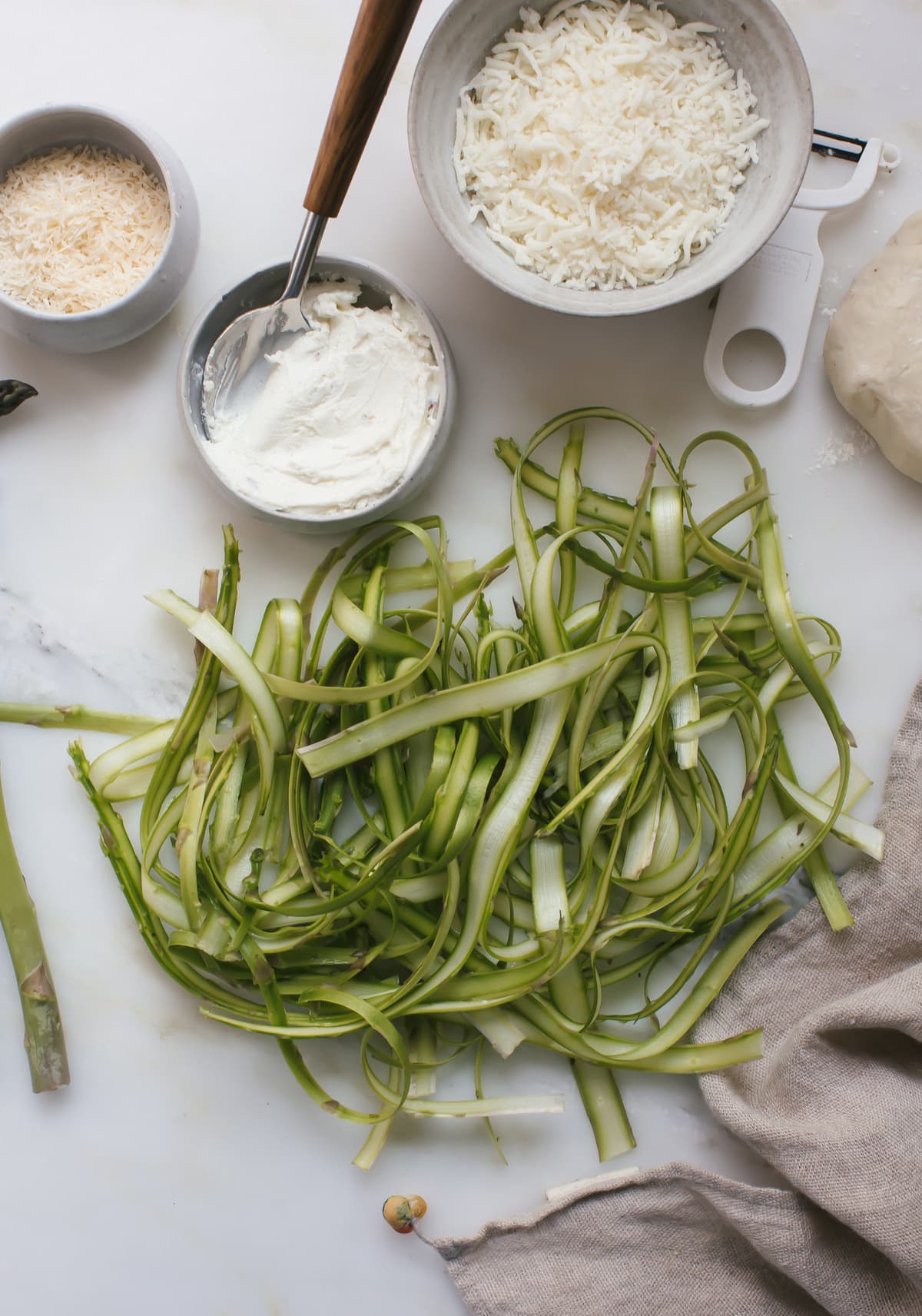 This shaved asparagus pizza was among my wins. It was the breath of fresh air that I needed in the midst of failure after failure. Because, really, pizza isn't that hard to make. The dough is easy. Check. Three cheeses are better than one. Check. And shaved asparagus is my new obsession. Check. The pizza has no sauce, though if you wanted you could add a tomato sauce and it'd be bomb. The goat cheese is spiked with my usuals: crushed red pepper, garlic clove, salt, pepper and a little olive oil. Billy says that crushed red pepper is like my whole identity. He says I should be buried with a bottle of crushed red pepper. HE IS NOT WRONG.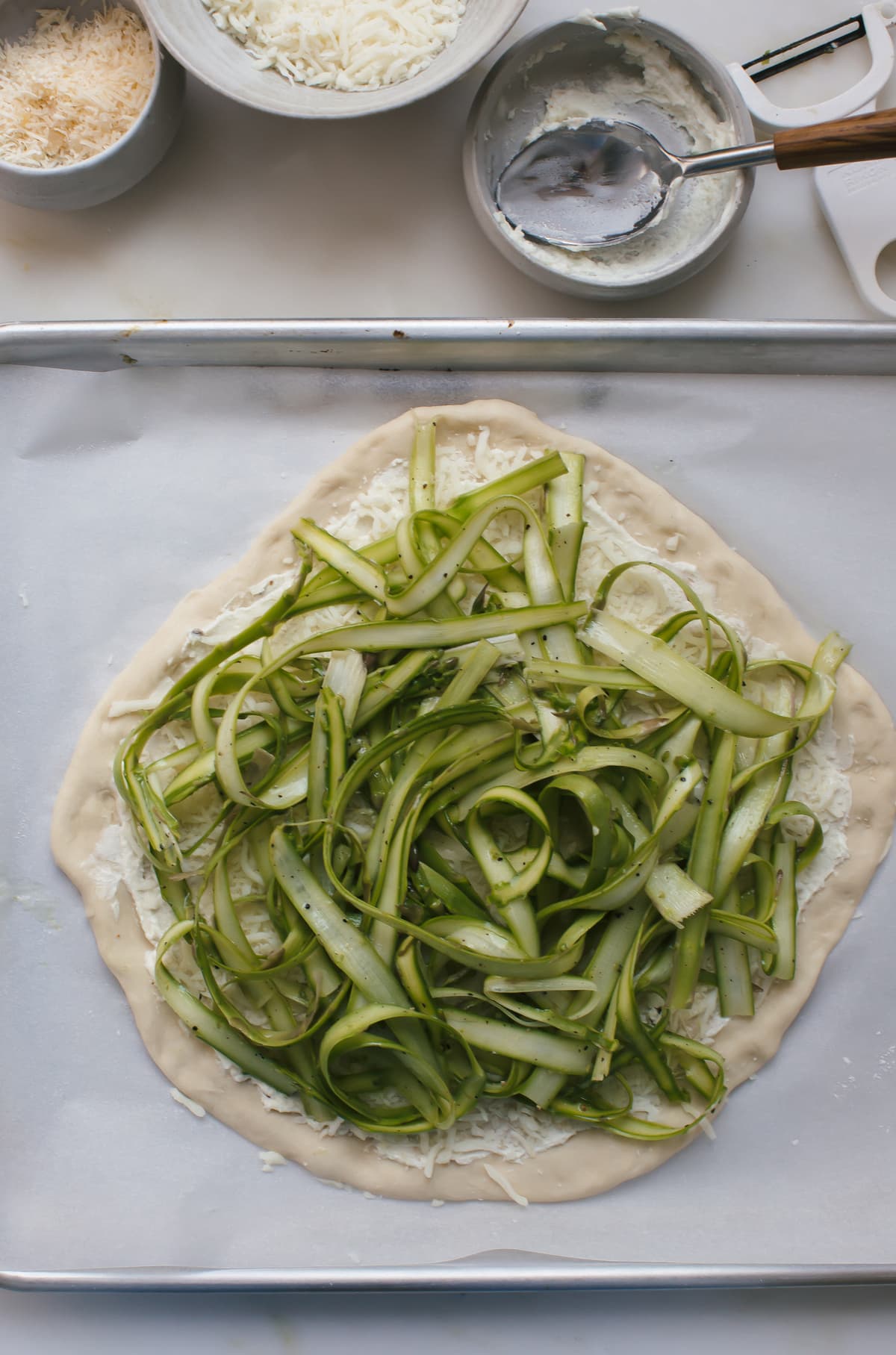 I put it and on everything because it's so good! If you've never shaved an asparagus, you haven't lived. I'm kidding, sorta. You'll need a vegetable peeler. But that's really it. Before you put it on the pizza, try it. You'll want to eat it with a fork. If you have extra asparagus, make a salad later with the same culprits: olive oil, lemon and salt. It's so delicious and fresh tasting. I love pizzas like this because they trick me into thinking pizza is healthy, which it is…kinda…not.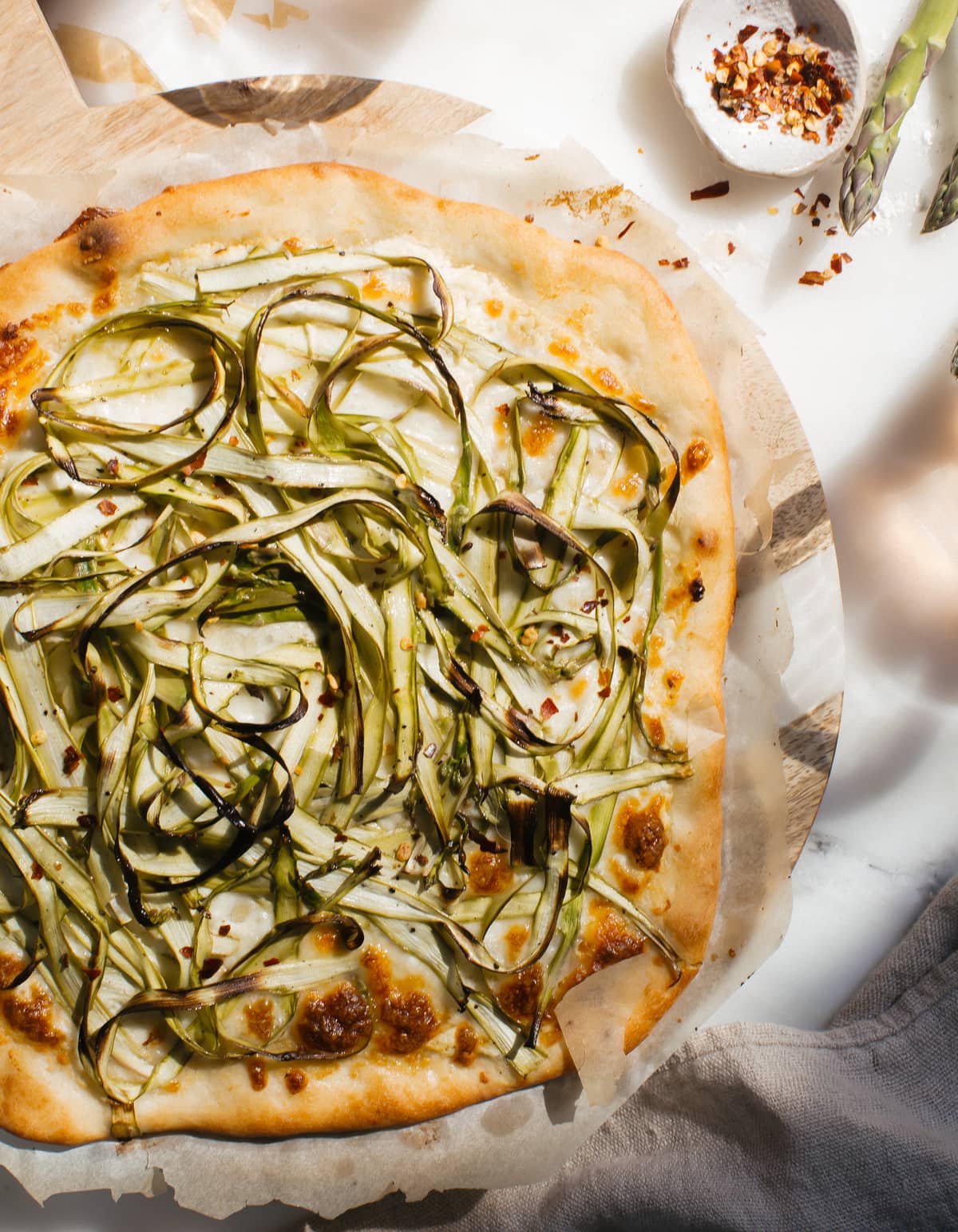 I LIVE 4 CHZ PULLS!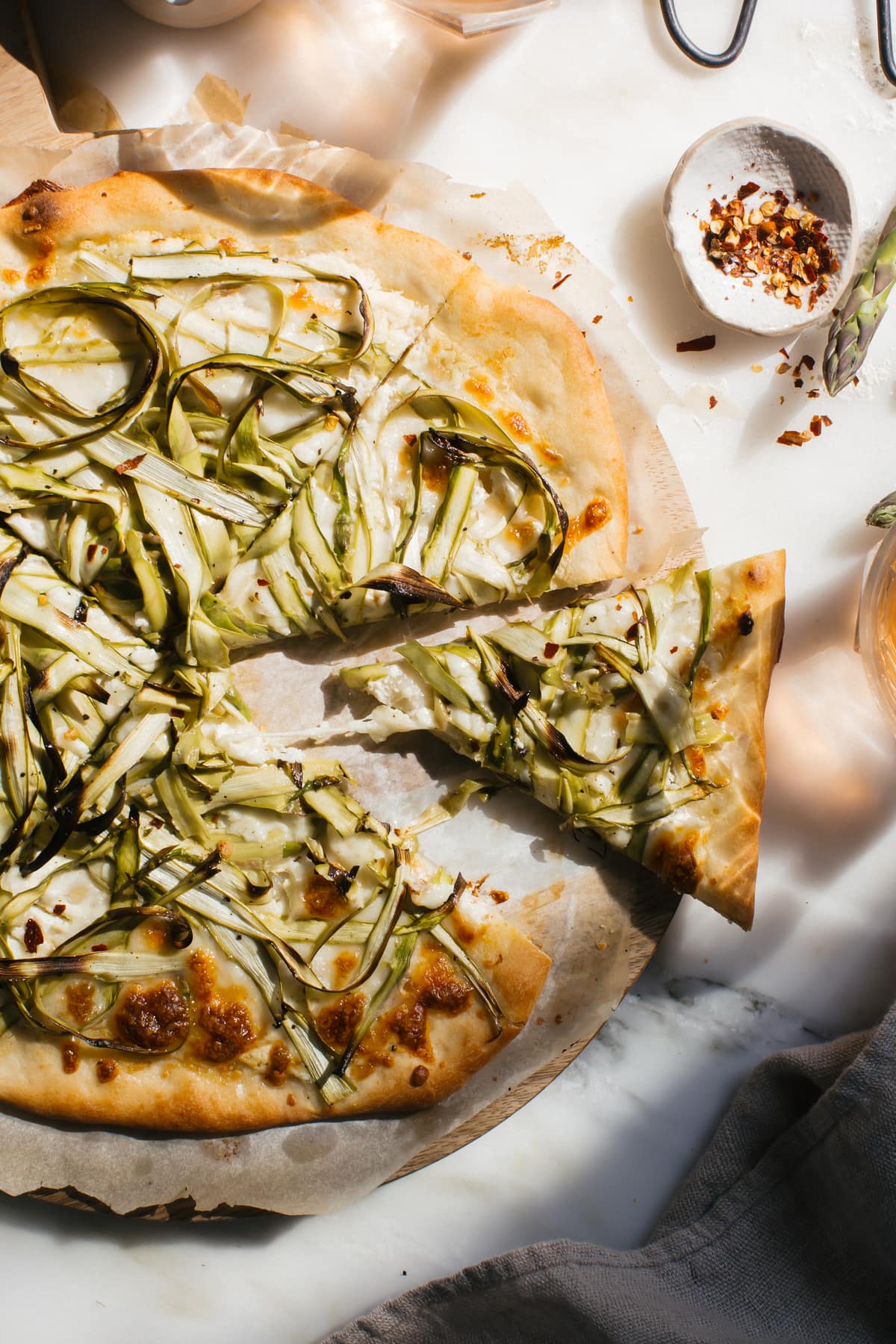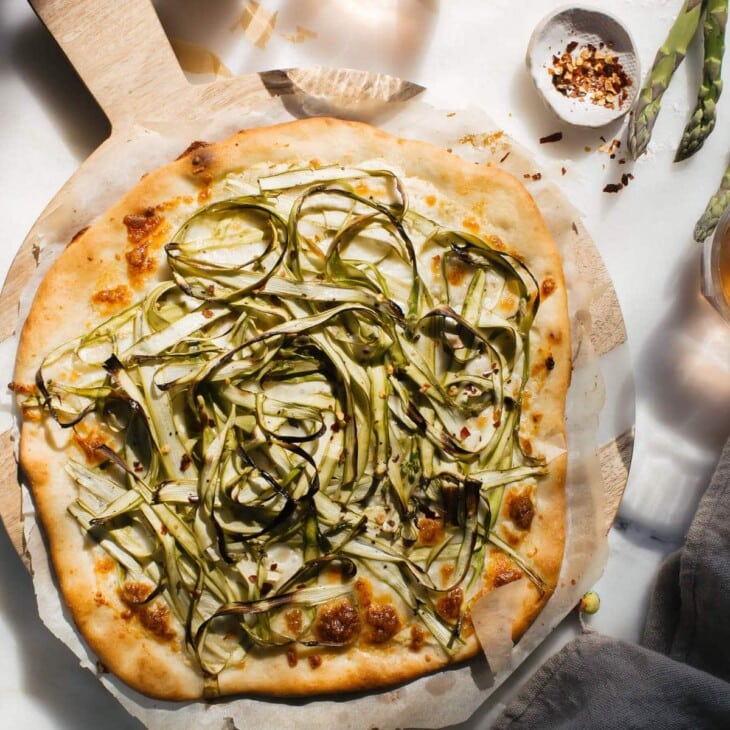 Print Recipe
Three-Cheese Shaved Asparagus Pizza
Serving Size:
(ten-inch) pizza
Ingredients
Very Quick, Thin PizzaDough
1/2

cup

lukewarm water

1/2

teaspoon

active dry yeast

1/2

teaspoon

honey

1 1/2

cups

all-purpose flour

3/4

teaspoon

salt

1

tablespoon

cornmeal or masa, for dusting
Three-Cheese Asparagus Toppings:
2

ounces

goat cheese

at room temperature

Olive oil

Red pepper flakes

Pinch

of salt

3/4

pound

asparagus

about 6 to 7 spears

Juice from 1/2 lemon

1/2

cup

shredded mozzarella

1/4

cup

shredded parmesan
Instructions
To make the dough: Preheat your oven to 500 degrees F or as hot as your oven goes (the max might be 450 F and that works, too).

In a measuring cup, measure out the lukewarm water and then mix in the active dry yeast and honey. Let stand 5 minutes. Meanwhile, in the bowl of a stand-up mixer, with the hook attachment (you can also do this by hand but I'm super lazy), add the all-purpose flour and salt. Give it a mix. When the yeast and water mixture is nice and foamy, pour it into the flour mixture and turn the mixer on low. At first the dough will be shaggy and dry, but eventually it'll all come together. Keep the mixer on for about 5 minutes, during this time a ball of dough will form. Stop the mixer and pull the dough off the hook. Form it into a round ball and then halve the dough; form it into two balls. Allow it to rise on the counter, uncovered, for about 10 to 15 minutes. During this time, let's get the toppings ready.

To make the toppings: In a small bowl, mix together the goat cheese, 1 tablespoon of olive oil, 1/4 teaspoon red pepper flakes and pinch of salt.

In a medium size bowl, toss together the asparagus, 2 teaspoons of olive oil, lemon and pinch of salt.

Sprinkle the cornmeal or masa on a parchment-lined baking sheet. To form the pizza, start flattening the dough using your fingers, don't be afraid to pull the dough, thinning it out. I also like to pick up the dough and stretch it in the air a bit, allowing gravity to assist in the process.

Smooth out the goat cheese mixture onto the surface of the dough, stopping about 1-inch from the outside edge. Sprinkle on the mozzarella and parmesan. And then top the whole pizza off with the shaved asparagus, rearranging it into one even layer. Transfer the pizza to the oven to bake for 10 to 12 minutes, until the cheese is melted and the asparagus has cooked and the edges of the dough are lightly golden brown.

Remove from the oven and sprinkle with a bit more crushed red pepper, if you like. Cut up and serve.
Pizza Dough recipe from How Sweet Eats