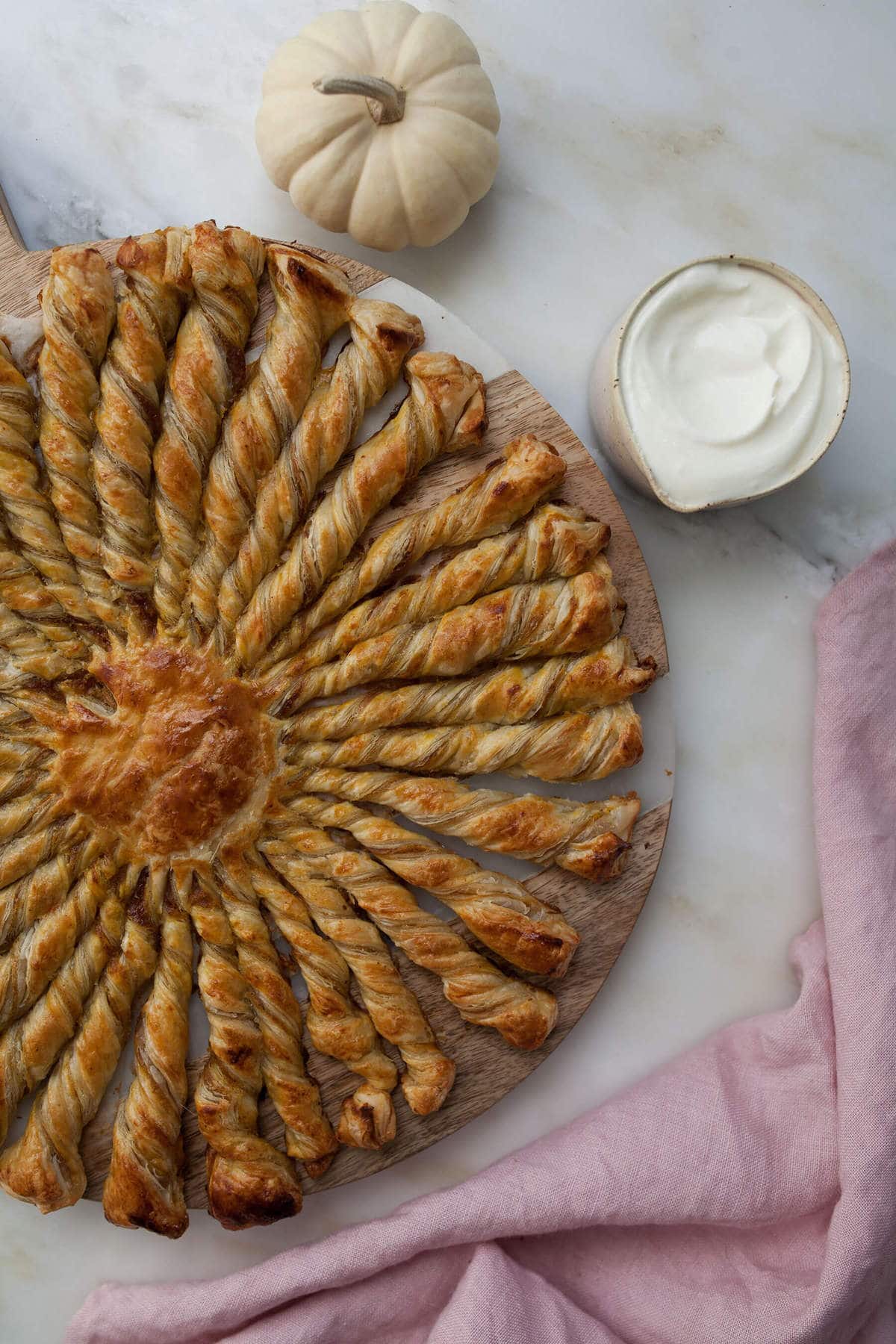 I was haunted by this image from Pinterest for like a week straight. It's so beautiful. A star made of layers of flakey puff pastry with ground cinnamon and chocolate weaved throughout. And, easy. So, so easy. Mainly because there's not much to make—it's just assembly!
This is the perfect thing for one of those nights or days when you're invited totally last minute to a party or gathering and you need something fun and exciting and easy to put in the oven. This is the answer!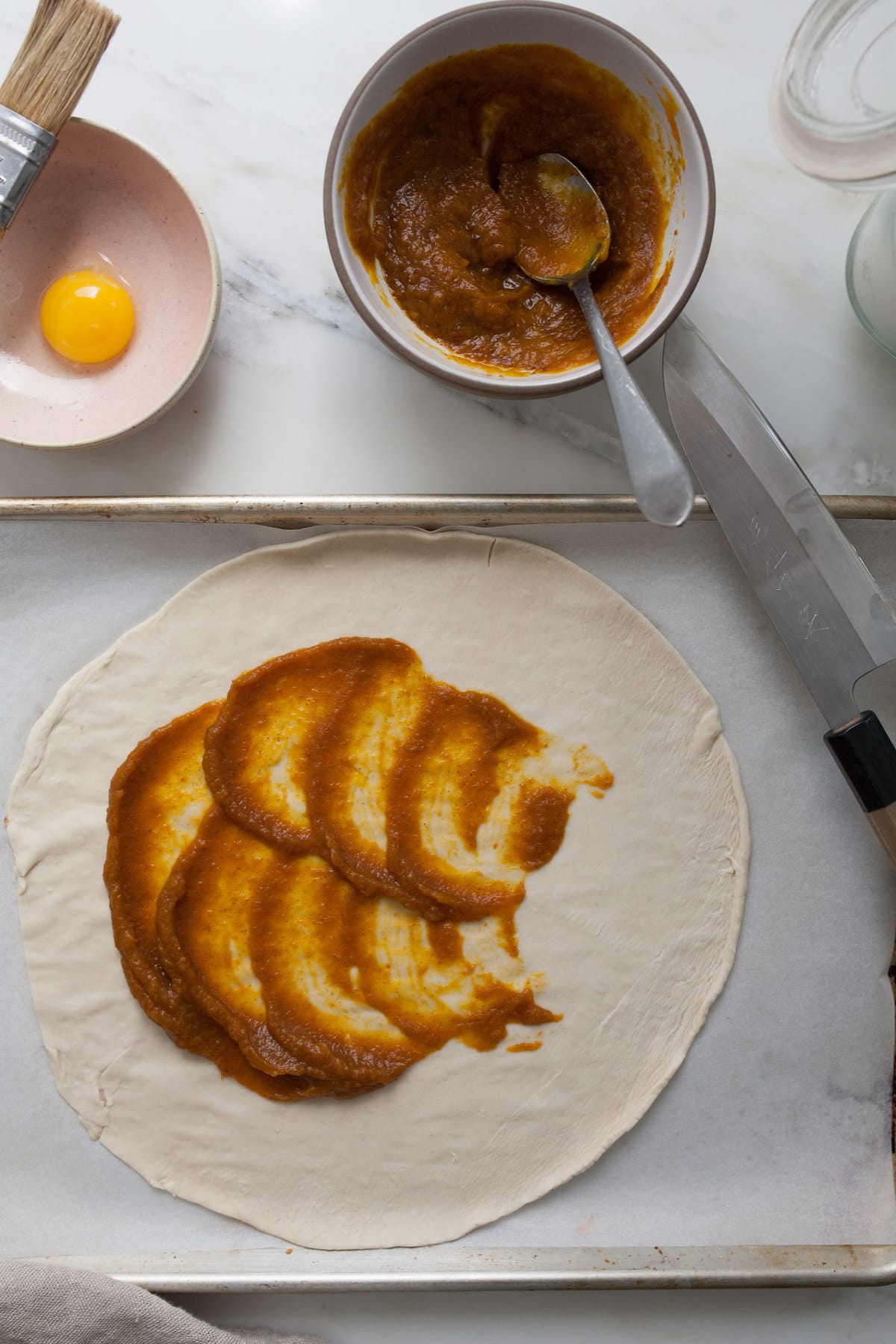 Hopefully for the whole month of October and November, you'll have a can of pumpkin in your pantry because it's a rule during fall, not sure if you knew this.
I made this a few times because the first time I made this LA weather was actually terribly un-fall-like and the puff pastry was melting and didn't puff up at all. Not to worry, the second time was a charm.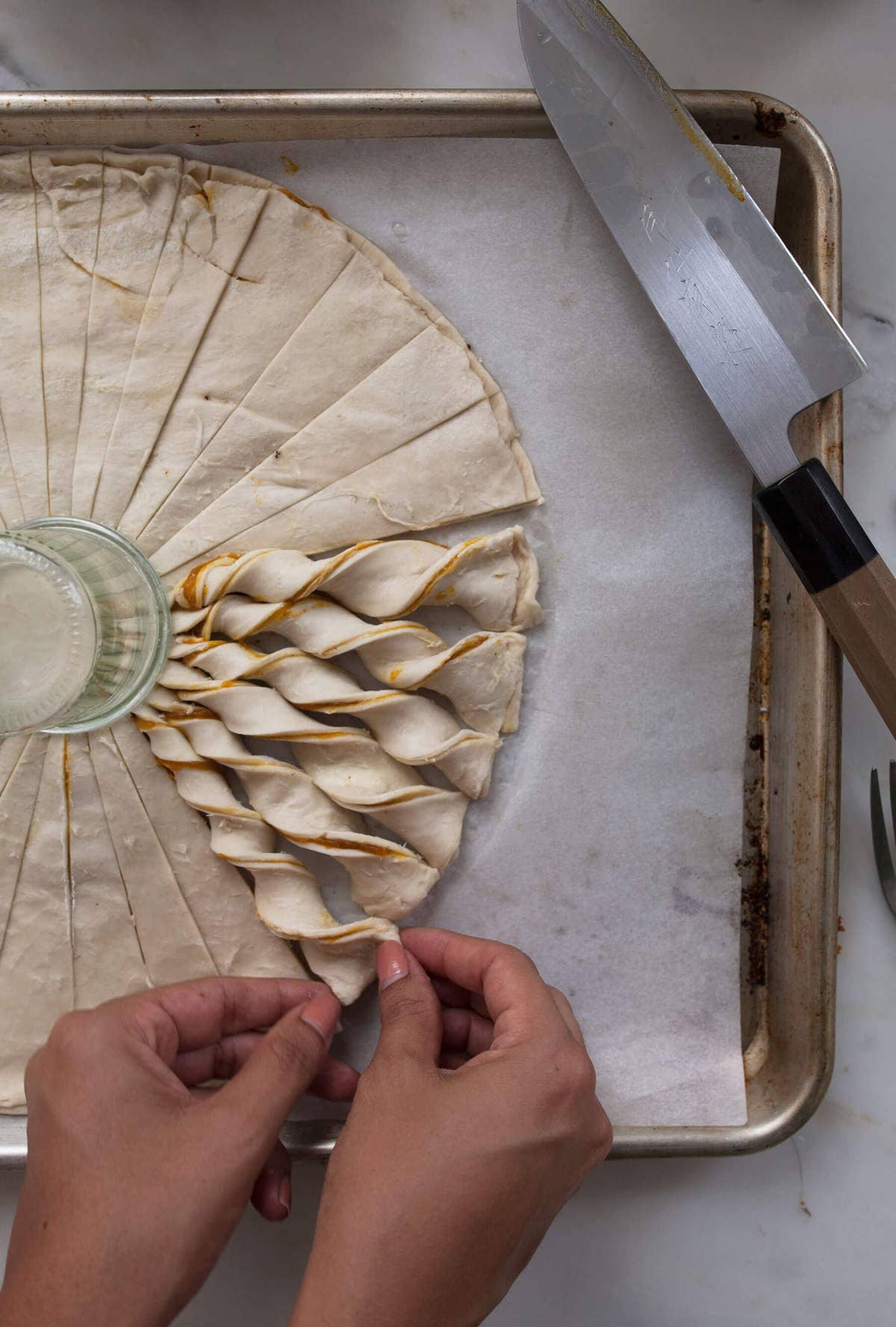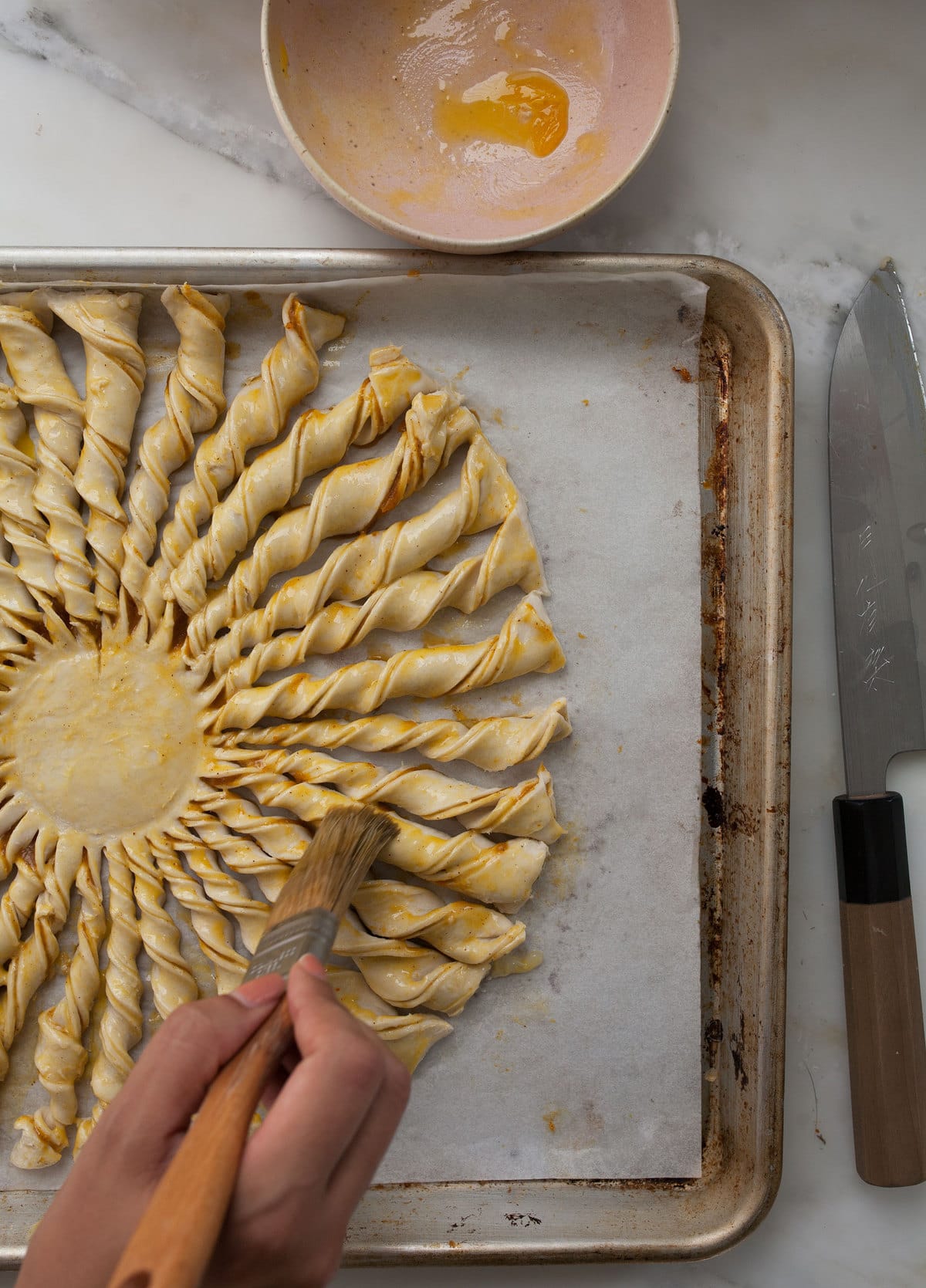 I paired it with a simple maple syrup whipped cream spiked with a dollop of creme fraiche for some added tang that goes so nicely with the buttery, flakiness.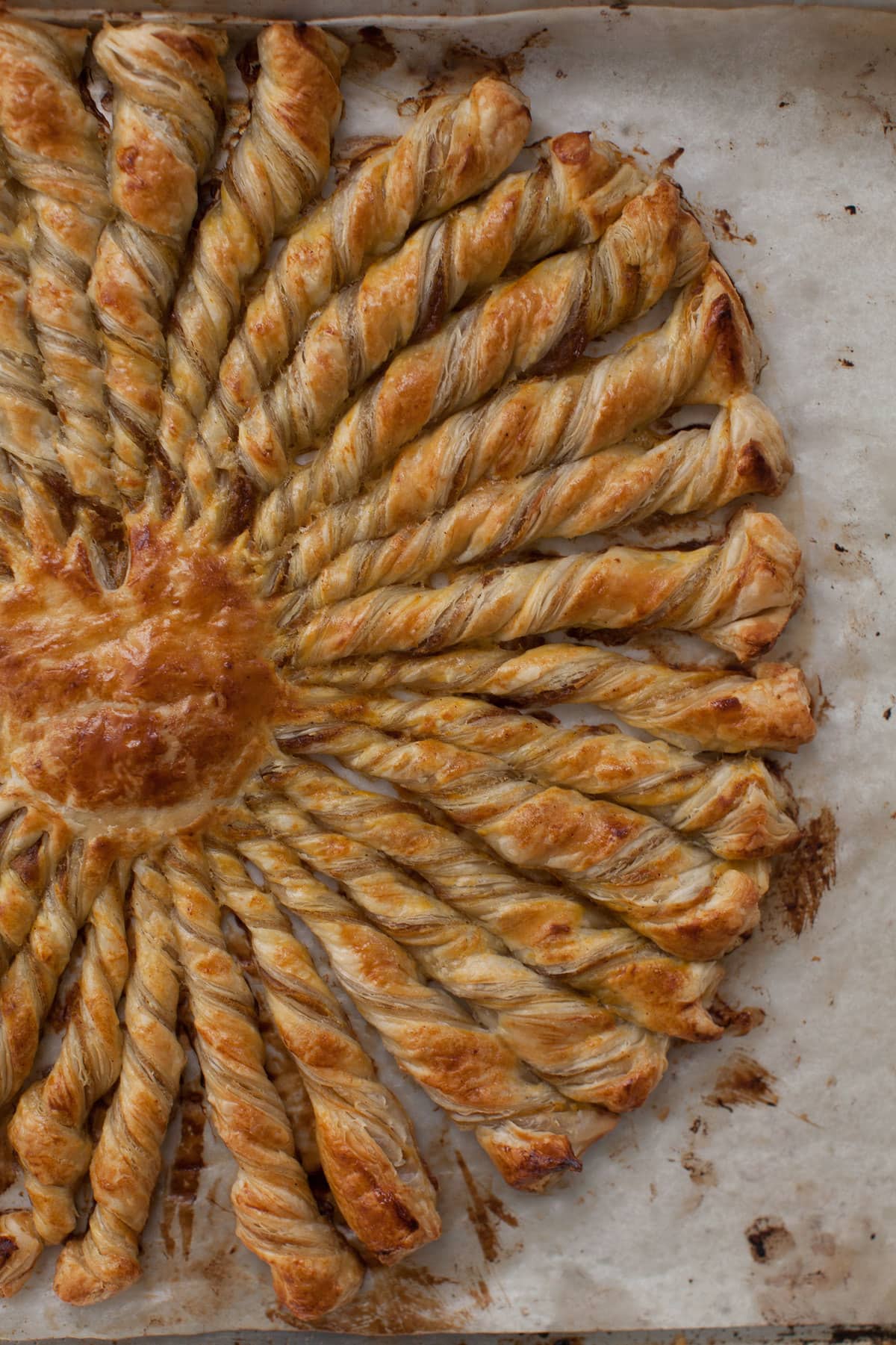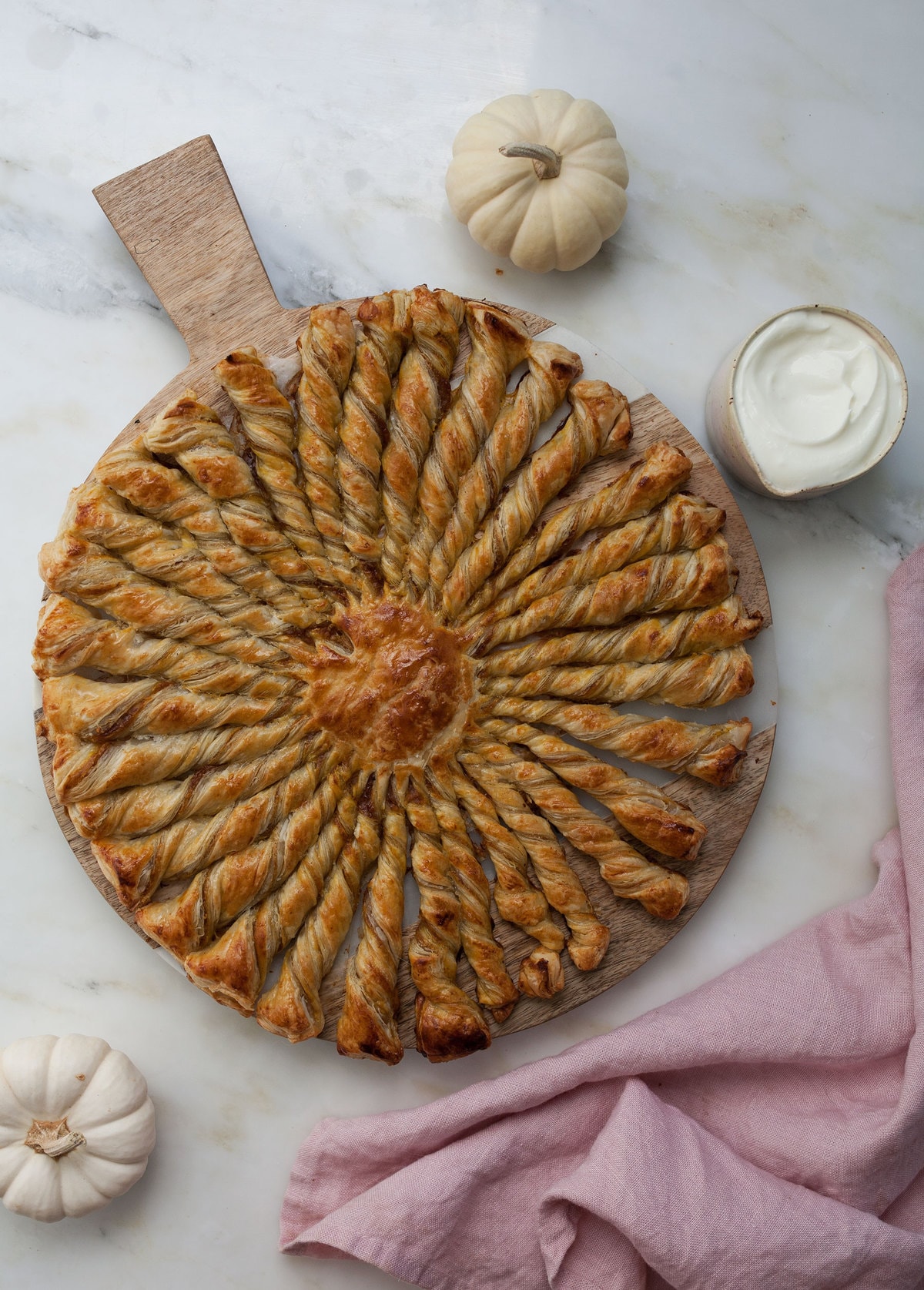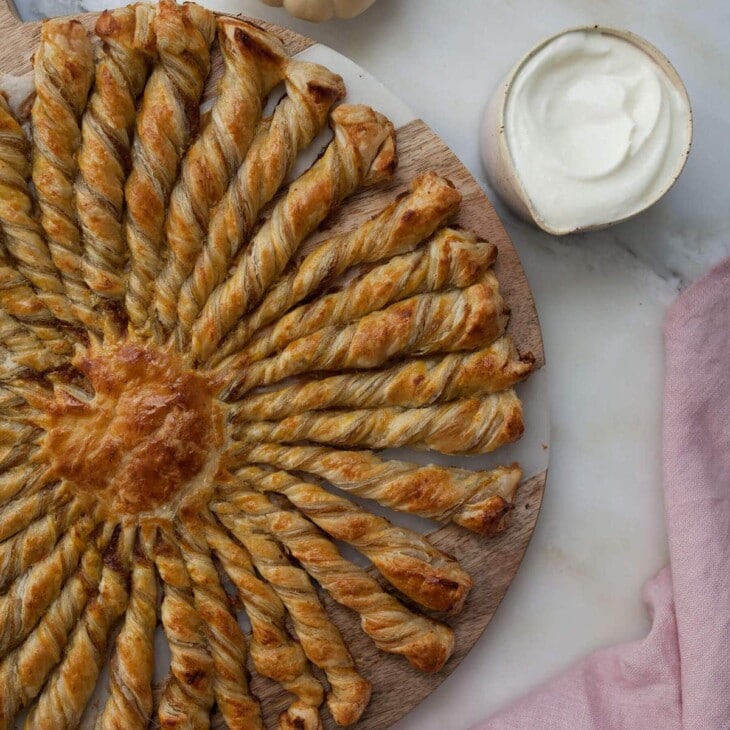 Print Recipe
Spiral Pumpkin Twists with Maple Cream
Ingredients
Spiral Pumpkin:
2

sheets of round puff pastry

defrosted in the fridge

1/2

cup

pure pumpkin puree

3

tablespoons

light or dark brown sugar

1/2

teaspoon

pumpkin pie spice

Pinch

of salt

1

large egg yolk
Maple Cream:
1/2

cup

heavy cream

1

tablespoon

creme fraiche

2

teaspoons

maple syrup
Instructions
Preheat your oven to 400 degrees F. Place a piece of parchment on your work surface. (I find it easiest to assemble this on a piece of parchment and then move it to the baking sheet.) Unroll the first piece of puff pastry and lay it on the piece of parchment.

To a small bowl, mix together the pumpkin puree, brown sugar, pumpkin pie spice and salt. Spread the pumpkin puree, in an even layer, all over the (12-inch) round or puff pastry, like you would a pizza with marinara sauce, stopping about 1/2-inch from the edges. Place the second round of puff pastry on top, pressing it down slightly, pushing out any air bubbles.

At this point, since I was taking a bit of time, I found my puff pastry to be too soft to cut, so I transferred it to the freezer for 5 minutes. When I took it out, it was perfect. (If yours is flimsy, I suggest doing this, too.) Set a small drinking glass in the center of the puff pastry circle and start by cutting the pastry in 4, starting at the edge of the glass and going outward. Then slice each quarter into 2. And then cut each eighth into 3. You should end up with about 24 twists, but really you'll be ok as long as you don't make the twists too big.

Twist each strip gently, starting at the center and then working your way outward, giving the twist support the entire time, to avoid breakage. I gave each strip about 5 to 6 turns. Repeat with the remaining strips. If the ends are jagged, feel free to take a sharp paring knife and trim the ends. Remove the glass and brush the entire thing with egg yolk and transfer to the freezer to chill for 10 minutes. Then bake for 15 to 20 minutes, until evenly golden brown.

Meanwhile, in a stand-up mixer (you can also use a hand-mixer), combine the heavy cream, creme fraiche and maple syrup. Beat until soft peaks form, about 1 to 2 minutes. Serve alongside the spiral twists.
Notes
1. The brand of puff pastry I love using for this is called White Toque; mainly because it's an all-butter puff pastry AND the sheets are already round and ready to go!
2. You may be using a different brand of round puffy pastry that might not measure 12-inches like mine. Use your best judgement in terms of adding the pumpkin puree. It might be too much if your puff pastry rounds are smaller, resulting in a super messy assembly. The layer of pumpkin puree should be on the thinner side so puree doesn't ooze out of the sides.