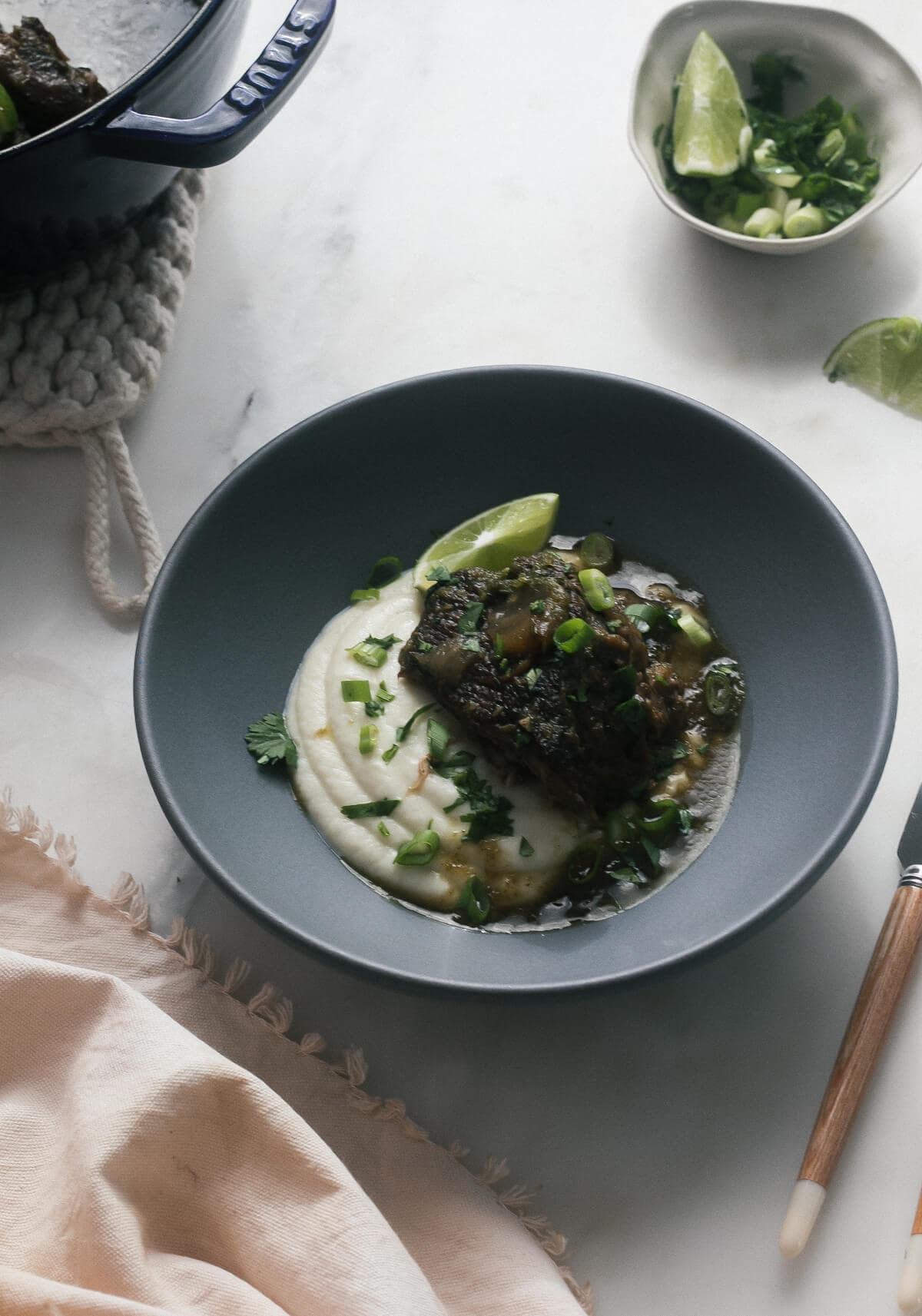 You wanna know what's really good for creative inspiration?! Going on Whole 30. You will dream of all sorts of amazing desserts and delicious-tasting things you cannot eat. I have a huge list of recipes I can't wait to make! Today I'm making rough puff for the third time and I surprisingly wasn't THAT tempted to eat it.
I think that means the "sugar dragon" is gone. It's remarkable because no one loves sweet things more than me.
And next week I'm shooting a bunch of V-Day content so we'll see how that goes! HAHA. I should be fine but it is a huge drag to not just take a gigantic bite to make sure it tastes OK.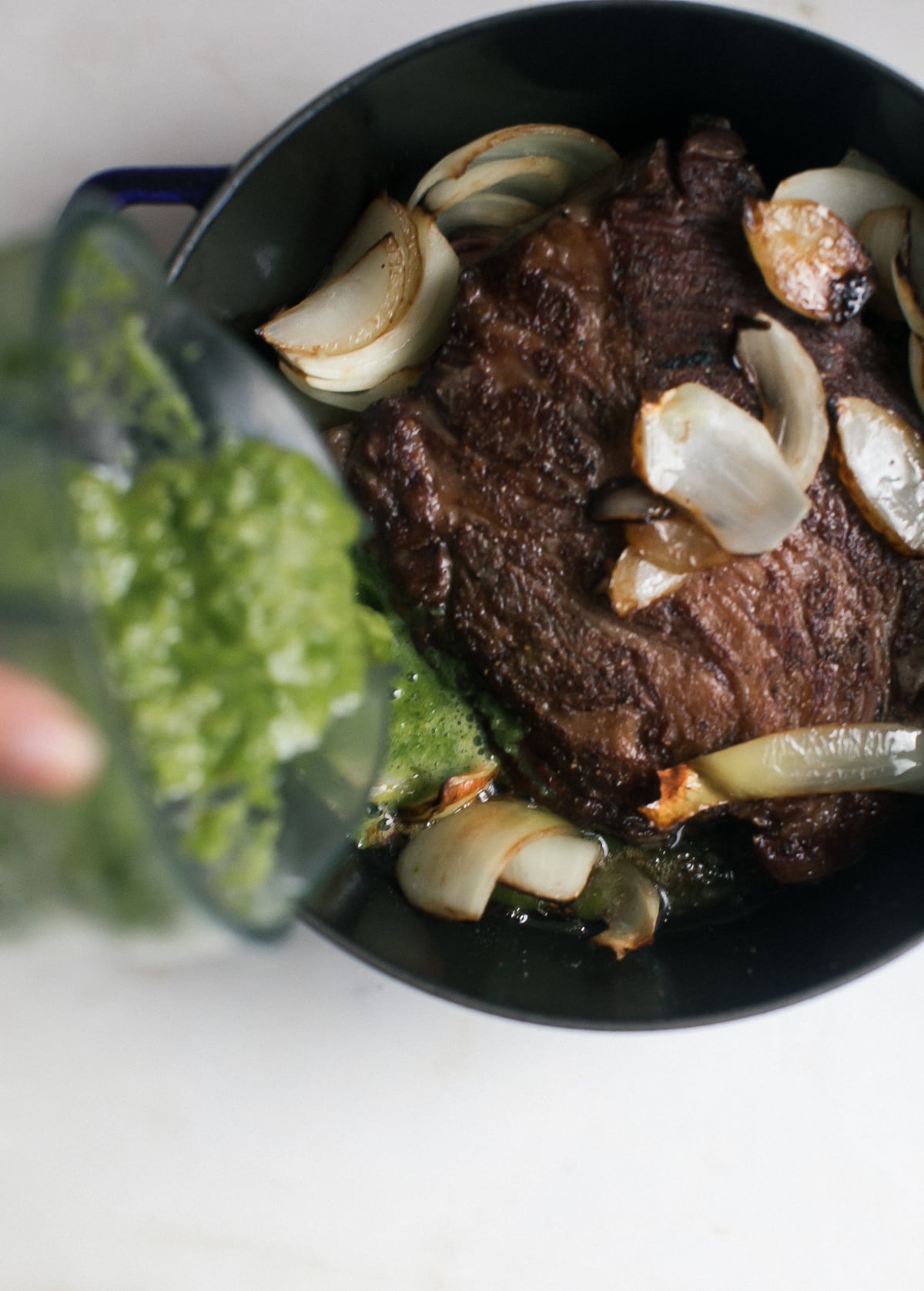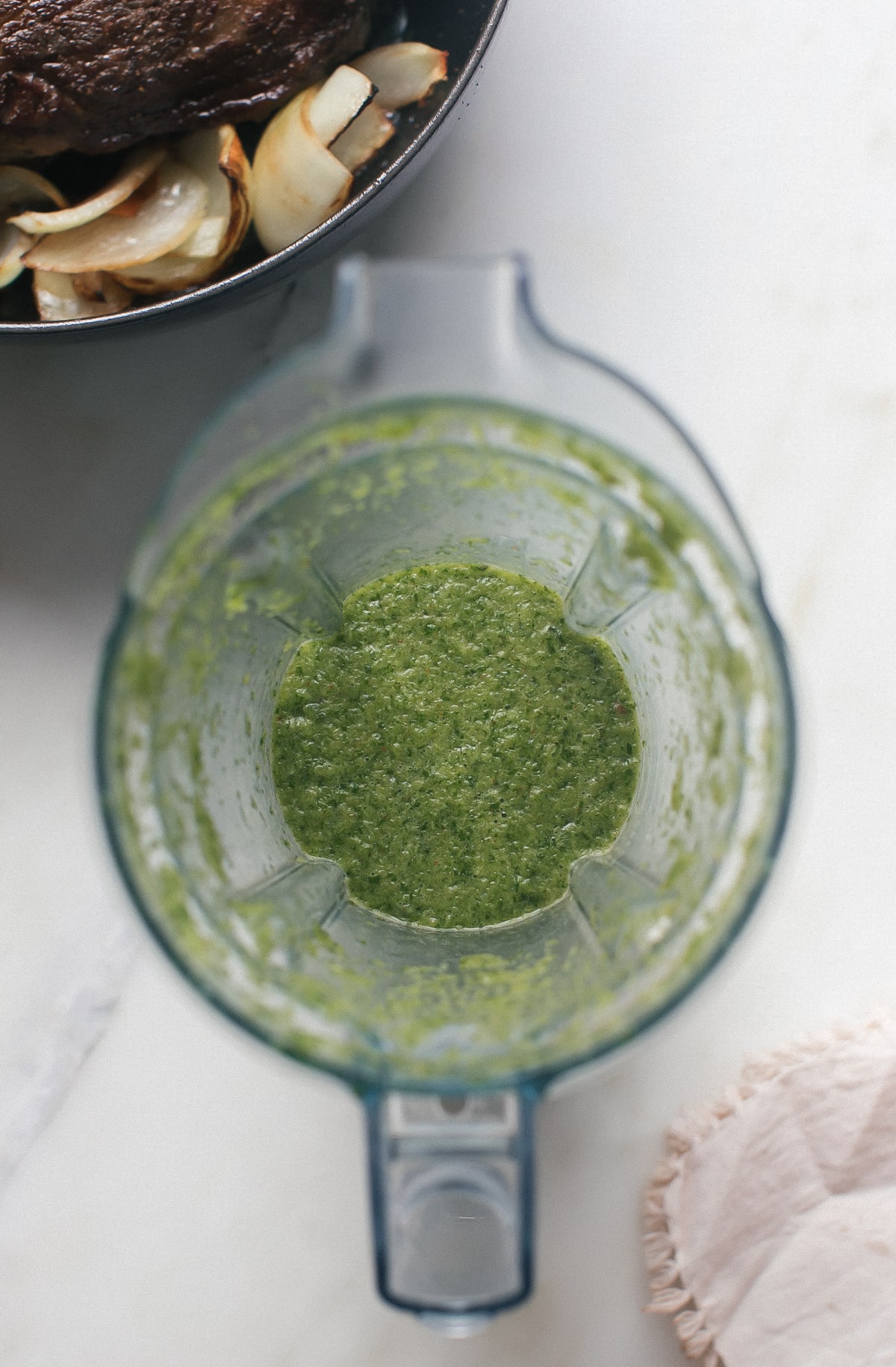 This dish right here is my new favorite. I love normal, American pot roast, but this dish is more my style. It's a cross between traditional pot roast and Seco, which is a Peruvian dish.
Seco is traditionally a cilantro stew braised with beer. Since I can't consume beer (even if it's cooked off), I made it a bit different.
It's not EXACTLY seco, hence the reason why I'm sticking to "Peruvian-ish pot roast." But it is SO GOOD. It has a whole lot of flavor; is bright thanks to the cilantro and lime; and the onions, oh they're so good. The jalapeño adds just the right amount of kick.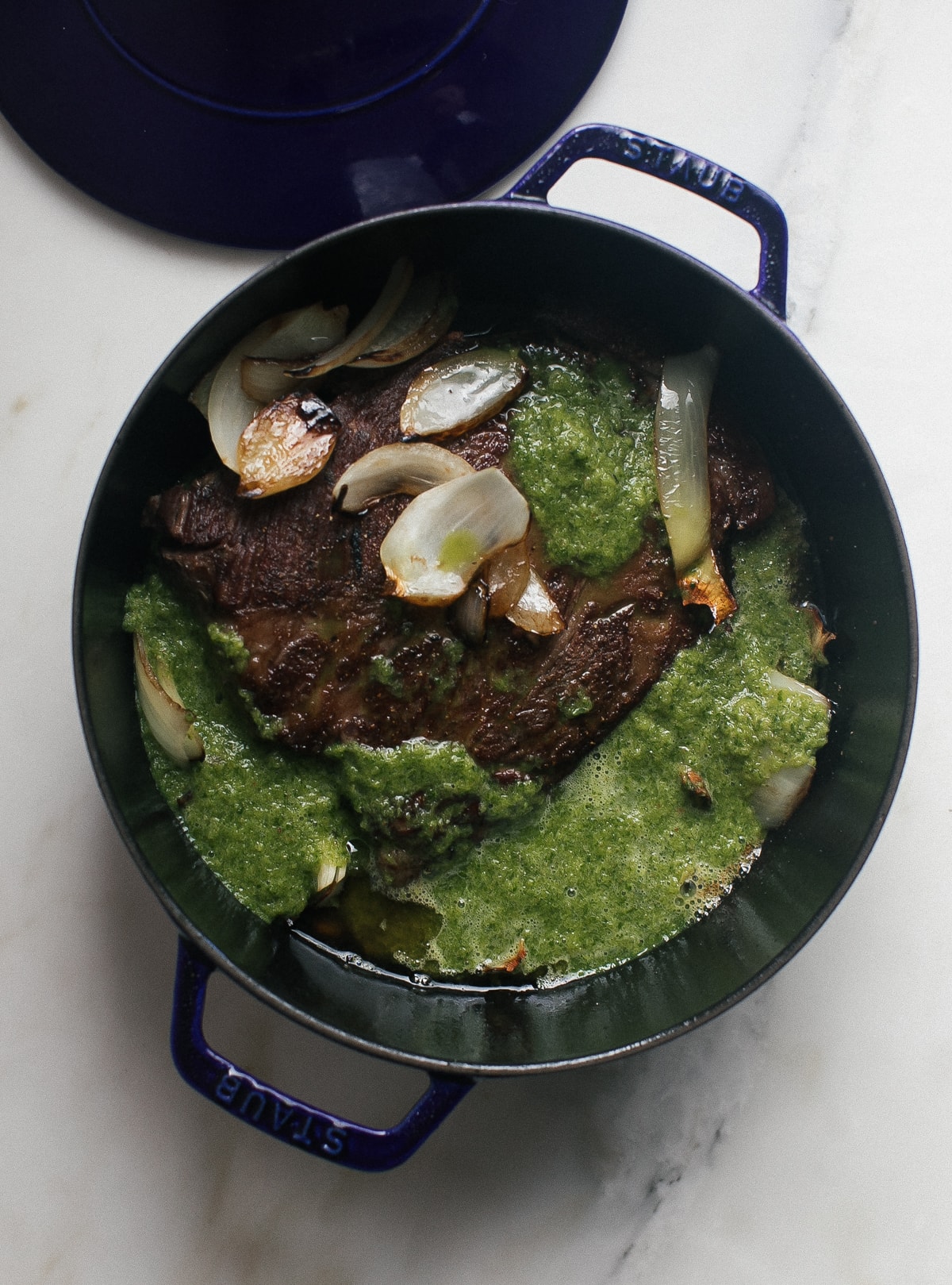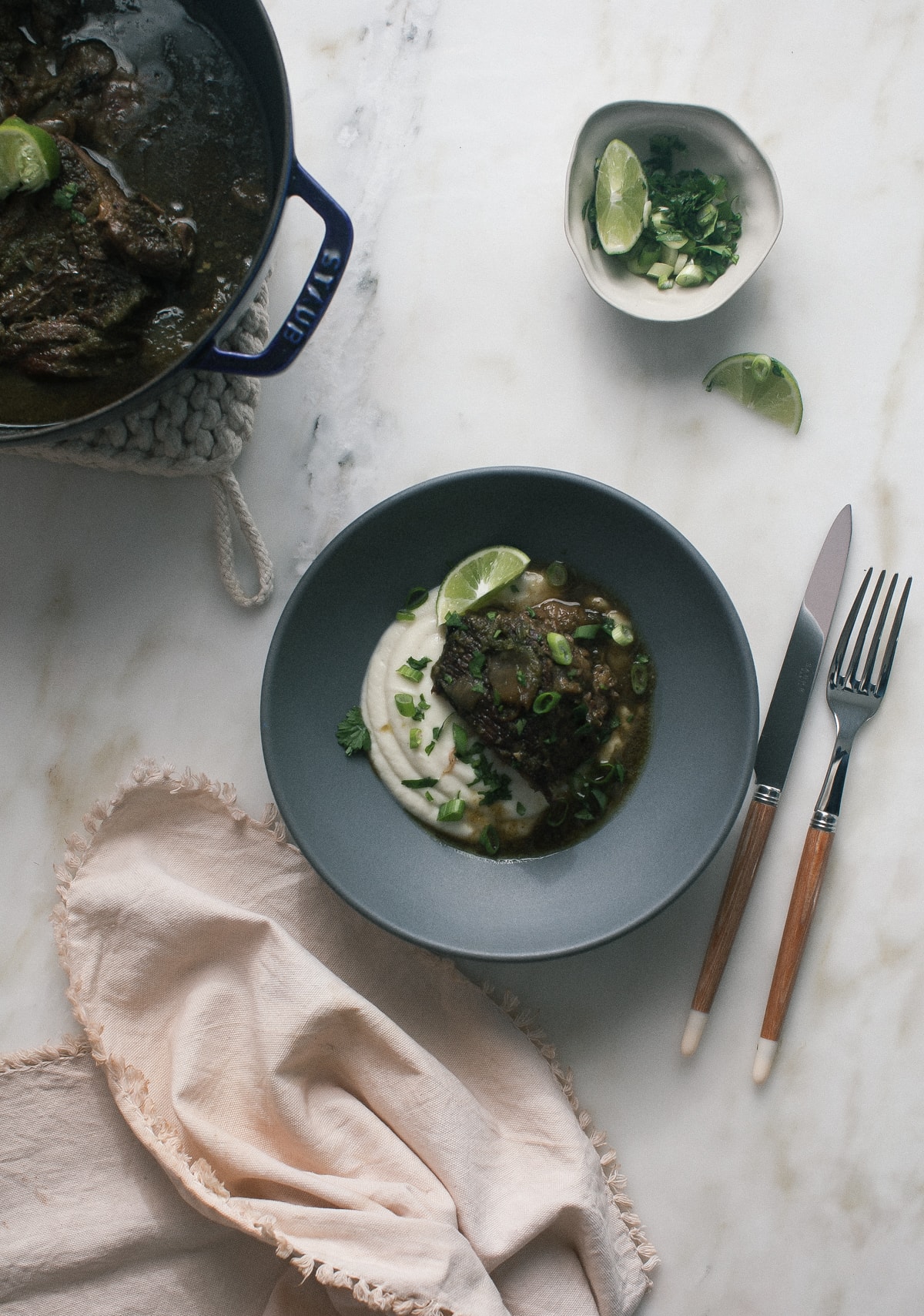 It's delicious over a bed of rice (how I'd usually eat it and how I ate, like, every Sunday growing up) but since I can't have rice (TEARS TEARS TEARS), I'm having the next best thing: silky smooth cauliflower puree.
One thing I really do love cooking with is ghee. If you're unfamiliar, it is simply clarified butter, traditionally used in Indian and Arabic cooking. It's DELICIOUS and totally allowed on Whole 30. There are a few things that I'll continue with after Whole 30 and using ghee is definitely one of them.
I added about a tablespoon of ghee to the blender with the steamed cauliflower and whipped it up for a few minutes. It was silky smooth and totally delicious with a spoonful of this pot roast right on top.
Tomorrow I'm headed to Big Bear to hang out in the snow for few days and shoot some (hopefully) snowy baking photos.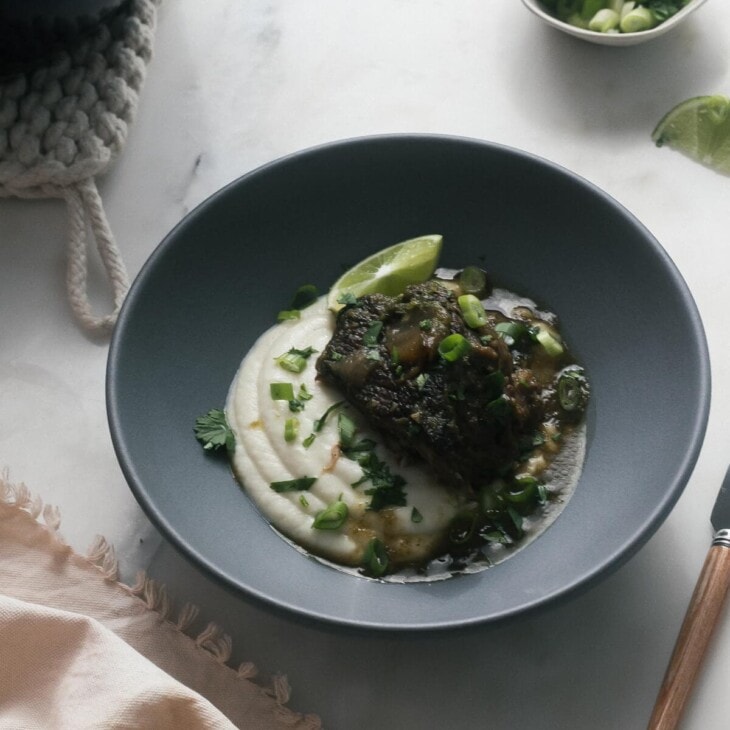 Print Recipe
Peruvian-ish Pot Roast with Silky-Smooth Cauliflower Mash (#whole 30)
Ingredients
Peruvian-ish Pot Roast:
1

tablespoon

olive oil + more if needed

1

yellow or purple onion

peeled and quartered

Salt and pepper

1

yellow or purple onions

quartered

Salt and pepper

2 1/2

pound

to 3 pound chuck roast

1 1/2

bunch of cilantro + more as garnish

2

jalapeños

ends discarded

4

peeled cloves of garlic

4

fresh thyme sprigs

leaves removed

1

teaspoon

ground cumin

1

teaspoon

salt

1/2

teaspoon

ground coriander

1/2

teaspoon

ground paprika

3

cups

beef broth

divided

Limes

as garnish

Green onions

as garnish
Silky-Smooth Cauliflower Puree:
1

head of cauliflower

florets removed

1

tablespoon

ghee or butter

Salt to taste

Pepper to taste
Instructions
To make the Peruvian-style pot roast: In a medium Dutch oven, set over medium heat, add the oil. When hot, add the onion and sear on first side for 1 to 2 minutes, until browned. Flip pieces of onion over and cook on opposite side for an additional minute or so. Remove the onion from the pot and set aside.

If needed add an additional tablespoon of olive oil. Sprinkle both sides of the chuck roast with salt and pepper. Turn the flame up to high heat and when the oil is hot, using tongs, place the chuck roast in the pot and brown on first side for about 5 minutes. Flip over and cook on the opposite side for an additional 5 minutes. Remove from the heat and preheat the oven to 300 degrees F.

Meanwhile, to a blender, add the cilantro, jalapeño, garlic, thyme, cumin, salt, coriander, paprika and 1/2 cup of beef broth (you can eyeball this measurement). Pulse until very smooth. Reserve about 1/4 of the cilantro mixture in a bowl (we'll add this later). Pour the remaining 3/4 of the cilantro mixture into the pot with the beef broth and pour in the remaining 2 3/4 cup beef broth. Give the liquid a stir and place a cover on top. Mix in the reserved onion. Transfer to the oven to braise for 3 to 3 1/2 hours, until the meat is able to pull apart. Just before serving, skim fat off the top (if you like, I did because I don't like that much fat). And then pour in the remaining cilantro mixture and mix.

To make the silky-smooth cauliflower puree: Bring a large pot of water to a boil. Drop in the cauliflower florets and cook until very tender, about 5 to 6 minutes. Drain and run the cauliflower under cold water. To a high-powered blender (such as a Vitamix), add the ghee and then top with the cauliflower. Pulse until mostly smooth, about 1 minute, stopping and scraping down the sides as needed. Pulse on high for about 2 minutes, until silky smooth, adding a teaspoon or two of ghee, if needed. Add salt and pepper to taste and blend once more until combined.

When the pot roast is ready, pour the cauliflower in a pot and warm over low heat. Divide between bowls and top with a piece of pot roast, a sprinkling of cilantro, green onion and a squeeze of lime.