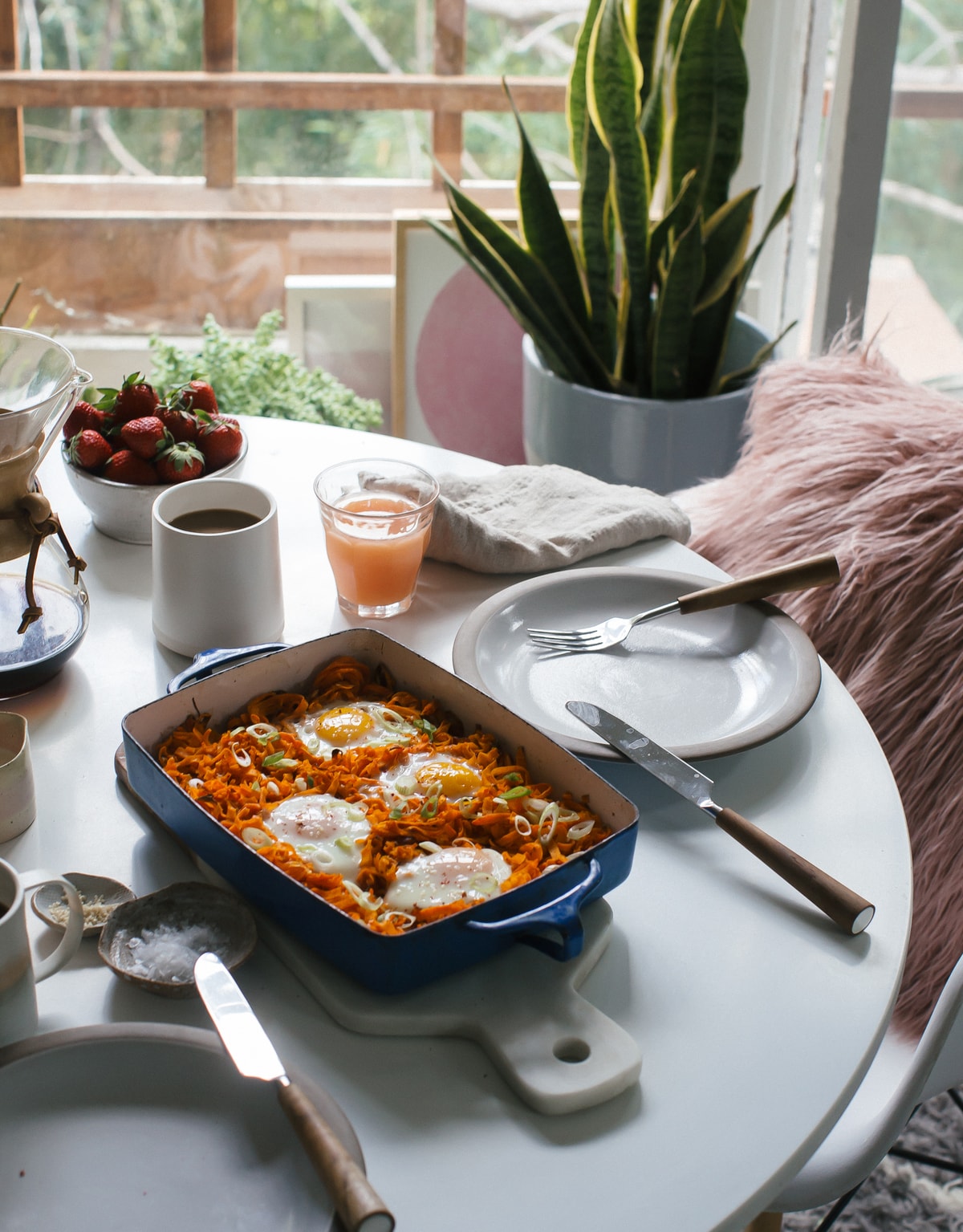 I love brunch at home. I set the table sort of fancy (even if I'm not taking a photo of it, well, not as nice but still!).
Going out to brunch in theory is awesome, until you get there and the wait is like 3 hours and you want to stab yourself in the eye, so then you end up going to an inferior place and eat a shitty version of the thing you really wanted.
This is why I only have brunch at home. At 10am on a Saturday, I'm not emotionally stable enough to venture out. This sweet potato hash thing-y is a play on red flannel hash. Have you heard of it? It's typically making regular potatoes red by using a beet. Since this is using sweet potatoes, I figured it'd rename it Orange Flannel Hash. I think it works. I also considered calling it something with nest or basket in the title but I couldn't land on anything. It's late where I am, I cooked and shot all day and I just watched the OJ show so my brain is mush.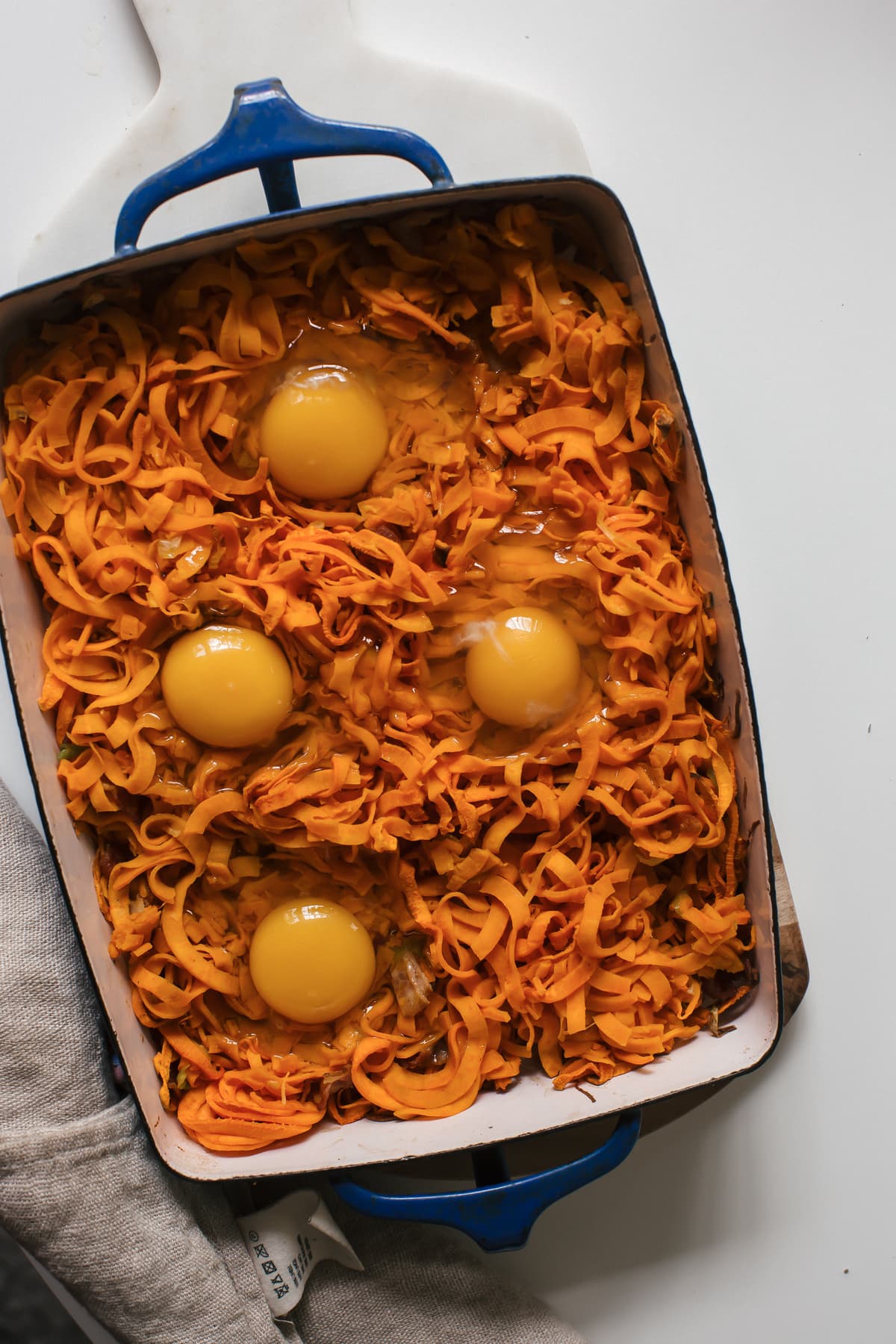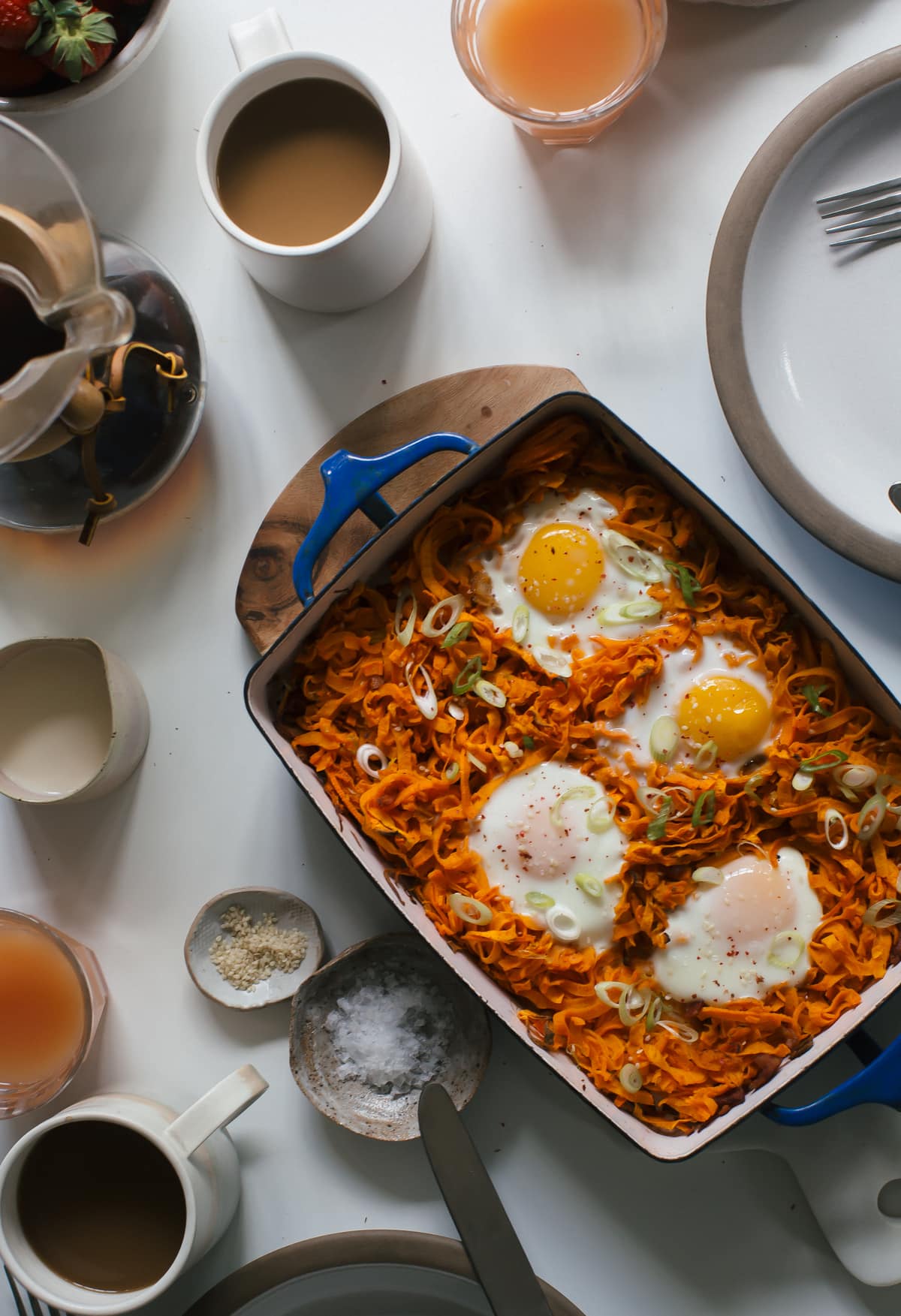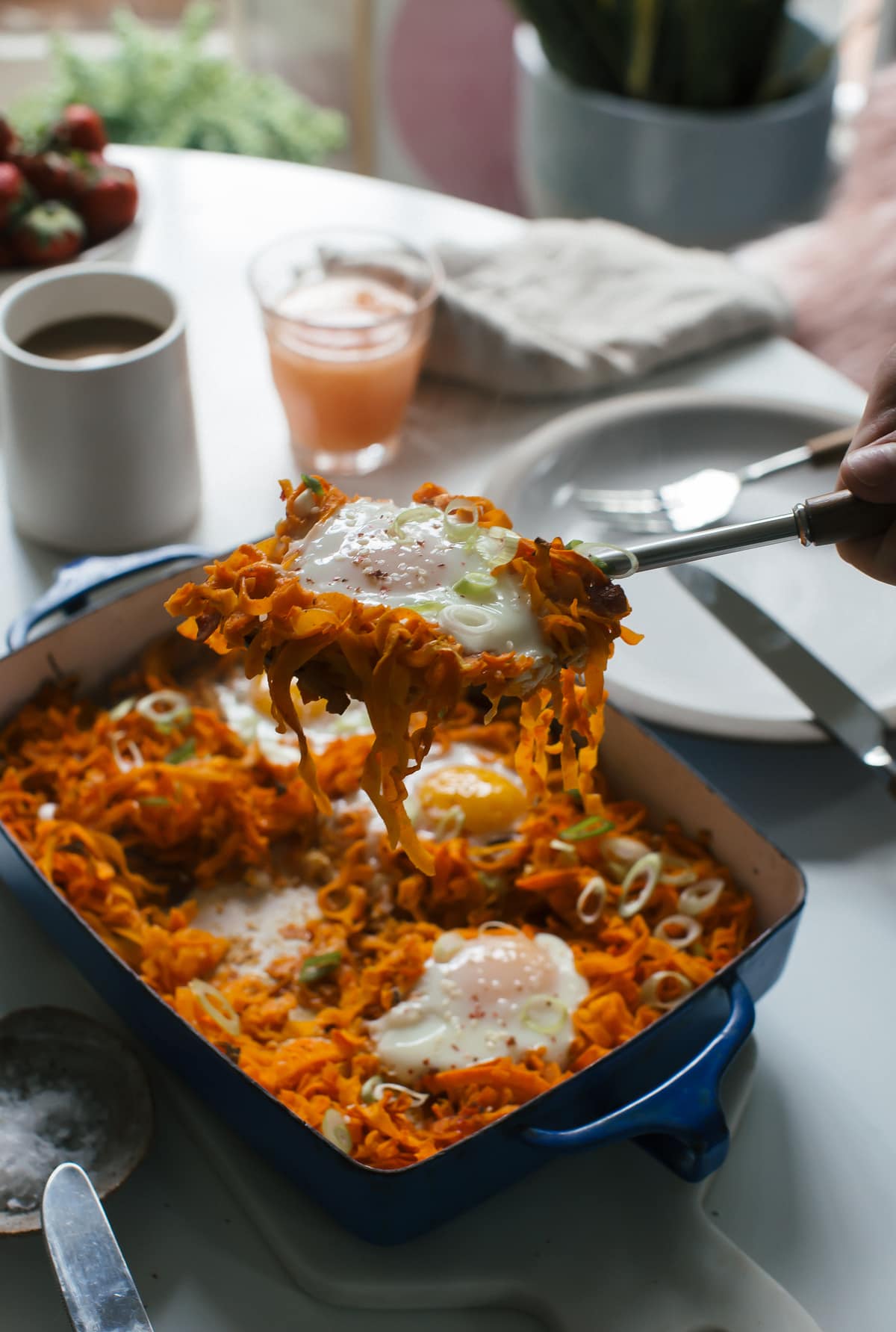 My descriptor words are off. :/
But one thing I do know is that sweet potatoes when spiralized are amazing. They almost look and taste like fettuccine.
(I just had to google the spelling of fettuccine like five times.)
If you don't have a spiralizer, no problem! You can grate the sweet potatoes or dice them really finely.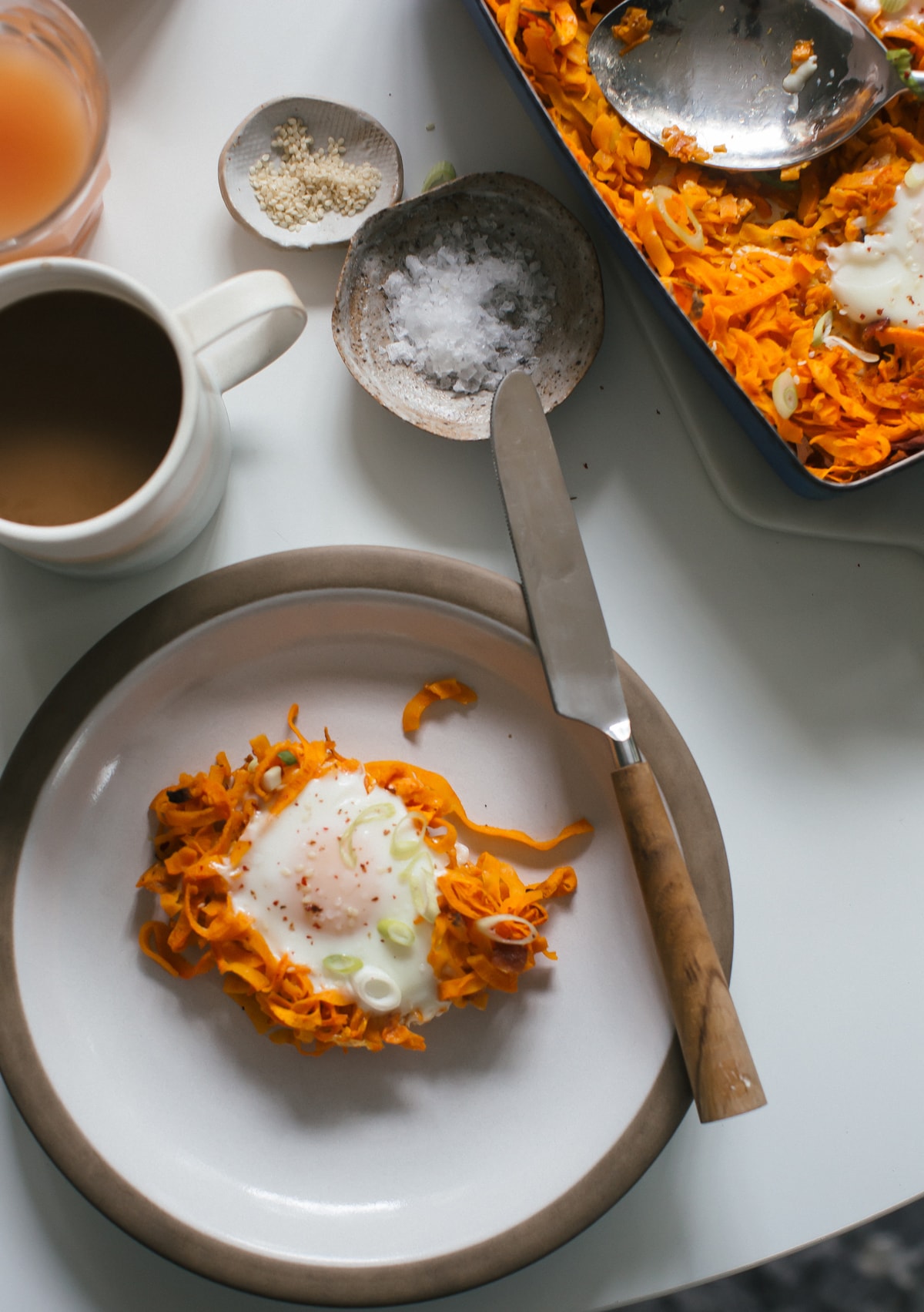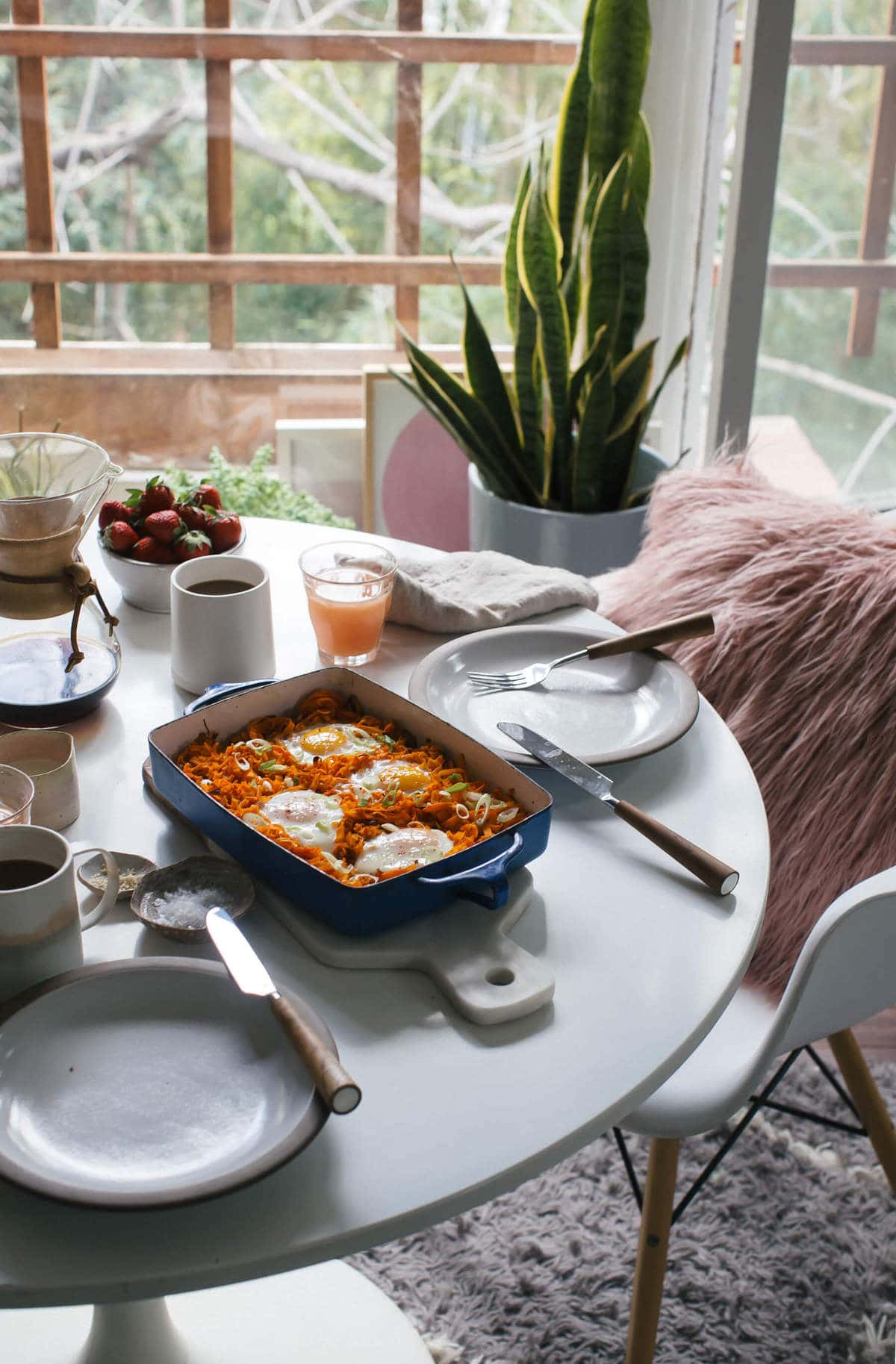 I love green onions, but of course you can use another type of onion like minced shallot or red onion.
This recipe has so much flexibility and it's so good. And the good news, it's healthy…ish.
Good night and happy weekend!
xox
Adrianna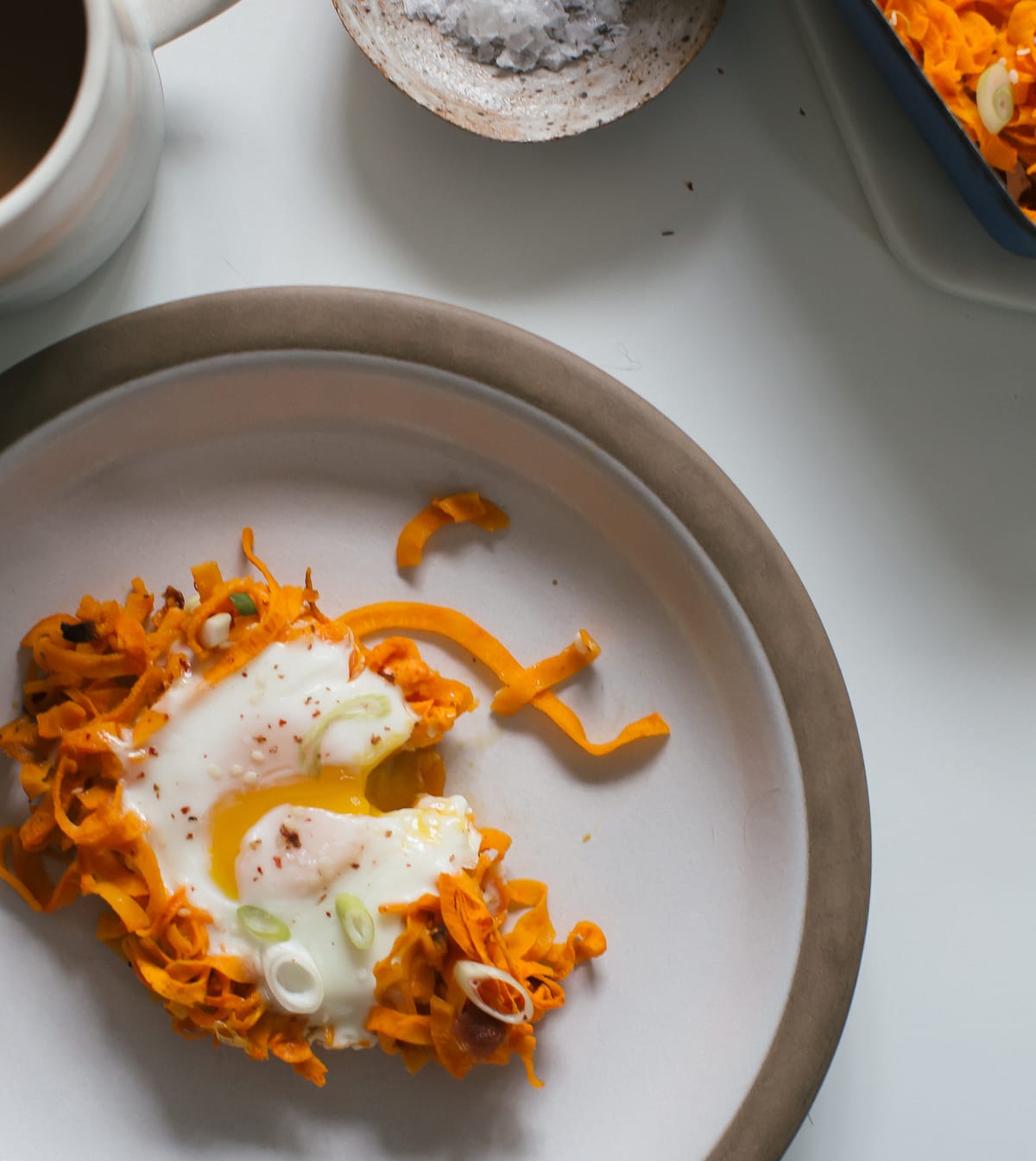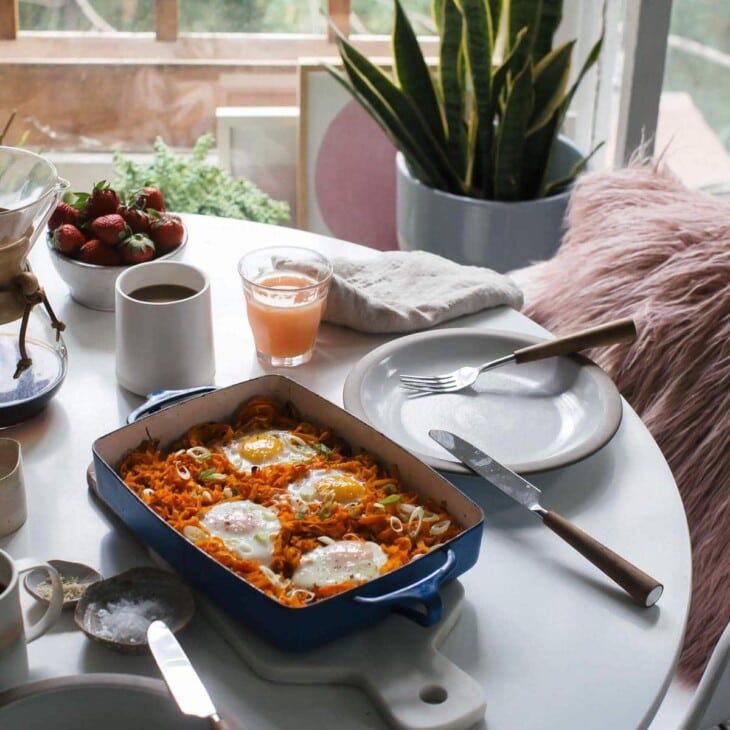 Print Recipe
Orange Flannel Hash
Ingredients
2 to 3

sweet potatoes

peeled

5

slices

of bacon

Salt

1/4

teaspoon

crushed red pepper

2

garlic cloves

peeled and minced

4

green onions

minced, plus more as garnish

4 to 5

large eggs

Sesame seeds

as garnish
Instructions
Preheat oven to 350 F. Start by prepping the sweet potatoes. I used my spiralizer and made them into noodles. If you don't own one, you can grate the sweet potatoes or you can dice them. All up to you! Set aside.

In a large skillet, set over medium heat, add the bacon slices. Cook for 2 to 3 minutes, flipping, and then cooking on the opposite side for another 2 to 3 minutes. The bacon is done when it's medium golden brown and crispy. Transfer to a bed of paper towels to drain. When slightly cooled, dice the bacon and set aside.

Pour out the bacon grease, reserving about 1 teaspoon. Add the sweet potato, 1/2 teaspoon salt, crushed red pepper, minced garlic, green onions; cook for 5 to 7 minutes tossing occasionally. Add bacon and toss once more

Transfer sweet potato mixture to a 13x9 inch baking dish (or another one that will fit everything) and bake for 15 to 20 minutes, until sweet potato is cooked. Make 4 to 5 cavities in the sweet potato and crack in the eggs. Transfer back to the oven for about 6 to 8 minutes, until the egg whites are cooked. Top the eggs with a few pinches of salt, pepper and sesame seeds.