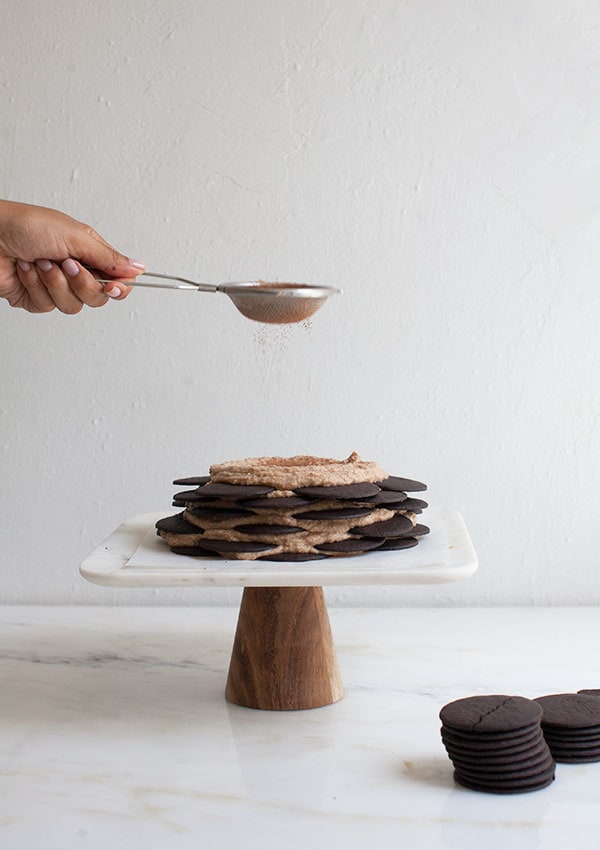 It's summer now.
Yep. Time to slather on that sun tan lotion, squeeze into a bathing suit :/ and eat all the watermelon available.
Summer has never been my season. I'm more of a fall leaves, scarves kind of girl (even though I live in LA, I know I'm complicated) but this is how I embrace the season: cakes that require no oven. Cakes that aren't really cakes! Because there's no batter, no icing, no nothing cake-like. Except this recipe relies on cookies to soak up all the mascarpone/coffee/chocolate mixture and then it slices up so lovely, so deliciously.
This cake is very tiramisu-like. The flavors are v v similar except you don't have to both with lady fingers, which if I'm speaking honestly, is the biggest bummer about tiramisu. Most lady fingers are dry and bland and taste like cardboard. Of course, we could make our own but am I really going to do that??! I mean, maybe, yes, very likely. I am the type…stand-by maybe we'll do this.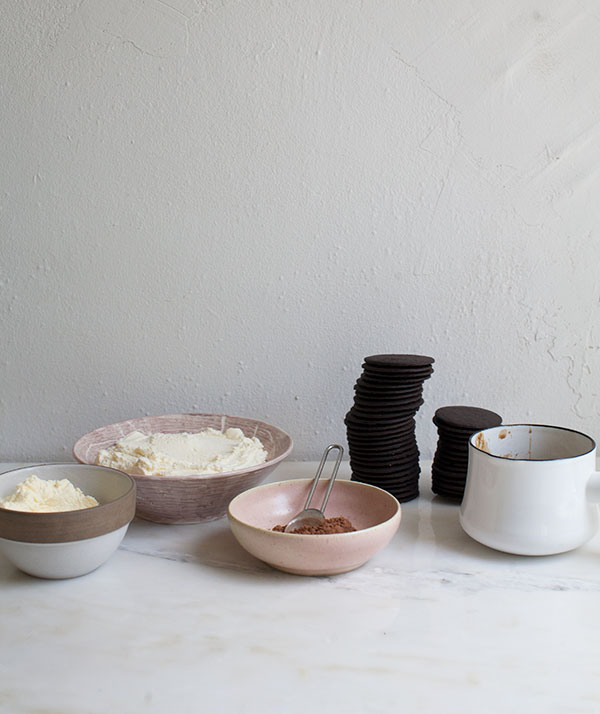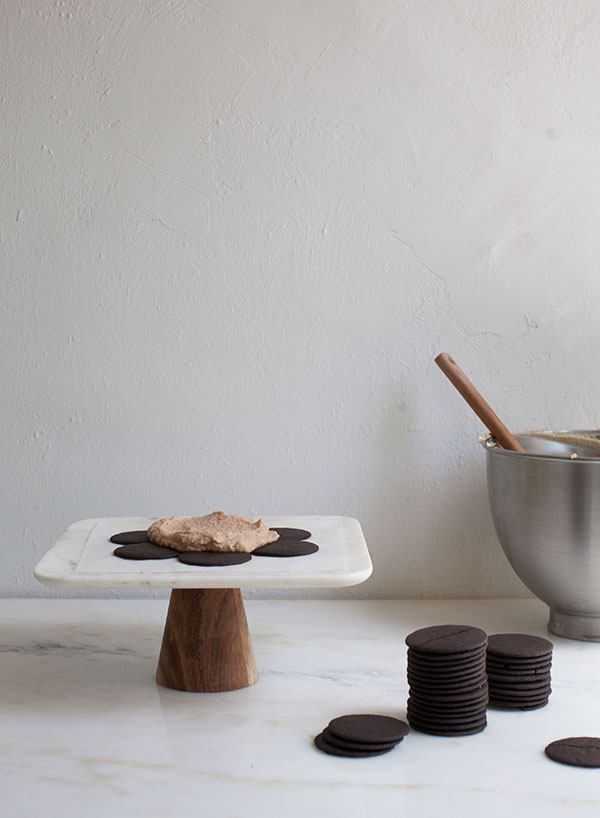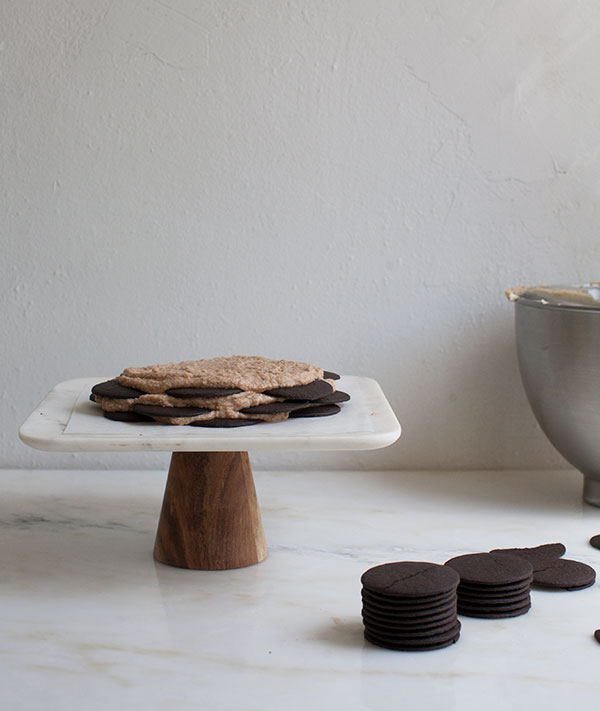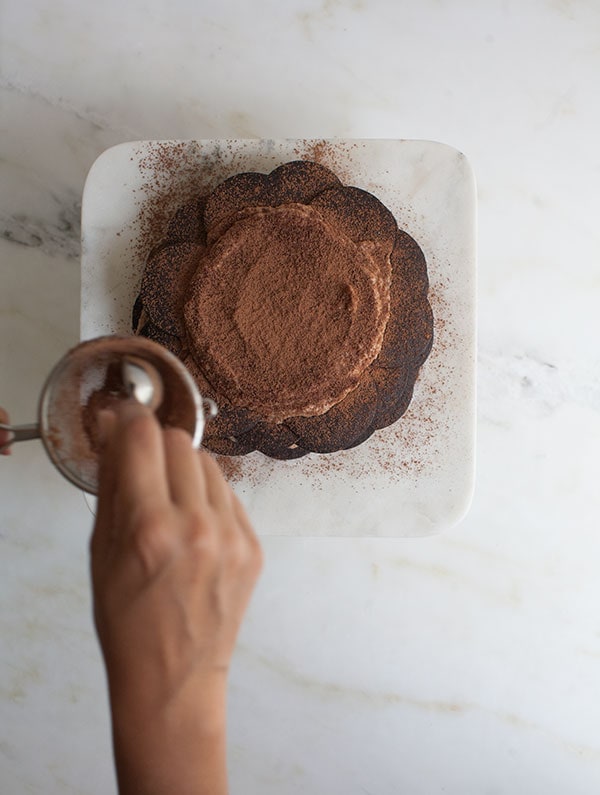 But there are also time when I want dessert thrown together in the matter of 30 minutes. THIS IS IT YOU GUYZ.
This is that dessert you can do when you got a last minute BBQ invite. You know, those last minute invites that are so last minute, they start to make you wonder if you are just a replacement for someone cooler who couldn't make it. Maybe you are but who cares. Walk in with dis fine thing and you're instantly way cooler than the loser who couldn't make it.
I have plans for your summer. And they involve this.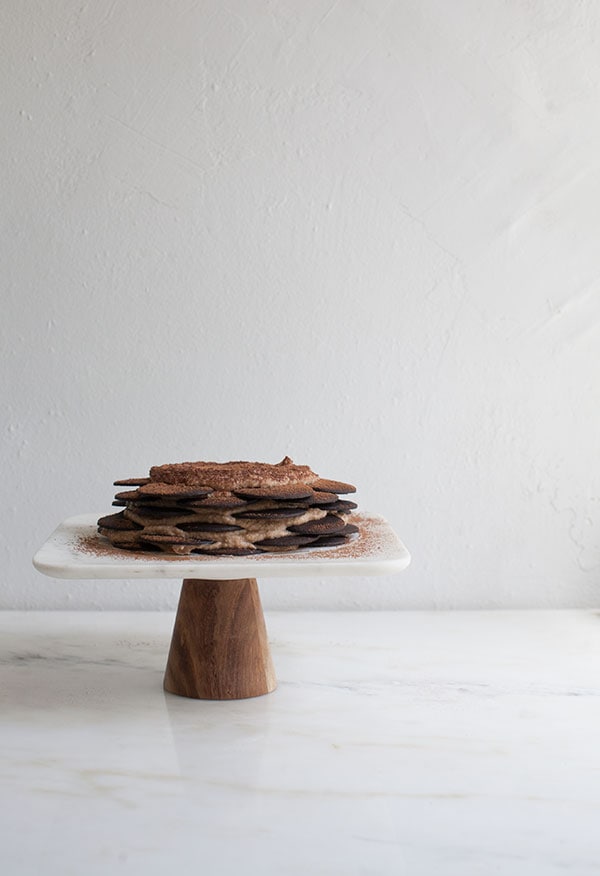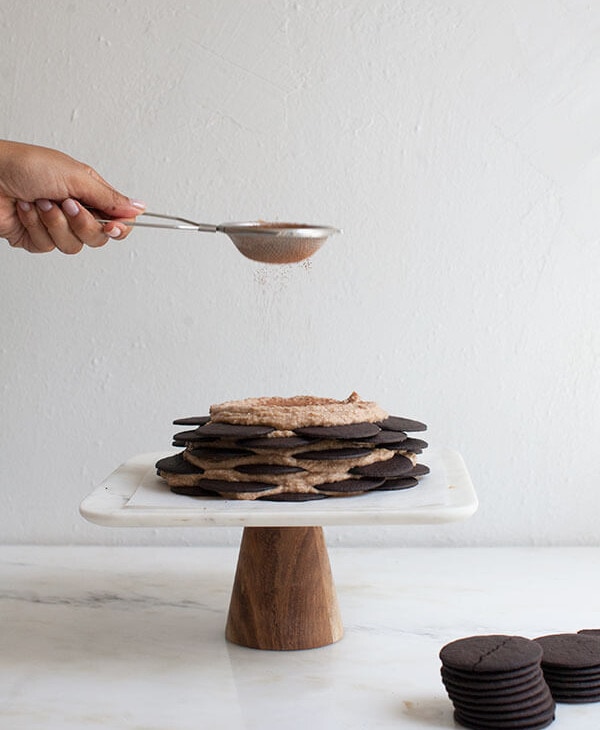 Print Recipe
Mocha Icebox Cake
Serving Size:
(six-inch) icebox cake
Ingredients
1/4

cup

dark rum

1/4

cup

light or dark brown sugar

1

teaspoon

of instant espresso powder

Pinch

of salt

1/2

cup

heavy whipping cream

16

ounces

of mascarpone cheese

at room temperature

3

tablespoons

cocoa powder

plus 1 tablespoon for garnish

1

9 ounce pack of Nabisco chocolate wafer cookies
Instructions
To a small saucepan, add the dark rum, brown sugar, espresso powder and salt. Stir until espresso powder has dissolved; cook until reduced by almost half, about 5 to 7 minutes. Remove the pan from the heat and set aside to cool.

Meanwhile, in a bowl of a stand-up mixer (you could also do this with a hand-mixer) with the whisk attachment, add the heavy cream. Whip until light and fluffy, until it's reached medium peaks, about 2 minutes. Scoop into a small bowl and set aside. In the same bowl of the stand-up mixer (no need to wash it out) with the paddle attachment, add the mascarpone cheese. With the mixer on low, slowly pour in the rum syrup. (It may appear curdled but it won't affect the flavor at all—don't stress about it!) Sift in the cocoa powder and fold it in until it's completely combined. Lastly, fold in the whipped cream—it should be light and fluffy.

On a cake stand or large plate, arrange 6 cookies in a circle and place 1 in the center. Add a dollop of mascarpone cheese mixture to the center and spread it out into one even layer. Repeat with remaining mascarpone cheese mixture and cookies, making about 4 more layers, ending with the cheese mixture. Cover lightly with plastic wrap and transfer to the refrigerator for at least 3 hours, ideally overnight. Just before serving, dust liberally with cocoa powder.