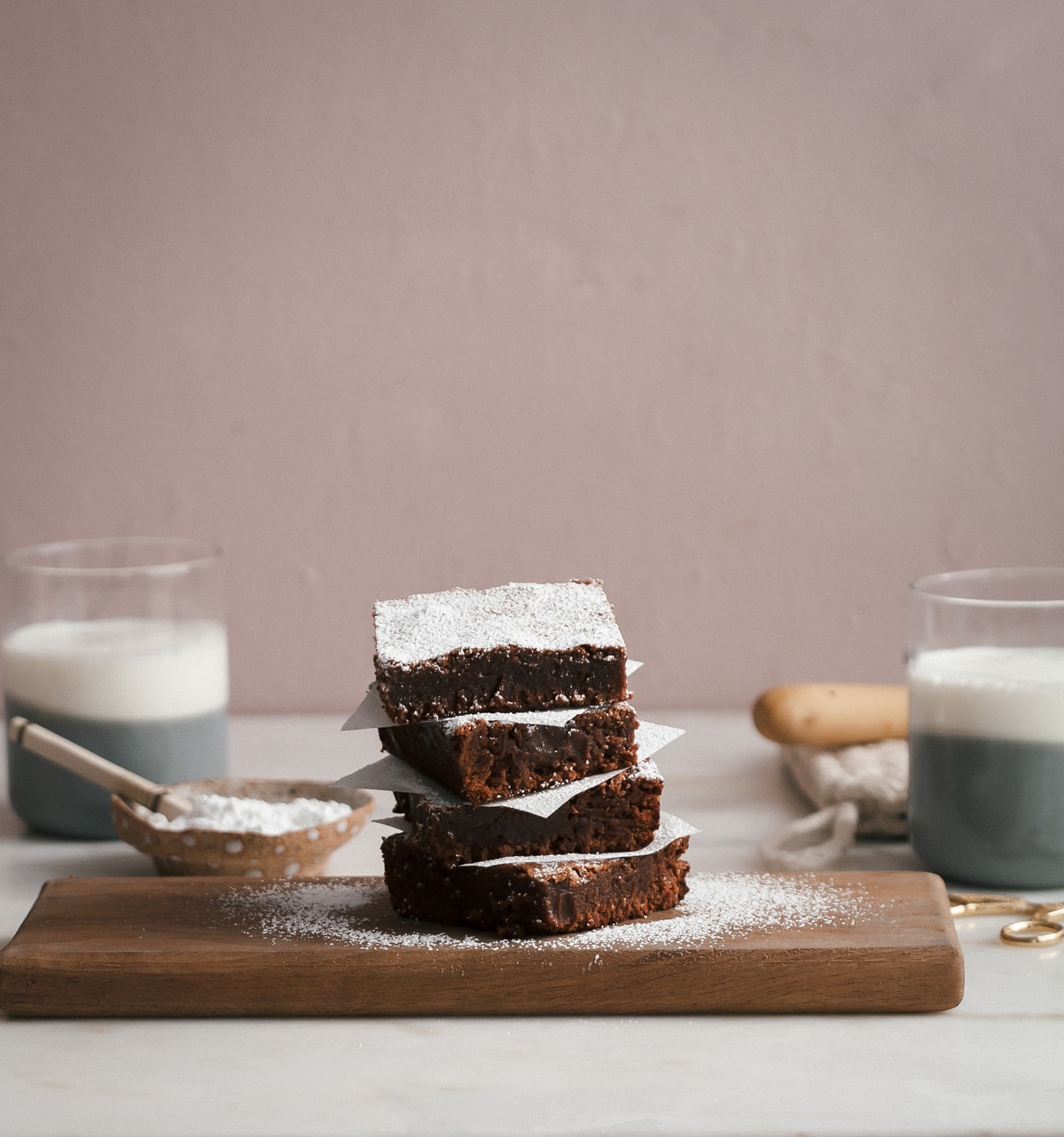 Apparently, I have fancy Christmas tree taste because my favorite tree at the tree market was called a silver tip and it went for like 75% higher than all the other trees. It's actually quite tall and sparse looking so when I went to ask for the price, I expected a discount but nope. Expensive tree taste—didn't even know it was a thing!
I went home with it and had the guy kindly tie it to the top of my tiny car because it's like when you get something in your brain and you just can't forget about it. Like shoe-shopping. It's like that.
I came home and Amelia immediately thought the water in the tree basin was for her so I've been constantly catching her drinking it. I yell at her but at the same time it's so funny and cute that I just fill it up and let her do whatever she wants.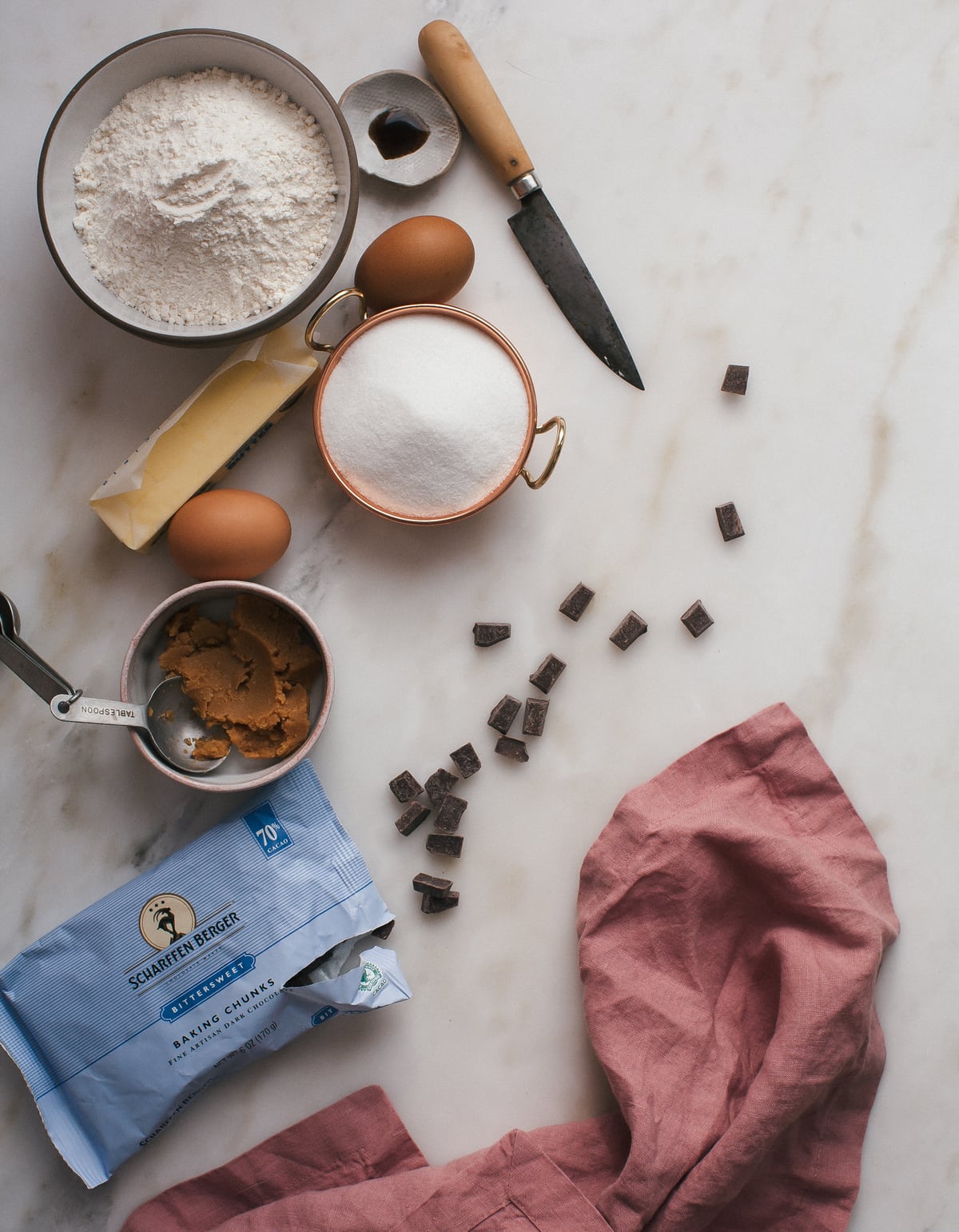 Another thing that has been on my brain for so very long are miso brownies! I saw them in the bakery case of a bakery I can't actually remember but thought they sounded so good! Sweet and savory and chocolate-y…sign me up.
For this post, I teamed up with Scharffen Berger so the brownies could be so deliciously chocolate-y. I used their 70% Cacao Bittersweet Chocolate Baking Chunks and melted it with a bit of butter. It was silky smooth and so delicious and rich.
I wanted brownies that had a super crackly top and after I did some Googling and testing, I figured out that the thing that ensures a super crackly crust is beating the eggs and sugar together for a full 10 minutes (thanks, Martha!). Also, the sugar amount has to be up there for this to really work.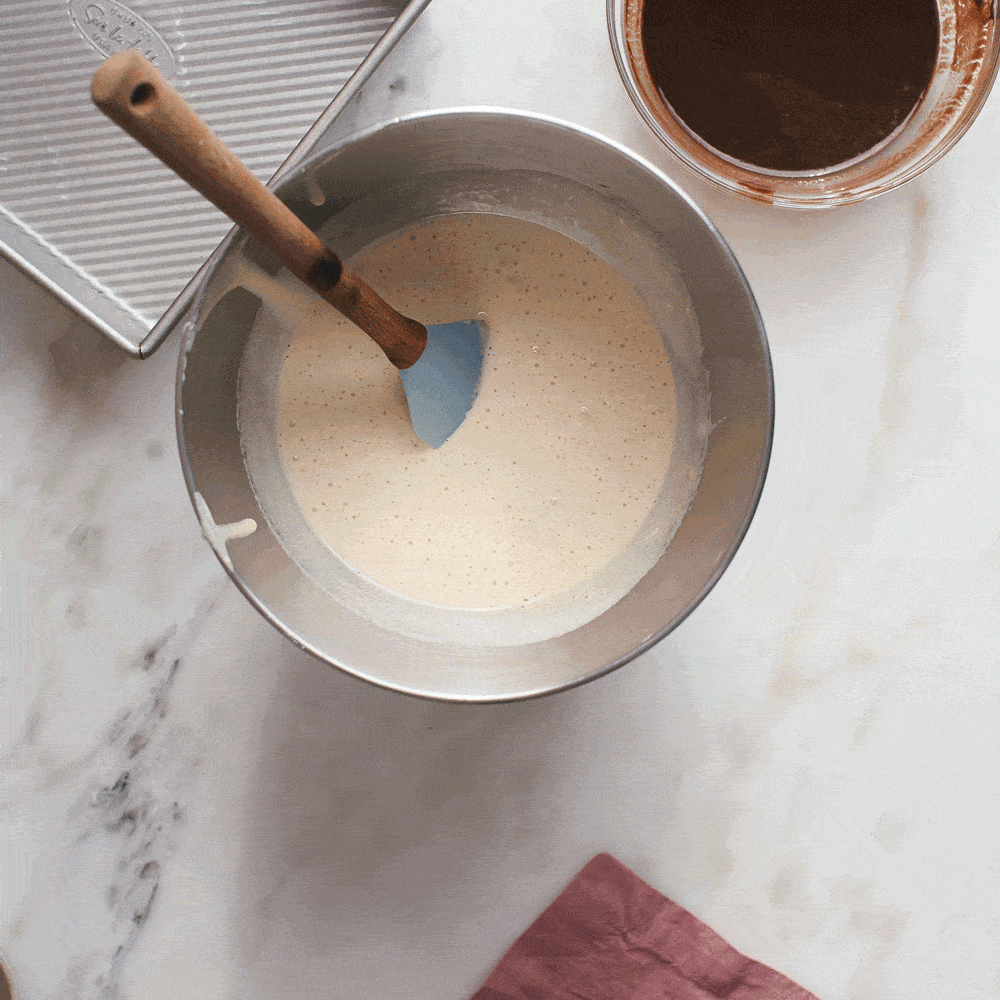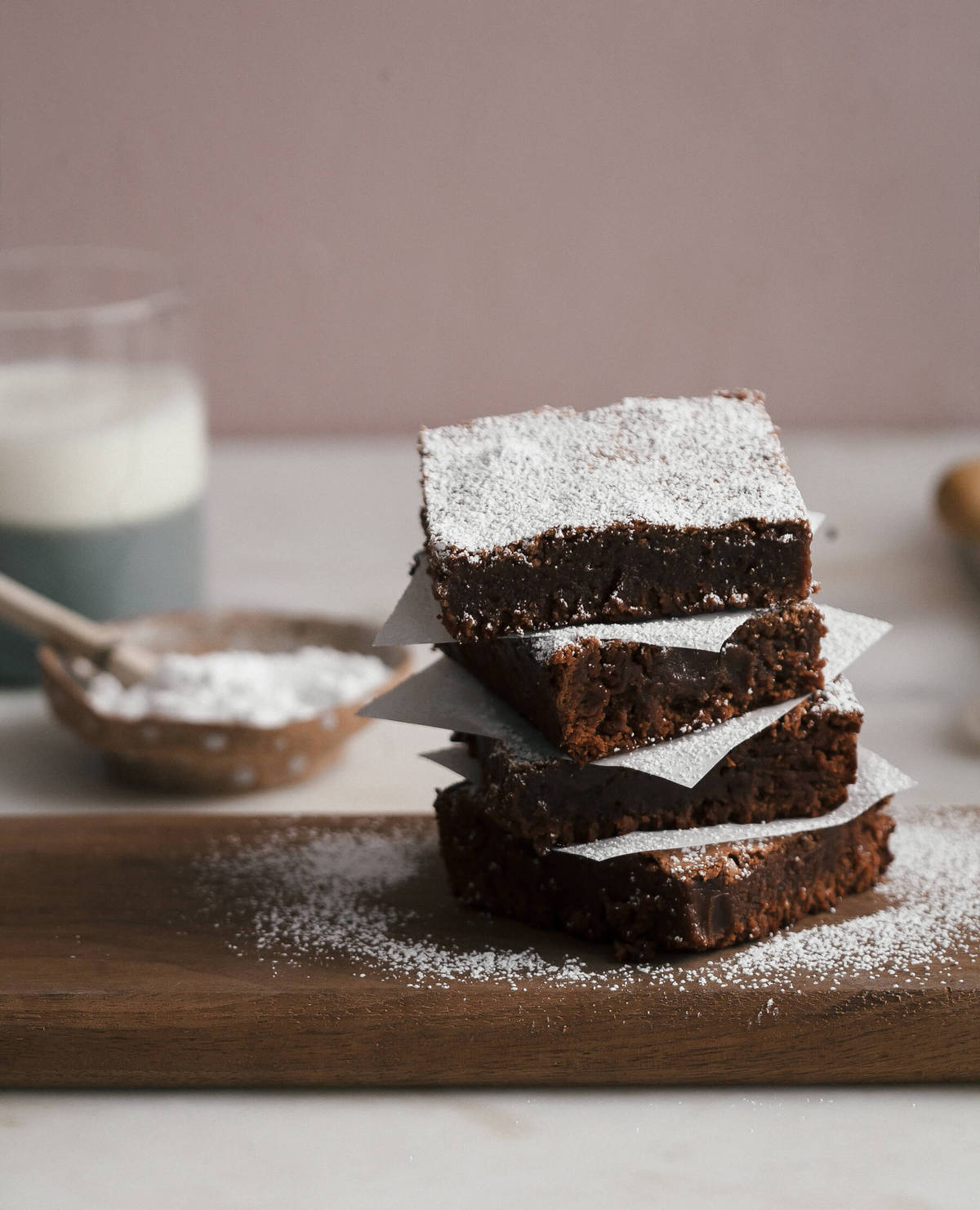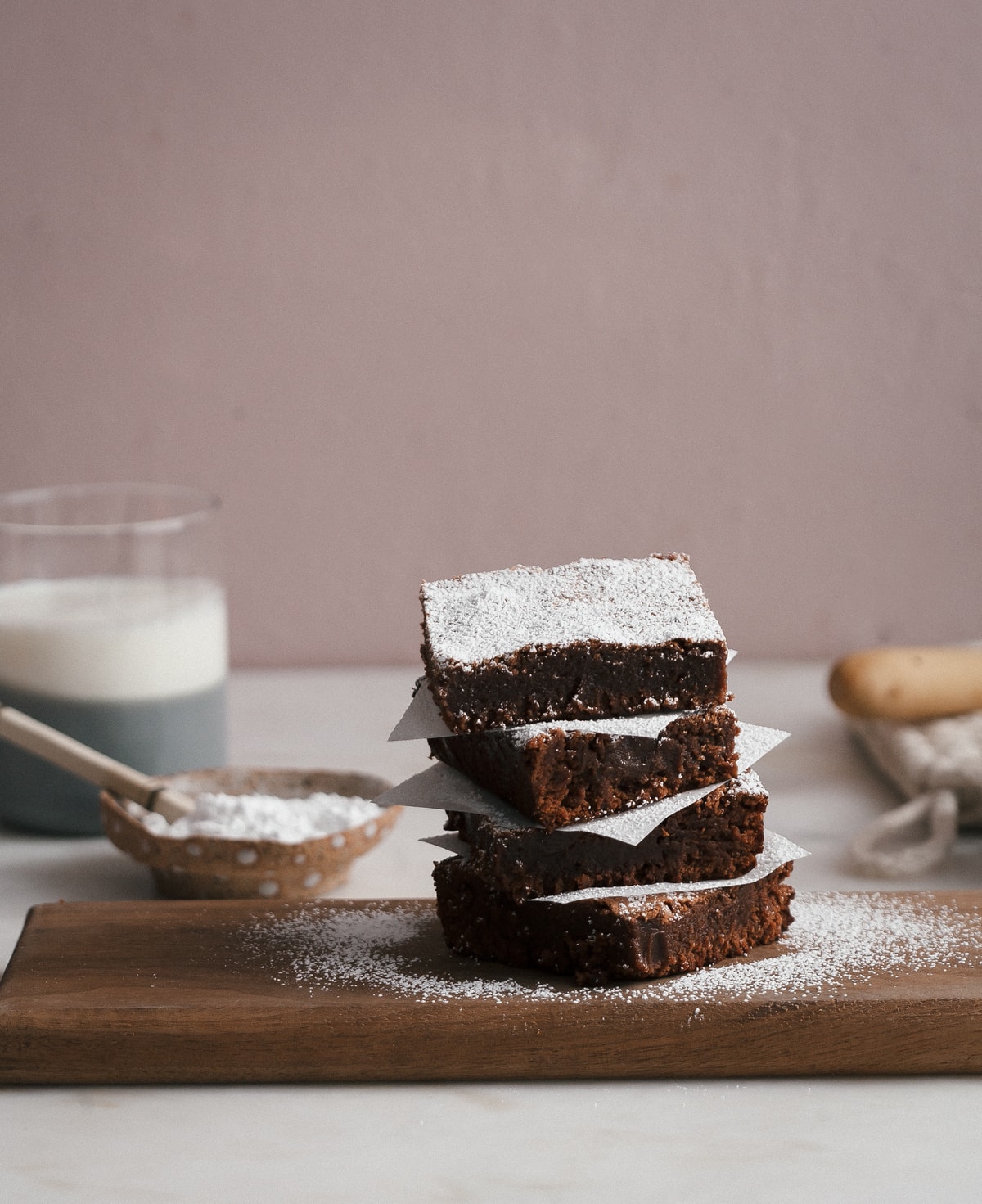 The miso works really wonderfully with the rich Scharffen Berger chocolate. It gives a savory note and doesn't really taste like miso, but instead just adds an umami flavor that people probably won't be able to decipher.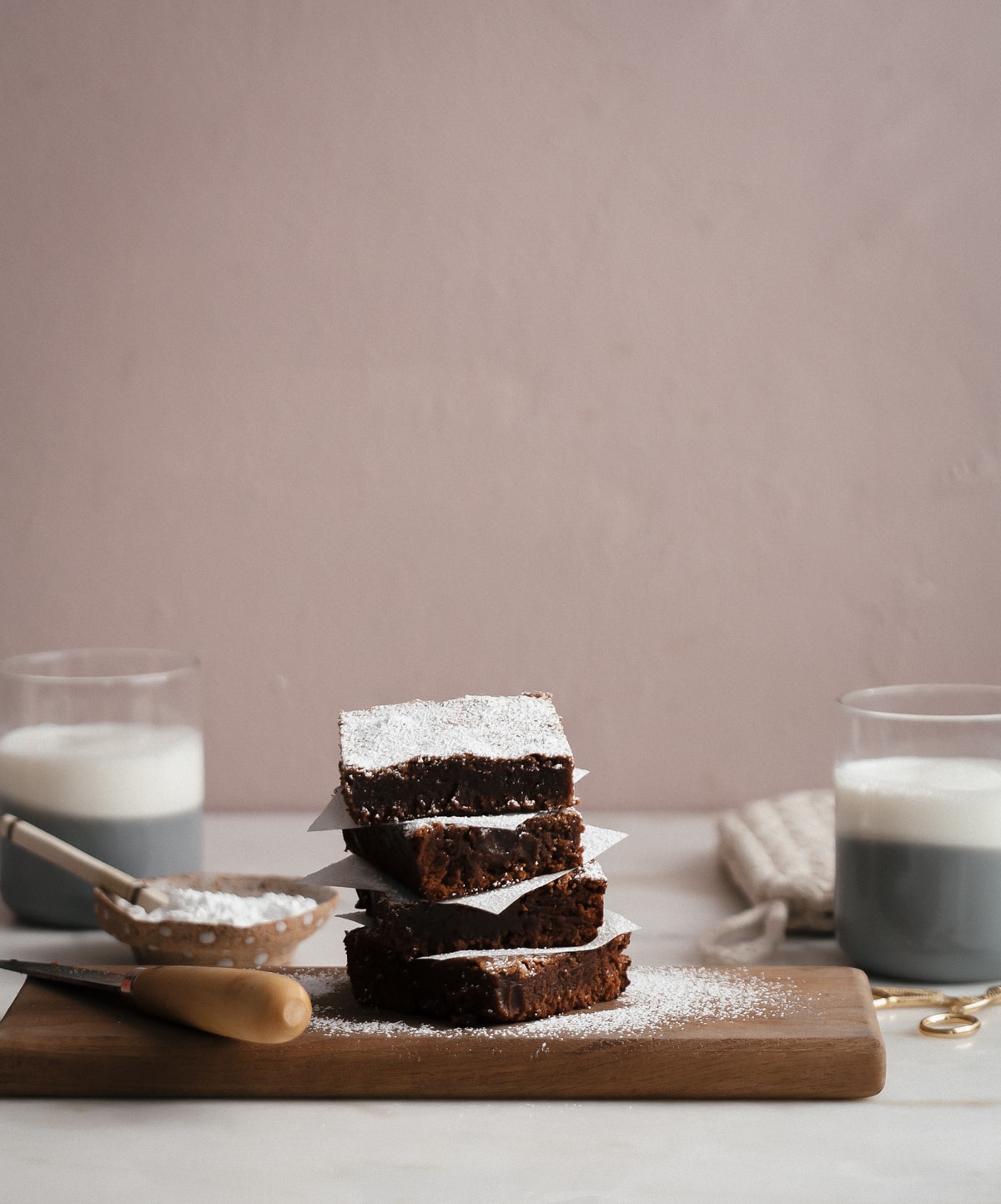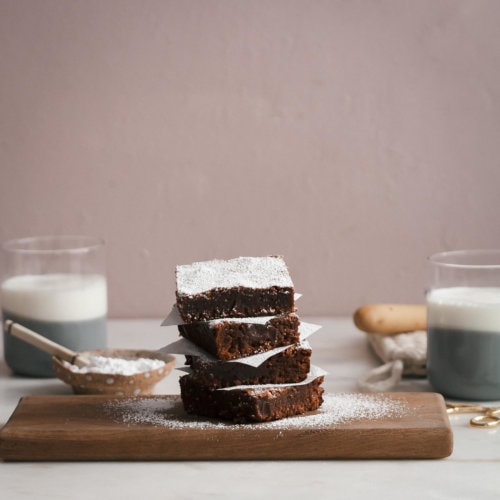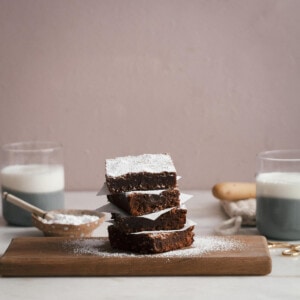 Serving Size:
9
(3x3-inch) brownies
Ingredients
1/2

cup

unsalted butter

4

ounces

70% Cacao Scharffen Berger Bittersweet Chocolate Chunks

2

large eggs

1

large egg white

1 1/2

cup

white granulated sugar

2

tablespoons

white or yellow miso 

1/2

teaspoon

vanilla extract

3/4

cups

+ 2 tablespoons all-purpose flour 

1

tablespoon

powdered sugar

,

as garnish
Directions
Preheat the oven to 350 degrees F. Grease a 8x8-inch or 9x9-inch square baking dish with cooking spray. Alternatively, you can rub it with butter. 

Nestle a glass or stainless steel bowl over a saucepan with a few inches of simmering water. Add the butter and Scharffen Berger chocolate. Allow to melt, stirring occasionally. Set aside. 

In the bowl of a stand-up mixer with the paddle attachment, add the eggs, egg white and sugar; beat on medium speed for a full 10 minutes (set a timer!), until the mixture is a pale yellow and very fluffy. This will ensure a crispy top to our brownies. Add the miso and vanilla extract. With the mixer on low, pour the melted Scharffen Berger chocolate into the egg mixture until combined. Lastly, mix in the flour. Transfer to your prepared baking dish and bake for 17 to 22 minutes, until the top has a sheen and is a little crackly. 

Remove from the oven and allow to cool before slicing into. Garnish with a dusting of powdered sugar and then serve with milk. 

(This post is sponsored by Scharffen Berger Chocolate Maker. Be sure to check out ScharffenBerger.com, where you can find a wide variety of baking chocolate as well as chocolate bars. Thanks so much for supporting the sponsors that keep A Cozy Kitchen cozy!)