Matcha S'mores
7
Jul 02, 2016, Updated Dec 30, 2018
Disclosure: This post may contain affiliate links, which means I may earn a commission if you click on the link and make a purchase.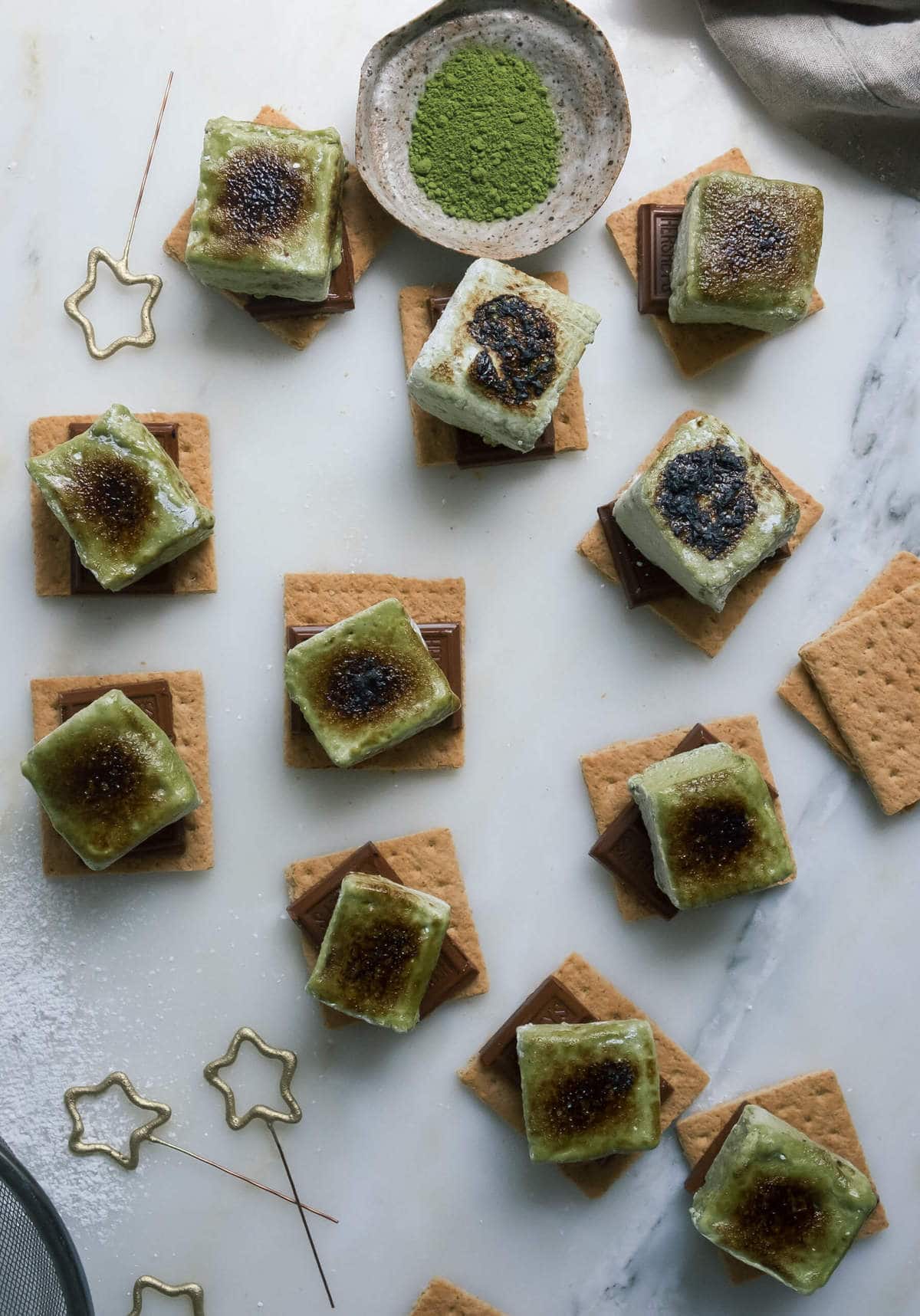 I'm back from Mexico and am suffering from a gigantic vacation hangover. I wanna go back to laying by the pool and reading my book and eating all the chips, but I'm also super excited to get back into the swing of things…it's just taking me a little bit to psych myself into doing work again.
These matcha marshmallows have been a dream of mine for a while now and I've been waiting for the perfect time. Well, the time is right now! Fourth of July is like right this very second so what could be better than these…well, maybe this s'mores pavlova. Or these s'mores twists. Lots of s'mores! All the s'mores!
Amelia hates when I make anything that involves toasting marshmallows or meringue because that means I have to turn on my kitchen torch and nothing scares her more.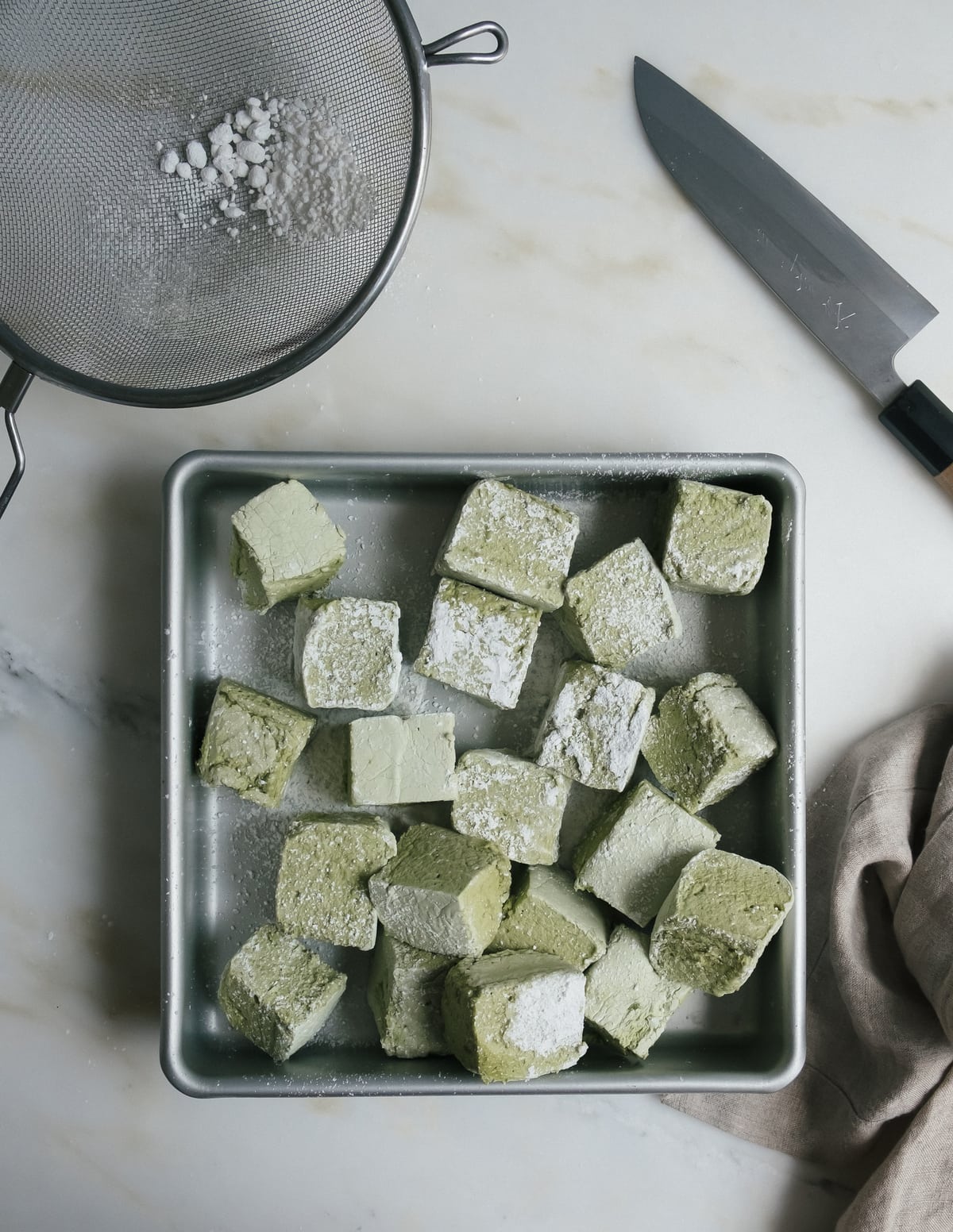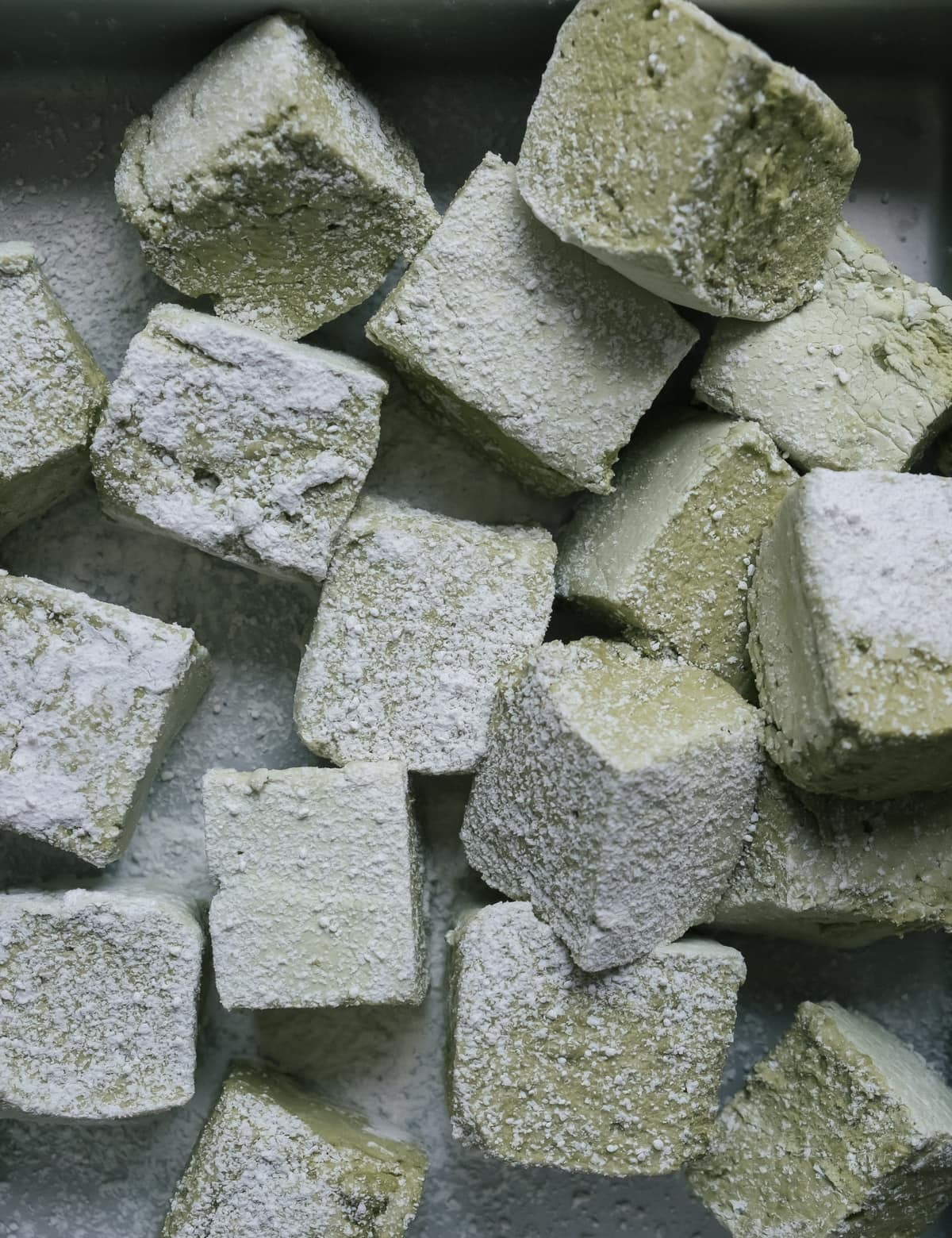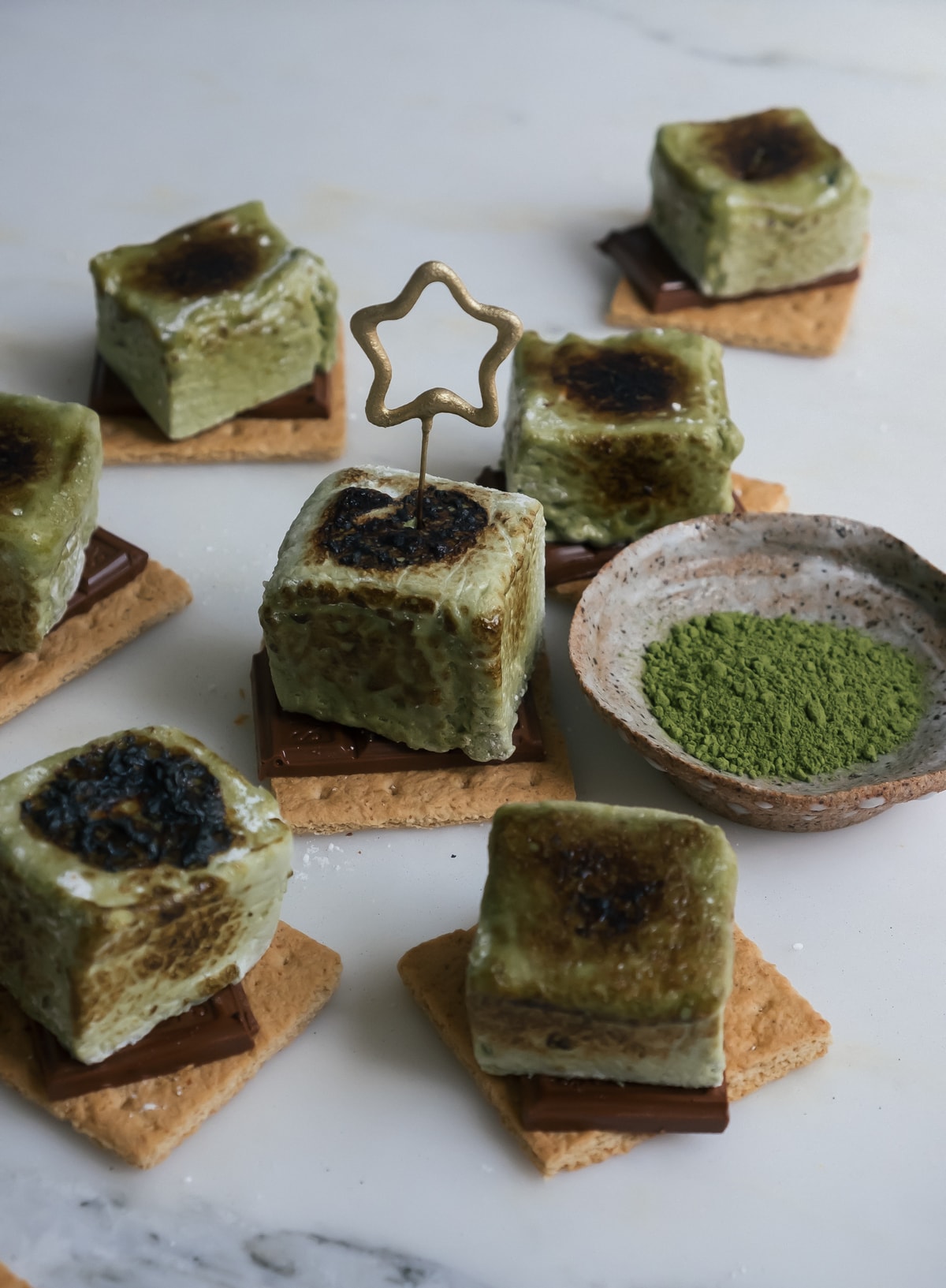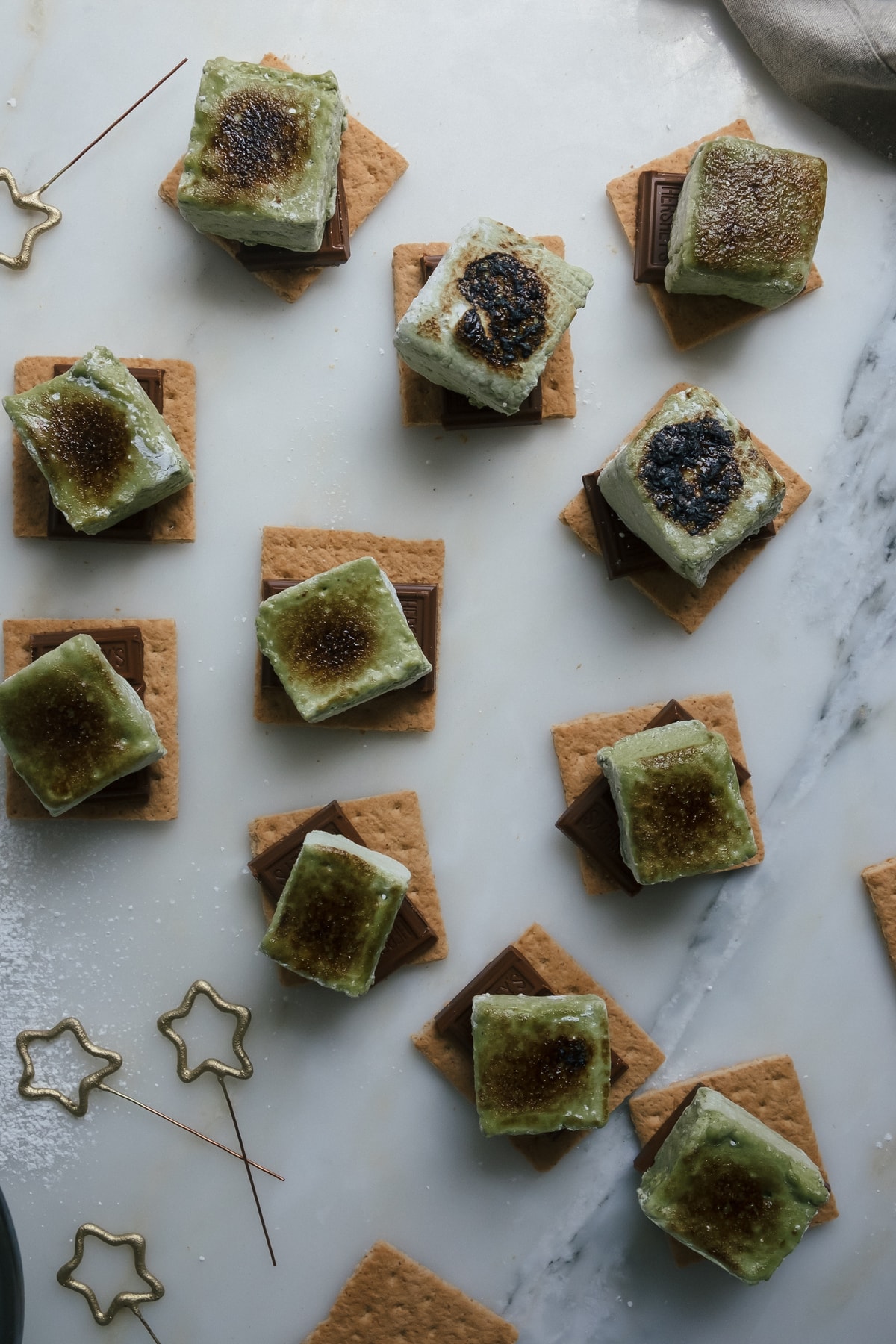 The hiss of the kitchen torch scares the b-gezus out of her and she always ends up hiding the bathroom behind the little bathroom garbage with her ears down. I always get a little sad when I have to use it and always go and console her but it does mean she stays far far away from my foods.
She also HATES fireworks. She's not a huge fan of 4th of July and I sort of can't blame her. I've been thinking of getting her a thunder jacket, do they work?
We live close to a stadium, which means fireworks are a constant occurrence and every single time she gets SO scared. Sad face!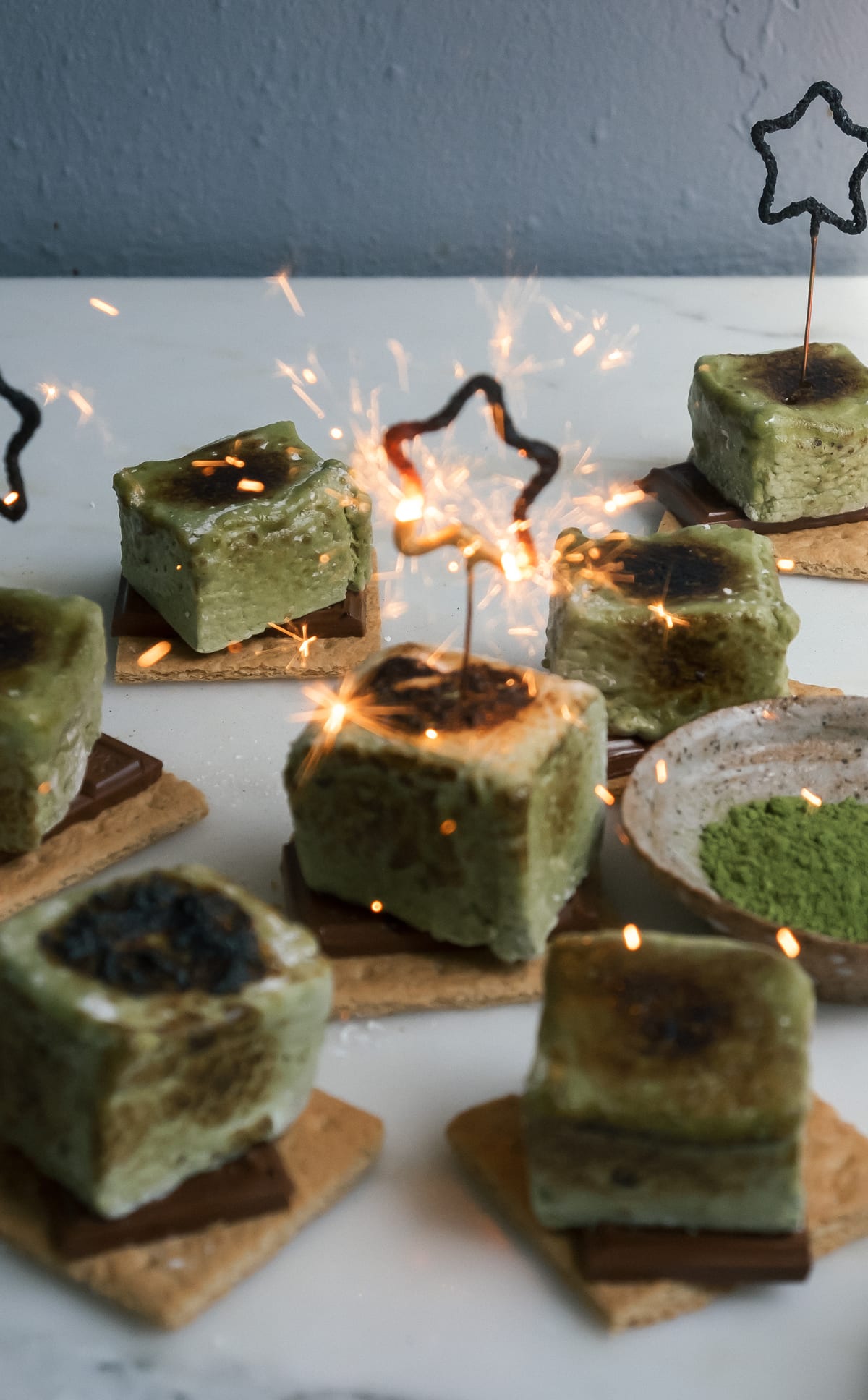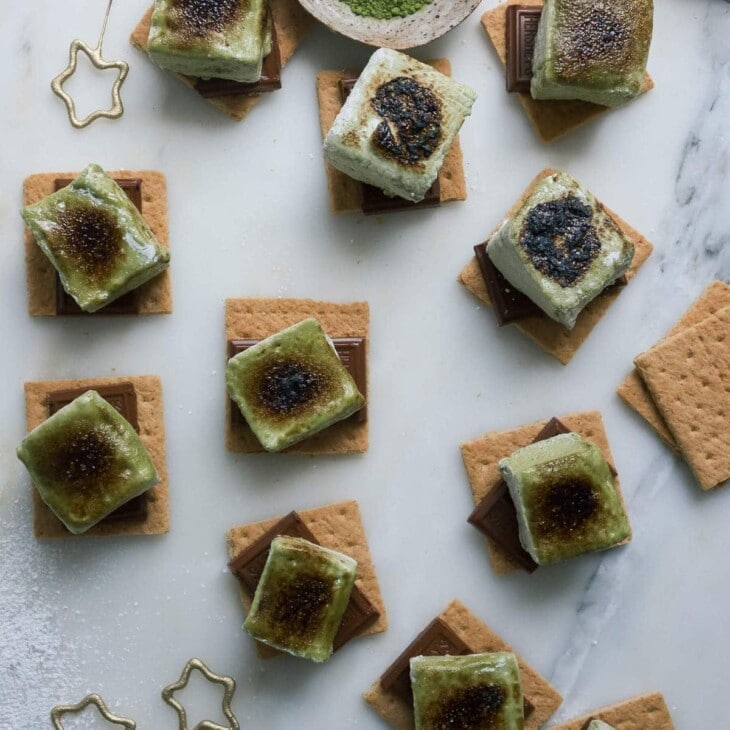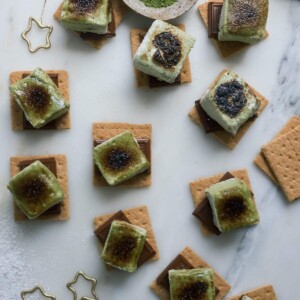 Ingredients
2

tablespoons

powdered sugar

2

tablespoons

cornstarch

4

tablespoons

of hot water

2

tablespoons

matcha powder

3/4

cup

water

,

divided

3

envelopes gelatin

1 1/2

cups

sugar

1

cup

light corn syrup

1/2

teaspoon

salt
Instructions
Before you begin, let's do some prep. Start by sifting together powdered sugar and corn starch.

Next, grease a 10" x 8" (this size can vary) casserole dish or pan with vegetable oil. Add a teaspoon or two of the powdered sugar mixture to a sieve and sift the mixture into the casserole dish. Set both aside.

In a small bowl, whisk together the hot water and matcha powder until the matcha has completely dissolved. Set aside to cool.

Pour a 1/2 cup water into the bowl of a stand-up mixer (or you can use a large bowl and a hand-mixer). Sprinkle the gelatin atop water and allow to sit for 10 minutes so the gelatin can bloom.

Meanwhile, in a medium saucepan, with a candy thermometer attached to its side, combine the granulated sugar, corn syrup, salt and remaining 1/4 cup of water. Heat the mixture over medium heat until the sugar has dissolved. Turn the heat up to moderately high heat and bring the mixture to a hard boil and cook for 1 minute, until the candy thermometer reaches 240 degrees F.

Lower the whisk attachment and turn it on low. Carefully add the boiling liquid to the gelatin mixture. Turn the mixer to high and beat for 8-10 minutes, until the mixture has doubled in volume and holds stiff peaks. Pour in the matcha/water mixture and beat for an additional minute or so until incorporated.

Pour the mixture into the prepared casserole dish or baking pan, smoothing out the top until it's evenly disbursed (it'll be sticky!). Dust the top with a tablespoon of powdered sugar/cornstarch mixture. Cover with foil or plastic wrap and allow to set until firm, about 4 hours or overnight.

Take a knife and run it around the edges of the casserole dish or pan and invert the marshmallow sheet onto a large cutting board, smacking the bottom of it, if needed. You also may need to use your fingers to loosen the marshmallow sheet from the casserole dish and gently glide it onto the cutting board. Using a sharp knife, cut the marshmallows into 1-inch cubes. Store the marshmallows in an airtight container for up to 1 week.

You know how to make s'mores: toast the shit out of your marshmallow, stick it on a graham cracker that has a piece of Hershey's chocolate on it and then smash it with another graham cracker. This is called heaven.