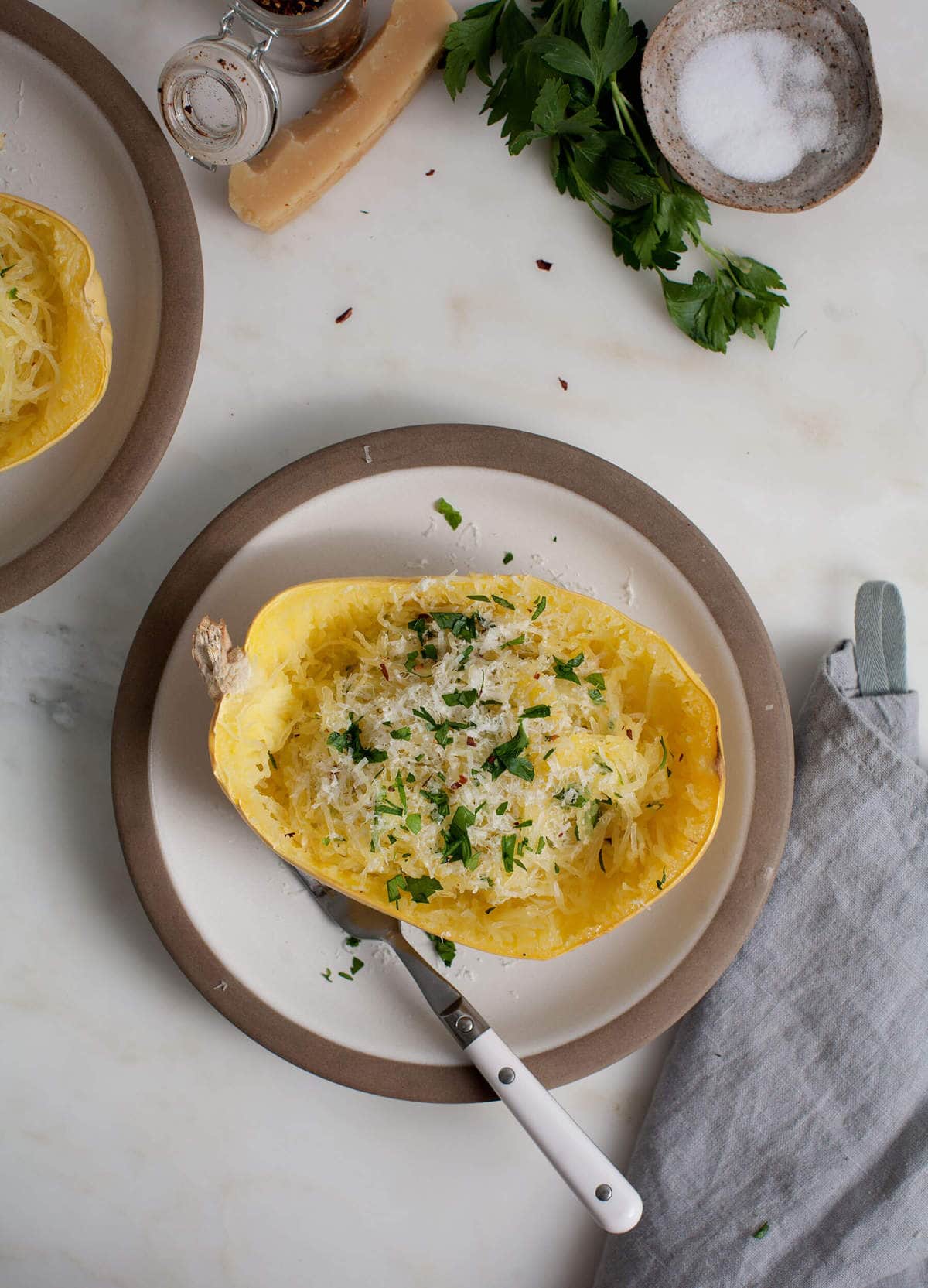 This is one of those super silly no recipe type things but except there is sort of a recipe.
I've been making this—I'm not kidding you—nearly every single day for the past few weeks. I usually serve it with piece of roasted chicken or a few shrimp or even a side of roasted sweet potato.
I feel like a genius that I found out that tongs are the simplest, fastest way to spaghetti-ing the spaghetti squash. It takes about a minute and there's no burning your hand trying to get two forks all up in there.
This recipe is sort of inspired by the idea of the book Sheet Pan Suppers. It doesn't take from any of the recipes in there but this can literally be made on one sheet pan—that's all you need!
The spaghetti squash is laid down, flesh side down, on the baking sheet. And then I sneak under a garlic clove or two so that steams along with the squash in the oven.
After about 30 to 40 minutes, depending on how big the squash is, I flip it over, remove the seeds with a pair of tongs and just go to town, grabbing at it with tongs.
It works SO WELL! When I figured this out I was like I will never go back to using a fork ever again!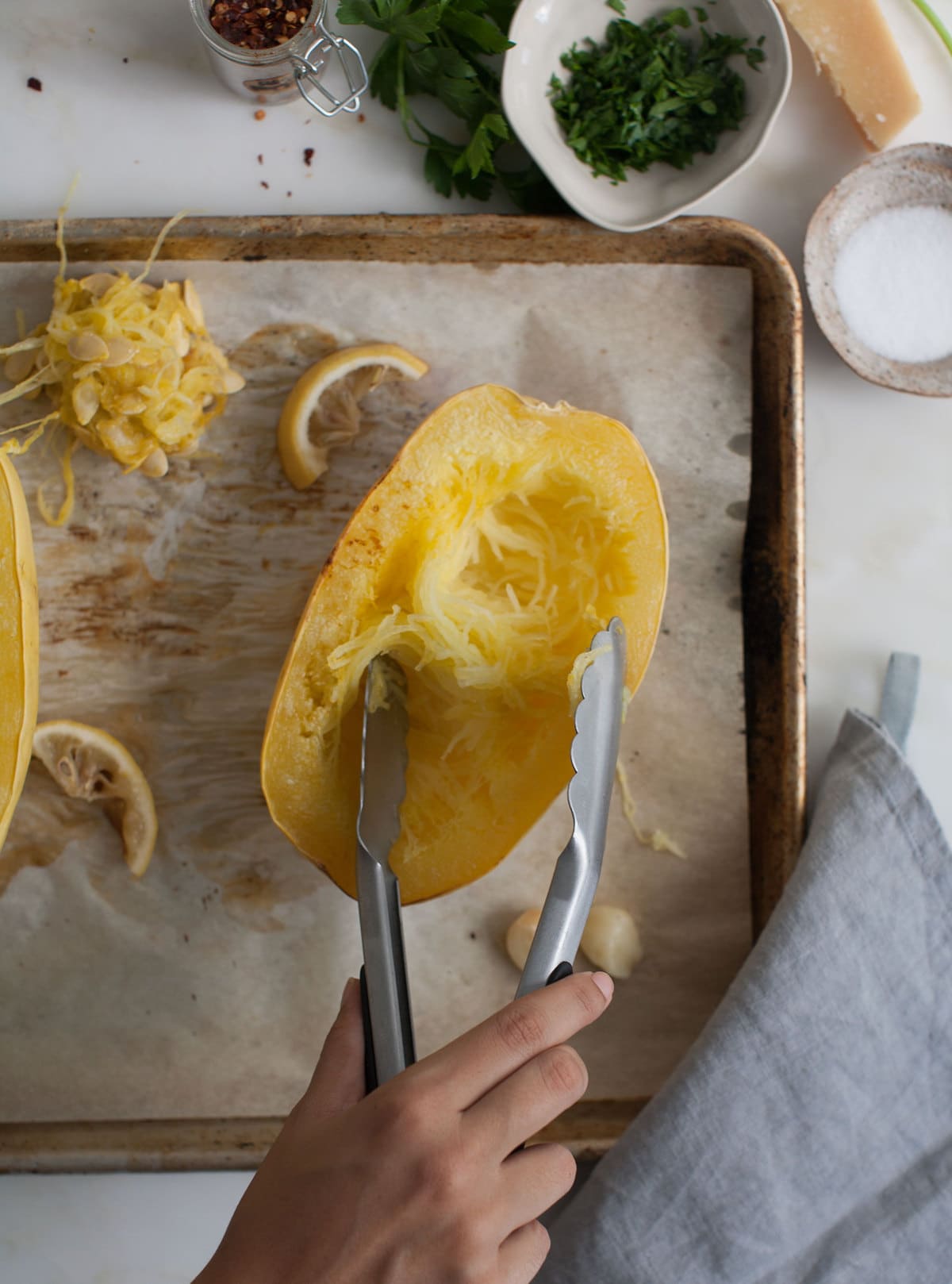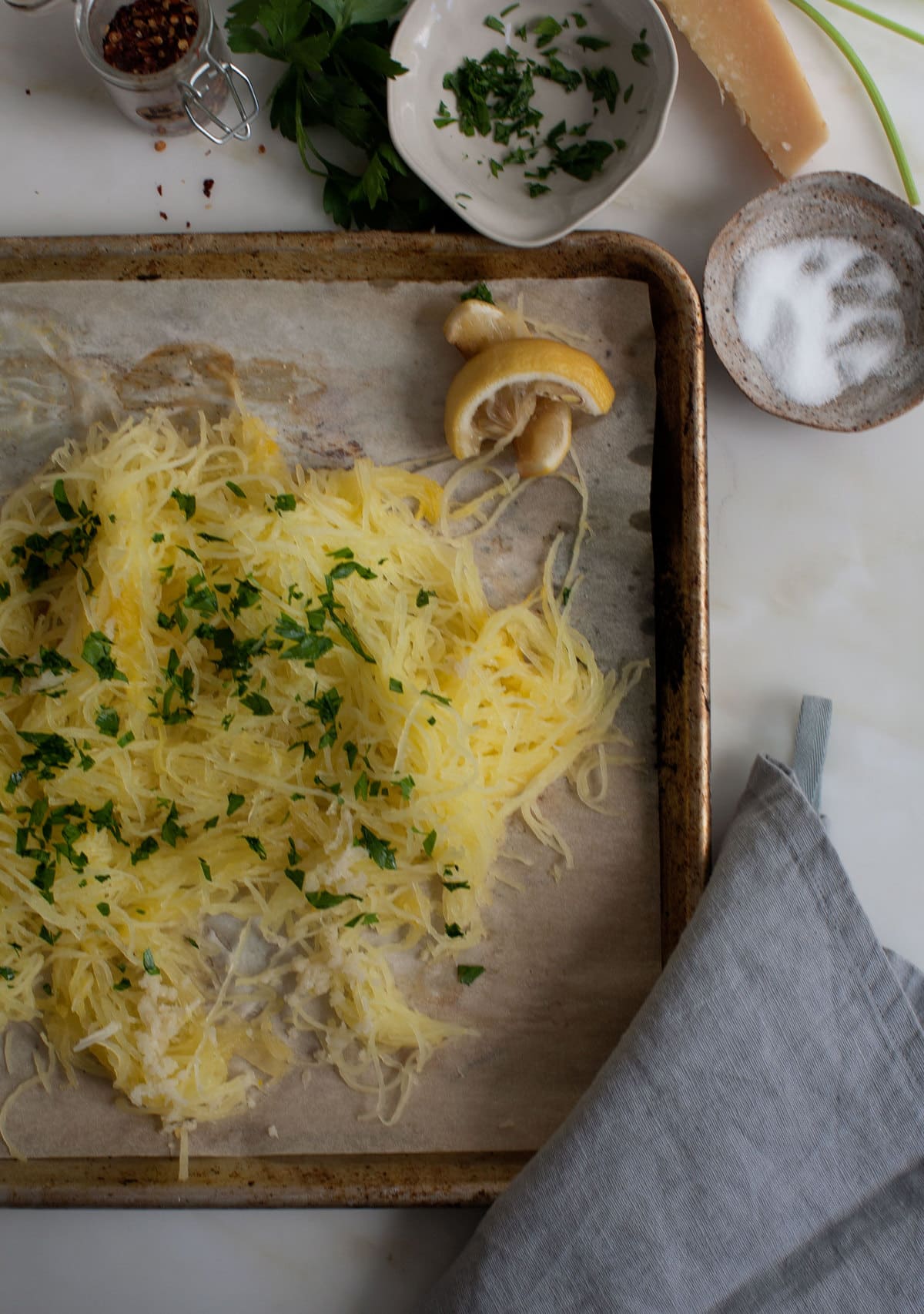 I lay the spaghetti squash on the parchment and then add salt, parmesan cheese, the smashed roasted garlic, Italian parsley and lemon zest.
I give it a good mix. And then that's kinda it. I put it back in the squash for prettiness and then top it with a bit more cheese.
It's the simplest preparation but one that I need because I feel the crazy creeping in very slowly. Don't you?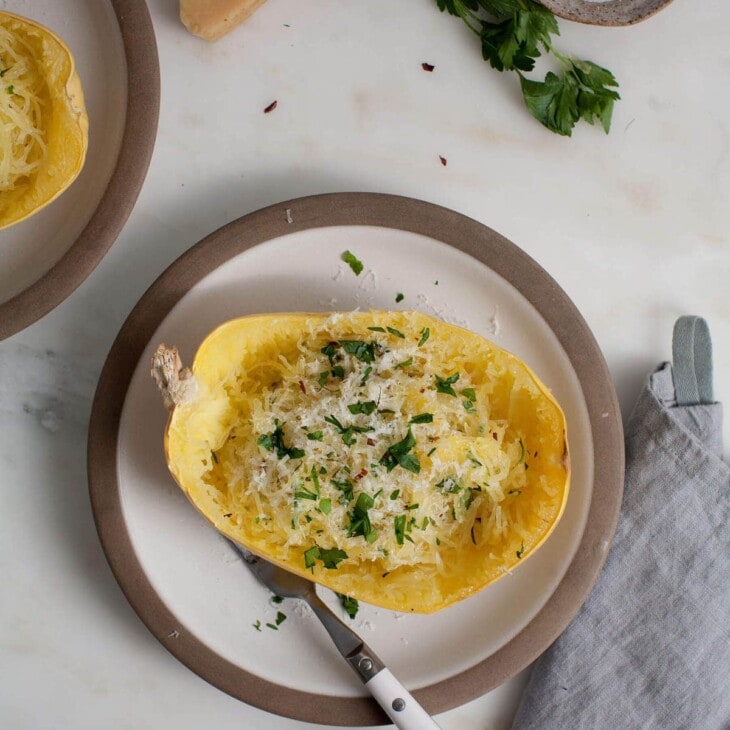 Print Recipe
Dinner of One (or Two): Lemon-y Cheesy Spaghetti Squash
Ingredients
1

spaghetti squash, halved

1

or 2 garlic cloves, peeled

Lemon zest

Small handful of Italian parsley, minced

Parmesan-Reggiano cheese

Salt
Instructions
Preheat oven to 400 degrees F. If you want to make this for two, you'll want to use both halves. If it's just for you, then you can wrap up the other half and put it in the fridge.

Place the spaghetti squash flesh side down on the baking sheet. Place the garlic clove under the spaghetti squash so it sits in the hole--this will help soften the garlic clove. Transfer to the oven and bake until the spaghetti is very tender about 35 to 40 minutes. Remove from the oven and using tongs, flip the spaghetti squash over. Set the garlic clove aside so it's cool enough to handle.

Using tongs, remove the seeds and discard. Take the tongs and grab at the spaghetti squash so the strands break apart (this should happen very easily). Continue this until you've worked your way through all the spaghetti squash. Set the strands on the baking sheet and spread it out in one even layer. Zest the softened garlic atop and add the lemon zest to the spaghetti squash.

Sprinkle with Italian parsley and grate parmesan over it until you think it's good enough (I like a lot!). Add a few pinches of salt and crushed red pepper and toss the entire thing together. Give it a taste and make sure the salt is ok. Top with more parmesan and Italian parsley.