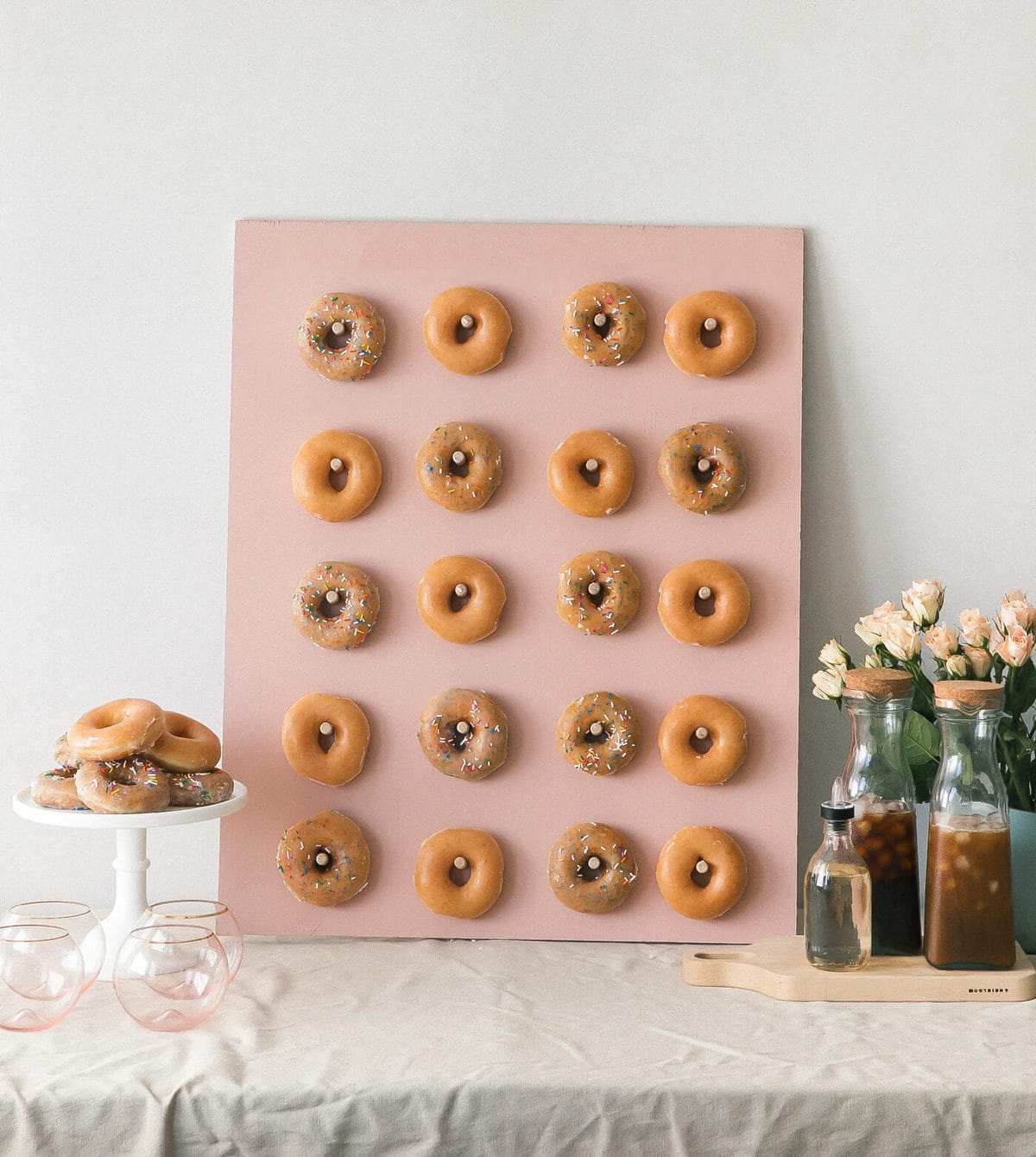 I went to school in Winston-Salem, North Carolina. It's a teeny little college town (especially compared to a big city like Los Angeles). I went to a conservatory, which technically means you're classically trained in whatever you're studying, but what it really means is that you're stressed out all the time and you study and work like crazy.
We'd have super early shoots at 6am and I'd always, ALWAYS drive past Krispy Kreme Doughnuts (their original location!) and let me tell you, that "HOT NOW" sign that would light up was like a spark of joy and hope to us all.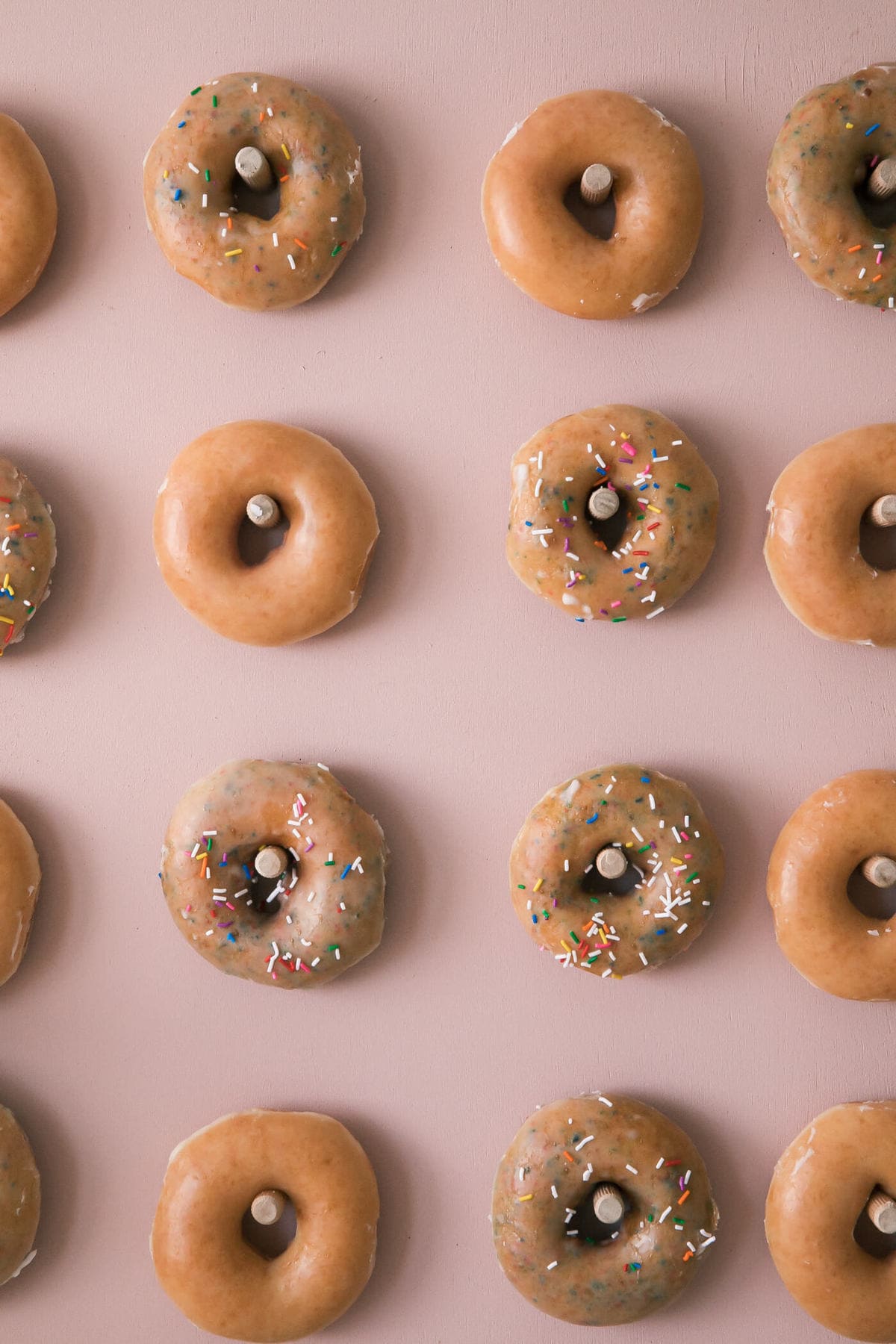 Today, in honor of Krispy Kreme Doughnuts' 81st birthday, I'm teaming up with them to show you how to make a very simple and very cute doughnut wall.
It was much simpler than I had imagined in my brain. I thought a drill would have to be involved and a tabletop wood cutter but it turns out, I was able to streamline it so it was super easy.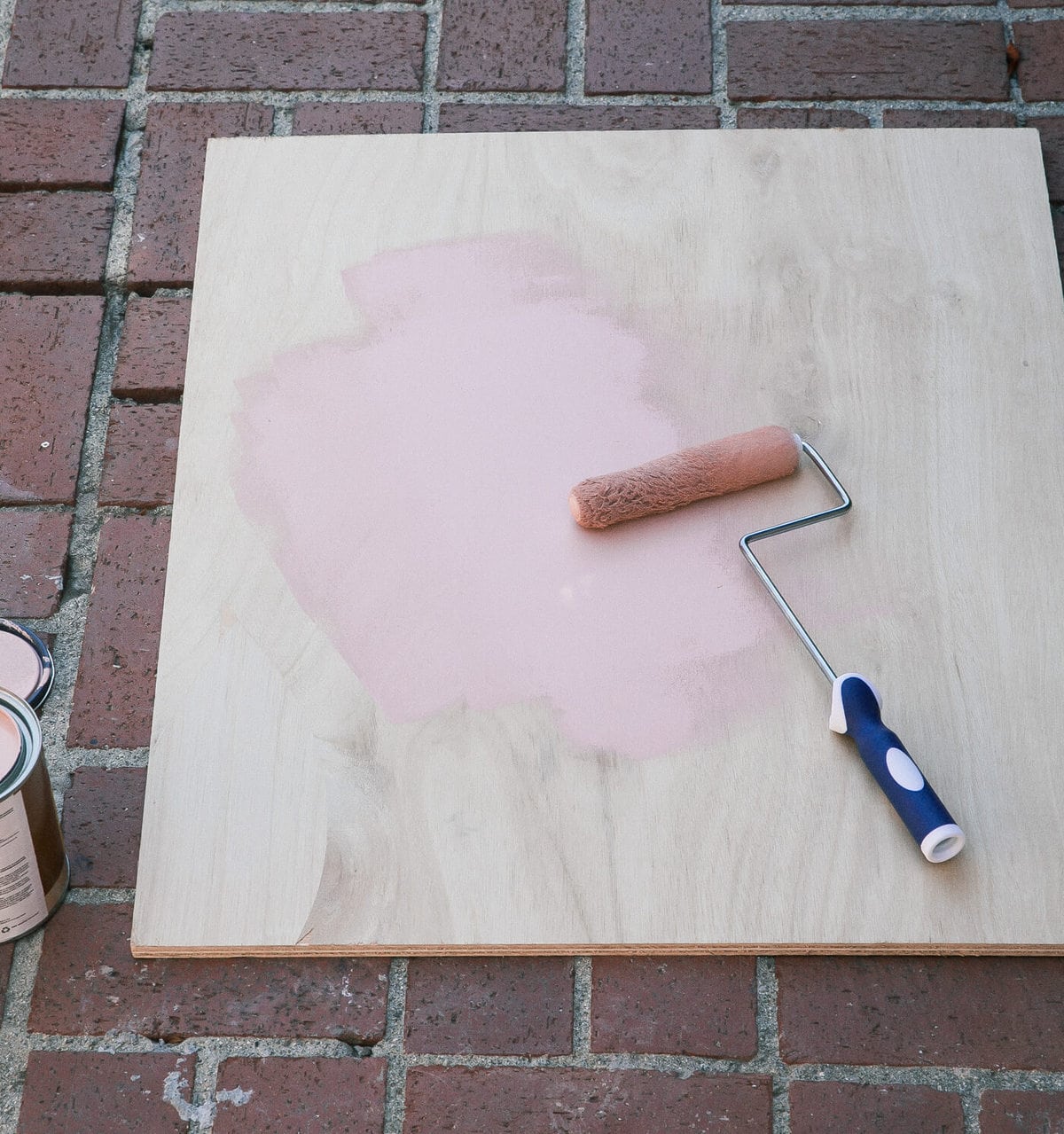 I headed to my local hardware store and bought a piece of plywood. They actually had a place where they cut it down for me to my desired size (I went with 24 x 30-inches).
STEP 1: 
I brought it home and gave it two coats of paint. Of course, I chose my favorite color: mauve-y pink. I let it dry for a good hour or two just to make sure it was good to go.
STEP 2: 
Using wood glue, I glued dowels onto the board. I measured them so they were about 4 1/2 inches apart so that it would create a grid.
The dowels weren't placed on perfectly and it ended up being A-OK, so just do your best. I let the glue dry for about 15 minutes.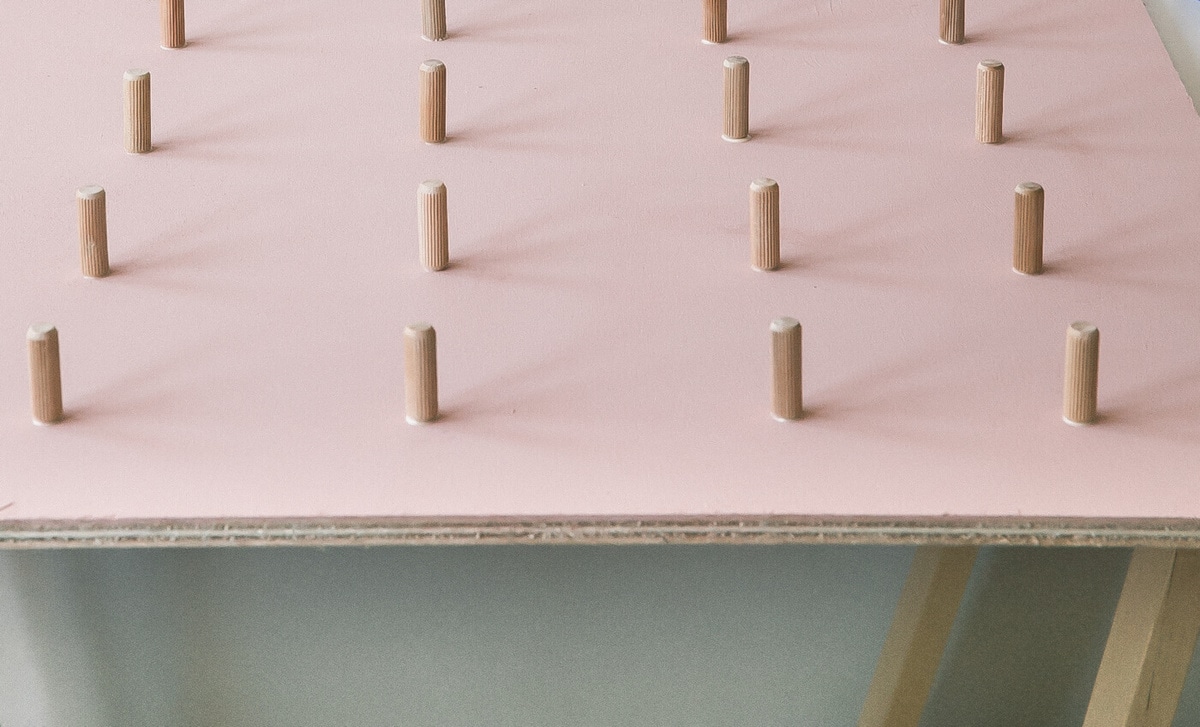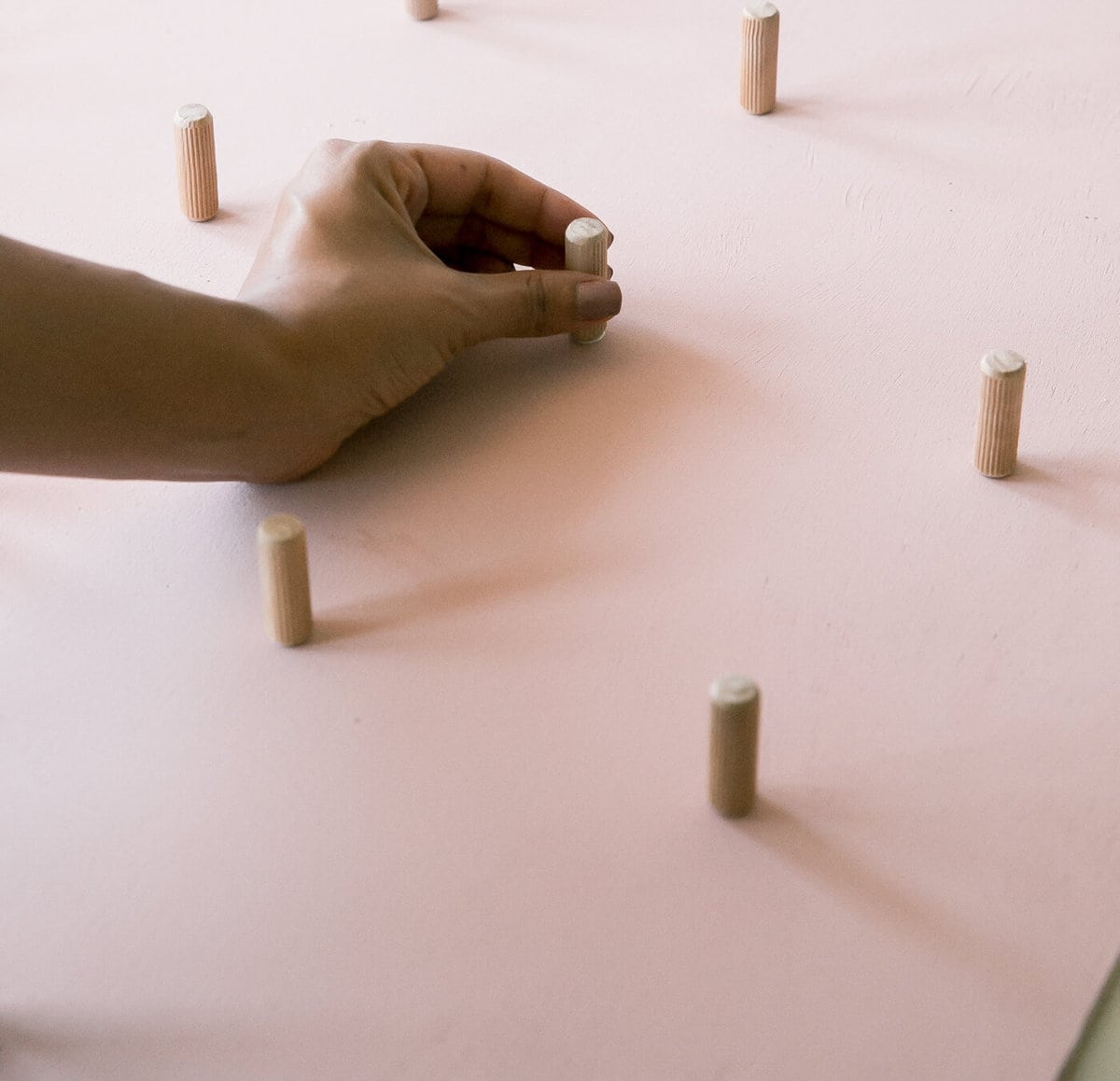 STEP 3: 
Since paint is generally not food safe, I lined the doughnuts with doughnut-shaped parchment, i.e., cut out circles with a cut out center. I put them on the board first.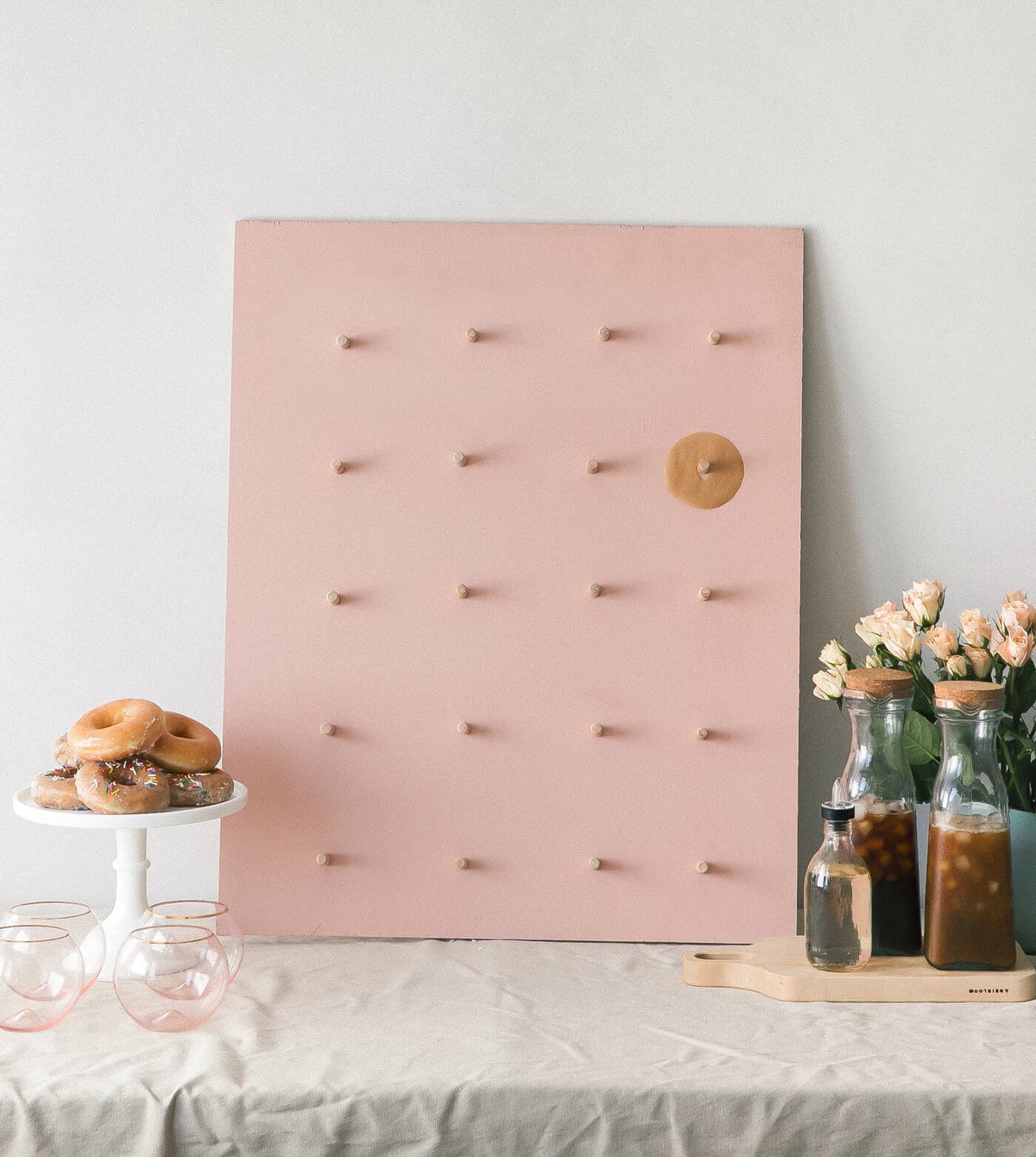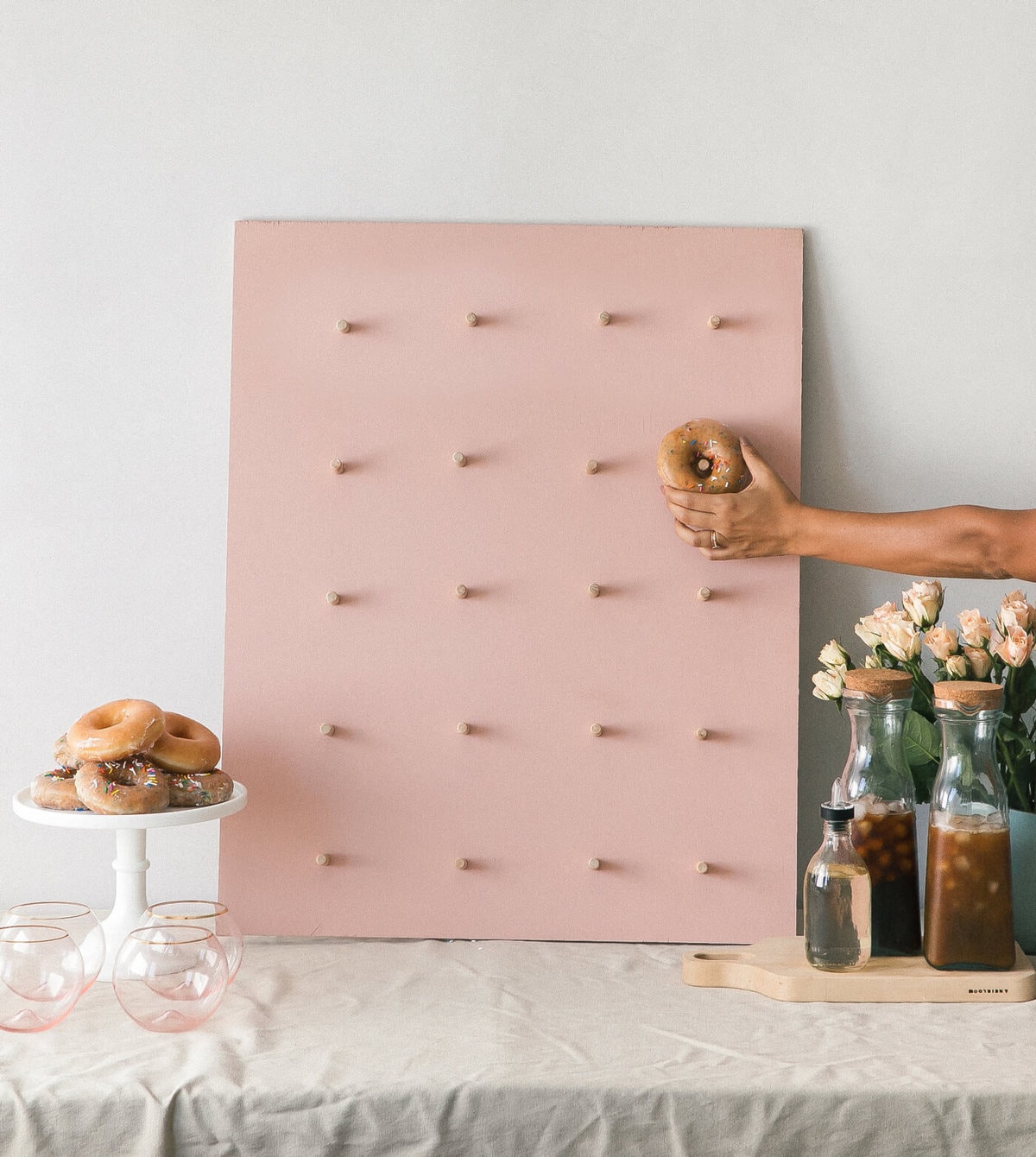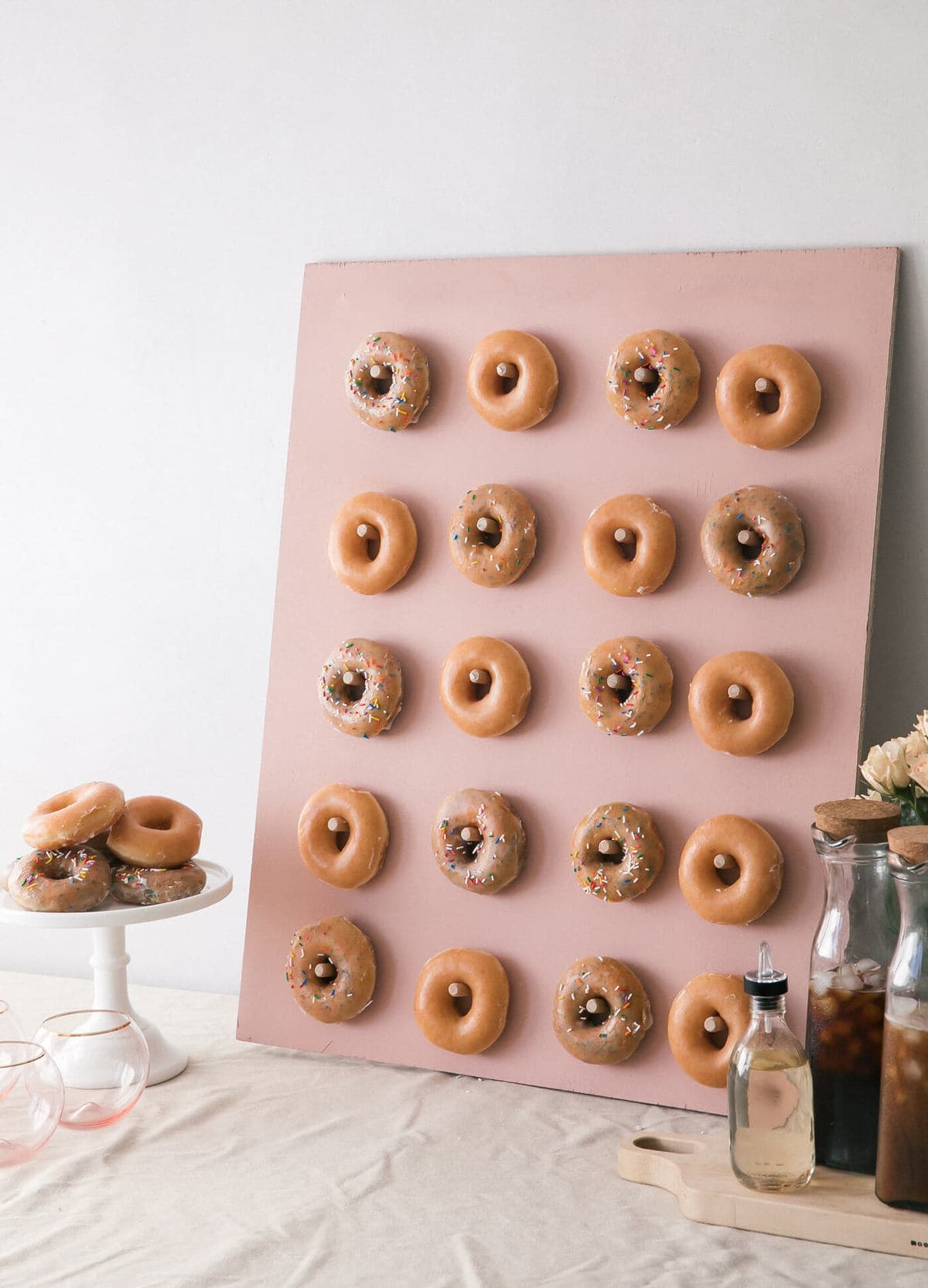 That's it!
Then, you just add doughnuts.
For Krispy Kreme Doughnuts' 81st birthday, they've released the NEW Glazed Confetti Doughnut! This birthday cake inspired dough has confetti sprinkles, and is glazed in classic Original Glaze and topped with sprinkles. They will be available at participating shops now through August 2. Make sure to sprinkle some of these in while you can!
xoxo,
Adrianna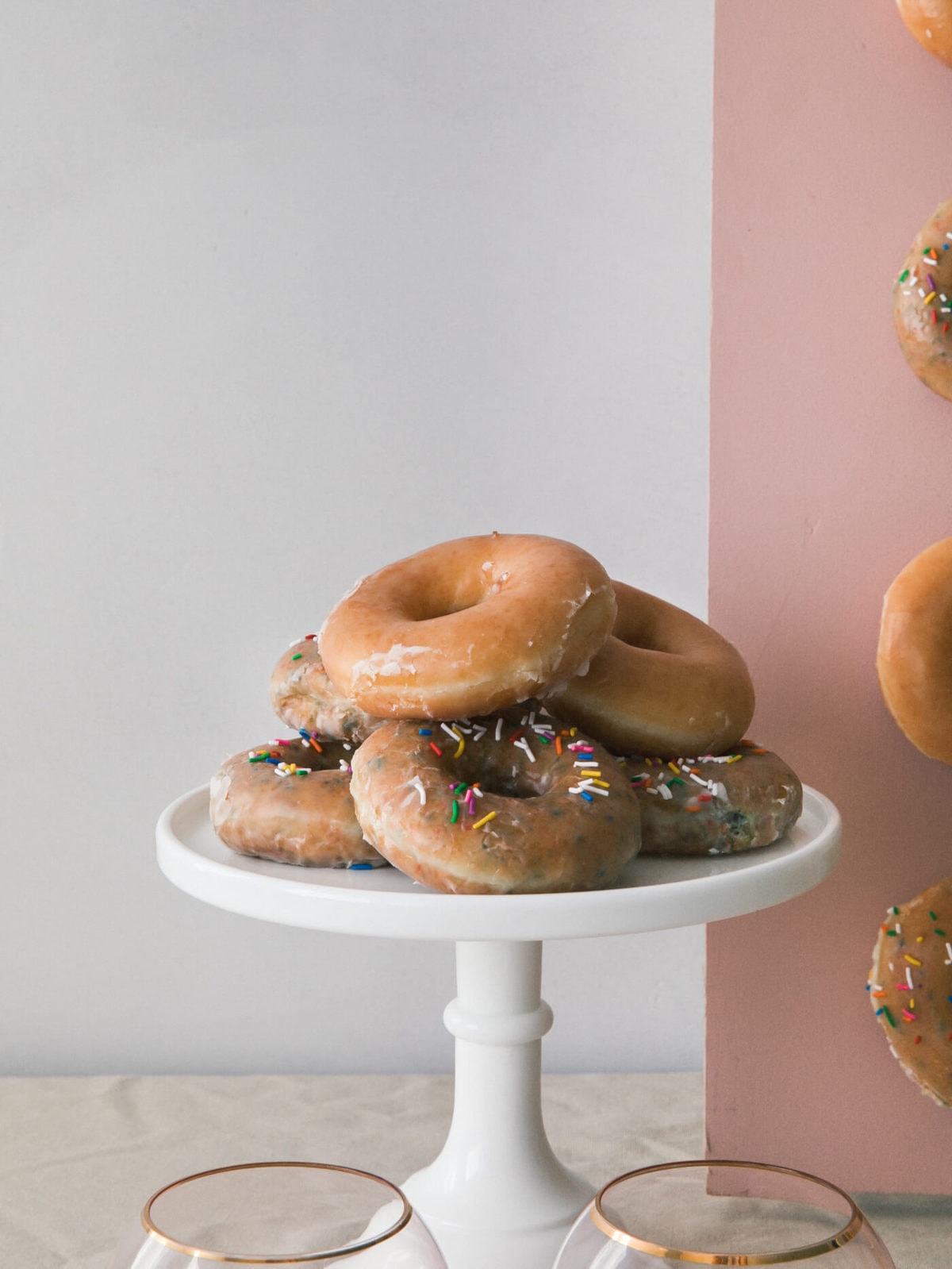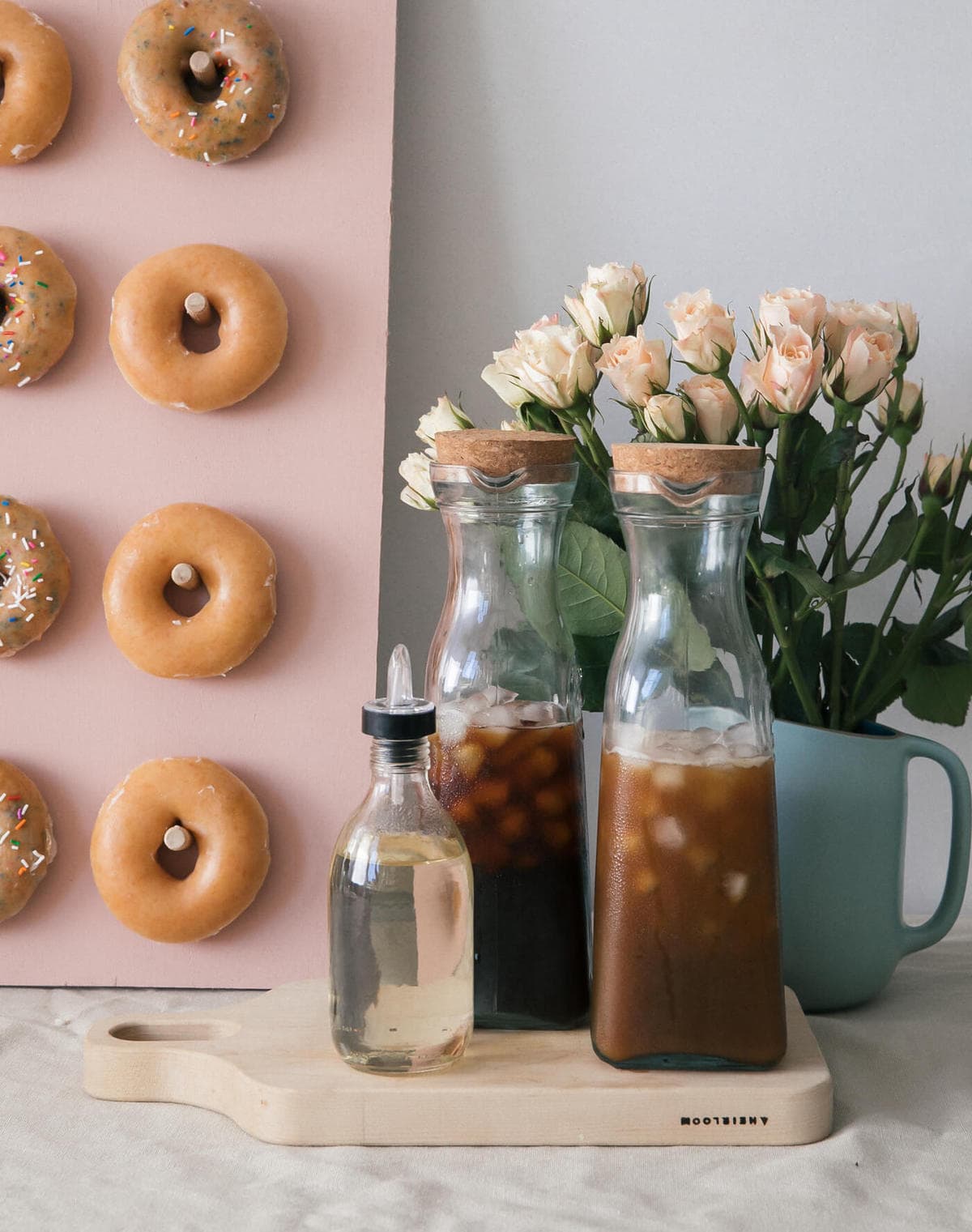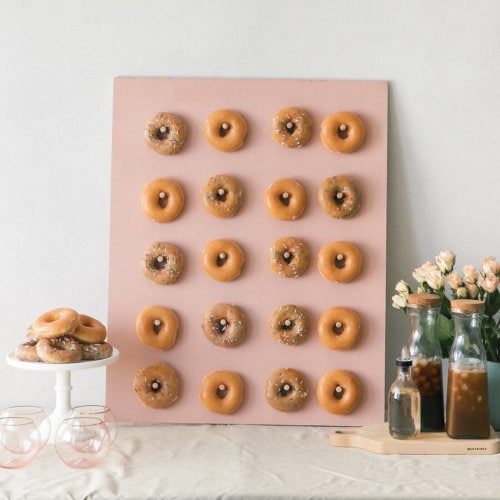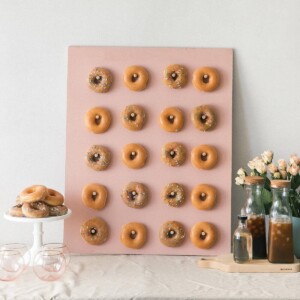 Ingredients
24

x 30 cut piece of plywood 

Paint of choice

,

along with paint roller 

20

wooden 1/2 dowels 

Wooden glue 

Painter's tape 

Black letter stickers 

2

dozen Krispy Kreme Doughnuts

,

one dozen Glazed Confetti Doughnuts and one dozen Original Glazed Doughnuts 
Directions
Paint plywood with two coats of paint color of choice. Allow to dry completely. 

Place dowel on board (without glue) about 4 1/2 inches apart, putting four dowels vertically and four dowels horizontally. Place a dab of glue on the end of the dowel and place it on the board. Repeat with the remaining dowels. Allow to dry the dowels to dry, about 10 minutes. 

Lay painter's tape across the top of the board to act as a guide for sticking on the letters. Spell out whatever you like! Add the last two dowels on top, right next to the title. 

To hang doughnuts, cut out doughnut-shaped pieces of parchment paper, so that the doughnut has something to separate it from the board itself. Add the doughnuts and enjoy!
(This post is sponsored by Krispy Kreme Doughnuts. Thank you for supporting the sponsors that keep A Cozy Kitchen cozy.)