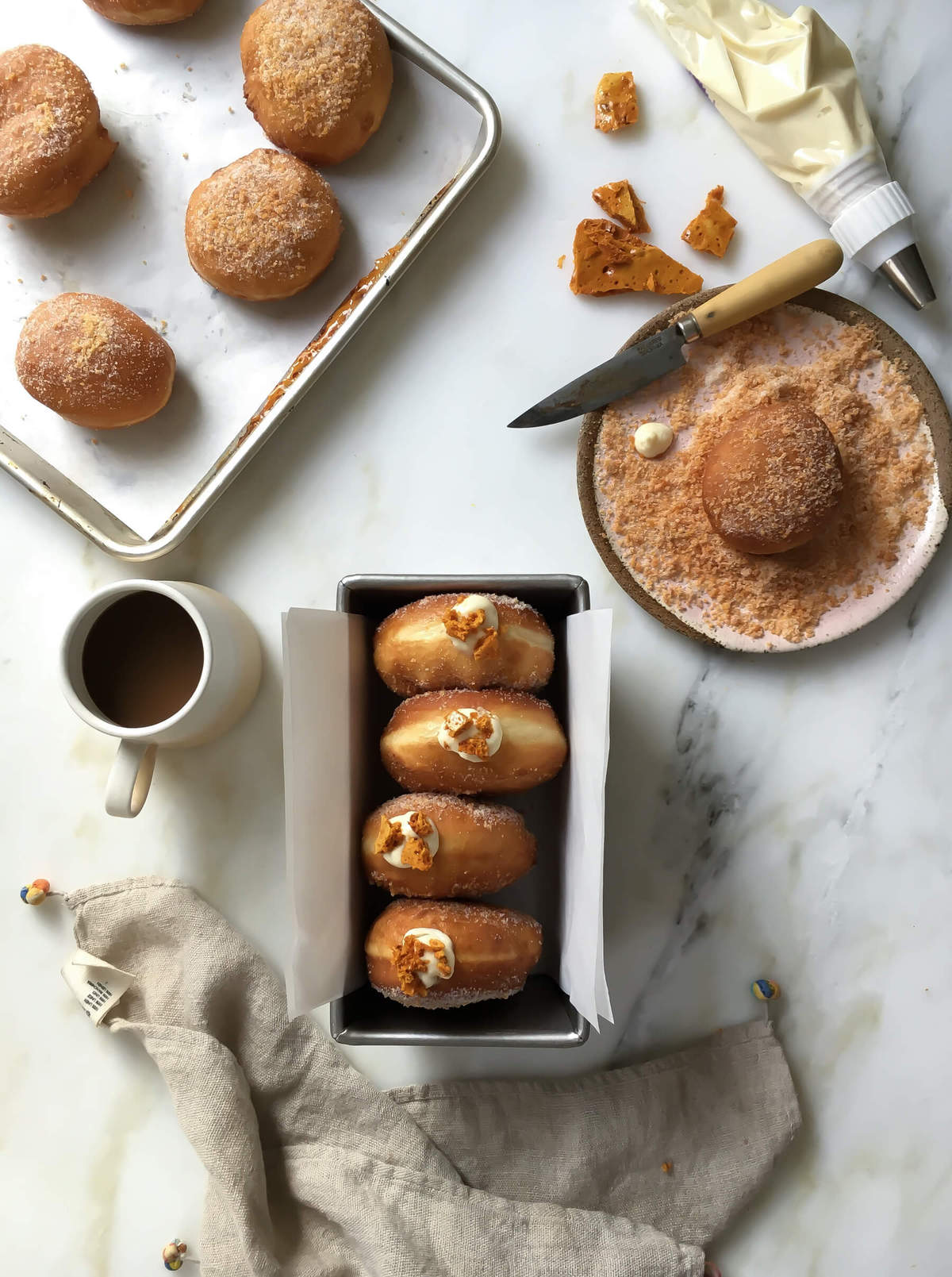 Today is let's-eat-all-da-doughnuts-day. Or, if you're trying to eat healthy, is more like stare-at-all-the-doughnuts-on-the-internets-day!
Whether you're being an active participant or leisurely double-tapping all of the doughnuts you see in your feed, I'm here hoping to contribute to the conversation by the way of these fluffy, deliciously sweet thangs.
Remember when I went to London. Well, while I was there, I strolled through Borough Market since many of you told me to, and I visited Bread Ahead. I happily ate two doughnuts in the freezing cold, while feeling very much like a rich and lucky Oliver Twist.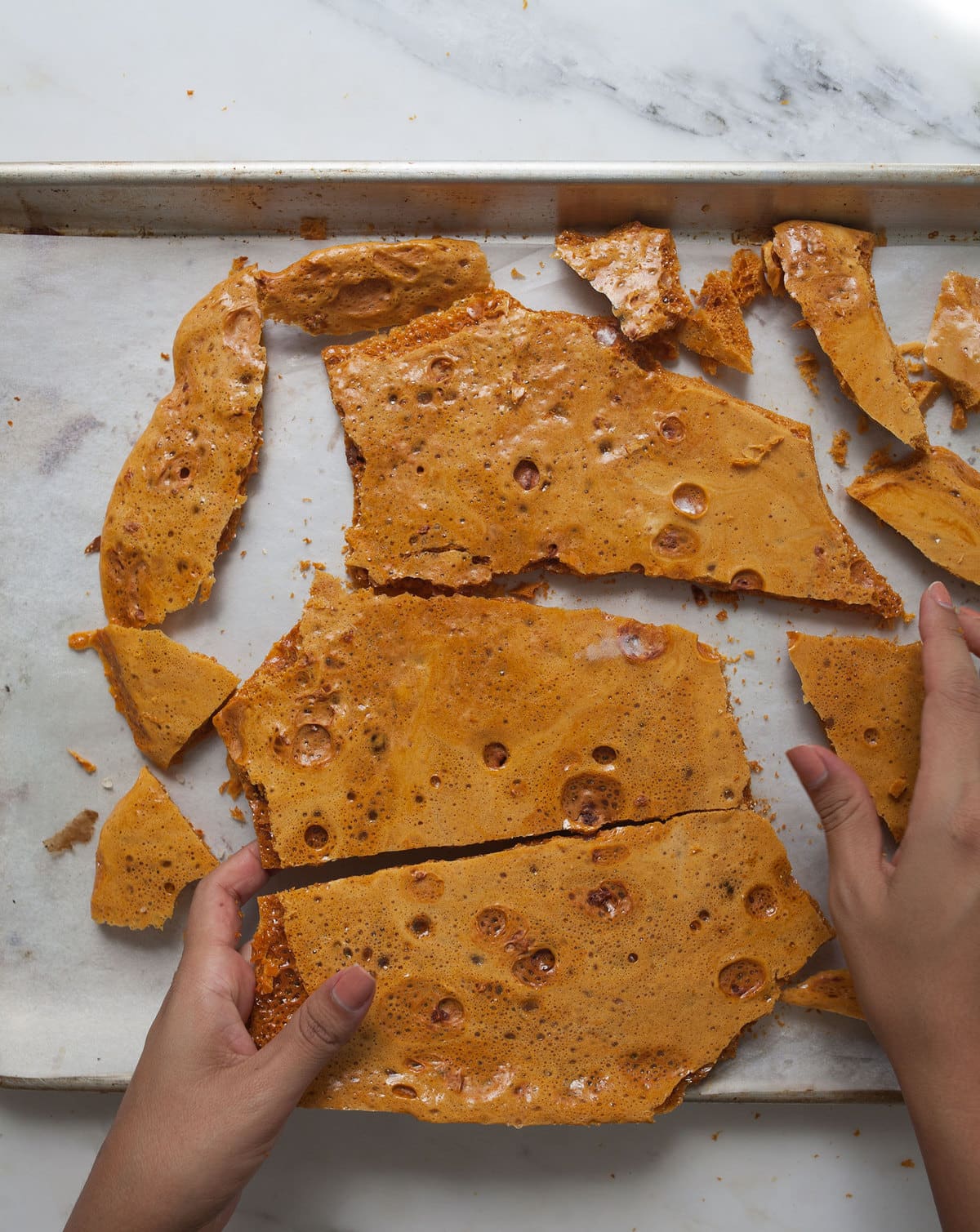 These doughnuts were fluffy and cream-filled. The cream, I believe, was mixed with honeycomb. I thought it was a splendid idea. I loved it so much that I recreated them here, though slightly different.
Instead of mixing the honeycomb in with pastry cream, I made a honeycomb sugar! YASS. Take honeycomb and blitz it with sugar. It's the most delicious thing in the entire world. And it was all Billy's idea lol.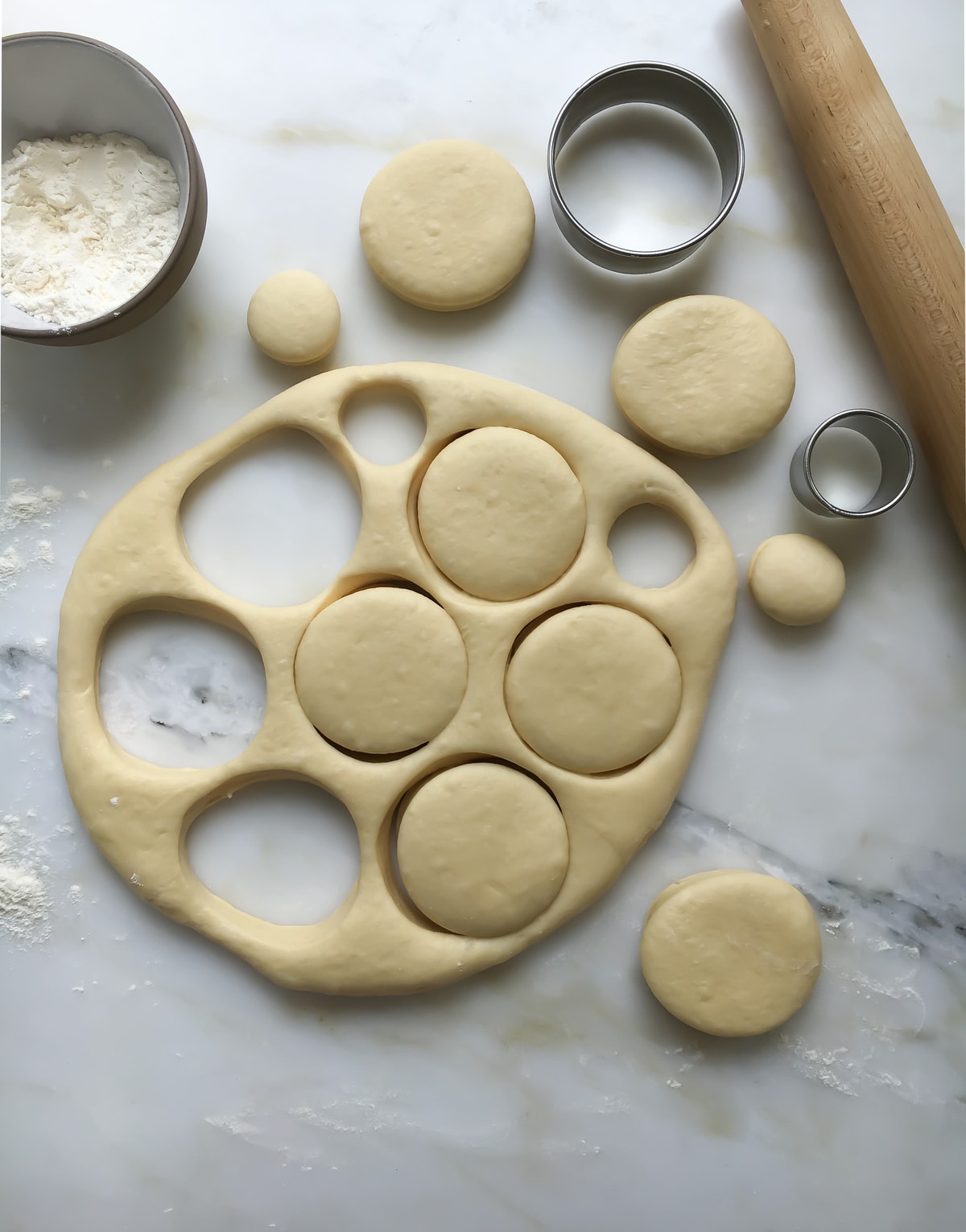 The doughnut base recipe is adapted from Chef Steps. Do you know this site? It's great. The recipes are written like a dream, so very clear and concise. Since all of their recipes are written in grams, I tweaked it you can make them in cups. I know most of you are allergic to a scale so you know, I'm looking out. The original recipe used bread flour but I didn't have any so I altered the recipe to accommodate all-purpose.
If making honeycomb is a super big drag for you (I get it), then consider making other types of sugar! Think fruit sugars, cinnamon sugar, vanilla sugar, you know…get creative and stuff.
These are maybe the best homemade doughnuts I've ever had. They're fluffy, airy slightly sugary clouds filled with light pastry cream and crispy honeycomb. They're dreamy.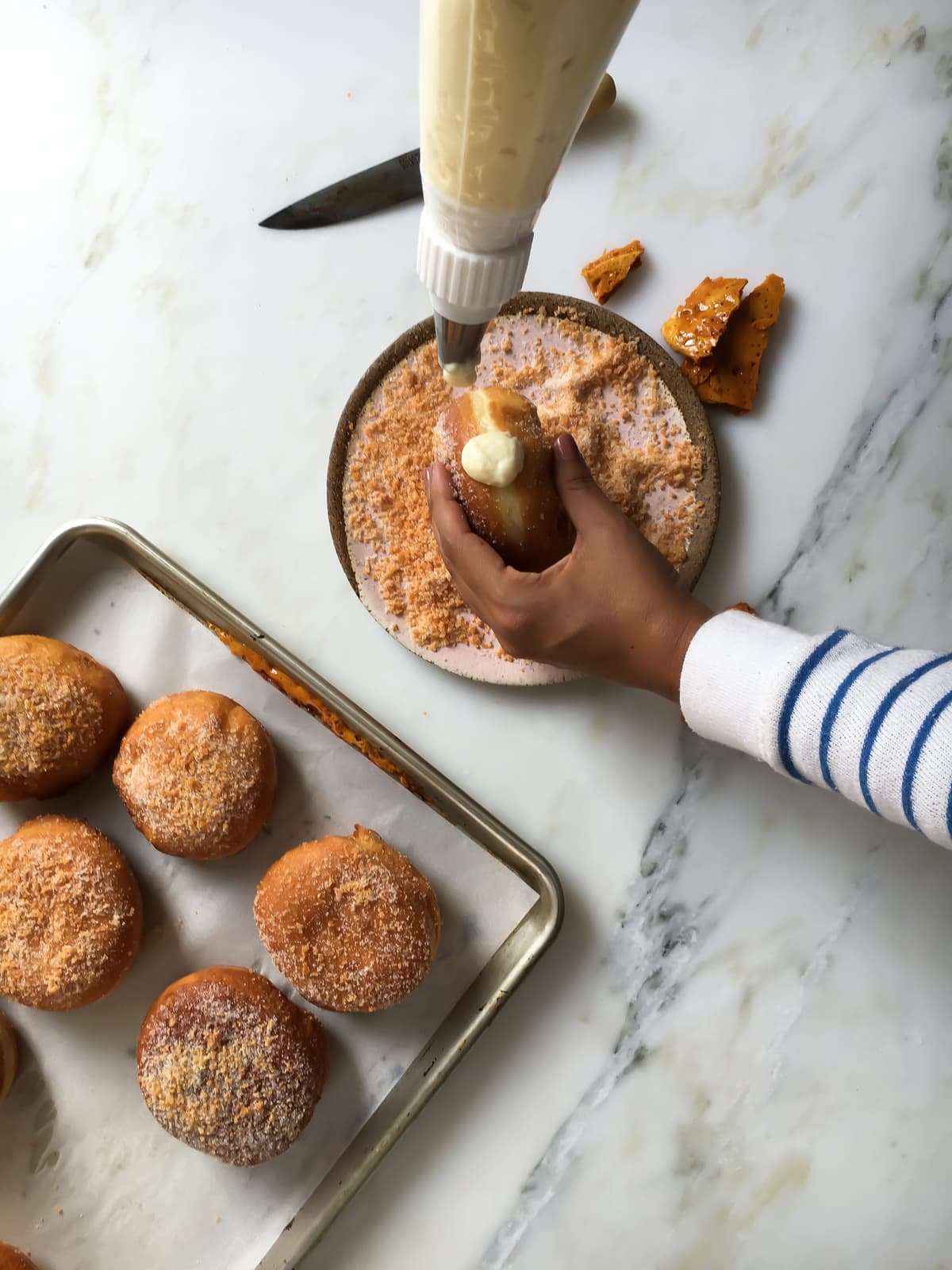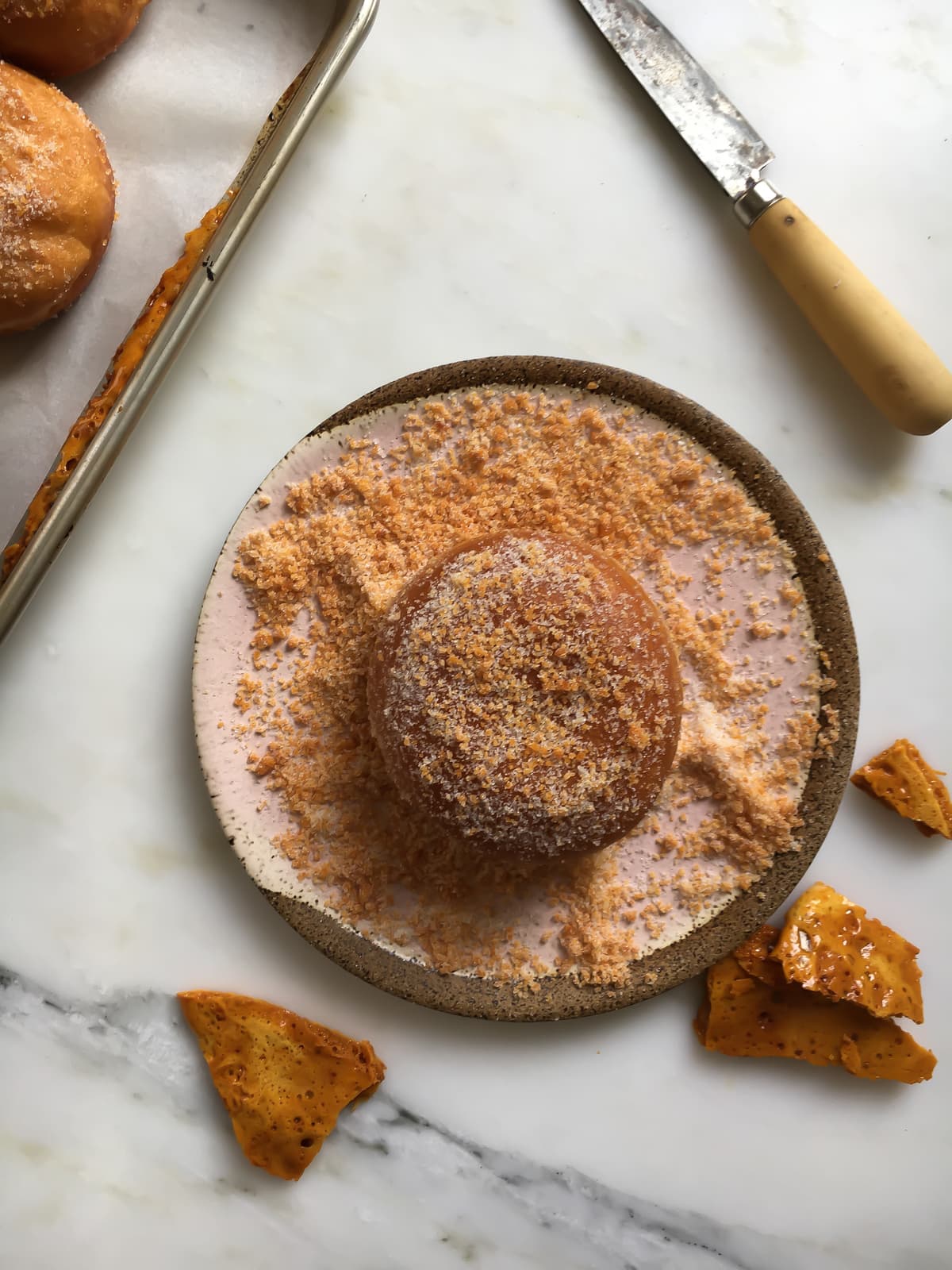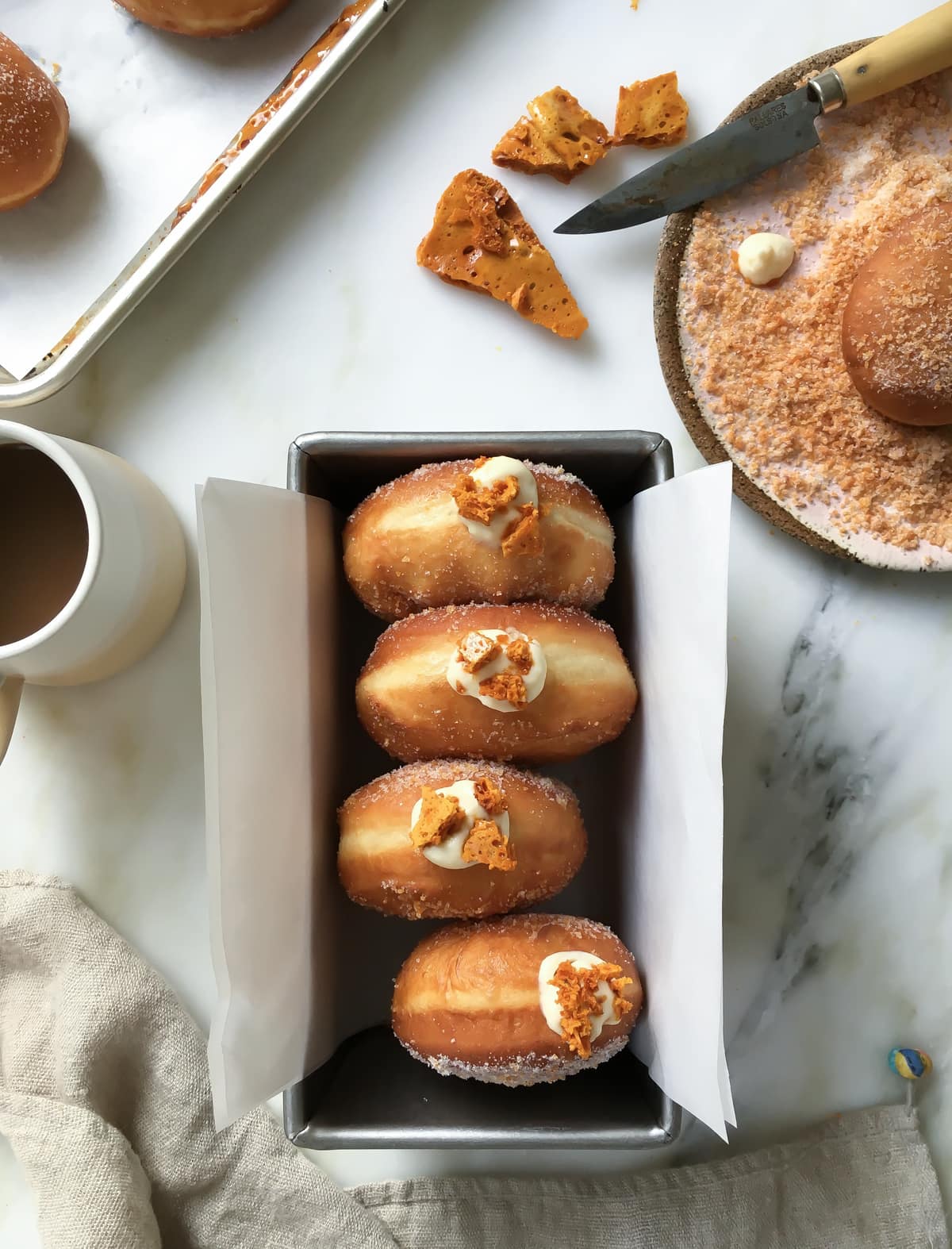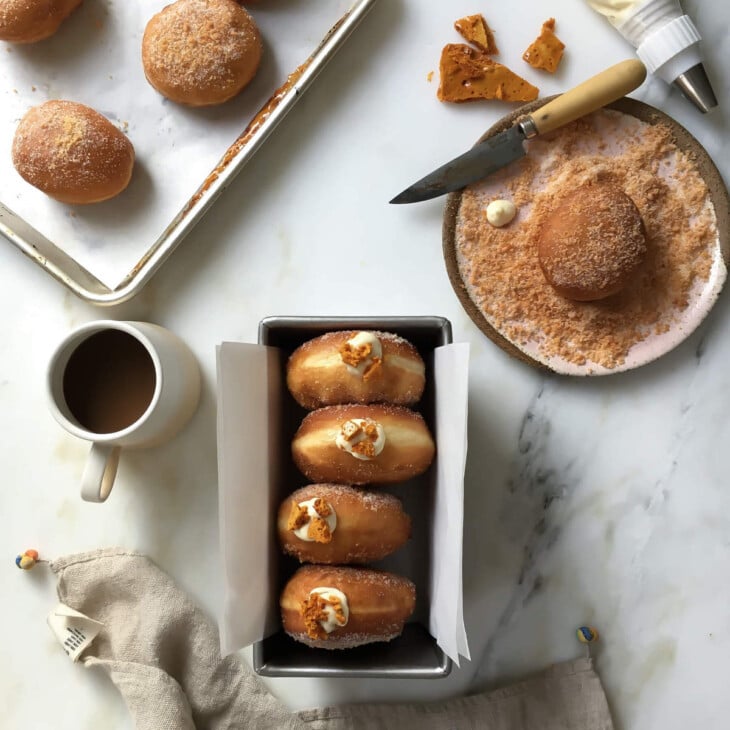 Print Recipe
Honeycomb Sugar Doughnuts
Serving Size:
doughnuts + 10 doughnut holes
Ingredients
Doughnuts:
2

tablespoons

unsalted butter

3

tablespoons

vegetable oil

1

cup

whole milk

1

large egg

1

tablespoon

dry active yeast

4

cups

plus 2 tablespoons, all-purpose flour

1/3

cup

white granulated sugar

1

teaspoon

salt
Pastry Cream:
1

tablespoon

all-purpose flour

1

tablesoon cornstarch

1

cup

whole milk

1

teaspoon

pure vanilla extract

2

large egg yolks

3

tablespoons

white granulated sugar

1/3

cup

heavy cream
Honeycomb Sugar:
1/2

recipe for honeycomb

1/3

cup

crushed honeycomb

2/3

cup

white granulated sugar
To Fry:
3

quarts

sunflower oil

peanut oil or canola oil

Paper towels

A spider or stainless steel sieve
Instructions
To make the doughnuts:
In a medium saucepan, set over medium-low heat, add the butter, vegetable oil and milk. Heat the mixture between 100F to 110F and transfer it to a mixing bowl of a stand-up mixer. Mix in the egg and then sprinkle the yeast atop the mixture; allow it to stand until mostly foamy, about 10 minutes.

Meanwhile, in a large bowl, whisk together the flour, sugar and salt.

With the dough hook attached to the stand-up mixer, add a few spoonfuls of the dry ingredients to the wet. Turn the mixer to medium-low and continue adding the flour mixture, a spoonful at a time, until totally combined with the wet.

Turn the mixer to medium/high and knead the dough is smooth and sort of pulls away from the sides of the mixing bowl, 7 to 10 minutes. The dough will be slightly sticky. Grease a medium, clean bowl with cooking spray or olive oil. Form the dough into a ball (some will stick to your hands, don't worry) and place in the bowl and cover with plastic wrap. Transfer to the fridge to rise for 1 hour. (Putting in the fridge slows down the rising process.)

Line a baking sheet with parchment. Dust a work surface and the top of the dough in the bowl with a little bit of flour. Punch down the dough and transfer it directly to the floured surface. Roll it out, using a rolling pin, to a 1/2-inch thickness.

Use a 3-inch round cutter and 1 1/4-inch round cutter to cut out your doughnuts. Cut out as many as you can and reroll the scraps and cut out a few more.

Transfer the doughnuts and doughnut holes to the parchment lined baking sheet, spacing them about 2 to 3 inches apart. Spray the tops with a bit of cooking spray and lightly cover with plastic wrap. Allow to rise for 30 to 45 minutes, until almost quartered in size.
To make the pastry cream:
In a small bowl, sift together the flour and cornstarch. In a small saucepan set over medium heat, combine the heat and vanilla and bring to a simmer, then immediately remove from the heat. In a medium bowl, whisk the egg yolks and granulated sugar until the mixture is a pale yellow. Add the flour mixture and whisk until completely smooth. While whisking the egg mixture, simultaneously add about half of the milk mixture to the bowl. Slowly adding the hot milk to the egg mixture will prevent the eggs from scrambling.

Transfer the egg/milk mixture back to the saucepan and place over medium-high heat. Bring to a simmer, whisking the entire time, being sure to scrape the bottom and the sides of the pan. Lower the heat and cook until the cream has thickened and hits 175 degrees F, 2 to 3 minutes.

Remove the custard from the heat and pour it through a sieve into a bowl. This will eliminate any lumps and catch any eggy bits. Press a piece of plastic wrap directly onto the custard's surface so it doesn't form a skin, and transfer it to the refrigerator to chill for 1 hour.

Combine the heavy cream and powdered sugar in a medium bowl. Using a hand mixer, beat until firm peaks form. Remove the chilled custard from the fridge and gently fold in the whipped cream. Return the diplomat cream to the fridge until you're ready to use it.
To make the honeycomb sugar:
To a food processor, add the honeycomb and sugar. Pulse until the honeycomb breaks up into small bits. If the texture at all is sticky, add a tablespoon or two more granulated sugar. Transfer to a plate and set aside.
To fry up the doughnuts:
Bring a pot (I like using a Dutch oven) filled with at least 2 to 3 inches of oil to 350 degrees F. (I like to use a digital thermometer but a candy thermometer works, too!) Drop the doughnuts in the oil, one to two at a time, and fry them on each side for about 1 minute. Transfer them to a bed of paper towels and then immediately put them on the plate with the honeycomb sugar. I sprinkled them with the sugar, flipped them and then sprinkled them some more.

Repeat until you've fried up all of the doughnuts and doughnut holes and dusted them with the sugar.
To fill the doughnuts:
Add the pastry cream to a piping bag with a round tip. It doesn't have to be a super specific size just make sure it's big enough so stuff can come out of it (super tiny ones are not good for this). Take a sharp paring knife and make a hole on the side of the doughnut, twisting it to create a bit bigger hole. Stick the piping tip into the hole (this is getting graphic) and pipe the cream inside. You can actually see it filling up which is sort of strange. Sprinkle with a bit of crushed honeycomb. Repeat with all of the doughnuts and donut holes, if you want.