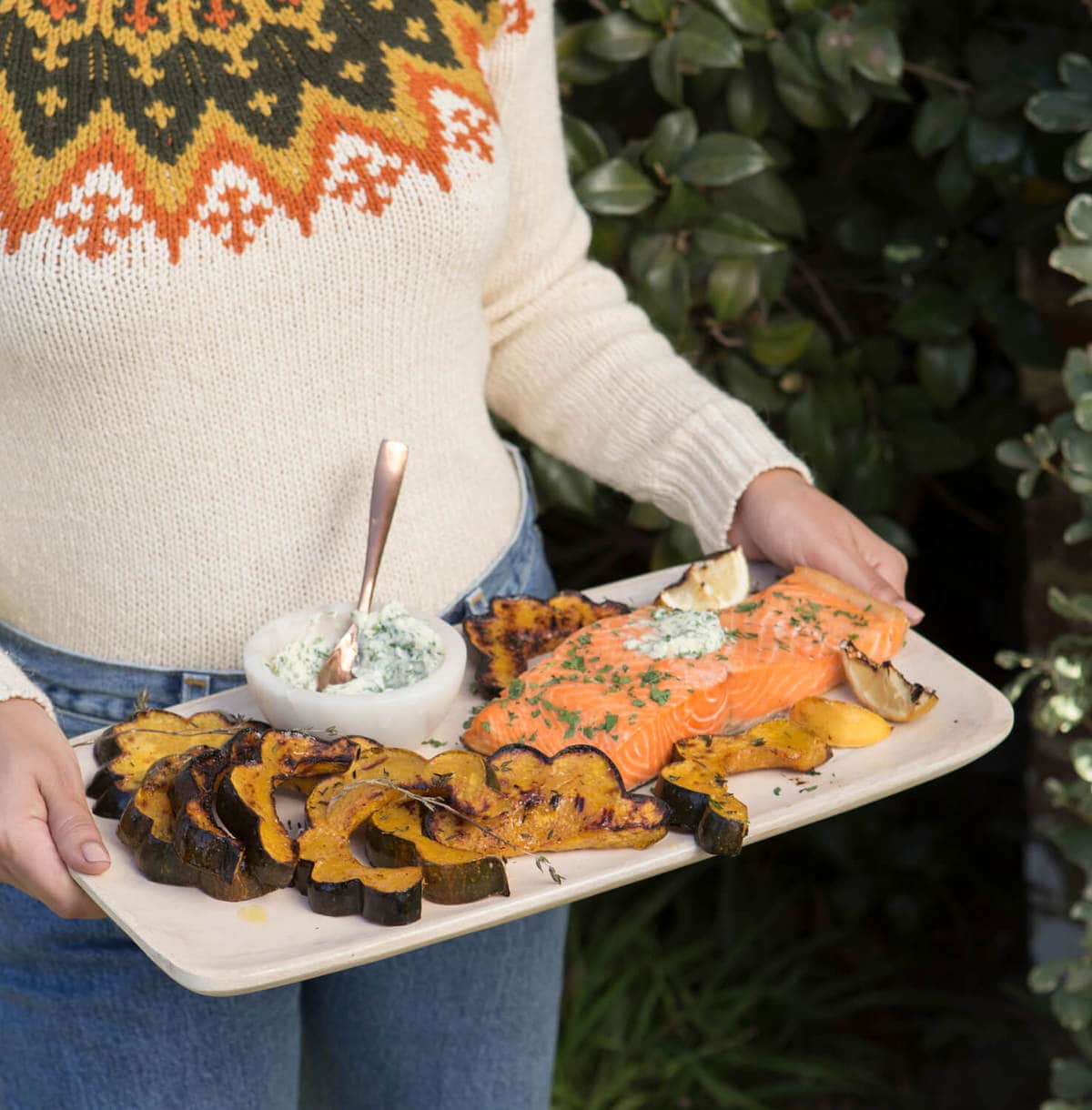 Hello, sweet friends!
I finally got a tree! Woohoo! And I've been decorating the house trying to get it as merry as can be. This includes a gigantic garland, a bunch of little trees and strings of pretty lights. And yes, this has also included fights with Amelia over her stealing my ornaments. This happens every single year so it's not anything surprising. There have been years where we've put a metal guard around it, creating a barrier between her and the tree. But it's not really that chic, you know?!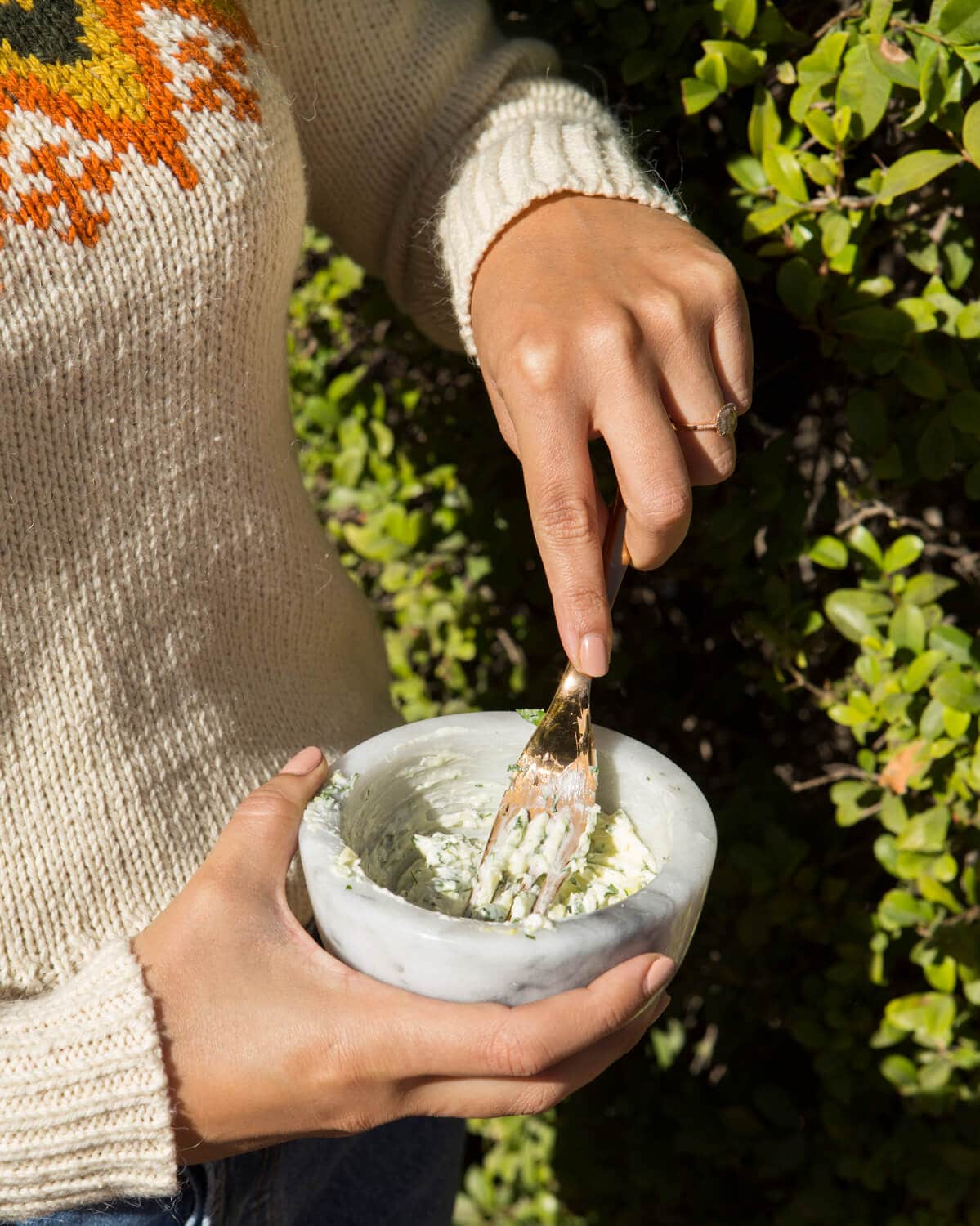 Another thing I've been tackling is my gift-giving. I'm an all at once type of shopper. I creep and plot and plan and then I just go on a shopping spree and buy everything, so it's all done at once. I hadn't gone on my shopping spree yet and was struggling to find a gift for Josh's dad but I found the perfect idea for him from Ace Hardware and just had to share it with you: this Limited Edition Weber Kettle Premium grill! This one is Christmas-red and is super affordable at just $199.
To test it out, I partnered with Ace Hardware to give the grill a bit of a test run and I have to say, I think I grilled up the perfect winter-y meal. I recommend this grill for anyone who is looking for a gift for the cook or the grill-master in your life.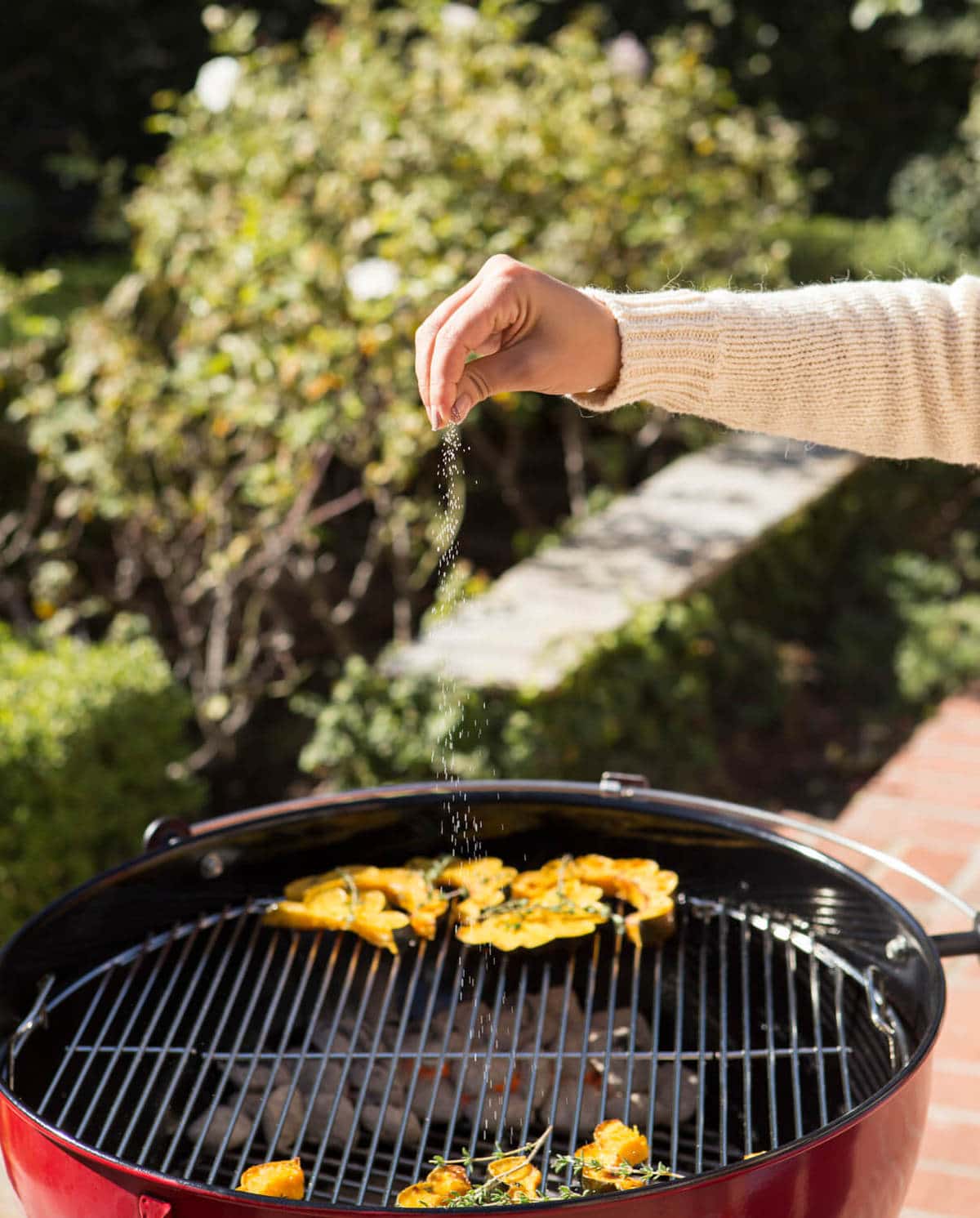 Wild salmon is in season right now so I took this opportunity to grill it very low and slow. For years I struggled with cooking salmon, so wanted to share what I've found to be my tips to perfect salmon:
1. Bring the salmon to room temperature. Have you ever cooked salmon and it's leeched out white stuff? It's called albumen and it often times expels when the salmon is too cold and it hits high heat. If you bring your piece of salmon to room temperature then this shouldn't happen.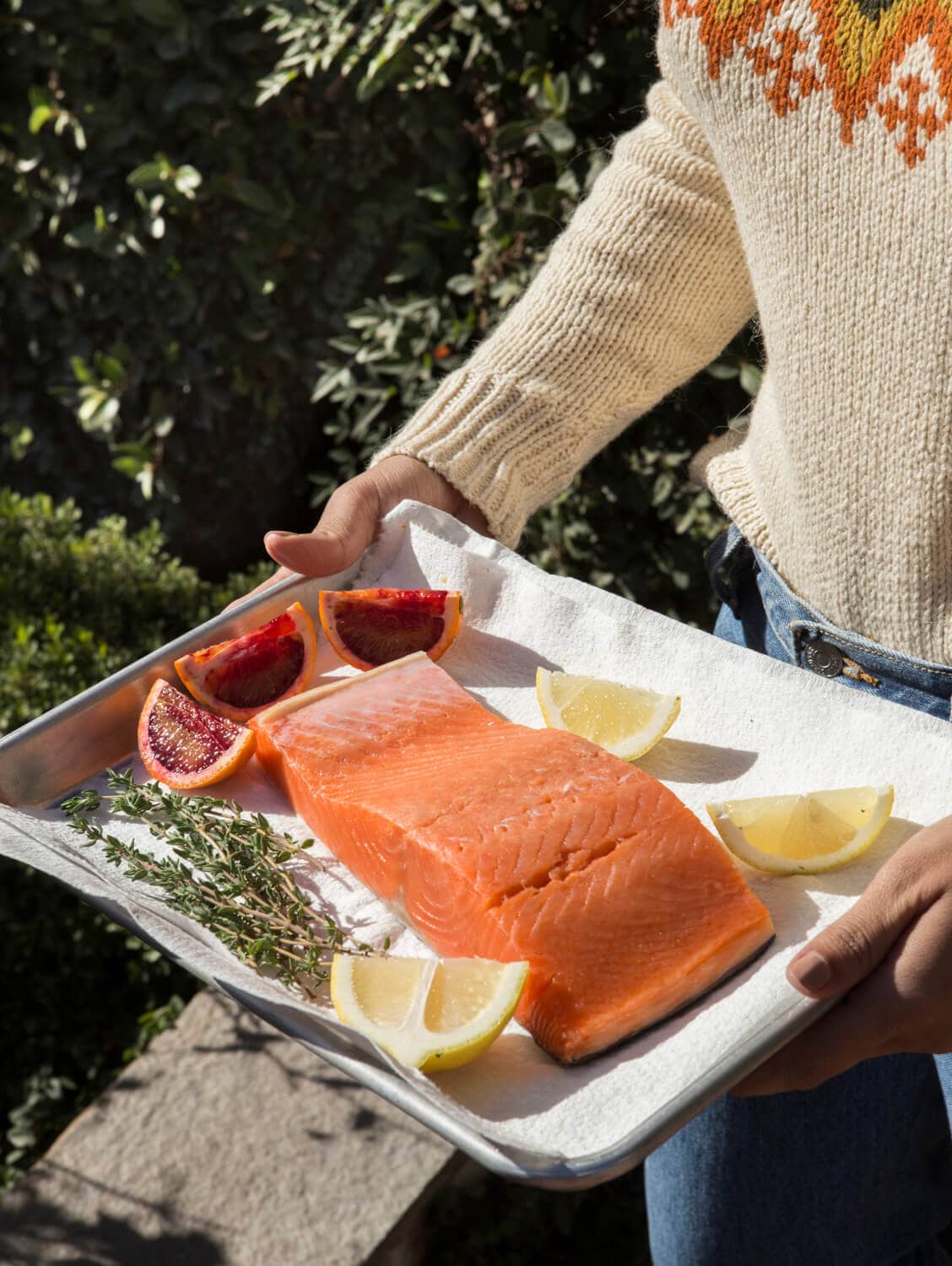 2. Use a cedar plank! I grilled my piece of salmon on a piece of cedar—it gave off the best flavor. I soaked it in salt water for about an hour before just so it wouldn't catch on fire. Lol.
3. Cook it low and slow. Just because I grilled the salmon doesn't mean it was on high heat! I placed the coals toward the outsides of the grill (where I put the squash) and put the cedar plank right in the center. This way it was very low (around 275 degrees F) and cooked it for about 15 minutes. It was like butter!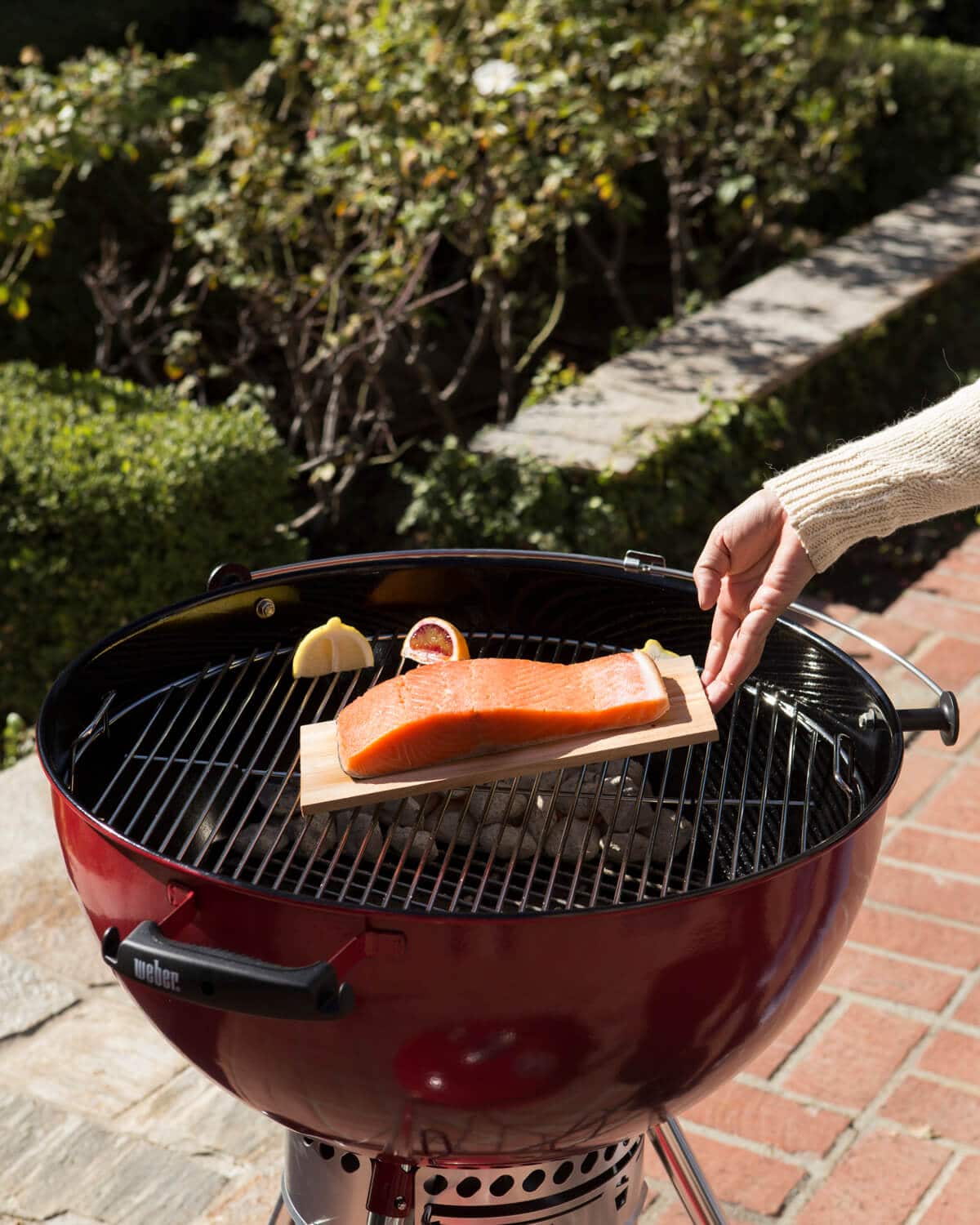 Ok that's it! I loved grilled salmon and it was delicious this way.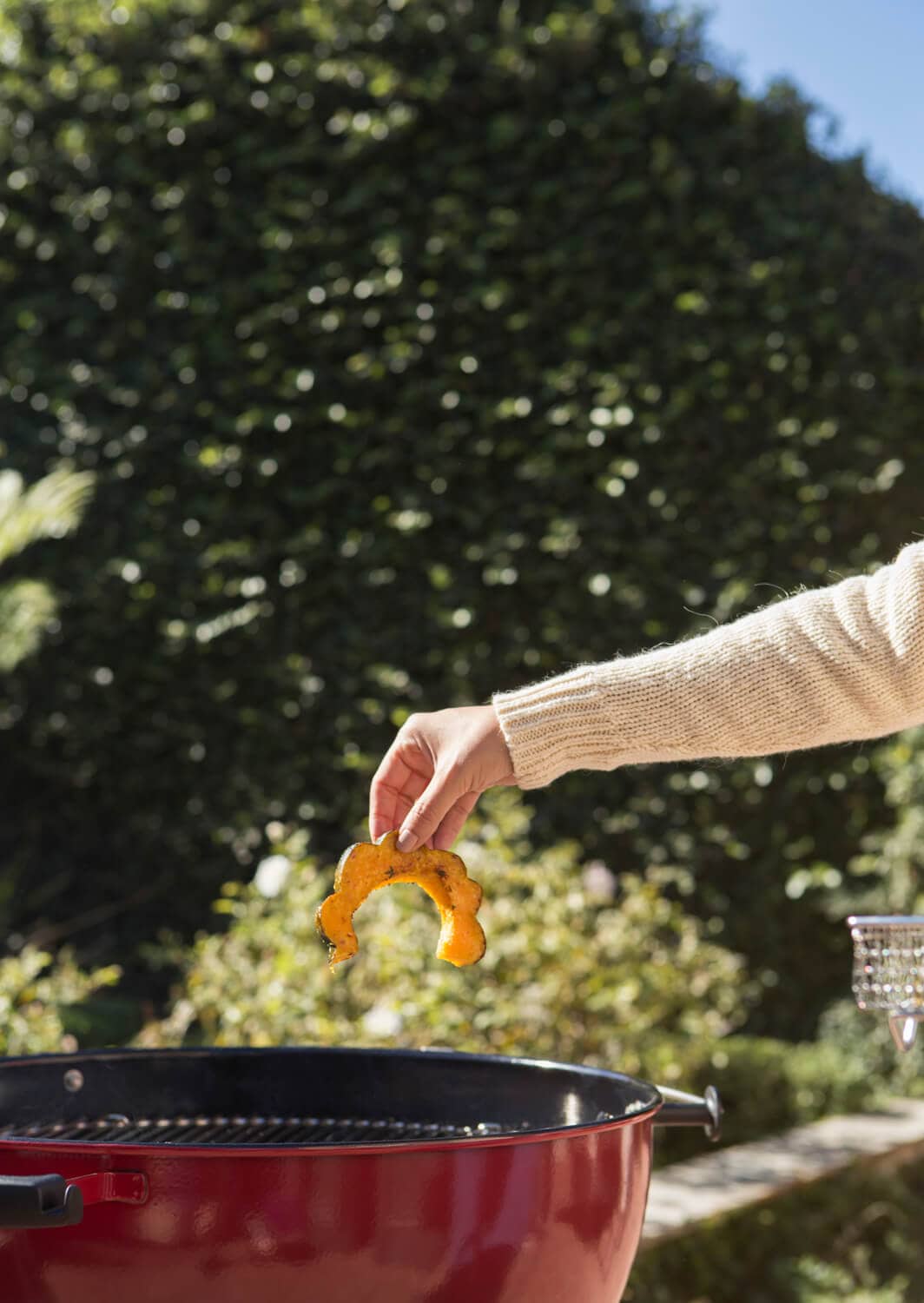 The grill was so easy to light and I loved that the top tells you the temperature so you don't have to check on it at all times. My favorite feature is the vents featured on top and the sides of the grill! The ventilation system makes it super easy to control temperature and smoke levels. It's a perfect gift for everyone you know who loves to entertain and cook!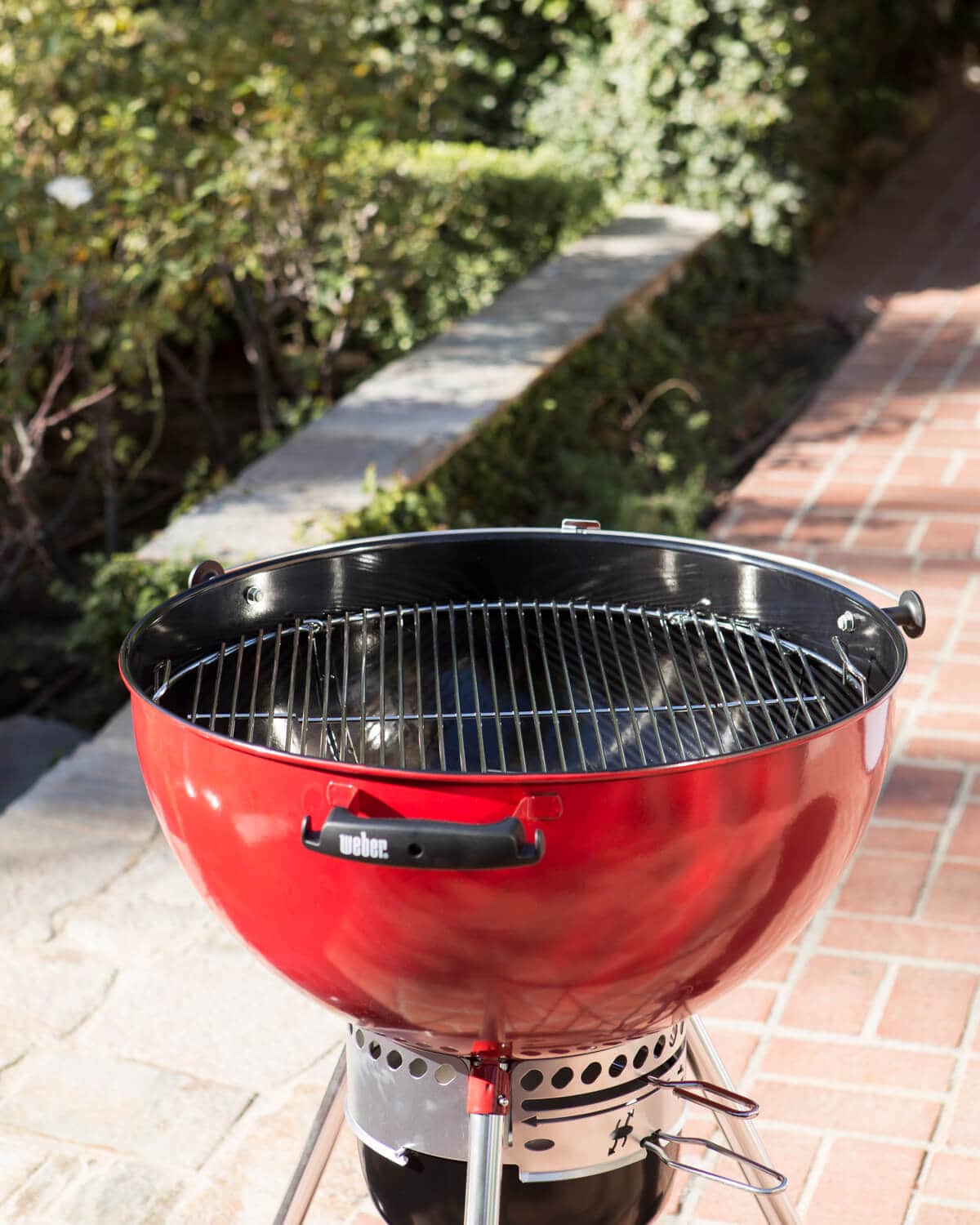 Ace Hardware also has a super convenient feature where you can order online and then pick it up at your local store with free shipping! Though this specific grill was easy enough to pick up in my store, if you are an Ace rewards member and interested in investing in a larger grill this season, (over $399) your local Ace will actually assemble and deliver the grill straight to your home – for free. And if you are not an Ace Rewards member, it's free and easy to join!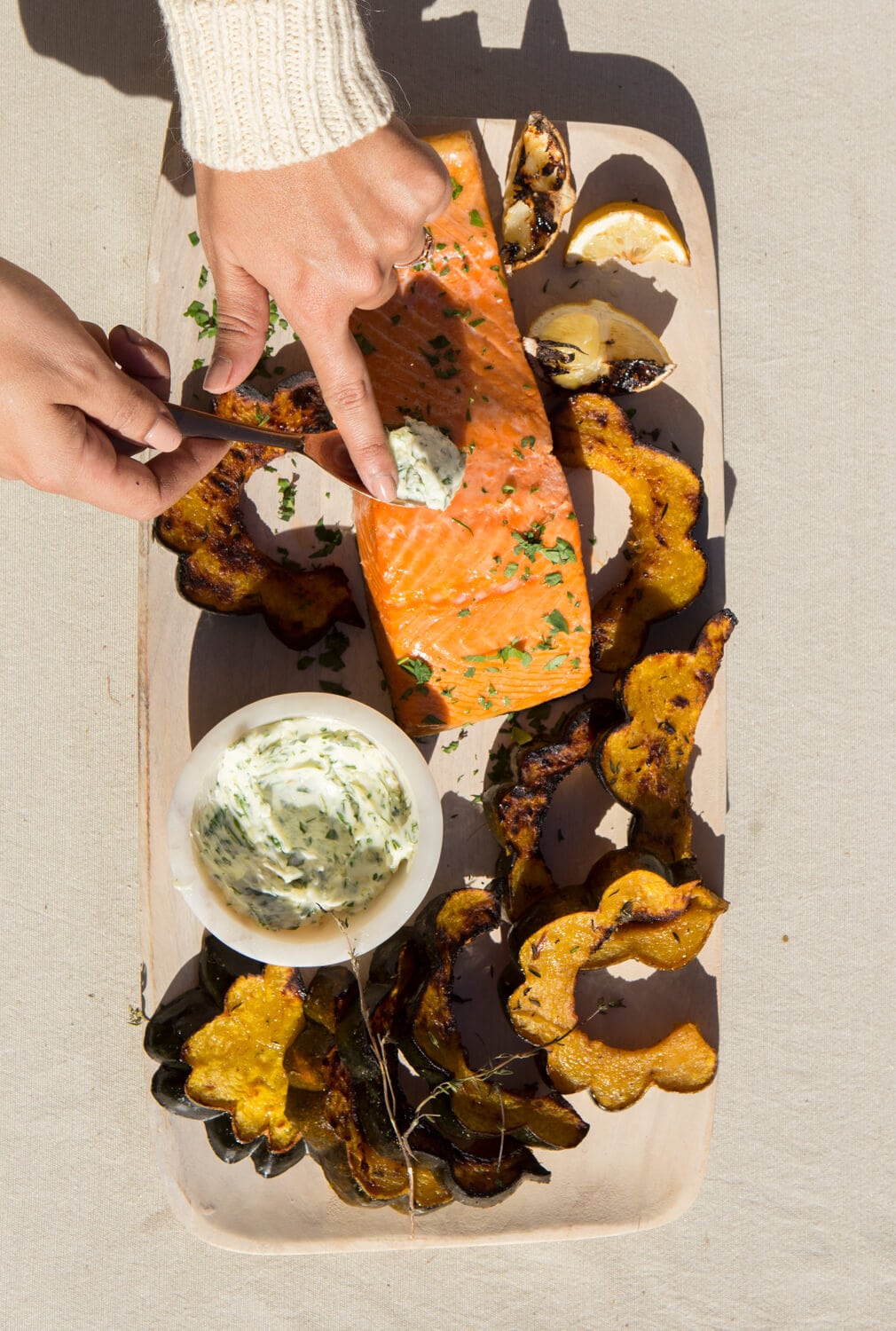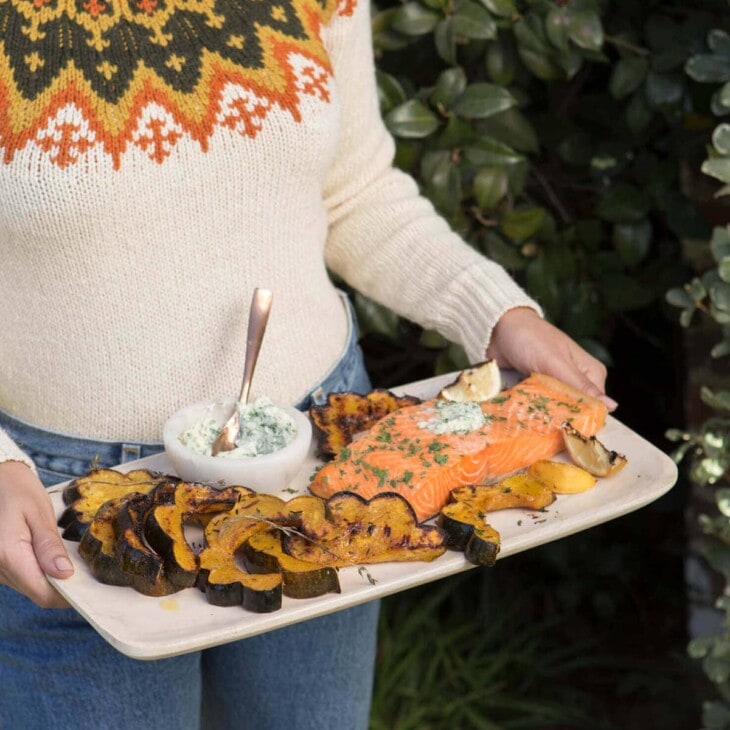 Print Recipe
Grilled Salmon with Acorn Squash and Herbed Butter
Ingredients
Herb Butter:
1/4

cup

unsalted butter

at room temperature

1/4

teaspoon

blood orange zest 

1/4

teaspoon

freshly grated ginger

2

cloves

minced garlic 

1/4

teaspoon

salt 

1

tablespoon

minced Italian parsley

1

teaspoon

minced dill 
Grilled Acorn Squash:
1

acorn squash

halved, seeds scooped out and cut into 1-inch moon-shape slices

Salt

Pepper
Salmon:
1 1/4

pound

wild-caught salmon

at room temperature

Salt 
Instructions
Some Prep To Do:
Soak your cedar plank in salt water for about 1 hour before you plan on cooking up the salmon. 
To make the herb butter: 
In a small bowl, mash together the butter, blood orange zest, freshly grated ginger, garlic, salt, Italian parsley and dill are completely combined. Transfer to a small serving dish. 
To Light the Grill: 
Prep the Weber grill by adding the coals to the bottom half of the grill. For this particular recipe, I pushed the coals to the outside of grill. Light the coals and cover to preheat. To get the coals to light and get nice and hot this process took about 30 minutes. In this time, I prepped the rest of the recipe! 
To Make the Acorn Squash: 
Add the slices of acorn squash to a baking sheet. Toss them with olive oil, salt and pepper. Transfer to a 400 degree oven to roast for about 20 minutes. Just so they're al dente because we'll finish them on the grill. Remove and set aside. 
To Make the Salmon: 
Season the salmon with a few pinches of salt and transfer it onto the cedar plank. 
To Cook Everything: 
Everything cooks all at once with this recipe! Place the acorn squash slices on the edge of the grill, along with a few sprigs of thyme. Sprinkle the squash with a bit more salt. 

Place the cedar plank right in the center of the grill and cover to cook for about 15 to 20 minutes. The temperature on the top of the grill should read 275F to 300 degrees. Test the salmon by placing a metal skewer into the center—you know it's cooked when it's warm to the touch. 

Serve the salmon immediately with slices of acorn squash and herb butter.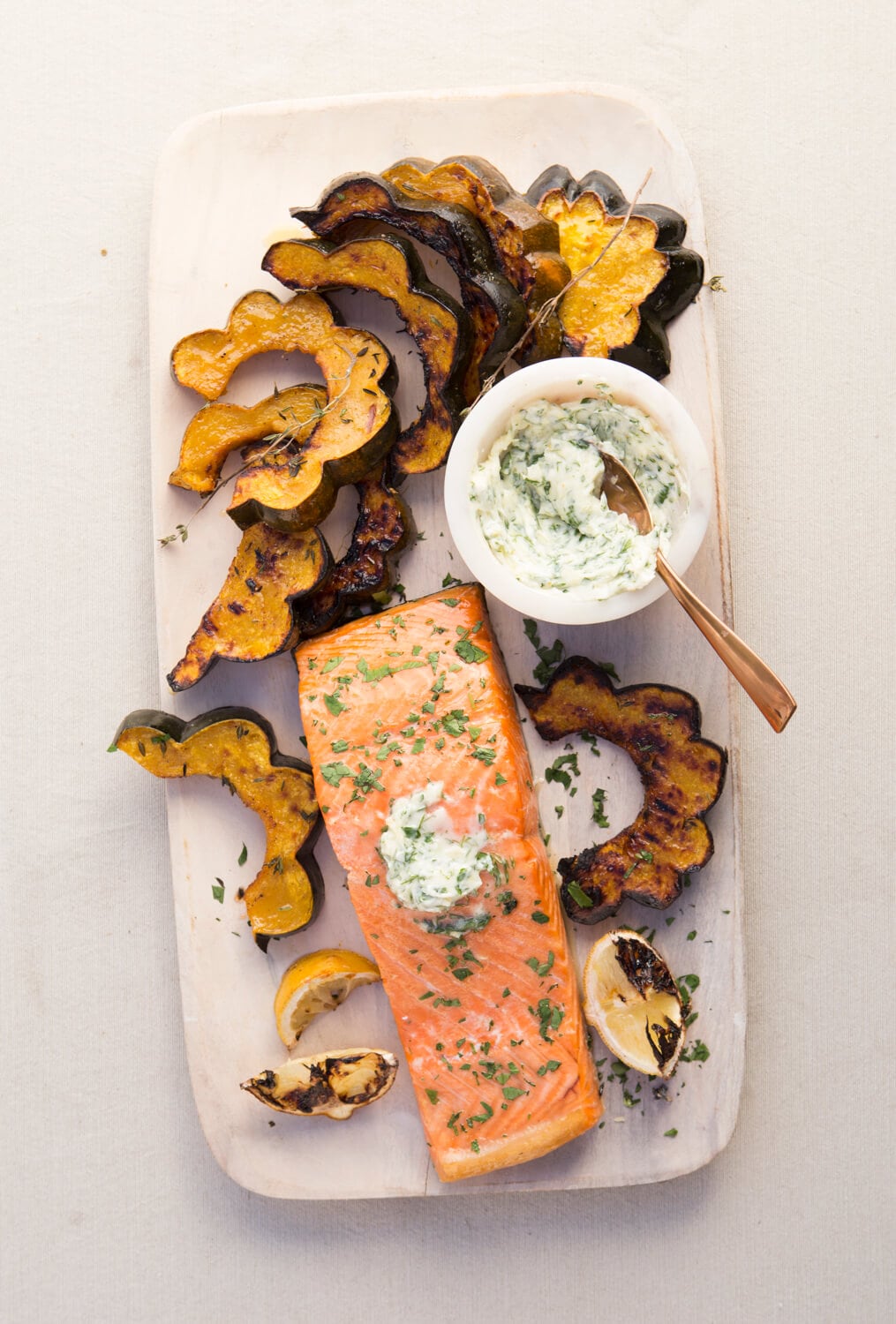 (This post is sponsored by Ace Hardware. Thanks for supporting the sponsors that keep A Cozy Kitchen cozy.)