A few weeks ago I was in the passenger seat, staring at Amelia's reflection in the side mirror. Half of her body was hanging out of the window, tongue wagging in the wind and she was so content and so so silly looking. I was jealous. I turned around and roughly pet her on her head and told her she was cute and that her ears were so big that she should be embarrassed.
In that moment I decided to see what all the fuss was about and rolled down my window, took my seatbelt off and stuck my head out the window. And you guyssss….it felt amazing. The cool autumn-ish wind was delicious. I turned my head behind me to see Amelia looking at me with a bit of confusion but I think deep down she was like, I told you so.
I feel a little at one with my demon-corgi-pile-of-cuteness so I decided to whip her up some treats with some extra pumpkin I had in the fridge. If you're at all baking or cooking with pumpkin, you'll notice that most recipes don't call for a whole can, which leaves you with a good amount of pumpkin that has no purpose. This recipe is perfect for that!
Like the other dog treats I made, these grain-free. I'm really in to using garbanzo flour because it's cheap and high in protein but you could use other flours like quinoa, amaranth or potato flour.
I decided to get all October-ish and get a pumpkin cookie cutter and the dauschund is as close to a corgi I could get.
These cookies are one bowl kinda dough thing. They're super sticky, so be sure to flour everything very liberally. But other than that these things couldn't be easier. Get on it! Fido will thank you!
Have you ever met a real dog in real life named Fido?! Nobody actually names their dog Fido. I'm convinced.
Also, everyone knows that human names are kind of the best for dogs. I can't think of anything funnier than a dopey Great Dane named Bob.
Amelia isn't all that photogenic when she's eating. She would KILL me if she knew I put this photo of her on the internet.
This one's much better. Much more flattering.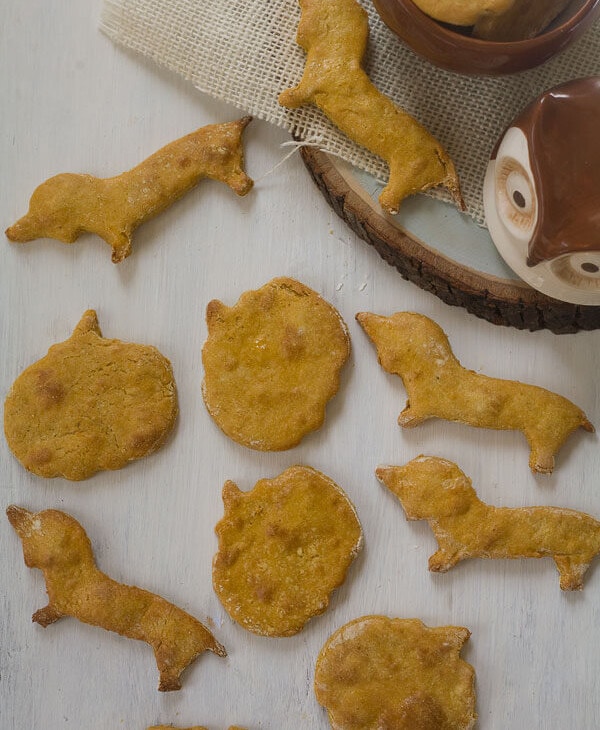 Print Recipe
Grain-Free Pumpkin Dog Treats
Ingredients
2 1/2

cups

garbanzo flour

2 1/2

tablespoons

peanut butter

2

large eggs

3/4

cup

canned pumpkin puree
Instructions
Preheat the oven to 300 degrees F. In a medium bowl, add the garbanzo flour, peanut butter, eggs and pumpkin puree. Mix until completely combined.

The dough will be sticky, so flouring everything is important: the wax paper, rolling pin, cookie cutter and your hands. Transfer the dough to the floured piece of wax paper and roll the dough to a 1/4-inch thickness. Cut out the cookies using a cookie-cutter of choice. Re-roll the scraps and cut out more cookies. (I used the pumpkin and dauschund cookie cutter and ended up with about 16 cookies.)

Transfer the cookies to a parchment-lined baking sheet. These cookies won't spread so you can place them close together without worrying. NOTE: If you don't want to roll out the dough, you can always scoop a teaspoon of dough onto a baking sheet, flattening the cookie a bit and baking it from there.

Bake the cookies for 30 to 40 minutes or until golden brown. Allow the cookies to come to room temperature on a cooling rack. Cookies will be good for up to 2 weeks in an airtight container.