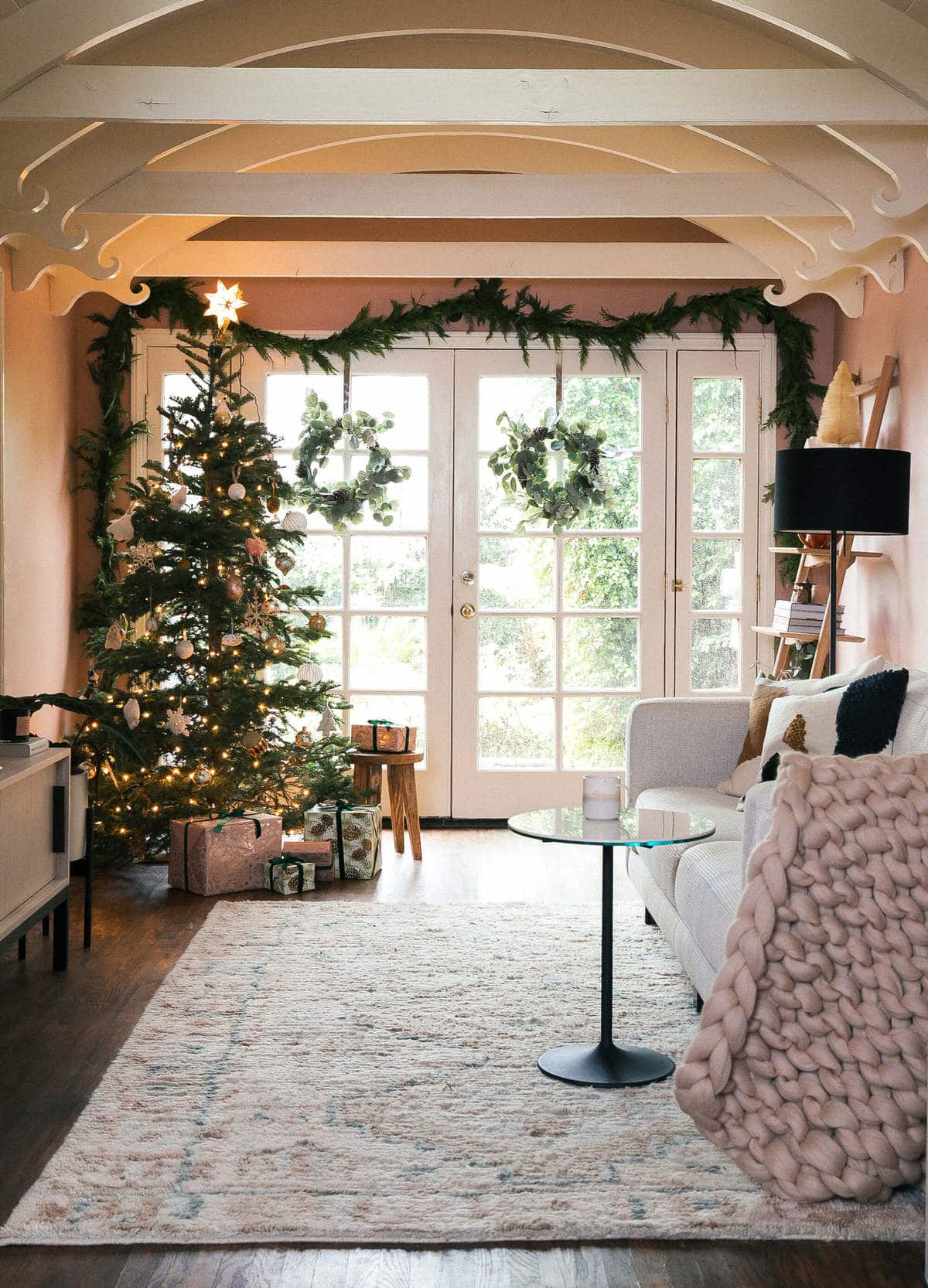 HI!! I'm finally done with the den and it's quickly become my favorite room in the house (besides the kitchen, of course). I think in the last 30 days, since it's been pretty much done, it has become the room we spend the most time in. I mean, can you blame us?
Before we dive in, let's go down memory lane and take a look at all of the 'before' photos. It wasn't a condemned room by any means. It had recently been fixed. The wall with the French doors was collapsing and had to be completely replaced. After the room was saved (lol) it was passively painted this butter yellow that I don't think really showed off how wonderful the room really is.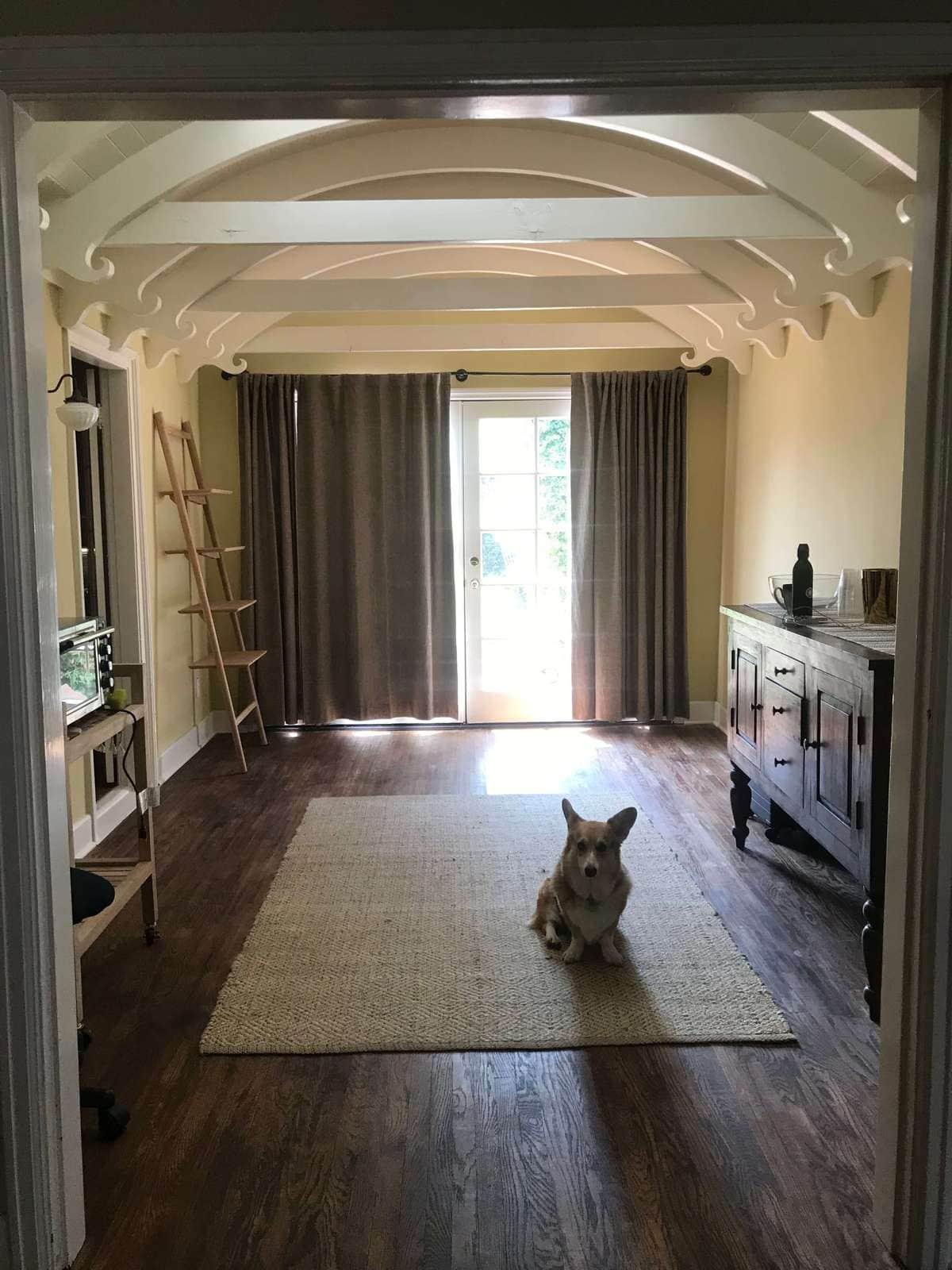 It was empty and needed some furniture VERY badly. I teamed up with Room & Board for this post—they so nicely supplied most of the furniture. Funny enough, I had my eye on this couch for a LONG time. I'm so happy to report that it is as comfortable as I had hoped it would be; I can't recommend it enough.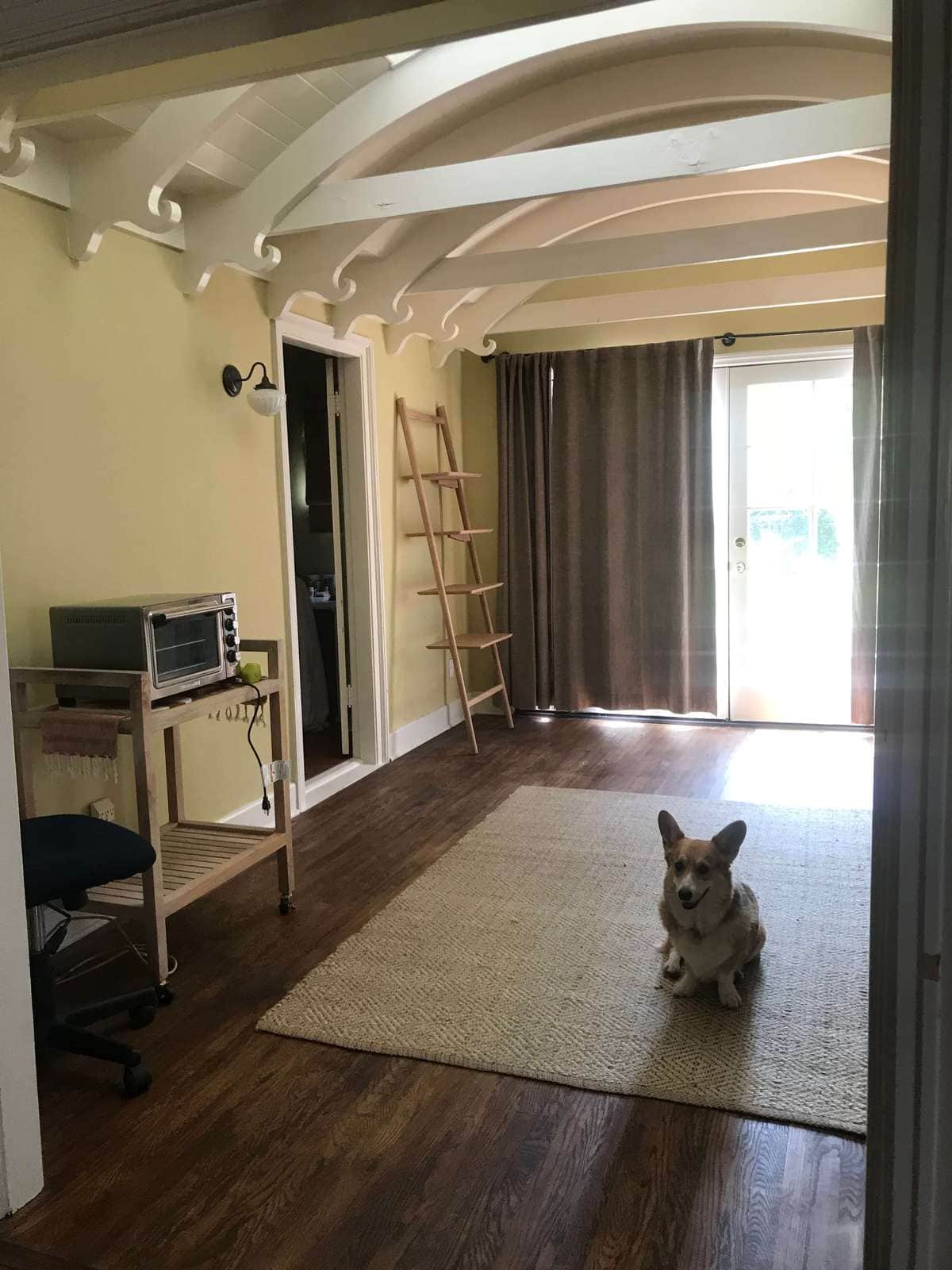 Here was my inspo!: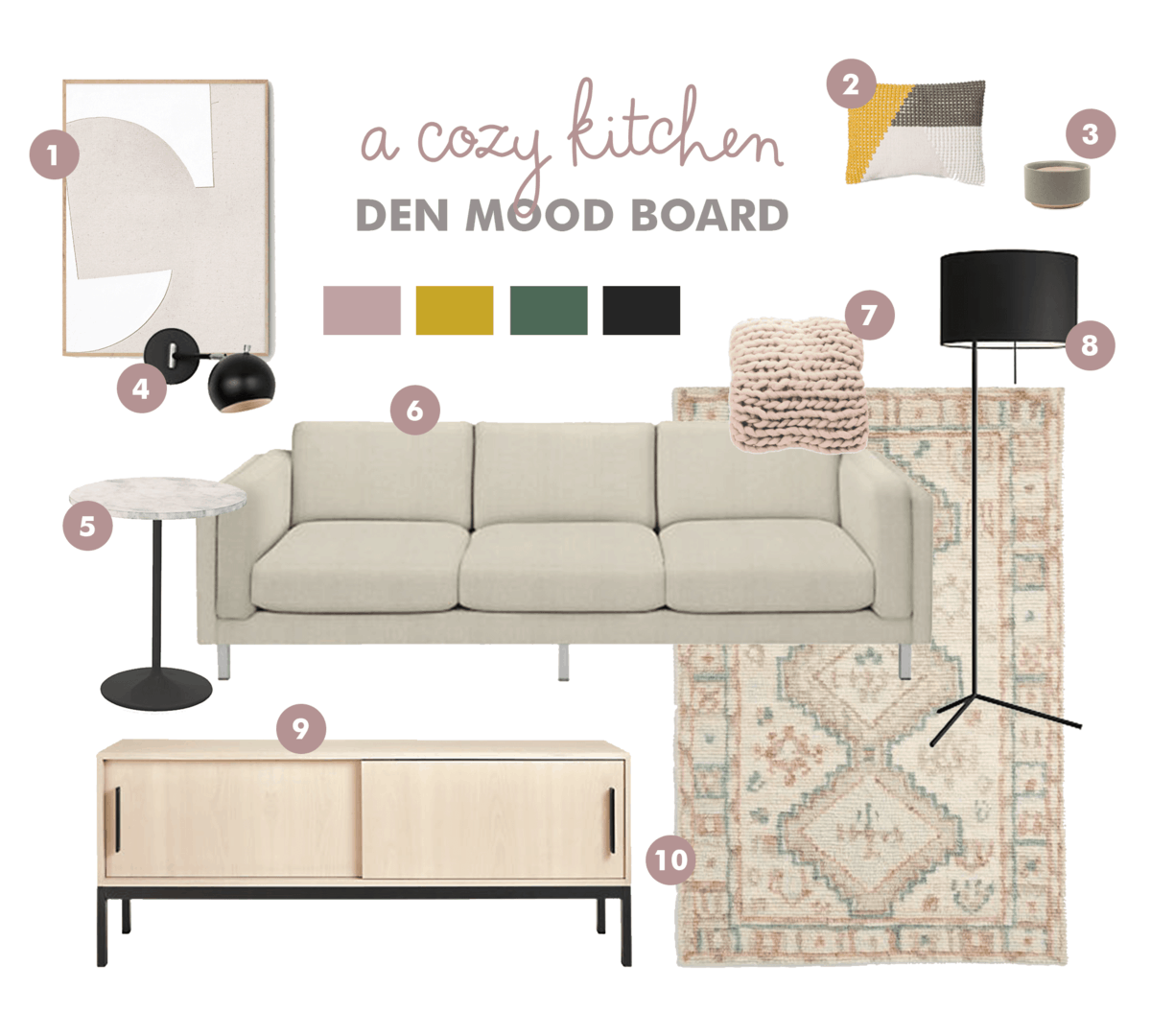 The first step was to get rid of the small amount of existing furniture (true story: we moved that armoire just to the next room lol) and paint the wall a nice warm mauve color. I was a bit panicked at first because the color looked a bit too bit precious (I wanted a bit more brown in the color) but when it was paired with the black elements, it ended up being totally fine.
The second move was to switch out the sconces to these beautiful Camber black sconces. It really took us from 1996 to 2018. I love how modern and sleek they look. And the light they emit is really wonderful. You can position them however you like, we decided to go downward and it gives off a lovely indirect light.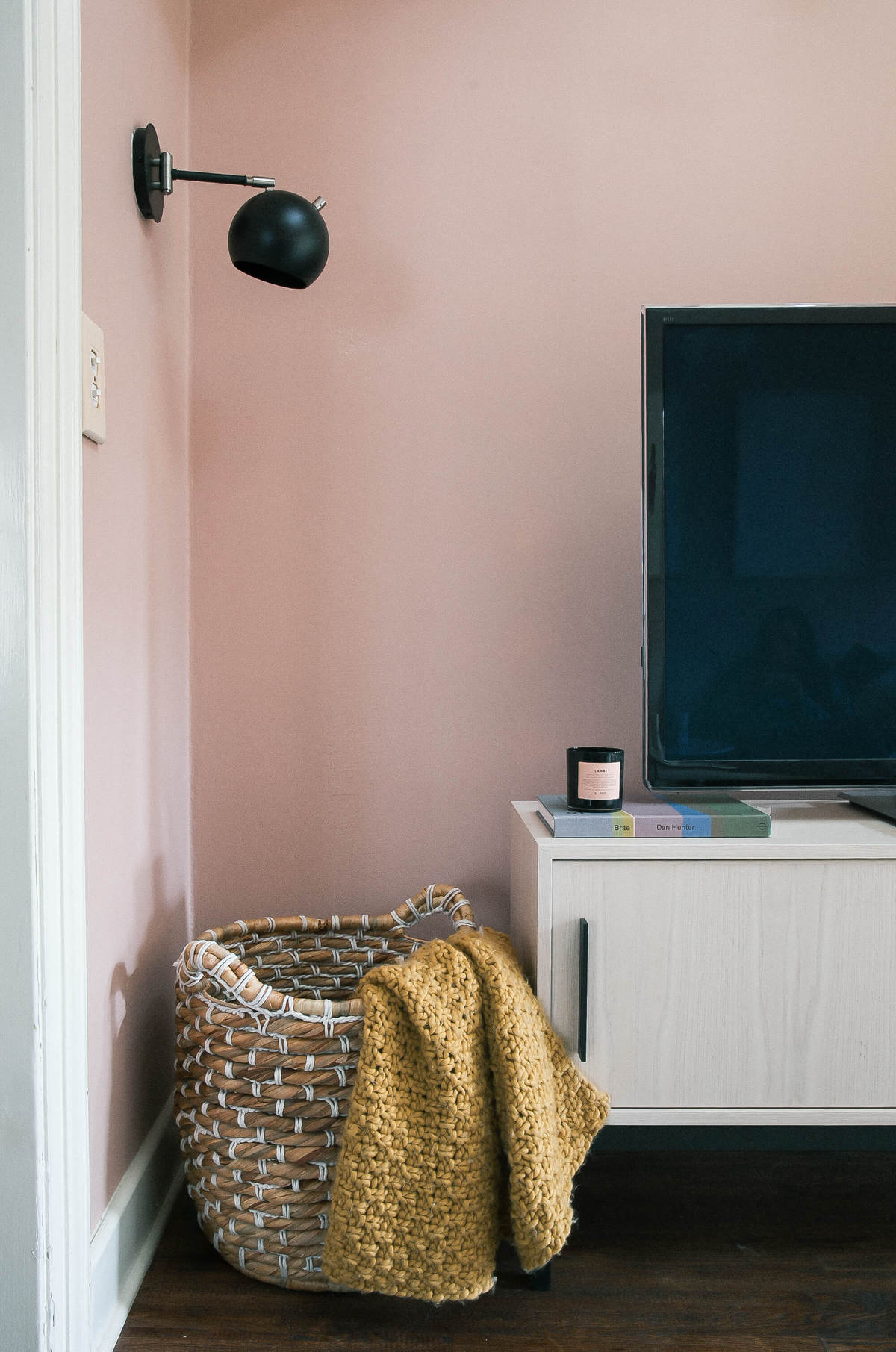 There really is only one place to put the couch because of the door on the east side of the room. Not a huge deal, so it naturally made sense for us to place it on the right side and this beautiful TV console against the opposite wall.
The Cade Sofa is SO comfortable. And while a lot of people were shocked when we decided to go with this light oatmeal color, I only did this knowing that we were committed to Amelia not being allowed on the couch. She only gets up there when she's on a blanket. And she surprisingly follows the rules. For the record, we got the couch in Orla Ivory.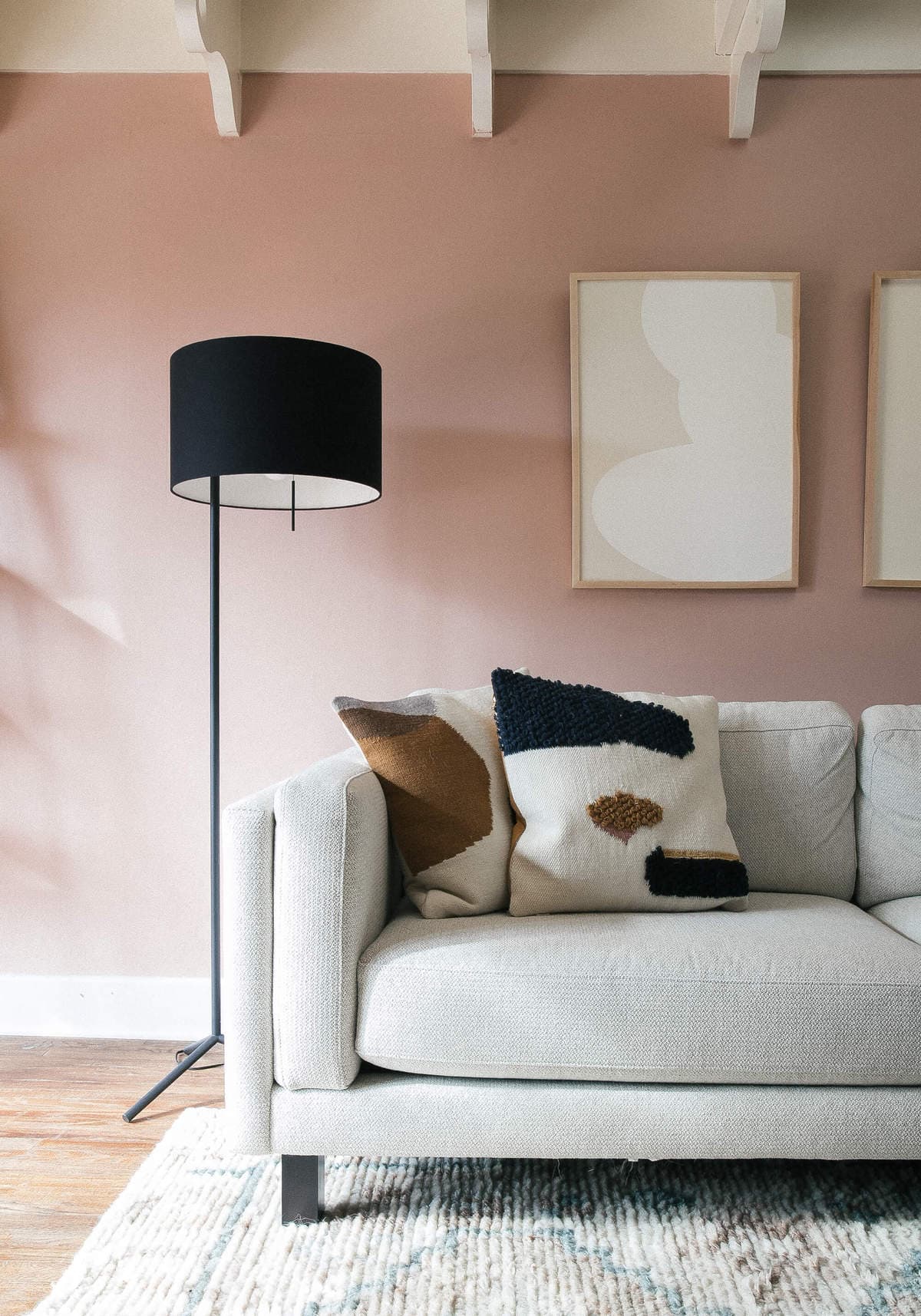 The Alden Media Console provides amazing storage. We have our small printer in there and a few electronics that we want hidden from the world. I also love the black accents, which match the sconces and lamp. We ordered this guy in color Sand Stain.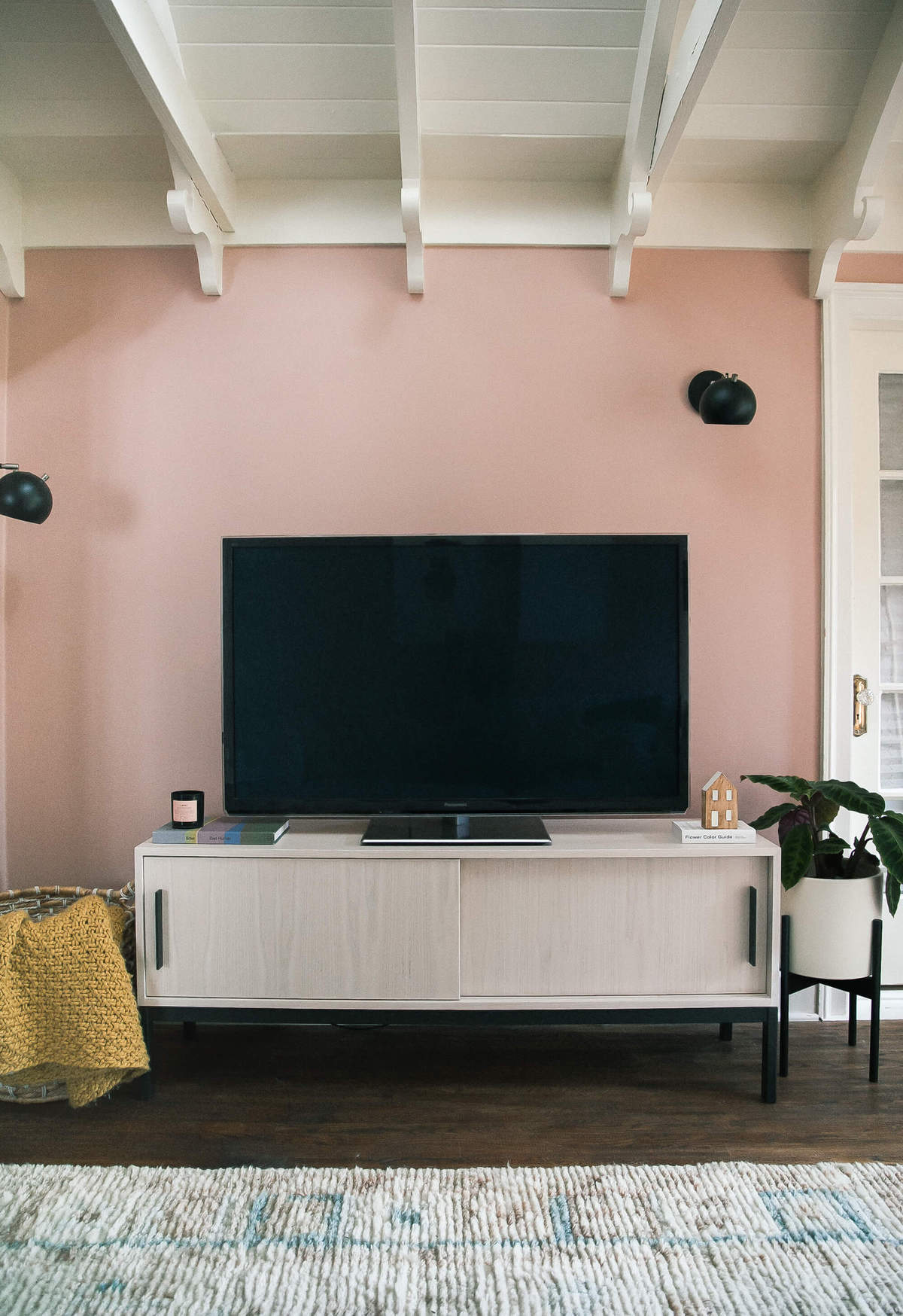 I was afraid that the room would feel a bit tight and stifled if there was a coffee table so instead we opted for this really pretty white quartz table end table called Aria Side Table.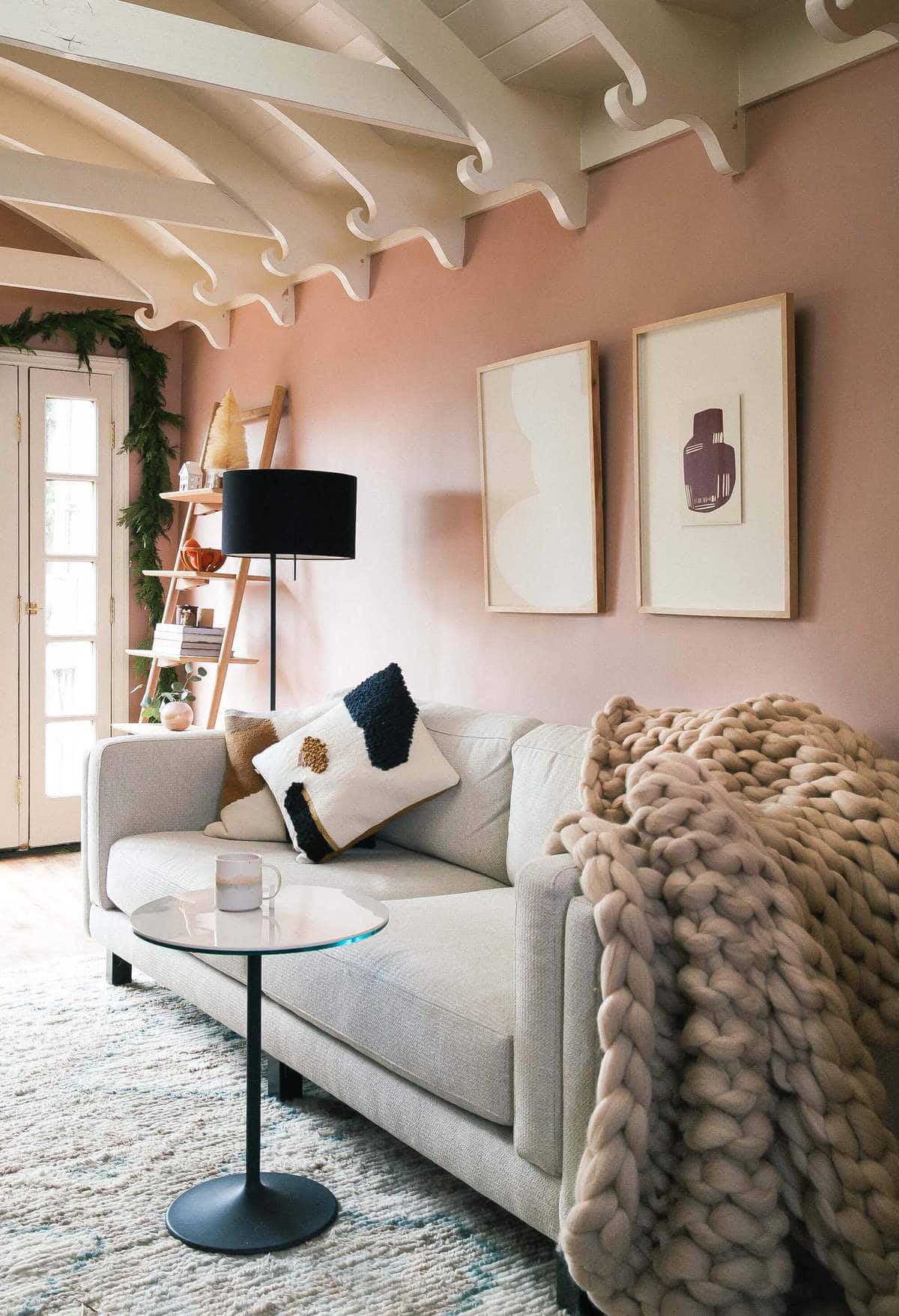 I love it because it's super easy to rove around depending on where we're sitting. It holds our mugs of coffee, glasses of water and phones.
The black Crane Floor Lamp is so gorgeous and adds the nicest modern element to the room. I'm in love with the shape of it. It also feels super sturdy. When you pull the handle to turn on the lamp, it feels so solid. And like the sconces, it gives off the nicest softest light.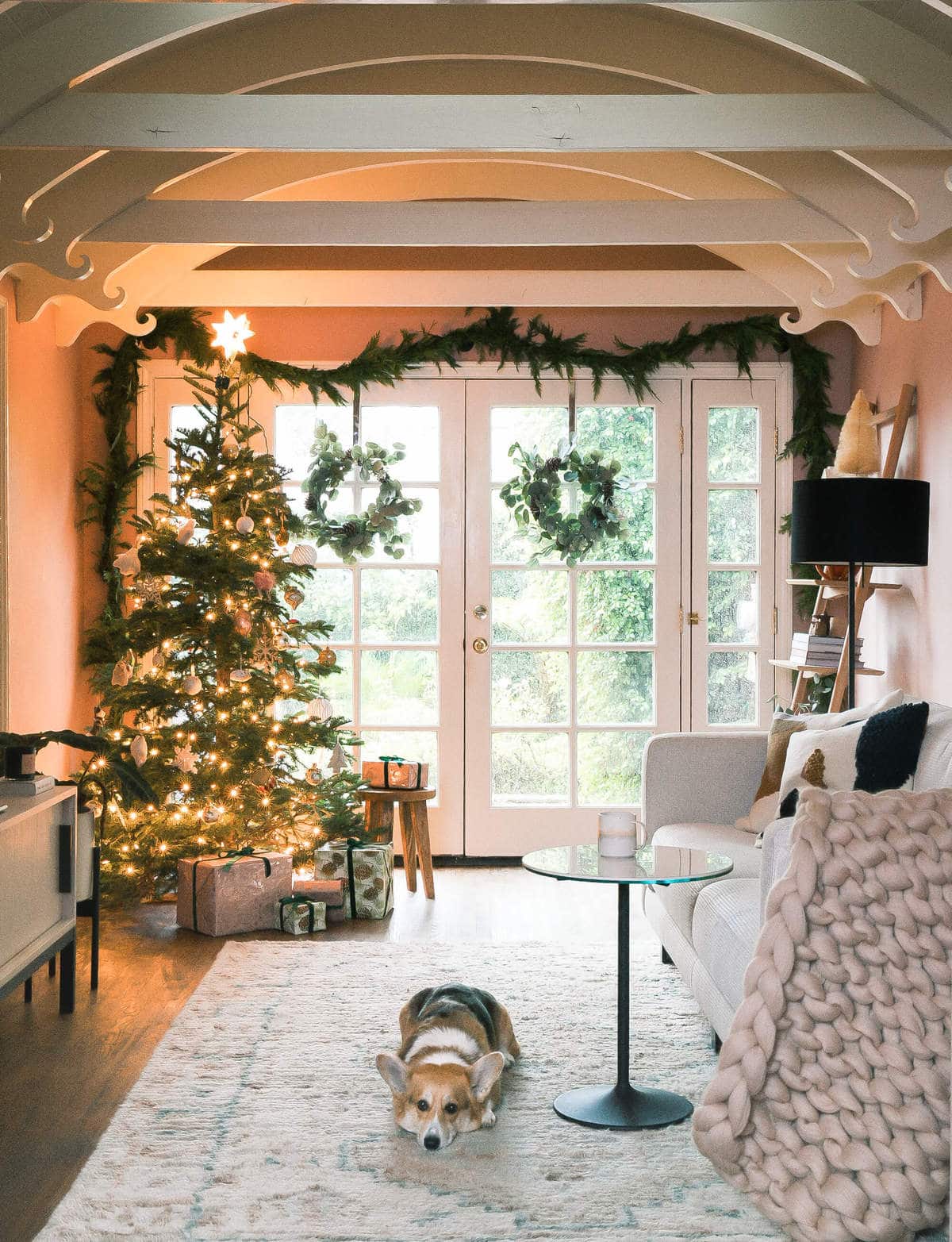 The other elements to make it super cozy were necessary. We added a rug, these pillows, this fluffy knit blanket and a few pieces of naturally framed prints from The Poster Club.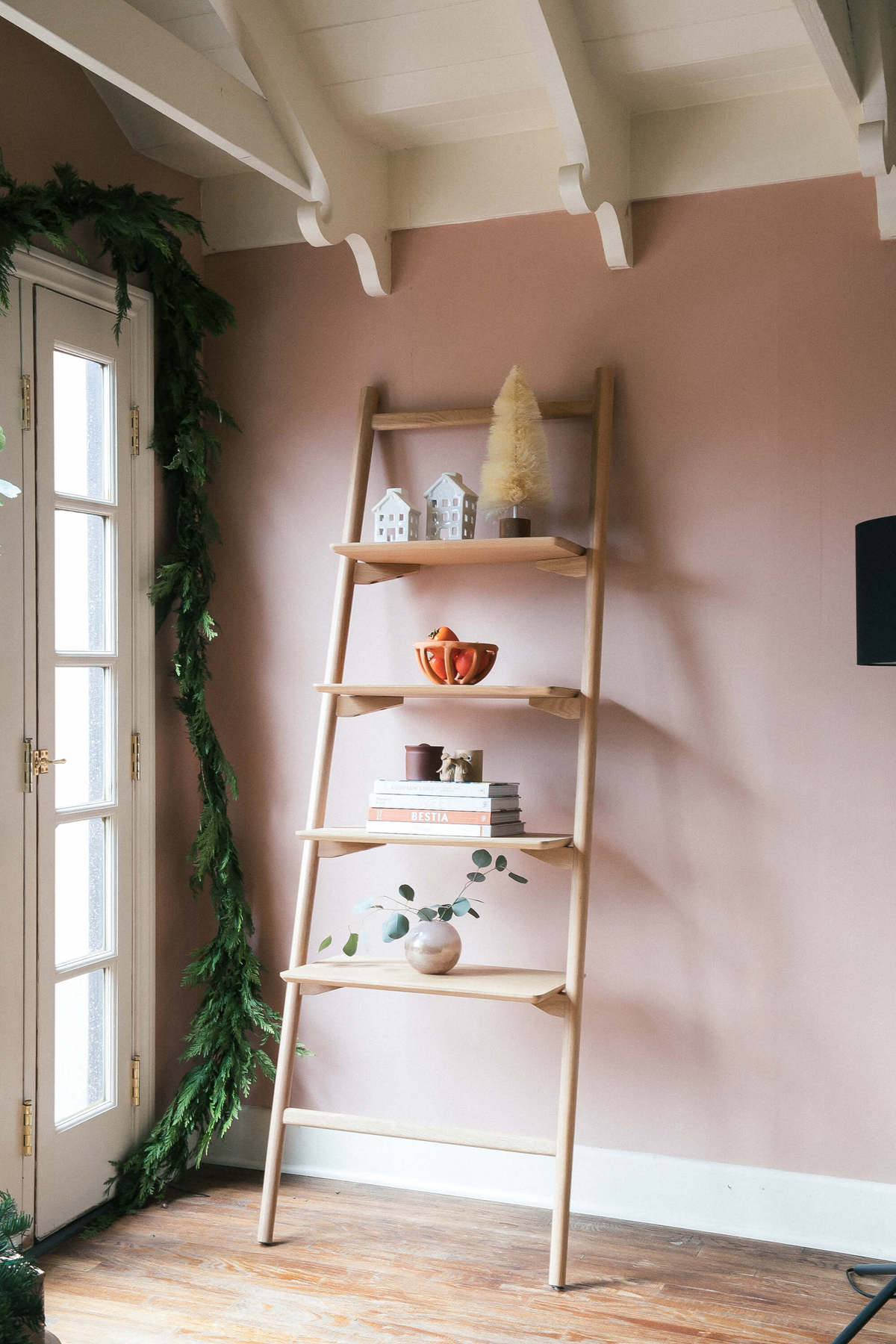 I painted my Modernica Planter taking it from cherry wood to black. It clashed with the room so I figured why not?! And now it fits in perfectly.
What do you all think?!?!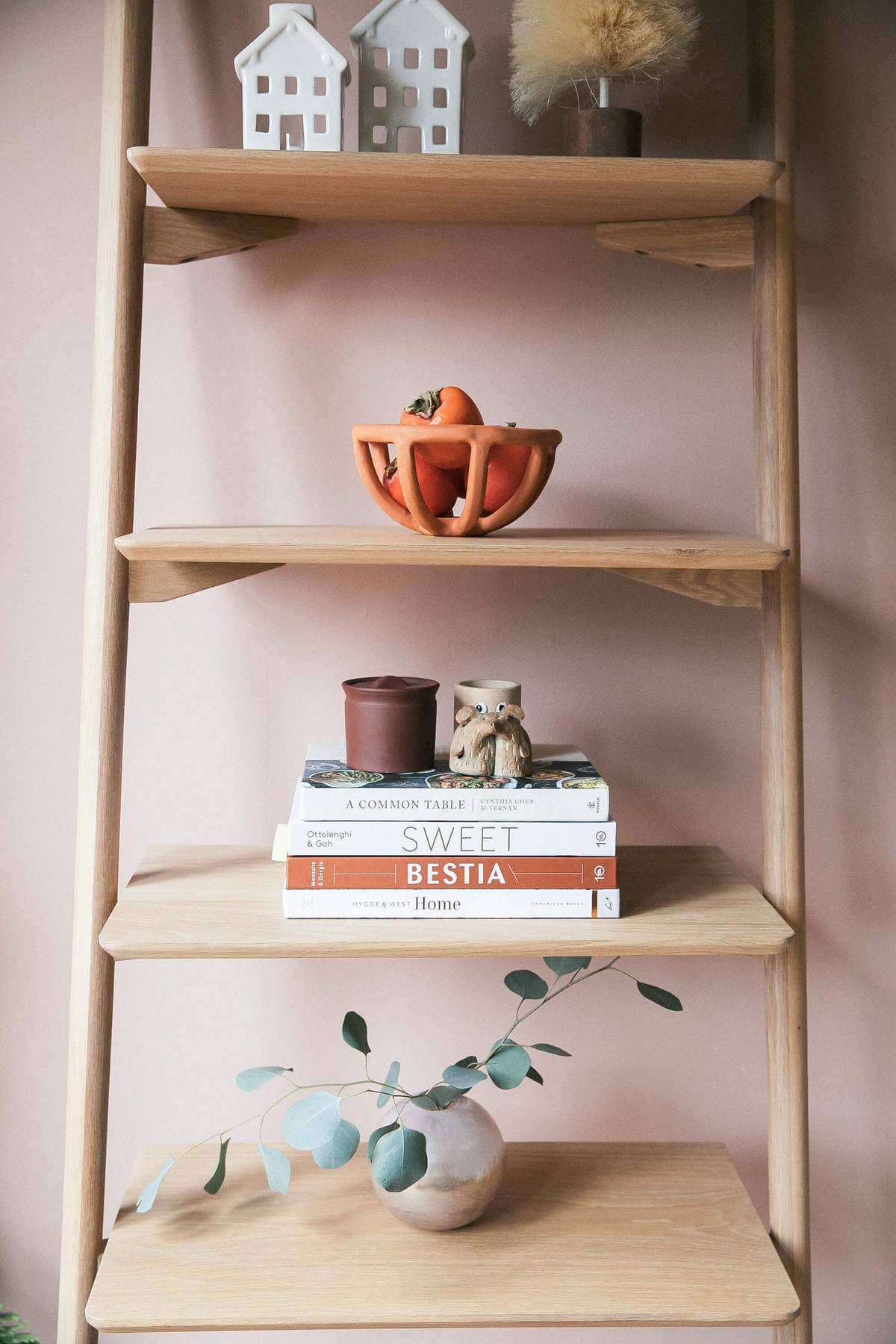 Here are links to everything pictured:
Cade Sofa | Black Chamber Sconces | Aria Side Table | Crane Floor Lamp | Alden Media Console
| Artwork #1 (framed at this framer) | Artwork #2 (similar) | Dusty Rose Chunky Knit Blanket | Rug | Case Study Planter (wood painted black) | Basket (similar) | Mustard Blanket (similar) | Couch Pillows | Pronged Orange Bowl | Boy Smells Candle 
(A special thanks to Room & Board for collaborating with me on this post.)