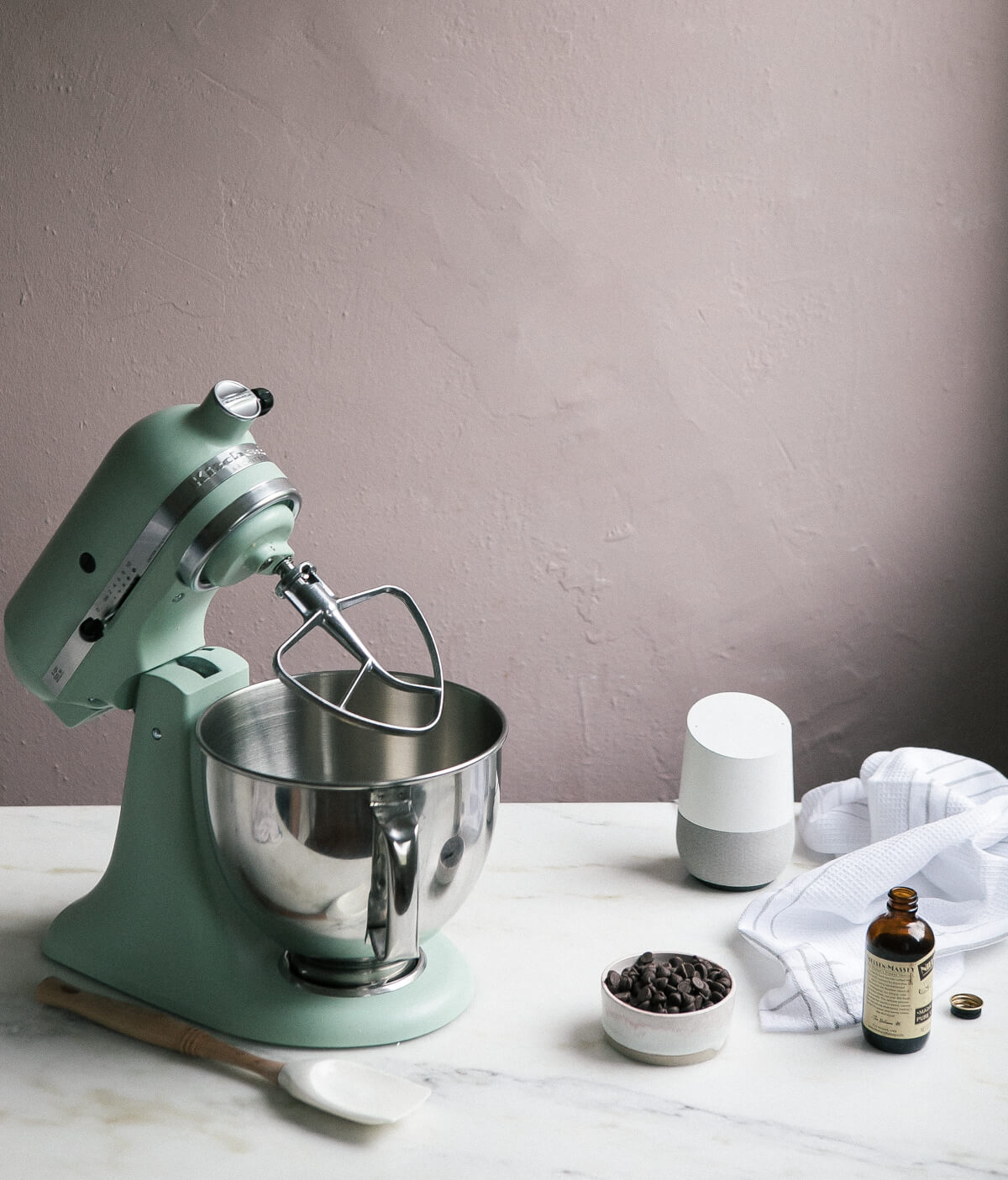 I LUUUV chocolate chip cookies. If there is one cookie that I can eat over and over and over, it's hands down, the chocolate chip cookie.
I also believe that chocolate chip cookies are the perfect foray into baking. They are simple in their preparation. They don't take a million years to make. And the bake time is only 8 to 10 minutes. There's some very immediate satisfaction!
SO, I'm so excited to share this experiment where I bake chocolate chip cookies, substitute and change certain elements to the cookies themselves and then eat them ALL and give you my final thoughts.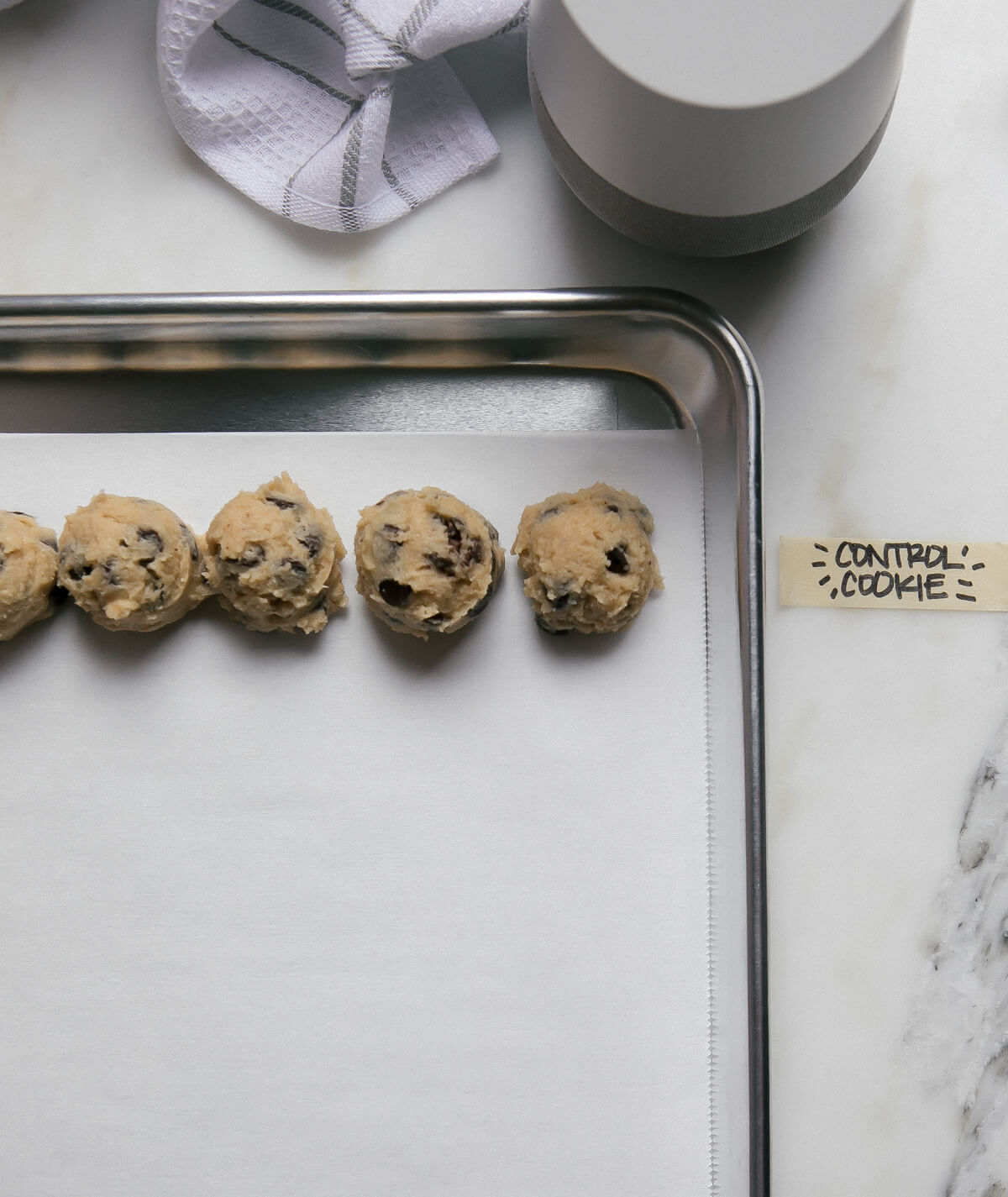 As many of you know, I'm a self-taught baker and cook. I often joke and say I'm Google-taught. Seriously, most things I've learned about cooking is just from massive amounts of Googling. When I first started cooking and baking, I'd Google everything. And honestly, I still do.
For this post, I'm teaming up with Google Home. The great thing about Google Home is that I can verbally Google all the time (and more!)…without a computer, while my hands are messy and I'm in the middle of baking and cooking.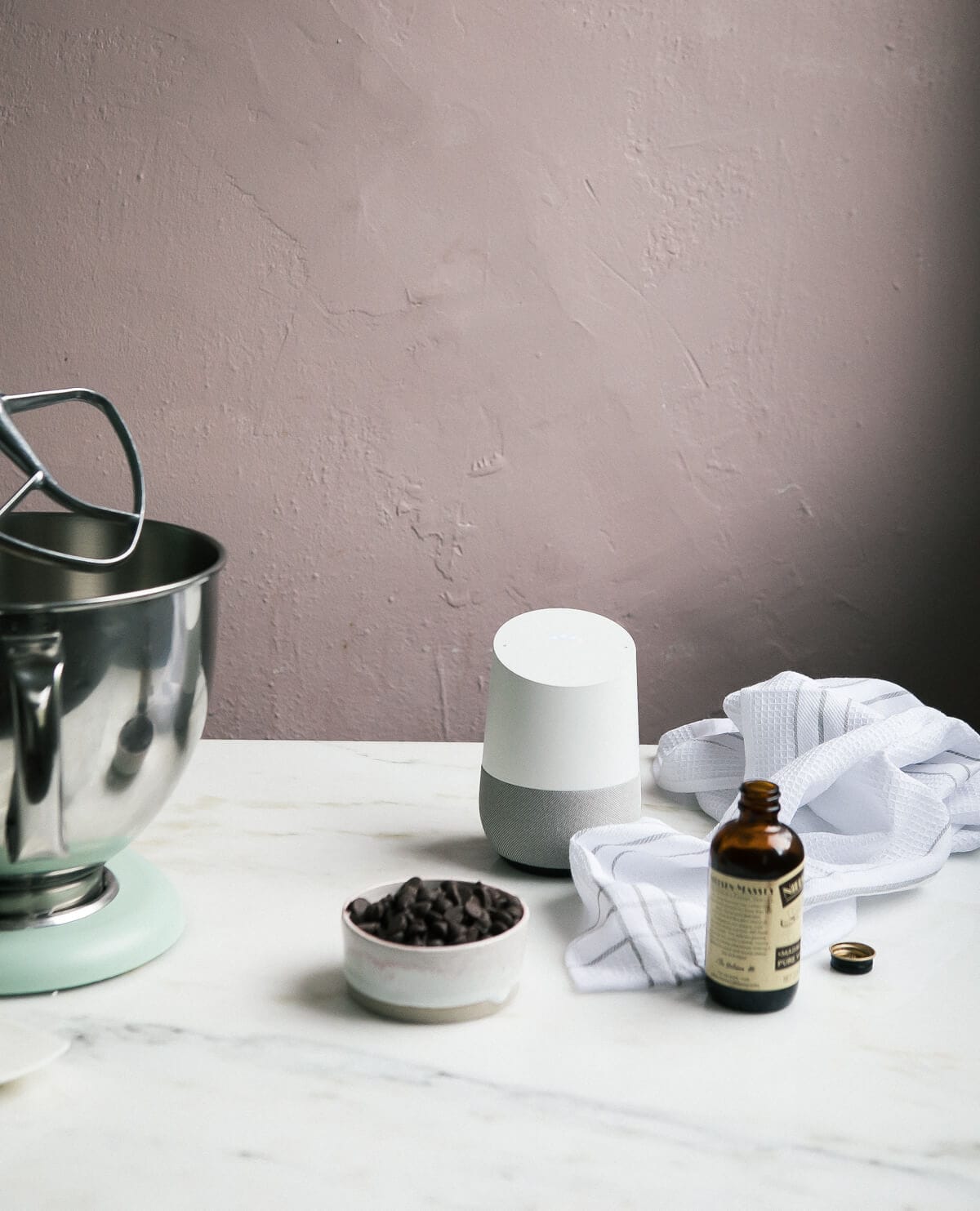 There were so many times when I'd have to clean my hands, wipe them dry and then Google measurements, fractional math (not my strong-stuit) but now I get to be just like, "HEY GOOGLE!"
It's also perfect for random fun, very random facts that have nothing to do with anything and have no real importance like what Kris Humphries has been up to lately. (Google it though but let me warn you it's not exciting.)
To start this whole lil' experiment, I asked Google, "hey google, when were chocolate chips invented?!?!"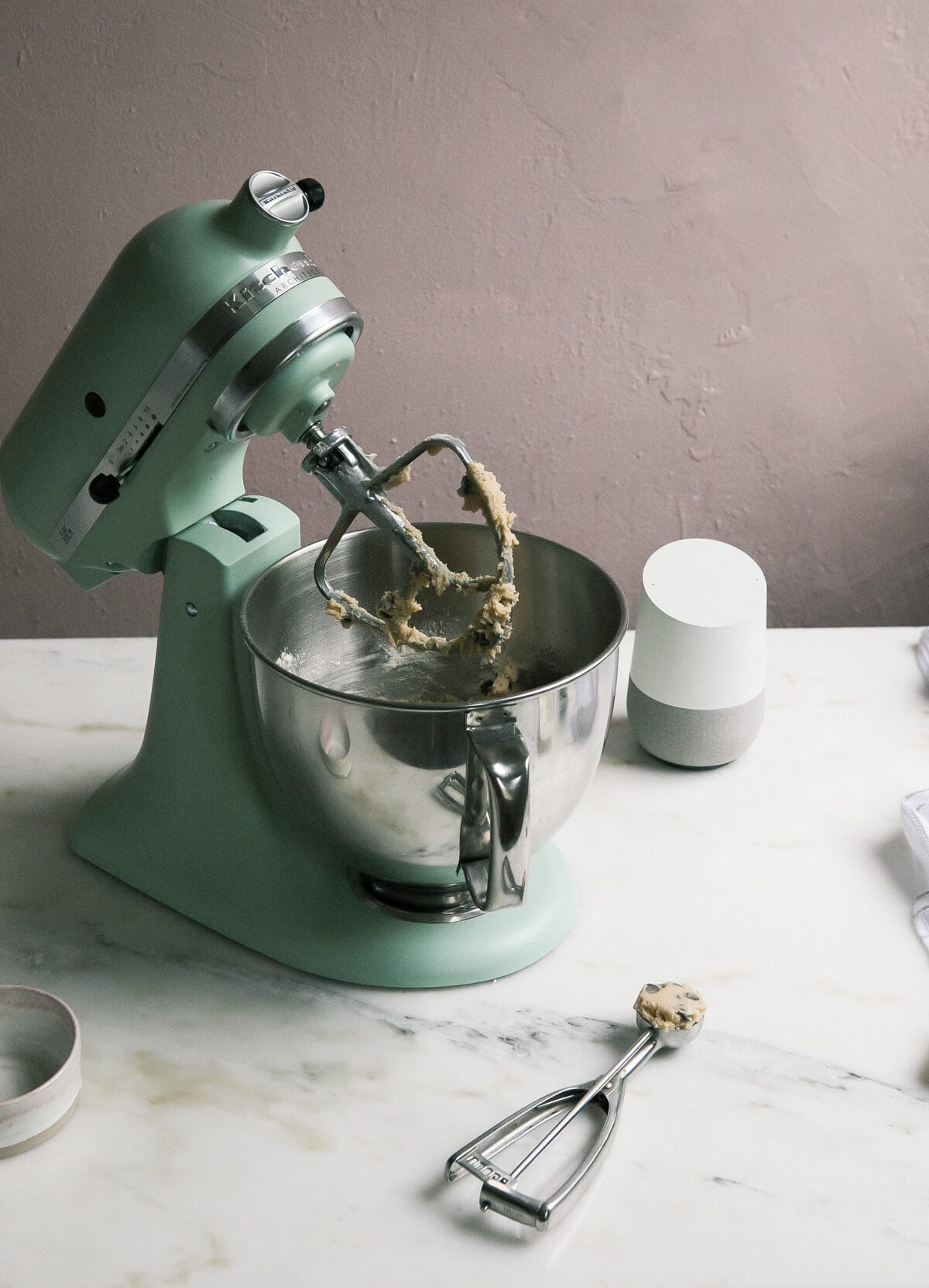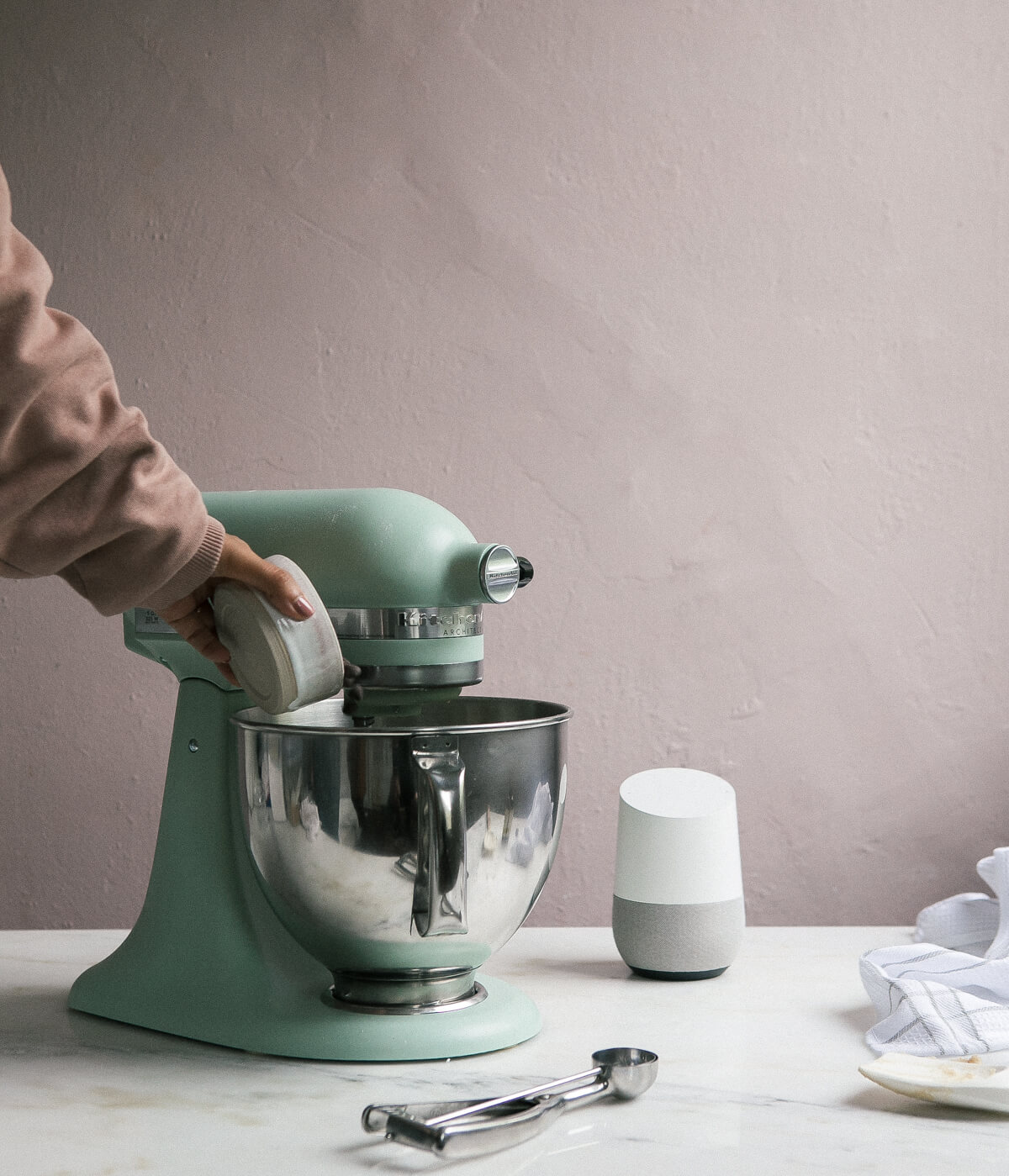 You may know this, you may not…but the answer is that chocolate chips were created with the invention of the chocolate chip cookie in 1937 by Ruth Graves Wakefield of the Toll House Inn in the town of Whitman, Massachussets. 
I used the most basic and classic of chocolate chip cookie recipes to use as my "control" cookie. And then changed a whole lot of things with different batches.
Think of this as the beginning of designing my favorite chocolate chip cookie (final recipe coming soon!).
And hopefully with these results, it might make you feel confident that you, too, can customize your own. This is how recipe writing starts! IT'S COOL!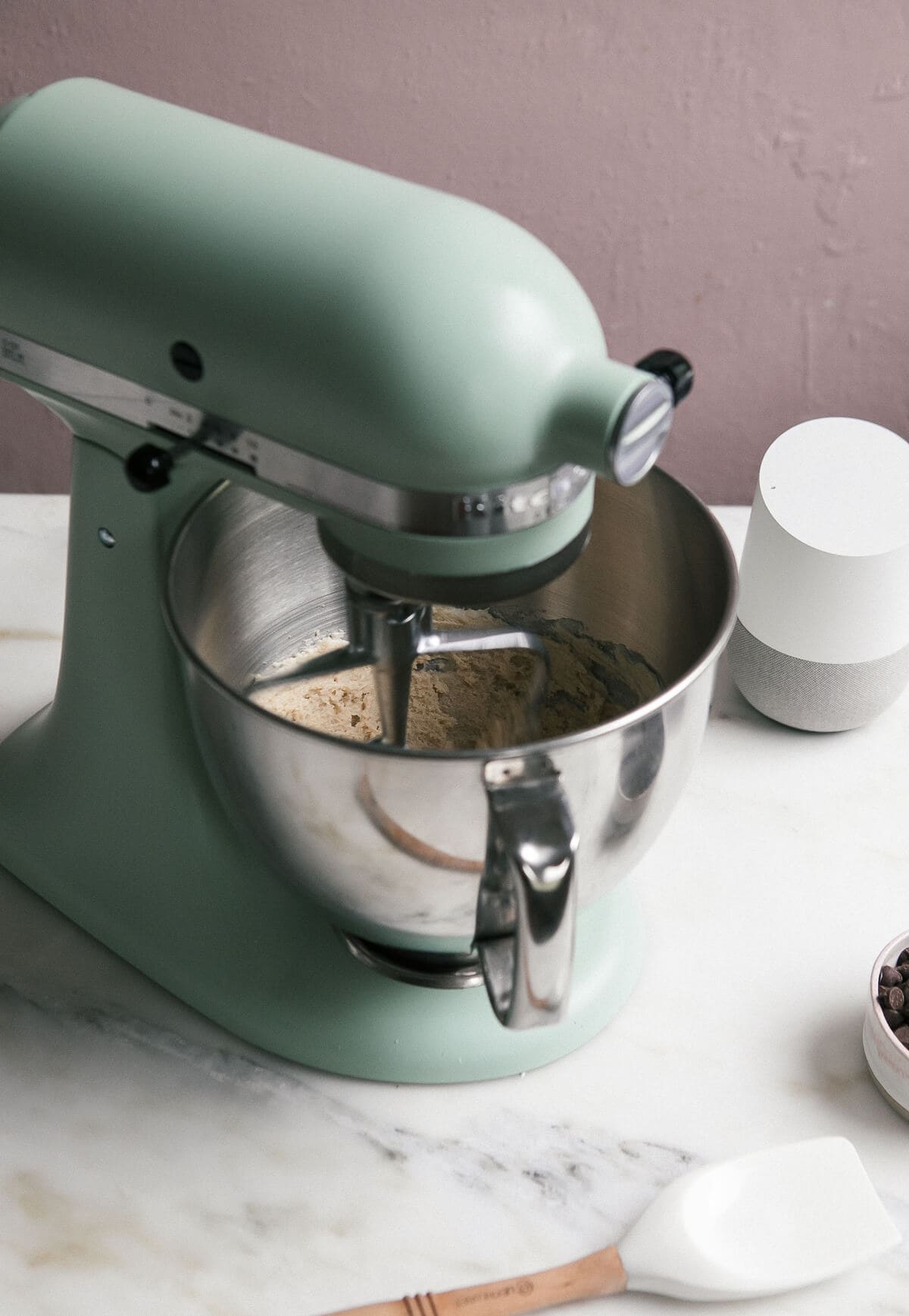 Here are my results.
CONTROL COOKIE: Slightly crispy on its edges and soft in the center. A very quintessential chocolate chip cookie experience. This cookie begins with butter, white sugar and brown sugar all beaten together.
ALL WHITE SUGAR: These were crispy and lace-y. Definitely thinner and a lot more chewy. And noticeably blonder. Look at the raw cookie dough shot, that one was kinda fascinating to me.

MELTED BUTTER with WHITE SUGAR + BROWN SUGAR: A lot of good chocolate chip cookie recipes use melted butter. Why? Well, melted butter usually results in a chewier cookie. A lot of people favor the melted butter route. I personally love melted butter in chocolate chip cookies because I love the texture but the biggest attraction is that I don't have to have softened butter around and can make cookies on a whim—woohoo!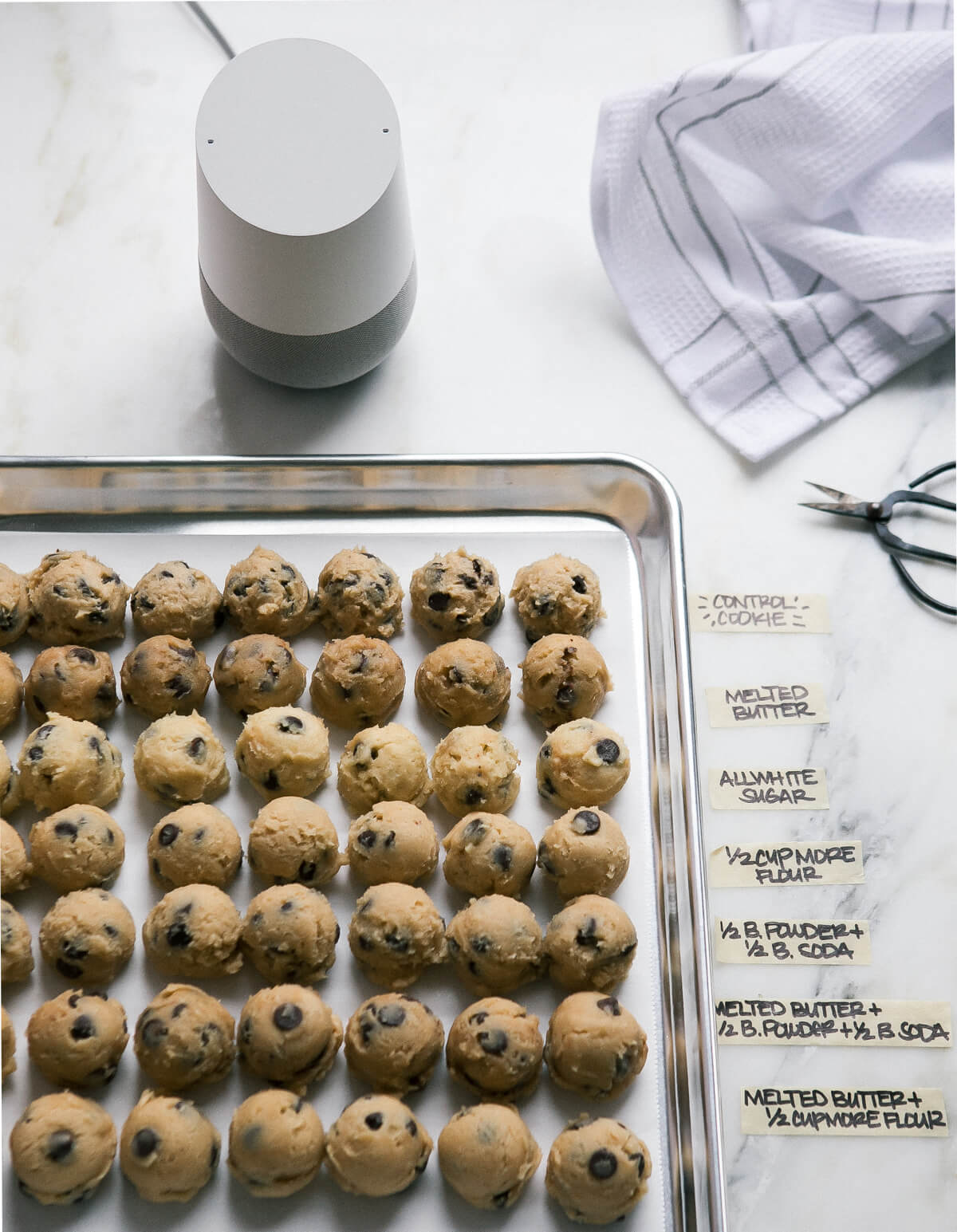 CREAMED BUTTER WITH 1/4 CUP MORE FLOUR: More flour means a bit thicker cookie. I feel like it almost could've even benefited from more flour for a nice chunky cookie. I love all cookies and chubby cookies have a place in my heart, too. Chubby cookies could use some crunch like walnuts or pecans.
MELTED BUTTER WITH 1/4 CUP MORE FLOUR: Melted butter really results in a chewier texture. The flour results in a thicker cookie. I liked this combo a lot.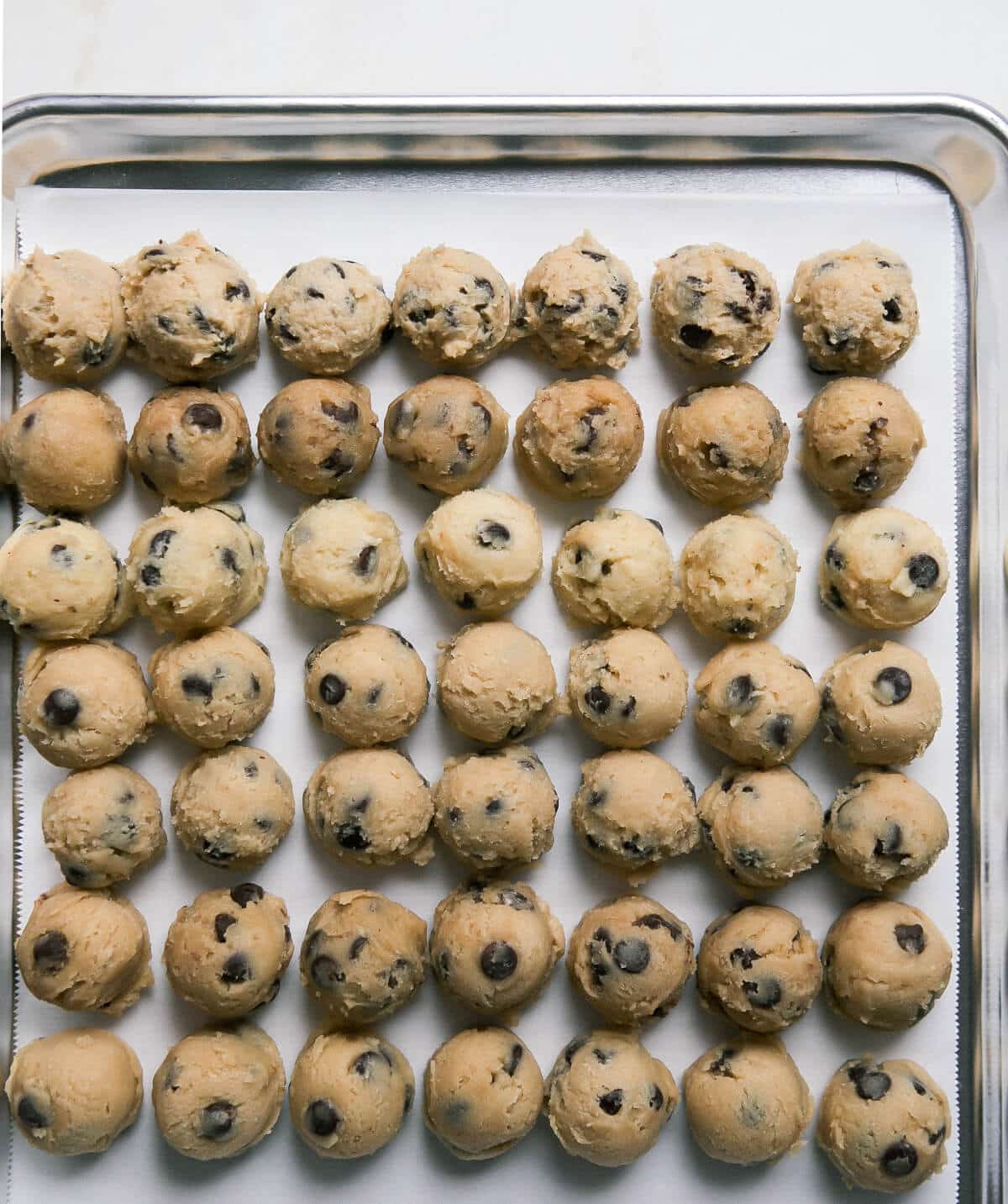 CREAMED BUTTER WITH HALF BAKING POWDER + HALF BAKING SODA: The control only has baking soda. Baking soda helps give cookies a nice color and a bit of a lift. Why would we put both in a cookie? Well, a lot of cookie recipes include both so that the cookies have more of a lift, while the soda really helps with that light brown color we love our cookies to have.
MELTED BUTTER WITH HALF BAKING POWDER + HALF BAKING SODA: I'm not gonna lie, this was maybe my favorite combo. I love what melted butter does to CC cookies and I love the combo of half baking powder and half baking soda. I think this is where I'm going to begin with my development and go from here.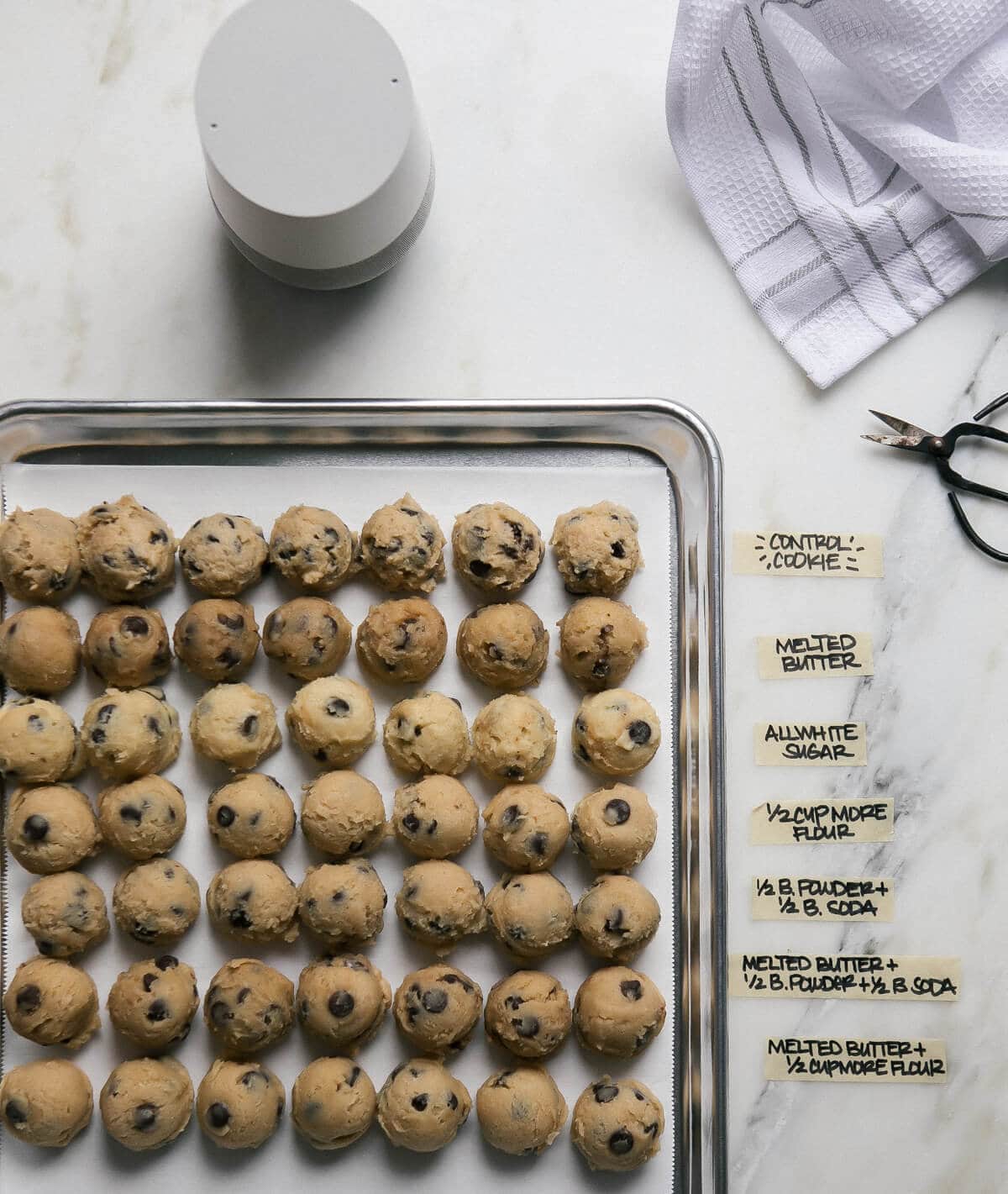 Perhaps I'll add a bit more salt. I might change the chips to chocolate chunks. And I might even add more white sugar than brown to help give the cookies a bit of a crunch on the edges. Who knows! But I think this is a good start.
While were talking about melted butter, one thing I thought of but quickly abandoned is browned butter. It feels like a logical step when you're making CC cookies with melted butter, but have you ever noticed that browned butter cookies look awfully dry?
Well when you brown butter, you're cooking the water out of the cookies. Even if you add brown sugar–which has quite a bit of moisture–to the cookies, it's still not enough moisture. Cookies need moisture in order to be chewy and soft, two attributes that I LOVE in chocolate chip cookies.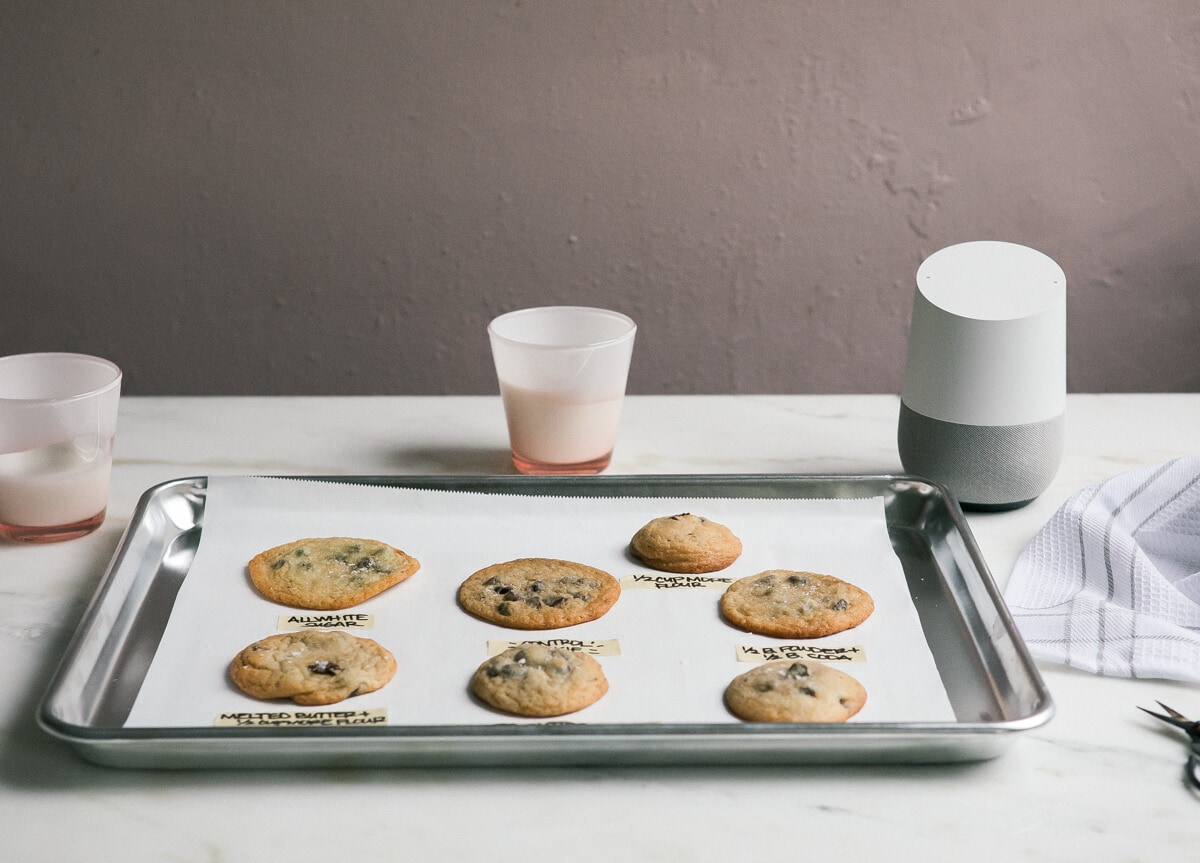 I'm going to be sharing my final chocolate chip cookie recipe soon and this exercise has really helped in getting me a bit closer to my ideal cookie.
P.S. Another thing that is a major plus with Google Home is that I can ask about my calendar, which is how I run my entire life and blog and business. I need to know what I'm doing everyday and in the morning when I'm getting ready, I always start my day me asking Google Home what my schedule looks like…like the other day, when it told me I needed to start prepping seven batches of chocolate chip cookie dough. Lol.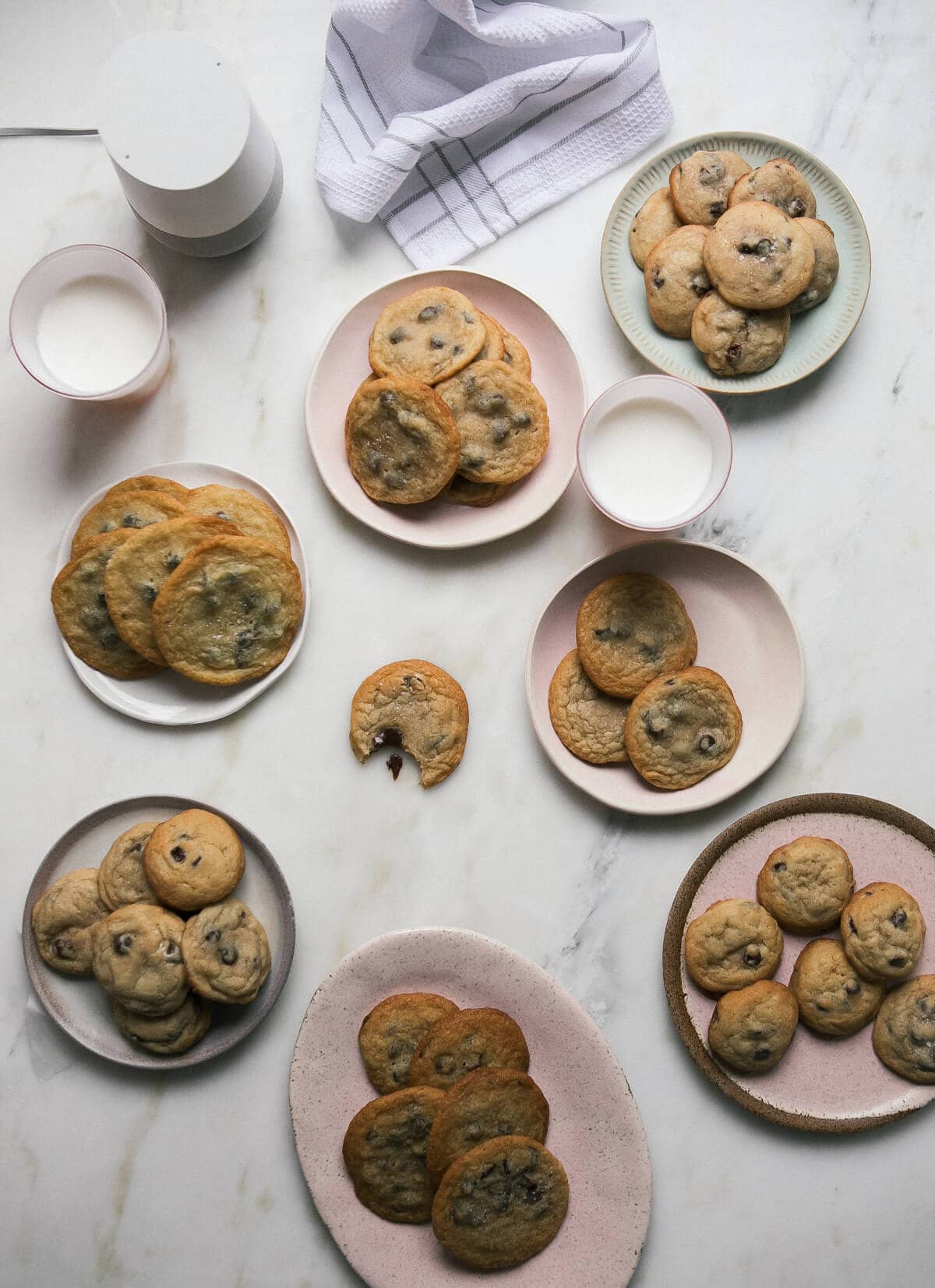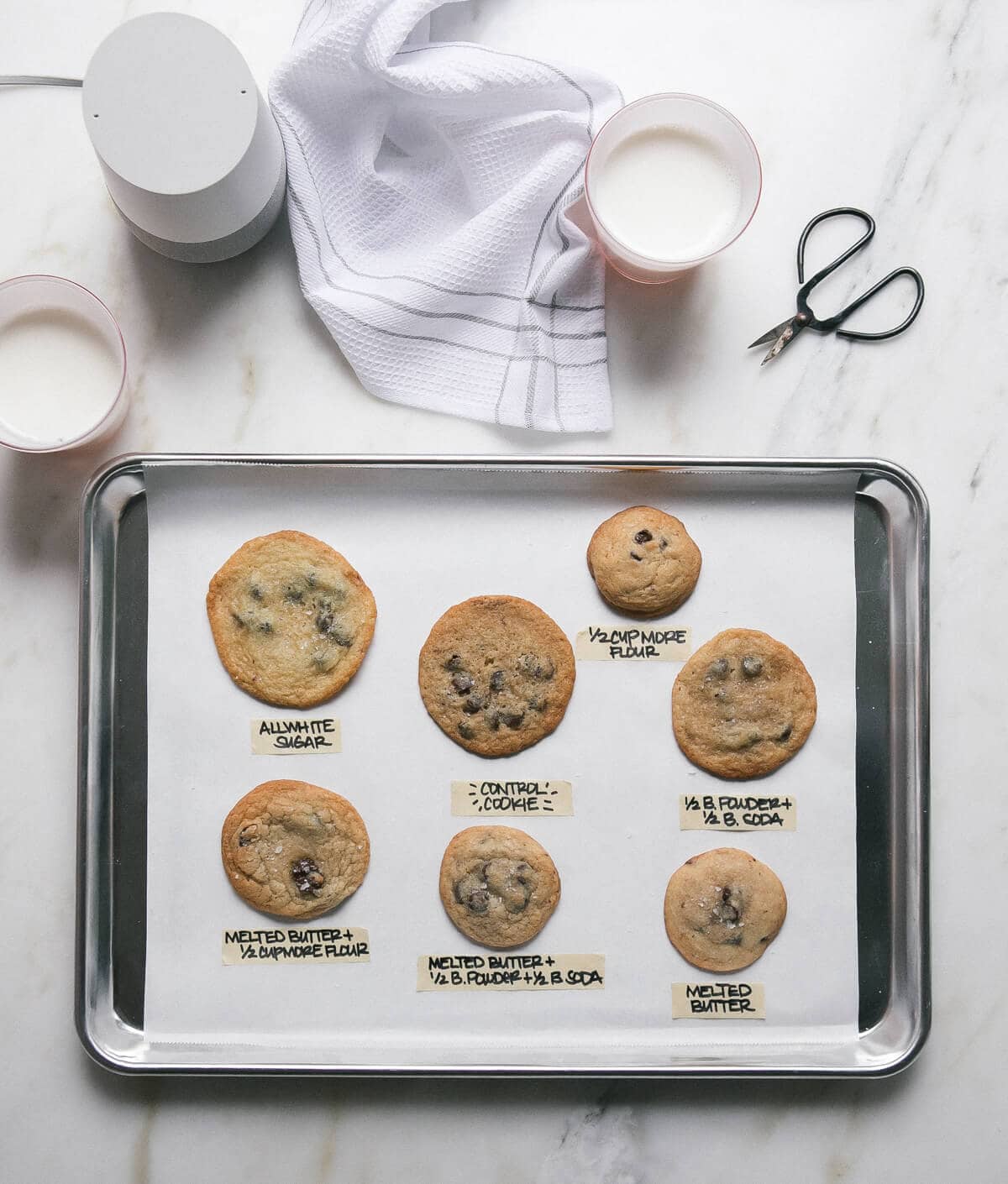 (This post is sponsored by Google Home. Thanks for supporting the sponsors that keep A Cozy Kitchen cozy.)