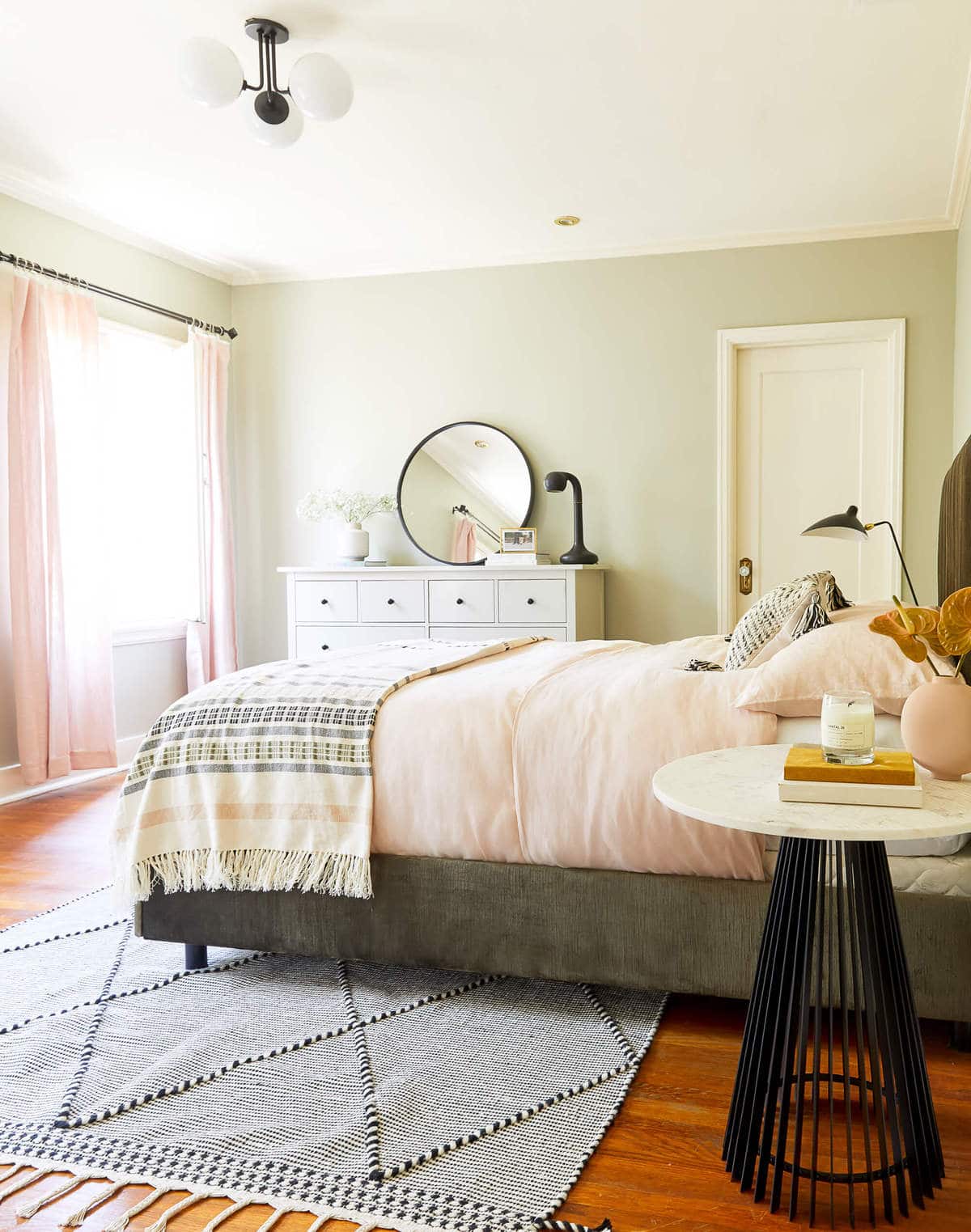 My bedroom makeover is done! YAY! It's taken a lot of time to get it to a place of total comfort. TBH when we first moved in, our bedroom resembled more of a dorm than a cozy, tranquil place. I was procrastinating on pulling the trigger on new furniture and decor—they're hard choices to make haha.
Before we get into the cozy details, let's look at some beautiful before photos! Lol. The bedroom furniture was way too dark and the curtains hardly let in light.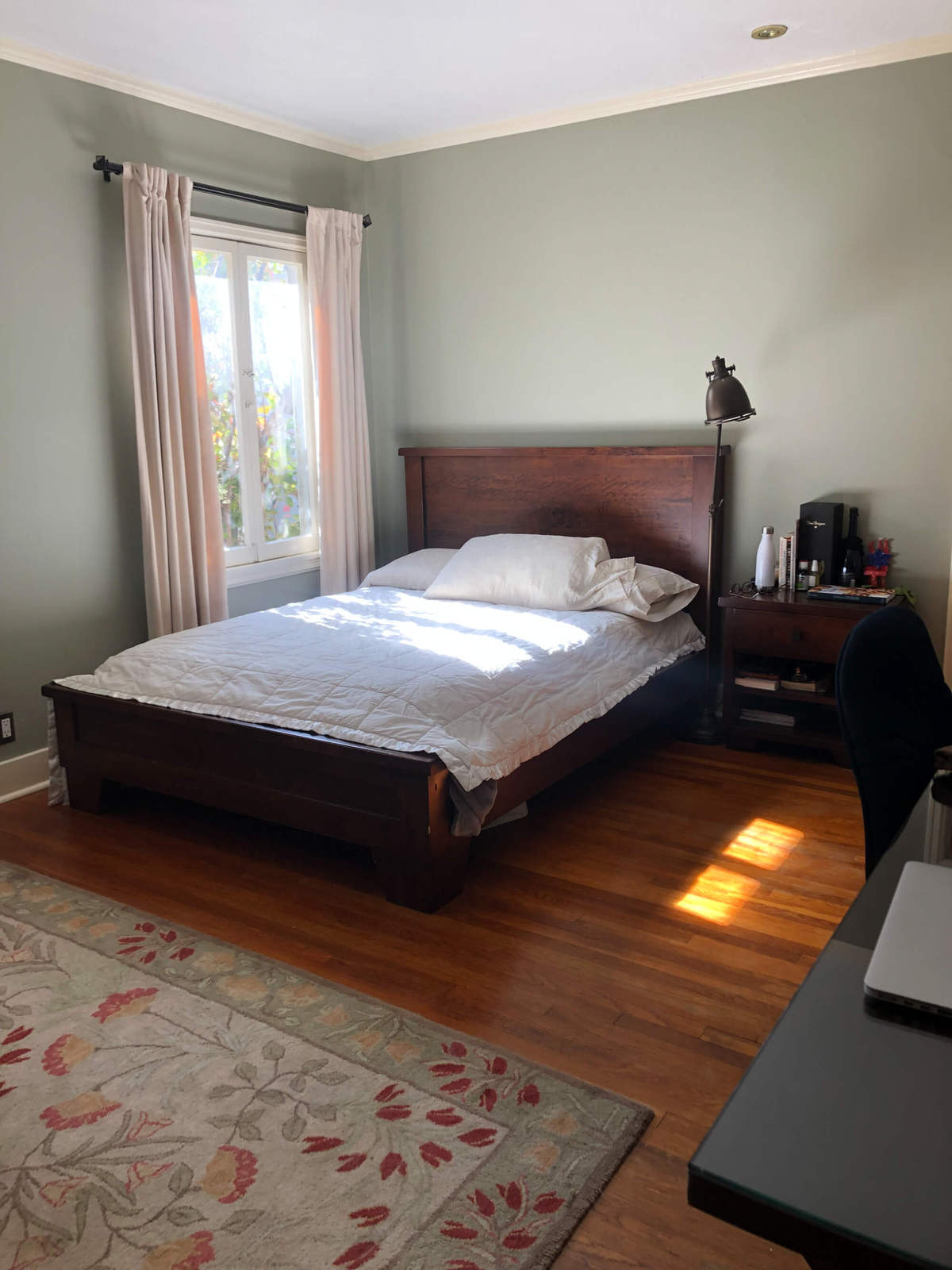 The bedroom needed a new fresh coat of paint and some new light fixtures. We also had a desk in there and it was just a place where we would keep folded clothes.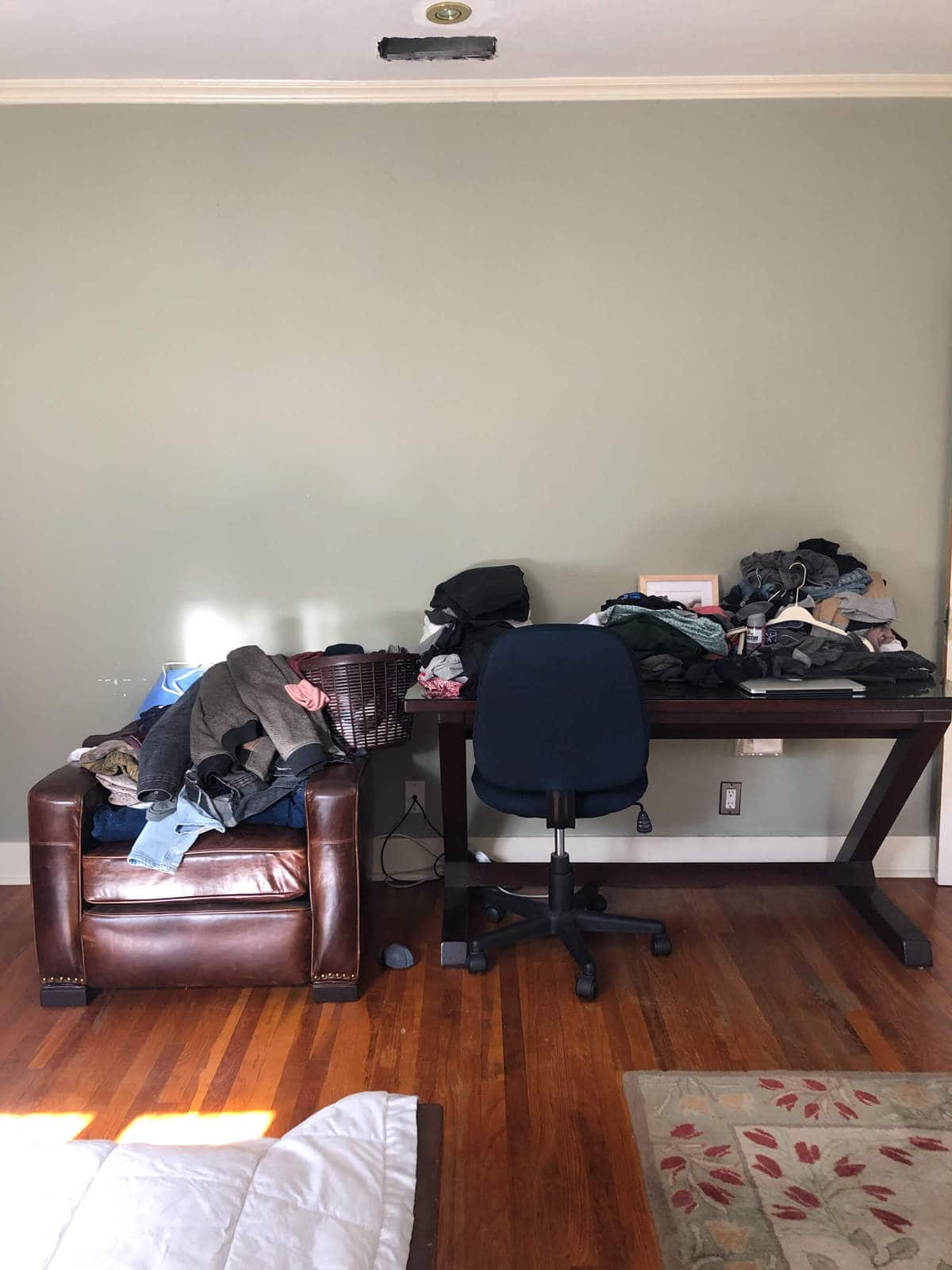 We have a pretty small closet so we definitely needed a big dresser that could hold a lot of our clothes.
I knew that I needed a whole lot of things and that's where Lulu & Georgia came into the picture. I teamed up with Lulu & Georgia for this makeover and they supplied a good amount of the furniture and fixtures in the house.
I had my eye on this Aliyah Velvet bed (in color Pine) for a long time. I actually first saw it from this post and fell in love with it. I love that the velvet looked lush and soft. I also knew that I wanted the bedroom to feel like a hotel room: nice lighting, comfy linen sheets and just everything being nice and clean.
The first thing we had to do was get rid of the furniture in the room. We gave some away, stored some and gave the room a nice paint job. We painted the ceiling, too, which really brightened up the room. I picked Benjamin Moore "Paris Rain" for the walls and "Ivory Tusk" for the trim.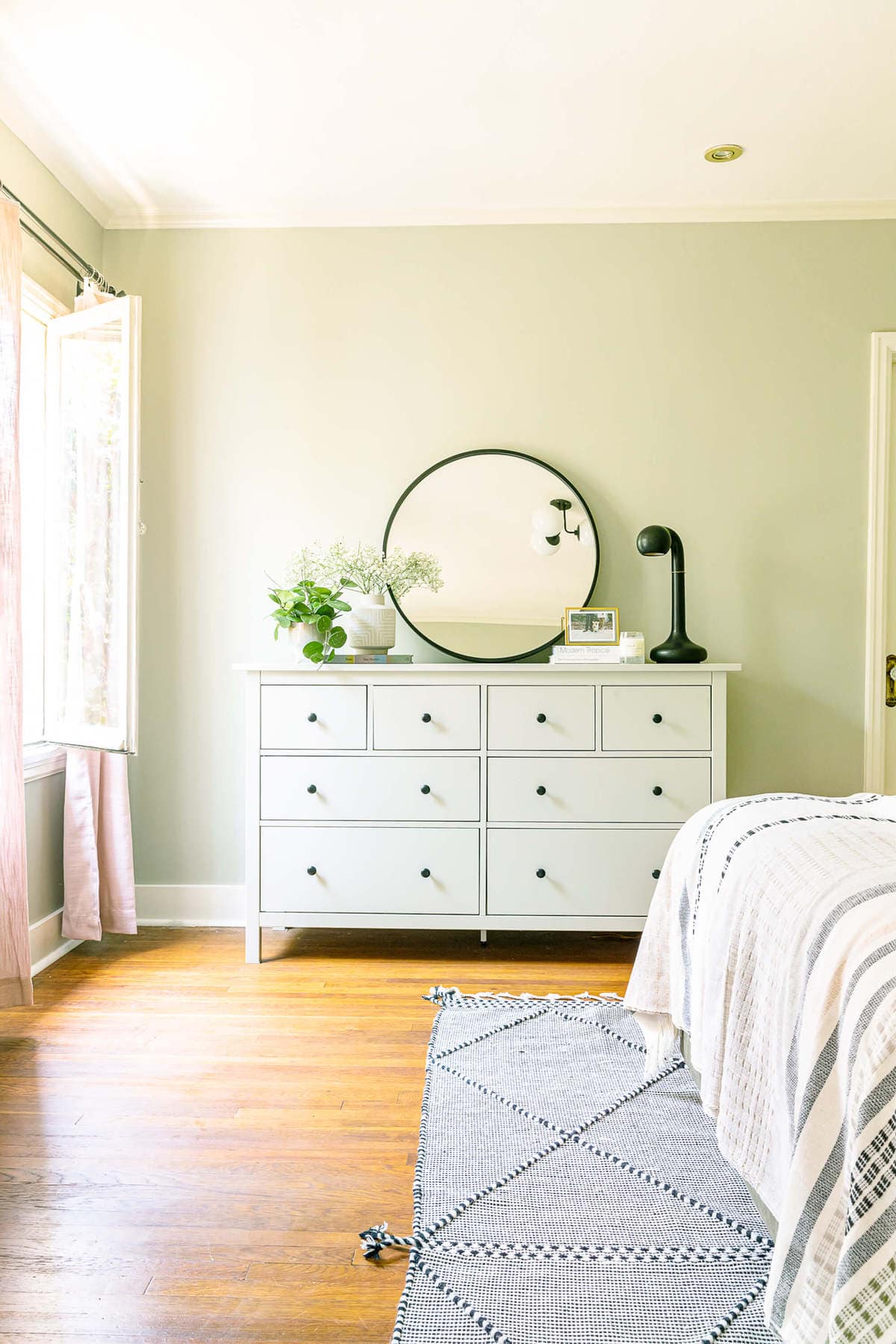 One of the first things I did was purchase this Hemnes dresser from Ikea and paint it the same exact color as the walls. I was inspired by this image. What's funny is that it doesn't look EXACTLY the same color even though it is. I swapped out the hardware for some that I bought for the kitchen but never used.
I will say that the dresser was a wild experience putting together; not the greatest experience lol. So just a warning—it's definitely a big task.
I placed a simple black mirror on top of the dresser and an Entler Lamp that I purchased from one of their sample sales. I love that it's kinda weird and cool looking. They remind me of an octopus. Lol.
The vase is something I picked up at Target and it's on top of some cookbooks I had shoved in the back of a closet.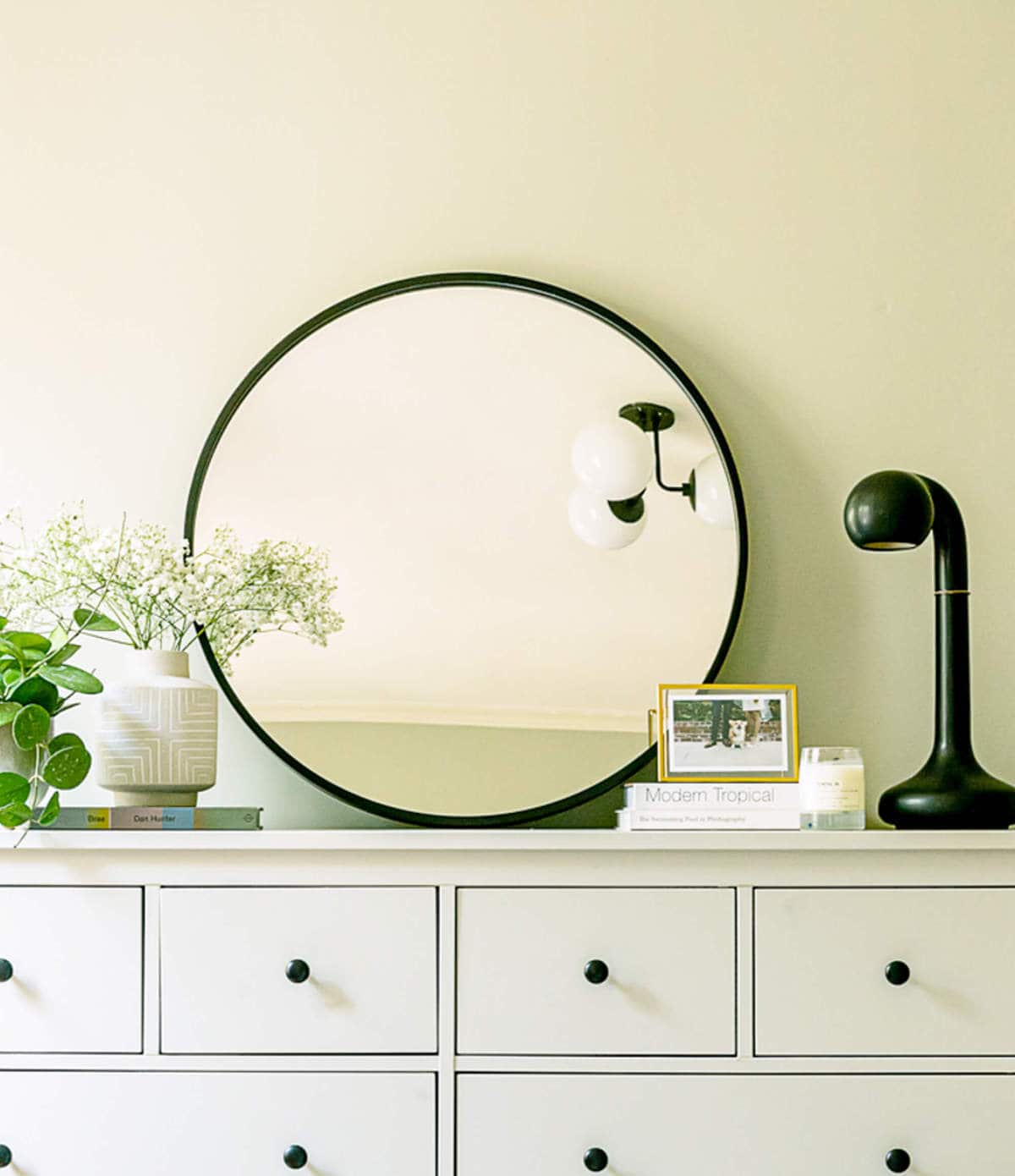 I love these Arteriors Jaime End Tables and matching table lamps. I thought they looked cool and modern and they give off beautiful light when the overhead light is turned off.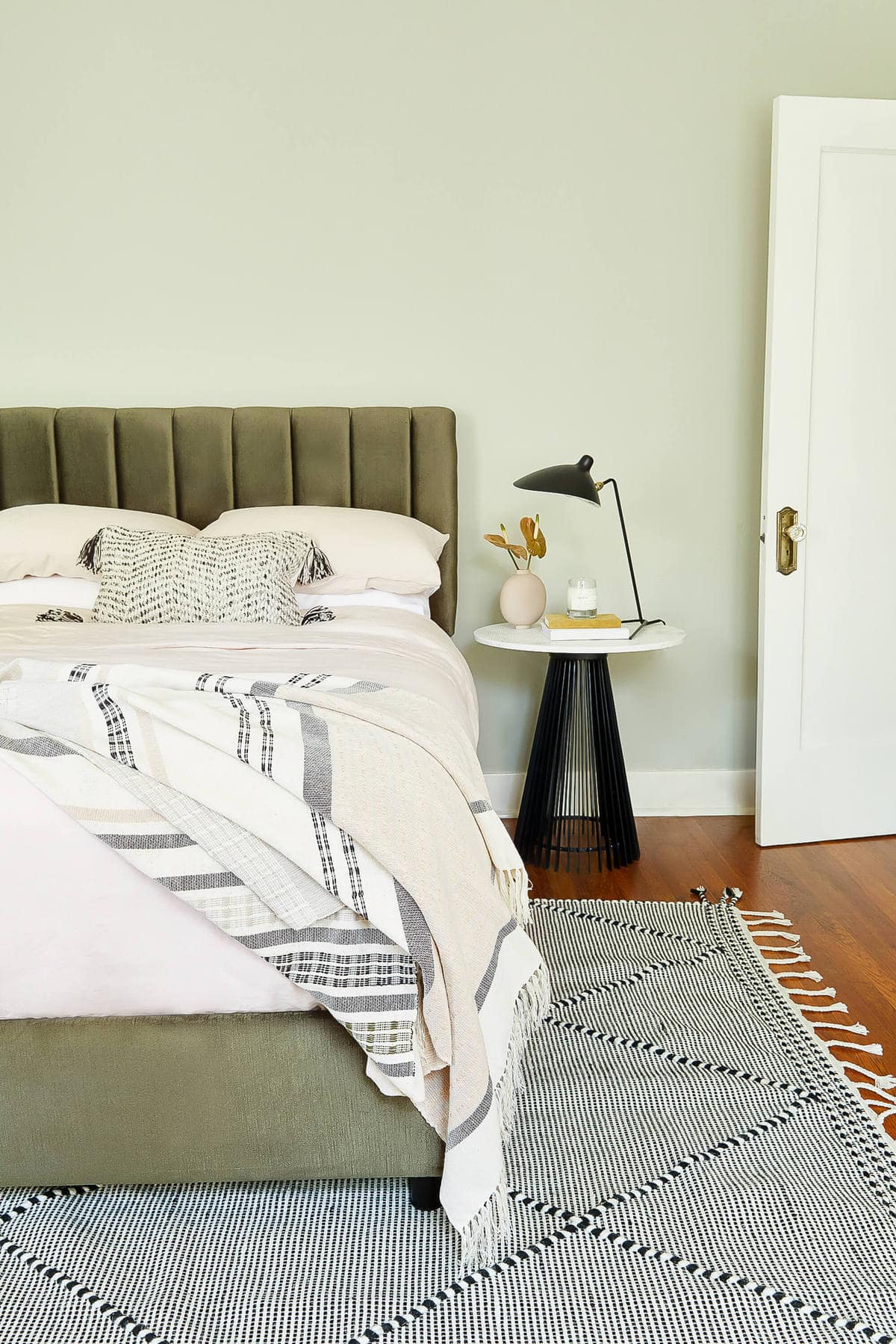 To add some warmth to the room, we added this really pretty Taza rug that pulls the room together. We've had the rug for about a month and it holds up to Amelia's hair really well. It vacuums up pretty easily and her hair doesn't stand out nearly as much as I thought it was going to.
I also picked this beautiful linen duvet cover from Cultiver Bedding in Blush. I love it! It's linen but not scratchy—super soft and light and airy. Great for summer. My duvet insert is new from Parachute. We got it from our wedding registry and were waiting to break it out!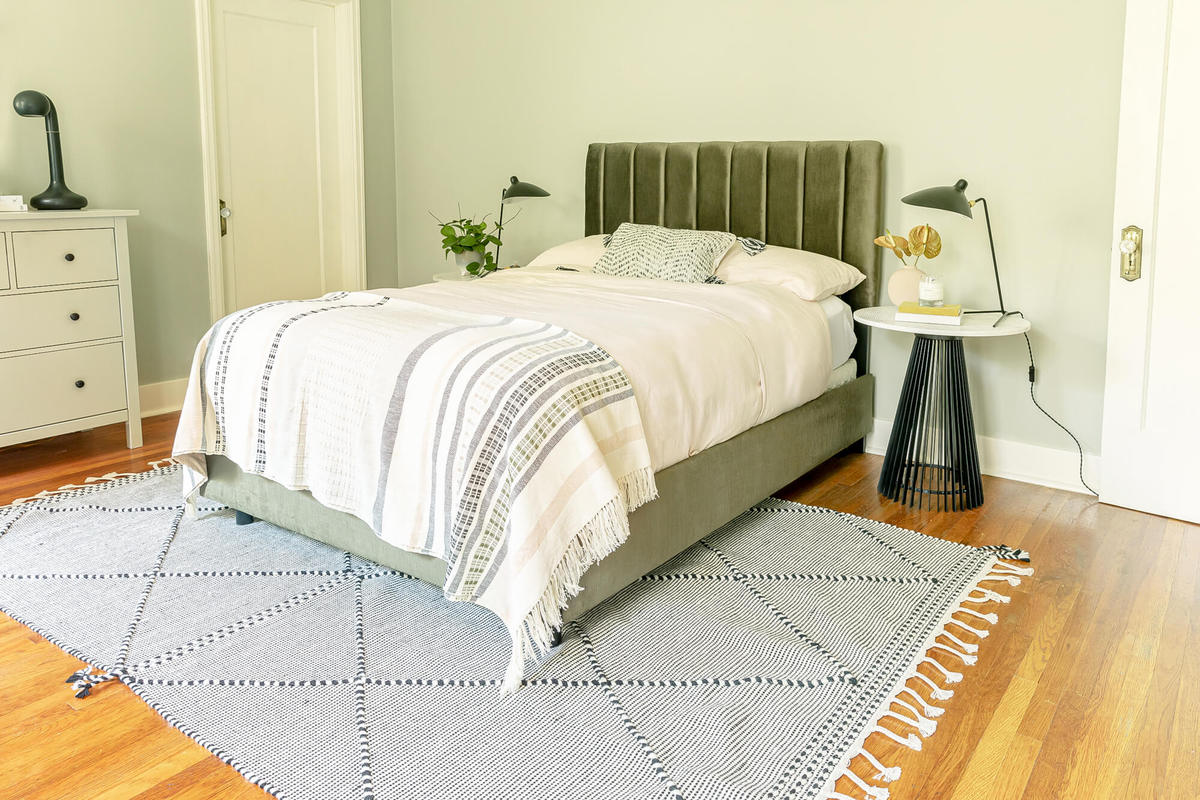 The overhead light needed a bit of an upgrade so we chose this Lia Semi-Flush Mount in Old Bronze. It's technically bronze but totally reads black. The light is super pretty and soft—I love it!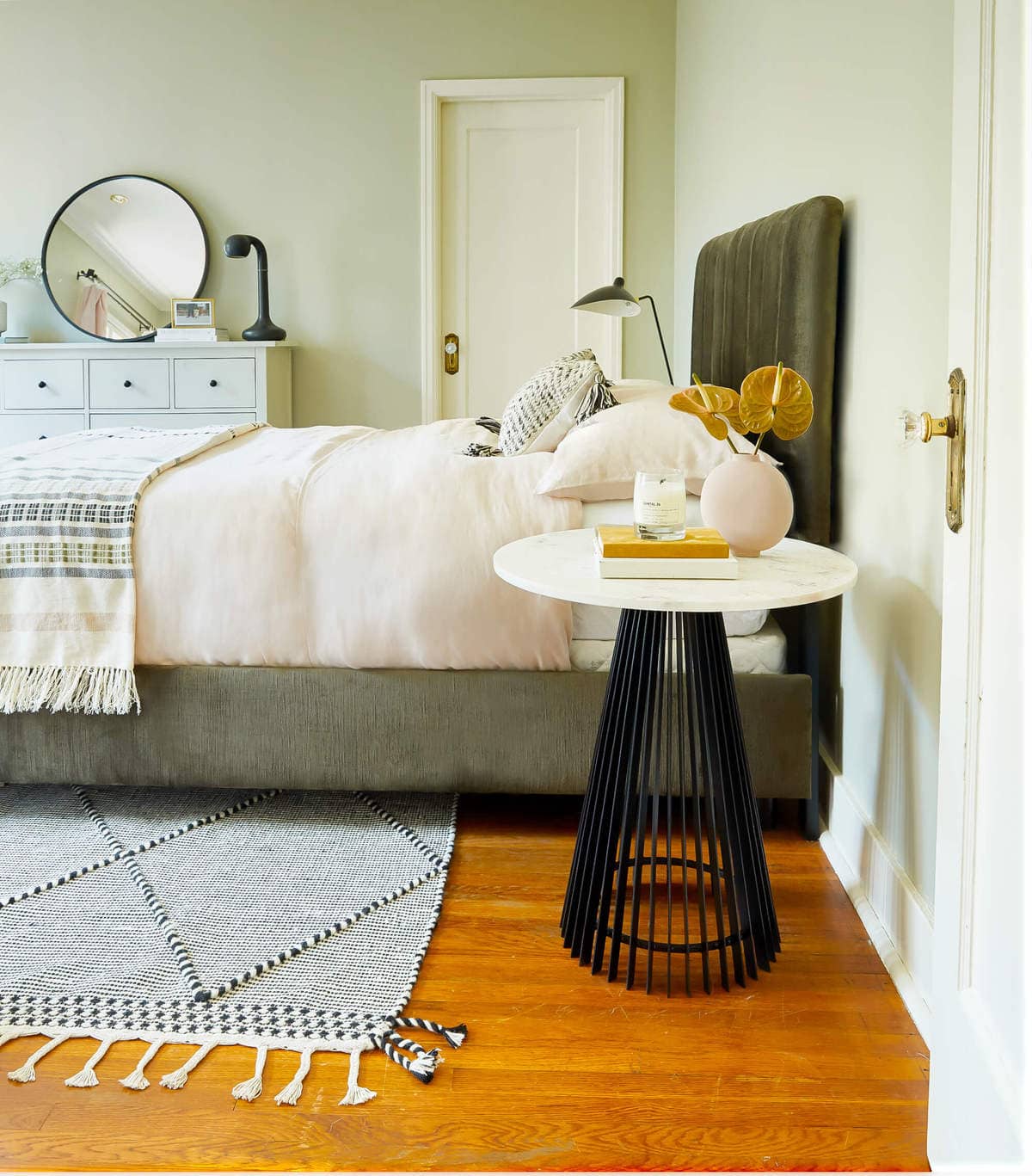 The bedroom now feels like a hotel room (Josh says this haha). We ended up putting a TV in the bedroom on the wall in front of the bed and admittedly, I was super opposed to it but it's actually pretty nice!
This bedroom makes me feel like a grown up; it's so clean and nice and new. I love it!
Here's a link to everything in the room!
Aliyah Velvet Bed (in color Pine)
Arteriors Jaime End Table
Glorianna Table Lamp
Entler Table Lamp
Ikea Hemnes Dresser
Cultiver Bedding (in color Blush)
Taza Rug
Duvet Insert from Parachute
Lia Semi-Flush Mount (in Old Bronze)
Holden Mirror (in Large)
Jaspar Lumbar Pillow
Minna Ise Throw
Le Labo Santal 26 Very Expensive Indulgent Candle
(A special thanks to Lulu & Georgia for partnering with me on this post!)