Chocolate Bundt Cake with Almond-y Cream Cheese Frosting
13
Apr 29, 2016, Updated Feb 23, 2019
Disclosure: This post may contain affiliate links, which means I may earn a commission if you click on the link and make a purchase.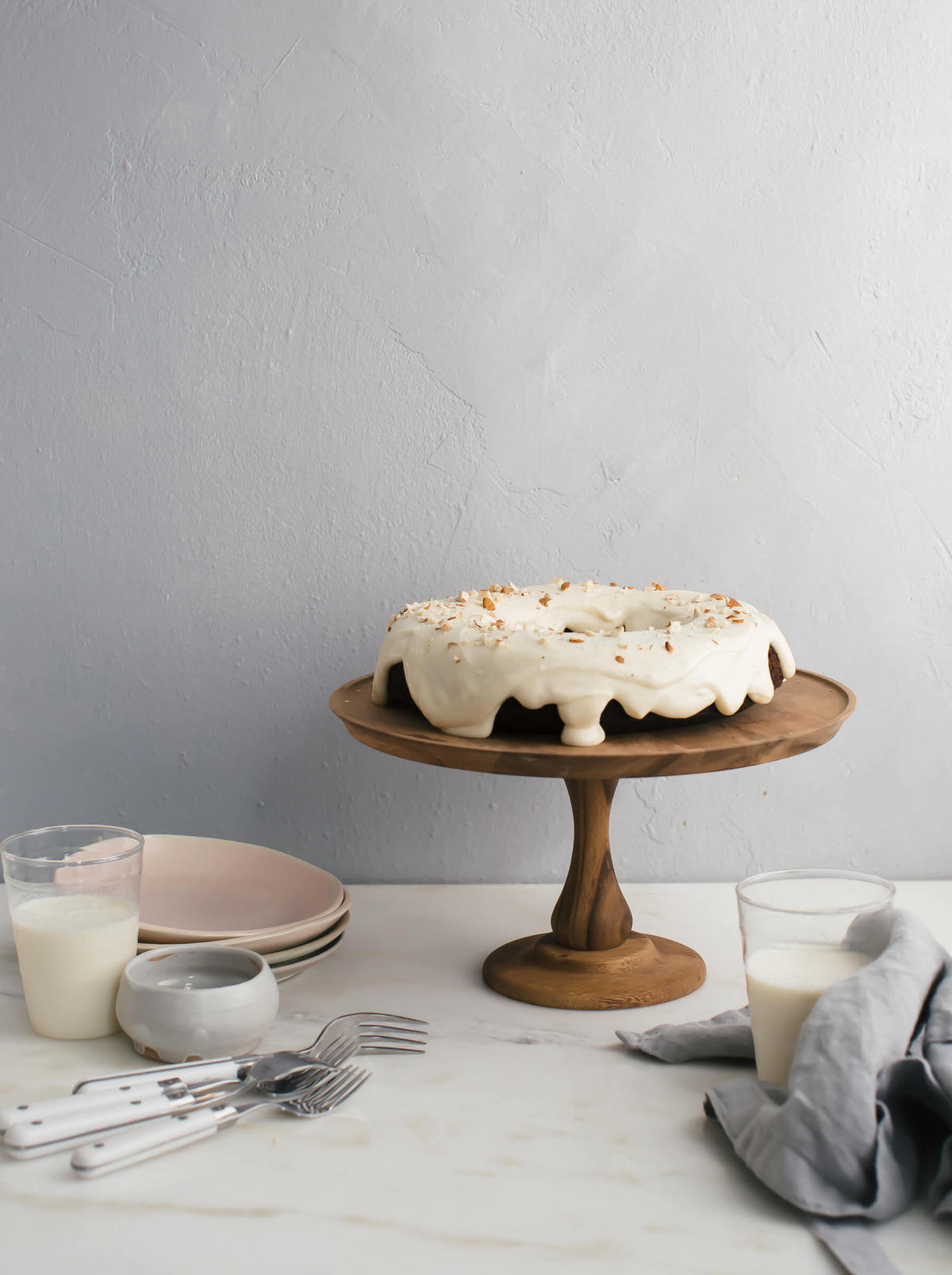 A few weeks ago I hopped in a car and drove 2 hours north to a small town called Solvang where I checked into a cozy little hotel and put on a robe (my favorite part) and was then scurried off to dinner (not in the robe, I put on real clothes) on a vineyard. Not the usual Monday around these parts but I reveled in being outdoors, tasting wine and food for a few hours straight.
This was all in honor of ALDI grocery stores coming to Southern California. I'm visiting my first ALDI store in a few weeks and can't wait to show you more. I'm excited about the extensive organic products they have, especially organic butter and organic dairy (my two most expensive splurges in any given week).
In the meantime, here's a little bit about my experience at the dinner and how it inspired this recipe for a Chocolate Bundt Cake with Almond-y Cream Cheese Frosting.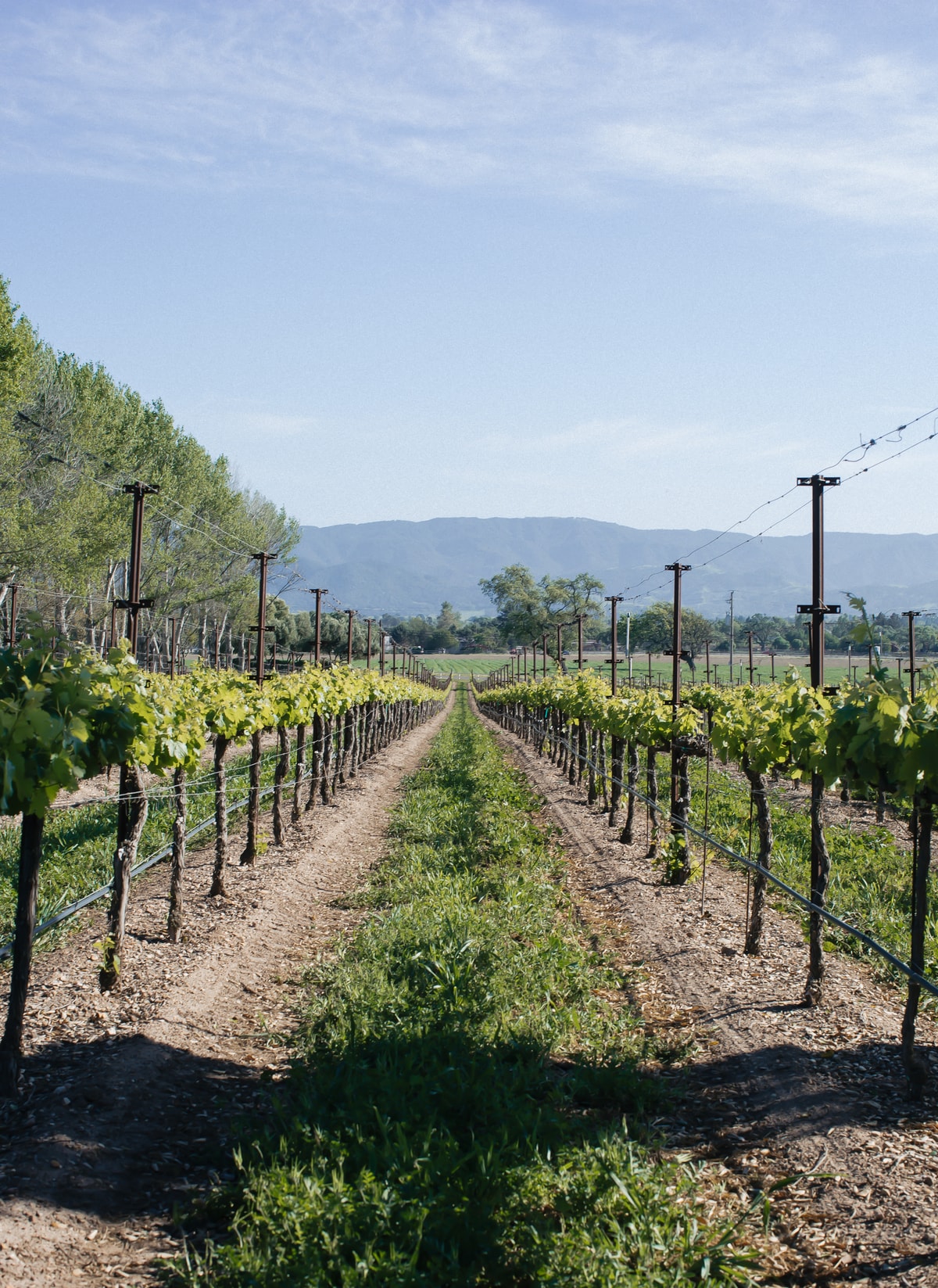 We arrived and I was immediately handed a glass of wine. There was a short tour of the vineyard.
Shortly after we sat, we started nibbling on fruit and cheese (my favorite:
Specially Selected Pepperoni Marinara Hand-Crafted Cheese —tasted like pizza!). And then there was more wine, cauliflower steak, meat-y steak, and naturally my favorite course was dessert. All of it was prepared by Bon Appétit's Chef Mary Nolan using ALDI ingredients.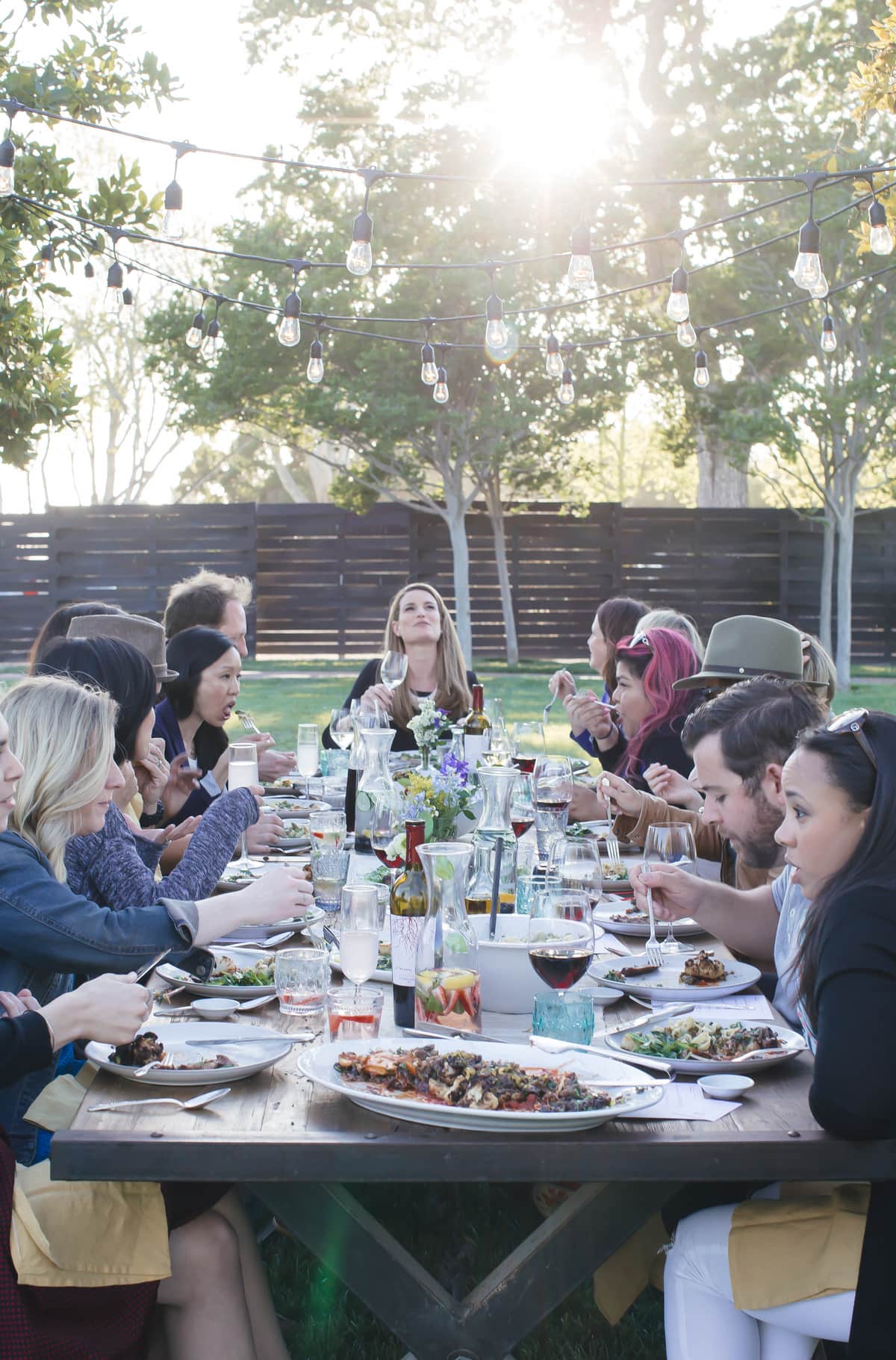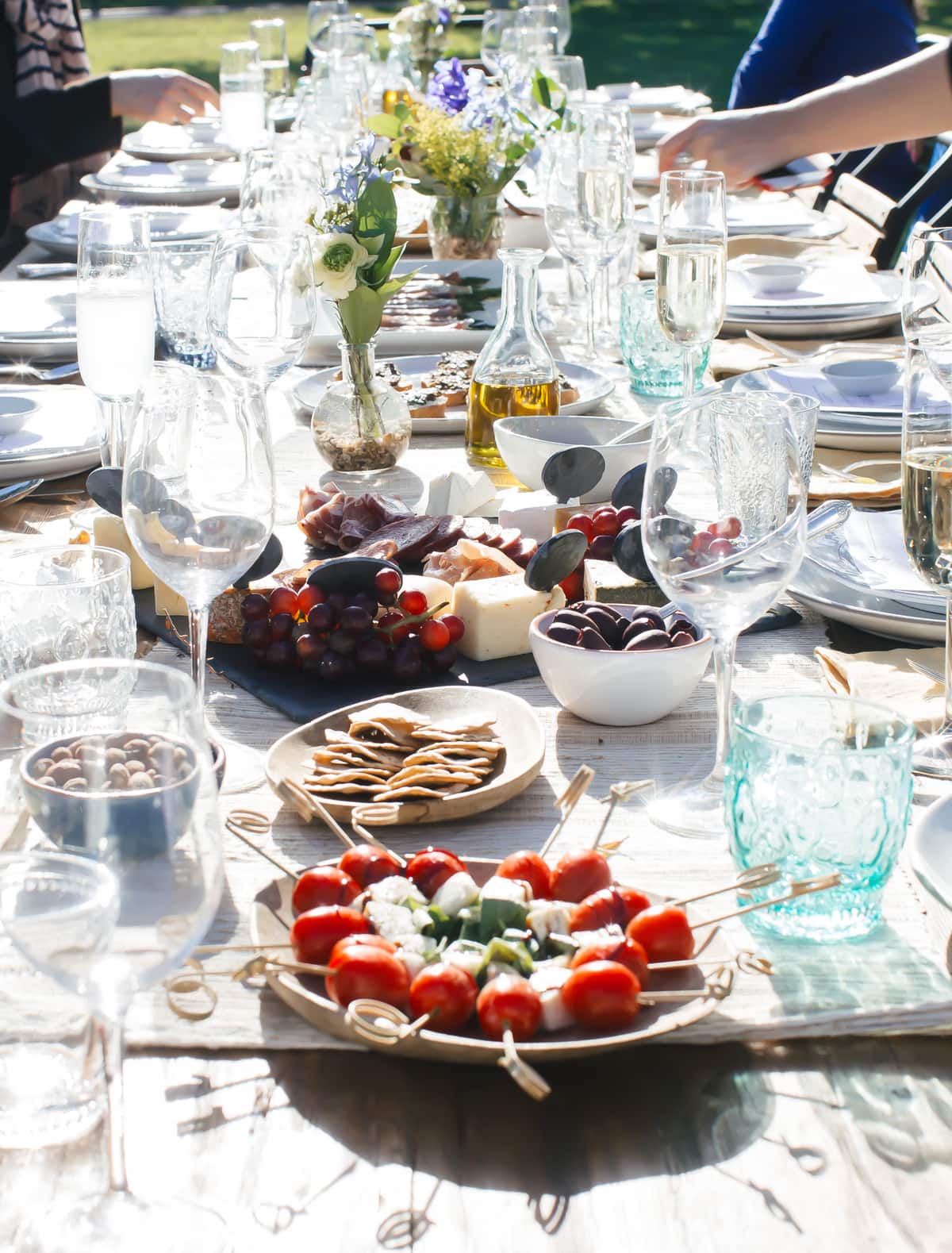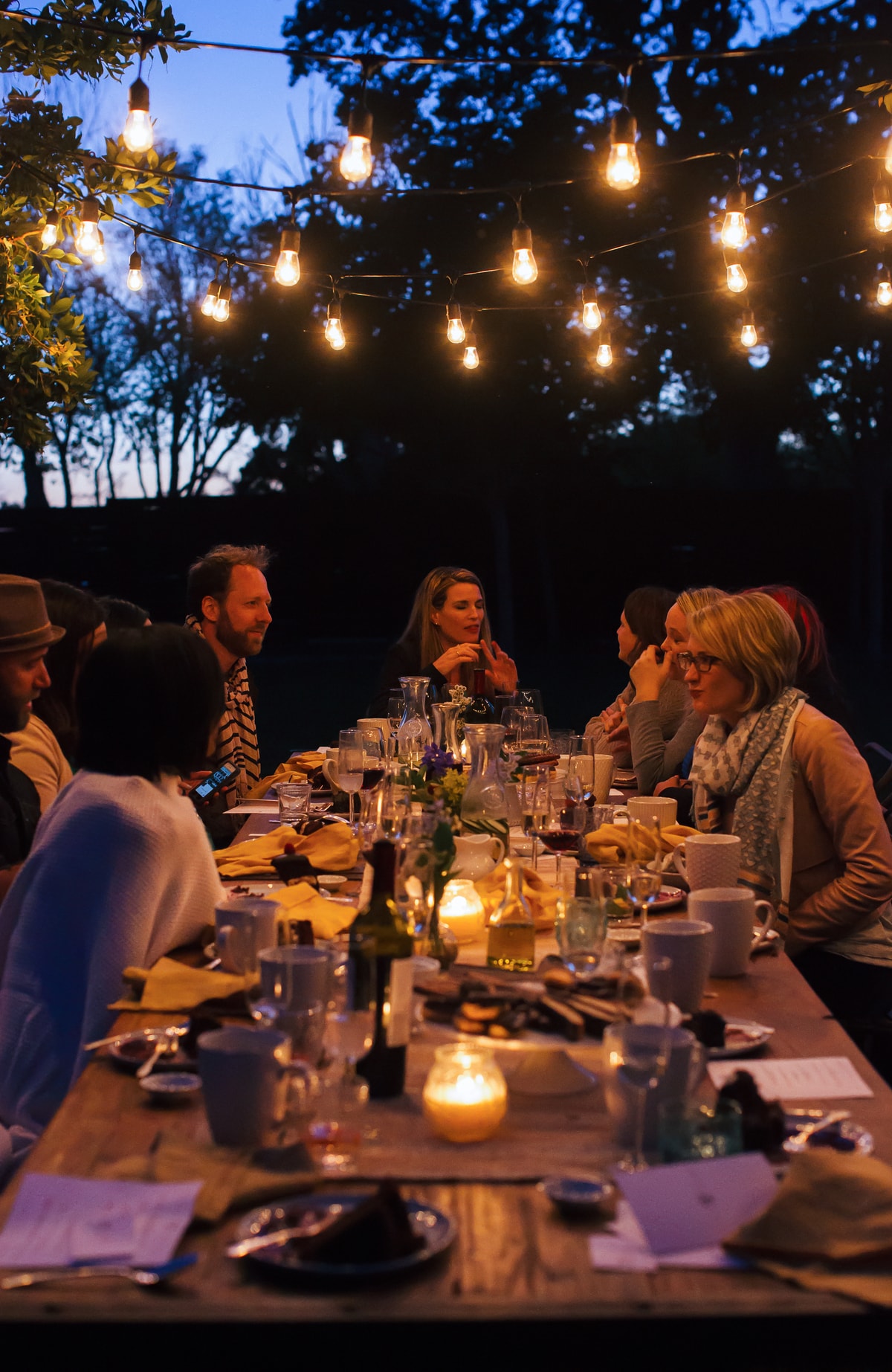 The dessert was a piece of sky-high chocolate cake with almond cream cheese filling.
After we ate some more, I walked around the vineyard and stared at the sun going down—so beautiful! And I kept thinking about that slice of cake.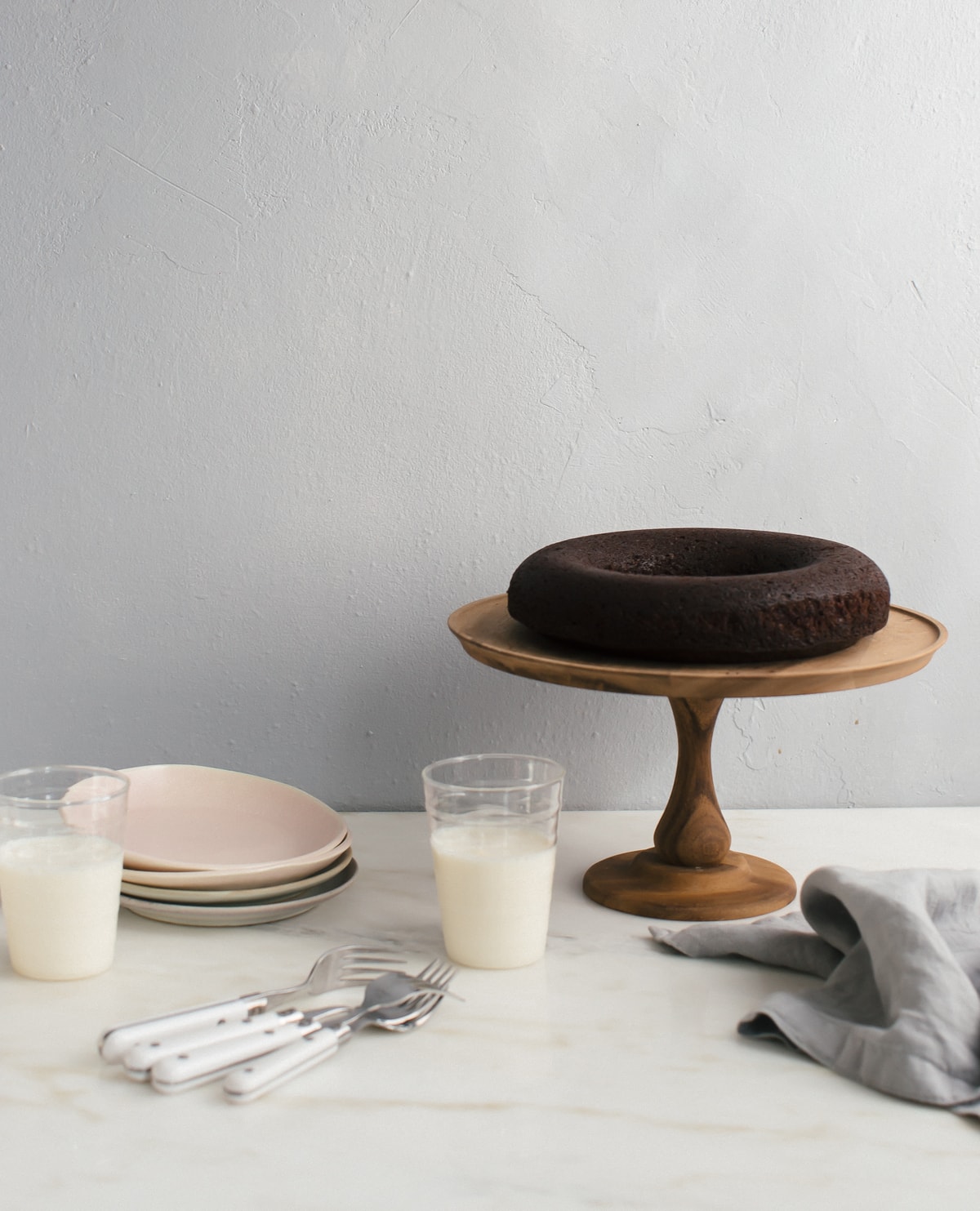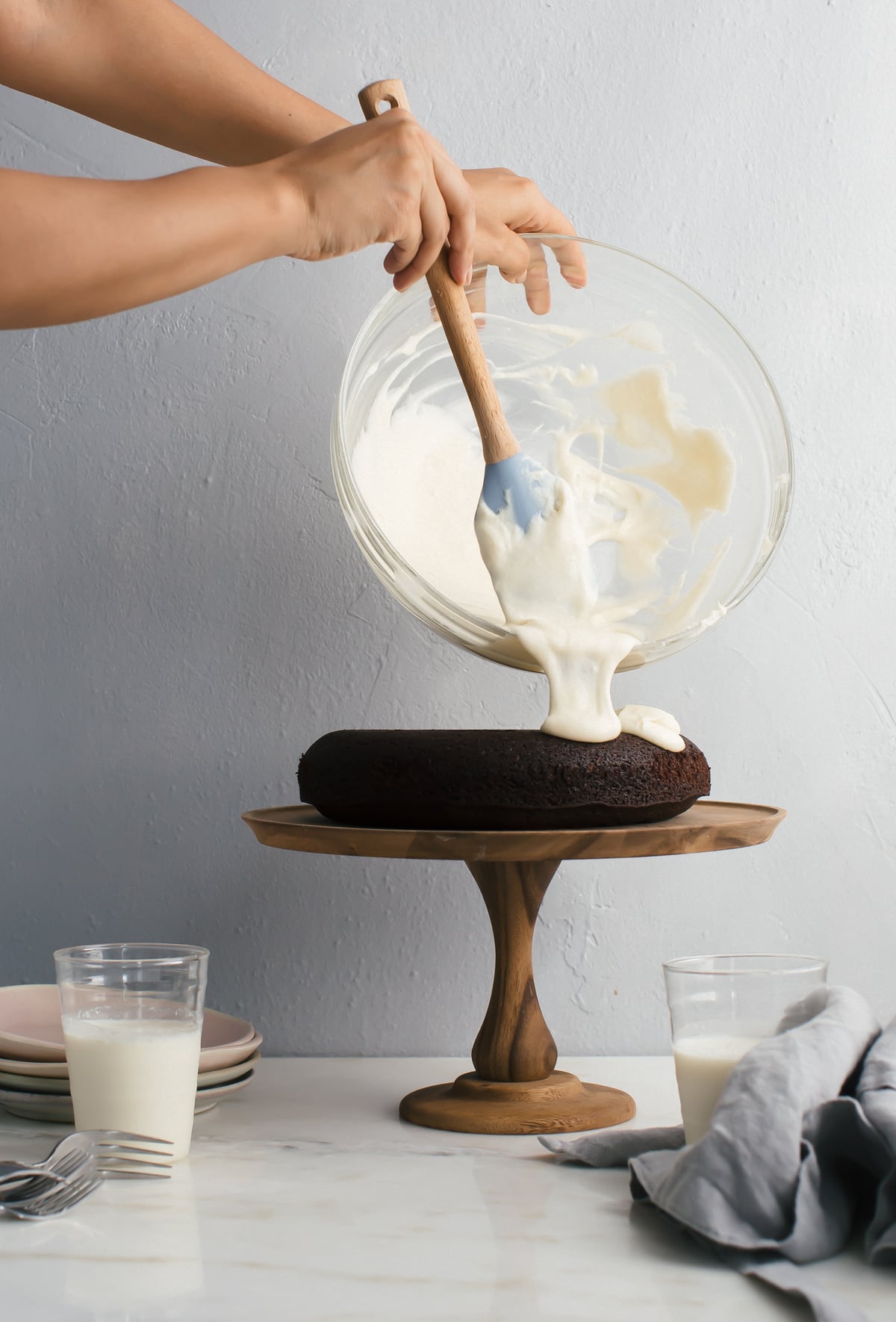 Let me tell you about this cake: it's simple (nearly a one bowl chocolate cake) that doesn't require a mixer or anything fancy. It's super moist and chocolate-y and the cream cheese, almond-y frosting is marzipan-y without going overboard. It's best made for dinner or brunch and served and divided amongst all your favorite people. Serve it with coffee or glasses of cold milk.
Chocolate Bundt Cake with Almond-y Cream Cheese Frosting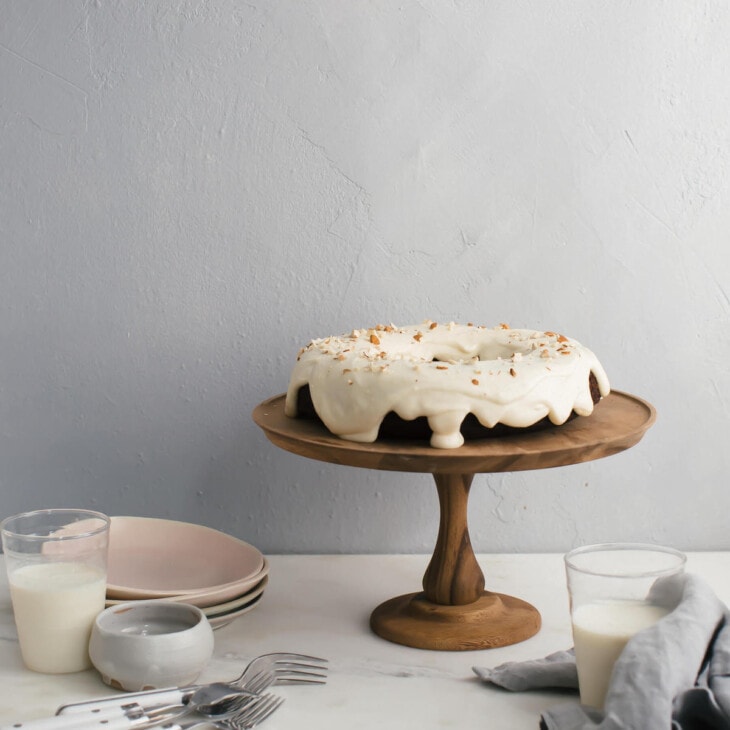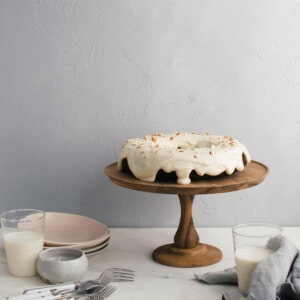 Ingredients
Chocolate Cake:
Carlini Canola Oil Cooking Spray 

2 1/2

ounces

Baker's Corner Semi-Sweet Chocolate Morsels

1/3

cup

warm water

1/2

cup

Friendly Farms Buttermilk

,

shaken

1/3

cup

Carlini Olive Oil 

1

large egg

1

cup

SimplyNature All Purpose Organic Flour

1/2

cup

Baker's Corner Granulated Sugar

1/4

cup

Baker's Corner Baking Cocoa

1 1/2

teaspoon

Baker's Corner Baking Soda

1

teaspoon

instant espresso powder

1/2

teaspoon

Stonemill Essentials Iodized Table Salt
Almond Cream Cheese Glaze: 
1/4

cup

Countryside Creamery Creamy Unsalted Butter

,

at room temperature

3

ounces

Happy Farms Soft Spread Cream Cheese

,

at room temperature

1

cup

Baker's Corner Powdered Sugar

,

sifted 

Pinch

of salt 

3 to 4

tablespoons

Friendly Farms Buttermilk

,

or milk! 

1/2

teaspoon

pure almond extract

2 to 3

almonds

,

chopped 
Instructions
Preheat the oven to 350 degrees F. Spray a 6-cup bundt pan with cooking spray and set aside. In a small bowl, add the chocolate chips and microwave until melted, about 1 minute. Alternatively you could melt it over a double-boiler. Set aside. 

Measure out the warm water, buttermilk and olive oil in a measuring cup. Whisk in the egg and reserved melted chocolate. 

In a large bowl, combine the flour, sugar, cocoa powder, baking soda, espresso powder and salt. Pour in the warm water mixture and mix until combined. The batter will be thin. Pour into the prepared bundt pan and transfer to the oven to bake for about 25 to 30 minutes, or until a skewer inserted into the center comes out clean. 

Meanwhile, in a medium bowl, add the butter, cream cheese, powdered sugar, salt, buttermilk and almond extract. Beat with a hand-mixer until smooth. The texture should be pourable yet thick. If it's too thick, feel free to add an additional tablespoon or two of buttermilk or milk.

Cool the cake in the pan for about 15 minutes. Run a sharp knife along the outside and invert onto a cooling rack. When the cake has completely cooled, pour the glaze all the way around and smooth it out with an offset spatula or butter knife. Sprinkle with a few crushed almonds.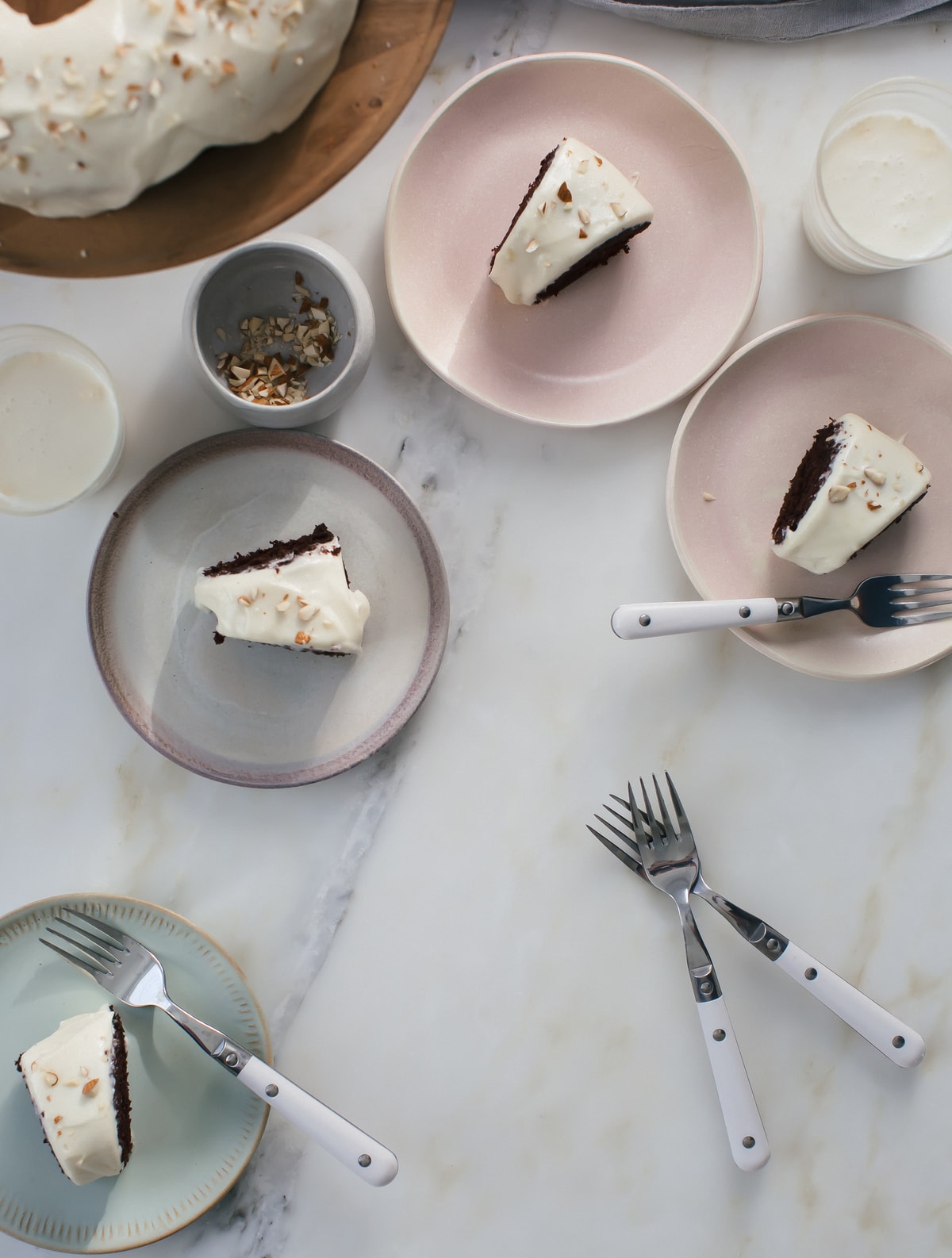 You can check out ALDI on the internets, on the Facebook, Twitter, Pinterest and the Instagram!
(This post is sponsored by ALDI. Thanks for supporting the sponsors that keep A Cozy Kitchen cozy.)