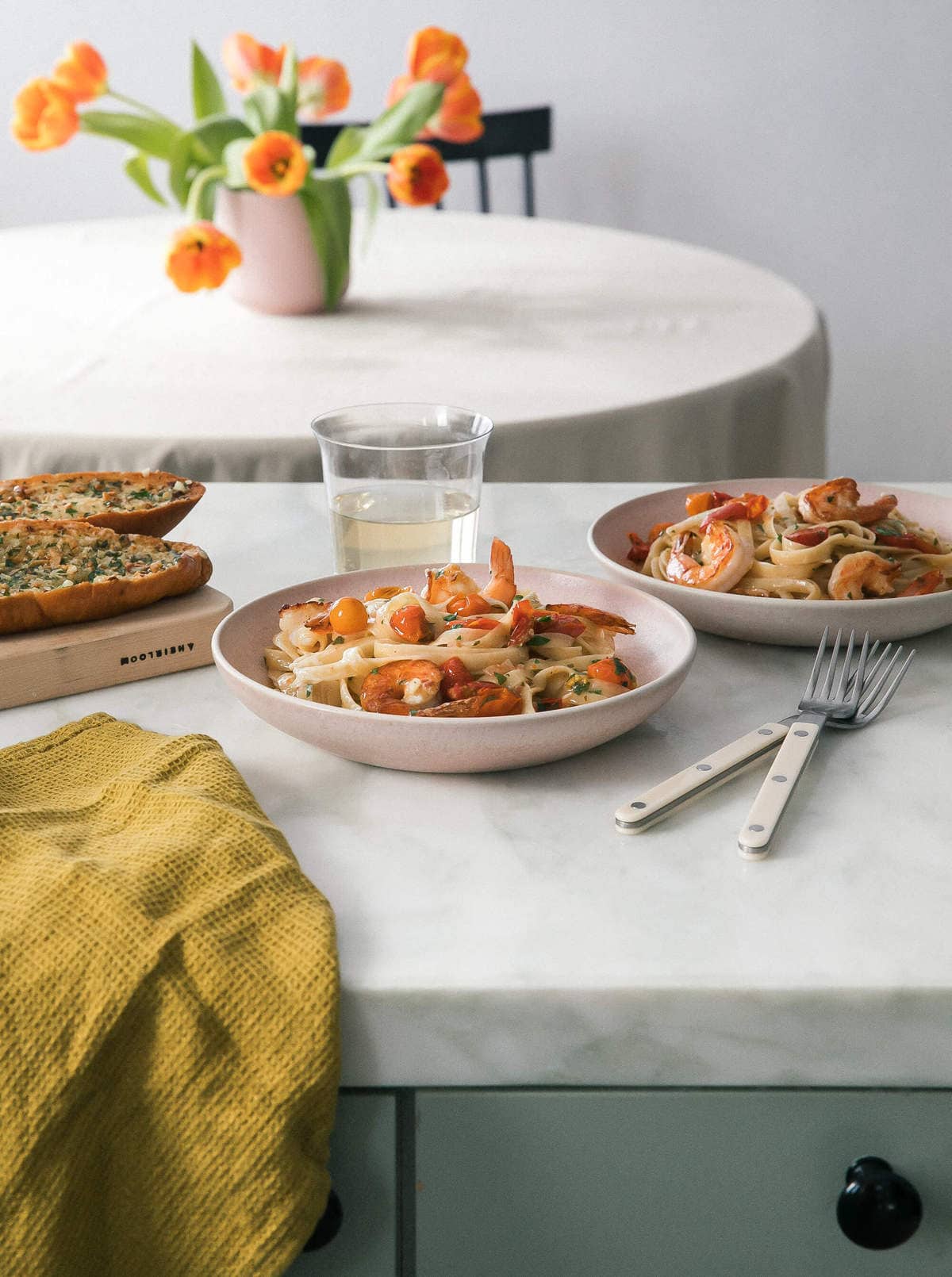 When I think of shrimp scampi, I'm immediately transported to one of those very 90s Olive Garden commercials with shrimps are flying in the air, followed by slo-mo shots of squeezes of lemon. Obviously, those commercials always made me ask my mom if we could go. We would never go and instead she'd make like spaghetti with eggs or talkiness verde. It never lived up to that zesty shrimp-y craving I had!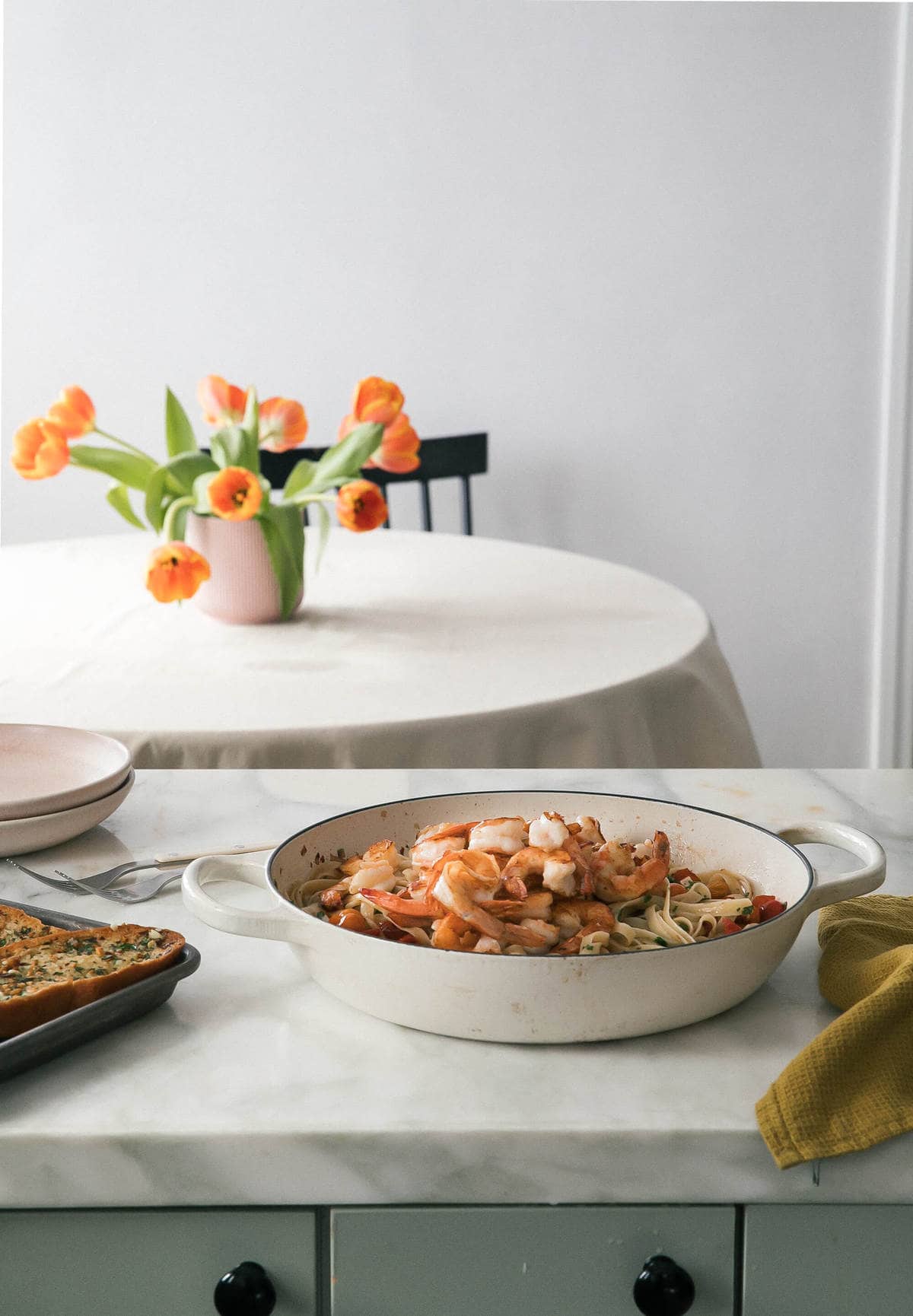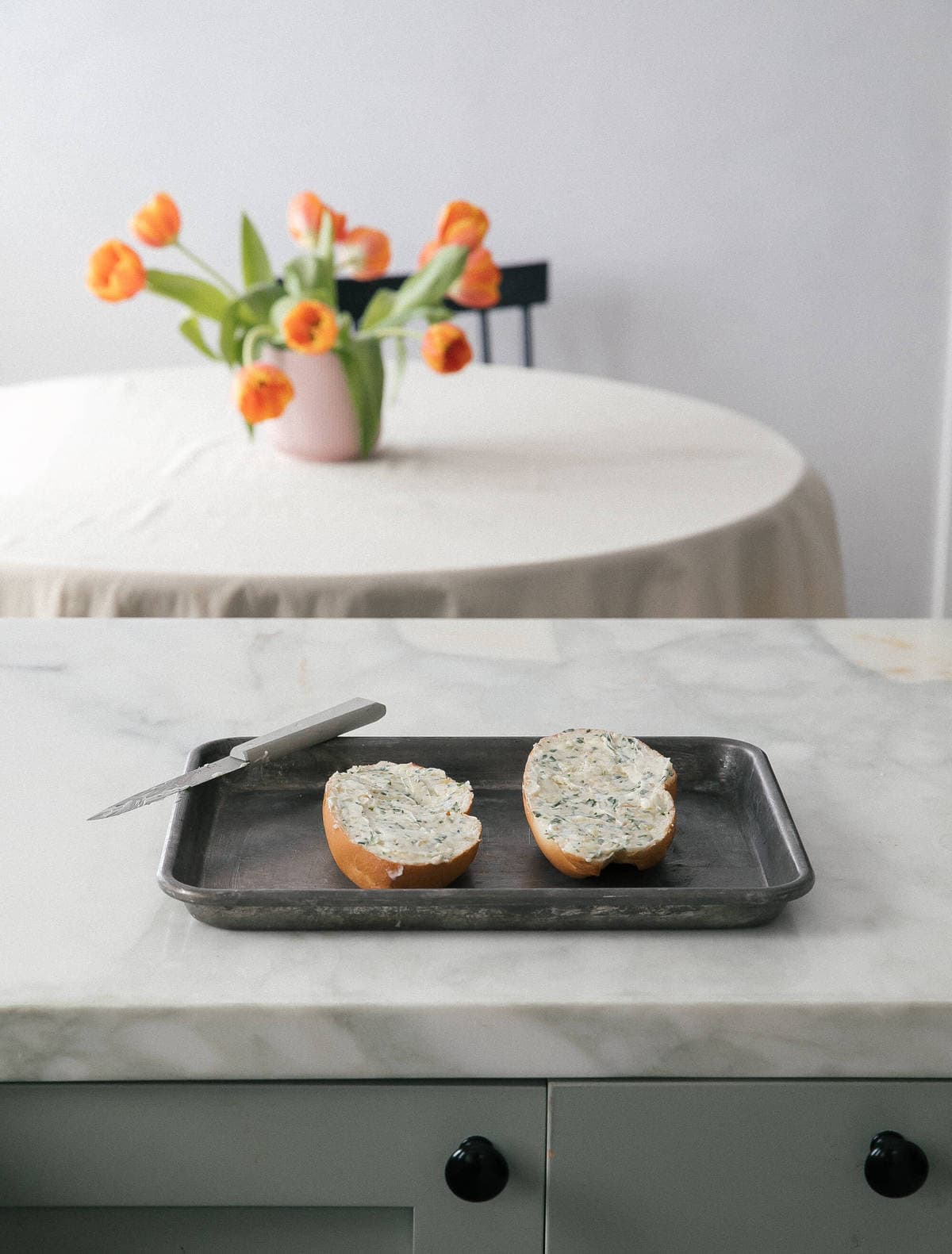 I've never stopped being enamored by shrimp scampi. It's a wonderful American dish. This one is basically that but with some sungold tomatoes and a bit more flavor. And when I say flavor, I mean a healthy amount of garlic, white wine, crushed red pepper and lemon juice and zest.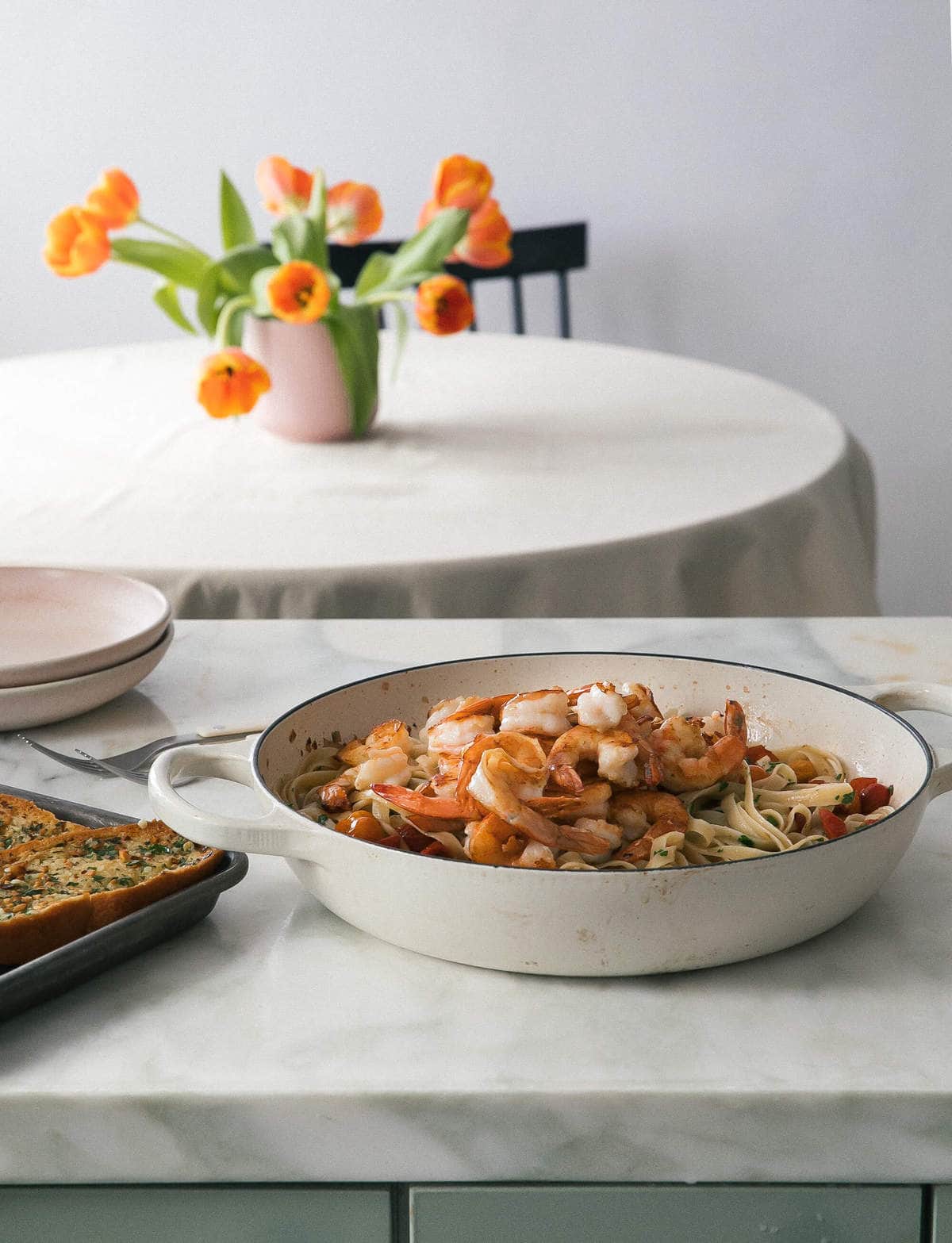 It comes together so very quickly and I would absolutely consider this a weeknight meal. It begins with blistering the sungold tomatoes. If you can't find sungolds, you can absolutely use cherry tomatoes.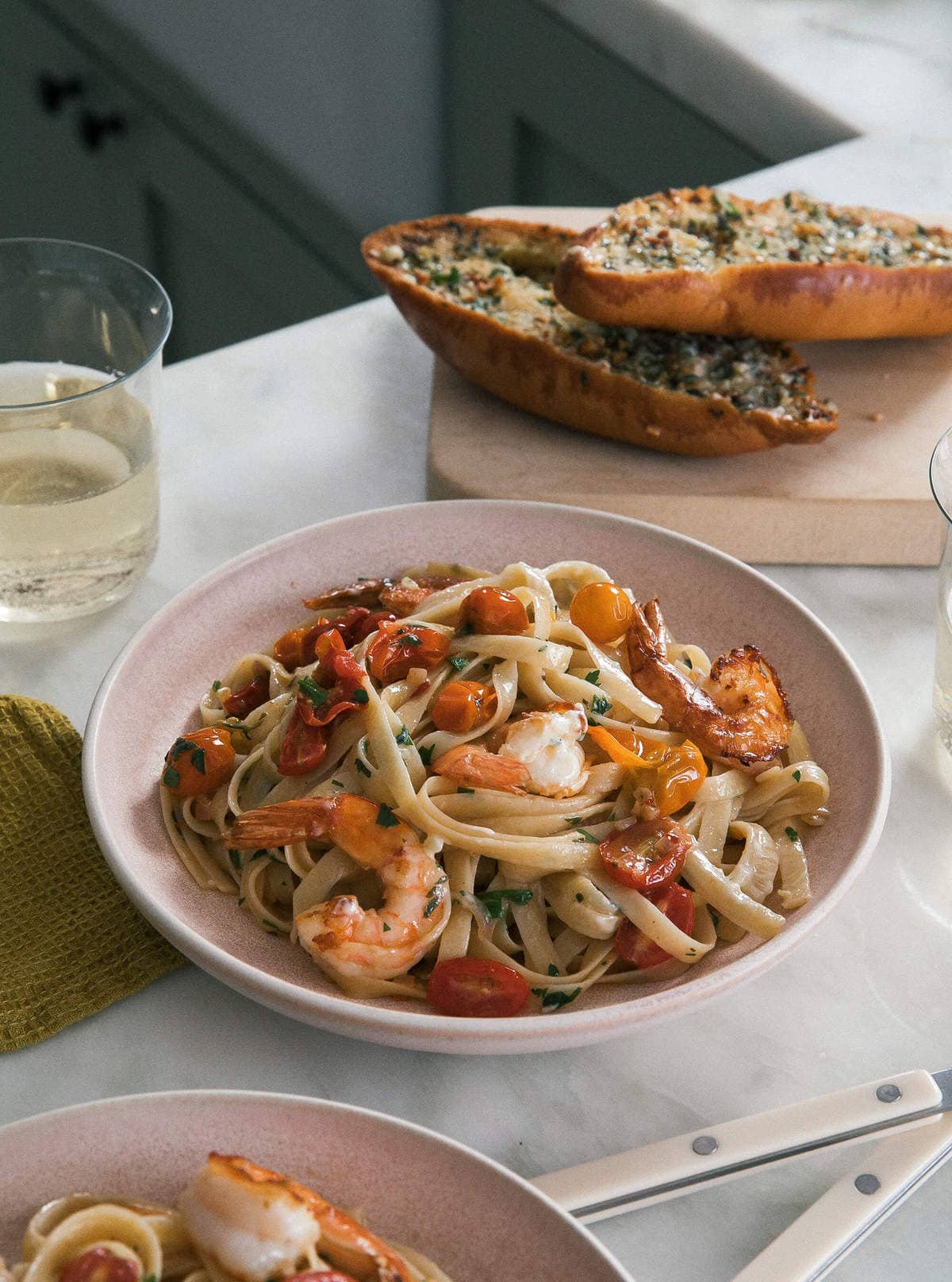 The cherry tomatoes and shrimp are sautéed at different times but in succession. And then you're almost half way there. After that it's just sauce, pasta and then everything tossed together—EASY!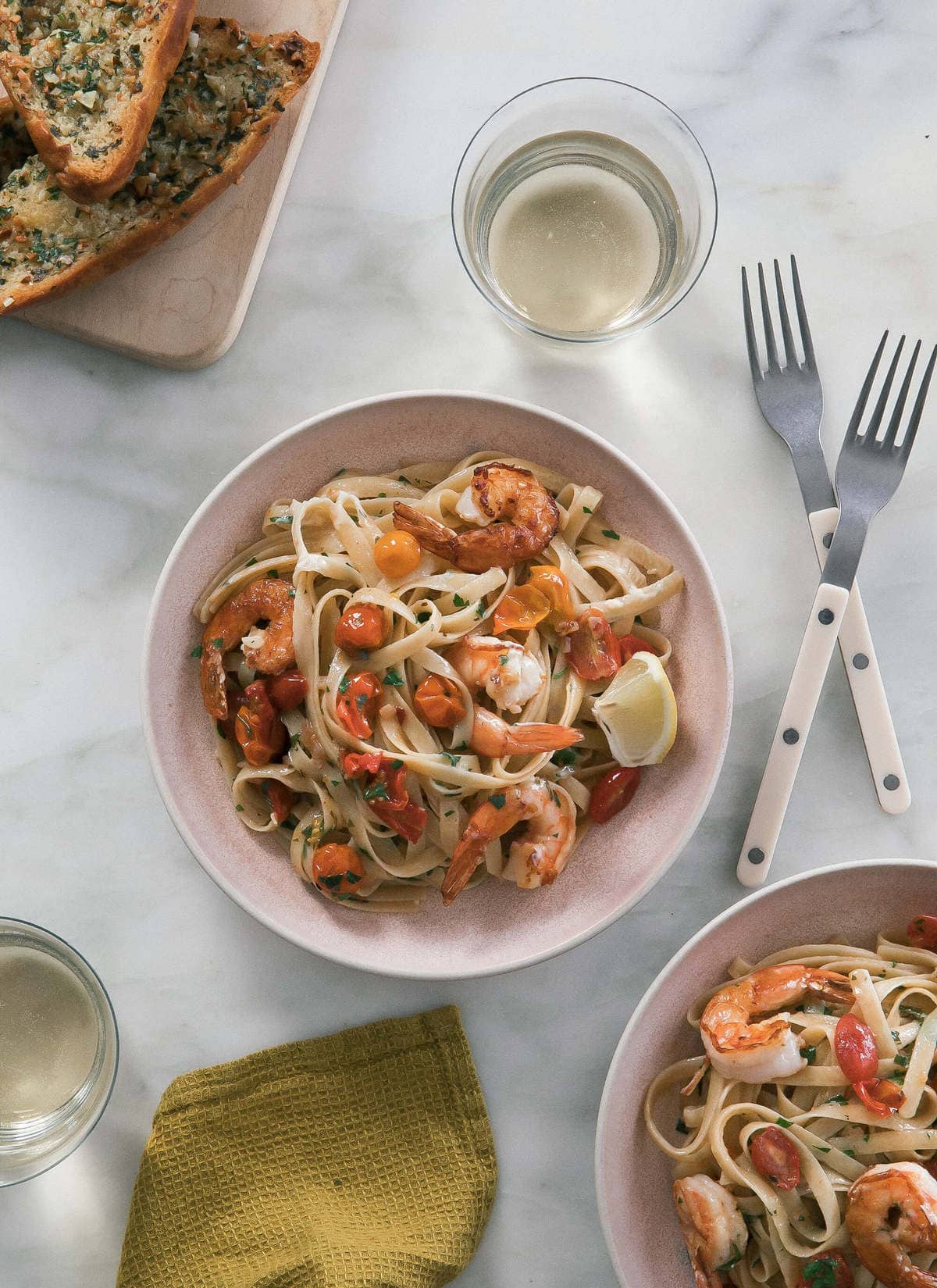 Blistered Sungold Tomato Shrimp Scampi
Print
Shrimp scampi with linguine pasta tossed in a lemon butter sauce with blistered tomatoes. Summer at its best.
Ingredients
2

tablespoon

neutral oil

,

(such as avocado oil, vegetable oil or sunflower oil)

1/2

pint

sungold or cherry tomatoes

,

halved

1

pound

shrimp

,

peeled and deveined

1/2

cup

white wine

1/2

cup

unsalted butter

1

shallot

,

peeled and minced

4

garlic cloves

,

peeled and minced

Kosher salt

1/2

teaspoon

crushed red pepper

Juice and zest from 1/2 lemon
Directions
In a large skillet, set over moderately high heat, add the oil. When the oil is very hot, add the cherry tomatoes and cook until they're seared, about 2 to 3 minutes. Turn the heat down to medium-low heat and remove the tomatoes from the skillet. Add another teaspoon or two of oil. When warm, add the shrimp and season with a few pinches of salt. Cook on each side for about 1 minute, flipping and cooking for an additional 30 seconds or so. Remove from the pan and set aside.

Turn the heat to medium-high heat and pour in the white wine and deglaze the pan, scraping the bottom of the pan to get any bits up. Add the butter and when melted, add the minced shallot and garlic; cook until softened, about 2 to 3 minutes. Add a few pinches of salt and crushed red pepper; give it a mix.

Meanwhile, bring a pot of salted water to a boil. Cook the pasta until al dente, about 9 minutes. If you're doing this while your sauce is cooking, you can always turn off the heat to the sauce and let it chill until you're ready for it.

When the pasta is ready, reserve 1/2 cup of pasta water. Add half of it (1/4 cup) pasta water to the pan with the butter sauce and bring to a simmer; cook for about 1 minute. Add the pasta, lemon juice and zest and toss until the pasta is completely coated in the sauce. Give it a taste and adjust the salt according to taste. I ended up adding a few pinches more of salt. Fold in the reserved tomatoes and shrimp.