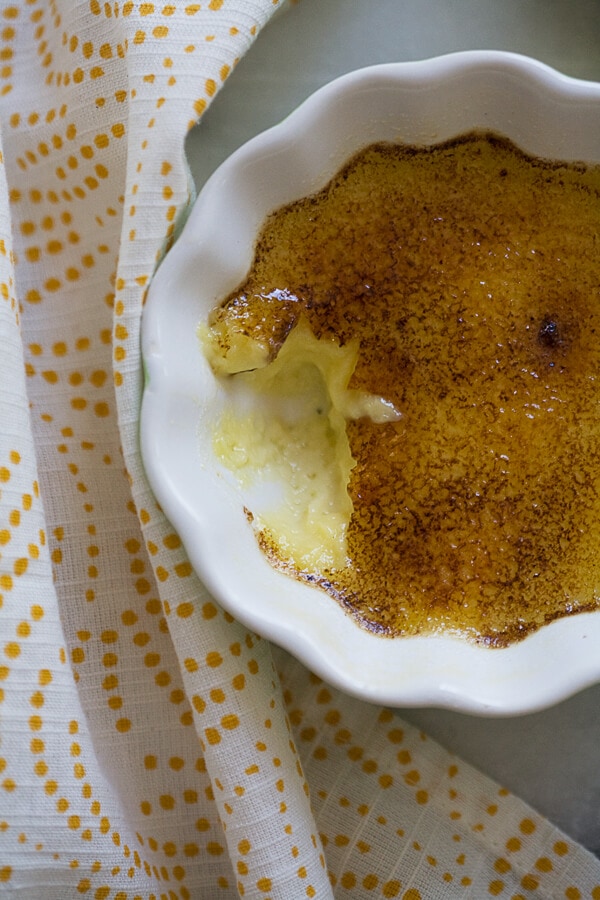 I love sweet corn ice cream. Have you had it before? It's sweet…and corn-y tasting. I'm at a bit of loss for descriptor words, forgive me. But you know what I mean! Almost like sweet creamed corn but with the texture of ice cream.
This is very similar, except that the texture is like a really good creme brûlée. When I worked my first restaurant job, we had a really bad creme brûlée on the menu; I didn't care because my job was to dust the tops with sugar and burn the sugar with a blow torch. I was totally content with my small little job! I found it fun and satisfying.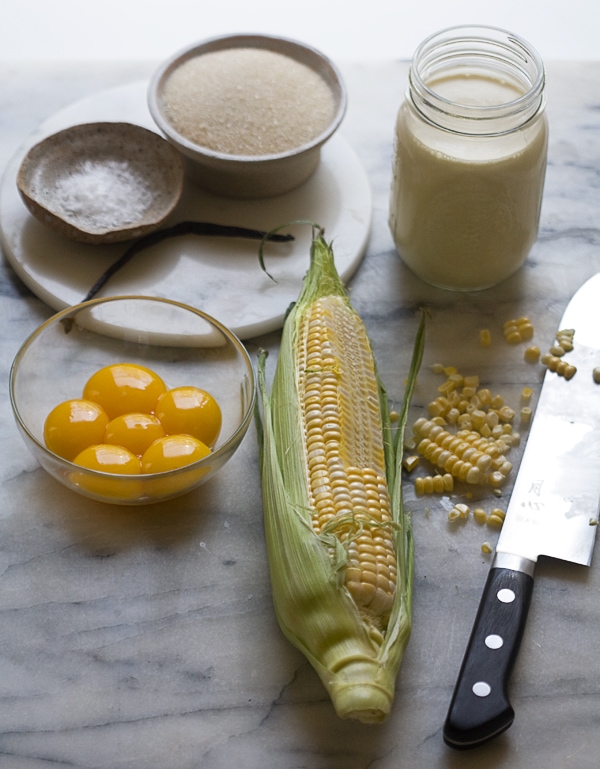 If you make this recipe, try and find the most beautiful corn you can find. I found this super fragrant and sweet bi-colored corn at the market and was impressed with how flavorful it was. It's necessary for the step of infusing the cream with corn and the chopped up chunks of cob.
The cream and corn hang out together for 30 minutes or so. I recommend giving it a taste and letting it steep some more if you think it needs it.
And then it's pretty much just like normal creme brûlée. Cream is heated and tempered with egg yolks so no scrambled eggs occur. There's a division of the custard and then it's all baked in a water bath for 30 minutes or so.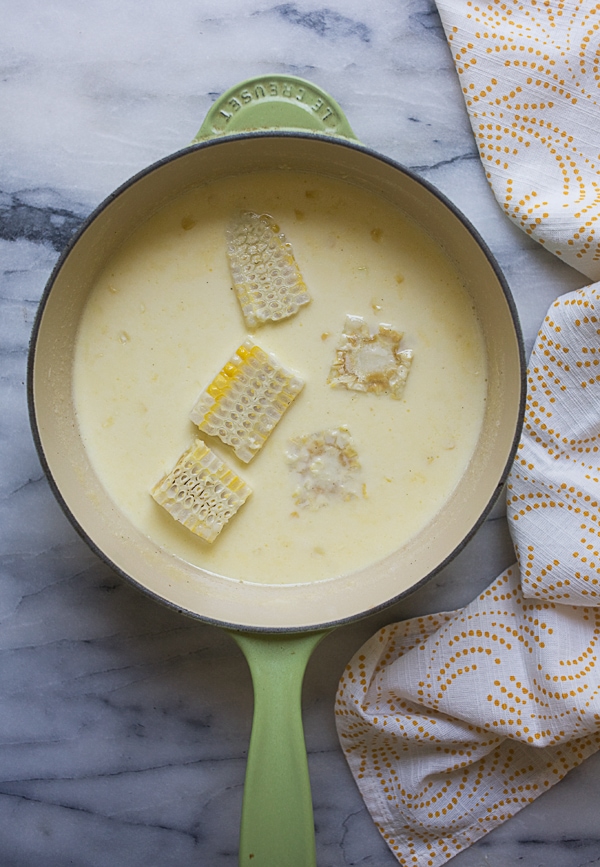 I know some people like their creme brûlée room temperature. I am not one of those people. I looove the cold, firm custard texture with the spiky, crunchy burnt sugar.
When you take a bite it taste exactly like corn! Like, sweet corn. It's amazing. I'm totally in love with this dessert. I hope you try and fall in love, too.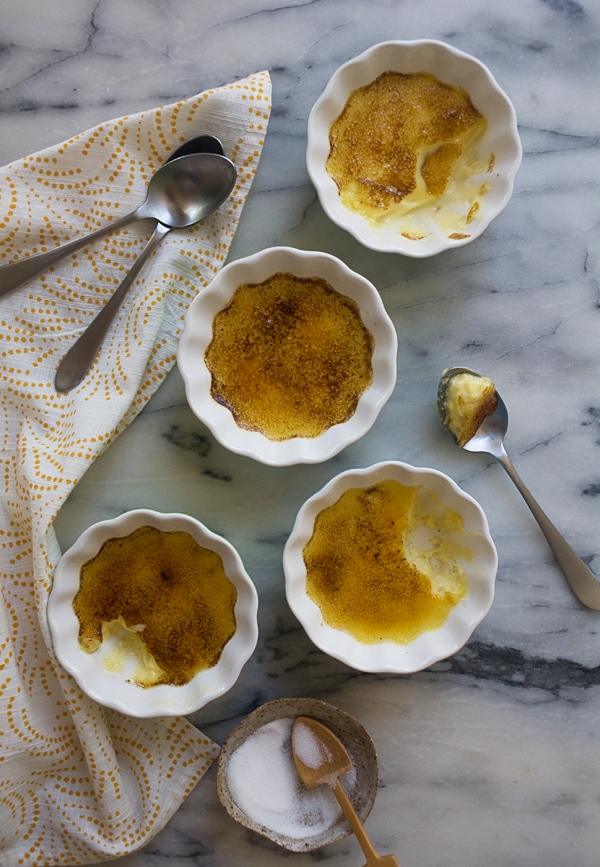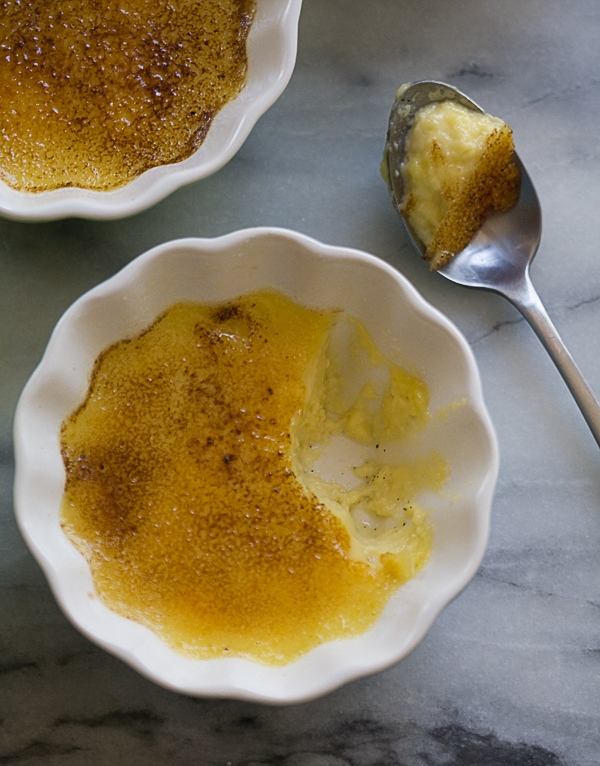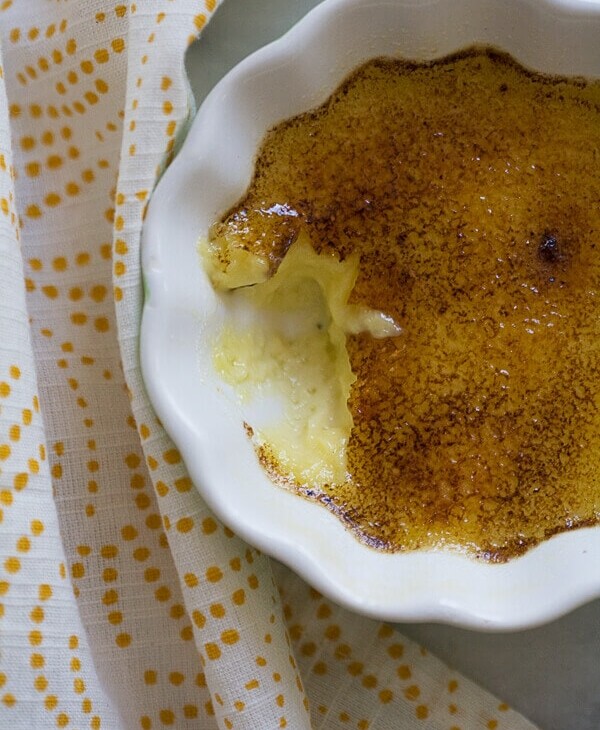 Print Recipe
Sweet Corn Creme Brûlée
Ingredients
1

pint

heavy cream

1

corn on the cob

kernels cut off and cob chopped up

Pinch

of salt

1/4

cup

white granulated sugar

plus 1 tablespoon, divided

1/4

vanilla bean

scraped

3

large egg yolks
Instructions
In a small bowl, mix together 2 tablespoons of sugar with the vanilla bean caviar until it's evenly dispersed throughout the sugar. In a saucepan, combine the heavy cream, chopped up cobs, corn kernels, salt, and vanilla sugar. Bring to cream to a light boil; immediately turn off the heat, cover and allow to steep for 30 minutes. Run the cream through a sieve, pressing the kernels with the back of a wooden spoon so they can release any liquids.

Preheat the oven to 300 degrees F. In a separate bowl, whisk together the remaining sugar (3 tablespoons) and egg yolks. Temper the mixture by ladling about 1/4 cup of the warm cream mixture into the egg yolks, whisking the entire time. Add the remaining warm cream mixture and whisk until completely combined. Run the mixture through a fine-mesh sieve to catch any eggy bits that might've cooked up. Divide the custard between ramekins (you should be able to fill about 5 to 6).

Place the ramekins in a large baking dish. Transfer to the baking dish to the rack of the oven and then, using a kettle, pour enough water into the baking pan so it reaches about half way up the sides of the ramekins. Bake for 20 to 25 minutes, until firm but still jiggly. Carefully remove the warm ramekins and allow to cool slightly on the kitchen counter before transfer them to the fridge to chill for 2 to 3 hours.

Sprinkle about 1 1/2 teaspoons of sugar over each custard. Using a torch, that's about 1 to 2 inches above the surface of the custard, consistently move the flame until the sugar bubbles, turns a light golden brown and creates a smooth surface. Serve promptly.
Notes
If you don't have a vanilla bean, you can add a teaspoon of vanilla extract.