Spicy-Tahini Soba Noodle Salad
42
Jan 08, 2014, Updated Dec 22, 2018
Disclosure: This post may contain affiliate links, which means I may earn a commission if you click on the link and make a purchase.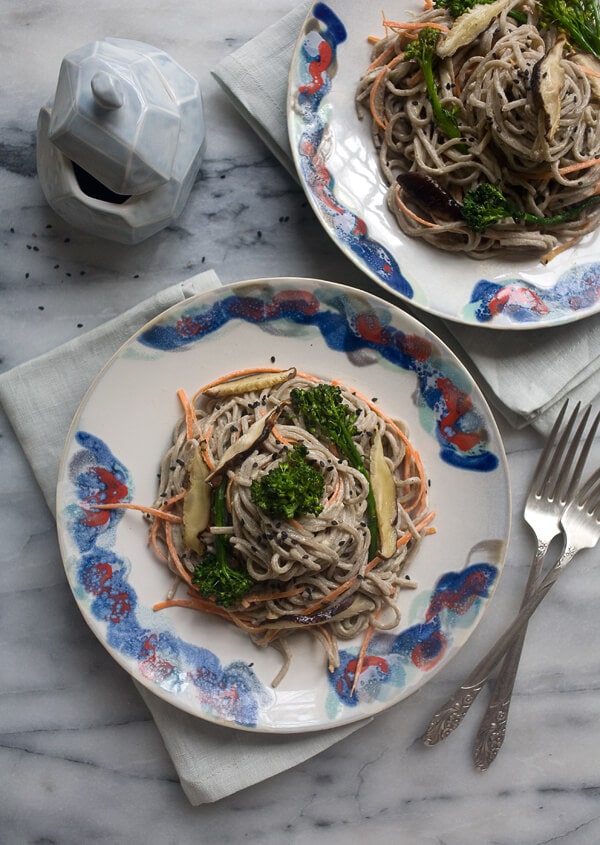 I know so many of you are so cold right now. Every few pictures on Instagram are screenshots of what the weather is like in the Eastern United States. And you guys are literally freezing. I know your face probably hurts and you can't feel your toes because of the cold, but honestly I'm kinda jealous. I wish I had snow boots on and got the chance to take pretty winter white landscape photos. And then I'd come in the house and have one of those rooms specifically designed for taking off big jackets and boots (what's this room called, guys?! I forget!) and then I'd proceed to light a fire and make some soup. And maybe whip up this plate of healthy soba noodles because it's January, after all.
It took me FOREVRRR to finally give soba noodles a try. I'm pretty sure I was scarred from my childhood nightmare, which consisted of tall stacks of healthy buckwheat pancakes. Buckwheat flour has never been my favorite, so I guess it's no surprise that once I learned that soba noodles used this flour, I steered clear. A few years ago I was at a vegan eatery that forces you to feel grateful about your life, which actually just makes me angry. Like, don't tell me to be grateful; I'll be grateful if I want to be, you know? Anyway, I left angry but was delighted to learn that soba noodles could be very delicious. My opinion had been forever changed.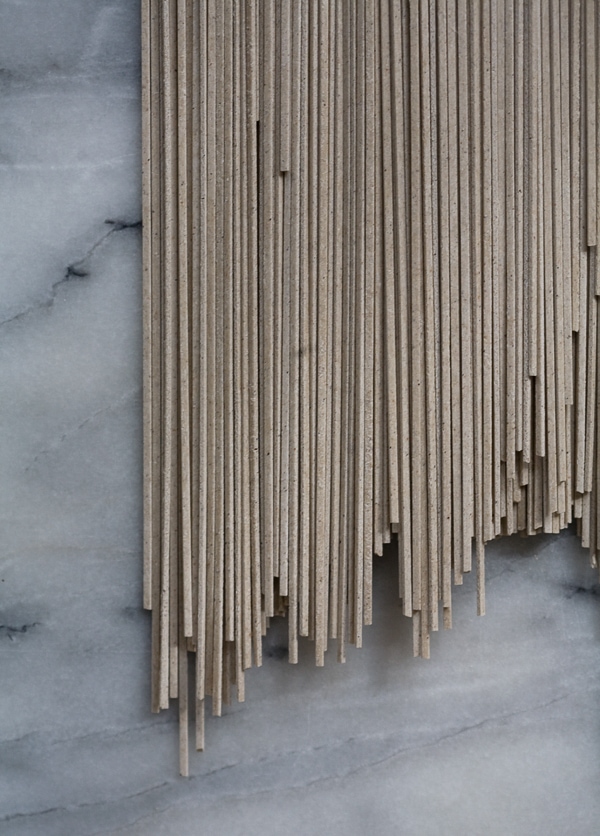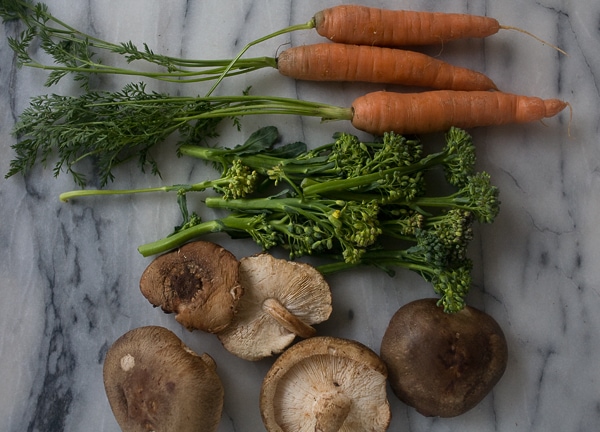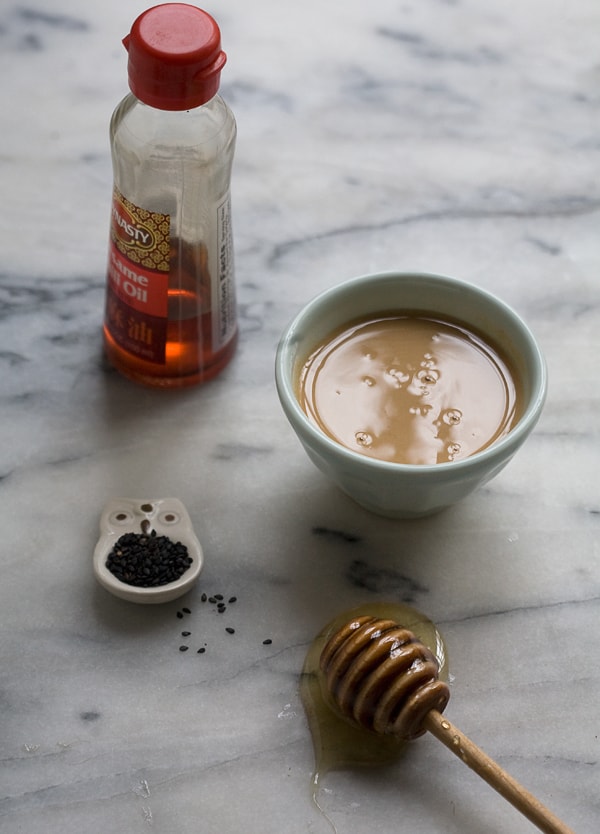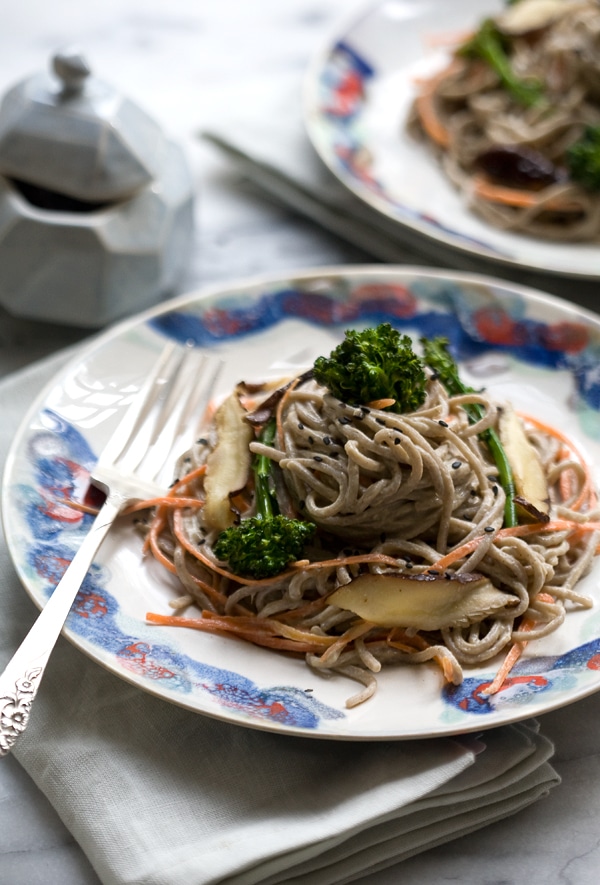 Now that we're all on Team Healthy, I figured it'd be a good time to give them a whirl at home. This is actually a good, quick, weeknight dinner. It's one of those dishes that can be prepared in about 20 minutes. I love it with broccollini and shiitake mushrooms–both are currently in season, but feel free to use other vegetables. I think some cauliflower florets would work nice or, say, snap peas.
My favorite part of this dish is the dressing. It's creamy and spicy, and since tahini has the tendency to be a little bitter, the honey adds a much-needed element.
This is the type of meal that makes you feel full and light all at the same time. I've never eaten noodles and felt so refreshed and healthy. It's a good feeling.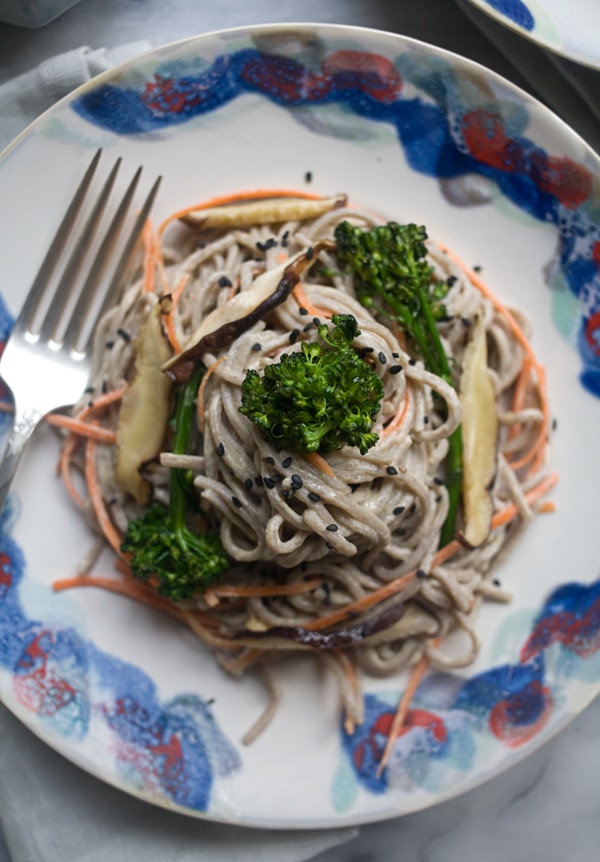 Spicy-Tahini Soba Noodle Salad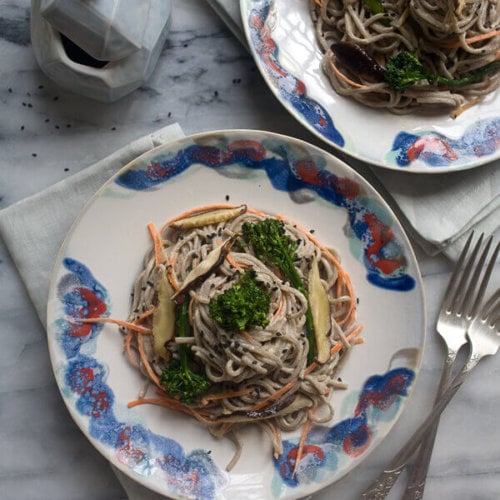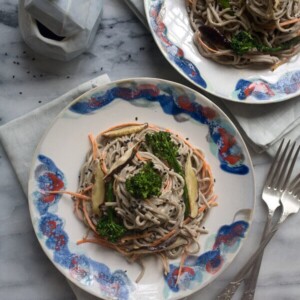 Ingredients
Noodles:
6

ounces

dried soba noodles

1

carrot

,

peeled and julienned

Small bunch of broccolini

,

cleaned and ends trimmed

3-4

shiitake mushrooms

,

thinly sliced
Dressing:
1/4

cup

tahini

1 1/2

teaspoon

sesame chile oil

1 1/2

teaspoon

honey

1/4

teaspoon

zested fresh ginger

2-4

tablespoons

room temperature water

,

this amount may vary, depending upon how thick your tahini is

1/4

teaspoon

salt

,

or to taste
Instructions
To a pot of boiling salted water, add the soba noodles. Cook for 5 minutes and then give them a taste; you'll probably find they're just right. (Just FYI, I found that the box's instructions (cook for 8 to 10 minutes) yielded an overcooked noodle.) Drain and rinse the noodles in cold water and transfer the noodles to the refrigerator.

While the noodles are chilling, let's make the dressing. To a small bowl, add the tahini, sesame chile oil, honey and freshly zested ginger; whisk until smooth. Add the water and whisk more until very smooth. It might start to clump up at first, just keep whisking--it'll eventually become smooth. Also, you may need to add a bit of additional water until it becomes smooth (I only needed 2 tablespoons of water but you may need more). Adjust the seasoning by taste; adding a bit more chile oil, if you like, or more fresh ginger. Salt the dressing to taste (I found that I was happy with 1/4 teaspoon).

Remove the noodles from the refrigerator. If they're especially stuck together, you can add a bit of water to the noodles to loosen them up. Add the dressing, and using your hands really get in there to ensure that the noodles are thoroughly coated. Toss in the julienned carrots. Divide the noodles between plates.

To a small sauté pan, set over medium heat, add a tablespoon of olive oil. When the oil is hot, add the broccolini. Sprinkle with a few pinches of salt. Cook, tossing the broccolini, and cook for 2 minutes or so. Add the mushrooms and cook for an additional minute or so. Top each plate of soba noodles with a few broccolini and a few mushrooms. Garnish with sesame seeds, if you like.
Nutrition
Nutrition information is automatically calculated, so should only be used as an approximation.