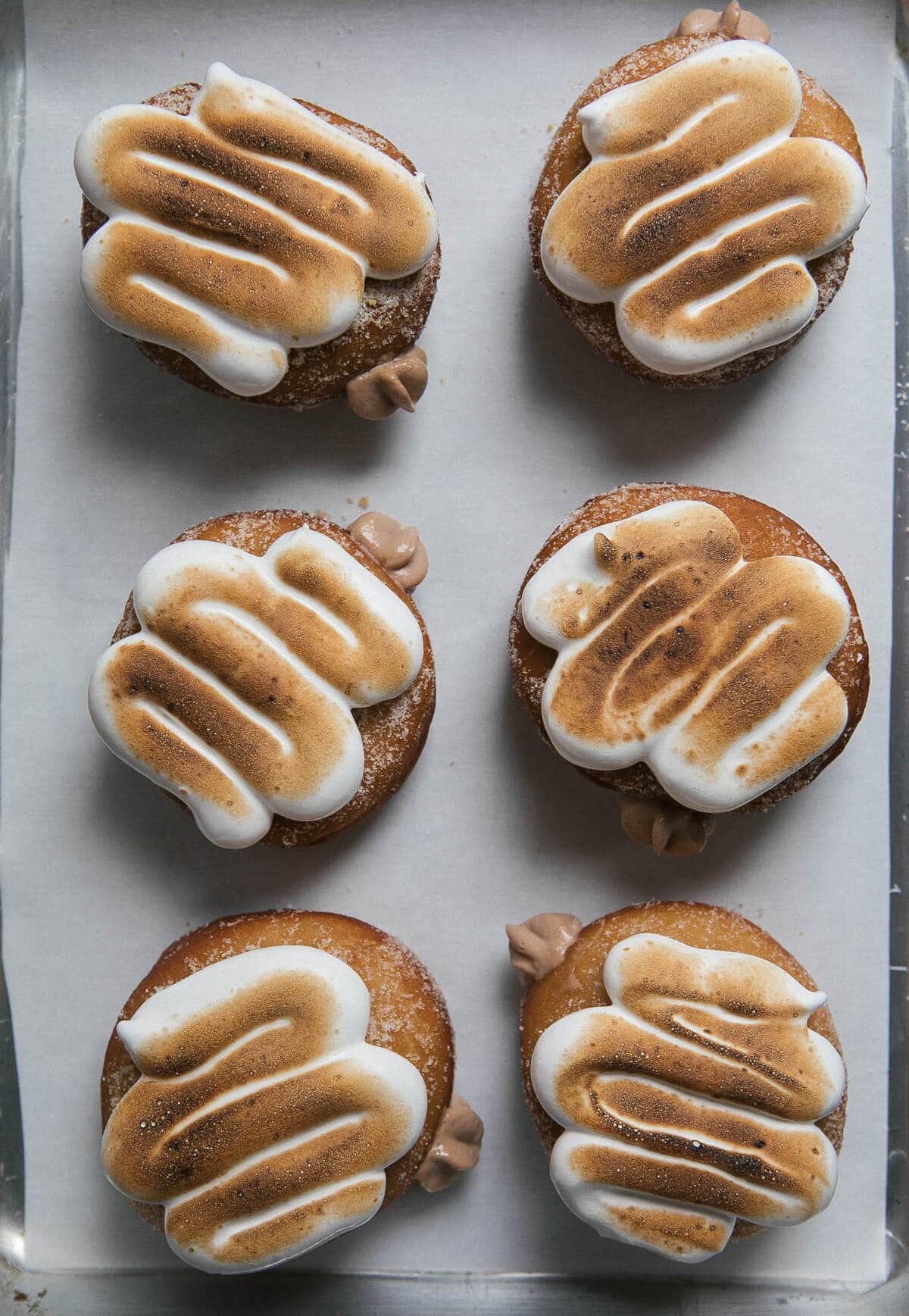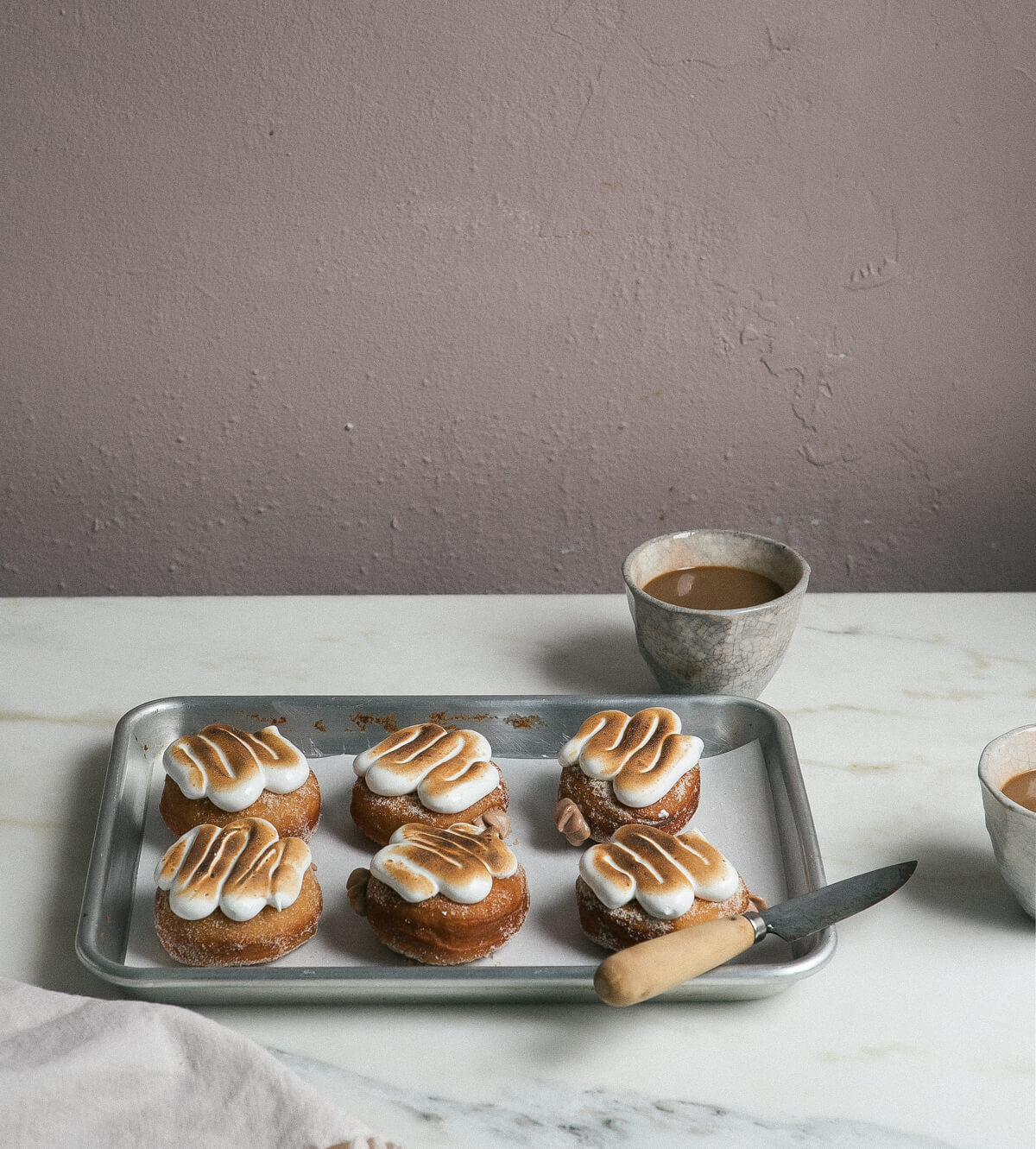 A few days ago I was looking at my bank account activity, as you often do as an adult, and I saw a mysterious check written for the amount of $280. And then I opened the photo of the check and, umm….the handwriting wasn't mine! WHAA! Yeah, it freaked me out. I called my bank and luckily they're giving me my money back but it still has left me a bit on edge. Because, um, how did someone get a hold of one of my checks? I will admit that I'm sort of disorganized and messy person so I could've dropped it or left one in my car.
Anyway…after feeling a bit violated and annoyed, I did what you often do at times like that: I made some damn doughnuts.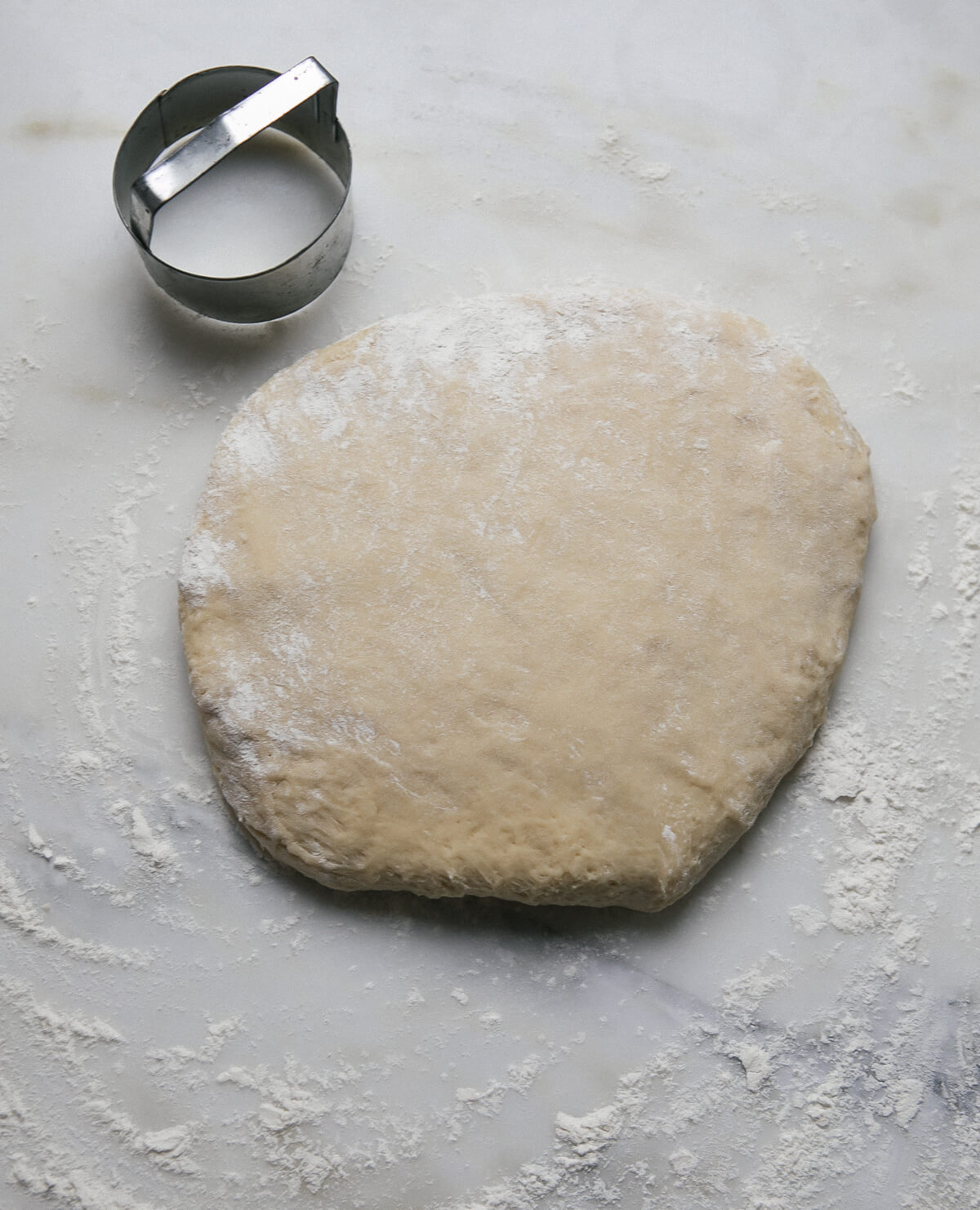 It was the best cure. Tomorrow is National Doughnut Day and while I agree that the national food days get a lil' annoying, this one is important.
National Doughnut Day was started in 1938 to honor "doughnut girls" who provided spiritual and emotional support for U.S. soldiers fighting in France during World War I. They found that giving soldiers, in dire conditions, doughnuts and coffee lifted their spirits!
Isn't that cute?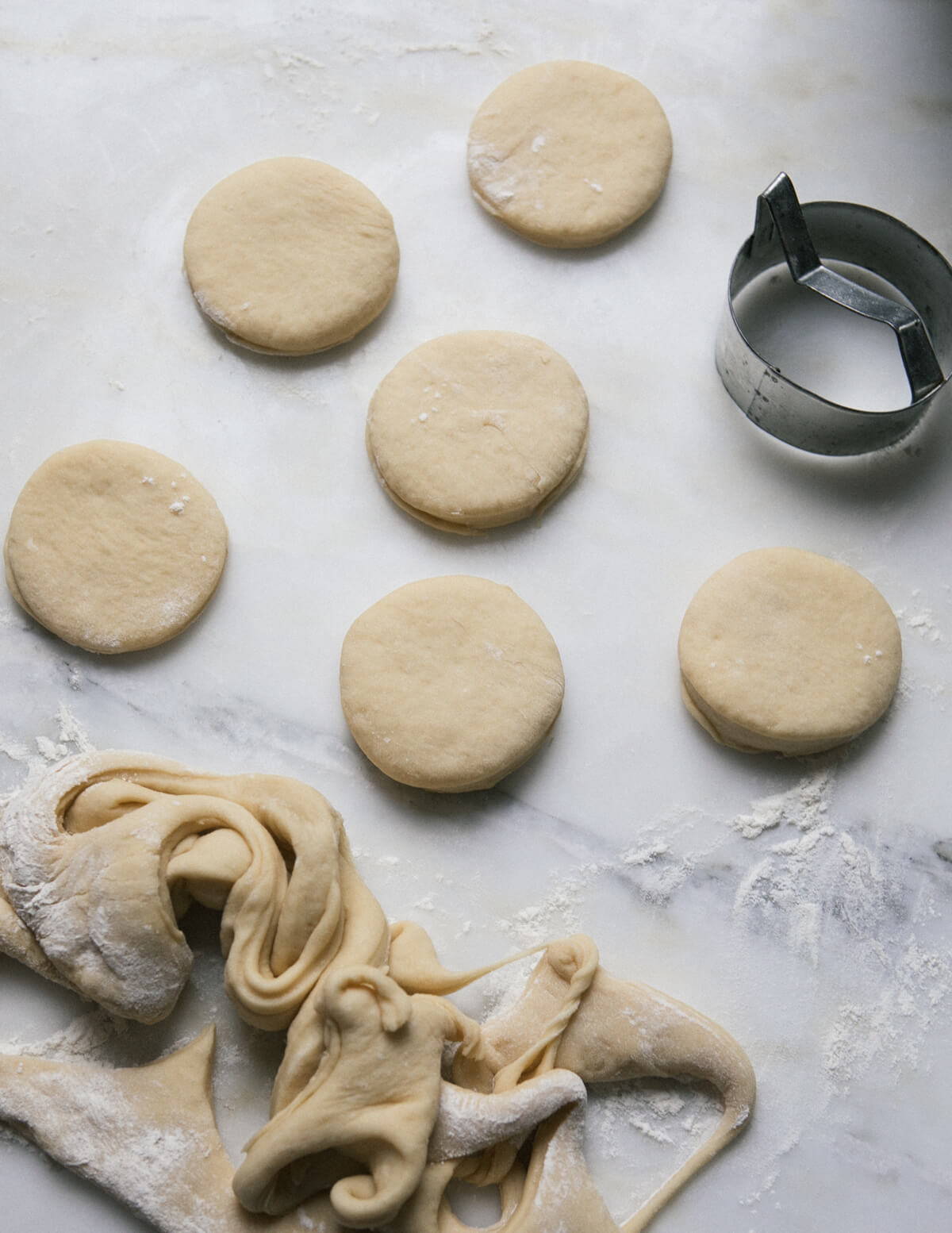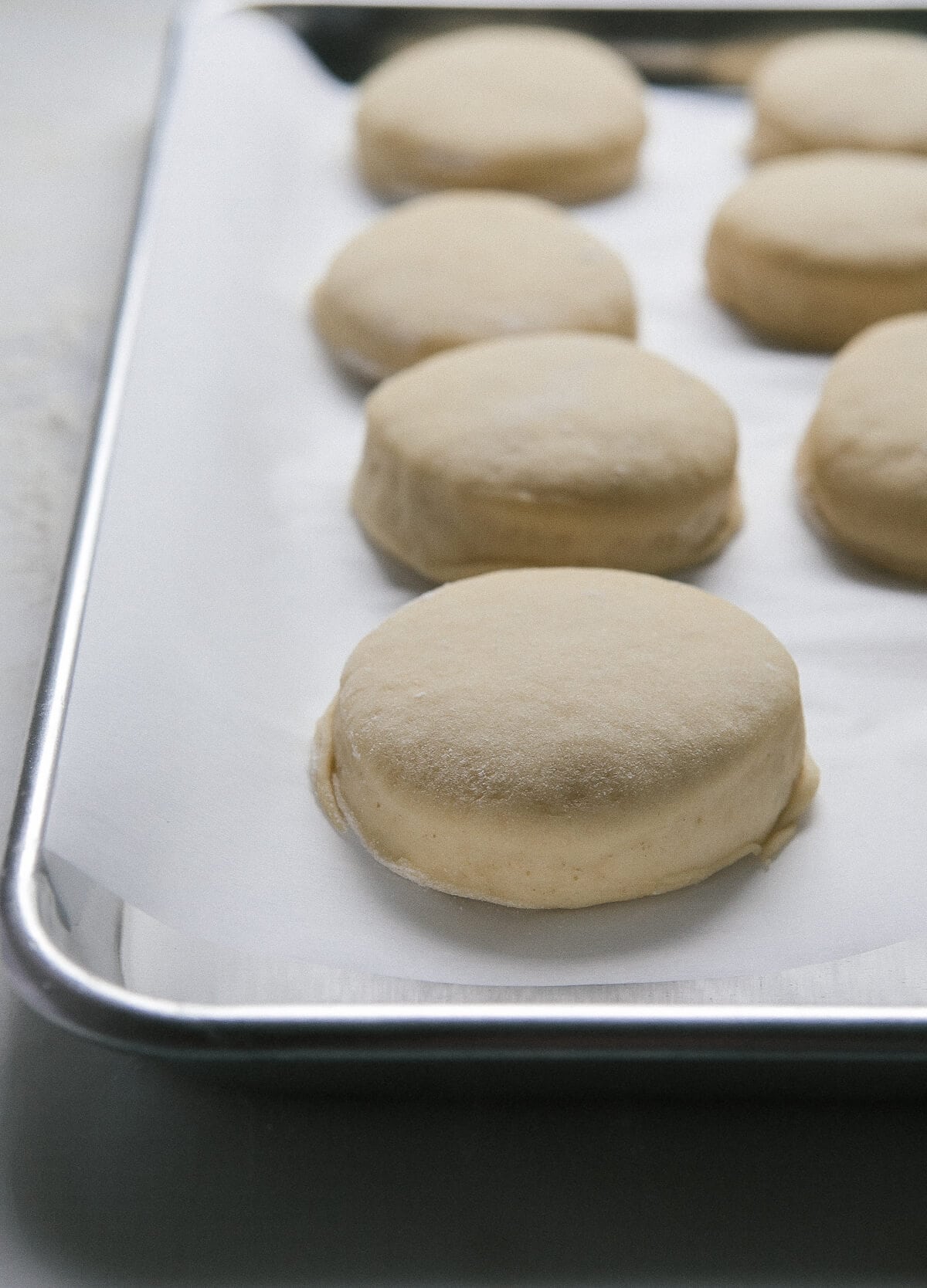 I had my heart set on making some sort of s'mores doughnuts.
To make these doughnuts s'more-like, here is what we have going on:
1. Fluffy doughnut dough.
2. Graham cracker sugar that the doughnuts are rolled in. (It's just graham crackers and sugar in a food processor.)
3. Chocolate cream filling.
4. Torched marshmallow topping.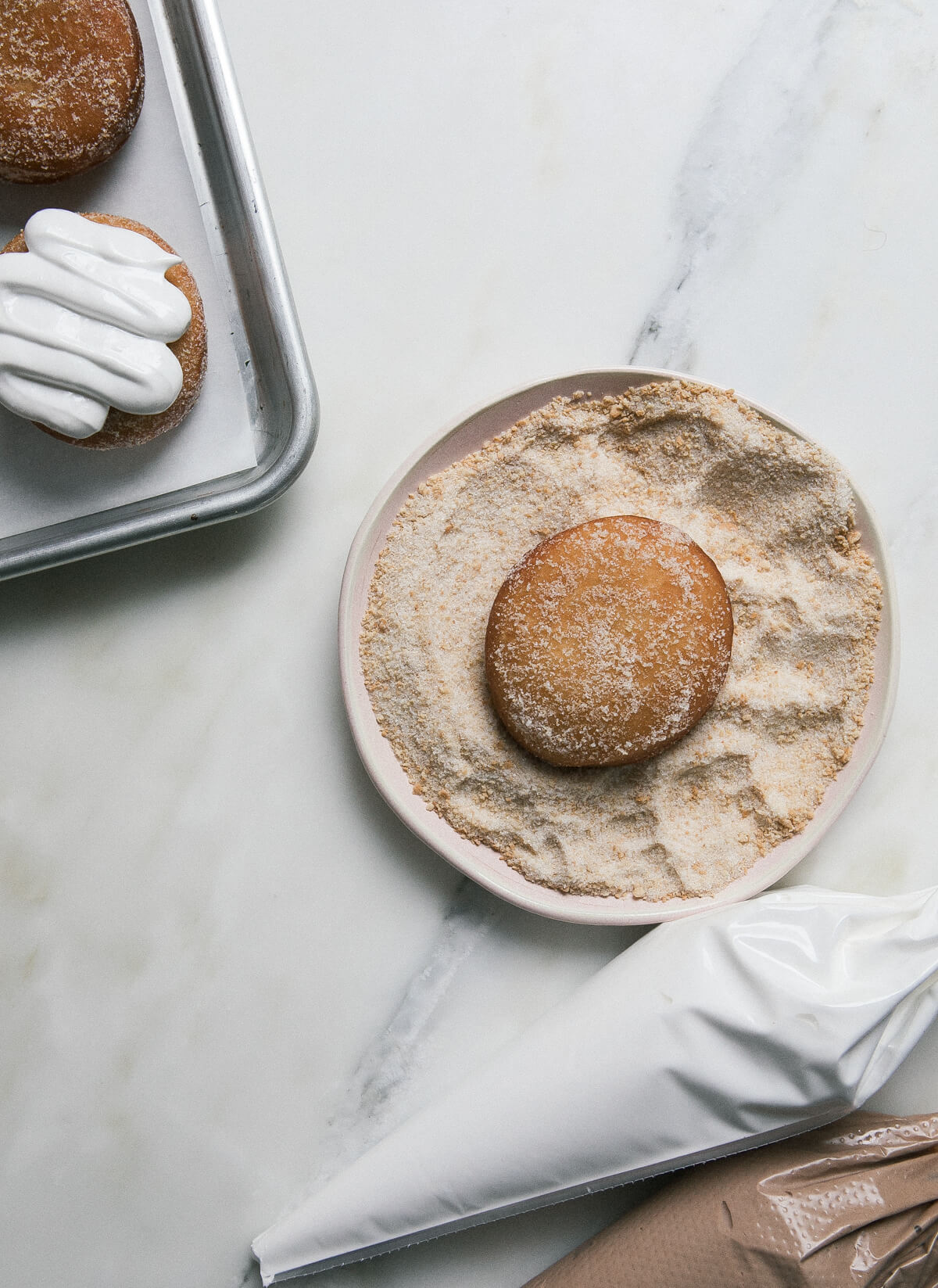 It starts with making the dough. And again, I'm super into overnight doughs. This one is super simple to make the night before.
I actually encourage the dough to be made the night before and the chocolate cream to be made too.
This way in the morning, all you have to do is roll out the doughnuts, let them proof and make the 7-minute frosting and graham cracker sugar.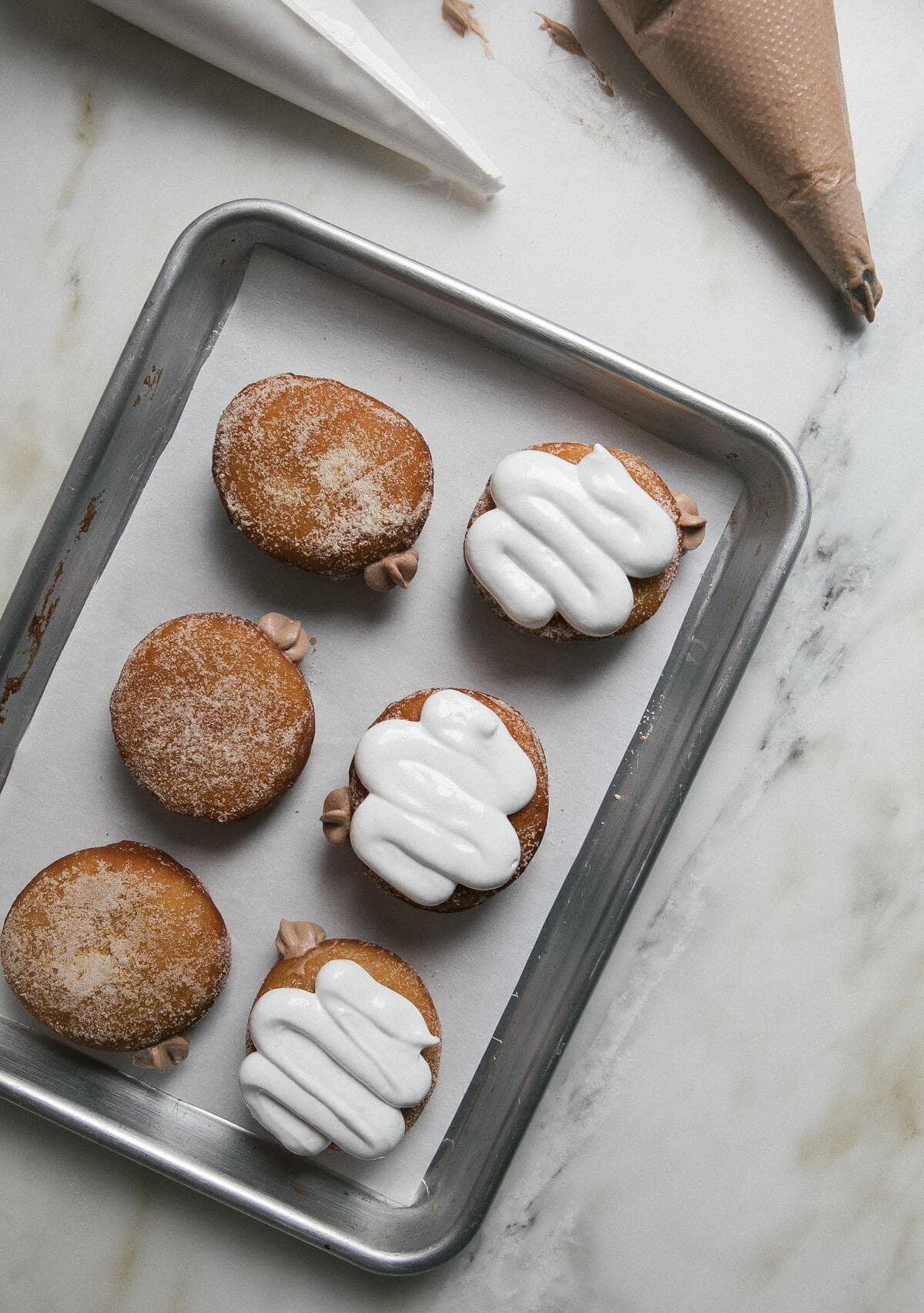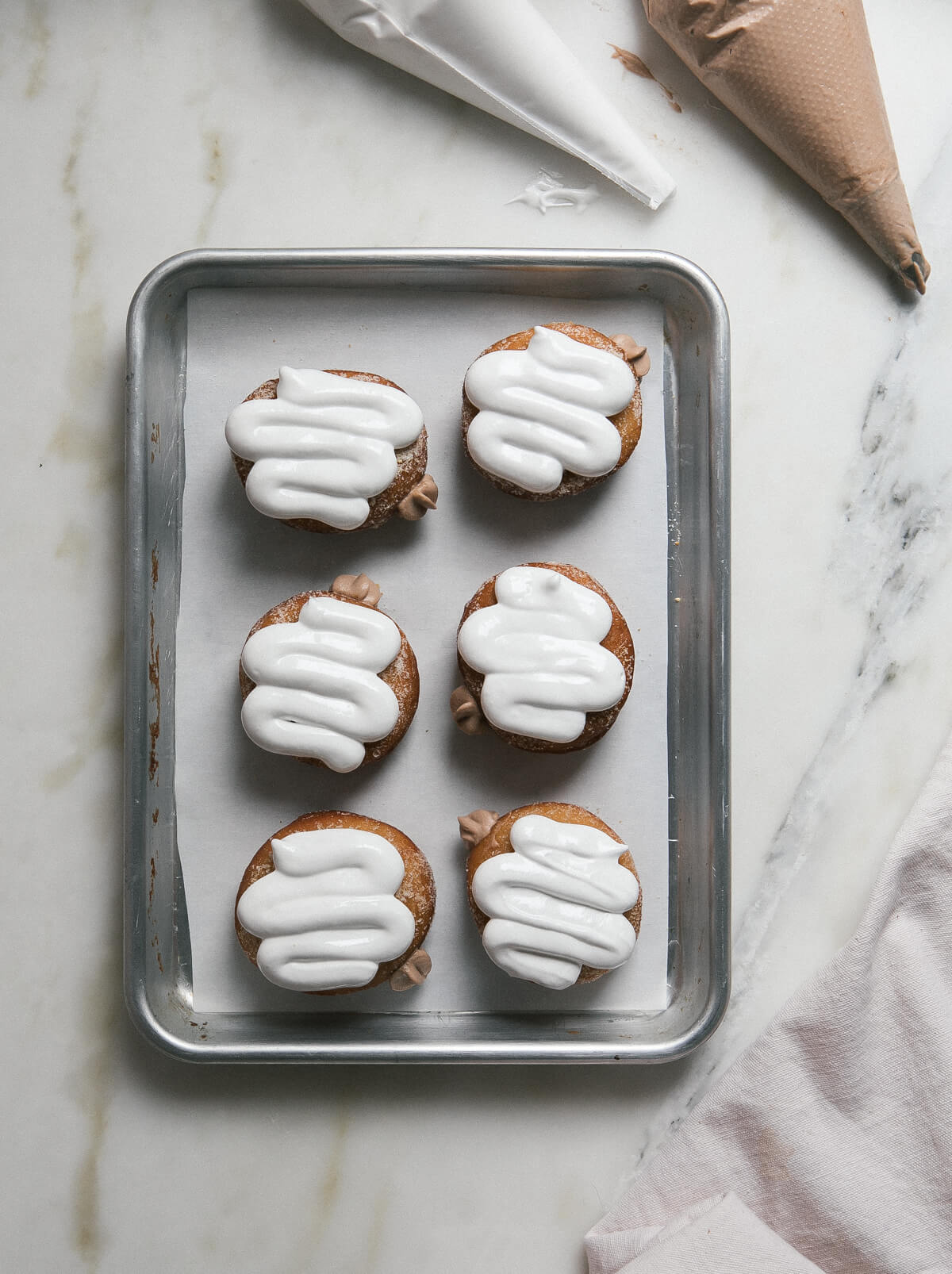 And the of course, fry the doughnuts and assemble them.
Breaking up the work makes this recipe, with its three components, feel less like climbing Mount Everest.
My favorite part was obviously torching the tops. It is so satisfying. A big bonus about using a torch (for me) is that Amelia is scared of it so she didn't try and steal these finished doughnuts lol.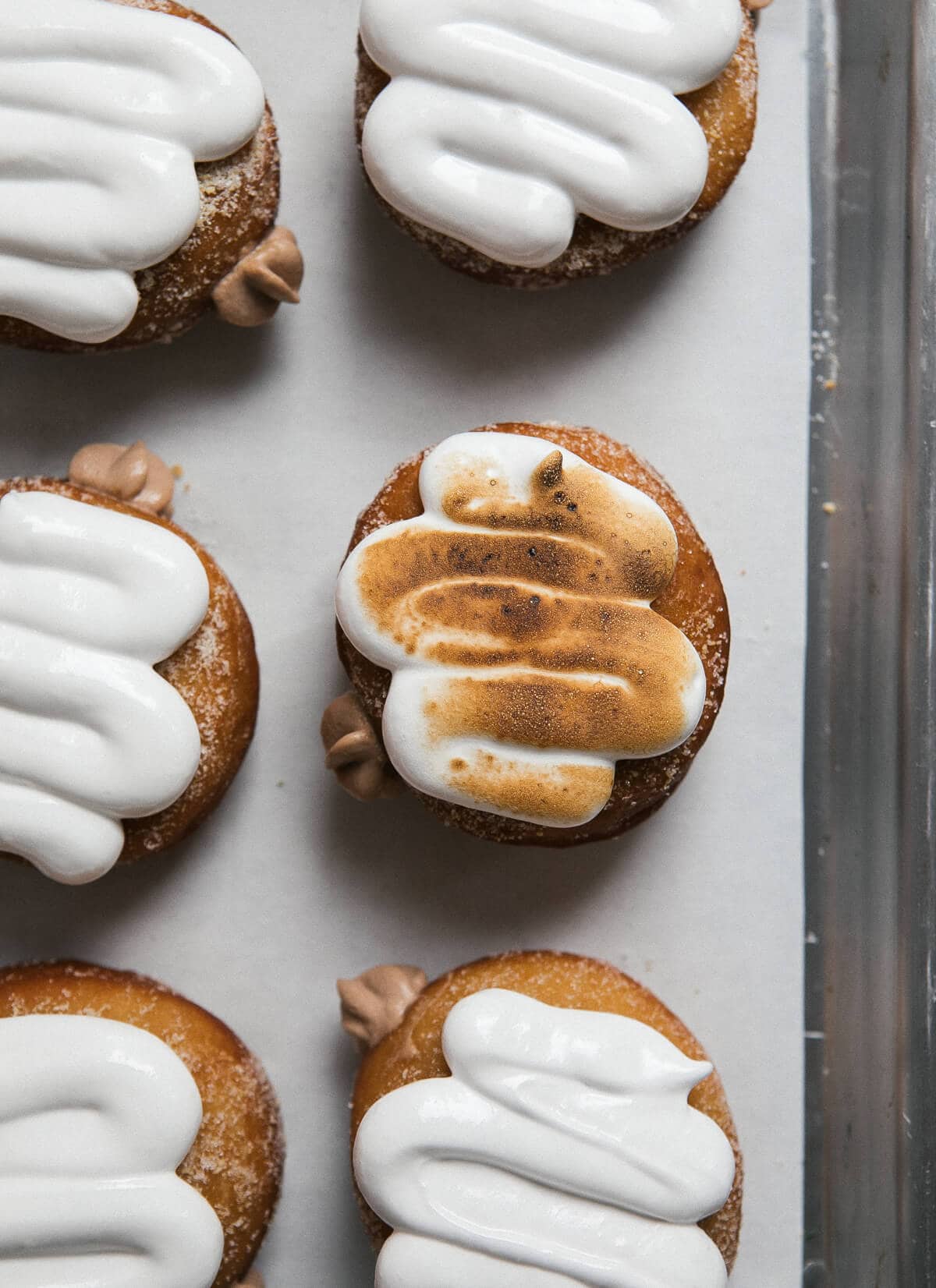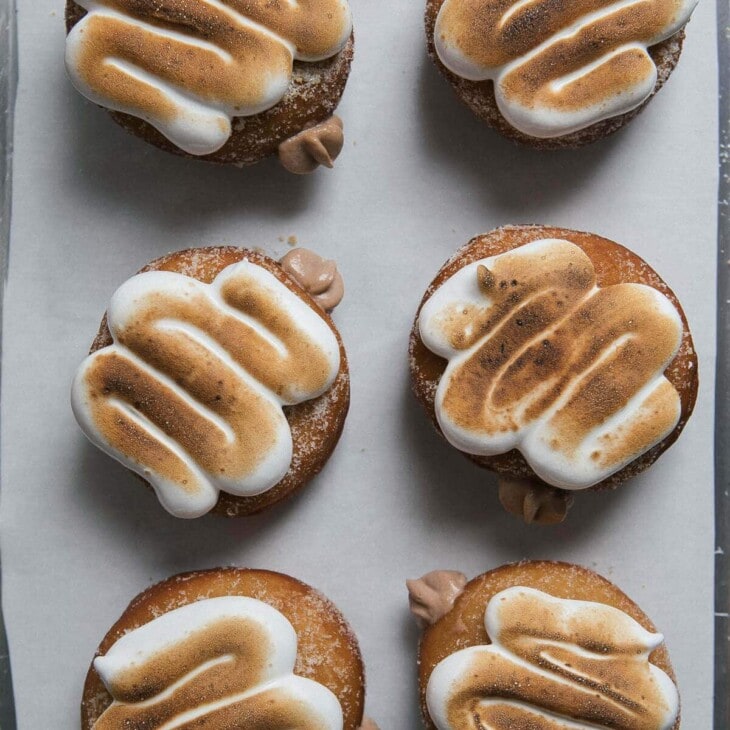 Print Recipe
S'mores Doughnuts
Serving Size:
to 14 doughnuts
Ingredients
Doughnuts:
1

cup

whole milk

1

tablespoon

dry active yeast

2

tablespoons

unsalted butter

melted

3

tablespoons

vegetable oil

1

large egg

4

cups

plus 2 tablespoons, all-purpose flour

⅓

cup

white granulated sugar

1

teaspoon

salt
Pastry Cream:
1

tablespoon

all-purpose flour

1

tablespoon

cornstarch

1

cup

whole milk

1

teaspoon

pure vanilla extract

Pinch

of salt

2

large egg yolks

3

tablespoons

white granulated sugar

2

ounces

semi-sweet or milk chocolate

chopped

⅓

cup

heavy cream
Graham Cracker Sugar:
3

graham crackers

⅔

cup

white granulated sugar
To make the 7-Minute Frosting:
7-

Minute Frosting:

2

tablespoons

water

⅔

cup

sugar

2

large egg whites

Pinch

cream of tartar

Pinch

of salt

¼

teaspoon

pure vanilla extract
Instructions
To make the doughnuts:
In a medium saucepan, set over medium-low heat, warm the milk to 100F to 110F and pour into the mixing bowl of a stand-up mixer with the hook attachment on. Add the dry active yeast and allow it to stand until mostly foamy, about 10 minutes. Add the melted butter, vegetable oil, egg, flour, sugar and salt.

Turn the mixer to medium-low and mix until totally combined.

Turn the mixer to medium/high and knead the dough is smooth and sort of pulls away from the sides of the mixing bowl, 7 to 10 minutes. The dough will be slightly sticky. Grease a medium, clean bowl with cooking spray or olive oil. Form the dough into a ball (some will stick to your hands, don't worry) and place in the bowl and cover with plastic wrap. Transfer to the fridge to rise for 1 hour or overnight.

Line a baking sheet with parchment. Dust a work surface and the top of the dough in the bowl with a little bit of flour. Punch down the dough and transfer it directly to the floured surface. Roll it out, using a rolling pin, to a ½-inch thickness.

Use a 3-inch round cutter and 1 ¼-inch round cutter to cut out your doughnuts. Cut out as many as you can and re-roll the scraps and cut out a few more. You should end up with about 12.

Transfer the doughnuts to the parchment lined baking sheet, spacing them about 2 to 3 inches apart. Spray the tops with a bit of cooking spray and lightly cover with plastic wrap. Allow to rise for 45 minutes, until almost quartered in size.
To make the pastry cream:
In a small bowl, sift together the flour and cornstarch. In a small saucepan set over medium heat, combine the heat and vanilla and salt and bring to a simmer, then immediately remove from the heat. In a medium bowl, whisk the egg yolks and granulated sugar until the mixture is a pale yellow. Add the flour mixture and whisk until completely smooth. While whisking the egg mixture, simultaneously add about half of the milk mixture to the bowl. Slowly adding the hot milk to the egg mixture will prevent the eggs from scrambling.

Transfer the egg/milk mixture back to the saucepan and place over medium-high heat. Bring to a simmer, whisking the entire time, being sure to scrape the bottom and the sides of the pan. Lower the heat and cook until the cream has thickened and hits 175 degrees F, 2 to 3 minutes. Add the chopped chocolate and stir until melted.

Remove the custard from the heat and pour it through a sieve into a bowl. This will eliminate any lumps and catch any eggy bits. Press a piece of plastic wrap directly onto the custard's surface so it doesn't form a skin, and transfer it to the refrigerator to chill for 1 hour or overnight.

When you're ready to use it, cadd the heavy cream to a medium bowl. Using a hand mixer, beat until firm peaks form. Remove the chilled custard from the fridge and gently fold in the whipped cream. Return the cream to the fridge until you're ready to use it.
To make the graham cracker sugar:
To a food processor, add the graham crackers and sugar. Pulse until the graham crackers breaks up into small bits. If the texture at all is sticky, add a tablespoon or two more granulated sugar. Transfer to a plate and set aside.
To make the 7-Minute Frosting:
In the metal bowl of a stand-up mixer, add the water, sugar, egg whites, cream of tartar, and salt. Whisk together until combined. Set bowl over pan of simmering water and occasionally whisk until the sugar granules have dissolved (use your fingers to feel if they've dissolved).

When dissolved, transfer to a stand-up mixer with the whisk attachment and turn to medium speed. Whisk until stiff peaks form and the sides of the bowl have cooled, about 5 minutes. Transfer to a piping bag (no tip needed!).
To fry up the doughnuts:
Bring a pot (I like using a Dutch oven) filled with at least 2 to 3 inches of oil to 350 degrees F. (I like to use a digital thermometer but a candy thermometer works, too!)

Drop the doughnuts in the oil, one to two at a time, and fry them on each side for about 1 minute. Transfer them to a bed of paper towels and then immediately put them on the plate with the graham cracker sugar. I sprinkled them with the sugar, flipped them and then sprinkled them some more.

Repeat until you've fried up all of the doughnuts and dusted them with the sugar.
To fill the doughnuts:
Add the pastry cream to a piping bag with a round tip. It doesn't have to be a super specific size just make sure it's big enough so stuff can come out of it (super tiny ones are not good for this). Take a sharp paring knife and make a hole on the side of the doughnut, twisting it to create a bit bigger hole.

Stick the piping tip into the hole (this is getting graphic) and pipe the cream inside. You can actually see it filling up which is sort of strange. Repeat with all of the doughnuts.

Snip the edge of the piping bag with the marshmallow topping. Pipe the tops of the doughnuts in a squiggily pattern (it's VERY easy to do). Repeat with all of the doughnuts. Using a kitchen torch, torch the tops of the doughnuts. And then you're all done!