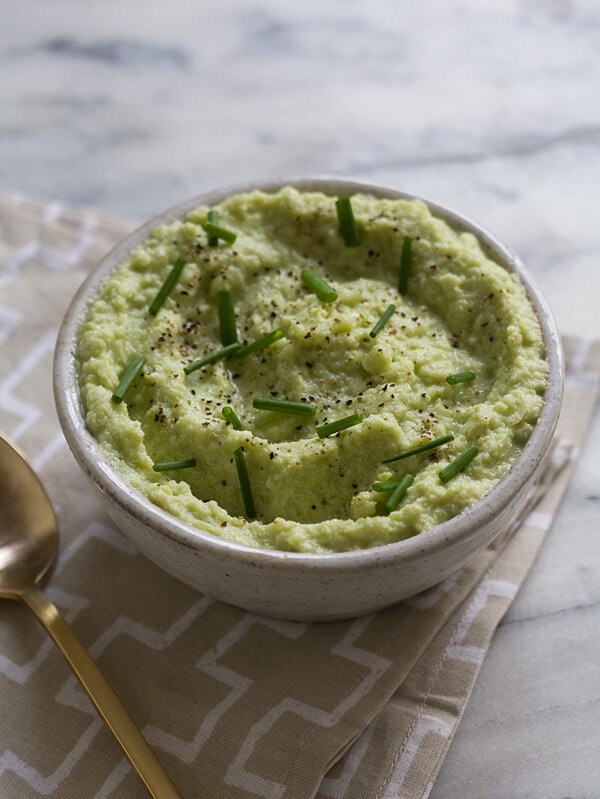 This is the second installment of Adrianna-tries-to-be-healthy-by-eating-stuff-other-than-just-doughnuts. Friday I gave you fraud-fries (a new technical term that describes vegetable fries). And today, it's all about fraud-mash.
I'm all about deception and lies and fooling oneself. Food-trickery, is what it is.
Let me tell you last week when I tried this for the first time I had a big attitude about it. I was bratty, skeptical, even trash-talked it on Twitter before trying it. And then, I put it on my plate, right next to a very lean steak and was like, whoa! this is actually delicious! I was going for steak and potatoes and this came pretty close!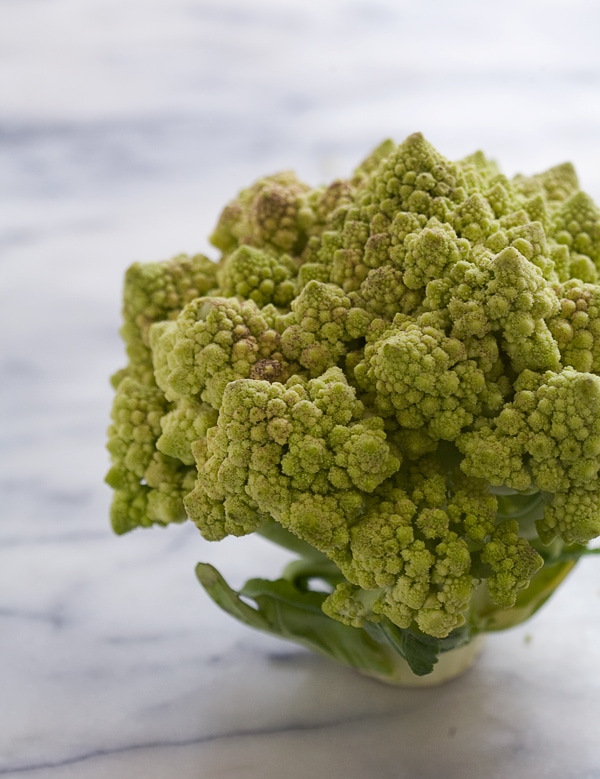 Romanesco cauliflower (or broccoli) is pretty close to regular cauliflower, but I'd consider it a bit nuttier and earthier in flavor. If you can't find Romanesco, regular white cauliflower will work great, too.
It looks a little alien-esque, right? I could probably just stare at it all day long because it's so weird looking.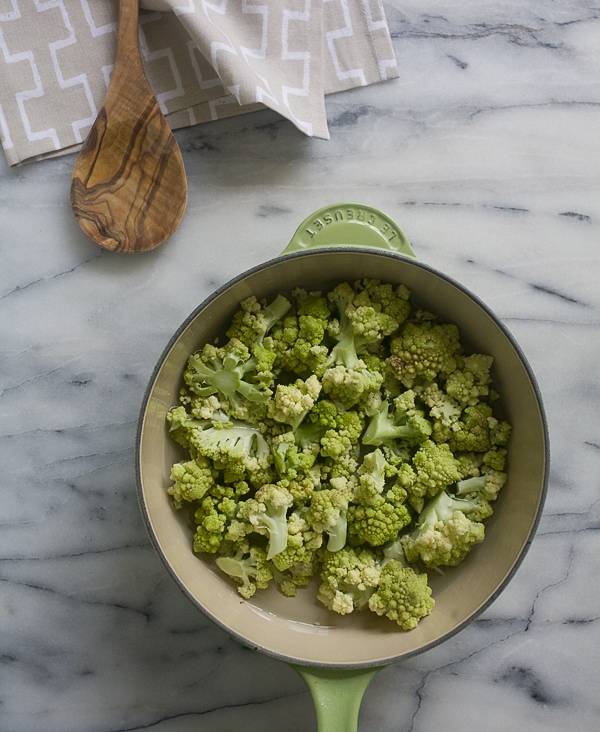 The night of my first attempt at making fraud-mash, I just added a bit of minced shallot, garlic and salt and pepper. The second go-around I figured I'd add a few things to make it a teeny bit better and they made a huge difference. Greek yogurt, a squeeze of lemon, some garlic powder and some chives for garnish.
They all make such a big impact that I'm not sure I'd make it again so plainly.
This is a great make-ahead side. It keeps well in the fridge for days! And reheats well, too. I can't believe what I'm about to type, but I kinda actually like it better than potatoes right now. I'm into feeling light and bouncy and this doesn't weigh you down while still being kinda comforting and warm.
It's a warm, cozy, healthy dish. I'm so into it. I hope you try it.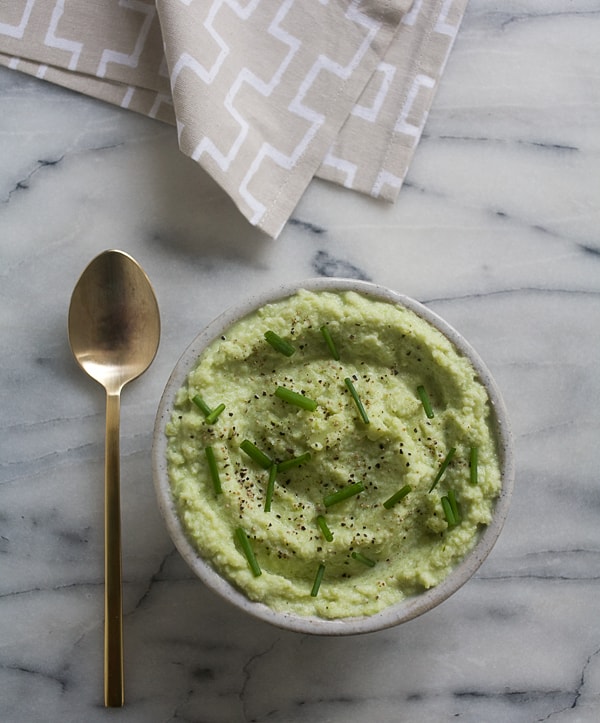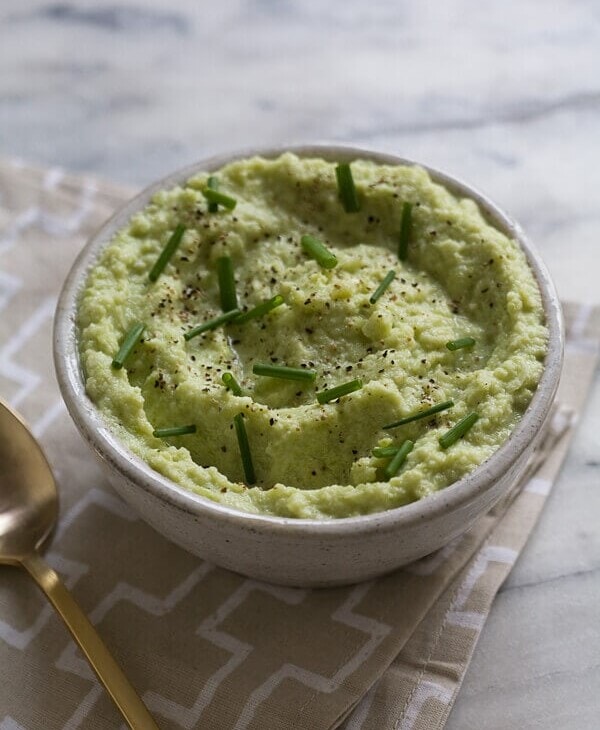 Print Recipe
Romanesco Cauliflower Mash
Serving Size:
1/2 cups of cauliflower mash
Ingredients
1

cup

water

Salt

1

head Romanesco cauliflower

florets trimmed

1

shallot

minced

1

garlic clove

minced

2

tablespoons

Greek yogurt

Juice from 1/2 lemon

1/4

teaspoon

garlic powder

Pepper

2 to 3

chives

minced (as garnish)
Instructions
To a medium saucepan, set over medium heat, add the water, along with a few pinches of salt and the Romanesco cauliflower florets. Cover the pot and simmer until the cauliflower florets are bright in color and tender when poked with a fork, about 10 minutes. Reserve the cauliflower broth by pouring it into a small bowl. Drain the cauliflower and set both aside.

To the same saucepan, add a teaspoon of olive oil. When the oil is warm, add the minced shallot and cook until soft and translucent, about 5 minutes. Add the minced garlic and cook for an additional minute. Add the reserved cauliflower florets and a few splashes of broth back to the pot. Using a hand immersion blender, pulse (going up and down) until the mixture is smooth, adding more broth as needed (I ended up adding about 1/2 cup of cauliflower broth). If you don't have a hand immersion blender, transfer everything to a food processor or blender and pulse until smooth, adding broth as needed.

Next, add the Greek yogurt, garlic powder and a few pinches of pepper. Pulse until combined. Add the juice from 1/2 lemon and salt to taste (I added about 1 teaspoon). Transfer to a bowl and garnish with more pepper and a few chopped chives.