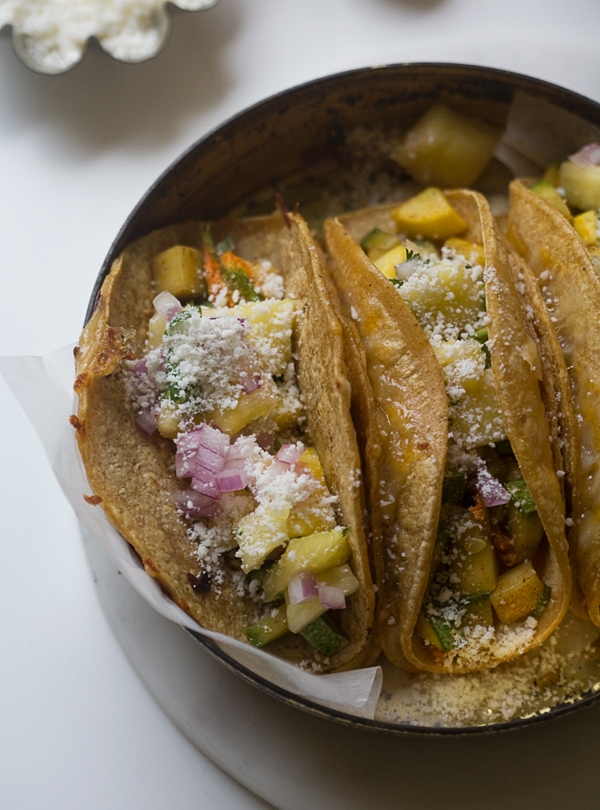 Sometimes I'm so hungry I feel like I might die. I know I'm being super melodramatic because people can go days and sometimes weeks without food but something happens where my blood sugar levels dictate my mood…and brain. I become angry, desperate…and then super creative.
I begin pairing ingredients that are strange and on the verge of not-so-pleasant. But a few weeks ago, I came across a freakin' gem. I peered in my fridge, saw some tortillas, cheese and some leftover shredded chicken. That is when the first child from a quesadilla mother and taco father was born. QuesaTaco!
I'm an inventor…or so I thought. I googled it and realized some stoner kid on Reddit had already done it. SO, I didn't exactly invent it but I still feel pretty proud of this recipe.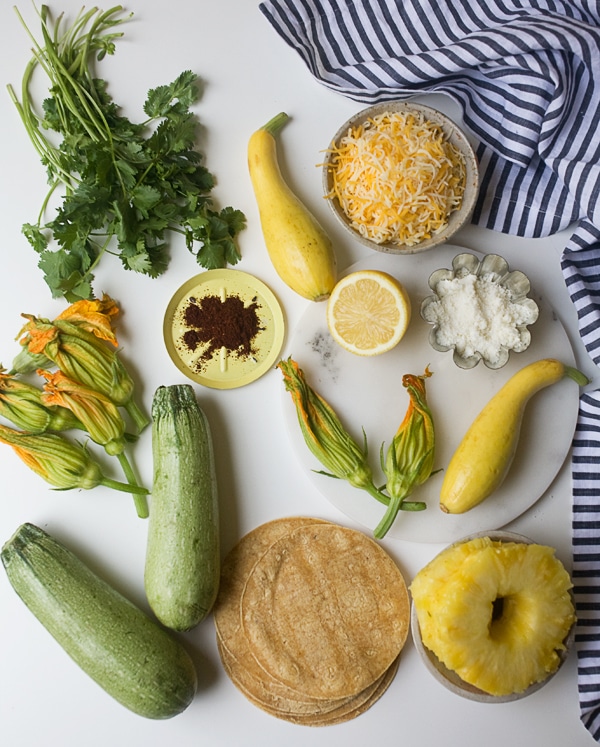 This recipe starts with a super quick cooking situation with diced summer squash, ancho chile powder and ground cumin. That's the filling.
Then I made a bunch of quesadillas.
The quesadillas were then topped with all sorts of stuff…like a taco!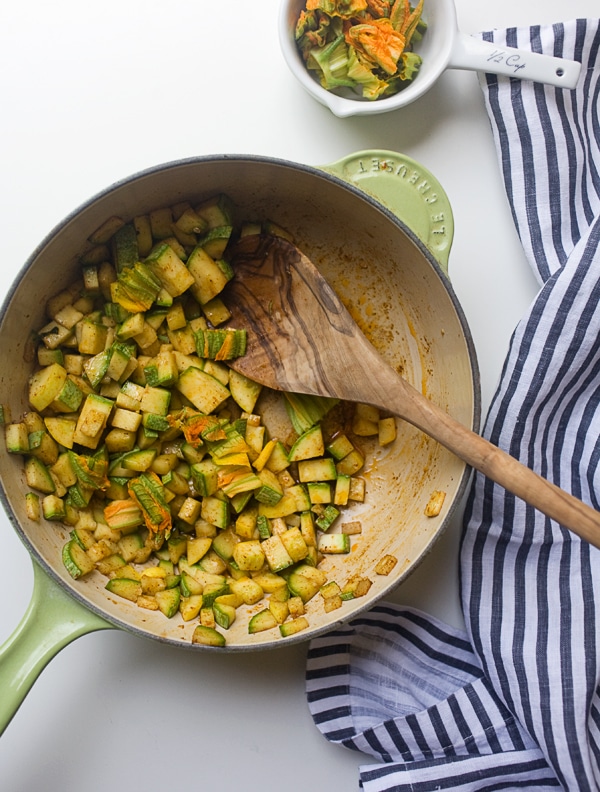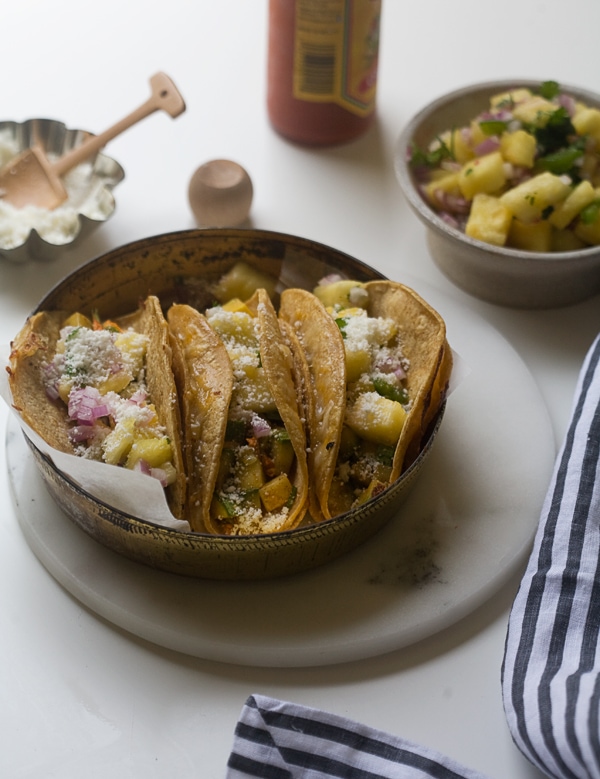 Now, I love this recipe. I love the squash and all that, but feel free to take this idea and stuff it with whatever you like. Chicken tinga, pulled pork, asada, guacamole, etc. You get the idea.
QuesaTaco (quesadilla + taco). I can't stake claim that I invented this, but it's still exciting, nonetheless.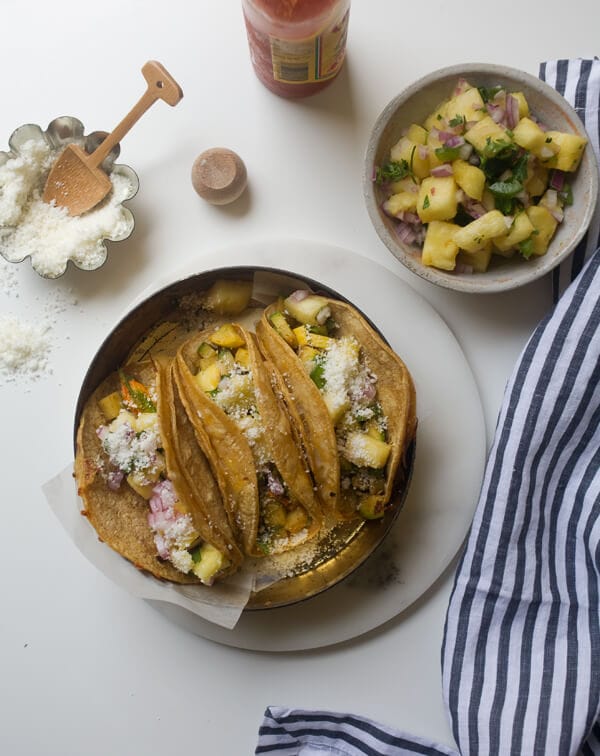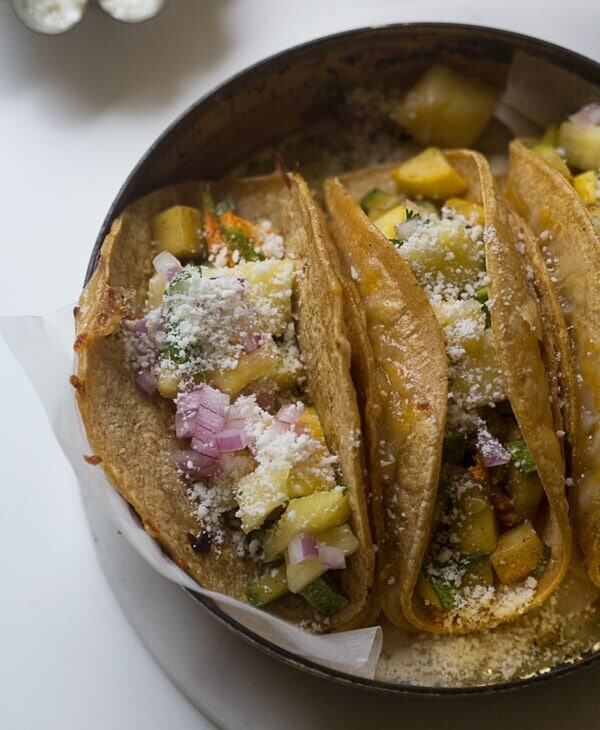 Print Recipe
Summer Squash QuesaTaco (Quesadilla + Taco) w/Pineapple Salsa
Ingredients
1/2

pineapple

peeled and diced

1

serrano pepper

thinly sliced

1

tablespoon

chopped cilantro

2

tablespoons

diced red onion

Juice from 1/2 lemon

Salt

Olive oil

2

zucchini or summer squash

ends trimmed diced

1 1/2

teaspoon

ancho chile powder

Salt

3 to 4

squash blossoms

end trimmed and diced (optional)

1

cup

shredded cheese

your choice, as long as it's melty - I used a Monterey Jack/Cheddar Cheese blend

16

small corn or flour tortillas

Crumbled cotija cheese

for topping
Instructions
In a small bowl, mix together the pineapple, jalapeño pepper, cilantro, red onion, juice from 1/2 lemon and a few pinches of salt. Set aside.

Add a tablespoon of olive oil to a medium sauté pan, placed over medium heat. When the oil is hot, add the zucchini or summer squash, ancho chile powder and a few pinches of salt. Mix until combined. Cook until the squash is bright in color and a teeny-bit translucent, about 3 minutes. Mix in the squash blossoms until slightly wilted. Turn the heat off and cover the pot so the mixture stays warm.

Rub a fry pan or griddle with a 1/2 teaspoon of olive oil and heat over medium-low heat. Assemble the quesadillas, you know how to do this, place a handful of cheese between two tortillas. Cooking them in batches, transfer them to the skillet or griddle and cover them with a lid to help melt the cheese. Place the quesadillas in a warm oven while you cook the rest of the quesadillas.

To assemble, fold the quesadillas like a taco and fill them with a few spoonfuls of the zucchini mixture and top with pineapple salsa. Repeat with all of the quesadillas.